Who can ever say no to ice cream? No one! Your favorite ice cream can always turn the mood around for good, whether it is scorching summers or freezing winters. And discovering new ice creams that melt in your mouth is one of the best experiences you can have. Thus, let us familiarize you with the top ice creams Laguna Beach offers. And while you're at it, don't miss out on the chance to visit two hidden pools in Laguna Beach that you must see.
Ice Creams in Laguna Beach
There is no perfect time to grab an ice cream because every time is right for this dessert. You can have one while walking around the city or when you are done with your meal and craving a yummy dessert. Ice creams are always there to your rescue.
Below, we will discuss 15 top places you can visit for ice cream in Laguna Beach.
Chantilly Ice Cream
It is a lovely ice cream shop you can visit during your trip to Laguna Beach. They have a great staff who provides quick service and will sort out any of your queries. Hence, you will come across the best customer service at this shop.
Coming to the flavors, they have many. You can have bubblegum, chocolate, and several unique flavors based on your preferences. After satisfying your sweet tooth, why not explore some of the best bars in Laguna Beach? Try out the local craft beers, cocktails and wines at the top 12 bars in the city.
Address: 202 Park Ave, Laguna Beach, CA 92651, United States.

Specialties: Sundae and frozen yogurt.
Dolce Gelato
This is a family-owned ice cream parlor that offers a variety of gelato flavors. They serve Banana Cream, Mint Chocolate, Salted Maple Caramel, Creme Brulee, and many more exciting flavors for you to try. Apart from this, Dolce Gelato has luscious almond and coconut milk to give a unique touch to your taste buds.
Plus, you will find vegan-friendly ice cream flavors at this amazing place. Therefore, they have something for everyone.
Address: 247 Broadway Street, Laguna Beach, CA 92651.

Specialties: Blackbeard, Ferrero Rocha, and apple crisp cobbler.
Gelato Paradiso
Next, we have this amazing ice cream eatery on the list of the top ice creams Laguna Beach has. The place is full of distinct flavors. Therefore, you can try something new every time you visit Gelato Paradiso.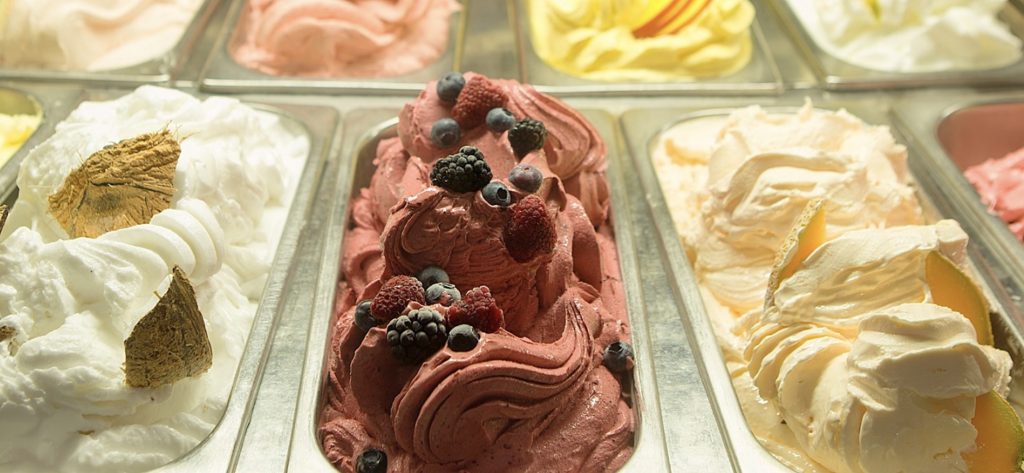 Moreover, they have thick and creamy handcrafted shakes that will cool you down the moment you sip on them. Also, you will come across authentic, handmade gelato cakes that taste superb. In addition to the delicious gelato, don't miss the chance to try some of the best breakfast places in Laguna Beach, like the ones listed in our article on the Top 23 Breakfast Places in the area.
Address: 448 South Coast Hwy, Ste A, Laguna Beach, CA 92651.

Specialties: Gelato cakes and fragola e crema.
Active Culture
Serving healthy food options since 2010, this can be your go-to restaurant for ice cream as well as a nutritious meal in Laguna Beach.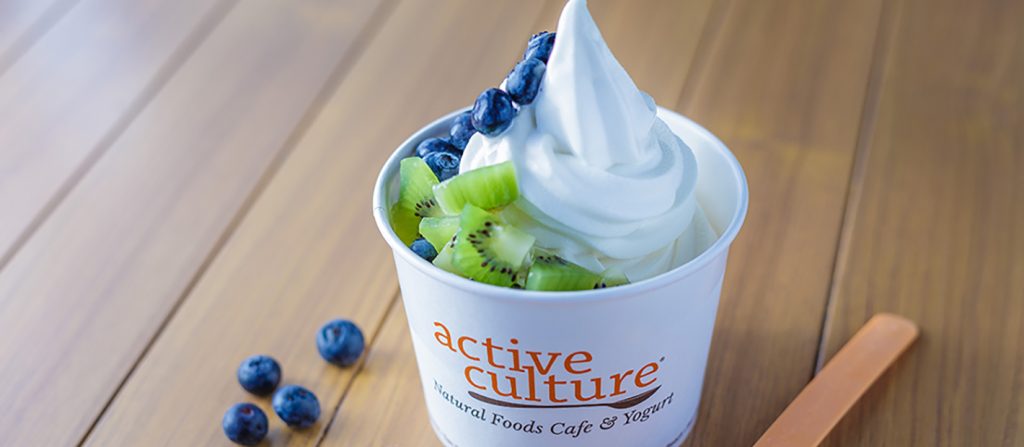 Here, you can get your hands on the creamiest cups of ice cream you have ever tried. They have lots of interesting flavors that will leave you stunned. And, while you are here, do not forget to try the homemade organic almond milk. It is heavenly.
Address: 1006 S. Coast Hwy, Laguna Beach, CA 92651.

Specialties: Naked coconut shakes and organic almond milkshakes.
Urth Caffe
Urth Caffe is a European-style cafe where an awesome menu awaits you. They have mouth-watering dishes alongside the yummiest ice creams. You will want to eat at this restaurant every time you are in the city.
Plus, they have an exquisite collection of cakes and cheesecakes that are popular among the city's residents.
The cafe also serves breakfast, lunch, and dinner, with lots of items on the menu. All of the dishes are prepared fresh to impress your palate.
And that's not all; if you have a sweet tooth, you must try the top 20 desserts in Laguna Beach.
Address: 308 N. Pacific Coast Highway, Laguna Beach, CA 92651.

Specialties: Cheesecakes and Urth tiramisu.
B. Candy
One more ice cream Laguna Beach has that will blow you away with the unique taste and quality. This place is like a heaven on earth where you will be bombarded with flavors you have always wished to try. For example, Coffee Toffee, and Cookie Monster.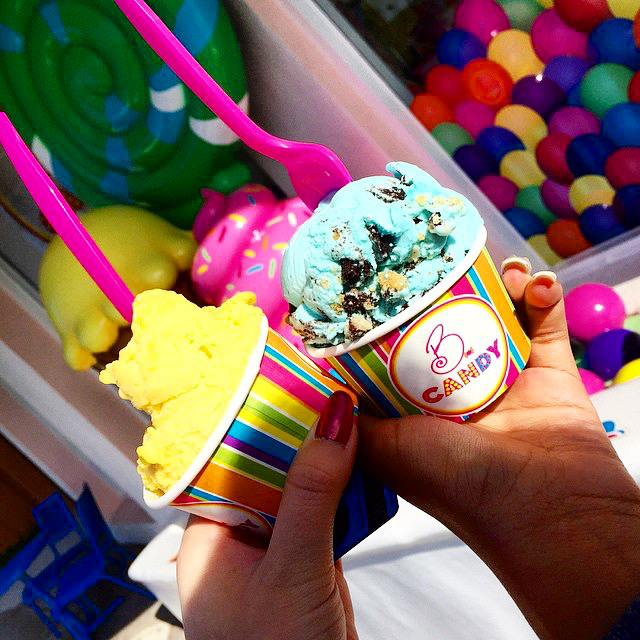 In addition, B.Candy is a colorful shop full of vibrant vibes that will serve as a beautiful aesthetic for your social feeds. Besides, they have flavorful mini cakes and other treats for your inner child. If you're looking for a change of cuisine, don't miss the chance to try some of the top seafood restaurants in Laguna Beach.
Address: 3100 E Coast Hwy, Corona Del Mar, CA 92625.

Specialties: Gourmet cookies and ice cream sandwiches.
Atomic Creamery
Close to Laguna Beach, Atomic Creamery is an intelligent pick to fulfill your ice cream-related cravings. Hand-made from scratch, they have a range of tempting organic ice cream flavors to beat the heat.
Visit this place with your friends and family to have a relaxing time out. You will have an ice cream experience that you won't easily forget. For coffee lovers, be sure to check out our list of the Top 17 Best Coffee in Laguna Beach
Address: 1095 Newport Center Dr., Newport Beach, CA 92660.

Specialties: Butter pecan, Madagascar, and Owen experiment.
Handels Homemade Ice Cream
Located in Laguna Niguel, this ice cream shop offers many flavors. It is a nice little place famous among the locals for its authentic ice creams.
At Handel's', you will encounter unique flavors that you will want to try every last one. A few of the variety are S'mores, Snappy Turtle, and Blue Monster. If you're looking for brunch options, be sure to check out the Top 20 Best Brunch in Laguna Beach.
Moreover, you can order a 4-scoop sampler to try four flavors in one go. Superb, no?
Address: 28121 Crown Valley Pkwy Laguna Niguel, CA 92677.

Specialties: Monkey business, chocolate peanut butter brownie, and graham central station.
Paradis Ice Cream
Every ice cream in this place is made from healthy ingredients. And they use fresh and ripe fruits to bring genuine flavors to their handmade ice cream. Paradis Ice Cream sources the best ingredients from around the world to produce the tastiest of desserts.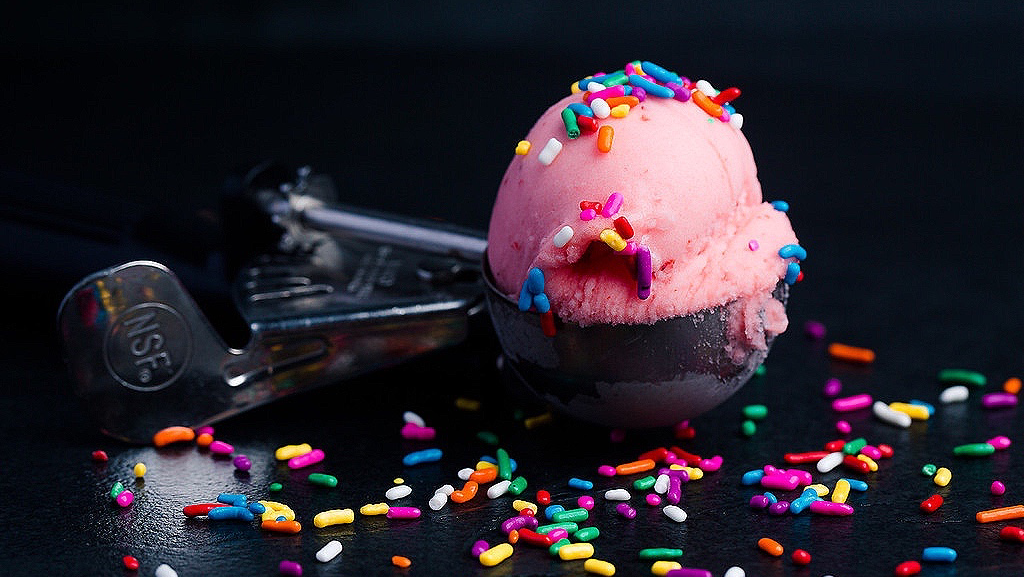 Furthermore, they offer plenty of vegan flavors as well to make sure everyone can easily have a taste of their deliciousness.
Address: 34255 Pacific Coast Hwy Unit 114 Dana Point, CA 92629.

Specialties: Amarena chip, cajeta, toasted coconut, and chocolate hazelnut cream.
Also Read: Best Laguna Beach Art Galleries You Should Visit
Rebel Ice Cream
It comes among the top ice creams in Laguna Beach. However, this is not your ordinary ice cream shop. Rebel Ice Cream is available in different stores in Laguna Beach. All of their desserts are packed with care to ensure the best quality when you open the pack.
In addition, their ice creams are low on carbs. Thus, you can enjoy awesomeness without worrying about its effects on your health. And for those looking for even more variety, there are also several vegan restaurant options to check out in the area.
Specialties: Snickerdoodle, and coffee chip.
Dairy Queen Grill and Chill
Dairy Queen Grill and Chill has a vast selection of soft ice creams that will melt in your mouth. They have the right texture for an ice cream which you will love.
Browse their tasty ice cream flavors and sundaes to make your best pick. And they have Bar treats as well that is super delicious. If you're looking for a different dining experience, consider checking out some of the top lunch spots in Laguna Beach.
Address:

27782 Aliso Creek Rd Ste A100 Ste A, Aliso Viejo, CA 92656-38222.

Specialties: Fruit blast dipped cone, peanut butter parfait royal treat, and buster bar.
Fluffy Bear
This is a beautiful ice cream shop in Laguna Beach where you can let your inner child out. They have the yummiest soft-serve ice creams you will ever try. Also, Fluffy Bear has a tasteful collection of premium shakes and boba tea to let you indulge in the chill vibes.
Additionally, you can choose to have the soft-serve ice cream brought to you in a cup or cone. The quantity is plentiful, and you will love the taste and texture. For a change of pace, don't miss the chance to try one of the 15 best French restaurants in Laguna Beach.
Address: 25606 Alicia Pkwy Laguna Hills, CA 92653.

Specialties: Boba tea, taro milkshake, and soft-serve ice creams.
Baskin Robbins
How can we forget Baskin Robbins when talking about the best ice cream in Laguna Beach? It is undoubtedly the most popular ice cream place across the globe.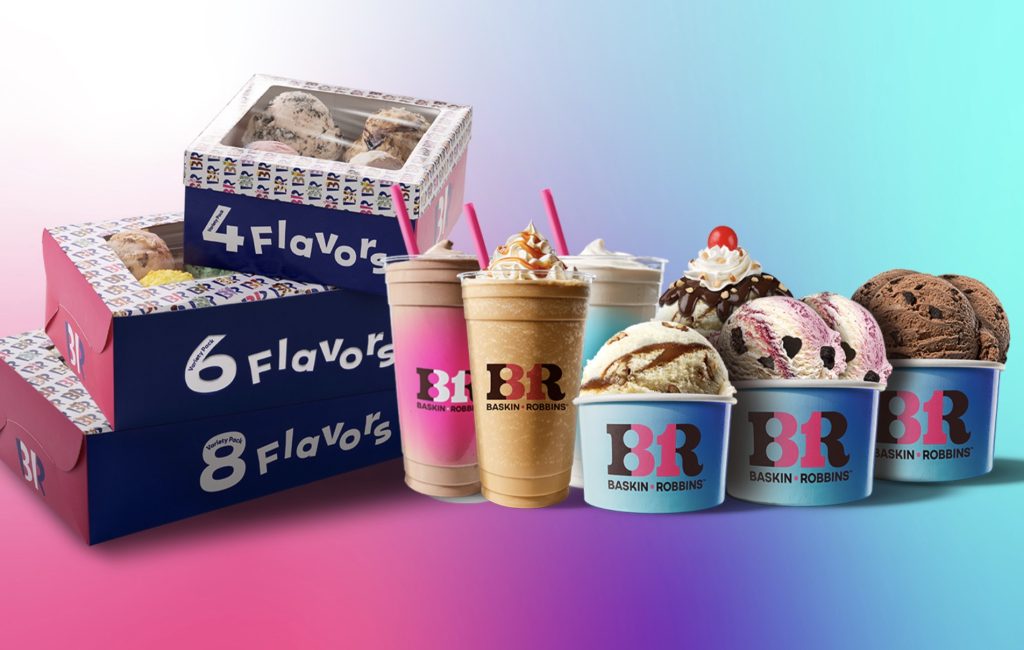 Offering a range of unique flavors, they are ice cream specialists.
Baskin Robbins is America's favorite when it comes to this awesome dessert. Beach Day, Golden Hour, and Ube Coconut Swirl are a few of the flavors you can try at this international eatery. If you're looking for a change of pace from ice cream, take a break and explore the rich flavors of Mexican cuisine offered by some of the best restaurants in the area.
Address: 26886 La Paz Rd, Laguna Hills, CA 92656, United States.

Specialties: Watermelon burst sorbet and oreo s'mores.
Scoop Deck Ice Cream
It is a gorgeous ice cream shop with lots of options to pick from. Scoop Deck is located in Dana Point, which is close to Laguna Beach. The trip will be worth it because, in the end, you will enjoy creamy and soft ice creams to kick away your worries.
Furthermore, there is a flavor for every taste preference, so you will love the variety they have to offer. Here, you can also order frozen yogurt, espresso, and coffee if you are not in the mood for ice cream. If you're looking for a great sushi experience, check out our list of the Best Sushi Places in Laguna Beach.
Address: 34531 Golden Lantern Dana Point, CA 92629.

Specialties: Cookie monster, Kauai pie, and rum raisin.
Sno 2 Go
Lastly, this is the place you should head to for some great ice creams. They have a fun collection of soft ice creams and frozen yogurts. Hence, you can have a perfect treat.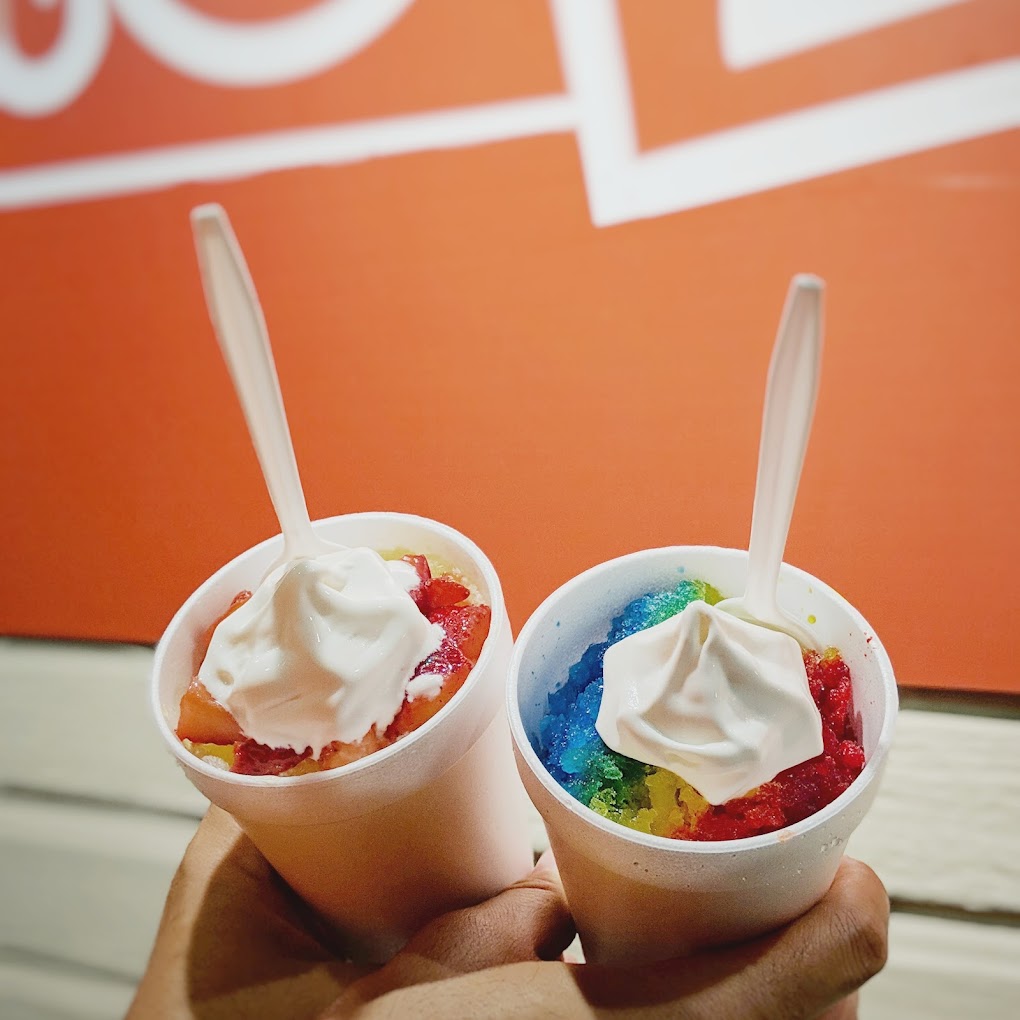 Some of their lush flavors are Cafe Latte, Sea-Salted Caramel with Butter Cream, Dragonberry Delight, and so on. You can also request extra toppings from fruits, mochi, gummy worms, etc. Therefore, you can create your own flavorful ice cream at Sno 2 Go. And for a special occasion, consider visiting one of the best romantic restaurants in Laguna Beach.
Address: 25567 Jeronimo Rd Mission Viejo, CA 92691.

Specialties: Thai paradise, tropical treat, and coffee latte.
Conclusion
And that is a wrap for the creamiest ice creams Laguna Beach offers. Whichever shop you choose from the list, you will find plenty of brilliant flavors to choose from that taste unique in their own way. Plus, some of these places let you add extra toppings as well to make your dessert way yummier. Also, check out the 15 BEST Ice Cream In Anaheim.
So, pick an ice cream shop and get going!