Spending quality time with your partner can be therapeutic. But in this busy world, couples barely get time to sit with each other and enjoy each other's company. However, a dinner at one of the most romantic restaurants in Laguna Beach can do the job just right.
In this vast sea of options of where couples should eat and where they shouldn't for the perfect romantic date, we have put emphasis on not only the food but also the ambiance, atmosphere, interior, and furnishings in order to give you a foolproof variety of options.
Romantic Restaurants in Laguna Beach
Choosing the right place to dine out with your partner can be quite a tricky task. One wrong move and it can spoil your entire evening. We most certainly don't want that to happen. You can hop on to check the variety of recommended places to eat in our guide of romantic restaurants worth visiting if you happen to be near the area.
The Rooftop Lounge
This amazing restaurant is located on the topmost floor of a hotel named La Casa Del Camino. Imagine the view from up there and the vibe !! The Rooftop Lounge is a place where dinners are not entertained without a reservation because the sunset view is to die for. However, they accept walk-ins for lunch and brunch.
They have a bar at the restaurant, in case couples want to just chill at the bar over some cocktails and a meaningful conversation. The bar directly leads to the patio in case couples want to take a little stroll to the ocean view.
Address: 1289 S Coast Hwy Laguna Beach, CA 92651.
Specialties: Spanish Shrimp Ceviche, Duck Carnitas Tostada, Cazuela of Clams & Mussels, and Mezze Mediterranean.
Las Brisas
Las Brisas is a place that reflects modern and chic vibes all around. From the decor to their interior, everything is handpicked carefully with attention to detail. Couples with an eye for lovely furnishings and breath-taking views should come here.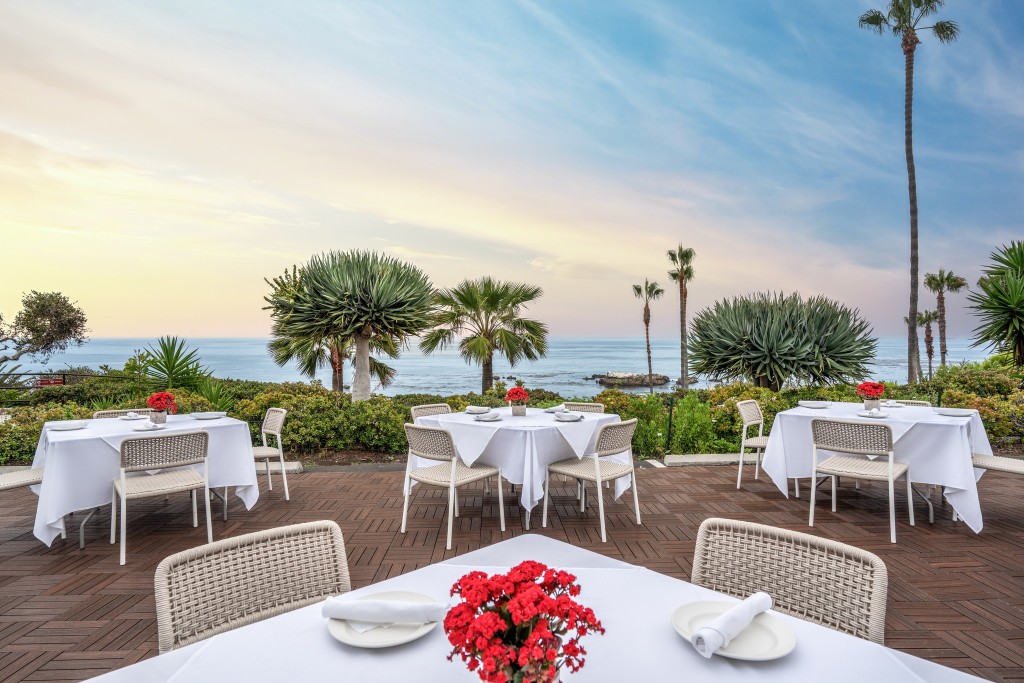 This restaurant is definitely right out of a movie. If you want to fully experience an intimate date with your partner then this restaurant without a doubt qualifies as one of the most romantic restaurants in Laguna Beach.
Address: 361 Cliff Dr Laguna Beach, CA 92651.
Specialties: Sea Bass Pepita Tomatillo, Lobster Enchiladas, Chips & Guacamole, and Filet Mignon.
Driftwood Kitchen
Driftwood Kitchen is a place where you can enjoy a dreamy sunset or a breath-taking ocean view while enjoying a delicious meal or just talking about your future with your partner. The view definitely adds to the romance!
Don't worry if you are unable to find a table in the outdoor sitting area. Their indoor sitting area has large windows that open up directly to the ocean view so that couples who are sitting inside can also get a scoop of the beauty.
Just a heads up that if you make a reservation at this restaurant you need to reach 15 minutes early in order to secure the table.
Address: 619 Sleepy Hollow Ln Laguna Beach, CA 92651.
Specialties: Lobster Carbonara, Butternut Squash Gnocchi, Grilled Spanish Octopus, and Salmon Bagel.
Splashes Restaurant
The only restaurant in the area that will really take reservations seriously. Whether you make a booking weeks ago or days ago, If you made a reservation for 2.00 PM, you will be seated at 2.00 PM, no ifs or buts. And that's amazing. Splashes Restaurant is a place that takes its service very seriously.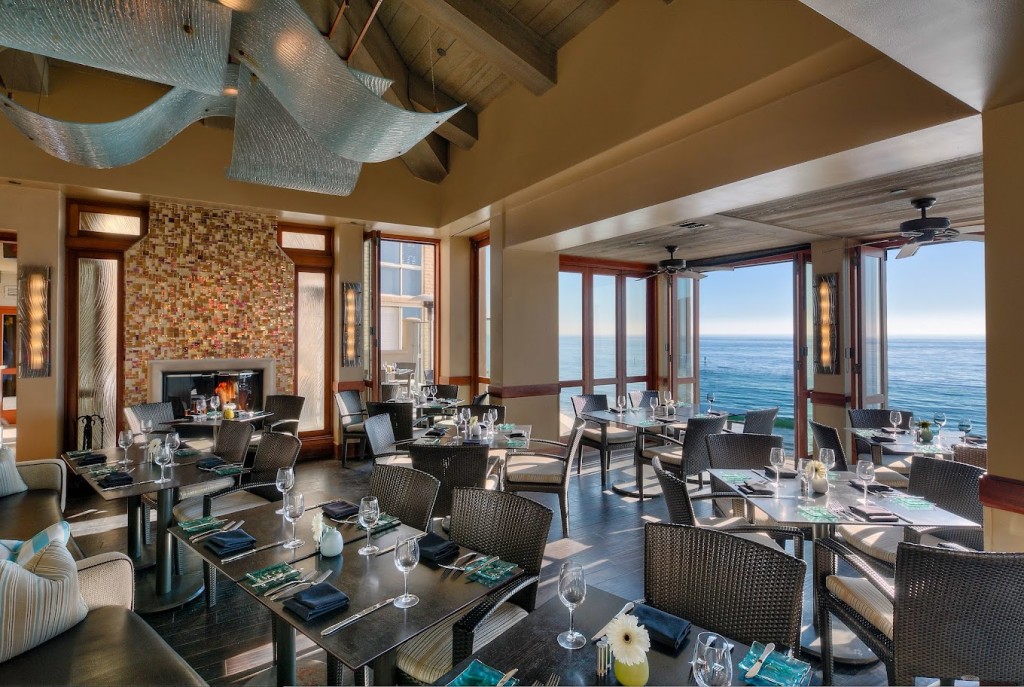 Whatever special occasion a couple has, mention it to the staff when you're making reservations and they will make it a point to serve you a complimentary dessert with a wish appropriate to the occasion you're celebrating.
Address: 1555 S Coast Hwy Laguna Beach, CA 92651.
Specialties: Tableside Lobster Bisque, Five-hour Short Rib, Seared Scallops, and Crisp Octopus.
Urth Caffe
If you and your partner are in need of some pampering you must head to Urth Caffe as soon as possible. This place will leave no stones unturned in making you feel on top of this world. However, if you are the impatient type and want to avoid long lines and rush hours then I suggest you visit them in the early hours.
This restaurant will give a perfect atmosphere to you and your partner as you continue having conversations over a delicious meal. Their farm-fresh ingredients will enhance your food experience and elevate your mood, making your time more enjoyable at this romantic restaurant in Laguna Beach.
There is a lovely patio seating area as well in case you want to enjoy the fresh air with your partner and inhale the beauty of nature all around you.
Address: 308 N Pacific Coast Hwy Laguna Beach, CA 92651.
Specialties: French Toast, Egg Salmone, Pumpkin Pie, Poach Di Parma, and The Chicken Pesto Omelet.
Mozambique
For all the couples out there that have any special occasion lined up, we just found the perfect place for you. Mozambique is a restaurant with all the necessary features for celebrating a memorable day! However, you might want to come loaded with money as this restaurant can get a little pricey.
Initially, as you enter, don't be surprised because expensive birds like a Toucan and a Macaw will welcome you. Moving further, the restaurant has dim lighting going on with a black and dark brown interior.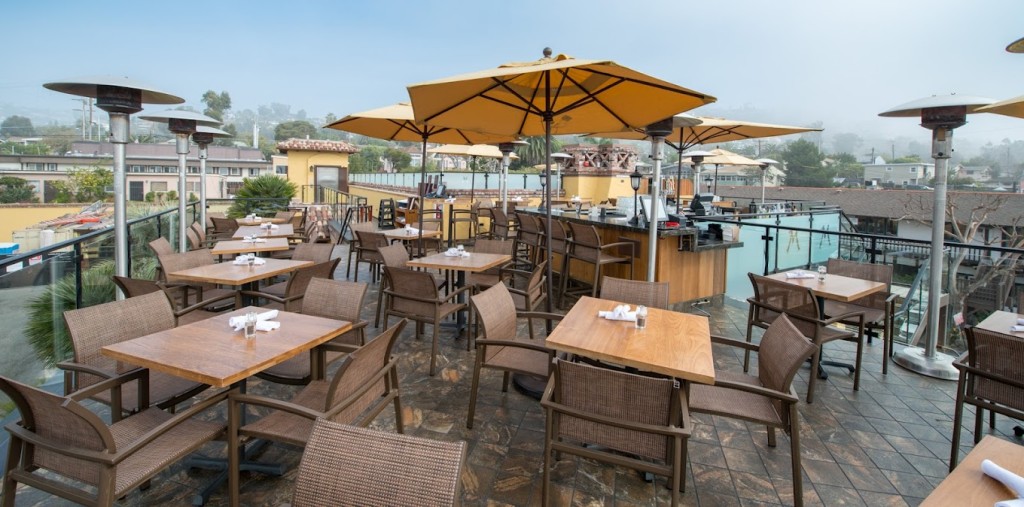 You can enjoy your meal with a beautiful ocean view if you sit on the rooftop. If you arrive around 7 PM, you will find a band playing music that will definitely add more to your evening.
Address: 1740 S Coast Hwy Laguna Beach, CA 92651.
Specialties: Peri-peri Chicken, Seafood Curry, Wok Charred Ahi Tuna, and Chilean Sea Bass.
The Cliff Restaurant
Another amazing restaurant with an amazing view. The Cliff Restaurant faces right towards Laguna Beach. Although they have an indoor as well as an outdoor sitting even then they're almost always house-full and the waiting line is pretty long.
However, the restaurant has many small shops in its surrounding area that will keep you busy while you are waiting. Couples can go for a stroll on the beach before or after their meal as it is only a few minutes away from the restaurant. This restaurant will not fail to give couples the experience of the most romantic restaurant in Laguna Beach
Address: 577 S Coast Hwy Laguna Beach, CA 92651.
Specialties: Clam Chowder, Calamari Steak, Coconut Shrimp, and Fish Tacos.
The Drake
Looking for a place to have a great meal with your partner? Here is an amazing recommendation that you will not regret trying. The Drake is a place that screams modernism from every corner. The restaurant is filled with the latest trends as far as the decor is concerned. The entire look of it is lavish in simple words.
Couples get to enjoy great live music in the background however, getting a table here can be harder than ever as they don't have a large space. But don't worry because they have an outdoor sitting area as well. So if you're celebrating anything with your partner, this place can be a great option.
Address: 2894 Pacific Coast Hwy Laguna Beach, CA 92651.
Specialties: Caramel Budino, Alpine Melt, Vension, Lamb Chops, and Crab Cake.
The Loft Restaurant
If you or your partner happen to be vegan then behold because The Loft Restaurant has a separate menu called vegan menu. I bet you never experienced that anywhere. An entire menu to choose from, sitting with the love of your life, soaking up all the gorgeous ocean views. They even have a pool which you can see from the outdoor sitting area. So basically living life to its fullest.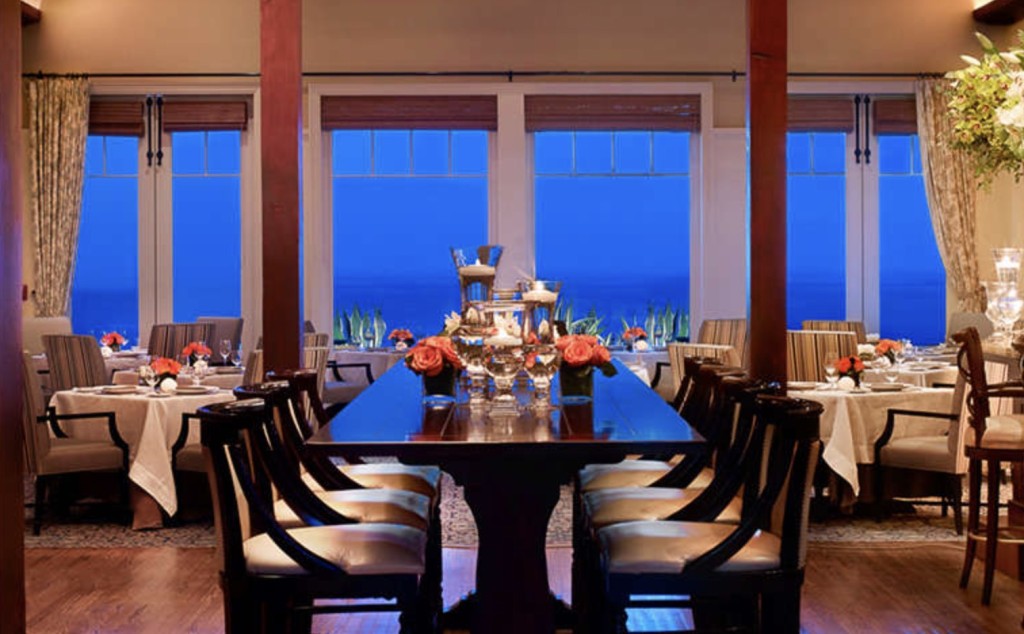 This restaurant has amazing servers who are quick in their work and great at keeping you entertained while you wait for your order. The sitting area has a very classic, vintage vibe to it and is decorated very aesthetically.
Address: 30801 South Coast Hwy Montage Laguna Beach Laguna Beach, CA 92651.
Specialties: Coffee Crusted New York Strip, Sea Bass, Filet Mignon Chili, and New York Steak.
Selanne Steak Tavern
Calling all steak lovers out there! Steak is not everyone's cup of tea. Especially when it comes to a date. Here we have Selanne Steak Tavern, a place that is known for making phenomenal steaks in the area. On top of that, the overall environment of the restaurant is very relaxing and cozy. Something that is a must to get the sparks going between a couple.
The moment you enter this restaurant you can feel the romance in the air. If you have the palate for steaks, don't miss out on these romantic restaurants in Laguna Beach.
Address: 1464 South Coast Hwy Laguna Beach, CA 92651.
Specialties: Risotto, Lord Stanley Cut 38oz A5.
Nick's Laguna Beach
If you are the private type of a couple I suggest you sit inside as the outdoor sitting area can get a lot of traffic sometimes. It might serve as a turn-off for you! But other than that, from the ambiance to the thoughtful hospitality reflected by the staff is everything a couple wishes for while eating out.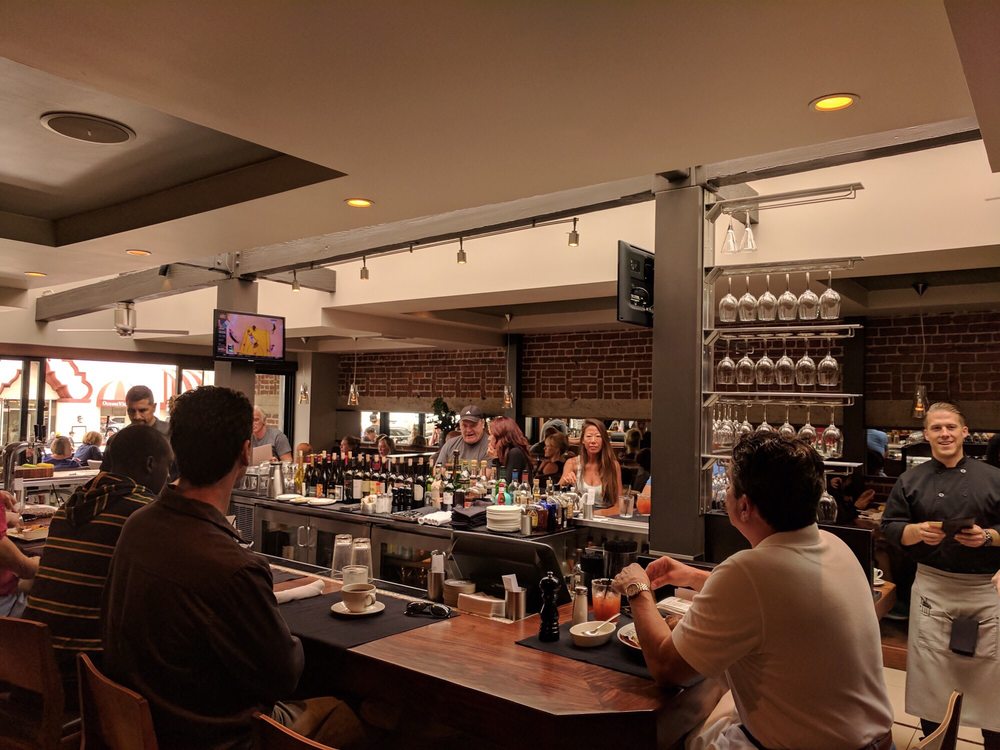 Whether you stop by for brunch, or lunch, or make it a date night, everything on Nick's Laguna Beach's menu will not disappoint you. If you have a little celebration going on like an anniversary or a job promotion, we suggest you celebrate it by ordering their butter cake and allowing yourself to be wow-ed by its heavenly taste.
Address: 440 S Coast Hwy Laguna Beach, CA 92651.
Specialties: Buttermilk Fried Chicken, Warm Butter Cake, House-made Veggie Burger, Shrimp Taquitos, and Filet Mignon Ranchero.
Skyloft
If slowly but surely had a face, this restaurant would be it. Skyloft is a place where a couple has multiple seating options to choose from. Couples can sit inside to enjoy their meal with lovely music in the background. Or choose to sit on the rooftop. The rooftop has a breathtaking view that will definitely get the romance going between you and your partner.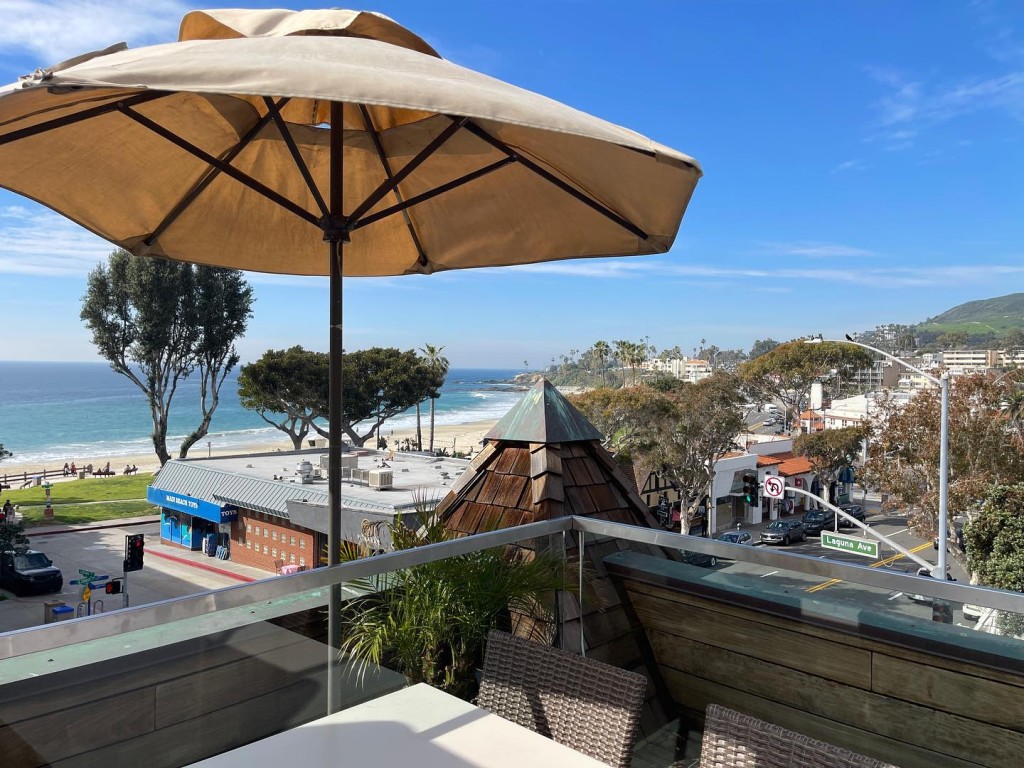 The thing about restaurants with an amazing views is that they tend to prioritize the ambiance as they have an edge with a view. In all this, they don't put much effort or focus on the taste and quality of food, but this restaurant defies all odds and sets the bar high.
Address: 422 S Coast Hwy Laguna Beach, CA 92651.
Specialties: Stuffed Avocado, Fish & Chips, Brisket Sandwich, and Jambalaya.
Recommended Read: Best Laguna Beach Art Galleries You Should Visit
Starfish
Tight on the budget as it is the end of the month? Or not making enough money? Don't worry because we have all types of romantic restaurants in Laguna Beach lined up for you. Starfish is a place that is easy on the pocket yet gives a couple the intimate evening that they need every now and then to blow the steam off.
The restaurant has a very romantic vibe to it, with dim lighting, dark interiors, and a candle lit on each table.
But we suggest you sit outside on the patio to enjoy some one-on-one time with each other as the inside of the restaurant gets a tad bit noisy! So we don't want that to spoil your time together. If your partner is big on Asian food then you will definitely enjoy your meal here.
Address: 30832 S Pacific Coast Hwy Laguna Beach, CA 92651.
Specialties: Crispy Chicken Spring Rolls, Lettuce Wraps, Mongolian Beef, and Lobster Macadamia Roll.
Maro Wood Grill
This is a small-spaced yet comfortable and homey restaurant. It is not your average daily restaurant because it takes inspiration from Argentinian descent and food culture.
What's amazing and romantic about Maro Wood Grill is that it has a literal wood grill with a wood fire on which the meals are prepared from scratch. Trust us; this feature enhances the taste of all their entrees.
It is the perfect little date spot with a cozy and toasty patio in winter for an ultimate romantic restaurant experience!
Address: 1915 S Coast Hwy Laguna Beach, CA 92651.
Specialties: Skirt Steak, Grass Fed Beef, Octopus Salad, and Spicy Chicken Empanadas.
230 Forest Avenue
People who want exactness and precision in their order and overall dine-in experience must visit 230 Forest Avenue. It is a place that will go by your needs and wants. The outside sitting area has a great view to soak the sun on a chilly or windy day.
The overall vibe and the interior are cute-looking. Perfect for a couple to spend some quality time at.
Address: 230 Forest Ave Laguna Beach, CA 92651.
Specialties: Love 230 Forest, Seafood Salad, Candied Salmon Salad, and Chilean Sea Bass.
C'est La Vie
This place will surely steal your heart with its beautiful interior and color palette. There are fairy lights all around and little flower pots on every table to enhance the beauty of the place. C'est La Vie is a total must if you are looking for the most romantic restaurants in Laguna Beach.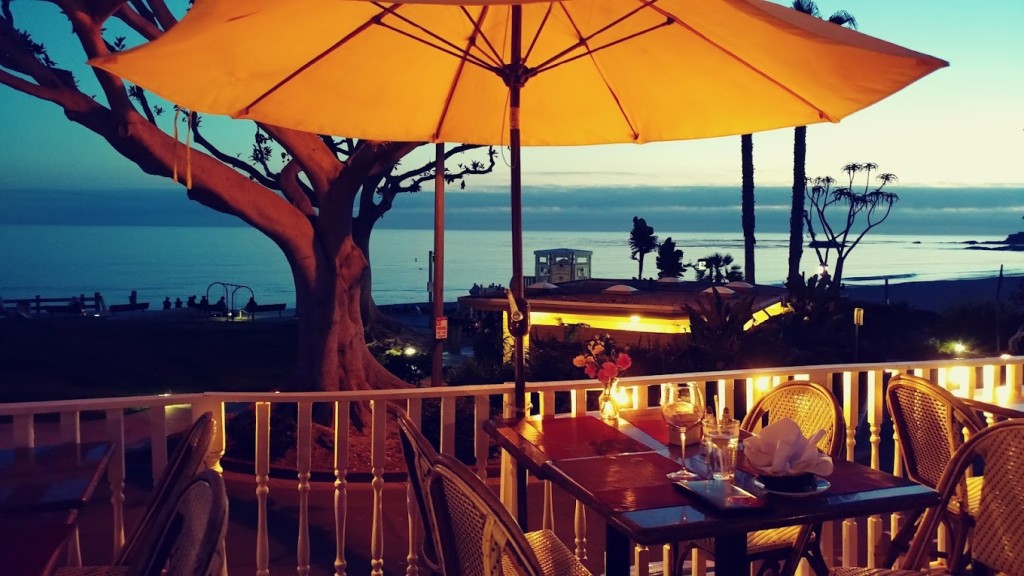 The restaurant has a great view of the beach. On days when it is not raining, couples can choose to sit outside and enjoy the perfect ocean waves or witness a beautiful sunset together, hand in hand.
Address: 373 S Coast Hwy Laguna Beach, CA 92651.
Specialties: French Onion Soup, Sea Bass, Monte Cristo Sandwich, Seafood Crepe, and Cronut.
Oak Laguna Beach
For couples who look forward to cocktails more than meals, this is their spot for sure. Oak Laguna Beach is a place that has really up-ed the game for other restaurants in the area. They are very creative with their menu and try to use fresh ingredients wherever possible.
If you give them a heads-up about your special occasion beforehand, the staff will go up and beyond to make your night more special. For example, they will add customizations to your table based on your occasion to make your experience more personalized.
Address: 1100 S Coast Hwy Ste 202 Laguna Beach, CA 92651.
Specialties: Crispy Duck Drums, Chilean Sea Bass, Shrimp Tacos, and Albacore Stack.
The Deck on Laguna Beach
The Deck on Laguna Beach is a place that pretty much rests on the beach. The upside to that is quite obvious! fresh seafood every single day and absolutely great view with lovely ocean winds blowing.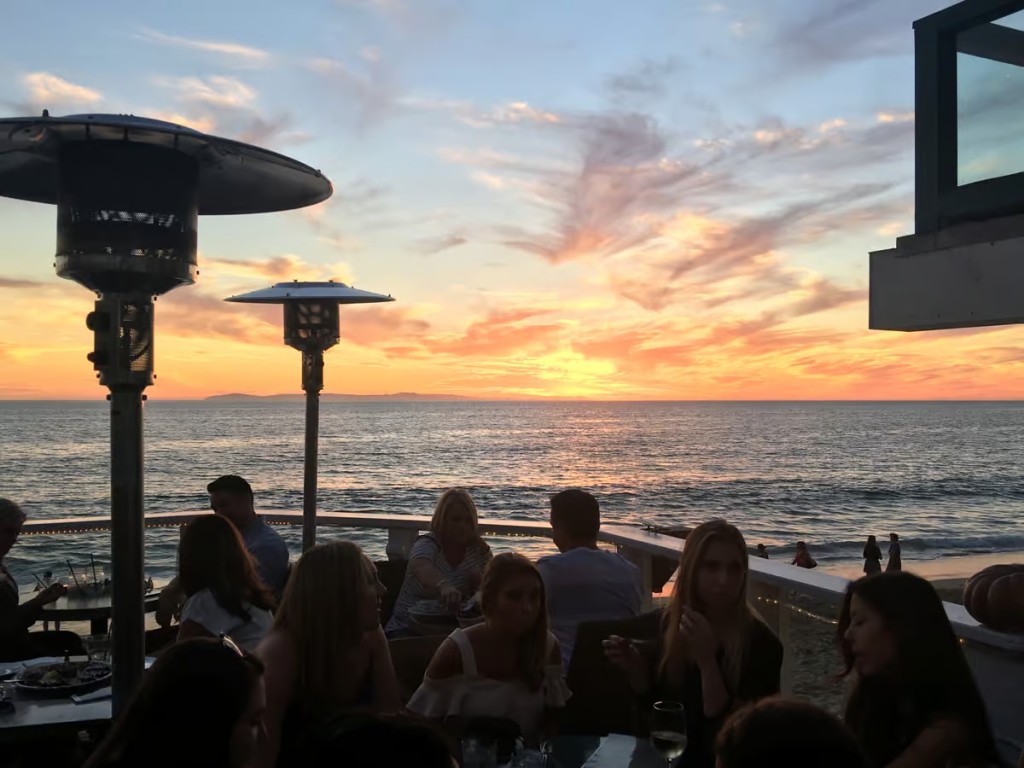 This restaurant is a casual dine-in place with no fancy decor or furnishings. It is the kind of place where you don't have to worry about dressing up a lot in order to fit in. However, the food is top of the line in quality and taste!
Address: 627 Sleepy Hollow Ln Laguna Beach, CA 92651
Specialties: Mahi Mahi Sandwich, Tomato Soup, Lobster Quesadilla, and Clam Chowder.
Sapphire
Sapphire is a place that is perfect for a couple who is totally out for relaxing to the maximum. The atmosphere at this eatery is super informal, friendly, and easy-going. You will be able to have partial views of the ocean while you experience an intimate meal with your partner.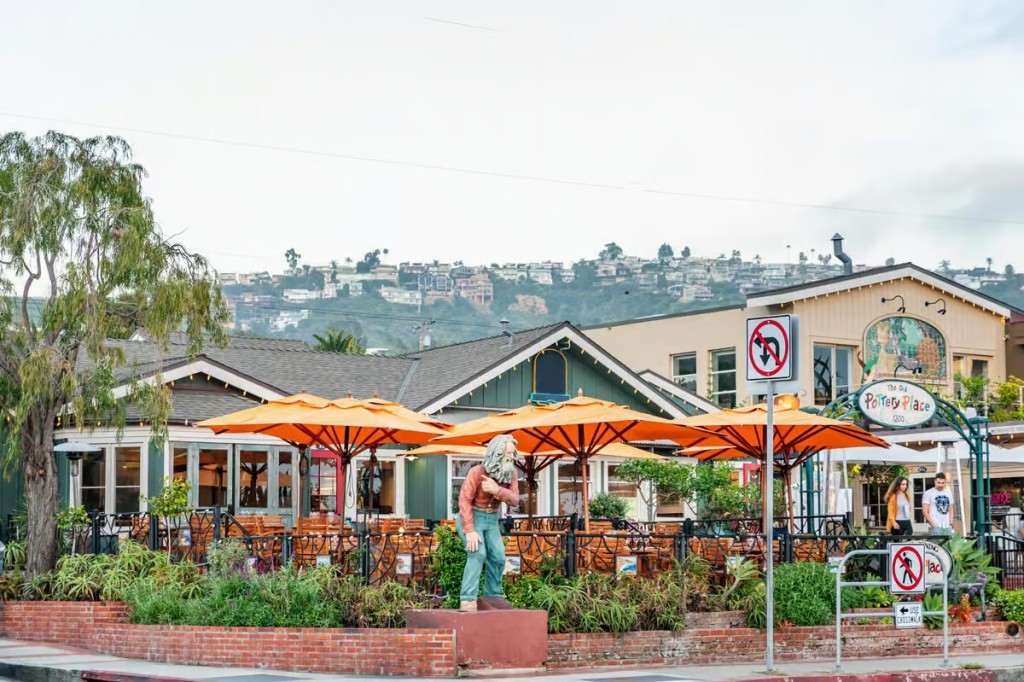 Another reason why this place is the best fit for the most romantic restaurants in Laguna Beach is that its staff is extremely well-mannered. They take criticism and feedback as positively as they can. So if you happen to be unhappy about a certain thing or two and feel like complaining to the staff, you won't have to worry about an argument getting started in response. They will hear you out completely and sincerely work on it to please you. For us, that's a show-stealer feature.
Address: 1200 S Coast Hwy Unit 101 Laguna Beach, CA 92651.
Specialties: Duck Meatballs, Blue Crab Baked Oyster, Bone in Rib Eye, and Blue Cheese Mashed.
Editor's Pick: 2 Hidden Pools in Laguna Beach You Must Visit
Lumberyard Restaurant
For all the locals out there, if you are looking for a regular place to visit with your partner Lumberyard Restaurant can qualify really well for it. Besides delicious food, the restaurant has live music playing to make your evening more intimate and soothing.
The restaurant also has a patio in case you and your partner want to bring your dog along on your little date. However, it gets busy so you might want to make a reservation in order to avoid all the fuss of waiting.
Address: 384 Forest Ave Ste 10 Laguna Beach, CA 92651.
Specialties: Chicken Pot Pie, Beef Stroganoff, Pan Seared Pacific Sea Bass, and New England Clam Chowder.
Takeaways
For an enhanced romantic experience, we suggest couples make reservations way ahead of time at these romantic restaurants in Laguna Beach. Not only that, but also try to keep an open mind and heart towards the entire experience. Because the primary focus is to spend quality time with your partner and get the sparks going! If you are a couple on vacation and wish to stay at some nice place, take a look at our best resorts in Joshua Tree to help you find something that suits you and your partner.