Laguna Beach can be an outstanding pick for your next travel destination. It has a soothing beach, a neat environment, and fabulous restaurants that serve brilliant food. Here, you can get all varieties of local and international food items to experience a touch of diversity. Also, many restaurants and cafes will give you the best lunch Laguna Beach offers!
Best Lunch in Laguna Beach
If lunch is one of the most important meals of your day and you cannot skip it, no matter what, save a list of these restaurants in Laguna Beach. You will come across exceptional variety with each dish tasting excellent.
We did thorough research to compile all these superb lunch places in one place. Thus, you will not be disappointed.
The Deck
At this restaurant, you can have lunch with an ocean view. Watch over the roaring waters as you dine on your meal. The Deck has a very soothing vibe, on top of being experts in luscious and juicy seafood items.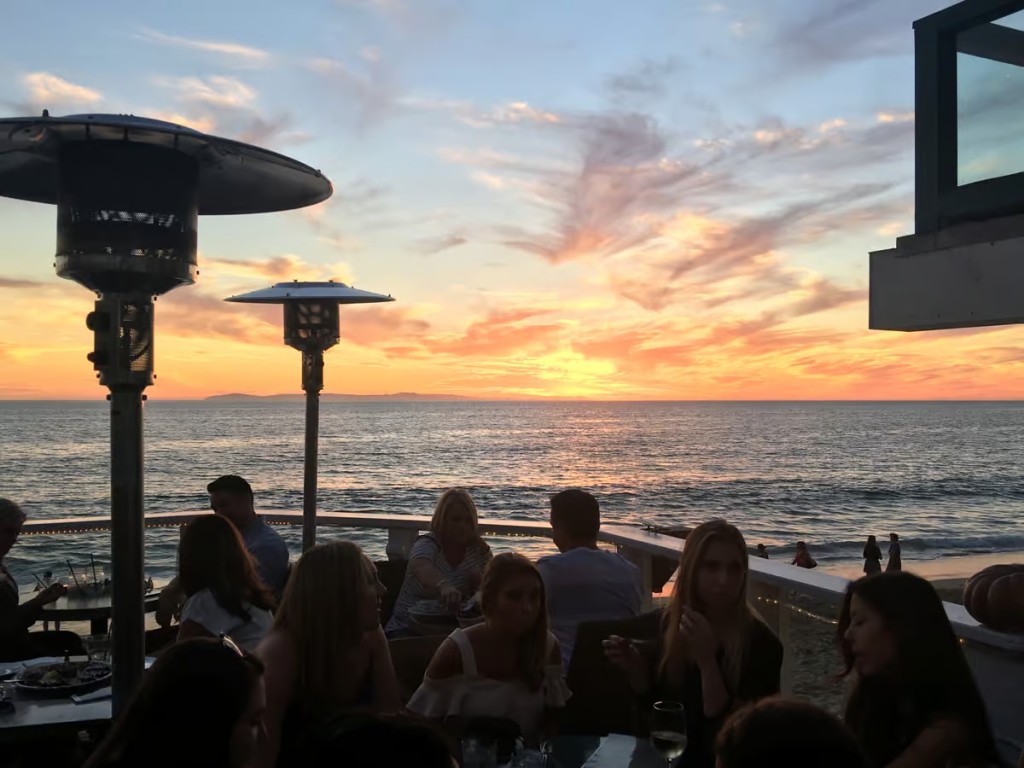 Moreover, they have lots of items on their menu for lunch—for example, Sandwiches, Burgers, Soups, and Healthy Salads. You can enjoy them all under one roof.
Also, they have a very patient staff who will listen to all of your order instructions to bring you the best meal possible.
Address: 627 Sleepy Hollow Ln, Laguna Beach, CA 92651.

Specialties: Grilled cheese, grilled jumbo Maine scallops, and Mexican shrimp pasta.
Splashes Restaurant
Splashes provide the best outdoor lunch Laguna Beach can give you in their beautiful palm-shaded patios. You can even take aesthetic pictures of your meal and yourself to show your friends and family.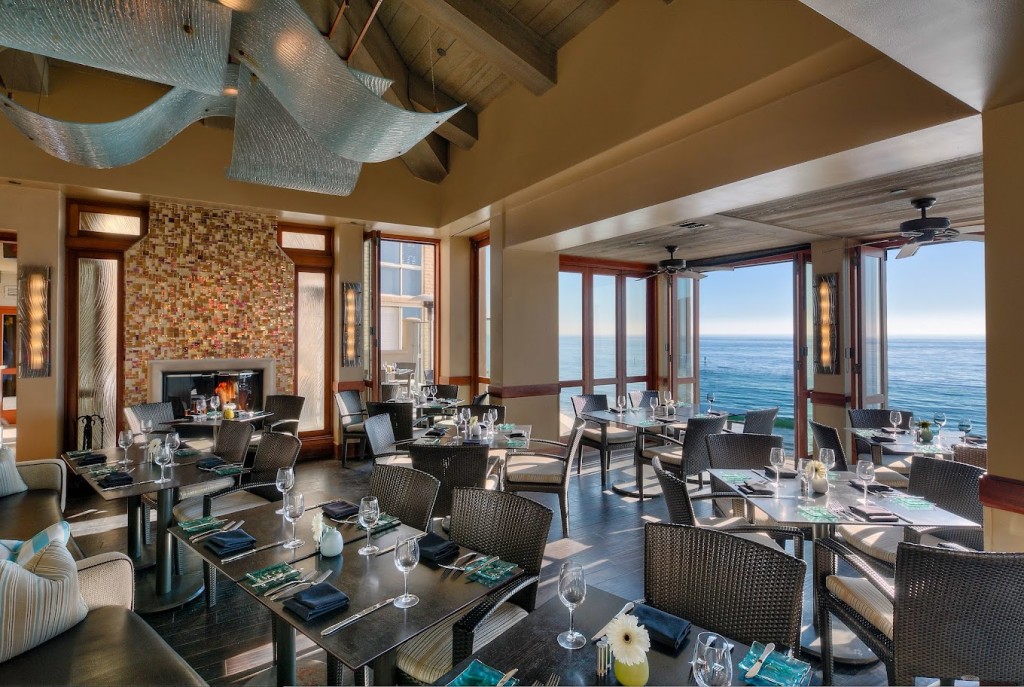 The restaurant has yummylicious lunch items, all of which are presented with gorgeous presentations. Plus, everything is served in large quantities to make sure that you gain enough energy for the day.
The lunch timings are 11:30 am to 3:00 pm from Monday to Friday.
Address: 1555 S Coast Hwy, Laguna Beach, California 92651.

Specialties: Tableside lobster bisque, and mahi-mahi fish tacos.
Nick's Laguna Beach
Next, we have this famous place. Nick's has a vast menu with flavorful dishes. You can order Original Ribeye Melt, Classic Cheeseburger, and San Francisco Cioppino among others. Everything is made fresh and from natural ingredients to make your meal delicious.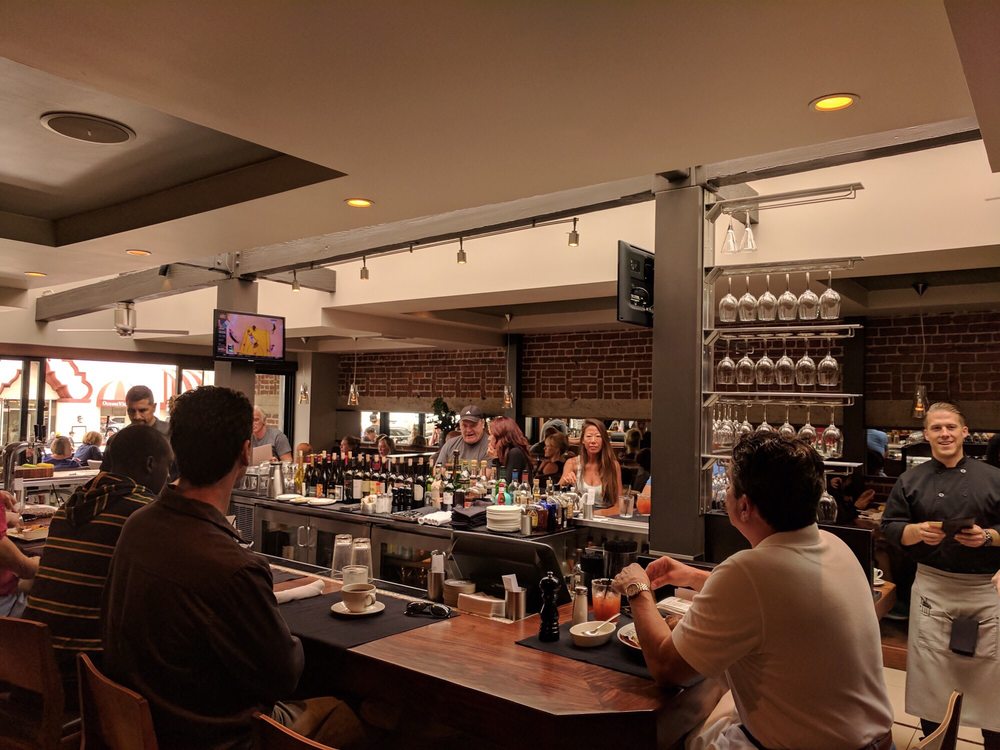 In addition, they have featured wines and cocktails that you should definitely sip on while you are here. Also, it would be a good idea to try cold beer because it is a distinct item that you may not find at every restaurant.
Address: 440 South Coast Highway Laguna Beach, CA 92651.

Specialties: Center-cut filet, buttermilk fried chicken, and blackened fish sandwich.
Driftwood Kitchen
It is another place that never compromises on its quality and quantity. Besides, they have very professional staff who are trained to provide top customer service. Consequently, your visit will e very smooth.
Another great part about Driftwood is that its menu is distinct. There are dishes, like Beach Burger, Pan-Fried Brussel Sprouts with Raspberries, and more that will definitely impress your palate.
Plus, the view from this restaurant is exceptional and you will love every minute you spend looking at it.
Address: 619 Sleepy Hollow Lane, Laguna Beach, CA 92651.

Specialties: Steamed Washington mussels, and Pan-Fried Brussel sprouts.
The Cliff Restaurant
Providing one of the tastiest lunch meals, this is a mesmerizing place to visit. At The Cliff, you can enjoy outdoor lunch in Laguna Beach overlooking the beautiful whitewater.
Moreover, the fresh sea breeze will surround you at this restaurant while you have your lunch. Thus, you can relax your mind for the rest of the day. And, their lunch menu is a delight. You will be surprised to see the collection of delicious meals at The Cliff.
If you are not sure about what to order, go with their seafood tower. It contains several seafood items, made from fresh ingredients and seasoned to perfection. Share with your friends and family to have a great lunch.
Address: 577 South Coast Highway, Laguna Beach, CA 92651.

Specialties: Seafood tower, chicken nachos, and Baja burrito.
Oak Laguna Beach
This is the best place to pick for comfort cuisine. They offer a variety of options that you can even order for a quick bite. Some of them are Shrimp Pasta, BBQ Chicken, Roasted Sweet Corn, and Grilled Shrimp Tacos.
In addition, customers love their service and only have positive words for their praise. The staff is quick and efficient, therefore they strive to serve you only the best. And, their team consists of expert chefs who are great at what they do. So, it does not matter which dish you go with, you will experience a rich taste.
Oak also has a nice selection of wines and cocktails you can grab with your lunch.
Address: 1100 South Coast Highway #202 Laguna Beach, CA 92651.

Specialties: Oak burger, double-smoked bacon tacos, and mushroom curry.
230 Forest Avenue
The restaurant has an awesome collection of grazing plates, soups, salads, sandwiches, entrees, and much more to blow away your mind.
Plus, all the dishes are served in large portions to make sure that you satisfy your hunger to the maximum. 230 Forest Avenue also has nice surroundings to enhance your dining experience.
Address: 230 Forest Avenue, Laguna Beach, CA 92651.

Specialties: Warm parker house rolls, chicken Milanese, maple brined pork chop.
Sapphire
It is an extremely beautiful restaurant with an elegant sitting area and gorgeous lights. Consequently, you will feel cozy here. Also, this is a great place to click a few pictures for your socials, thanks to all the eye-pleasing backgrounds.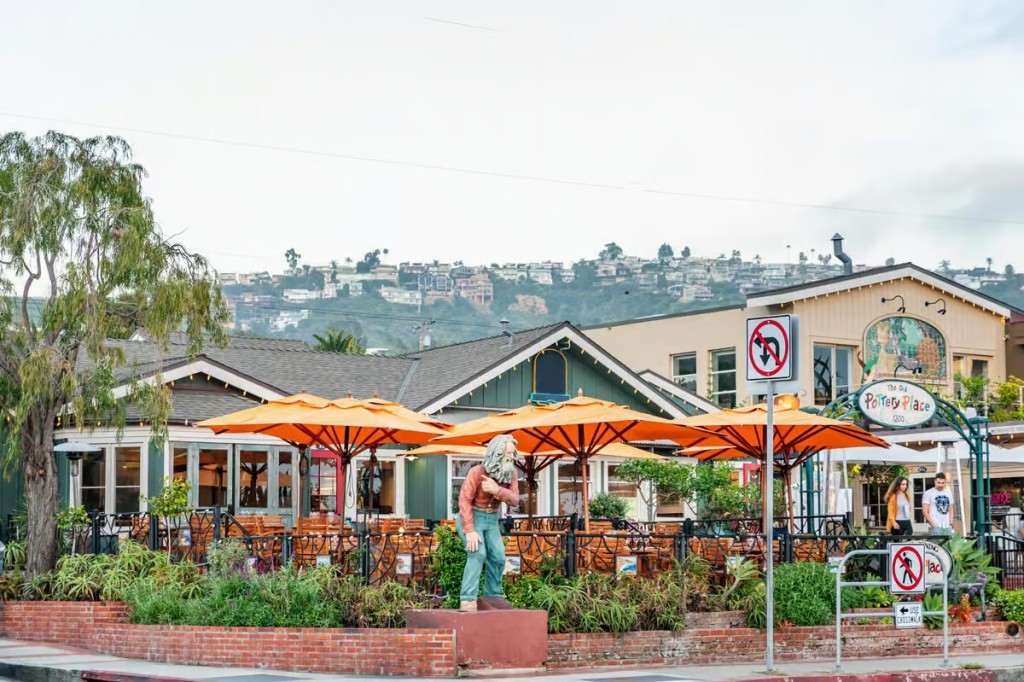 Furthermore, they have the best lunch in Laguna Beach. You can select from local and international delicacies to give a party to your taste buds. Try the Pale Ale Battered Alaskan Halibut Tacos if you prefer to try new things.
Address: 1200 South Coast Hwy, Suite 102, Laguna Beach, CA 92651.

Specialties: Classic BLT sandwich, and Meyer lemon creme brulee.
Coyote Grill
Serving excellent Mexican food, you will encounter a lovely fusion of flavors in their dishes. Coyote Grill will leave you drooling for more with their tempting dishes, each of which has a unique element added to it. You will feel like you have been transported to Mexico once you take the first bite of food.
Additionally, they have a casual seating area with an ocean-view balcony. It will serve as an aesthetic backdrop for your pictures.
All the items are brought to you with maximum care so that you have a memorable lunch experience at Coyote Grill. Also, address any complaints you might have to their staff. They will be sure to resolve it.
Address: 31621 Coast Hwy, Laguna Beach, CA 92651.

Specialties: Tamale plate, enchiladas, fish tostada, and steak fajitas.
Also Read: 2 Hidden Pools in Laguna Beach You Must Visit
Reunion Kitchen
As the name suggests, this is the best restaurant to have a reunion with your friends and family in Laguna Beach. They serve top-notch food that everybody will love for sure.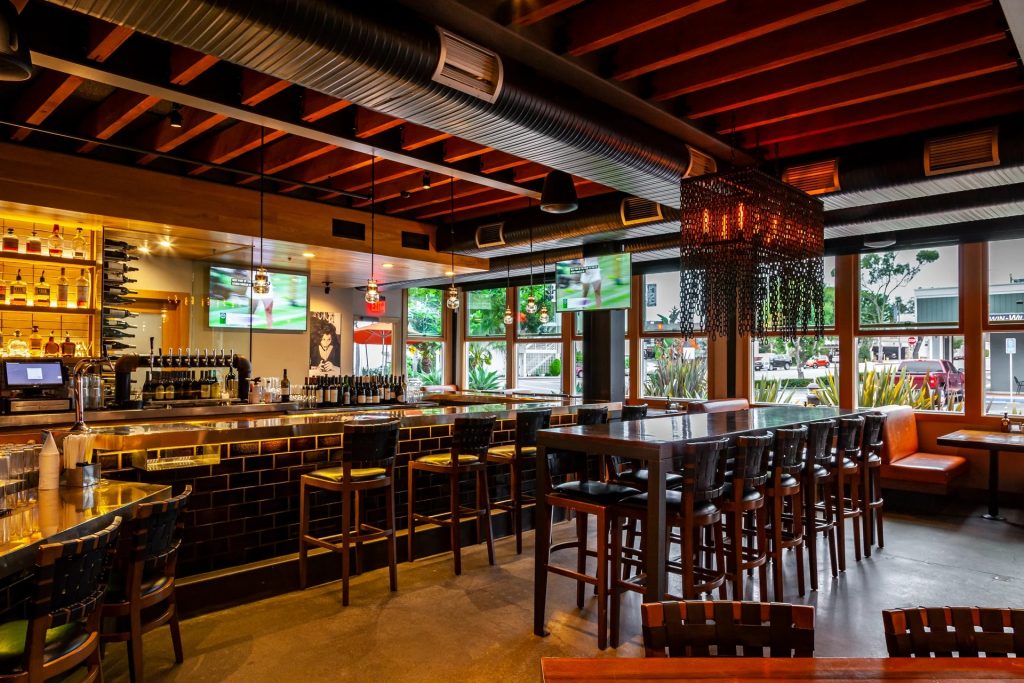 Besides, everything on their menu is made from authentic and fresh ingredients. Thus, you will only find delectable food here.
You can have Asian Crispy Ribs, Pan Roasted Salmon, Turkey Pot Pie and so much more at this spectacular eatery. The ambiance and service will leave you impressed.
Address: 610 N Coast Hwy # 102, Laguna Beach, CA 92651, United States.

Specialties: Crispy pancetta pasta, honey-blonde fish, and chips.
Lumberyard
This restaurant has a luscious menu, along with a friendly staff. And, the ambiance is very pleasing, with beautiful decorations and an elegant interior. We can rightly say that it is an exquisite place for lunch in Laguna Beach.
In addition, there are several items on their lunch menu, all of which have a flavorful aura. Plus, every dish is an apple to the eye to intensify your hunger pangs.
Address: 384 Forest Ave. #10, Laguna Beach, CA 92651.

Specialties: BBQ rib dinner, grilled salmon salad, and fried chicken sandwich.
Alessa by Chef Pirozzi
Now, we have this superb lunch restaurant to introduce in our compilation. This one is a bustling place, full of pleasant smell and aura that will intensify your cravings.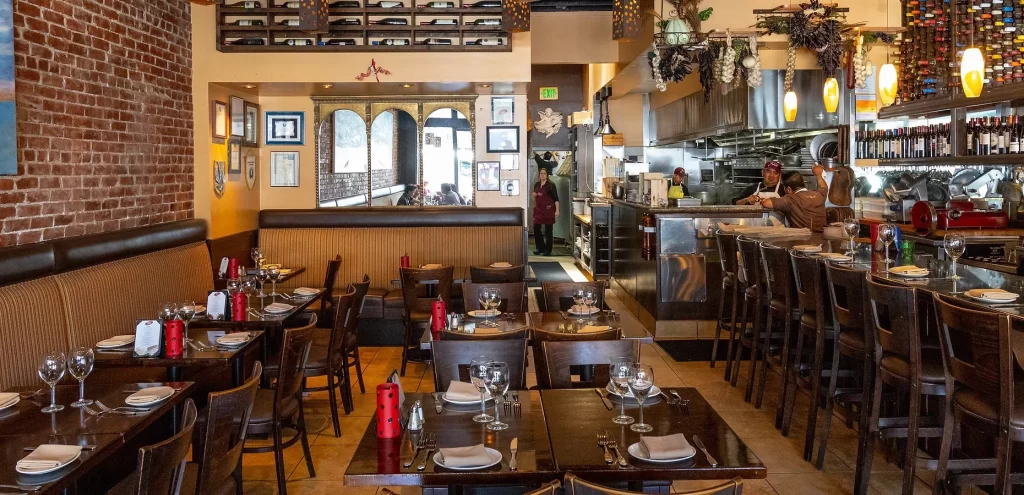 Besides, Chef Pirozzi is a native Italian chef who knows exactly how to nail each dish. So, if you are a fan of Italian food, visit Alessa. You will feel a burst of flavors so good that you won't be able to tell if you are actually dining in Italy.
That's how good this restaurant is.
Address: 234 Forest Ave, Laguna Beach, CA 92651, United States.

Specialties: Meatballs panini, wild turkey, and bolognese pasta.
Beachcomber Cafe
Bringing to you this beachy cafe that lets you enjoy an endless view of the ocean. And, the patio is covered with shades to keep you safe from the scorching sun.
However, the cafe is located near Newport Coast which is not very far off from Laguna Beach.
Coming to their menu, there are many selections for lunch. You can go with Crispy Calamari, Shrimp Pesto Pasta, Miso Glazed Salmon, or any other item you prefer. Also, do not forget to order one of their signature cocktails because they are so refreshing. Your meal will feel incomplete without a cocktail to refresh your mind.
Address: 15 Crystal Cove Newport Coast, CA 92657.

Specialties: Grilled shrimp tacos, ahi poke bowl, and crab stack.
Mozambique Restaurant
It will make a good pick for lunch. You will find yourself indulged in a vast variety of delicious food. The choice will be hard since everything is equally tempting. Moreover, if you are confused about any dish, take assistance from the staff and they will explain you in detail.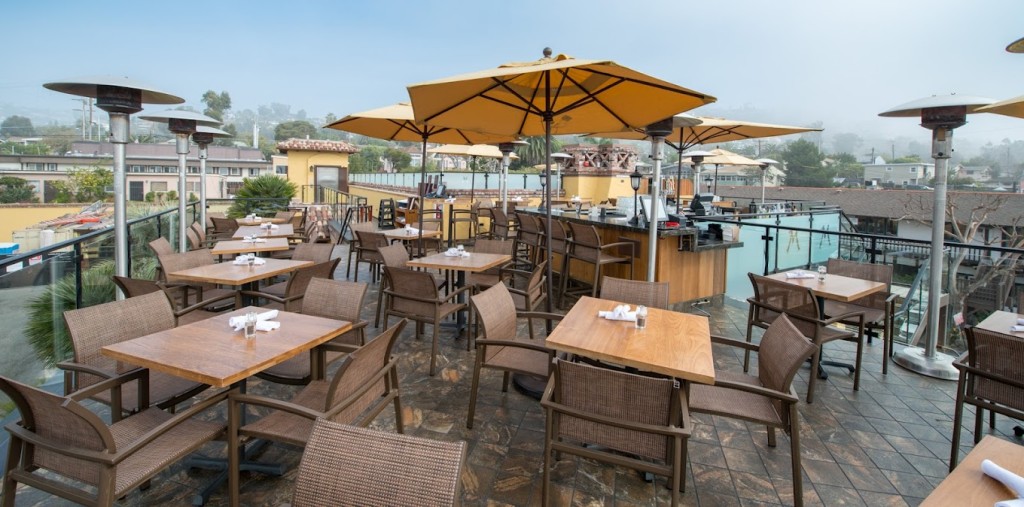 Apart from this, Mozambique serves lunch every day from 11 am to 4 pm. Thus, you can come here to refuel your body for the day.
Address: 1740 South Coast Highway Laguna Beach, CA 92651.

Specialties: Chilean sea bass, filet mignon.
Skyloft
At Skyloft, you will have the finest rooftop lunch Laguna Beach offers. Dine under the stunning blue sky to make your visit special. Your skin will feel the fresh and cool breeze as you munch on your favorite dishes here.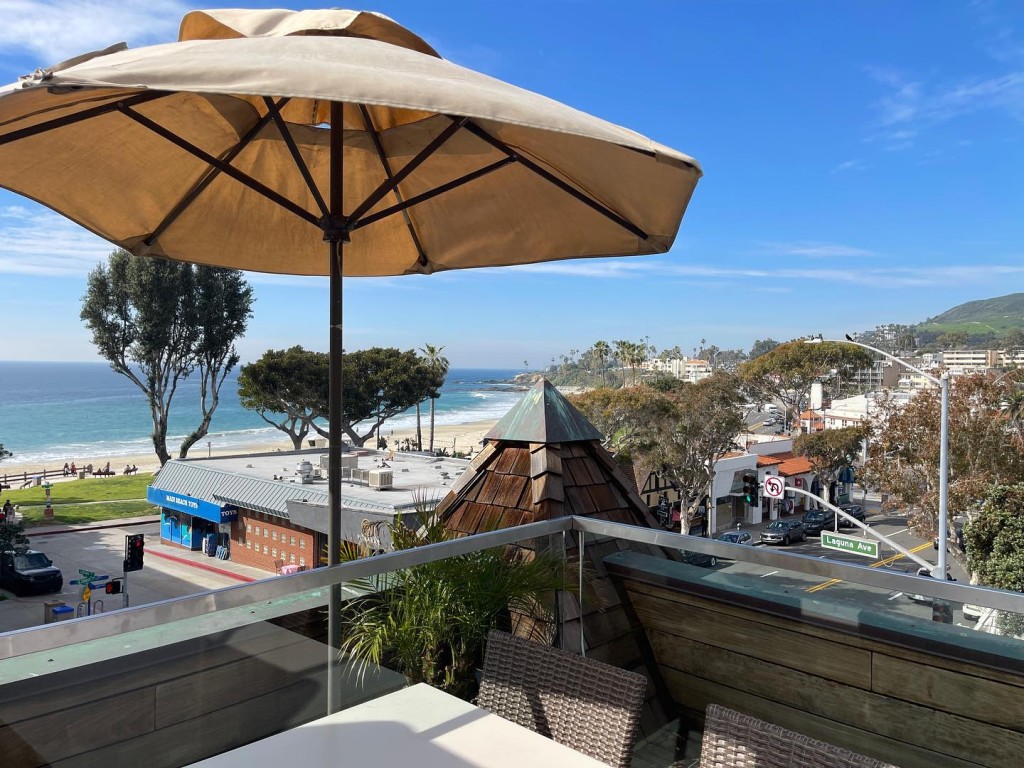 Moreover, they have appetizers, sandwiches, salads, BBQ plates, and a lot more on their lunch menu. And, under all these categories you will find delectable dishes that will make your mouth water.
Plus, you can build your own BBQ plate which can have a mix of proteins and sides to make a nutritious lunch.
Address: 422 S. Coast Hwy. Laguna Beach, CA 92651.

Specialties: Ahi tuna tower, and skyloft clam chowder.
Las Brisas
This place has a lovely atmosphere that you will surely approve of. Plus, this is the perfect restaurant if you want to enjoy a wide view of the natural waters.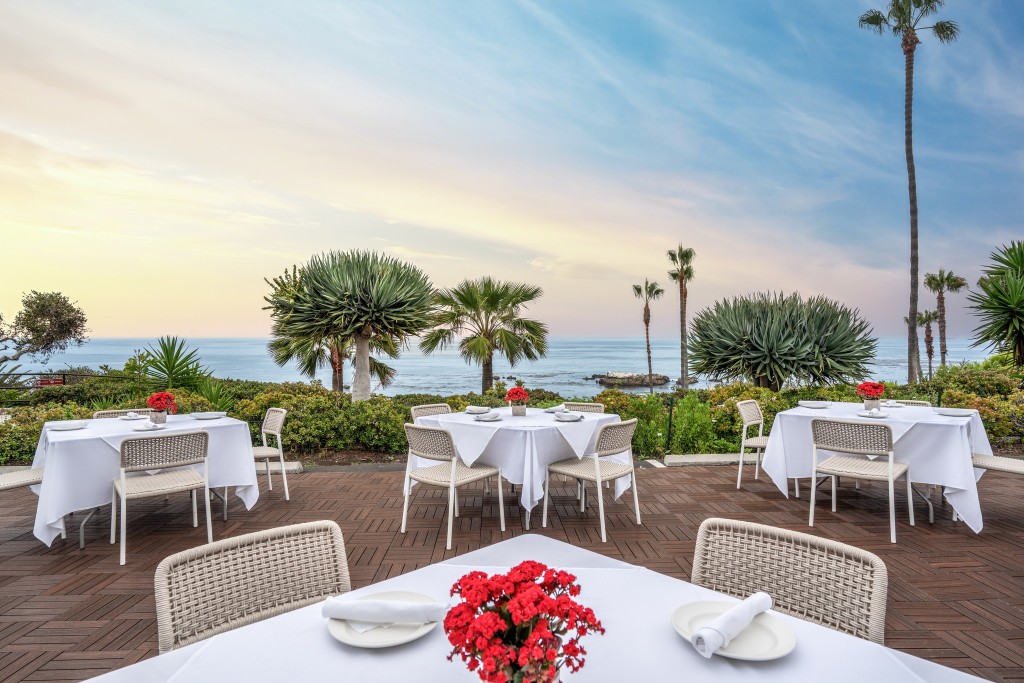 Las Brisas is one luxurious restaurant that is popular among the locals and tourists as well. Thanks to their incredibly delicious taste, and the overall aura of the food, they have been winning the hearts of their customers for a long time.
Consequently, you will have a great experience here, both in terms of food and their service.
Address: 361 Cliff Dr, Laguna Beach, CA 92651, United States.

Specialties: Halibut veracruz, cheeseburger, and maine lobster.
The Loft
If you are tired of being outdoors and want to have a relaxing indoor lunch in Laguna Beach, then, this is your place to be.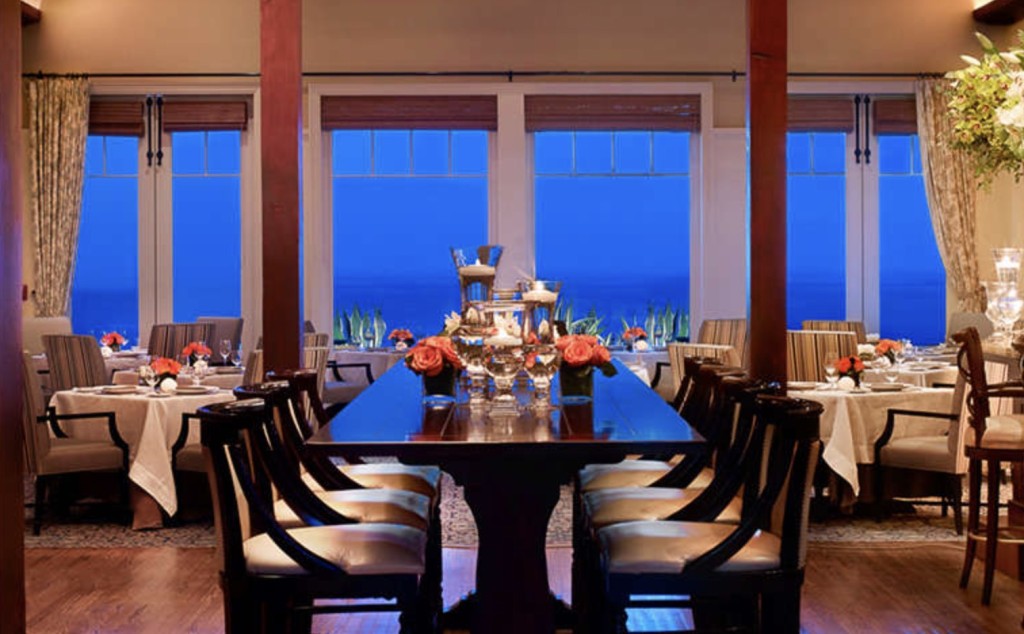 This extravagant restaurant offers a stunning dining experience with royal decorations and a great ambiance. Overall, it will feel like you are eating lunch in some luxurious restaurant.
Coming to the food, you will find all your favorite dishes here. They have a good array of items that will leave you drooling for more. It will become hard to decide what to order since every dish sounds and looks appealing.
Address: 30801 Coast Hwy, Laguna Beach, CA 92651, United States.

Specialties: Rotisserie half jidori chicken, and marinated swordfish sandwich.
Starfish Restaurant
If you are craving seafood, starfish restaurants will be a smart pick. They have a wide array of seafood items. Everything is made from fresh catch to make sure that you get the tastiest dish on your table.
Besides, you can order Crab California Roll, Kung Pao Chicken, and Candy Dragon Prawns for lunch. Apart from the above-mentioned dishes, there are plenty of more choices, so select your favorite.
Address: 30832 S Coast Hwy, Laguna Beach, CA 92651, United States.

Specialties: Szechuan prawns, thai crab fried rice, and hong kong lemon chicken.
Rum Social
This is another great option for healthy lunch in Laguna Beach. Rum Social is a dreamy restaurant with an extensive lunch menu. Also, the place has a gorgeous architectural design at the front to give off beautiful vibes.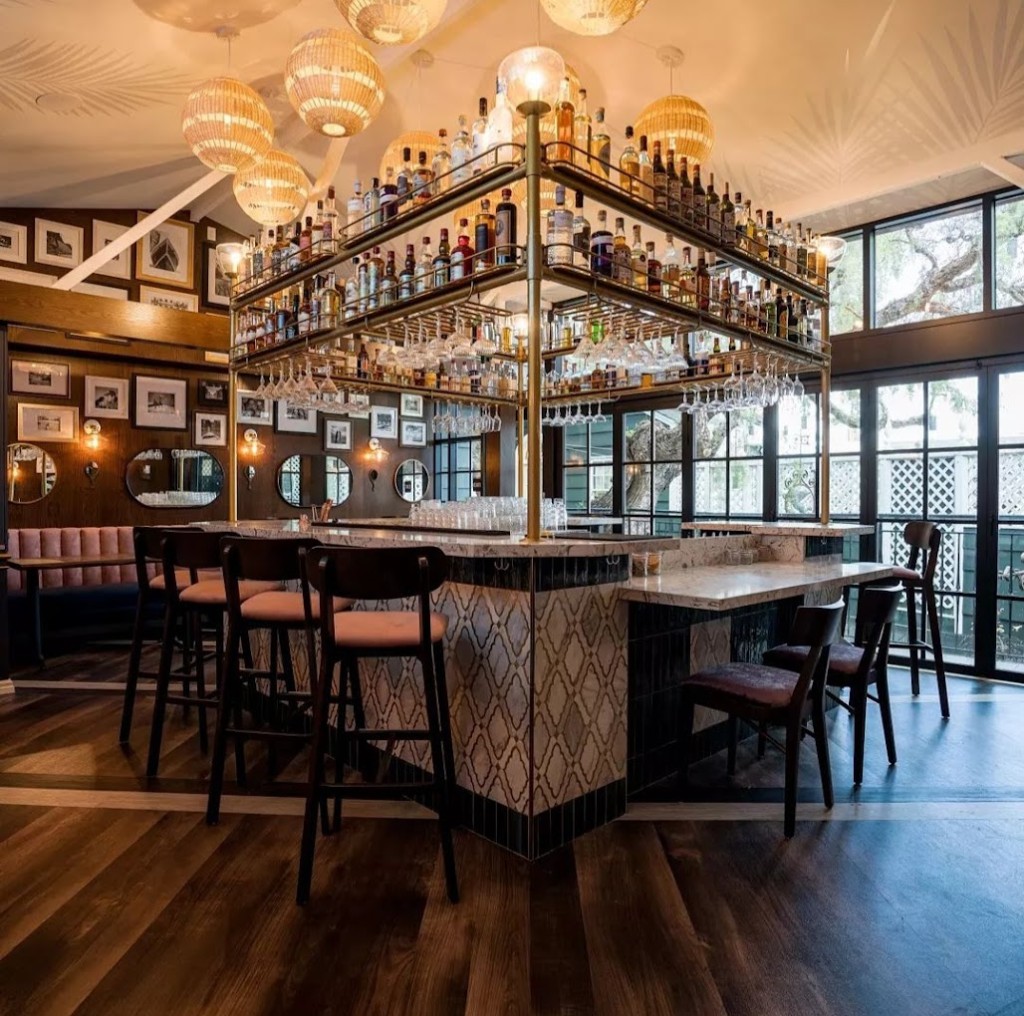 You will be glad about the pick as soon as you enter the restaurant. Their lunch menu consists of Local Ca White Sea Bass, Jamaican Jerk Chicken, Uncle Ken's Fried Rice, etc. All the dishes are served in plenty of portions to kick away your hunger for the rest of your day.
Thus, do give this restaurant a try while you are in the city.
Address: 448 S Coast Hwy Laguna Beach, CA 92651-2484.

Specialties: Bacon scramble, social burger, and duck and waffles hash.
Editor's Pick: Best Laguna Beach Art Galleries You Should Visit
North Italia
Located in Irvine, North Italia has an extensive menu. With a large selection of perfectly cooked sandwiches, pasta, pizza, and others, this place is sure to leave your taste buds wanting more.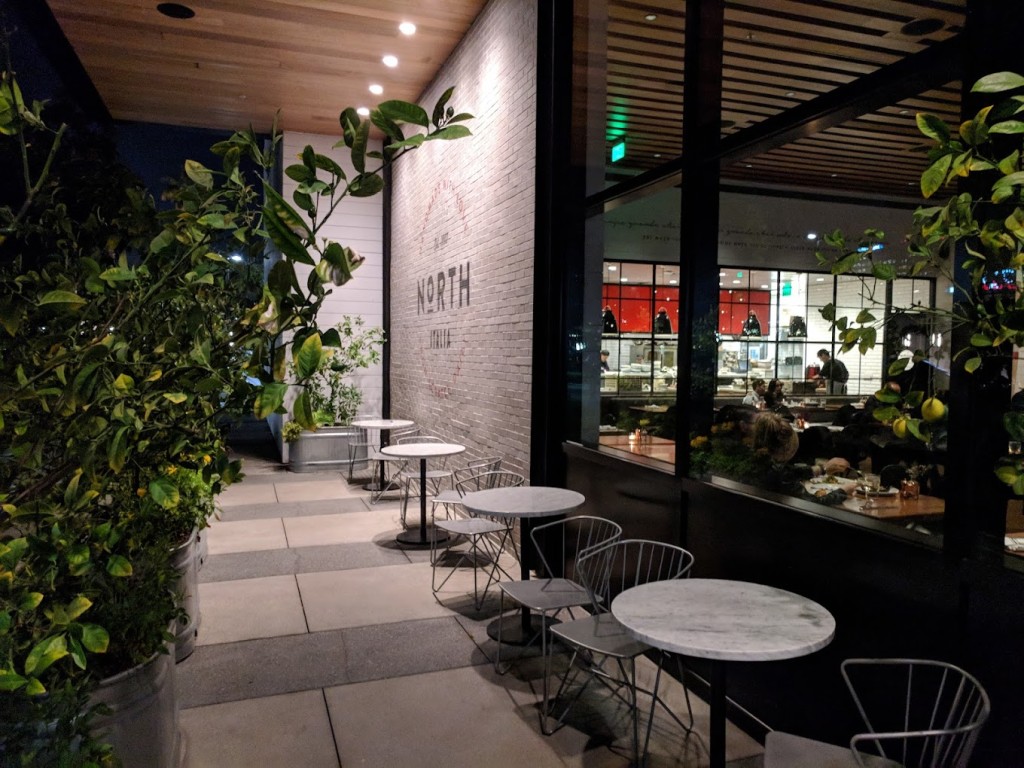 On the other hand, do not forget to try their vast menu of wines, consisting of white wines, rose wines, red wines, and even cocktails. You will love the drinks equally as the food because everything is balanced to perfection. Hence, they only serve the most delicious food you can have.
Address: 2957 Michelson Dr, Irvine, CA 92612, United States.

Specialties: Wines, and bolognese.
Conclusion
Summing up, there are various places for lunch in Laguna Beach that you can go to for a delicious meal. None of these restaurants will disappoint you regarding taste and service. Hence, you will walk out with a smile and a satisfied tummy. And for those seeking a romantic atmosphere, be sure to check out the best romantic restaurants in Laguna Beach for a truly unforgettable meal.
Best of luck with your pick!