A port city in Minnesota, Duluth is a major tourist destination in the tourism world, with stunning downtown architecture, trendy lakeside neighborhoods, and a destination for outdoor adventures. Numerous opportunities are available throughout the year, including hiking, fishing, musical events, etc.
Wondering about the best attraction to visit while you're in Minnesota? Here we have a list of Mesmerising Waterfalls in Minnesota You Must Visit.
In the last two to three decades, the craft beer scene in the city has been honored with numerous awards making the town more popular than ever. According to history, Thomas Preston Foster, founder of Duluth's first newspaper, gave the city a nickname in the late 1860s, "The Zenith City of Unsalted Seas."
And less than a century later, the city earned another nickname, "The Zenith City of Brewing," as residents took advantage of Lake Superior's pristine, safe-to-drink water to brew luscious beers.
Since then, a remarkable number of breweries have sprung up in the city, attracting people from all over the world and, most importantly, keeping the local economy alive. The good news for tourists is that none of the breweries in Minnesota's port city requires a long drive, but is located close enough to be reached on foot.
So without further ado, let's dive into a list of nothing less than Duluth's best and most popular breweries.
Similar Read: Top 6 Artisanal Breweries in Denver
List Of All-Rounder Breweries In Duluth, Minnesota
So without further ado, let's dive into a list of nothing less than Duluth's best and most famous breweries.
Fitger's Brewhouse Brewery and Grille
View Website
Get Directions
PERFECT FOR: Tasting a colossal variety of in-house beers with delicious snacks and meals.
Fitger's Brewery began its brewing journey around 1857, but the establishment soon turned into a candy and soda pop factory from 1920 to 1933. Due to the nationwide enactment of the Eighteenth Amendment to the Constitution by the United States, the constitutional prohibition on the manufacture, importation, transportation, distribution, and sale of alcoholic beverages.
However, in 1995, the brewhouse began crafting beer again; historically, that's where the brewery craze in Duluth took off. And currently, Fitger's produces more than 1,100 barrels of award-winning annual barrels of ales and lagers. The variety of beer that one can get here is impeccable, from fruity to sourly tasting alcoholic beverages; this brewery has 200+ recipes made from top-class ingredients up their sleeves.
Similarly, brew styles also range from English, German, and Belgian; whatever beer style you desire will be served with it here. They also have several flagship beers and special releases like seasonal brews that can only be enjoyed if they visit the brewery at certain times. Apart from this, the place also has a kid's menu for young visitors so that adults can enjoy savory beers while the kids dine on delicious food. All the aforementioned features amply justify why this brewery has been awarded for the past two decades.
The brewhouse also contains a cool shopping spot called "Fitger's Brewhouse Beer Store," where you can buy a draft beer transporting growler or a fabulous shirt or hat.
Now on to the delicious food you can eat at Fitger's Brewhouse Brewery & Grill. Their menu offers delicious pizzas, signature wild rice burgers, sandwiches, smoked fish salad, fish tacos, and several gluten-free and vegan options. Since the Wild Rice Burger is a specialty of the location and was even featured in the Duluth Reader Weekly, in light of the popularity of these burgers, customers can now pick up frozen burgers in Fitger's stores. The brewhouse also offers beer delivery.
Also, read 5 Stunning Bays In Wales You Never Knew Existed.
Canal Park Brewery
View Website
Get Directions
PERFECT FOR: Best seafood experience with award-winning craft beers and premium quality wines and cocktails.
Canal Park Brewery Located on the famous Lake Superior Boardwalk in Duluth's Canal Park, this brewery has taken full advantage of its beautiful surroundings. The brewery creates an onsite centerpiece serving as a large dining area, bar, beanbag toss games, and an outdoor patio adorned with a bonfire setting and a tranquil view of Lake Superior.
The brewery has been given many wonderful names, such as Lake Hayes, Superior Swell, Stone Surf, etc. For the relaxing atmosphere and the view it provides.
It's a must-visit brewery when you visit Duluth's Canal Park. They have a variety of award-winning craft beers, including some popular options like Rocky Rappel Red Lager, Nut Hatchet Brown Ale, or Hank & Dabs Pale Ale. You can also find a wide selection of alcohol, such as high-quality cocktails and wines with a lingering finish.
Since the brewery is right on top of the lake, to keep the ocean waves alive, they offer excellent fish dishes on the menu, including tempura walleye, fish tacos, and fish and chips. But if you have a partner or family member who doesn't like fish, or you just don't feel like eating fish that day (which you'll honestly regret later), don't worry. They've got delicious juicy burgers, sandwiches, salads, and vegan options.
Similar seafood attractions in the United States: Top Laguna Beach Seafood Restaurants.
If your kids and pets have tagged along to Canal Park and you still want to try a beer, the brewery has you covered. They also offer kid-friendly appetizers and desserts made exclusively with local Duluth ingredients to help visitors appreciate the authentic flavor of the city. As for the pets, you can walk them on the pet-friendly outdoor patio adjacent to the Canal Park Boardwalk.
Canal Park Brewery offers excellent-tasting beer and delicious food with patio seating; kids can tag along, and visitors can even bring their pets as the brewery is pet friendly. All of these features contribute to the brewery's popularity and reasons for all year around crowds at the brewery and long queues of visitors always waiting to enjoy beer and food here.
Like Fitger's Brewhouse Brewery and Grille, the brewhouse also has its own in-house gift store where customers can purchase t-shirts, hats, and more to take home as a memento of the place. This place is technically remarkable because Canal Park Brewery cares about the planet's environment and well-being, so the brewery generates the necessary electricity through solar panels.
Last but not least, you can enjoy great-tasting beers and delicious food here and avail yourself of their delivery and curbside pickup facility.
Another proud Canal Park brewery in the Suites Hotel building in Canal Park is Hoops Brewing Company. Although the brewery is one of the newer establishments in the port city, the brewer who orchestrated the place, Dave Hoopes, has plenty of brewing experience as he is a seasoned master in the field.
The ambiance and setting of Hops Brewery are simple and communal in style, providing an excellent and relaxed atmosphere to meet up with friends as they have around 30 great beer options on tap for you to taste. Apart from this, this place also welcomes the family as you can find numerous exciting games like ping pong board games, plus kids can tag along with you because there is also plenty of play space for the little ones.
Now to the specialty of this brewery, at Hoops, you will find every characteristic flavor of beer you could ask for. Still, this place makes these ordinary-tasting beers into something intriguing by mixing different beers and creating new ones like popular Chili Ale and Guava Wheat. These innovative beers are worth trying.
No doubt mind-blowing beers are served here, but what they don't offer is the food. Yes! All you can enjoy at this brewery is beer and board games. But before you get that sad face, let me tell you that this place allows customers to bring their own food, so you're more than welcome to bring your favorite pizza, hot wings, burgers, etc., takeout to Hoops. The brewery also allows customers to call for delivery, so your delivery man will have no problem bringing your order to you right to the taproom at Hoops Brewing Company.
Love their beer; you can take advantage of their curbside pickup to maintain social distancing, order crowlers, and have a safe party at home with immune friends and family.
Ursa Minor Brewing
View Website
Get Directions
PERFECT FOR: Tasting Bold flavored brews with unique names in LGBTQ+ friendly settings.
Ursa Minor Brewing can be counted as one of the brewing companies established recently. In West Duluth's trendy craft district on Superior Street in Lincoln Park, Ursa Miner offers a warehouse atmosphere with open garage doors in its outdoor beer garden. This brewery is popular with locals and outside visitors alike who appreciate the community-centric atmosphere.
Ursa Brewery, a relatively new brewery in the port city, has successfully made a name for itself in the industry with the quality of its craft beer and, in particular, its products with innovative titles such as Beer-Ista, Ditch Monster, and Helmet Hair, the Cherry Cream Float, a lactose sour; Constellation Cream, a cream ale; and S'more than Bear, a pastry stout. You can also find a fantastic variety of craft beers like hops, sours, darks, and lights.
In Duluth, you'll find a unique characteristic associated with each brewery that distinguishes it from neighboring breweries. As in the case of Ursa Minor Brewing, along with a variety of premium beers, they partner with local restaurants and serve their food at the brewery with the best intentions of stimulating and benefiting the state's local economy.
The brewery also offers its signature hot-baked-in wood-fired oven pizzas, which are original and delicious, and go well with its great variety of craft beers.
Catch regular live music sessions, bingo game nights, trivia events, and more from Thursday to Sunday, special bike ride events at night, and brewery tours on Wednesdays. In addition, the most fantastic part is that the brewery is (as already mentioned) community-centric, so it is, in all aspects, friendly.
Customers can bring their kids and family as the brewing company is kids and family-friendly. Its substantial outdoor patio seating provides a relaxing atmosphere with a beautiful outside view. The brewery is also pet friendly, so there are no guilt trips about leaving your pet at home while you go out to have fun with your friends and family.
Similar attraction: Top 20 Brewery Places in Virginia Beach
Bent Paddle Brewing Company
View Website
Get Directions
PERFECT FOR: Enjoying the best board games and more with flagship beers in a taproom.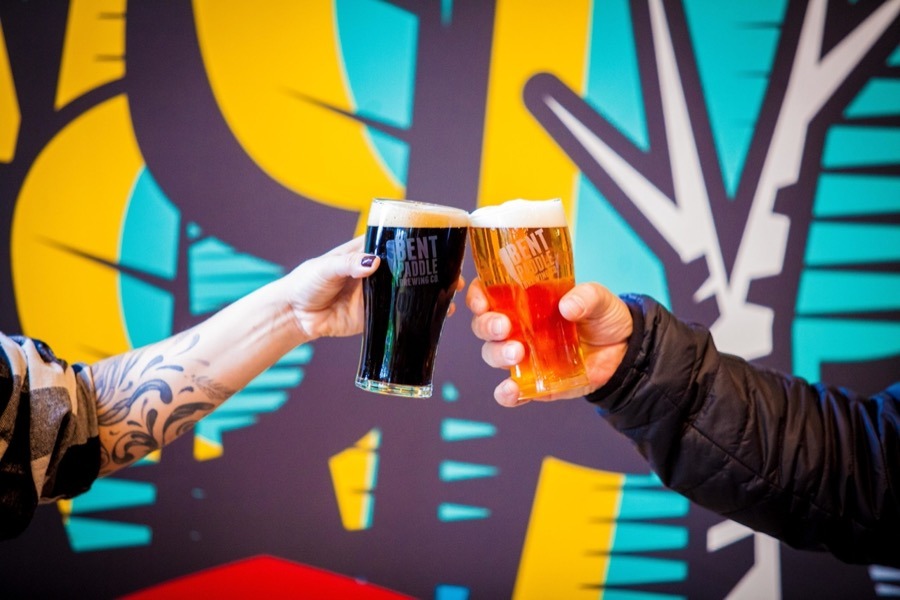 Another newly established brewery in Duluth, Bent Paddle Brewing Company, is a craft beer haven for young and old and families alike. It is located in the Lincoln Park Croft District and has more than 27 varieties of craft beer, such as amber ale, coffee ale, and American sour ale, along with fruit varieties, such as pineapple and mango. Its signature craft brews range from Kano Pale to Cold Press Black Coffee Ale. They also offer Tramped American Golden Ale, named after a bluegrass boy band in Duluth called "Tramped by the Turtles."
In addition, with the varying season, different varieties of beers are also brewed, in summers seasons, customers can enjoy Bent Paddle's signature Paddle Break Blonde and Wilderness Tuexedo, while in winter, the Vienna-style Roof Rack Lager dominates the sales of other craft beers.
However, Bent Paddle Brewing Company does not serve food like Hoops Brewing Company. But like most non-food-serving breweries in town, Bent Peddle has found a solution to the food problem. Visitors can order food at the taproom from neighboring restaurants or take advantage of Bent Paddle Brewing Company's food truck.
Along with comfortable and well-lit indoor seating, the brewery taproom has a kid and adult-friendly gaming area where they can play exciting games like a foosball table, dart board, etc. Bent Paddle Brewing Company also has a large lawn dedicated to designing an outdoor patio seating area to serve beer to customers who appreciate outdoor seating.
You can enjoy live music events, bingo game sessions, and wood-fired pizza nights, plus customers are encouraged to try their local root beer on tap.
Things To Consider Before You Visit The Breweries In Duluth
Public Drinking Law — In Minnesota, people can be detained for bringing an alcoholic beverage onto the sidewalk from the restaurant or bar where they purchased it unless the container is sealed. The same goes for drivers and passengers with unsealed or open containers of alcohol, even if they are not driving.
Home-Brewed Alcoholic Beverages Allowed — Anyone over the age of 21 may bring home-brewed wine and beer to a public event or party, but it is illegal to sell or serve it to another party.
Beer Sales Ban At Grocery Stores And Gas Stations — In Minnesota, it is a criminal offense to sell strong beer, wine, or spirits on premises such as grocery, convenience, drug, general merchandise stores, or gas stations. Minnesota allows grocery and non-liquor stores to sell beer and malt beverages with only 3.2 percent alcohol.
How Do We Pick Our Recommendations
Our certified international travelers and experts pay attention to even the most minor details when choosing a particular destination to ensure that our recommendations are the most beneficial for beer-loving readers who are always looking for the best breweries. Duluth has several award-winning and high-quality breweries, so our experts select the best based on factors such as popularity, beer types, seating, food menu and categories, and atmosphere. Our travel team adheres to strict standards and visits the breweries themselves. Apart from this, we also value the experiences of the guest visitors and make sure to consider them to create a valuable list of brilliant tasting range of craft beers. Through a thoughtful process, we are able to provide readers with unbiased, accurate, and reliable information.
Final Word
Duluth is full of innovative and unique breweries that garner praise from Port City locals and out-of-town visitors. A significant number of breweries in the state offer food along with craft beer. Some don't. However, those that don't serve food have a great culture of supporting their local economy, meaning breweries like this one allow customers to order food on tap. Beer culture in the picturesque port city is primarily anchored by Minnesota's Lake Superior, Duluth, and serves as a haven for beer lovers. Expertly taking advantage of pristine Lake Superior water, the beer is brewed with lake water, justifying the wide variety of flavors and quality of beer that consumers can find in Duluth. Due to the abundance of pubs and significant seating areas, customers don't need to ride to the venue; instead, they can easily visit a neighboring brewery to have a great time with friends and family. Since most breweries in Duluth are kid and pet-friendly, breweries in Duluth have everything you could ask for in the craft beer scene, so visit some popular breweries with your friends and family.
Read next: 10 Round-The-Clock Things You Should Do On Your Trip To SoHo.
Breweries Famous For Being The Heart Of Minnesota's Port City, Duluth - FAQs
What is Minnesota's favorite beer?
Minnesota's favorite beer is Summit Extra Pale Ale, which won several awards, including a gold medal for English-style pale ale at the 2010 World Beer Cup.
What beer is only sold in Minnesota?
"3/2 beer," meaning beer with only 3.2% alcohol content, is the only beer still legal in Minnesota for grocery and convenience stores.
Can you drink on a beach in Minnesota?
No, alcoholic beverages such as beer and wine are not allowed on the beach and in any public place.