The state of Colorado is heaven for craft beverage lovers. The city showcases 3,000+ beers at the Great American Beer Festival. It ranks fifth in sales of craft brews and eighth in production worldwide. With 400+ breweries in the country, from staple beers to unique flavors, there's something for everyone.
A brewery is a simple place to experience the authentic taste of the site's beer. But it's also a place where you have complete freedom to have a great dinner with your friends, as most breweries usually have great menus and food. In addition, each brewery has its own unique character and flavor that may not be found anywhere else in the state. So, it's like experiencing something new every time you decide to visit a new brewery in Denver.
Lastly, the essential advantage of having a liquor store near your place is that you don't have to drive for hours to quench your thirst but can reach there in minutes. But make sure you don't overdo it and avoid drinking more than one beer if you don't have someone to take you home.
List Of Must-Visit Breweries In Denver To Taste Revolutionary Beer
Now, we know the benefits and what else you can expect when visiting a brewery in Denver. Let's discover a complete list of thirst-quenching breweries for beer lovers visiting Denver to experience the best beer taste.
Also check out: Best Breweries in Anaheim
Brian Dunn, owner, and founder of Great Divide Brewing Company is credited with introducing the craft beer scene to Denver. His dream was to open a public brewery in Denver. The man used his considerable knowledge of beer, empowered by his love of taste, to finally realize his dream in 1994. And since then, the company has been introducing award-winning beer collections.
One thing that separates Great Divide Brewing Company from your average brewery is Mr. Brian Dunn's mission to brew and sell beer commercially; along with making money, he aspires to educate customers about the craft beer scene.
On a visit to the brewery, you'll immediately be exposed to various beers and ales to choose from. Still, trying their multiple award holder beer, Yeti. It has a unique and bold flavor of roasted malts that offer a rich essence of big caramel, and toffee notes are always recommended as it is a must-have option among their not-to-be-missed beer.
Great Divide Brewing Co. has three more classic and hearty beer options: Titan IPA, Yeti Imperial stout, and Colette Farmhouse ale, but there's always more in the beer pipeline, from Rudy Grapefruit Riddler and Margarita Goose to 2021 GABF Silver Medalist Wild Raspberry Ale.
After expanding their reach, you can now find them at Denver International Airport, a taproom in Castle Rock, and Barrel Bar and Packaging Hall in the RiNo District. So, with their brewery at the Denver International Airport, hitting the brewery with friends and embarking on an exciting trip to explore Denver and its adventures doesn't sound like a bad option.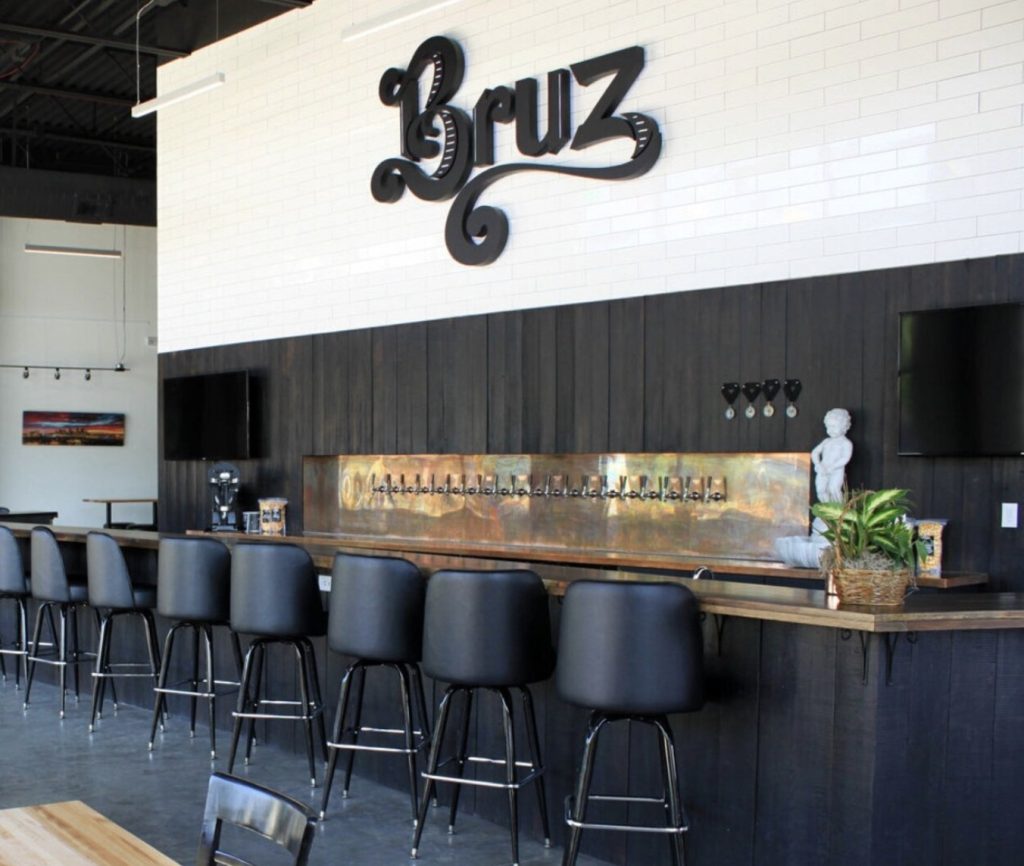 Bruz Beer is an artisanal brewery that has taken it upon itself to keep the traditional Belgian beer style alive to this day. With a passion for excellence and innovation, Bruz Beers was born out of the efforts and love of two co-founders, Charlie, and Ryan, for the original taste of Belgian beer.
Charlie has a history of being a homebrewer, while Ryan was introduced to Belgian beers through backpacking and grew to love them even more. The brewery uses efficient methods to produce beverages so that no by-products, such as water, ingredients, and resources, are wasted.
You can experience Bruz Beer at two locations in Denver, the original tasting room in midtown and the taproom off Colfax in downtown Denver. The beer taste in these two places may differ, but the taste available at both branches is undoubtedly excellent.
In addition, the Midtown Tasting Room offers food, including pizza and snacks, and a daily food truck, which makes Bruz Beer a great brewery to visit over lunch or dinner with friends, accompanied by a delicious glass of beer.
Popular brews are Hellraiser Golden Strong Ale and Puppy Dog Session IPA. Puppy Dog Session IPA is the most popular for Belgian yeast and spices and its tropical flavors such as grapefruit, grass, pine, etc.
Tivoli Brewing Company
View Website
Get Directions
PERFECT FOR: Enjoy the innovative range of beers with American-inspired meals and snacks
Built in 1864, Tivoli Brewery in Denver has been crowned as the first brewery built in Colorado and the second in the nation. In 1859, John Good started the Tivoli Brewing Company to produce a legendary lineup of outstanding craft beers.
Tivoli Brewing Company's exclusive Helles Lager tastes like it did in 1859 and is an authentic Munich-inspired lager that's refreshing and smooth. Try it with their Traffic Jam Sandwich, which consists of melted cheese and apricot jam to intensify its taste.
Unfortunately, a record flood in 1965 caused enough damage to the brewery that it ceased commercial sales and production of aged beer. But Tivoli Brewing was revived in the same building in 2012 with state-of-the-art equipment.
You can satisfy your cravings at the re-established brewery with American pub-inspired meals and snacks. The food is inspired by food trucks and includes appetizers such as nachos, sandwiches, burgers, and tacos. And there is no denying how excellent American-styled meals taste with a smooth and rich quality beer on a table with long lost friends catching up or office colleagues having a fun time of their hectic work schedule.
Now let's talk about something completely different that, as a beer lover, you don't usually experience everywhere: Dos Luces, this South Broadway taproom embraces corn as its prominent grain, offers two main types of beer, a blue corn-based Peruvian chicha, and maguey-based Mexican pulque made from maguey sap. Another specialty beer served here is Tepache, another Mexican drink made with pineapple and cinnamon.
As one of Denver's best new breweries, combined with old-school traditions, Dos Luces Brewery has pioneered its way into the craft beer scene by using corn instead of the barley we typically see in older brewery products. Their innovation in the world of craft beer is making all of their beers gluten-free since corn is the key ingredient. If you want a bit of change in the experience of high-quality beer that tastes great and is healthy, then Dos Luces Brewery is for you.
And how could we forget their discount deals on craft beer almost every day of the week? Yes, you heard right, users can enjoy 5% to 20% on Wednesdays and weekends.
For the sake of customer satisfaction, Dos Luces Brewery is always open to any questions you may have, so don't be afraid to ask questions about the history of their styles and their variations. Characterized by a corn-based brewery with a wide selection and variety, Dos Luces has a knack for making all guests feel included and welcome with an inviting atmosphere, community space, and non-alcoholic beer alternatives.
So, whether customers appreciate the taste of the beer or not, one can have a guaranteed good time alone or with someone's company at Dos Luce's brewery.
With an award-winning brewery in the heart of Denver's Bluebird District and another soon to open in Aurora, this brewery has taken the business to another level and leaned his expertise on craft brewing.
From a juicy mixed-fermented Saison beer to a barrel-aged Imperial Stout Safford, aged more than two years in bourbon casks and cacao nibs, toasted coconut and cassia bark, it exudes character.
From lagers to IPAs, and barrel-aged products, Cerebral Brewing is constantly introducing and applying new experimental styles that reflect its passion for creativity and innovation. So, if you ever visit this brewery, their "work from home" porter is a must-have.
Why so? It has notes of maple syrup and coffee, which gives it a slightly sweet taste, so even as a beginner, you won't have a problem chugging it simultaneously. That sweet taste from the coffee and maple syrup makes it perfect for breakfast.
Cerebral Brewing co-founders Sean Buchan and Dan McGuire take a scientific approach – a detailed thought-out list of practices in the craft beer scene to ensure the best beer quality, consistency of flavor in brewing beverage products, and increased awareness of craft beer in the local Denver community.
Offering a punch of unique flavors is the allure of Cerebral Brewing. And it loves to focus all its attention on that, considering how they don't serve brewery food but don't worry, as you can effectively deal with this problem with nearby restaurants, which serve delicious food to satisfy your hunger.
The brewery has another fantastic beer called Bird of War which is available in three exciting flavors, smooth sour with mango, pineapple, and banana. You can also visit their website for scheduled food trucks to grab some delicious snacks.
If you're looking for high-quality, craft-brewed, and impressive-tasting beer, the famous Fort Collins Brewery, which has found another home at the corner of 30th and Larimer in Denver's RiNo District, is the place to go.
Doug Odell's passion and interest in developing innovative and creative brewing techniques at home eventually led him to start a commercial brewery, not to mention the helping hands of his wife, Wayne, and sister, Corkie. He implemented new experimental techniques at the brewery to create high-quality beer products.
Denver's newest taproom features a welcoming outdoor patio with fun live music settings. The brewery's flagship beers, Easy Street Wheat and Pulp Theory Haze IPA, and small-batch brews like Clear Easy Haze IPA and Cucumber Lime Sour are specialties of the RiNo District. From tourists to locals, lagers, golden ales, and tropical fruit-flavored beers are a must-try for everyone.
Speaking of Odell Brewing's most popular product, their Mercenary Double IPA is a locally famous beer. It is brewed with a blend of hops that contain myrcene and gives a tropical fruit flavor and intense floral aroma. In addition, food trucks are also available on-site, so you can satisfy your little cravings with tasty snacks in between tasting the new range of beer flavors to find the most sensational for your taste buds.
Things To Consider Before You Visit The Artisanal Breweries In Denver
Hours You Can Buy Alcohol — You can buy spirits, wine, and beer at retail stores in Colorado. Grocery and convenience stores only sell 3.2 percent of beer, and bars avoid sales between 2 a.m. and 6 a.m. You can't buy alcohol in the afternoon between 2 a.m. and 7 a.m. Package stores are open from 8 am to midnight and are closed on Sundays.
Legal Drinking/Serving Age In Denver, Colorado — A person must be over 21 years of age to consume alcohol or work in a bar or package store. However, a person serving alcohol in a restaurant must be 18 or older unless supervised by a 21-year-old supervisor.
Forbidden Open Containers Drinking — In Colorado, no person is allowed to carry previously opened bottles of alcohol, such as re-corked wine, unless it is placed in the trunk of a vehicle. Therefore, people are prohibited from keeping an open container of liquor in a vehicle, which is considered a public offense.
Must Keep BAC Limit In-Check:
Like most states, in Colorado, the maximum blood alcohol content (BAC) level is .08 percent. A driver with a high BAC will be legally considered 'per se intoxicated' and can be convicted based on their tested blood alcohol percentage. No further evidence is required.
A tourist or a local driver who refuses BAC testing or has a BAC result of 17 percent over the legal limit of .08 percent will face stiff minimum mandatory fines.
The 'Zero Tolerance Laws' aim is to prevent underage drivers from drinking. A driver under 21 with a BAC of .02 percent or higher will face DUI penalties.
Penalties For Uncooperative Behavior — Under implied consent laws, the driver is responsible for showing proof of insurance and driver's license and submitting to breathing, blood, or urine tests for intoxication. Refusal to cooperate can mean a suspended license for up to one year, which can definitely put a horrible image on a tourist's visa.
How Do We Pick Our Recommendations
Our certified international travelers and experts pay attention to the most minor details when choosing a particular destination to ensure that our recommendations are as beneficial as possible to most readers. Denver has more than 150 breweries, so our experts pick the best based on their popularity, the types of beers and alcoholic beverages they offer, atmosphere, views, and prices. Our travel team adheres to strict standards and personally experiences the breweries. In addition, they consider the experiences of guest explorers to create a valuable list of satisfyingly affordable and modern taste brews. This well-thought-out process helps us provide the readers with unbiased, precise, and reliable information.
Also, check out our recommendations for the most Beautiful Waterfalls in Colorado
Final Word
Beer culture in Colorado is unsurprisingly organized primarily in Denver, making it the city with the highest number of breweries. Denver is full of innovative and unique breweries that locals and tourists appreciate. And the fact that these breweries are always open to suggestions and collaborations with residents to improve their brewing skills. So, there is zero percent need for a long drive or walk for locals and visitors to have a great time with friends and colleagues as all the breweries are within walking distance. After all, tourists and beer enthusiasts worldwide have recently taken a keen interest in some of Denver's best breweries. So, if you're looking for the best mixes Denver offers, I've done all the research for you, so you better get going.
Let's Take A Look At Some Of The Artisanal Breweries In Denver - FAQs
Does Denver Have Good Breweries?
Along with the West Coast cities of Portland, Seattle, and San Diego, Denver is one of the best places to find a bustling craft beer scene.
Can You Walk Around Denver With A Beer?
Driving with open cans of alcohol is generally illegal in Colorado, but local laws have exceptions that largely dictate where or what people can drink in public. Meanwhile, in Colorado, it is always illegal to drive with an open container of marijuana.
Can You Drink Beer As A Passenger In Colorado?
Under Colorado law, it is a traffic violation to have an open container of alcohol or marijuana in the passenger compartment of a vehicle on public roads. Penalties include a $50 fine plus a surcharge of $16 for alcohol or $7.80 for marijuana.