Do you want to go on a hiking adventure with your loved ones? Plan a trip to Colorado which has some of the world's most beautiful natural waterfalls. Ranging from beautiful cascades to thundering gorges, these waterfalls are just the right form of serenity one can enjoy. Some can only be seen by hiking a short distance, while others are obvious from the road. Visiting these magnificent Colorado waterfalls is an experience not to be missed, and you'll want to capture it all on camera.
Reaching a waterfall at the end of a hike in Colorado is the ultimate trail achievement. The sound of water falling into a pool and carrying molecules of hydrogen and oxygen is calming.
After a day of hiking and exploring the natural beauty of Colorado, why not take a break and explore some of Denver's top artisanal breweries?
Top 7 Mesmerizing Waterfalls In Colorado
Check out these recommended waterfalls in Colorado to help you choose where to go on your next-day adventure.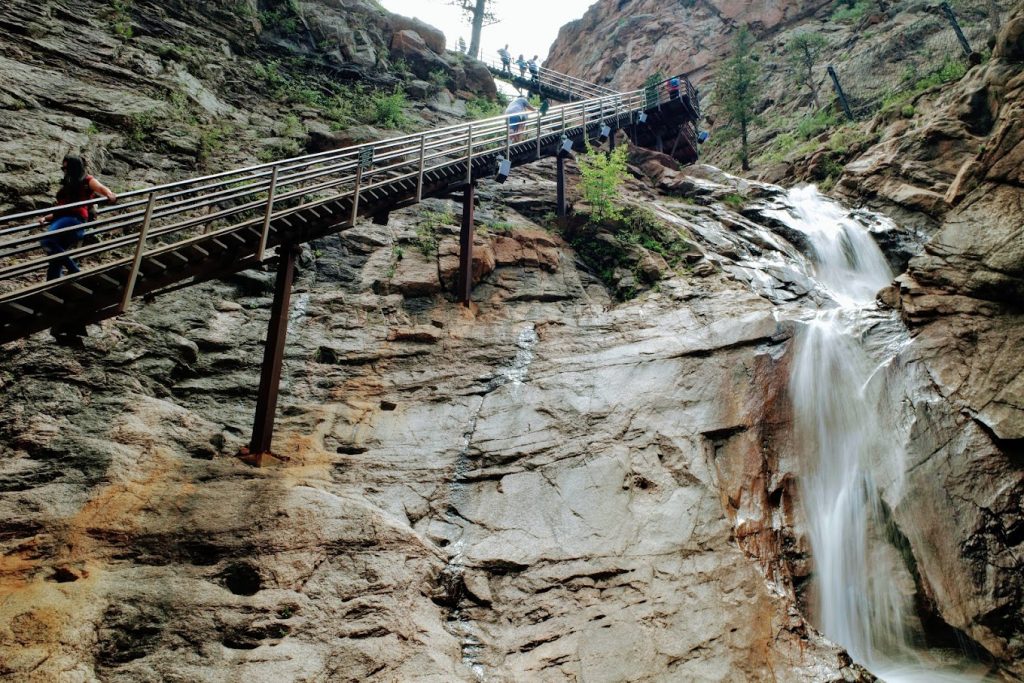 The Broadmoor Seven Falls is located at Lower Gold Camp Rd, Colorado Springs, and it's a popular tourist attraction in Colorado. Within the South Cheyenne Canyon, water cascades 181 feet in seven separate drops (hence the name). Seven Falls is one of the most beautiful places in Colorado Springs. Since an elevator was carved right into the mountainside, Seven Falls is also the most convenient natural wonder you'll find in Colorado.
We suggest going for the more energetic route that involves climbing 224 steps to the beautiful view at the summit unless you have mobility concerns. Moreover, to the east, you can see the start of the Great Plains, and the views of Colorado Springs which are breathtaking from this vantage point.
You can park at 1045 Lower Gold Camp Road in Colorado Springs and use a shuttle to get to Seven Falls. People take a free shuttle from the parking lot to the entrance to Seven Falls. From here, Seven Falls is a 0.8-mile (one-way) hike through the canyon. Visitors can take a $2 tram to the bottom of the falls, but the tram is mainly for people with physical disabilities that might make it hard for them to walk up to the falls and back.
Expect Crowds in the Summer and on the Weekends: Seven Falls is a famous tourist destination moreover, it can get swamped on the weekends and during the Summer. Plan accordingly for an enjoyable trip.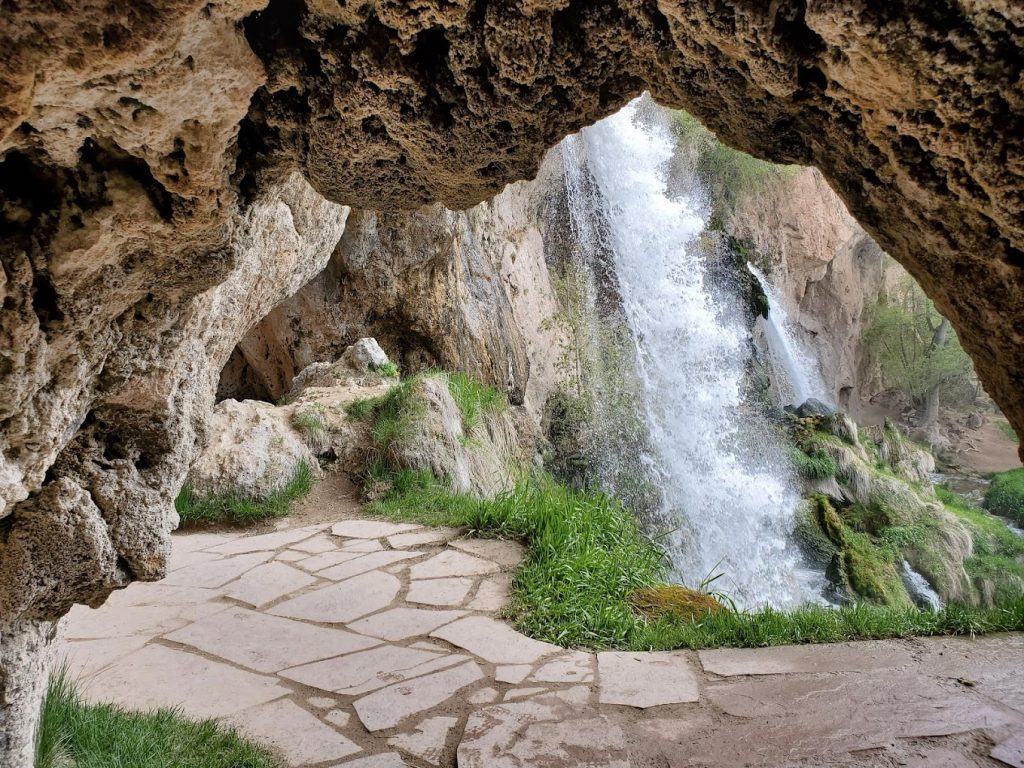 Rifle Falls is a real gem among Colorado's state parks in Garfield County northeast of Rifle. It has beautiful scenery and a lot of fun things to do. Rifle Falls is exciting because it has three waterfalls and a small but complex set of caves. It is a unique combination. The triple drop of 70 feet down limestone cliffs ends in a cave.
You can take a 0.1-mile walk to reach the caves via a paved walkway accessible to people with disabilities. Alternatively, you can also take a 1.5-mile out-and-back round-trip trail.
The loop walk also allowed us to check out some of the caves made by the travertine and enjoy the view from the top of the waterfall. Moreover, on top of that, the whole family can enjoy a good time because it is easy, safe, and enjoyable.
When you think about all these things, it's clear that this should be on our list of the best waterfalls in Colorado. There is a nominal fee of $9 to enter the Rifle Falls State Park. You can also purchase a pass if you plan to visit often. Sit around, enjoy a snack and take some snaps for the gram as you enjoy the natural beauty!
Similar Read: Mesmerising Waterfalls in Minnesota You Must Visit
The South Mineral Creek Falls is located in southwestern Colorado between Durango and Silverton and is specifically known for being a stunning two-tiered waterfall. The first landing is a 35-foot drop into a glistening turquoise lagoon flanked by rugged reddish rocks.
Those coming from Silverton will drive the Million Dollar Highway (US 550 north) past Red Mountain Pass to Road 7 and then to the falls. The starting point for the trail is the South Mineral Creek Campground, about 4.5 miles away. It is located at 9,950 feet, and the falls can be reached by taking a hike along the trail that traces the creek's south fork.
There is a small valley with a pool 20 feet below the waterfalls. South Creek Falls is one place you'll remember for a long time. From the campground, a hike to the southwest is the most fantastic way to see the creek's many facets. It would help if you are prepared to wade over the water to either side. It starts with a quick ford across Clear Creek; then it's on to South Fork Mineral Creek and the rest of the trip. There are waterfalls and ponds with intricate current patterns to explore along the way. Just over a mile from the campground is a double waterfall that is well worth the trip.
The glaciers have worn away the rocks in the water over thousands of years, which makes the water a deep turquoise color. The red rocks in the riverbed stand out against the blue water, similarly, in the fall, the yellow willows and shrubs add to the color scheme and give you lots of chances to take pictures. Take some snacks with you to enjoy them even better! In addition to the South Mineral Creek Falls in southwestern Colorado, Connecticut also boasts several of its own breathtaking waterfalls.
Zapata falls is located in the San Luis Valley near the base of the Sangre de Cristo Mountains on Great Sand Dunes National Park and Preserve in Alamosa County, Colorado. One of the most well-known waterfalls in Colorado, this one drops 25 feet into a sheltered rocky cleft. A treacherous journey over wet rocks and through cold river water leads to the waterfall. It is not a hike you go on when it's freezing outside so we recommend going in summer!
On the east side of the road is where you enter. You have to drive 3.6 miles up a rough gravel road. It's a little bumpy; cars with low ground clearance and two-wheel drive should be fine if the weather is good. Follow the guide until you reach the main parking lot.
You'll have to step on wet rocks across the creek to get a good look at the waterfall. Put on comfortable shoes and remember your camera. The hike to the falls takes about 20 minutes from where you park.
The waterfall is in its cave, so you must climb in a bit to get the most out of it. Like most waterfalls, it's best to see it in May or June, when it's the most powerful.
Still, it's a nice half-mile hike in the Summer to get to the falls, and the cool water feels good because this part of the state can get very hot in the Summer. The view of the dunes from the waterfall hiking and trail parking lot is also beautiful. Wind and splash of water allow the visitors to enjoy a cool environment at all times! This is what makes it one of the most spectacular waterfalls in Colorado.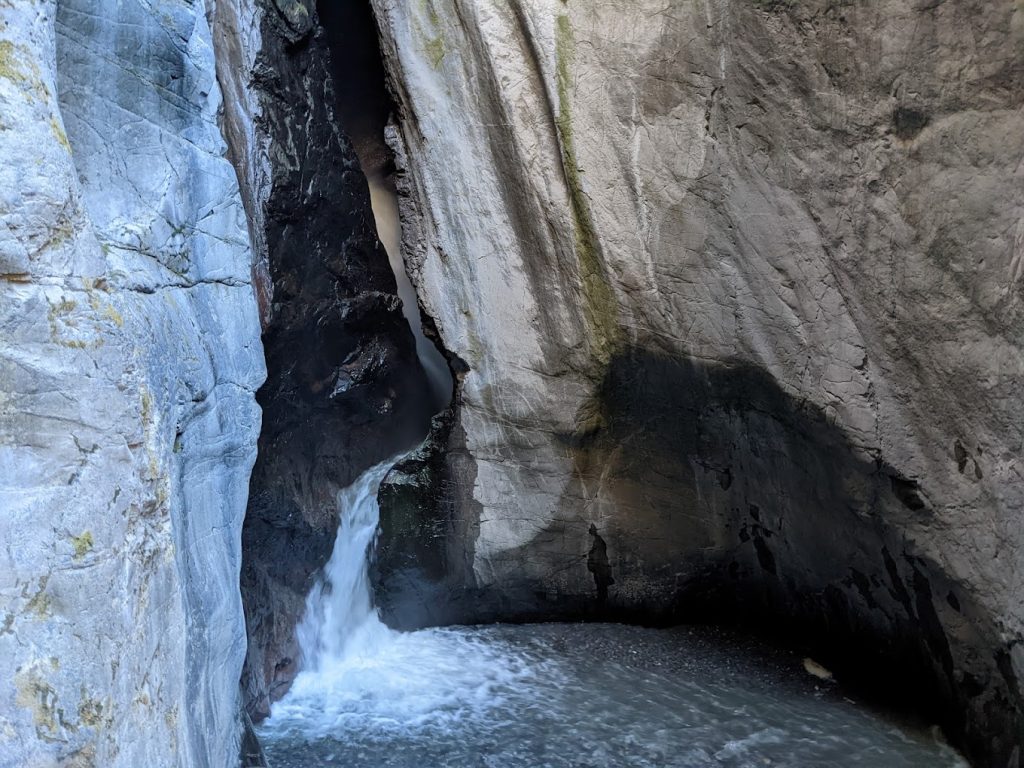 Box Canyon Falls is located at Box Canyon Falls Park in Ouray, Colorado outside of town. Take US 550 to County Road 361/Box Canyon Road, which is less than a half mile away. This leads to the parking area near the visitor center. In the small mountain town of Ouray, there is a beautiful box canyon with one of the most spectacular waterfalls you would have ever seen. The falls drop 280 feet with a tremendous roar. The waterfall can be seen from all sides thanks to a staircase, a short hiking trail, and a suspension bridge.
There is a waterfall that is easy to get to, hiking trails, picnic areas, and a visitor center. The visitor center has displays that explain the ecosystem and history of the site. Besides, it also has restrooms which is why you won't have problems taking elders or children with you.
There are three easy to moderately tricky interpretive trails in the park. You can picnic, hike, and see some fantastic things in the park. It's a simple 500-foot stroll into the canyon on the mostly-level Falls Trail.
In a half-mile round trip, the High Bridge Trail ascends 200 feet. Views of the town and the towering peaks of the Amphitheater Cirque can be enjoyed along the path.
You can explore Box Canyon's native flora on a short and relaxing walk along the Native Plant Loop, which features river sounds, trees, shrubs, and plant markers. There are no stairs on this track, making it unique in the park. If you're looking for more waterfall adventures in the US, Ohio also boasts some stunning falls.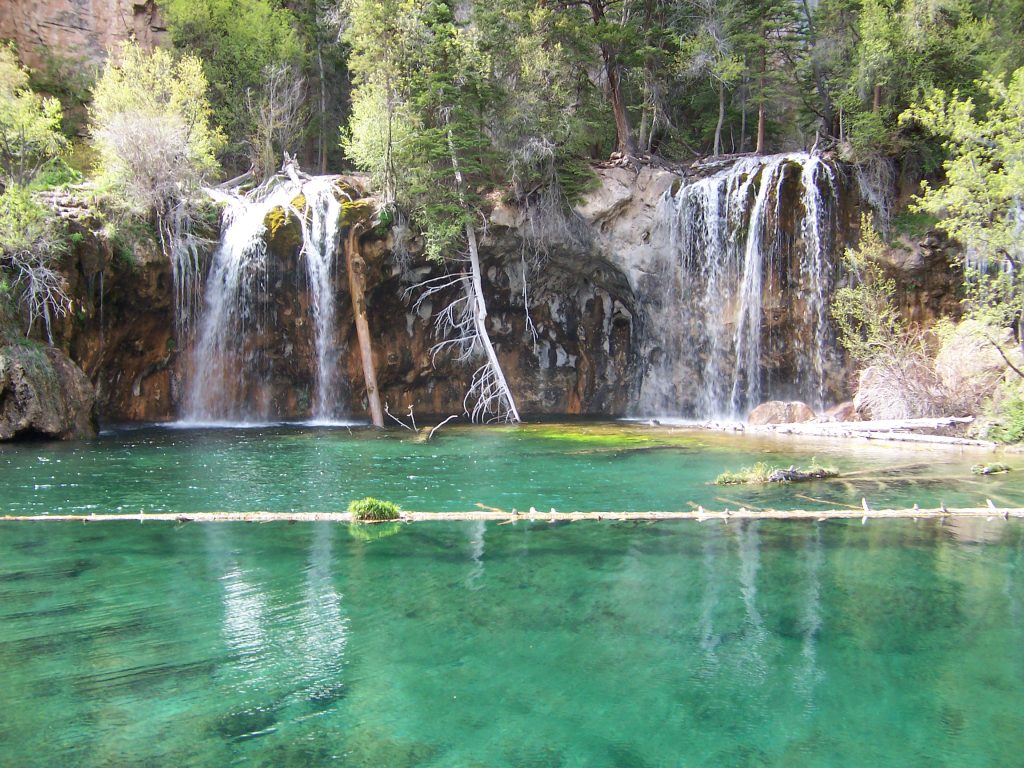 Hanging Lake Falls is among the soothing waterfalls in Colorado you shouldn't miss. It is located in Glenwood Canyon, about 7 miles east of Glenwood Springs. The distinctive element of this waterfall is that it has teal-green water surrounded by mountains and is fed by clear water that falls over the rocks.
The rough and tough 1.2 miles (1.9 km) path is challenging but worthwhile. The breathtaking surroundings and soothing waterfalls at this National Natural Landmark are sure to impress. The trail's beginning and ending points are challenging and rocky. There is a 1200-foot elevation climb in less than a mile (366 m).
The number of water cascades, which change with the seasons, is more impressive than the height of the waterfalls. It is so quiet there that even the sound of water falling doesn't bother you.
To get to the Lake, you have to walk uphill for at least a couple of hours. This trail is especially challenging for families with young children and the elderly which is why we recommend it for adventurists and pros only.
The initial stop for most tourists is a convenience station equipped with restrooms and drinking fountains. The trailhead may be found at the end of a paved path that provides stunning views of the Colorado River and the surrounding red rock canyon.
Be sure to take it slow and use sturdy boots. You'll be hiking along a creek on a dirt path, crossing boulder fields, and traversing sandy trails. Along the journey, you'll cross a few lovely wooden bridges. Some people, especially those carrying little children, appreciate the handrail on the final incline.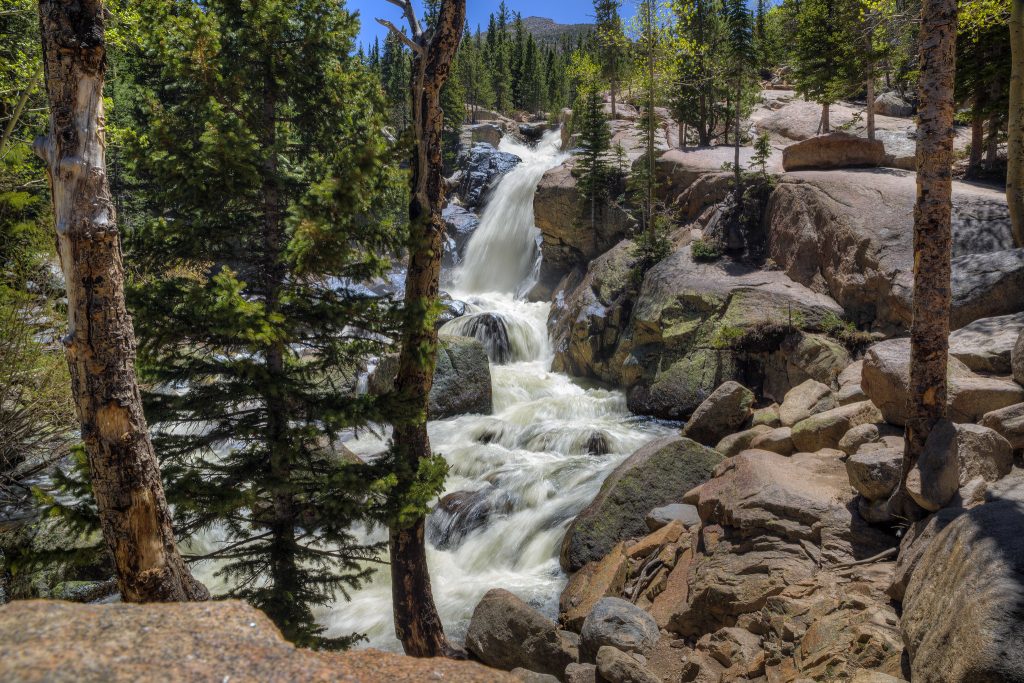 Alberta Falls is a popular destination for hikers in Rocky Mountain National Park. The journey begins at the Glacier Gorge Trailhead on Bear Lake Road, which is nearly 8 miles from the exit from Highway 36.
In the busiest times of the year, the Bear Lake Road area can get very crowded, so you can take advantage of the park's free shuttle service to get to the trailhead. Bear Lake Trailhead is another possible starting point for hikers. It will increase your round-trip distance by 0.2 miles.
Alberta Falls is one of the top waterfall treks in Rocky Mountain National Park and can be reached by foot. Hikers may have a pleasant picnic while listening to the roar of the 30-foot waterfall that cascades down Glacier Creek's narrow valley.
In addition to being an effortless destination, Alberta Falls also offers visitors various alternatives for how they might spend their time in the park.
Remember your lunch! Even if you merely drive to this point in the park, you'll feel like you've taken a long break from civilization. You should bring lunch if you plan on staying for a while. As a bonus, eating outdoors can improve the flavor of whatever you eat. All of these elements make it one of the best waterfalls in Colorado.
Things to Consider Before Going on Waterfall Trips in Colorado
Waterfalls in Colorado are a sight one should not miss! However, there are certain important things one should consider before going on waterfall trips to make sure you have an amazing experience without any problems.
Maps and Locations — No matter how short the trail is, check it out. Make sure that everyone in your group can handle the terrain. Noting down waypoints and directions could be helpful, and carrying a map is always a good idea. Phones can be beneficial, especially with apps like AllTrails that let you download trail maps. However, phones can die, so you shouldn't depend on them too much.
Be on Time — The feeling of exhaustion is genuine. Even before you reach the waterfalls, the journey through the Southern woodland might leave you exhausted. Maintain a steady pace. Don't insist on making a straight shot over the distance. Consider going there early so you can take your time exploring and not feel rushed.
Clothing — Always dress for comfort when visiting the most famous waterfalls in Colorado or hiking. Note that sandals and flip-flops are not suitable footwear options! Get a nice pair of hiking boots that protect your ankles and stabilize your feet.
Travel Essentials — Towels that dry quickly are preferable since they are lighter and smaller when wet. On the way, you might get bit by an insect, twist your ankle, or scratch yourself with a branch, among other things. Keep a small first-aid kit with you on your hiking trip, just in case you need it.
Safety Comes First — Keep a wheelchair on hand in case you are spending time with someone who is unable to walk for extended periods of time; this will allow them to participate fully in all of your outings.
What Determines Our Recommendations?
Everyone on our travel team has a passion for exploring new places. Sara has seen many waterfalls in Colorado allowing her to select the most interesting ones. The waterfalls we recommend have been chosen based on several criteria, including their relative accessibility, the number of people who regularly visit them, the number of families with young children, the quality of the facilities they offer, and various other factors. Our suggestion is strengthened by the fact that we have first-hand knowledge of each of these waterfalls.
Editor's Pick: Stunning Waterfalls In Wisconsin for Your Leisure Next Trip
Ready To Begin The Adventure?
When summer is at its peak, and the snow starts to melt, many people who like winter sports decide to go after waterfalls in colorado. It is a great activity with breathtaking landscapes and quiet places to relax. Between May and July is the best time to look for waterfalls. Even though you can visit most of Colorado's waterfalls all year long, know that the flow will be less in the winter and that it's likely to be frozen; you might even see people climbing on the ice. Every season has its charm, anyways! Best of luck and have fun on your trip.
Waterfalls in Colorado - FAQs
What are some of the best waterfalls in Colorado?
Some of the best waterfalls in Colorado include Seven Falls, Rifle Falls, and South Creek Falls.
What is the most convenient waterfall in Colorado?
Seven Falls is also the most convenient natural wonder you'll find in Colorado.
How many waterfalls are there in Colorado?
There are 81 waterfalls in Colorado, as suggested by the United States Geological Survey.
Which is a family-friendly waterfall in Colorado?
Family-friendly waterfalls in Colorado include the Rifle Falls and Box Canyon Falls.