Connecticut is home to a wide range of spectacular natural treasures, but if there's one thing you don't want to miss, it's the state's many stunning waterfalls. There are many beautiful waterfalls in Connecticut, from roaring falls with rough water that is great for kayaking to winding cascades that lead to the best places to swim. The stunning grandeur of Connecticut's waterfalls will wow you, whether you wander through one of the state's finest parks in search of one or climb only to catch a peek.
Related Read: The 8 Most Gorgeous Waterfalls Of Indiana
The Most Spectacular Waterfalls In Connecticut
Connecticut is renowned for its beauty and abundance of scenic beauty. If you're planning a trip to Connecticut and want to take in some of the state's natural beauty, here are eight of the most magnificent waterfalls to add to your itinerary.
Chapman Falls is regarded as one of Connecticut's most picturesque and intriguing natural attractions. East Haddam is home to Chapman Falls, which may be found at the Devil's Hopyard State Park.
Justification for the foreboding title, according to local lore, Satan himself once strolled along the falls. When his tail became wet one day, he was so angry that he trampled the rocks that made up the falls with his hooves, leaving behind distinctive scars. Some people think the water running over the rocks for hundreds of years is responsible for their peculiar appearance.
Believe whichever story makes the most sense to you!
A 60-foot waterfall is a popular place for hikers and tourists to go because it has an interesting story and a unique shape. Viewing the waterfall from above or below is possible because of the trails surrounding it. Due to the proximity to the Eightmile River, hikers can enjoy scenic vistas of the stream all around them.
In Connecticut's Devil's Hopyard State Park, Chapman Falls is a stunning waterfall that is also easily accessible. Aside from being a sight to behold, this waterfall is also great for swimming and wading if adults are there to keep an eye on younger visitors.
Picnic sites, a beautiful covered bridge, hiking routes, and camping areas may all be found close to the waterfalls. This location is perfect for those who wish to spend quality time with their families while also appreciating the natural splendor that the area has to offer.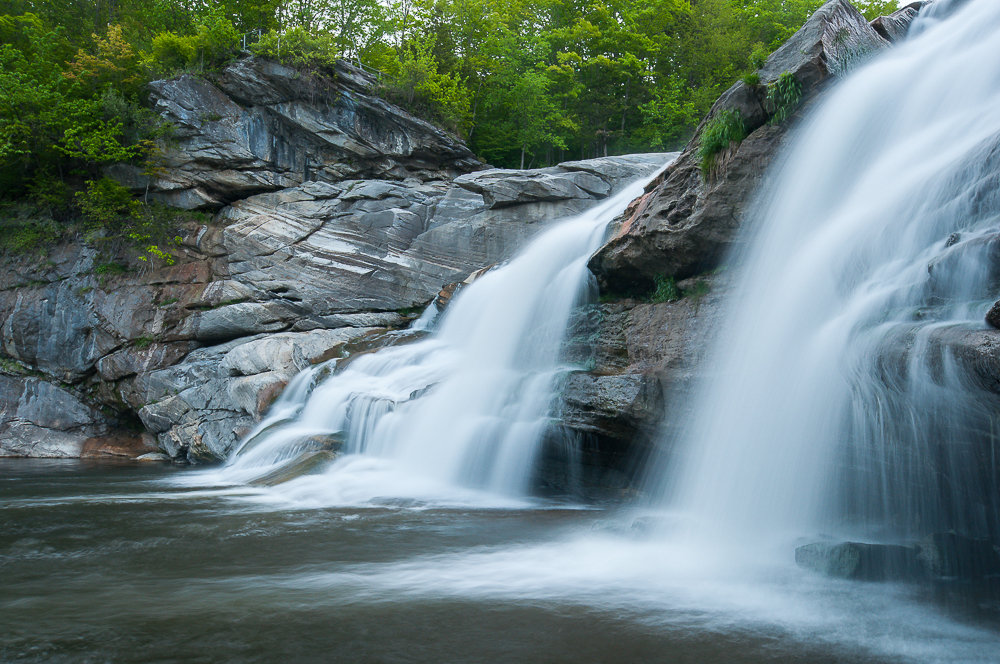 All along the Housatonic River in the community of Falls Village in the state of Connecticut is where you'll find the waterfall known as Great Falls. Because of its unadulterated force, many people believe it to be among the best waterfalls in Connecticut to visit. Some have even compared the magnitude of its power to that of Niagara Falls.
The impressive waterfall that drops 60 feet is a popular place for hikers and tourists, and many people say that seeing the natural structure made them feel like they were in awe.
Since the volume of water you see flowing over the falls is controlled by a dam that also provides water to Canaan and Falls Village, the amount of water you can see going over the falls might change from time to time. You're lucky if you only want to gaze at the waterfalls without going on the strenuous climb. The hike to the waterfall starts at a location close to the parking lot.
After viewing the falls, if you still need to take a considerable hike, you can always make your way to the Appalachian Trail in Falls Village. But if you're in the mood for some action, you could even go kayaking or tubing down the Housatonic River. However, if you aren't, you should stick to fishing.
While you're chilling out in Canaan, you should go to Dean's Ravine Falls, another one of Connecticut's most beautiful waterfalls. This waterfall is sometimes overshadowed by its more famous neighbor, Great Falls, as they are both in the same area.
Even when frozen, it's a sight to behold!
The gorgeous Canaan waterfall, situated beside Reed Brook, drops 50 feet. From an overlook just a few minutes walk from the car park, tourists may take in views of the waterfall at any time of year. No matter when you choose to go on vacation, you and your family will be able to enjoy the beauty of this place without having to worry about how the weather will affect you.
If, after hiking to the waterfall, you still have an appetite for more excitement, you can always go to the Appalachian Trail, located only a few miles away from the Ravine. If you're looking for more waterfall adventures, you may also want to check out the mesmerizing waterfalls in Minnesota. 
Kent Falls is a stunning collection of waterfalls in Connecticut, and a trip there should be a priority if you want to see the state's best. Located at Kent Falls State Park, the main reason for its popularity is the collective aspect of numerous waterfalls. Their composition also reflects the changing geological landscape of Connecticut over time. As a whole, there is a 250-foot disparity between the two tiers of the falls.
You can count on seeing other people at Kent Falls State Park because it is one of the most visited parks in Connecticut.
Located at 462 Kent Cornwall Rd, Kent, this is a fantastic location to have a family picnic, and the view of the waterfall is so breathtaking that you won't feel like leaving. The hike itself is a great experience as it takes you up on a ¼ mile journey with several vantage points to enjoy. This is also a great place for Instagram influencers to take some beautiful photos and leave their followers in awe! The hike isn't too much in terms of distance but truly counts when it comes to steepness.
Visiting this waterfall is an excellent activity for the whole family and for you to share with your friends. Having a picnic and going on a hike, what could be more fun than that? Keep in mind that the timings for this waterfall are from 8 am to sunset. You can come over with kids and the elderly as well because Kent Falls State Park offers a lot of facilities including restrooms, a snack bar, and a rest area.
Another great option for waterfall enthusiasts is to visit the picturesque and photogenic waterfalls in Colorado. 
Ender Falls is definitely the one for adventurers! With a mile hike as well as challenging steps, it is genuinely made for someone who wants to test their hiking skills. The best part? Even amateurs can visit here because there are stairs for easy access. Located in Enders State Forest, these falls are a perfect destination if you want to "Chillax" for a day!
The falls are a big part of what makes the scenery in this state park, which is known for its beautiful scenery. In reality, Enders Falls is made up of five different waterfalls, and each one has several popular swimming pools.
At its highest point, the waterfall drops a stunning 30 feet. It is crucial to remember that even though the waterfalls and pools are breathtaking, it is very simple to injure yourself there if you aren't paying attention. Therefore, you should go exploring, but you should do it cautiously.
You should be okay if you see many people hiking at Enders Falls because it is a popular destination for people to go hiking, particularly during the hotter months of the year.
People have estimated that the trek to the waterfall can take between 30 and 45 minutes, but if you want to go for a longer period of time, you can still hike the acres upon acres of woodland in Enders State Forest. The timings of this waterfall are between 8 am and sunset so plan accordingly.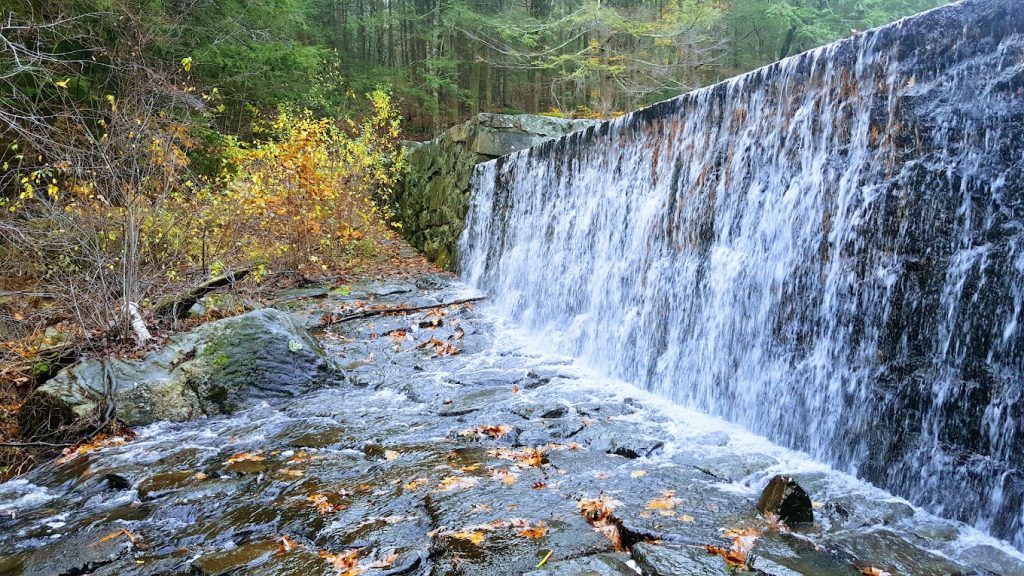 Burr Falls is another exceptional one that drops down from a 45-foot chain of cascades. Located at Burr Pond State Park, this breathtaking waterfall can be found tucked away in the middle of Litchfield County.
Even though it may not be as well-known as some other landmarks in the state, it has all the natural beauty and splendor of a place like Niagara Falls but doesn't get nearly as many visitors. You can even bring a man's best friend over here and keep it off-leash in certain areas.
The trip to Burr Falls is relatively easy, making it an ideal destination for families with young children or anyone who wants to enjoy a picnic by a mesmerizing waterfall without putting in much effort. However, it takes 49 minutes to complete the hike which isn't everybody's cup of tea.
Burr Falls is a breathtaking waterfall found in Burr Pond State Park. This waterfall drops 45 feet and flows down the rocks in a slow and gentle cascade. Stones with moss on them can be dangerously slippery, so watch where you step.
Burr Pond State Park offers various recreational opportunities, including swimming, boating, and fishing. Keep in mind that there is an entrance fee for the vehicles as well. $15 is charged on weekends or holidays while $10 is charged on weekdays.
Buttermilk Falls, in the charming community of Plymouth, is home to one of the most beautiful waterfalls in Connecticut. The waterfall is a "hidden jewel," and it sees only a few visitors at once because of this. A little over half a mile of hiking will bring you to this breathtaking sight along the Buttermilk Falls Trail.
The bottom parking lot is within easy walking distance of Buttermilk Falls, the primary attraction. In addition, the gorge route, which begins just across the bridge across the creek from the main parking lot, leads to another nine or so waterfalls. Since the gorge is narrow and steep, there aren't many good places to see all of the waterfalls.
There is plenty of room to rest, have a picnic, and enjoy the scenery around the falls and the paths. The park is stunning, with plenty of trees, flowers, and aromas that will leave you with a soothing experience. Besides, there are several hiking trails that pass through woods, meadows, and even the trees themselves. It's a short, easy hike to a stunning waterfall through the Buttermilk Falls Trail (0.6 miles round trip).
The spring, early summer, and fall are prime times to see Buttermilk Falls. You can view Buttermilk Falls from the bottom parking lot area even after the park's trails close for the season in November.
Editor's Pick: Stunning Waterfalls In Wisconsin for Your Leisure Next Trip
Mill Pond Falls is named the smallest natural waterfall in the United States. The falls offer the visitors an experience to fish, walk, bike, and swim as well in the public pool. Since there is a pond over here, people also ride small boats around the falls. One of the unique aspects about this fall is that it is quite famous for all sorts of events including wedding ceremonies and other events. It is also specially decorated at the time of Christmas.
The waters that pour out of Mill Pond, a flower-lined pond with a paved walking path around its perimeter, create Mill Pond Falls. Newington has turned the pond and waterfall into a little park with benches and playground equipment. There is an iron fence that encloses the waterfall. Depending on who you ask, this barrier either adds to or takes away from the beauty of the waterfall, wildflowers, and well-kept gardens in the area.
There is a red wooden footbridge placed directly over the waterfall. Adding the bridge, railing, and flowers to a picture or painting of a waterfall would make it look much better. This small waterfall is located in Newington's Mill Pond Park.
Photographers will also find Mill Pond Park to be an ideal location. The park features various gardens and is abundant with colorful wildflowers. Spend an evening here and you will get to experience a soothing vibe.
For those seeking more waterfall experiences, North Carolina also offers a variety of breathtaking waterfall options.
Things to Consider Before Visiting Waterfalls in Connecticut
Here are some things to remember for a fun yet safe time on the falls in Connecticut.
Safety Should be a Priority — Nobody wants to risk an injury on a waterfall. Most waterfalls in Connecticut have steep paths and damp rocks, so wear gripping shoes. Unfocused pedestrians have been injured as well as killed in multiple cases. No flip-flops or sandals should be worn. Watch the children constantly. Before they go, give a quick travel orientation. Keep a first-aid kit in your car as a safety precaution. If something goes wrong, it'll help.
Manage Your Schedule — Due to their popularity, the waterfalls in Connecticut are often crowded. If you visit during weekends, arrive early or after 3:30. Saturday mornings and afternoons are the busiest. Weekday visits are also great if you don't want to experience any rush.
Pack Other Essential Items — There are certain essentials you shouldn't forget when heading over to waterfalls in Connecticut. Sheets, plates, cutlery, food, spare clothes (in case you fall and get messy), a power source (such as a power bank), a hat, hand sanitizer, clean towels, sunscreen, a waterproof camera, and trash bags are important. Bring light snacks like a sandwich to avoid feeling bloated. If you bring pets, prepare pet supplies.
How Do We Pick Our Recommendation?
Every single member of our experienced team is a travel enthusiast. When choosing our top waterfall recommendations, we took into account several aspects such as how popular each waterfall is, how easy it is to get to, whether or not it is good for families, and what facilities it has. We've seen all of these waterfalls ourselves, so we think they are a great place to visit. We take into account the opinion of other travelers when deciding which sights are the finest so that you get the most reliable information.
Let's Go!
There are many beautiful waterfalls in Connecticut, and many of them can be reached by hiking trails. These waterfalls are beautiful natural sights that can help you relax and feel more connected to the natural world. After that, you can enjoy the breathtaking views of Connecticut by waterfall chasing.
Waterfalls In Connecticut: Gorgeous Parks And Hiking Trails
How many waterfalls are there in Connecticut?
There are more than 60 beautiful waterfalls in Connecticut.
Where is the biggest waterfall in CT?
Kent Falls is the biggest waterfall in Connecticut as it drops a stunning 250 feet. Drops, horsetails, and cascades make up the waterfall.
How long of a walk is Buttermilk Falls?
This looping path is only 1.6 miles long.
Can you swim at Kent Falls?
Yes, you can but the water in the swimming holes here is deep enough to dive into.