Planning your next trip to Wisconsin to be mesmerized by the stunning waterfalls? Northern Wisconsin has some of the greatest waterfalls in the entire United States. You will also find cascading waterfalls in this region, which have been identified as "Wisconsin Waterfalls of the Year" multiple times. The top waterfalls in Wisconsin are accessible via some of the best hikes and attractions in the state. Here is a list of the best waterfalls in Wisconsin along with advice on how to visit them to help you plan your next epic journey. In addition to the stunning waterfalls, Northern Wisconsin also offers charming small towns that are straight out of your dreams.
11 Most Stunning Waterfalls in Wisconsin
More than 100 waterfalls can be found in Wisconsin. Some are well-known while others are far away and relatively unknown. Following are the ten best ones we recommend
Starting with the highest waterfall, we have Big Manitou. This waterfall is known for being the fourth-highest waterfall in the US. Big Manitou Waterfall is 165 feet tall. If you want to take visit Wisconsin's highest waterfall, you are going to have to travel to the town of Superior. The good part is that this waterfall is located in Pattison State Park, which is open to visitors for the entire year. If you plan a vacation for yourself off-season, you can come to Wisconsin anytime to be fascinated by the waterfall.
There are plenty of activities you can do at this park. Foremostly, you will have the opportunity to hike across the trails within the Park. Not only this, but you can also visit and have fun at the 300-foot beach located in this Park. Apparently, this means that you not only get to explore the waterfall but also swim and hike.
Of all the numerous facilities provided by the park, some of them include campsites, electric connection, backpack sites, showers, and flush toilets. The park also consists of a forest full of wildlife and greens that will make the best adventure for you and your family.
To get to Big Manitou, you need to take I-94 W Highway. Keep in mind that Big Manitou is approximately 5 hours away from Wisconsin. Despite the long journey, make sure not to miss out on the opportunity of exploring Big Manitou.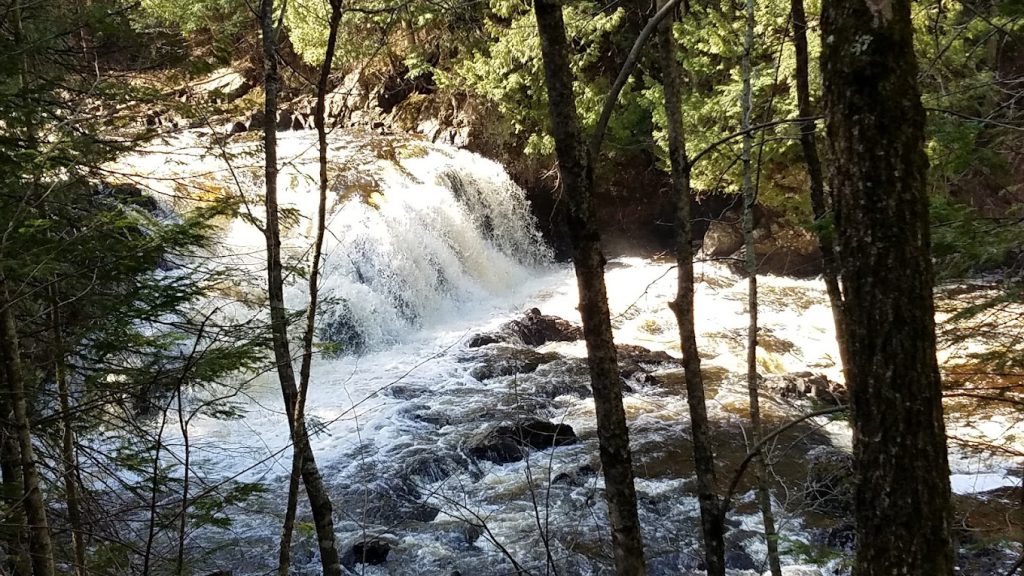 Copper Falls State Park is home to three waterfalls namely Copper falls, Red Granite Falls, and Brownstone Falls. Located roughly 2 miles northeast of Mellen, in Ashland County, Copper Falls is known for scenic beauty, astonishing views, and pet-friendliness.
The reason why Copper Falls is amongst the best waterfalls in Wisconsin is because of its serenity. If you're a person who loves to isolate and have a spot to yourself only, Copper falls is the perfect option for you. This picture-friendly waterfall will help you get the most scenic views and pictures for your Instagram.
One of the great things about this waterfall is that if you are a dog owner, you can take him here. Just know that for the safety of your dog, you must keep him away from trails and the waterfall.
The drive from Big Manitou to Copper Falls State Park is around 1 hour long. Hence, if you aren't tired after the adventure at Big Manitou, you can easily drive to your next destination. The Park consists of various camping sites that'll ensure a quality stay for you. Therefore, if you're planning to take a rest or spend the night, this is the ideal place to base.
Facilities provided at the park include camping, swimming, picnicking, bicycling, fishing, and hiking. For this reason, be sure to pack all your essentials for this visit.
Pro Tip — If you're planning a tour to Copper Falls, the best time to visit is from May to October.
Stephen Falls is known for its incredible natural beauty, aesthetically pleasing environment, and wildlife. It is located at Governor Dodge State Park. The park offers excellent hiking trails, two lakes, and a magnificent waterfall. The journey across this park is a half-mile route that leads through the forest to a 20-foot waterfall.
The park has camping and RV sites, making it simple to take advantage of the area and stay. The reason why this Park is a family favorite is that it has more than 5,300 picturesque acres of steep hills, cliffs, and deep valleys as well. You can take pictures at the bottom of the pools when you go to Stephens Falls. The waterfall is a beautiful wildlife spot to explore. You might see deer, wild turkeys, ruffed grouse, beaver, and woodchucks.
If you are planning to come and visit in winter, you will be able to view the falls from an entirely different angle. The best part about visiting the waterfall in winter is that you can actually walk behind the sheet of frozen water since the stream's water freezes. Be careful not to slip while you attempt to walk on ice!
What makes the waterfall one of the most convenient waterfalls in Wisconsin is that it is open for visitors all day long and is easily accessible. The hike is fairly easy and you can come along with children too. If you are interested, the Park also provides multiple activities to enjoy. These include canoeing, fishing, hiking, picnicking, biking, and much more. Basic facilities provided at the park include drinking water, restrooms, and manure bunkers.
To get to the park, you need to take a drive of roughly 130 miles west of Milwaukee via I-94 and Highway 18 to reach 4175 State Highway 23 N in Dodgeville.
Editor's Pick: Mesmerising Waterfalls in Minnesota You Must Visit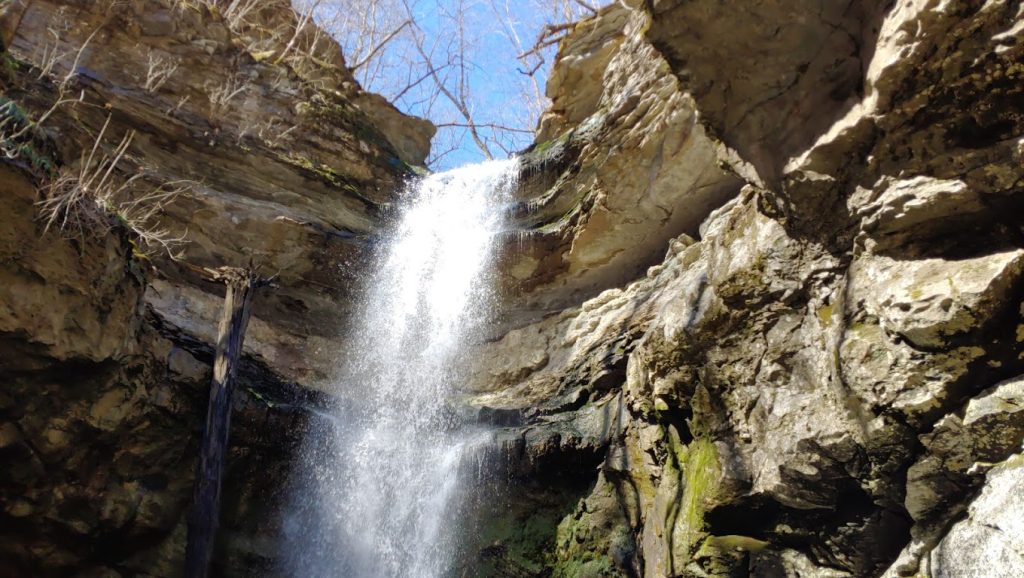 Lost Creek Falls is present on the Bayfield Peninsula. It can be accessed via Highway 111. The journey to the waterfall itself is an adventure which is why it is amongst the best waterfalls in Wisconsin. It is located deep within the forest and is reachable by a 2.2-mile, somewhat arduous trek that is rated as one of Wisconsin's top hiking trails. However, once you're there, you'll find it well worth the climb. The stunningly scenic Lost Creek Falls is going to be there at the end of the walk, surrounded by rich greenery and wild berries.
If you are looking for a waterfall all to yourself, Lost Creeks Falls is for you. The reason why many people don't visit this waterfall is that it is challenging to locate, bringing up the chances of you having the waterfall to yourself. Take pictures, have a snack, and enjoy the beautiful view all to yourself.
This waterfall isn't amongst the highest waterfalls in Wisconsin as it measures up to be less than 10 feet tall. However, one cool part about this waterfall is that you get to walk behind it. No wonder this waterfall is one of a kind. If you're traveling to Lost Creek all the way from Wisconsin, it'll take you about 5 hours.
Pro Tip — Ensure suitable footwear because the trail gets slippery, especially if it has rained recently. Also, the waterfall isn't within a park, so there are going to be fewer facilities. Carry your essentials with you.
The Potato River Falls is a spectacular combination of two falls: The first is the lower fall that descends 50 feet and the second is the upper fall that drops 40 feet, making for a spectacular sight. It is a stunning waterfall with numerous viewing platforms and plunge pools scattered along the Potato River.
It's roughly a mile off Highway 169 close to Gurney. Gurney is a small town located on Highway 169, approximately 3 miles south of US 2. The surrounding village of Gurney serves as the access point to the falls. The 0.8-mile route to the falls is relatively simple and not very busy. Given that it is not too challenging, it is an excellent trial for pros as well as amateurs.
The upper falls path is a dirt walk that is not accessible to wheelchairs or strollers and has a few sets of stairs. To reach the lower falls, one must go for a short hike down a steep flight of stairs that curve through a low area. If you are planning to visit here with an elderly or a toddler, we suggest you skip this one. However, there are many far-by spots from where you can observe the waterfall.
You'd be better off hiking down one of the designated trails for better views. However, black bears seem to enjoy this area, so keep an eye out for them!
A picnic spot is close to the parking lot, and if you wish to extend your day journey into an overnight adventure, there are five free campsites close to the falls. Not only this, you will also have bathroom facilities and a fire pit area. Apart from this, there are lots of vacation homes and romantic cabins in Wisconsin for guests considering a more extended stay.
One important thing to know is that it'll take you 4 hours and a half to travel from Wisconsin to Potato River Falls.
The Amnicon Falls is located at the mouth of Lake Superior and home to four absolutely stunning waterfalls: the Upper Amnicon, Lower Amnicon, Snake Pit Falls, and Now and Then Falls. Amnicon River Falls is about 14 miles west of Hurley, Wisconsin off of Gurney's Highway 122. The Amnicon River, which travels more than 45 miles through the state, is responsible for creating each waterfall. The height of the Amnicon River Falls is roughly 18 feet.
It is simple to find and view the waterfall because it is located in a well-kept park. Amnicon Falls State Park is ideal for newbie hikers or those looking to spend their vacation exploring Wisconsin's breathtaking waterfalls. Between Upper and Lower Amnicon Falls, an absolutely gorgeous covered bridge extends the river, where tourists can take pictures while still within the water's spray's reach.
The crashing water contrasts sharply with the peaceful surroundings of the state park. For 2 miles, you can hike alongside the river and take in various panoramic views of the forest and waterfall. There are many places along the river in Amnicon Falls State Park where you can relax and peacefully enjoy the scenery without running into other visitors.
Additionally, there are a number of small falls and dipping pools where visitors can cool off in the river. Visitors who are feeling daring can swim right next to the Amnicon Falls waterfall, where there are small falls. The Park provides basic facilities such as camping and a picnic area within walking distance of the falls. On your way to see the rest of Wisconsin's waterfalls, it's a great spot to stop for a quick lunch or a snack.
You might see various animals on your trip to Amnicon Falls, including deer, raccoons, sea beavers, and even foxes. Amnicon State Park is one of the best places to visit in Wisconsin as a result of the overwhelming number and variety of waterfalls.
If you are looking for more waterfall adventure, don't miss out on The Top Most Gorgeous Waterfalls In Connecticut which are just as beautiful as the ones at Amnicon Falls State Park in Wisconsin.
Often mistaken for just an urban settlement, Menomonee Falls, named after the waterfall on the Menomonee River, is also a place to be mesmerized by an impressive waterfall. Located in the village of Menomonee Falls, it's in Waukesha County, part of the Greater Milwaukee area.
The waterfall, which gives the village its name, is a local attraction and an exceptional sight, nestled in the heart of an urban environment. It's the largest waterfall in Wisconsin's southeastern region. Menomonee Falls has a 100-foot-wide cascading waterfall with a 20-foot drop, making it not the tallest, but certainly a charming spot to visit.
It's easily accessible, making it perfect for families and people of all ages. The falls can be viewed from a bridge that crosses the river or from a viewing platform that offers a panoramic view. Unlike many waterfalls which require a hike, this one is located right in the center of the village. It's a unique experience where you get to enjoy a natural wonder while still being in close proximity to the comforts of urban life.
The surrounding area is also worth exploring with its quaint downtown filled with shops, restaurants, and beautiful architecture. There's even a farmer's market during the summer months, adding to the charm of the place.
Getting there is pretty straightforward as Menomonee Falls is located just off of Interstate 41/Highway 45, which makes it a short drive from Milwaukee (roughly 30 minutes) and less than two hours from Madison. Free parking is available nearby.
Pro Tip — If you're visiting in summer, be sure to stick around till dusk to witness the falls illuminated with lights, enhancing the spectacle. The Falls is indeed a year-round attraction, with each season lending its own unique charm to the scene.
The impressive Superior Falls, which plunges 90 feet, is situated on the Montreal River Border. Route 122 from Saxon, Wisconsin is the route that will lead you to Superior Falls. The name of the waterfall comes from how close it is to Lake Superior. The river flows directly into the lake after descending over Superior Falls. The best time to visit here is between May to October.
An impressive view welcomes you as you approach the parking lot. You can descend to Lake Superior for a closer look by taking a challenging route. As the water cascades down, this offers a unique viewpoint from which to see the gorge walls. If you're a fishing fan, don't forget your fishing rod. Since many fish prefer to be where the warmer ocean water mixes with the cooler lake water, this is one of the best fishing spots as well.
There are two walking trails over this waterfall. Since it's difficult to access, the lower viewing isn't for everyone. You must first descend a relatively large hill that is paved. Once at the bottom, there are a few places to relax and capture snaps for the gram while you enjoy the aesthetic and natural views.
The Superior Falls can be seen from the bottom of a rocky area after you regain your breath from all the hiking and trekking. The riverside can become narrow and slippery at times due to constant water flow. Just make sure you have the right shoes put on for this adventure.
One of Wisconsin's more peculiar yet beautiful waterfalls is Willow Falls. The waterfall is made up of a number of cascades that slowly cascade down the rock through several plunge pools, forming an incredibly blissful pattern. The largest such drop is only 15 feet high, but the numerous smaller drops totaling about 45 feet make this a unique attraction in Wisconsin. The Willow River stretches out over 100 feet wide from here.
Approximately 100 feet wide, Willow Falls is located in Hudson, Wisconsin. This waterfall is present in Willow River State Park, where you can hike and take in the views of Willow Falls clearly. The 13 miles of hiking trails have varying degrees of difficulty. However, the trail that descends into the gorge is the shortest. It is steep and can be difficult despite being only a quarter mile long.
There are longer trails, just over a mile one way, as well as a simple path ideal for families and newbie hikers. Many of the trails either come to an end at Willow Falls or come close enough for you to get an excellent view.
Summertime visitors plunge into the pools of this multi-tiered waterfall to cool off when the water level drops. The platforms above and below the falls, as well as the bridge that spans the Willow River right below them, are the best places to view the vigorous cascade in the spring.
Basic facilities at the Park will include a 400-foot beach and picnic area, a boat launch, and a campground. You also get to see animals such as woodpeckers and Blue Jays at the Park most commonly. Therefore, make sure not to skip a visit here.
Morgan Falls is among the tallest falls in Northern Wisconsin at 70 feet, but they are also among the thinnest at only 2 feet wide. The waterfall is situated in the middle of a national forest, making it less accessible than other waterfalls in Wisconsin. Morgan Falls is located at a distance of about 2 miles south of the city of Marquette. It displays light trickles during the summer but can become a fierce torrent during the snowmelt.
Beginner hikers can easily access Wisconsin's stunning Morgan Falls waterfall. It is 1.2 miles round trip from the trailhead parking lot. This hike is enjoyable because it is manageable for families with young children. This waterfall is renowned for its steep cascade, which permits the water to flow along the moss-covered rocks and back into a pool.
Nearby attractions include the Chequamegon-Nicolet National Forest, which allows you and your family to explore the beautiful scenery and aesthetic views. Not only this, but you can also explore the wildlife that is present in the forest.
As the name speaks for this one, Long Slide Falls is a 50-foot slide waterfall located at Pembine, Wisconsin. You must visit the Long Slide Falls County Park to admire the falls. Due to its popularity, there may be some crowds at this county park on sunny days. This is partly due to how easy and accessible it is to see Long Slide Falls.
Under it, powerful water currents cascade down mossy rocks. You can even scale some of the rocks, but you must be cautious because they are very slippery. The falls can be seen from several locations, including one that is close to the parking lot and another that goes straight to the rocks.
The parking lot and the waterfall itself are both conveniently located; take Morgan Park east of Highway 141 to get there. It is not difficult to locate the parking lot because the path leading to the falls is marked from there. Once you reach the waterfall, a short, beautiful hike to the falls begins; the looped trail is just under half a mile long. Beginner hikers, as well as families with young children, will find this waterfall hike to be ideal.
Consider going on the short hike to nearby Smalley Falls while you're there. You can see two waterfalls in one trip if you go to the Long Slide Falls County Park. While there are no amenities close to Long Slide Falls, Morgan Park is two miles to the east. Numerous facilities are available at Morgan Park, such as camping, swimming, and a picnic area.
Pro Tip — Make sure to keep an eye out for some slick rocks and steep drops when exploring Long Slide Falls.
Things to Consider Before Going on Waterfall Trips
Keep notes of the following essentials as they will help you experience the best waterfall trips in Wisconsin.
Timings and Schedule — The first thing to consider when going on waterfall trips is managing time and setting a schedule. Depending on the popularity of a waterfall, consider visiting them when the rush is less or during weekdays. Apart from this, we recommend you visit the waterfalls early in the morning because that is when you can expect fewer people around.
Travel Essentials — When going for a trip to the waterfalls, it is crucial to have the correct travel essentials for you. As we stated before, hiking trails are usually slippery due to the water splashes from the waterfall or if it has rained anytime soon. Therefore, it is crucial to wear the right shoes, use insect repellent and wear waterproof gear. Waterproof gear will keep you dry from the water and prevent you from falling ill. It is also a good idea to carry a water bottle with you.
Safety — Safety is one thing you can't compromise over. When it comes to going on trips to the waterfall, you must be really careful. You must know beforehand that you will be facing wet trails which will be quite slippery. If you are a parent, your child's safety and your own safety must be your priority. Be sure to keep your child supervised at all times. Avoid hiking across steep trails for your child's safety. If you have a pet along, be sure to be extra careful about them.
Choice of Waterfall — Your worst nightmare would be going to a waterfall that was not suitable for you or your family. Choosing the right waterfall is the first and most crucial step when planning to go on a trip. There are waterfalls where the trails are difficult to cross. For this reason, you must choose your destination wisely before you set out; if you are with your family or an elderly look for waterfalls that are stroller and wheelchair friendly.
How We Pick Our Recommendations?
Traveling is the best investment one can make! Our team is fond of traveling, and for this reason, Sara has been to Wisconsin to explore the stunning waterfalls there. Based on her analysis and travel, she was able to list the best ten waterfalls in Wisconsin. Our recommendations for waterfalls are unbiased and based on certain factors like the type of hike, trail difficulty, popularity & crowd, facilities, and similar other aspects. Personal knowledge and experience of each of these waterfalls further strengthen the validity of our advice. To select the best options for visitors, we also consider feedback from other travelers.
Recommended Read: The Top 10 Spectacular Waterfalls In Ohio
Let's Head to Wisconsin
Now that we have completed the favor of making your life easier with our choice of the best waterfalls in Wisconsin, we hope that you can plan and choose the best one to visit. Just be sure to have the right essentials and guides before you embark on your journey.
FAQs
Waterfalls in Wisconsin- FAQs
What are some of the best waterfalls in Wisconsin?
Some of the best waterfalls in Wisconsin include Big Manitou, Copper Falls, and Stephen Falls.
What are the easiest waterfalls to access in Wisconsin?
The easiest waterfalls in Wisconsin are Stephen Falls and Long Slide Falls.
How many waterfalls are there in Wisconsin?
There are 100 waterfalls in Wisconsin.