Oklahoma is known for many things, to name a few, its cowboy culture, modern museums, and Native American history, but most importantly it is known for its beautiful nature. There are many wonders that are tucked away in the following glorious waterfalls and if you are in Oklahoma thinking about what kind of exploring you should be doing, these places are your answer. Oklahoma also boasts exclusive resorts which make up for an unforgettable vacation.
While it is hard to understand what exactly is so enchanting about waterfalls, they keep you captivated and make you think about all the beautiful wonders of this existence. These waterfalls are a great attraction to tourists as well as locals, they provide a lovely spot to not just admire the beauty of water descending rapidly down rocks, but to do photography, click selfies, set up a small picnic near it, and more. There are several waterfalls sprawled across the map, but some have a certain appeal to them that make them stand out, let us discover some of them!
Top 9 Majestic Waterfalls In Oklahoma
Whether you are a local or passing through Oklahoma, these waterfalls are a must-go, especially if you are a nature lover, or enjoy hiking and are looking to take a swim in these stunning oases.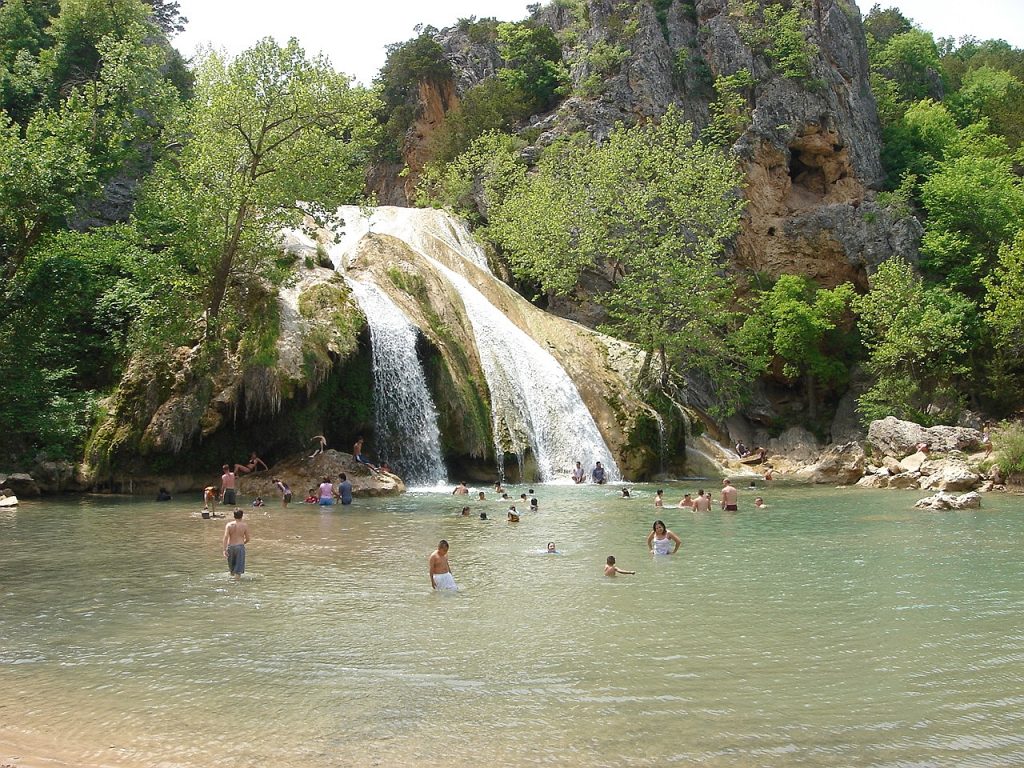 Located in south-central Oklahoma, turner falls is a waterfall on Honey Creek in the Arbuckle Mountains, 6 miles south of Davis. The waterfall is a whopping 77ft in terms of height and is open 7 days a week from 7 am-10 pm. It's surrounded by some of the oldest mountains in the country.
There are a bunch of things that attract people to turner falls park (which is home to turner falls), some of them are, natural caves located above the waterfall, novelty shops, picnic spots, campsites, hiking trails and they have cozy cabins ready to serve you with amenities like linens, microwave, refrigerators and more, you can also purchase tickets to zipline along turner falls and that too at a very reasonable price. There is an individual fee to enter the park and once you do enter, there are people stationed throughout the place to guide you along the trails, which are also great for taking a hike.
The falls descend and coalesce into a natural swimming pool, which is a lovely place to take a dip in the summers, and the prices for this vary seasonally, but it's advised to proceed with caution, and only people who have experience swimming in those kinds of waters are allowed to do so because safety should come first. One very interesting thing about this place is the Collings castle, which is essentially a tourist spot that was created during the middle of the Great Depression, it houses beautiful architecture which should not be missed.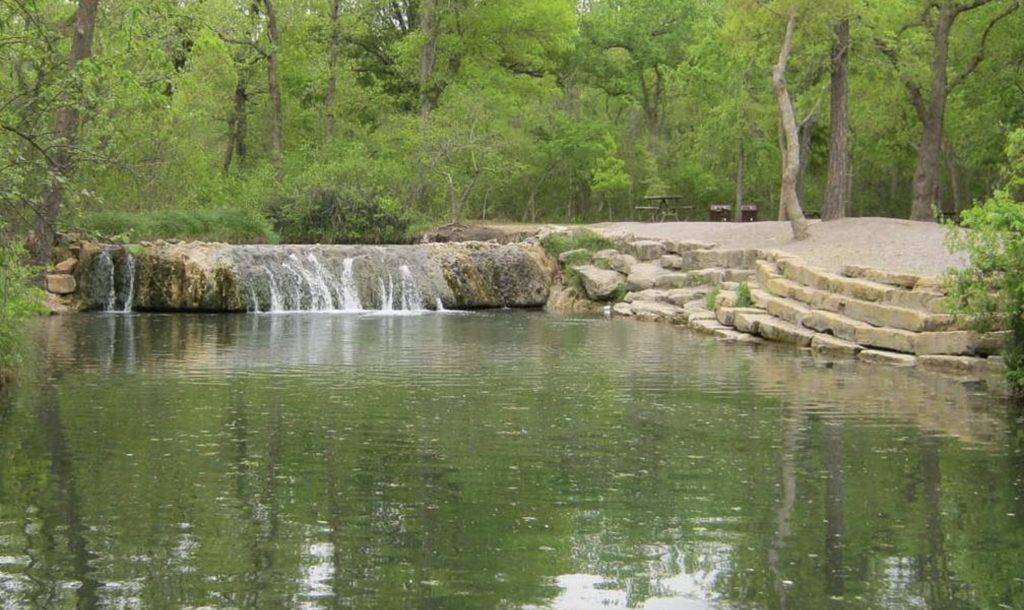 As the name suggests, this is a 10 feet high waterfall, but while it's not a very tall one, it's a wide waterfall and flows into a beautiful crystal-clear swimming pool which is a crowd-pleaser in the summertime. It's located in Sulphur, in the Chickasaw National Recreational area. It's quite an easy way, 10 miles off I-40, you head east and find yourself at the park entrance, then you take a left and go another 5 miles and reach the parking lot where you can park your cars and access the hiking trails and the falls.
There are about 22 acres of hiking trails, various wildlife, and the cold-water swimming hole that the waterfall flows into. During the summers and spring, this place is crawling with tourists and locals, while its calmer during the fall when the trees in the surrounding area start to change color and provide a stunning view.
There are 7 trails for you to choose from, they vary according to their difficulty level but most of them are easily attempted. Buffalo trail is one of the more popular ones because it has beautiful flowers and wildlife, which is a delight to capture in photographs. For a relaxing walk, unwinding or a quick dip in the spring, this place has got you covered.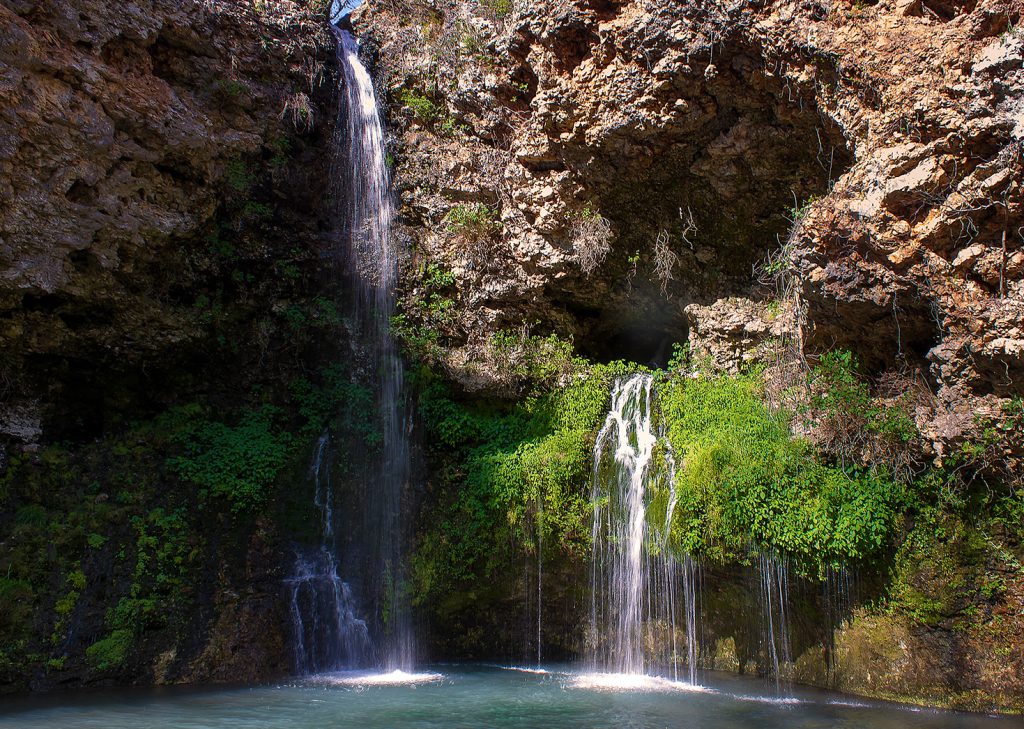 This waterfall lies near the Arkansas border, in the scenic Ozark highlands in northeast Oklahoma. It is embodied in the natural falls state park and is a 77-foot-high waterfall that flows calmly through rock formations collecting at the bottom of a narrow V-shaped valley. Locals refer to it as dripping spring falls but the main name is natural falls only. There are two platforms on which tourists can sit and enjoy this waterfall, one overlooking the waterfall and one at the foot of the falls.
Traditional yurts, which are portable, rounded tents are available and can be booked for an overnight stay each can accommodate from four up to six people and comes along with all the essentials like electric outlets, microwave, fan, lights chairs, and dining tables. By paying a small amount, pets are also welcome. There is some beautiful scenery and animal life that visitors come to enjoy. While swimming is not allowed there, many public swimming pools are in the vicinity which can be used.
The lush greenery and breathtaking views captivate whoever visits this place and when there are so many activities to do at this location, it makes an excellent spot to spend the day.
Recommended Read: Beautiful Waterfalls In Colorado To Experience Utmost Serenity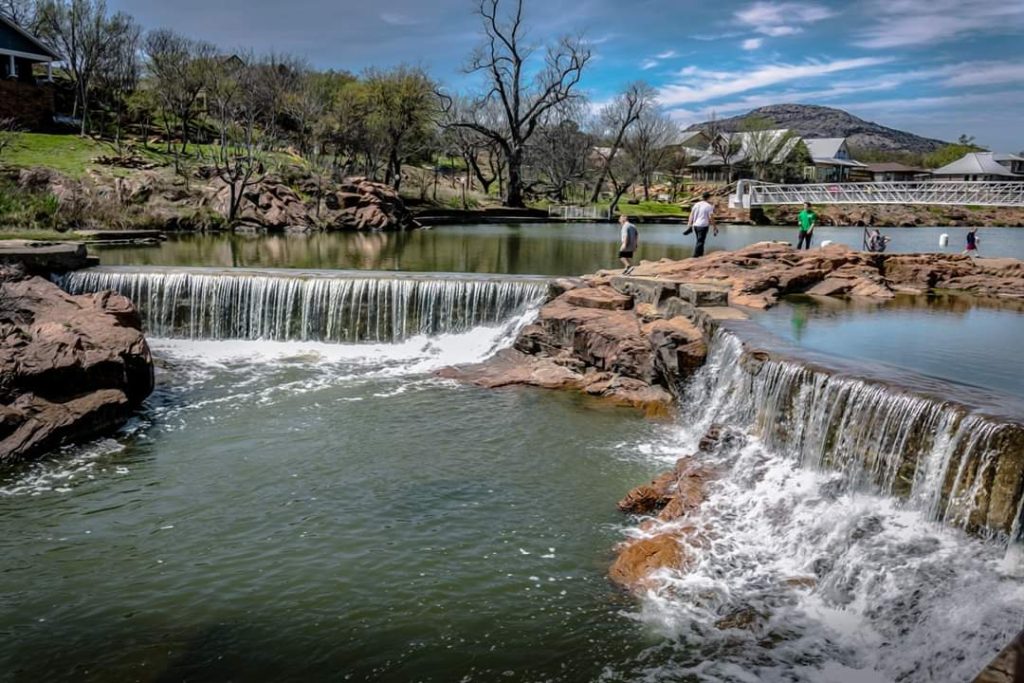 Medicine Park is known for its rich history and cobblestones, which are a beautiful geological phenomenon, they are found throughout town providing a picturesque landscape. This calm oasis is also known as Bath Lake, which as the name suggests, allows tourists to swim in the water and cool off after getting a swimming pass from the park.
This fall is in the medicine park located in Oklahoma. You can take a walk on their scenic trails or rent one of the lovely lodging options they have over there. It is not a particularly large cascading fall, but it is an easily accessible and family-friendly spot that is perfect for taking a dip in while the scorching heat of Oklahoma hovers over you. It is quite the crowd favorite on weekends as well as weekdays, and in the fall time as the trees change color, the beauty of this place is unparalleled. Hours for this park are 10 am-8 pm, so it could make for an incredibly fun and relaxing adventure that we urge you to take with family or friends!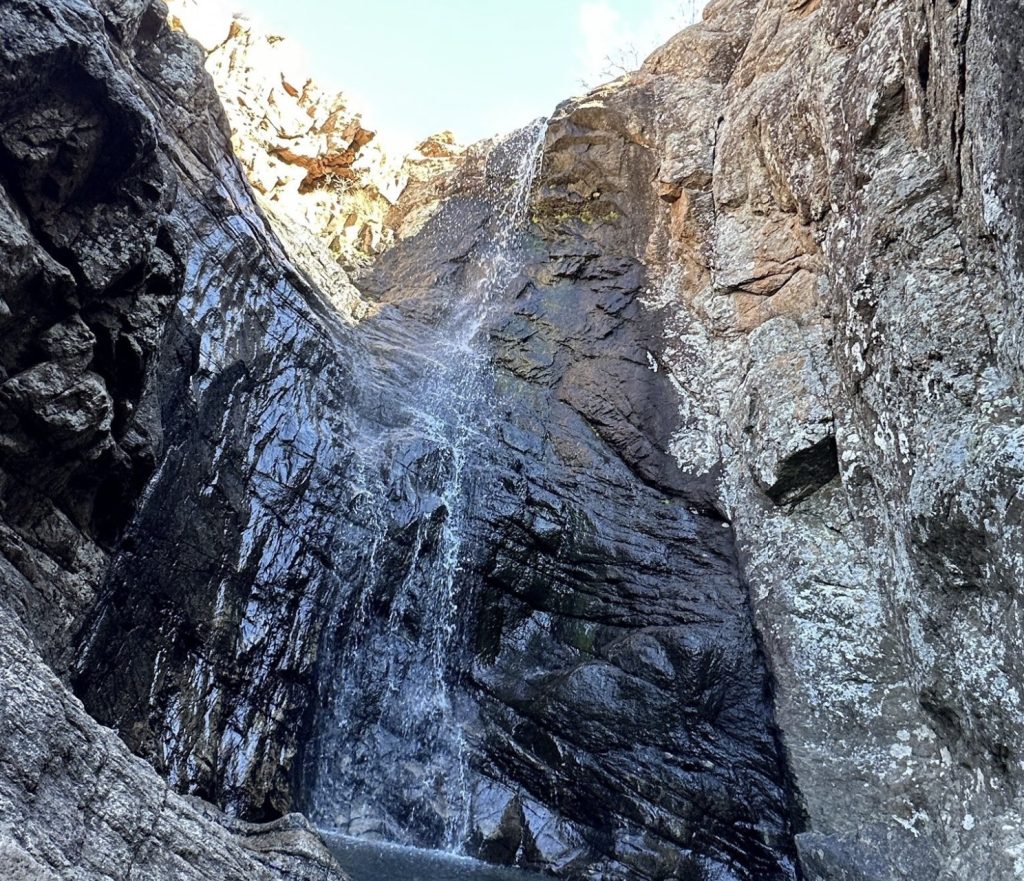 This family-friendly fall is situated in the Charon's Garden portion of the Wichita mountains wildlife refuge in Indiahoma, Oklahoma. It's not a very tall waterfall but it flows through rocky boulders and produces a gorgeous landscape. Since it's a small waterfall, due to lack of water, it's not always running so it's ideal to go visit after rainfall or in spring.
There is a hike to get to this natural oasis, and there is one main trail, the post oak falls trail, which is an out-and-back route type and 2.4km. The difficulty level is moderately challenging, and 36 minutes is its average completion time. The trail leads to this small waterfall in a little canyon with a serene and calm pool of water. There are also maps available that make this trail easy to navigate. Dogs are also allowed but leashes are mandatory. Other trails, namely, the elk trail and Charon's Garden trail are also available but are more difficult.
Nevertheless, this hike will take you to a stunning fall that will make you appreciate nature for what it truly is, with towering granite cliffs and a beautiful waterfall. There aren't many facilities available so it's better to pack your GPS and keep a good amount of water handy if you are planning to take the hike.
Another gorgeous and natural waterfall is the cache creek falls found in the Wichita Mountains National Wildlife refuge in the southwestern part of the state. The hike to get to these falls is absolutely worth it. The waterfall is embodied between mighty rocks and boulders. The water flows calmly down the rugged mountains through a gorge in the canyon and is a breathtaking sight. The Narrows trail is an easy 2.7-mile back trail that will take you to cache creek. The lynch canyon trail is another one that can be taken which is moderate in terms of difficulty. Many hand-curated trail maps and driving directions are available to aid the hikers.
These falls are in the wildlife refuge, which has a lot of wildlife, flora, and fauna. So not only are the falls a sight for sore eyes but contain a lot of nature and scenic beauty to view and photograph. The trails are fun for hiking and biking, make sure to stay hydrated if you are going in the summer because the sun may be a little harsh during the early hours. Trekking poles are also very helpful when crossing water midway, be safe and don't forget to enjoy the beauty that this place has to offer! If you are looking for more waterfall adventures, don't miss out on The 8 Most Gorgeous Waterfalls Of Indiana.
The broken bow has many beautiful falls, but one that stands out a little extra is the Presbyterian falls located in the heart of beaver's bend state park. There is an option of hiking down to the falls or renting a kayak to witness its wonders.
Luxury cabins are also up for grabs at the park, along with the gorgeous sights and natural beauty this place has to offer. The presbyterian falls are an especially important part of the Mountain Fork River. The timings of the park are 8 am-6 pm which sometimes vary according to the season, but the best part about this park is that there is no admission fee and entrance is completely free! The only thing they will charge you for is taking a kayak to view the falls, which most people prefer to do.
This place does justice to having the word 'heaven' in its name. It is located on the outskirts of the town of Heavener, near the border of eastern Oklahoma. Taking a quick history lesson, this park is built around a Swedish runestone discovered in the 1920s and was believed to be carved by Viking explorers in the year 1000 AD, while some people believe that the runes were carved around the 1700s.
There is a short hike, which is also dog-friendly, of just 0.2 miles to reach this stunning waterfall that flows down the cliff into a fountain. Hours are 8 am-8 pm and the admission fee is 0$, which makes this a fun and free experience for one of the days when you want to have a quick adventure and appreciate nature and history all in one.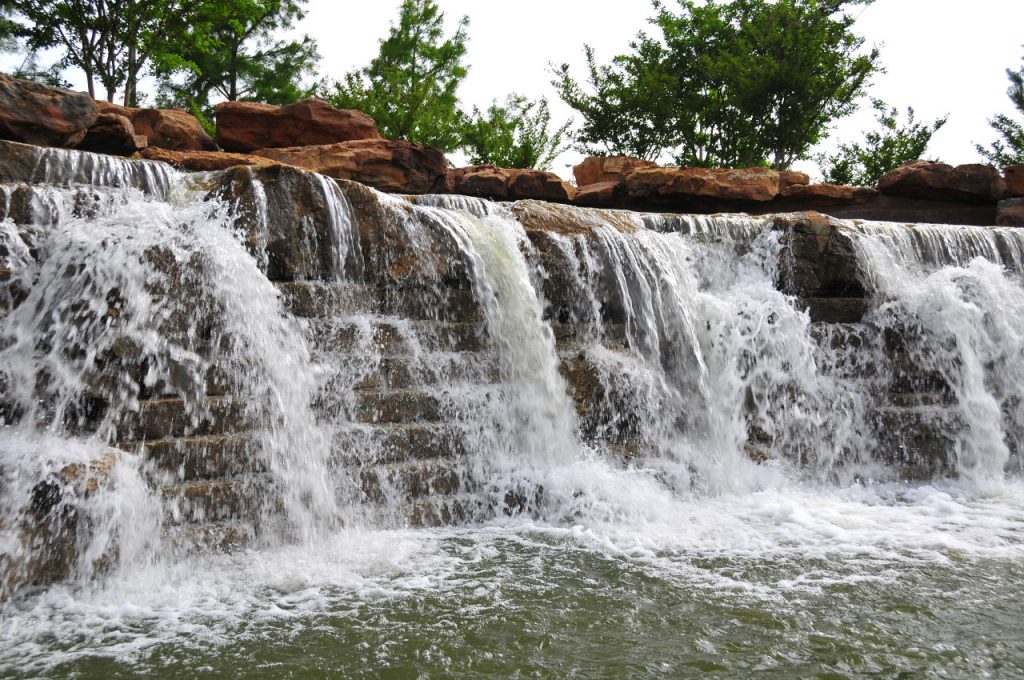 Located along the Bricktown canal, this is a manmade waterfall that is worth seeing. For all the other waterfalls, you need to have a whole journey in mind, this is where Bricktown waterfalls have an edge since you don't have to leave the city to view this wonder.
No long hikes are necessary for visualizing these falls, you can park near and just stroll on the sidewalk towards it, or, you could also take a water taxi along the Bricktown canal, this option will allow you to take in the gorgeous sight while simultaneously enjoying a calm and serene ride in the water taxi. To add to that, there is artwork along the canal which is very Oklahoma-centric and is another reason to take the water taxi. There are also some historical sculptures at the park which are a treat for all history lovers.
Many food spots are also found around this area so you can grab a quick lunch with the view. The falls are overlooking the main downtown area, which makes it very easily accessible and the center of attention in the Bricktown district.
Things to consider before visiting a fall in Oklahoma:
Planning – Make sure to find out all you can about the location you are planning to try, in terms of the accommodation if you are planning to stay the night, what are the restrictions, are the parks if swimming is allowed or not, and so on. A little research will definitely come in handy, and it's better to be prepared in case of a change in plan.
What to carry – Although they tell you to pack light for trips, essentials should not be skipped. Plenty of water for the hikes, sunblock, mosquito repellant, snacks, hiking poles, a map or GPS, a fully charged phone or power bank, and a sun hat for the scorching heat.
Be mindful of the environment – Many tourist attractions have signed up which specifically state not to litter but a lot of people do not comply with those rules. As nature lovers, our interest should be in preserving these beautiful places and not ruining their sanctity. Be mindful of throwing trash in the bins and clear up if you set up a picnic. There is wildlife in most of these places and it's not in good faith to pollute their habitat.
Clothing and footwear – You always enjoy your adventures while you are comfortable, in that sense you should pick your most comfortable trainers, especially if you are planning to hike because some of the trails are a little hard in terms of difficulty and you will need good support. Make sure to pack an extra pair of clothes in case you are thinking of taking a dip in the waters.
How do we pick our recommendations?
To make sure we give you reliable information we have a carefully curated list of sources that we use to list down the best recommendations for you. I admire nature as much as the next person and have visited some of the absolutely breathtaking spots in Oklahoma. There are certain criteria and checklists that we prepare to ensure that these are the topmost places you should consider visiting, including the routes, if the place is family-friendly if they allow pets, accommodation, and of course the stunning views.
By having these great experiences ourselves we bring them to our readers so that you can have a great time exploring nature and soaking in the views that we adore ourselves.
Editor's Pick: Stunning Waterfalls In Wisconsin for Your Leisure Next Trip
Final words
There is a song that says 'don't go chasing waterfalls' but in the case of these picturesque landscapes and stunning falls, we would urge you to definitely pay them a visit if you are in Oklahoma and looking for a great way to spend the afternoon and are a nature lover.
Grand waterfalls in Oklahoma that you must visit - FAQs
What is the biggest waterfall in Oklahoma?
Turner falls park in Davis is home to the biggest waterfall in Oklahoma.
Is Little Niagara Falls, Oklahoma, open?
Yes, the Little Niagara Falls are still open and running.
What is the longest waterfall trail in Oklahoma?
The longest waterfall trail in Oklahoma is the Lower Mountain fork river.
How deep is Turner Falls in Oklahoma?
The base of turner falls' pool is 12-15 feet deep.
Do we have to pay to get into Turner falls?
Yes, tickets are available to purchase to get into turner falls.
How much does it cost to go to Natural falls state park?
It costs 10$ per vehicle per day to go to Natural falls park.