Wales is a famous country with excellent standards for a beautiful tourist experience and the safest beaches in the United Kingdom. Spread over 2700km of coastline, the clear water, sand, and relaxing atmosphere that the country's beaches offer make for a perfect summer beach experience, whether a simple walk with your loved one or a playful splash in the water with the kids. Or be it a relaxing sun bath. Whatever the situation, these beaches in Wales that you probably might not know about are the ultimate solutions.
Most Least Crowded Beaches In Wales
Many beaches such as these Lousiana beaches and seaside resorts, in general, have become either part of National Parks or Areas of Outstanding Natural Beauty, and some Welsh coastline that is fortunately not easy to visit and is still unspoiled. As of 2022, 44 beaches have "Blue Flag" status, meaning they are safe to visit, and many have received the "Green Coast Award," a symbol of environmental excellence.
So, if you're looking for amazing beaches to have an astounding view of nature's beauty and enjoy a peaceful time away from worldly problems, then, without further ado, let's dive into the list of the best beaches you can find in Wales for an unforgettable coastal experience.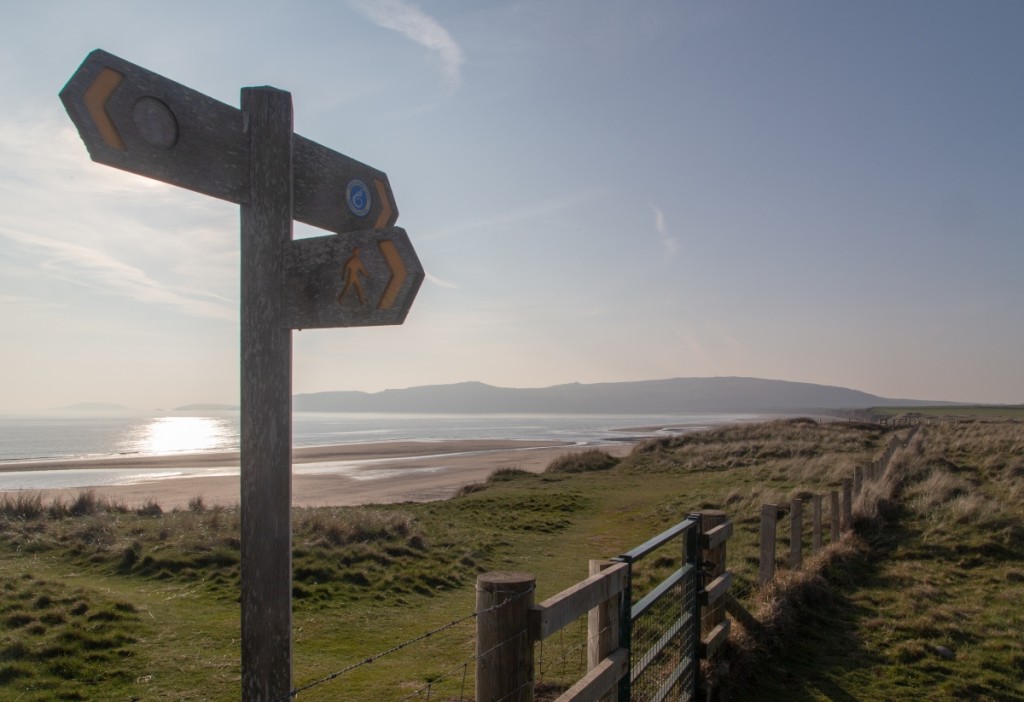 Porth Neigwl, also known as Hell's Mouth located in Abersoch. The name may sound scary, but it is one of the most fun beaches you'll find in Wales, at that there is a fascinating reason why this Beach is called Hell's mouth".
First, the semicircular shape of the Beach looks like an open mouth welcoming the crystal-clear blue water. Secondly, sailors feared the Beach for historical destruction. Hence this Beach has got this spooky name.
The land comprises half sand and half pebbles, accompanied by the breathtakingly gorgeous water view, which opens the options for various fun activities, especially kayaking, surfing, and fishing.
However, for swimming and exciting diving, Porth Neighwl is not the best option, as the cross-currents of the water create all sorts of unfavorable and unsafe situations for one to get washed away.
An absence of lifeguards in the vicinity makes it even more unreliable for swimming, except for March when the tides flow is relatively lower. Better keep your eyes open for porpoises and bottlenose dolphins often sighted, showing welcoming gestures to the human fellows on the Beach.
Accommodation options are impeccable. Hotels and resorts offer spacious relaxation areas with free parking and snack truck availability. Port Neigwl welcomes dogs all year round, unlike many other beaches which deprive you of the pleasure of spending quality time on the Beach with your friends, family, children, and pets in Wales.
Rhossili Bay Beach, Gower Peninsula
View Website
Get Directions
PERFECT FOR: Viewing historic shipwreck Helvetia, walking over Worm's Head, surfing, and swimming
Rhossili bay beach is undoubtedly one of the most stunning beaches in South Wales. It has the reputation of being one of the most attractive beaches not only in the UK but also in the world, with excellent resorts and hotels.
The sandy golden or dry land of the Beach stretches for 5km, so visitors can enjoy all the exciting water sports in the gorgeous coastal environment. You can also see "Helvetia: Shipwreck or Wreck" in 1887 when the tides are not so high.
Also, a long walk on the historic Viking route known as "Worm's Head," a snake or dragon-shaped island path, is a stimulating way to spend your time hiking and walking to reach the bay. The walkway is challenging, but the calm and peaceful atmosphere is worth the 3.5-4 hours it will take to cross it.
But no matter how exciting it may sound, walking to the end of the Worm, always check the right tides for his adventure because high waves can wash one away in no time.
The Rhossili beach has a view of North Devon and so much historical value for the visitors to explore, which is obviously why it is the ideal site for film shooting. Marine creatures like dolphins and seals are often seen on the site, plus the Beach allows the dog all year round.
You must visit Rhossili Bay Beach in June, July, August, and September for two reasons. Firstly, the water temperature is perfect for enjoying a swim with friends, family, and even children; secondly, the tide is low, so take advantage of this time to experience the historical view of Helvetia and walk on the Worm's Head.
More Beaches Recommended By Our travel specialists:  Heart Capturing Beaches In New Hampshire
You can find cafes and toilets less than a mile from Rhossili village. And for parking, a paid car parking space is available about 500 meters from the Beach but free for National Trust members.
Finally, enjoy a relaxing evening or night at any hotel or cottage near the Beach to sleep with your loved ones and dog after a fun day at the Beach. The hotels and cottages provide accommodation for up to 6 people and a dog.
On the Llyn Peninsula, West Wales, there is an easily accessible beach of outstanding natural beauty known as Port Iago. If your aim behind going to the Beach is to hide away from these worldly worries and enjoy a relaxing sunbath, have a romantic time, and swim in the clear blue water in a safe environment, then no other beach is better than Porth Iago.
People visiting Port Iago with kids and families should bring loads of water and drinks with them as there are no food and drink facilities near this Beach. And not to mention, the toilets and lifeguards are nowhere to be seen.
Surrounded by the rocky Cove, this Beach provides an ideal shelter from harmful sun rays in highly sunny weather. The silky sand and crystal-clear water encourage visitors to enjoy beach recreational activities and fishing.
In addition, many visitors claim to see cute marine creatures like seals and dolphins here, so you better pay attention to your surrounding while having fun here because you never when getting the chance to see and interact with these adorable marine animals.
In short, Porth Iago, Llyn Peninsula, is the perfect Beach in Wales to admire nature and have a quiet time away from your hectic daily life and enjoy wild camping, fun picnic, sun baths, and so much more.
You can pay a small fee to park your car at Ty Mawr Farm. At the Porth Oer, known as Whistling Sand, you can take advantage of the shops to stock up on your picnic supplies or buy picnic accessories. Since the Beach is dog-friendly, visitors can bring their pets.
Several hotels are present near the Beach where you can relax with your loved ones and dog after having a delightful day at the Beach.
Skrinkle Haven Beach And Church Doors Cove, Manorbier, Pembrokeshire
View Website
Get Directions
PERFECT FOR: Family picnics, surfing, body boarding, etc
Skrinkle Haven Beach, located in West Wales, is a stunning and secluded beach with two large limestone caves in the cliffs that serve as the entrance, famously known as Church Door Coves. Historically, this Beach was not open to the public, but only a while ago.
There are two ways to reach this Half Golden Sand and Half Shingle Bay.
First, you can reach Skrinkle Haven via the rocky cliff, Church Door Cove. But this doorway is only available when the tides are low; otherwise, it's nothing more than a suicide plan. When the tide is low, make sure to avoid walking through it with kids as these 100+ steps, the steep stone walkway can be dangerous to pass through with children. And you'll also find numerous warning signs during inclement weather prohibiting visitors from using the Church doors Cove.
Another way is to get into the sea and walk around the rocks. Halfway through, you can get this beautiful Jurassic view of Skrinkle Haven Beach.
Free parking is available at Lydstep head, and you can visit Manorbier Youth Hostel to buy reasonably priced snacks. And from there, it's only a 12–15-minute walk to the bay. But if time constraints are the least of your worries, using the Manorbier Beach car park is recommended.
Manorbier Beach Park may be an hour's drive from Skrinkle Haven and Church door Coves. This parking place is not free like Lydstep Head, and you must pay a small fee to park your car safely. Still, the beautiful beach sites and unique attractions you'll see along the way are worth availing of the longer route and definitely enough to make the most of your beach vacation.
There are zero lifeguards on the Beach to protect the public from the dangers of the sea so make sure you keep an eye out for the varying tides. Visit the Beach between June and September, as these months are most favorable for swimmers as the waves are low. Skrinkle Beach is not usually crowded, a hidden gem in West Wales.
So, spend the best time with your friends and family, enjoying paddle boarding, swimming, cave exploring, etc. In addition, nearby hotels and resorts provide relaxation and dining facilities. Dogs are also allowed all year round.
This charming Beach on the Gower Peninsula is named after the three imposing limestone cliffs that can be seen jutting out into the sea. Thus it is called "Three Cliffs Bay Beach." The beach has a very calm and peaceful atmosphere due to the availability of limited access to it.
And in fact, the Beach is rarely populated by tourists and families, there are no food and drink facilities, and the nearest parking area varies from 350m – 400m.
Cliffs have always piqued the interests of both habitual and professional climbers. An intriguing thing about the Beach is the famous legend about it. That says that the fairies who lived in Pennard Castle cursed it long ago when a Welsh leader and his men attacked their residence.
So, because of the curse, Pennard Castle was covered in sand.
Considering the magnificent view of the bay, the presence of a castle with fairy residents is quite convincing.
During periods such as summer holidays and school holidays, lifeguards are on site to protect visitors. This period also serves as the best time to visit the Beach to enjoy fun beach activities with lifeguard protection.
Visitors are advised to be vigilant while swimming at the Beach with children and families. Be careful of strong waves and cross-currents, visit the bay at dusk, and most importantly, don't go too far in the water to avoid accidents.
Facilities like toilets and parking areas at nearby public parks are available. You can easily access sleeping and relaxation areas in nearby hotels suitable for two people and a dog.
Things to Consider Before Going to Beaches in Wales
Following are the essential regulations and factors you should consider before embarking on a fantastic beach experience in Wales.
Choose a Lifeguarded Beach — Of the beaches, we mentioned in the article above, most of the bays did not have lifeguards on site. So now the responsibility of protecting yourself and your family falls on your shoulders. On the beaches with lifeguards available, let them guide you. Be sure to follow safety guidelines on beaches without lifeguards, swim, and enjoy all the fun activities between the red and yellow flag range not to get washed away by the tides.
Pack Beach Essentials Thoughtfully — Although it is easy to find amenities such as cafes, hotels, parking areas, etc., near the Welsh coastal areas. But sometimes, facilities are far away or nowhere to be seen. In either case, you should pack light meals, plenty of drinks, safety equipment, and recreational equipment to get the best experience on Wales's beautiful and secluded beaches. Since the beaches are famous for being the safest and cleanest in the world, you must preserve their reputation and bring a trash bag with you to take your trash along with you.
Choose the Most Suitable Time of the Year — Even if the sun is shining, the water temperature is not liable to be at an optimum temperature to swim in. So it would be in your best interest to check the most favorable weather to go to the Beach. Secondly, the high, splashing waves can be more than exciting but make sure you don't get swept away by the waves and follow safety rules, especially on beaches with dangerous waves such as Hell's Mouth.
Prioritize Safety — Always choose a place on the Beach for family members, friends, and especially children to gather in case someone gets lost. Pack the gear and swimming and surfing essentials carefully. If you get caught in cross currents or high waves, pull your arm up, shout for help, and don't try to swim against the wind. Finally, always carry a first aid box with you as you may not find a hospital or clinical facility near the beaches of Wales.
Don't Touch Marine Wildlife — On the stunningly picturesque beaches of Wales, you can easily find cute sea creatures like dolphins, seals, etc., and although they are harmless, visitors are not allowed to touch them. So, see all you want, but an invasion of personal space is not permitted because there is a possibility that you might come across a jellyfish or some harmful organism that can cause painful injury.
How We Pick Our Recommendations
Certified international travelers and experts keep an eye out for even the tiniest of details because given the unique importance and features of each Wales's coast, choosing a beach destination for readers is by no means "an easy task," and that includes picking the best of the many beautiful options. In addition, our travel team considers the experiences of others. It thoroughly analyzes the factors like amenities, hotels, resorts, parking, and the best time to visit the beaches mentioned above in Wales, etc., to ensure that our recommendations are as beneficial as possible for our readers.
Final Words
Every beach in Wales has something new, something interesting for its visitors. The stunning beaches of Wales are unspoiled and so breathtaking that you'll find it hard to believe your eyes for the heavenly view. The picturesque beaches mentioned in the article offer a peaceful and secluded atmosphere. So, whether you go with family, friends, or alone, an unforgettable experience is guaranteed.
Stunning Bays In Wales You Never Knew Existed - FAQs
What Wales beach is most famous?
Rhossili Bay Beach is the most famous and picturesque bay beach in Wales and all around the globe and is renowned as an ideal surfing beach.
How clean is the sea in Wales?
Factually, in 2022, 83 beaches in Wales were awarded the prestigious "outstanding" mark, while 15 out of 105 beaches were rated "good," but seven were rated "adequate" for water cleanliness.
How many beaches are in Wales?
Wales has 150 stunning beaches on over 2,700km of coastline, each with unique features.