Amsterdam is a city that's practically a treasure chest of delights, with jaw-dropping architecture, a cultural scene that's like a rhythm-pumping heart, nightlife that's more electrifying than a lightning storm, and locals whose warmth could melt glaciers. It's a place where it feels like your every wish is granted on a silver platter. Amsterdam is like the genie of travel destinations!
We've got the inside scoop on the crème de la crème of Amsterdam hotels that are not only safe but are exceptionally amazing for solo travelers.
Best Hotels In Amsterdam For Solo Travelers
Amsterdam proudly presents a diverse range of hotels, including Hotel Arena, Tribe Amsterdam City, Kimpton De Witt Hotel, Pulitzer Amsterdam, Andaz Amsterdam Prinsengracht, Hotel Jakarta Amsterdam, art'otel Amsterdam, and CitizenM Amsterdam South. So, prepare your luggage and select a hotel from the following list based on your preferences:
If you want to create some positive and unforgettable memories that will stay with you forever, Hotel Arena is where you need to be. This unique hotel is housed in a historic building that used to be an orphanage and nursing home. The rooms are absolutely stunning with high ceilings, big windows, and charming wooden beams.
But that's only the start of it! . For solo travelers seeking moments of quiet reflection or simply taking in the picturesque skyline, this terrace is your haven. They also organize their own art exhibitions, music and dance parties, and film nights. For instance, the GLUE Amsterdam Design Hub and Expo, Summer Movie Nights, Marta Syrko Resprospective and Amsterdam Chapel Quiz are just a few of the many events solos can participate in. There's also an amazing restaurant here, giving away a serene vibe and utmost peace.
Amenities: This magnificent hotel offers numerous amenities and below are just a few of the exceptional offerings:
An inviting bar/lounge for relaxation.
Bicycle rental options for exploring the surroundings.
Opportunities for scenic hiking adventures..
Convenient taxi service for your transportation needs.
Savor a delightful breakfast buffet.
Enjoy complimentary instant coffee at your convenience.
Secure baggage storage
Price Range: The available price range falls between:
Average price: $136
Most expensive: $271
Location: Hotel Arena's strategic location puts you within easy reach of various attractions. Just 0.3 miles away, you can delve into the Tropenmuseum's cultural offerings. For those seeking outdoor tranquility, Oosterpark is a mere 0.2 miles stroll whereas humor awaits at Easylaughs, which is also just 0.2 miles away.
Dining options abound with Hearth, Elkaar, and VanOost Restaurant conveniently positioned nearby. If you're eager to expand your explorations, consider a visit to the Concertgebouw (1.6 miles away) or step into history at the Portuguese Synagogue (0.7 miles) and the Willet-Holthuysen Museum (0.8 miles).
Address: s-Gravesandestraat 55, 1092 AA Amsterdam The Netherlands
Tribe Amsterdam City is another unique and special place where solo travelers can stay. This place feels like a dream turned into reality with its opulent ambiance, contemporary design and an irresistible atmosphere. What truly distinguishes Tribe from others is its commitment to modern urban travelers like yourself.
Here, you'll discover chic communal areas where you can socialize, forge new connections, and craft enduring memories. And here's the exciting part – every nook and cranny of this hotel resembles a masterpiece. These spots are ideal for capturing those Instagram-worthy scenes that are sure to make your friends jealous.
Back when I visited this hotel in August of 2023, I really had a great time. Although I was alone, there was so much to do. For a solo traveler like me, this place offers several amazing activities. Hop on a short ferry or metro ride, and you'll find yourself in the heart of Amsterdam North. Here, you can make new local friends while exploring the NDSM-Warf's charming eateries and the mesmerizing street art museum. If vintage treasures tickle your fancy, make sure to dive into the treasure troves of the IJ Hallen flea market.
Amenities: If you choose to book a room in this fabulous place, you will have access to the following amenities:
Paid public parking nearby
Free Wi-Fi
On-site restaurant
Convenient baggage storage
First aid kit in case of emergency
Laundry facilities for your convenience
Price Range: Tribe Amsterdam City is the ideal choice for budget-conscious solo travelers looking for affordability without compromising quality. Below is a general approximation of the pricing spectrum:
Average Price: $175
Highest Price: $339
Location: Kimpton De Witt Amsterdam is perfectly situated in the heart of Amsterdam, a mere 300 meters from Central Station. Within a short walking distance, you'll discover the impressive Basilica of St. Nicholas, which is only 400 meters away as well as the iconic Royal Palace Amsterdam (500 meters).
For travelers arriving by air, Schiphol Airport is the nearest option (located approximately 20 kilometers away). Furthermore, attractions like Dam Square, and a bustling hub are conveniently positioned only 500 meters from the property's doorstep. And for those seeking a unique experience, the intriguing Sexmuseum is 150 meters away.
Address: Termini 9, 1022LB Amsterdam, Netherlands.
Read about our trip: 8 Underrated Things to Do in Ontario, CA – Local Guide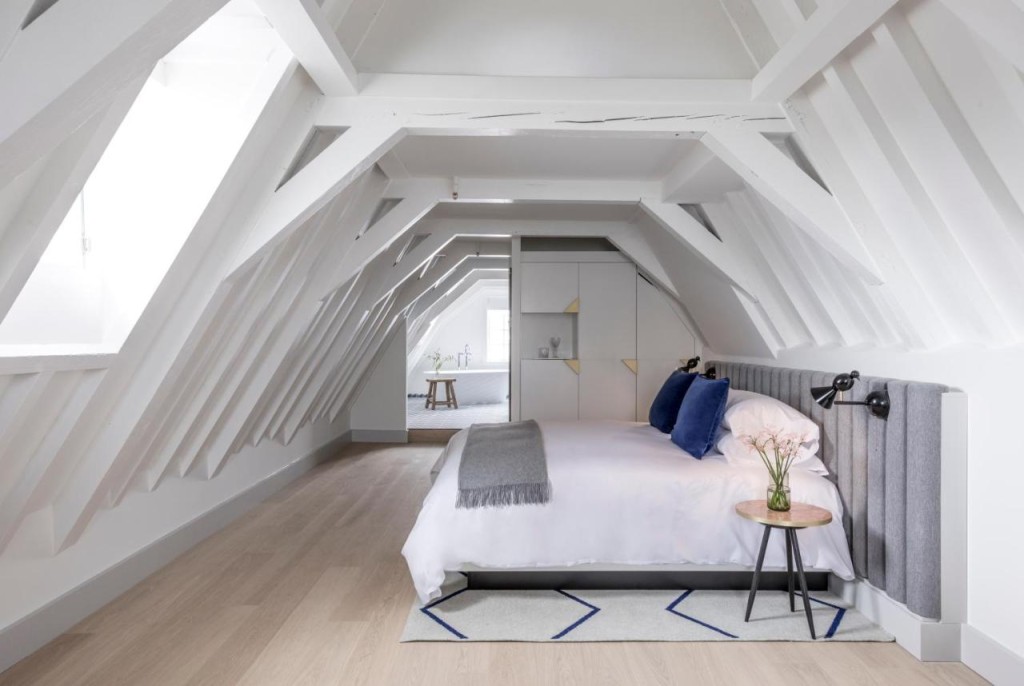 If you're feeling adventurous, you can book the Kimpton De Witt Hotel for yourself or share it with other solo travelers. The hotel's central location in Amsterdam provides convenient access to all of the city's incredible attractions. From renowned landmarks to museums, art galleries, serene parks, picturesque canals, bustling markets, and the vibrant nightlife, the hotel offers it all in close proximity. As a solo traveler in Amsterdam, you'll be able to enjoy all these places without having to travel too far.
You can even partake in the hotel's guided bike tours to unveil hidden gems and local treasures. Furthermore, you'll have the opportunity to socialize with fellow guests and locals during the daily wine hour held in the lobby where complimentary wine and snacks are served. And when it's time to unwind, the hotel's courtyard garden serves as a tranquil retreat amidst the city's lively ambiance.
Amenities: From our perspective, the following are the finest amenities that this hotel extends to solo travelers:
Themed dinner nights
Guided walking tours
Engaging tours or classes about local culture
Relaxing yoga classes
Parking Garage
Scenic bike tours
Cozy bar/lounge
Convenient laundry and ironing services
Price Range: The cost of a one-night stay typically varies, falling within the following range:
Average price: $280
Highest price: $552
Location: Kimpton De Witt Amsterdam enjoys an ideal central location, which is 300 meters from Central Station. Within a brief stroll, you can reach the Basilica of St. Nicholas at 400 meters and the Royal Palace Amsterdam at a mere 500 meters from the hotel. The closest airport is Schiphol Airport (roughly 20 kilometers away). Furthermore, Dam Square is conveniently situated just 500 meters away, and the captivating Sexmuseum is 150 meters from the hotel's entrance.
Address: Nieuwezijds Voorburgwal 5, 1012 RC Amsterdam The Netherlands
Now, let's meet another one of our favorite hotels, Pulitzer. It's a place where you'll experience the quintessential Dutch charm woven into a complex of 25 interconnected canal houses from the Golden Age. The Pulitzer seamlessly combines luxurious, traditional, and modern Dutch craftsmanship.
Speaking of dining, Restaurant Jansz serves exquisitely crafted dishes that draw inspiration from modern Dutch cuisine. If you're looking for a place to relax, the Lobby and Pulitzer's Garden provide a serene setting with views of the garden. For those who appreciate a good cocktail, Pulitzer's Bar is a timeless hotel bar that tells a modern story of cocktail history through a classic menu.
And, the best part is the inner garden. The inner gardens at the Pulitzer Hotel provide a peaceful retreat from the vibrant but sometimes hectic city streets. While solo travelers often seek solitude, they may also desire moments of social interaction. The inner gardens can serve as a communal area where you can meet fellow travelers, exchange stories, and make new friends.
Amenities: This hotel offers an extensive selection of amenities. Some of the notable amenities include:
Fitness Center with Gym / Workout Room
Bar / Lounge
Bicycle Rental and Outdoor Dining Area
Restaurant and Breakfast Available
Complimentary Instant Coffee and Tea
Business Center (internet Access) and Conference Facilities
24-hour Front Desk and Express Check-in / Check-out
Dry Cleaning and Laundry Service
Price Range: For budget-conscious solo travelers, this hostel may be on the expensive side. Here's the pricing range:
Average Price: $449
Highest Price: $1,225
Location: Pulitzer Amsterdam is situated at Prinsengracht 323 in the Centrum district, which is 0.5 miles away from the center of Amsterdam. The closest landmark to Pulitzer Amsterdam is the Westerkerk. Notably, renowned attractions such as the Anne Frank House, Dam Square, and the charming Jordaan neighborhood can be reached within a leisurely 15-minute walk. The convenience of transportation is assured with the Westermarkt tram stop (200 meters away from this sophisticated hotel). Additionally, it's just a quick 3-minute stroll to the tram stop and a short 1.6 km distance from the Rijksmuseum.
Address: Prinsengracht 323, 1016 GZ Amsterdam, Netherlands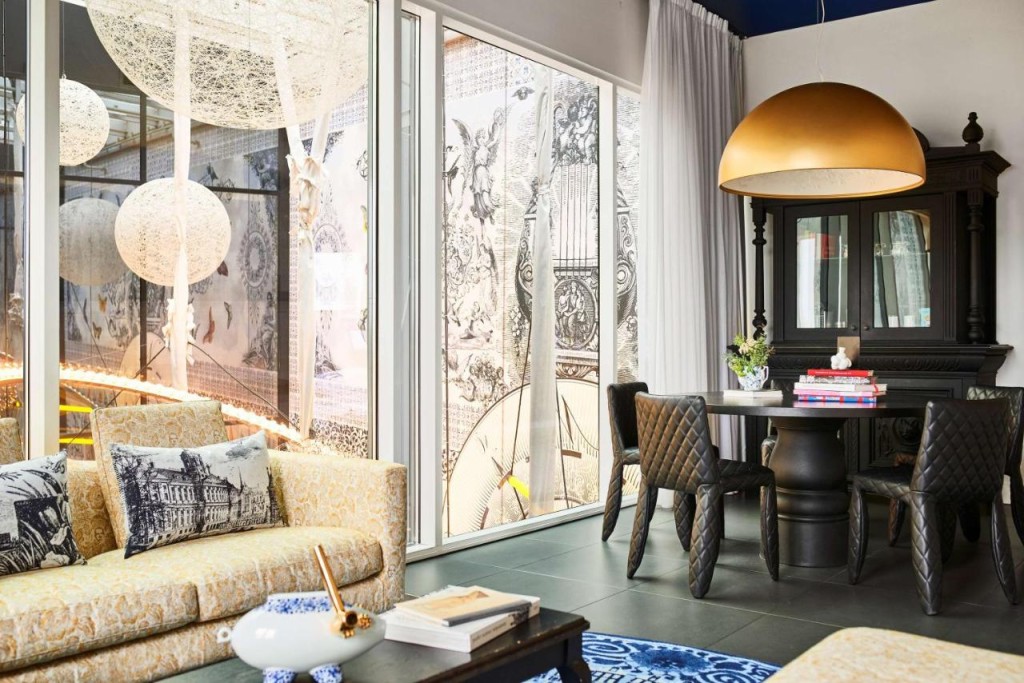 Andaz Amsterdam Prinsengracht is a hotel that will pleasantly surprise you, captivate you with its charm, and make you feel genuinely welcomed. This hotel isn't just a spot for relaxation; it's an environment for discovery. Once a library, this establishment has been transformed into a captivating homage to Dutch art and culture.
Every room is a work of art with original paintings and sculptures that tell the story of Amsterdam. However, the most notable attraction is the bar where you can sit back, savor a cocktail, and take in the view of the Prinsengracht canal. We must acknowledge that whether you're here for business or leisure, this hotel provides the ideal place to relax and recharge.
Over here, my personal favorite spot is the Bluespoon Restaurant and Bar. With its diverse international cuisine, it's an ideal place to embark on a culinary journey. The handcrafted cocktails at the bar offer a unique experience, and the opportunity to engage with bartenders adds a social element. You can enjoy picturesque canal views while dining and choose between cozy corners for solitude or mingling at the bar counter. Bluespoon enhances the solo traveler's experience by combining delectable food, innovative drinks, and a versatile ambiance, making it an indispensable destination to savor the essence of Amsterdam during your single adventure.
Amenities: Andaz Amsterdam Prinsengracht presents an array of amenities to elevate your stay to a fabulous level:
Restaurant and Wine/champagne
Breakfast buffet and Breakfast in the room
Complimentary Instant Coffee and tea
Pets Allowed (Dog / Pet Friendly) and Baggage storage
Outdoor dining area and Special diet menus
DVD feature and Board games / puzzles
Laundry service and Ironing service
Price Range: Andaz Amsterdam Prinsengracht provides top-notch services and the mentioned amenities at a price range that falls within:
Average Price: $505
Highest Price: $670
Location: The Jordaan area and Museumplein are both reachable within a 15-minute walk wheras Negen Straatjes is 120 meters away from this charming hotel. Additionally, the Rijksmuseum, Moco Museum, and the Anne Frank House can all be reached with a 15-minute walk from the hotel. The famous Vondelpark is a 10-minute stroll away and the vibrant Leidseplein is conveniently located just 400 meters from your place.
Moreover, the hotel is situated 0.3 miles away from the center of Amsterdam, which offers easy access to a variety of dining options such as The Chupitos Club, Vegan Temple Bar, and Bollywood Indian Restaurant. Furthermore, nearby attractions include Het Koekemannetje at 0.08 miles, Escapist Amsterdam at 0.2 miles, and Happy Feelings Coffeeshop at 0.2 miles.
Address: Prinsengracht 587, 1016 HT Amsterdam, Netherlands
If you plan to stay in this incredible city for an extended period, we must say Hotel Jakarta Amsterdam will not disappoint you. This remarkable establishment boasts a romantic ambiance and a plethora of amenities to fulfill your every desire. The rooms are thoughtfully equipped with a flat-screen TV, and wifi to stay connected with your loved ones.
As a valued guest at this Indonesian influenced style place, you'll have access to room service so you can indulge in some delicious treats without even leaving your room. They also offer a pool and free breakfast on-site because they truly value your comfort and satisfaction. When it comes to dining options, you're in for a culinary delight. Foodhallen, THE DUCHESS, and Zaza's are just a few of the Mediterranean restaurants nearby that are adored by both locals and visitors alike.
Amenities: We are genuinely impressed by the extensive array of amenities that this hotel offers. Check out some of them below:
Electric vehicle charging station and Free High-Speed Internet (WiFi)
Pool and Fitness Center with Gym / Workout Room
Free breakfast and Bicycle rental
Business Center with Internet Access and Meeting rooms
Parking and Internet
Indoor pool and Fitness / spa locker rooms
Sauna and Bar / lounge
Restaurant and Breakfast buffet
Price Range: We have discovered the following prices for your stay at this hotel:
Average Price: $280
Highest Price: $397
Location: Numerous travelers find pleasure in exploring attractions like Concertgebouw, which is located 2.4 miles away. Additionally, the Portuguese Synagogue is just 1.1 miles from here and the Willet-Holthuysen Museum is at a distance of 1.4 miles. Regarding dining, conveniently located restaurants are ready to welcome you.
These include Heart-Garden Waffles & Coffee, Mount Everest Tandoori, and Bakers & Roasters. Nearby points of interest encompass the WONDR Experience, which is only 0.4 miles away. The National Maritime Museum (also known as Het Scheepvaartmuseum) is located 0.6 miles from hotel and Glow MiniGolf Amsterdam is just 0.7 miles away.
Address: Javakade 766, 1019 SH Amsterdam The Netherlands
For Party Lovers: Party Hotels in Scottsdale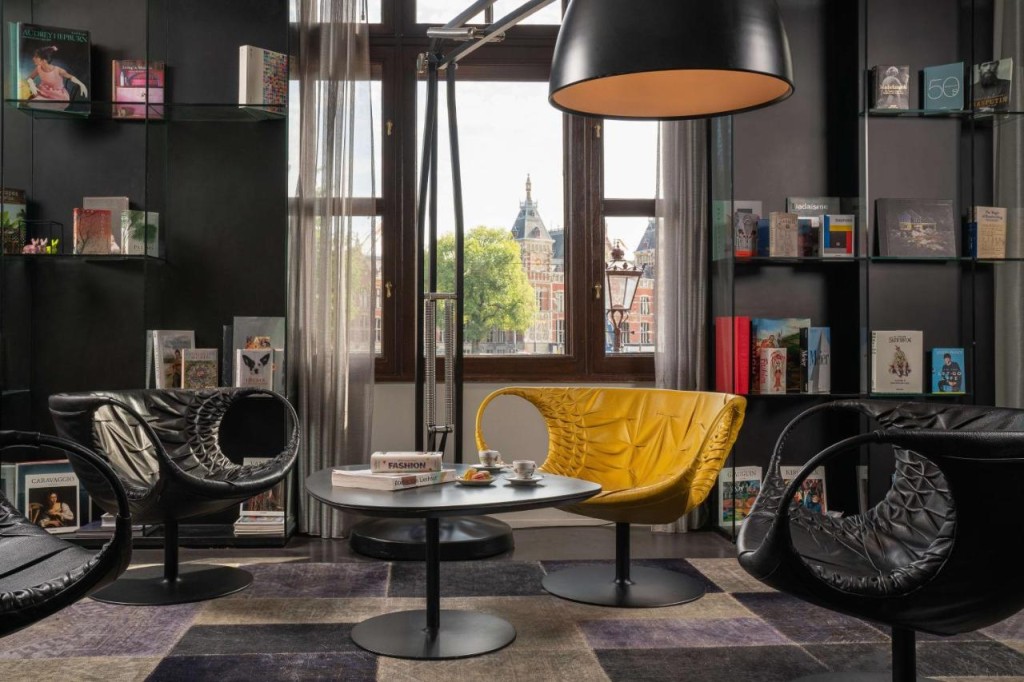 If you're craving a truly unique and extraordinary hotel experience, look no further than art'otel Amsterdam. Secure your room at this remarkable hotel today and immerse yourself in a blend of art and luxury. We've personally visited and witnessed the captivating artwork by Atelier Van Lieshout scattered all around the property. Here, you'll find a true treasure trove of exhibitions and artworks from around the world.
Now, let's talk about the delightful food awaiting you. Get ready for a culinary adventure that combines the best flavors of Portugal and Asia at ARCA restaurant. Led by the incredibly talented Michelin-starred chef Henrique Sá Pessoa, this restaurant presents a seasonal menu that is truly a culinary masterpiece.
Solos who love to wander around would love this! You can explore the city's vibrant tapestry with ease, as iconic hotspots like the Moco Museum (featuring Banksy's art), the Rijksmuseum, EYE Film Museum, Anne Frank House, and the Westergas and Jordaan neighborhoods are all within a leisurely stroll.
But that's not all – art'otel Amsterdam spoils solo travelers with on-site amenities. Unwind in the Finnish sauna, stay active in the fitness center, or take a relaxing dip in the indoor pool. For culture enthusiasts, the hotel is adorned with 120 pieces of art by the globally acclaimed artist Atelier Van Lieshout.
Amenities: Below, you'll find a selection of amenities thoughtfully tailored to cater to the needs and preferences of solo travelers at this delightful hotel:
Bar / Lounge & Restaurant
Bicycle Rental & Bicycles Available
Conference Facilities & Meeting Rooms
Wifi & Complimentary Tea
Indoor Pool & Heated Pool
Fitness / Spa Locker Rooms & Sauna
Breakfast Available & Breakfast Buffet
Spa & Full Body Massage
Price Range: This hotel can be considered expensive based on the prices we have found:
Average Price: $384
Highest Price: $677
Location: This hotel is surrounded by numerous nearby attractions with Centraal Station 0.3 miles away, Brews & Tales Amsterdam Craft Beer Tour at 0.2 miles, and Sherlocked within a 0.2-mile radius. When it's time to dine, conveniently located restaurants like de Silveren Spiegel, EatWith: Martine of Amsterdam, and The Yeti – Nepali & Indian Restaurant await your visit. The hotel itself is situated 0.6 miles from the center of Amsterdam. If you wish to delve deeper into your exploration, you can find Concertgebouw, located 1.7 miles away, the Portuguese Synagogue at 0.8 miles, and the Willet-Holthuysen Museum also at 0.8 miles from the hotel.
Address: Prins Hendrikkade 33, 1012 TM Amsterdam, Netherlands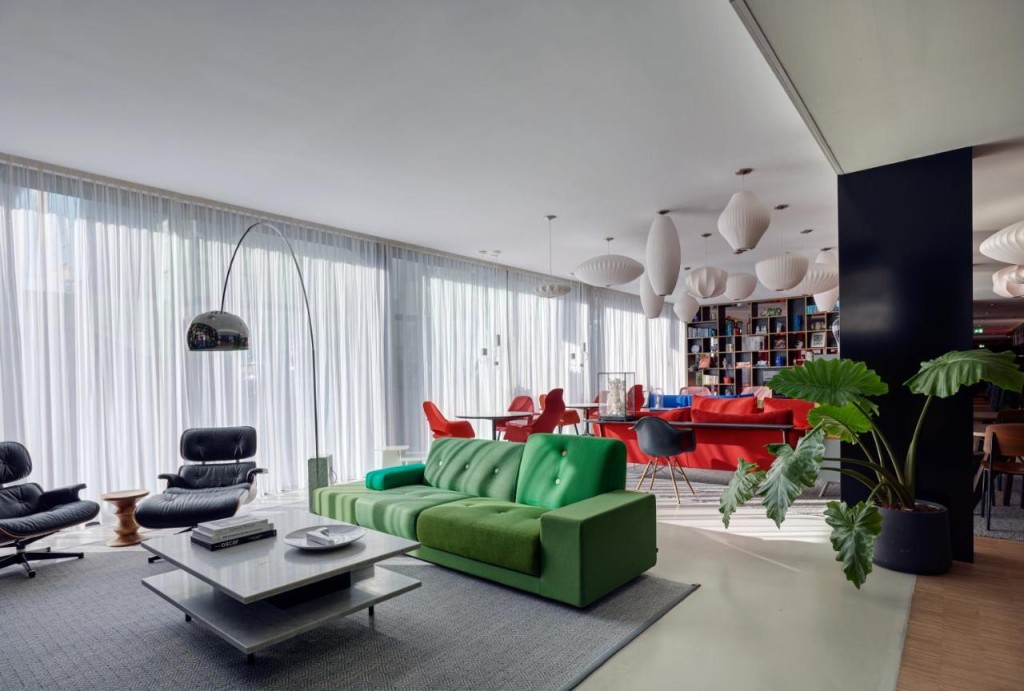 CitizenM Amsterdam South is a name that represents much more than just a hotel; It's like a home away from home, but even better. The moment you cross the threshold, a feeling of belonging will envelop you. Equipped with inviting furnishings and an exceptionally comfortable bed, it's a perfect spot to relax after a hectic day. It's the perfect setting to get inspired and meet other cool travelers.
Feeling hungry? The canteenM kitchen operates round the clock and is ready to serve up delectable meals whenever hunger strikes. Further, if business beckons, their societyM meeting rooms are primed for you to conquer your work objectives. When it's time to recharge, you'll find an extra-large king-size bed in your room along with a refreshing rain shower and blackout blinds to ensure a peaceful night's sleep.
Amenities: Whenever you visit this hotel, you can expect the guaranteed provision of these amenities:
Free High-Speed Internet (WiFi) and Business Center with Internet Access
Bar/Lounge and Wine/Champagne
Meeting Rooms and 24-Hour Security
Baggage Storage and 24-Hour Front Desk
Express Check-In/Check-Out and Private Check-In/Check-Out
Wifi and Coffee Shop
Restaurant and Breakfast Available
Laundry Service and Ironing Service
Price Range: This budget-friendly hotel offers a price range that falls between:
Average Price: $138
Highest Price: $255
Location: You'll find nearby attractions such as the Art Chapel at 0.2 miles, the World Trade Center just 0.1 miles away, and the Beethovenbrug also within 0.2 miles. For those looking to get more, popular destinations like Concertgebouw are located 1.0 mile away, while the Portuguese Synagogue is 2.2 miles away, and the Willet-Holthuysen Museum is situated 1.9 miles from the hotel. If you're in the mood for dining out, you can visit conveniently located restaurants including wagamama zuidplein, De Pizzabakkers Zuidas, and Caffè Belmondo.
Address: Pr. Irenestraat 30, 1077 WX Amsterdam, Netherlands
Conclusion
Amsterdam offers a treasure trove of delights for solo travelers, and the city's diverse range of hotels caters to various preferences. Whether you're an art enthusiast, a culture explorer, or simply seeking a relaxing escape, Amsterdam has something to offer. From the historic charm of Hotel Arena to the contemporary urban vibes of Tribe Amsterdam City, each hotel provides a unique experience. Kimpton De Witt Hotel, Pulitzer Amsterdam, Andaz Amsterdam Prinsengracht, Hotel Jakarta Amsterdam, art'otel Amsterdam, and CitizenM Amsterdam South offer not just accommodation but immersive adventures.
Editor's Pick: TOP 8 Best Hotels With Pool In Maui (2023 Updated)
Hotels In Amsterdam For Solo Travelers - FAQs
How can I make the most of my solo trip to Amsterdam while staying within a budget?
Opt for budget-friendly options like CitizenM Amsterdam South and explore free attractions such as Amsterdam's iconic canals and vibrant street markets.
How can I best experience Amsterdam's vibrant nightlife as a solo traveler?
Explore popular nightlife districts like Leidseplein and Rembrandtplein, and consider joining group pub crawls or guided nightlife tours to meet fellow travelers and locals.
Are there any hotels in Amsterdam that cater specifically to art enthusiasts?
Yes, consider staying at art'otel Amsterdam, where you can immerse yourself in a world of art and culture while enjoying your solo journey.
What are some unique solo travel experiences in Amsterdam beyond the typical tourist attractions?
Discover unconventional adventures such as street art tours in Amsterdam North or attending art exhibitions at boutique hotels like art'otel Amsterdam.