New York City is a vast and diverse metropolis where you can find everything from world-class museums and iconic landmarks to a rich tapestry of cuisines and cultures. However, navigating this bustling city on your own can be both challenging and overwhelming. This is why selecting the right hotel that caters to the needs and preferences of solo travelers is crucial.
To assist you in making the most of your solo adventure in the Big Apple, we have compiled a list of the finest hotels in NYC tailored to solo travelers. So, don't let the fear of traveling alone stop you from discovering the wonders of New York City – explore the city confidently with our top hotel recommendations!
Also, check out the best Hotels for Solo Travelers in Amsterdam!
Best Hotels For Solo Travelers In NYC
After a thorough examination, we've selected a list of 8 solo traveler-friendly hotels including Hotel Belleclaire, The Standard, High Line, Arthouse Hotel, Ace Hotel New York, Pod 39 Hotel, Soho Grand Hotel, and Night Hotel by SB. Now, let's dive into the details of these hotels and find the perfect match for your NYC stay below.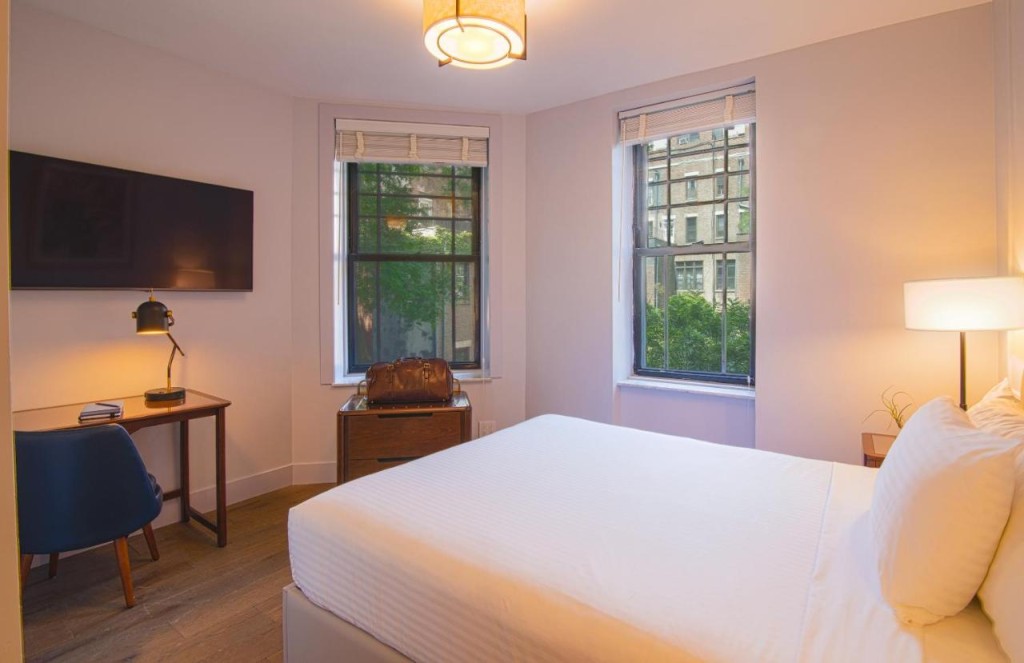 While every traveler's preferences differ, Hotel Belleclaire excels in accommodating diverse tastes with its versatile amenities and services. Beyond its inviting cozy rooms and enviable prime location, there's many more that sets it apart. The hotel caters to solo travelers by offering personalized recommendations to enhance your experience.
Their friendly staff is dedicated to making you feel at home throughout your stay. And the cherry on top? Hotel Belleclaire hosts a complimentary Saturday morning walking tour – a fantastic opportunity to explore the area and connect with fellow travelers.
Amenities: This hotel presents an array of enticing amenities that will enhance your stay, including:
Complimentary High-Speed Internet (WiFi)
Fully-equipped Fitness Center
Airport Transportation
Business Center with Internet Access
Meeting Rooms
Cozy Coffee Shop
Delicious Breakfast Options
Fine Selection of Wine and Champagne
Helpful Concierge Services
Paid public parking nearby
Price Range: The prices mentioned here may vary, and we have carefully curated this information to provide you with a general idea:
Standard Room: $324 to $412 (USD)
Suite: $399 to $461 (USD)
Pets: $150 per pet, per stay (USD)
Location: Hotel Belleclaire is situated just 5.2 miles away from the NYS-Skyports Seaplane Base airport. Moreover, this charming property is conveniently positioned within a short 1.3-kilometer radius of iconic attractions like Central Park and the American Museum of Natural History. For those who prefer public transportation, the nearest subway station is a mere 485 meters from the hotel. Further, Lincoln Centre is a mere 1.1 kilometers away, providing a cultural hub nearby.
Address: 2175 Broadway, New York, NY 10024, USA
Must Read before visiting: Worst Time to Visit New York [Tips From Locals & Experts]
The Standard High Line is another ultimate hotel for solo travelers. It's the only hotel that's built right on top of the iconic High Line Park! Can you believe it? You'll have direct access to this elevated urban oasis with stunning views and a vibrant atmosphere right at your doorstep. Further, it offers breathtaking views of Manhattan and the Hudson River.
The property also boasts a bustling German beer garden, a rooftop discothèque called Le Bain, the legendary Top of The Standard, and an outdoor public plaza with rotating art installations and a winter ice rink. Calling all food enthusiasts! Be sure not to overlook the acclaimed Standard Grill, where you can relish a fusion of brasserie ambiance and delectable new American cuisine.
Amenities: The hotel promises to provide you with an abundance of amenities, ranging from major to basic:
Paid private parking nearby
Free High-Speed Internet (WiFi)
Fitness Center with Gym / Workout Room
Bar/lounge
Evening entertainment
Nightclub / DJ
Pets Allowed (Dog / Pet Friendly)
Taxi service
Restaurant
Breakfast in the room
Rooftop bar
Conference facilities
Meeting rooms
Rooftop terrace
Price range: The hotel's pricing structure may vary, especially during the summer vacation season when demand is higher. The following is a general price range:
Standard Queen Room: Typically priced at $295
Standard King Room: Generally priced at $315
Hudson Studio-Jr. Suite: Usually priced at $395
Location: In close proximity to The Standard, High Line New York, you'll find a variety of attractions. Some of them are The High Line (0.08 miles), Ground Zero Museum Workshop (0.08 miles), and Chelsea Market (0.1 miles). The Whitney Museum of American Art is just 300 meters away from the hotel whereas Chelsea Market is only 400 meters away. The nearest airport is La Guardia Airport, which is situated 12 kilometers away. Additionally, the area offers a selection of conveniently located restaurants including, Cull & Pistol, Filaga Pizzeria, and Los Tacos No. 1.
Address: 848 Washington St, New York, NY 10014, USA
Editor's Pick: The 6 Best Women-Led Restaurants in New York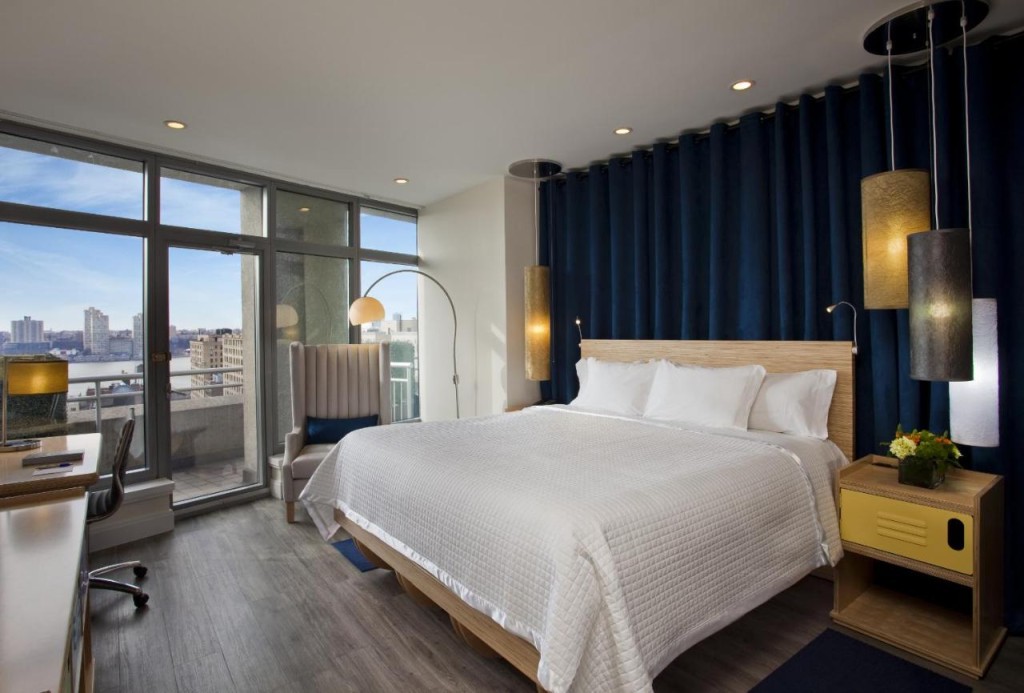 Arthouse Hotel is not just a hotel, it's an immersive art experience that will ignite your creativity and leave you feeling inspired. From the moment you step into the lobby adorned with captivating artwork, you'll be transported to a world of artistic wonder.
The spacious and comfortable rooms, some with private balconies and stunning city or river views, provide the perfect sanctuary to unwind after a day of exploring. Moreover, you'll have easy access to the vibrant art scene and cultural attractions nearby with its prime location.
Amenities: This hotel promises to make your stay unforgettable with a range of offerings that include:
Valet parking
Fitness Center with Gym / Workout Room
Bar/lounge
Evening entertainment
Bicycle tours
Pets Allowed (Dog / Pet Friendly)
Taxi service
Paid public parking nearby
Paid Wi-Fi
Coffee shop
Restaurant
Breakfast available
Complimentary Instant Coffee
Price Range: The hotel's pricing may experience seasonal fluctuations, particularly during the summer. Let's have a look at its rough price range:
Standard Queen Room: $195 to $295
Standard King Room: $215 to $315
One-bedroom suite: $375 to $475
Location: The Arthouse Hotel offers convenient proximity to a wealth of nearby attractions. These include Zabar's (0.2 miles), the Beacon Theatre (0.1 miles), and Banksy's "Hammer Boy" (0.1 miles). Further, you'll find the American Museum of Natural History just 500 meters away from the hotel whereas the Beacon Theatre is a mere 162 meters away. Moreover, Central Park, the Metropolitan Museum of Art, and Rockefeller Center are all within easy reach, making it a prime location for travelers looking to explore the city's top attractions.
Address: 2178 Broadway at West 77th Street, New York City, NY 10024-6647
If you're a solo traveler seeking a distinctive experience in New York City, let us introduce you to The Standard, East Village. As you enter the 21-story tower through an original tenement-style building, you'll be greeted with unparalleled views of Manhattan. And the best part? There's a quiet, calm garden tucked away at street level, perfect for some peaceful relaxation.
Solo travelers can relish a unique dining experience at Café Standard including an indoor mushroom farm. For guests seeking vibrant social interactions and memorable evenings, NO BAR offers weekend drinks and special events in a lively and inclusive atmosphere.
Amenities: This hotel provides a variety of amenities and services to ensure a pleasant stay for solo travelers and other guests:
Bicycles available
Nightclub / DJ
Pets Allowed (Dog / Pet Friendly)
Business Center with Internet Access
Coffee shop
Restaurant
Breakfast available
Happy hour
Outdoor dining area
Conference facilities
Meeting rooms
24-hour security
Baggage storage
Newspaper
Non-smoking hotel
Outdoor furniture
Doorperson
Price Range: The pricing for rooms at this establishment falls within the following range:
Standard King Room: $315 to $804
Standard Queen Room: $295 to $433
Suite: $395 to $575
Location: The hotel is conveniently situated near famous attractions such as Stomp (0.2 miles), the Merchant's House Museum (0.08 miles), and the historic McSorley's Old Ale House (0.07 miles). Additionally, you'll find a variety of conveniently located restaurants like Spot Dessert Bar, Via Della Pace, and Gato. Greenwich Village is easily accessible with just a 10-minute walk. If you're planning to visit the Metropolitan Museum of Art, it's just a 30-minute journey underground.
Address: 25 Cooper Square, New York City, NY 10003-7107
Suggested Reading: Coolest Places To Go Thrifting In NYC
The Night Hotel by SB at Times Square offers more than mere accommodation; it presents an immersive experience that will leave an indelible mark on your New York visit. This boutique hotel is right in the heart of the city and takes inspiration from New York's exciting nightlife for its design.
Here, you'll be surrounded by the lively vibes of Times Square, Broadway, Rockefeller Center, and Central Park (all just a short walk away). If you're hungry, you can enjoy delicious Japanese food at the RedMoon Restaurant right in the hotel. And when it's time to relax, your cozy room comes with free WiFi, a flat-screen TV, and a minibar to make your stay comfortable and enjoyable.
Amenities: Although the list of amenities may not be as extensive as some other hotels, each one is carefully curated to ensure your visit is memorable and hassle-free:
Valet Parking
Bar and Lounge
Nightclub with DJ
Baggage Storage
Dedicated Concierge Service
24-Hour Front Desk Assistance
Dry Cleaning Facilities
Onsite Restaurant
Smoke-Free Environment
Laundry Services
Price Range: The nightly rates for solo travelers booking a room at this hotel are subject to variation based on the bed type and the chosen date of stay.
Economy Room: Starting at $152 per night
Penthouse (1 queen bed): Starting at $224 per night
Junior Suite (1 king bed): Starting at $256 per night
Location: Night Hotel by SB at Times Square enjoys a prime location that puts an array of attractions and dining options right at your doorstep. If you're looking for a quick bite, McDonald's is just a minute's walk away, while Jimmy's Corner is a short 4-minute stroll, perfect for some local flavor. For those seeking the bright lights of Broadway and the iconic Times Square experience, you're just a 2-minute walk from the heart of the action. Furthermore, if you plan on exploring the city further, the New York W 32nd St. Station is a convenient 14-minute walk from the hotel. And for travelers arriving or departing by air, the New York, NY (NYS-Skyports Seaplane Base) is just a 14-minute drive away.
Address: 132 W 45th St, New York, NY 10036, United States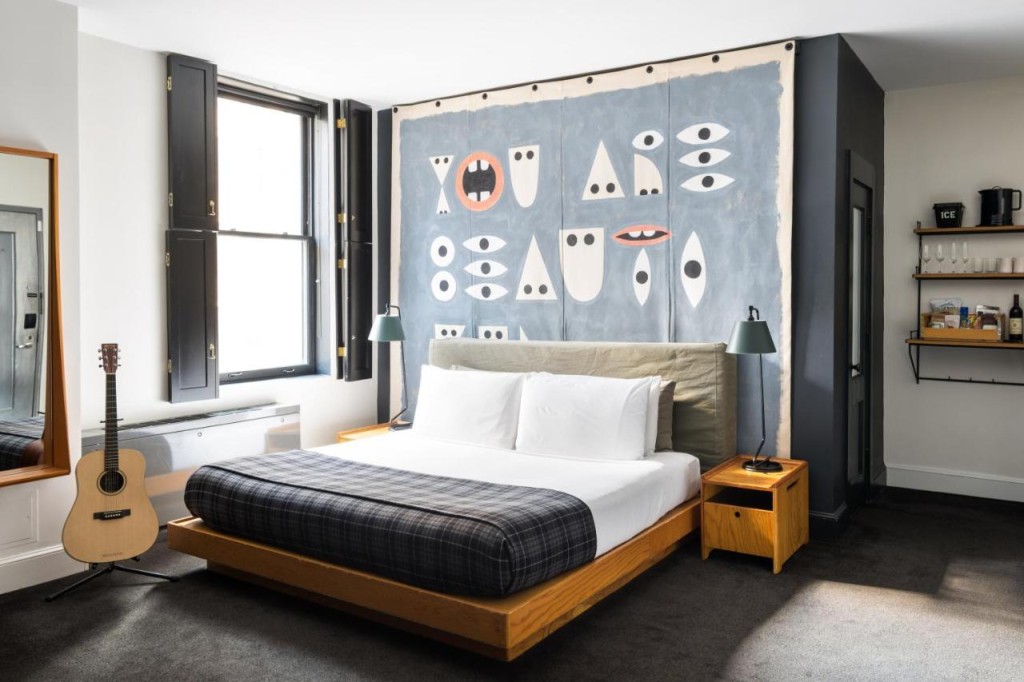 If you are a solo traveler who loves art, music, and night parties, you should consider staying at Ace Hotel New York. The hotel's stylish and modern design allows you to easily immerse yourself in the vibrant culture and diverse experiences. Plus, the hotel's friendly staff and welcoming environment make it easy to connect with other travelers (if you're looking for some company).
Further, you can enjoy live music performed by both local and international artists. You can also explore temporary art galleries showcasing the work of emerging and established creatives. When the night arrives, dance to the beats of some of the city's finest DJs at the hotel's nightclub.
Amenities: At the Ace Hotel New York, you'll find the following amenities waiting to enhance your stay:
Two on-site restaurants
Free Wi-Fi
24-hour front desk
Individually designed guest rooms
Modern amenities including flat-screen
TVs and iPod docks
Fully stocked minibar and refrigerator
Dining at the Koloman Restaurant
Gourmet coffee from Stumptown Coffee
Roasters Cafe
Live music in the hotel lobby
Price Range: The prices listed are subject to change based on various factors, including availability.
Weeknight Average: $363
Weekend Night Average: $355
Location: The Ace Hotel New York occupies an optimal location at the vibrant core of Manhattan. A 10-minute walk takes you to Madison Square Garden, and the nearby Herald Square Subway Station is just a 3-minute stroll away from the hotel. A quick 5-minute subway ride will effortlessly take you to the iconic Times Square, and you'll also find the famous Empire State Building nearby. Many different shops and places to eat are all around the hotel, making it a busy center in the city.
Address: 20 W 29th St, New York, NY 10001, United States
Recommended Reading: Ultimate Top 7 Best Indian Restaurants in NYC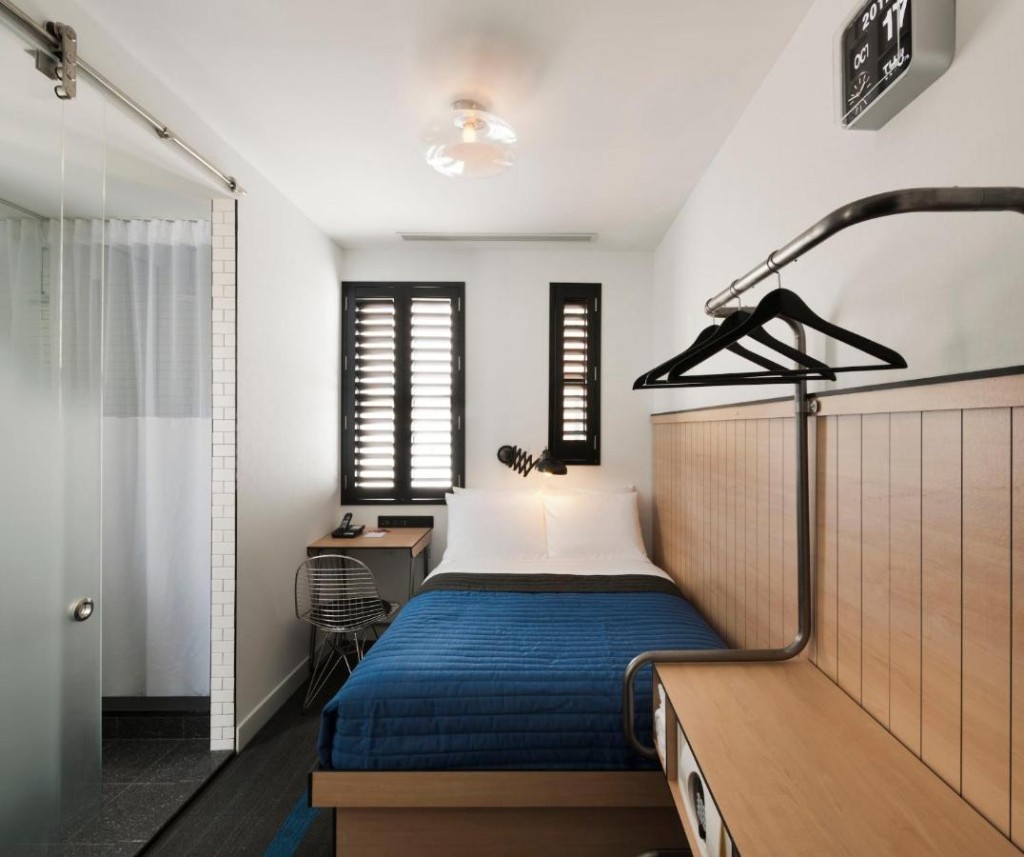 Pod 39 Hotel is a dream come true for solo travelers who want to experience the best of NYC without emptying their pockets. Here, you can find a lively yet peaceful Murray Hill neighborhood where you can enjoy top-notch attractions, dining options, and shops.
Moreover, the hotel offers a wide array of enjoyable activities to ensure your stay is memorable. You can participate in friendly games, test your skills with a thrilling round of table tennis, and join captivating guided walking tours. Rest assured, there will always be something exciting to do during your stay at the hotel.
Amenities: Within pod 39 hotel, you'll find the following amenities at your disposal:
Restaurant
Lounge
Free WiFi in all rooms
Colorful communal game room with table tennis and a fireplace
Air-conditioned rooms with work desks and cable TV
En-suite bathrooms with hairdryers
Rooftop Lounge & Bar for cocktails
Lobby Lounge & Bar serving food and cocktails daily
24-hour reception for guest assistance
Price Range: The average cost for overnight accommodation in this hotel is $141.
Location: Located just a short 6-minute stroll from Grand Central Station, this unique budget-friendly hotel provides both convenience and affordability. If you're enthusiastic about exploring iconic landmarks, the Empire State Building is a 13-minute walk away. To experience the lively atmosphere of Times Square, it's just 1.6 kilometers away. The renowned Rockefeller Center is a mere 1.5 kilometers from the New York Pod 39 Hotel. This central location makes it easy to discover the heart of New York City.
Address: 20 W 29th St, New York, NY 10001, United States
Suggested Reading: Best Hotels in NYC That Feature a Exotic Pool
Soho Grand Hotel
PERFECT FOR: Personalized and themed party experience
Soho Grand Hotel is a haven designed specifically for solo travelers seeking a luxurious and vibrant experience. In this newly renovated gem, you'll find stylish and spacious guest rooms, terrace suites, and penthouse Lofts that beautifully reflect the neighborhood's luxury and creative vibe.
But that's not all! You'll find an array of activities and services that will make your stay truly unforgettable. You can treat yourself to a soothing massage to relax after a day of adventure. Further, prepare yourself for an evening packed with entertainment as the sun goes down, featuring live performances and an energetic nightclub with an amazing DJ.
Also, Read: 10 Round-The-Clock Things You Should Do On Your Trip To SoHo
Amenities: Soho Grand Hotel extends the following amenities for your enjoyment:
Onsite restaurant (The Gramercy)
Modern dining space accented by hyper-creative art and whimsical flora
Modern in-room amenities, including flat-screen TVs
100% Non-smoking hotel
Accommodations furnished with feather beds and linens
Complimentary weekday newspapers
Wireless internet access
Price: You can expect the following pricing:
Weeknights: An average cost of $415
Weekend nights: An average cost of $525
Location: Positioned in the lively SoHo neighborhood, this classy hotel boasts a prime location with just a quick 3-minute walk to a nearby subway station. Furthermore, it takes a leisurely 14-minute walk to reach the charming Washington Square Park and the iconic Empire State Building stands at a distance of 3 miles from this elegant establishment. Additionally, numerous stylish dining venues and fashionable boutiques embrace this hotel's vicinity.
Address: 310 W Broadway, New York, NY 10013, United States
Things to Consider When Going to NYC for Solo Travelers
Traveling solo to New York City (NYC) can be an exciting adventure, but it's important to consider specific aspects that cater to solo travelers. Here are five key things to keep in mind:
Safety Precautions: NYC is generally a safe city, but like any major urban area, it's essential to prioritize safety. Solo travelers should:

Avoid poorly lit or deserted areas, especially at night.
Keep belongings secure and be aware of pickpockets, particularly in crowded areas.
Share your itinerary with a trusted friend or family member.
Use reputable transportation options, such as licensed taxis or rideshare services.

Accommodation Choices: When selecting accommodation, solo travelers have various options to consider:

Consider staying in well-reviewed hostels or boutique hotels that cater to solo travelers, promoting a social atmosphere.
Check for accommodations in safe neighborhoods, like Manhattan's Midtown or Greenwich Village.
Read reviews and ask for recommendations to find places that are welcoming to solo travelers.

Budget Planning: NYC can be an expensive destination, so solo travelers should manage their budget wisely:

Research affordable dining options, like food trucks, local delis, and diners.
Explore free or low-cost attractions, such as Central Park, museums with suggested donations, or walking tours.
Utilize public transportation, like the subway and buses, to save on transportation costs.

Social Opportunities: Traveling solo doesn't mean you have to be alone throughout your trip. NYC offers numerous opportunities to meet people:

Join group tours, workshops, or classes related to your interests.
Visit social hubs like cafes, parks, and communal workspaces to strike up conversations with locals or fellow travelers.
Check out meetup groups or apps designed to connect solo travelers with similar interests.

Time Management: NYC is vast and filled with attractions, so solo travelers should plan their time efficiently:

Create a flexible itinerary that allows for spontaneity.
Prioritize must-see attractions but also allocate time for exploration and relaxation.
Consider purchasing city passes or attraction tickets in advance to save time on queues.
Read Next: 9 Best Korean Restaurants In NYC That You Must Try
Conclusion
New York City offers a diverse range of hotels tailored to the unique needs and preferences of solo travelers. Whether you seek a cozy and social atmosphere, direct access to iconic attractions, or immersive art experiences, there's a hotel in NYC to suit your preferences. While exploring the city as a solo traveler, remember to prioritize safety, make the most of social opportunities, manage your budget wisely, and plan your time efficiently to ensure a rewarding and memorable adventure in the Big Apple. Don't let the fear of traveling alone deter you; NYC welcomes solo travelers with open arms.
Best Hotels For Solo Travelers In NYC - FAQs
What is the best time to visit New York City?
The best time to visit NYC depends on your preferences. Spring (April to June) and fall (September to November) offer pleasant weather and fewer crowds. Summer (June to August) is popular but can be hot and crowded. Winter (December to February) is ideal for holiday decorations and indoor activities, but it can be cold.
What are some budget-friendly dining options in NYC?
NYC offers a range of dining options to fit various budgets. You can find affordable eats at food trucks, street vendors, delis, and diners. Many neighborhoods also have local eateries and affordable ethnic restaurants. Additionally, look for prix-fixe menus and lunch specials at upscale restaurants to enjoy fine dining at a lower cost.
How do I get around NYC as a solo traveler?
NYC has an extensive public transportation system, including subways and buses, which are convenient and cost-effective for getting around. You can also use rideshare services like Uber and Lyft or take taxis. Walking is a great way to explore neighborhoods, and many attractions are within walking distance of each other.
What are some must-visit attractions for solo travelers in NYC?
NYC offers a wealth of attractions for solo travelers. Some must-visit places include Times Square, Central Park, the Statue of Liberty, the Empire State Building, Broadway shows, and world-class museums like the Metropolitan Museum of Art and the Museum of Modern Art (MoMA).