New York is one of the most famous destinations in North America with an array of accommodation options for visitors. From luxury suites to chic boutique hotels within walking distance from Times Square, there's no shortage of choices! But if your preference lies with having access to an indoor pool and an outdoor one then there is no need to worry because several NYC hot spots offer both types so that visitors can choose according to their mood or activity. Let's explore these options!
Margaritaville Resort Times Square
View Website
Get Directions
PERFECT FOR: People who want the services of shopping along with pool and bar
Margaritaville Resort Times Square's location can't be beaten. You'll find it just a few blocks from Central Park and Broadway, making this hotel the perfect place to stay whether you're visiting NYC for business or pleasure!
As a bonus for guests looking forward to exploring New York City, they also offer rooftop access with amazing views of the city – now there's something worth swimming toward every day during your vacation!
Moreover, It has an on-site shopping opportunity and friendly yet cooperative staff, while the rooms are cozy and comfortable. Isn't it so great?
Furthermore, Margaritaville Resort Times Square's a heated pool that is open year-round, so no matter when you visit, you'll be able to take a dip and enjoy stunning views of the city.
There's also a poolside bar, so you can enjoy a refreshing cocktail while soaking up some sun. If you want to relax after a long day exploring New York City, this is the ideal spot.
Hotel Brooklyn Bridge
View Website
Get Directions
PERFECT FOR: Those who wants to enjoy the luxury of the rooftop pool with a spectacular view
The hotel is located in the Brooklyn Heights neighborhood and offers stunning views of Lower Manhattan and Brooklyn. The hotel features luxurious rooms and suites, a world-class spa, a rooftop pool, and a fine-dining restaurant.
The rooms and suites at the Hotel Brooklyn Bridge are truly luxurious. All rooms feature floor-to-ceiling windows with stunning views of the Brooklyn Bridge or Lower Manhattan.
The bathrooms are super neat while the bedrooms are comfortable. The suites also have separate living areas with sofas and coffee tables.
While the hotel has a world-class spa. It offers massages, facials, and body wraps, among other treatments. Additionally, there is a Jacuzzi, steam room, and sauna. After a day of relaxation, guests can head out and explore the neighborhood, including the best go-kart experiences in Brooklyn.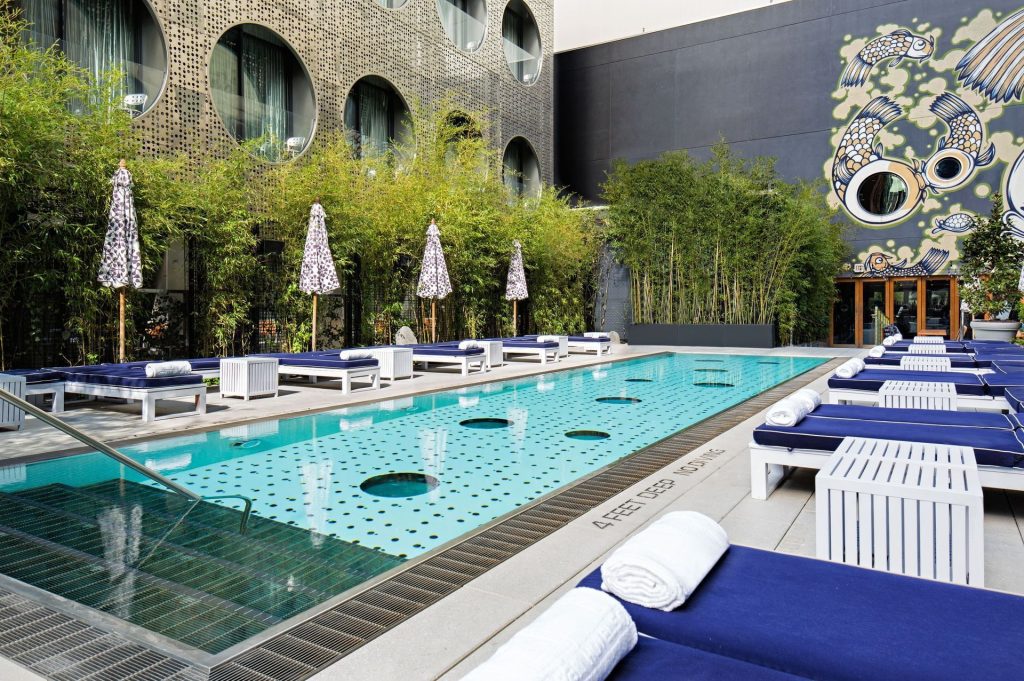 Dream Downtown is a hotel located in a convenient spot for enjoying the best of New York City. The amenities don't stop there either: two private cabanas await alongside 30 chaises-long lounges. So that after days spent running around town or working hard on one last project before retirement.
There are lots of food options, including chef-designed meals prepared fresh daily by hotel staff members specifically just for guests like yourself who might be looking forward to spending less time cooking but still want quality cuisine closely. Dream Downtown also offers a variety of food options in the surrounding area, including top-notch Korean restaurants located in New York City. 
The lobby of this hotel is an oasis in the heart of downtown Los Angeles. The high-back chairs and button-tufted banquette settees are scattered on a lush carpet before one well-stocked half-moon bar with Modelo cans lining its walls.
On the other hand, 50 feet tall heated glass bottom pool will make you feel like you're looking up into a water tower from below ground level – all while having panoramic views across town for yourself!
The High Line is not far out into West Village, where you'll also find world-class art galleries! Plus, it doesn't hurt that this hotel has easy access via transportation both in terms of being close to many subway stations and having tons of hours offered by car rental companies like Avis.
They have offices at 34th Street Station (on the 6 Train) just steps outside your doors.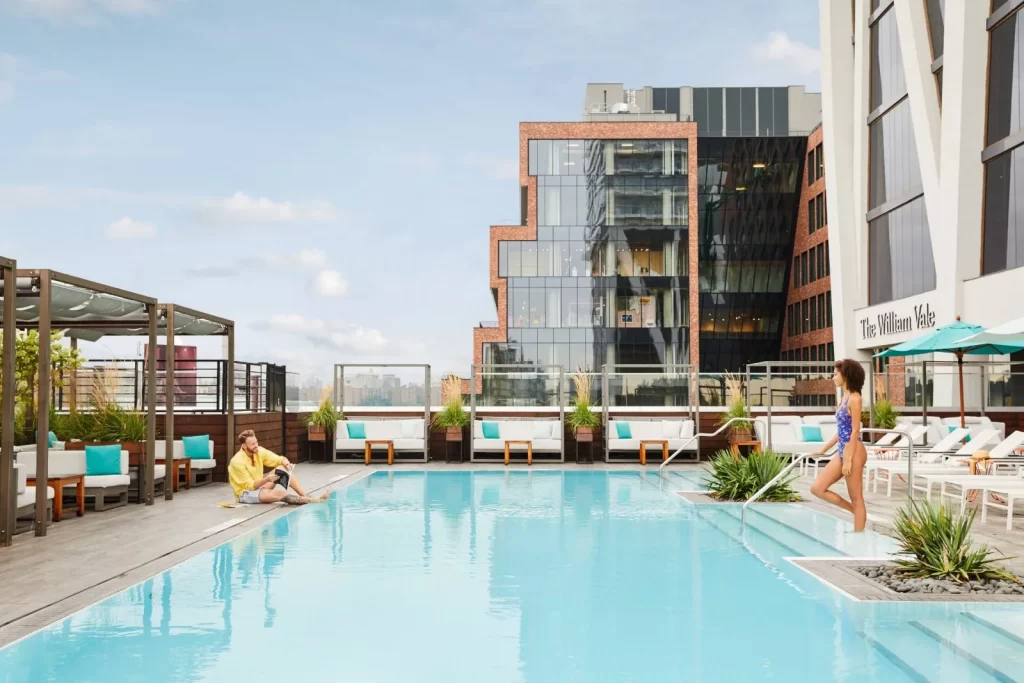 William Vale Hotel in New York City has an incredible city view. When you walk onto any floor, glass walls are everywhere, giving spectacular views from Brooklyn below to Manhattan above and even some European countries beyond its borders!
The interior also includes private balconies for every guest, which allow them access into their little worlds while enjoying drinks at one centrally located bar named Westlight on top-floor 22nd floor, and it's not too hard to find somewhere worth seeing here because this place does have something special all set up just waiting around looking exquisite.
The hotel is perfectly located for those looking to enjoy the best North Brooklyn offers. With a walkable distance between attractions such as Brooklyn Brewery and shops on Bedford Avenue, McCarren Park right next door, or Output mega-club just south–you'll be able to stay cool without sacrificing fun!
Civilian Hotel
View Website
Get Directions
PERFECT FOR: Those who wants the lavish style services and extreme hygienic environment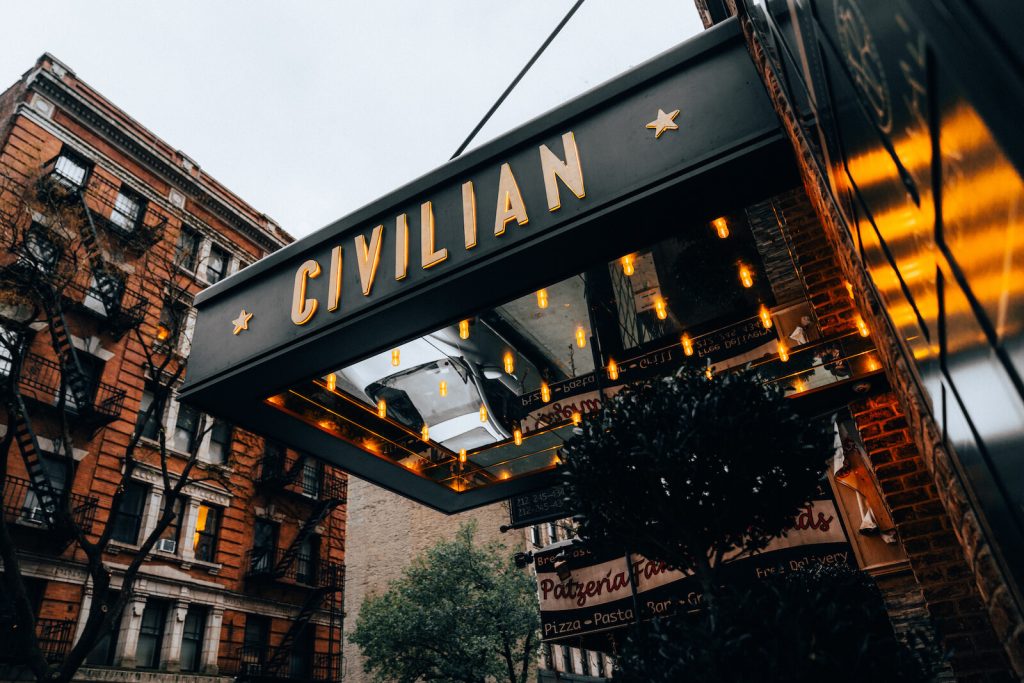 In the heart of New York City lies the Civilian Hotel, a luxurious oasis. With its prime location and world-class amenities, the Civilian Hotel will surely make your trip to NYC one to remember.
The Civilian Hotel is centrally located in Manhattan, making it easy to get to the city's top attractions. Whether you want to explore Times Square or visit the Empire State Building, you'll be within walking distance of all the action. Take a dip in the pool or relax with a drink at the hotel's bar when you're ready to unwind.
The rooms at the Civilian Hotel are spacious and comfortable, with plenty of space to spread out and relax. Hence if you're traveling with family or friends, you can book a suite with multiple bedrooms and bathrooms. No matter your room type, you'll have access to free Wi-Fi and a flat-screen TV.
You won't have to travel far when it's time to eat. The hotel's restaurant serves American cuisine for breakfast, lunch, and dinner. And if you're looking for something lighter, there's also a coffee shop on site. Room service is always available to enjoy a meal in the comfort of your room.
Editor's Pick: 7 Incredible Things You Can Do In Beacon, NY
Located in the heart of SoHo, ModernHaus SoHo NYC is a luxury condo building that offers its residents a wide range of amenities and unforgettable services. This hotel includes a state-of-the-art fitness center, a rooftop deck with stunning city views, and—perhaps most importantly—luxurious customer service.
Suppose you need to commute to another part of the city or beyond. You'll be happy to know that ModernHaus SoHo NYC is steps away from several subway stations.
Moreover, the building's amenities include a 24-hour concierge, a door attendant, a heated pool, and many more. The pool is open to residents from Memorial Day to Labor Day each year. It offers magnificent views of the city skyline.
It contains 36 units spread over 18 stories and each unit features high-end finishes and fixtures, including hardwood floors and stainless steel appliances. Isn't that amazing?
Baccarat Hotel And Residences New York
View Website
Get Directions
PERFECT FOR: Those who wants the amenity of the indoor pool, especially in central NYC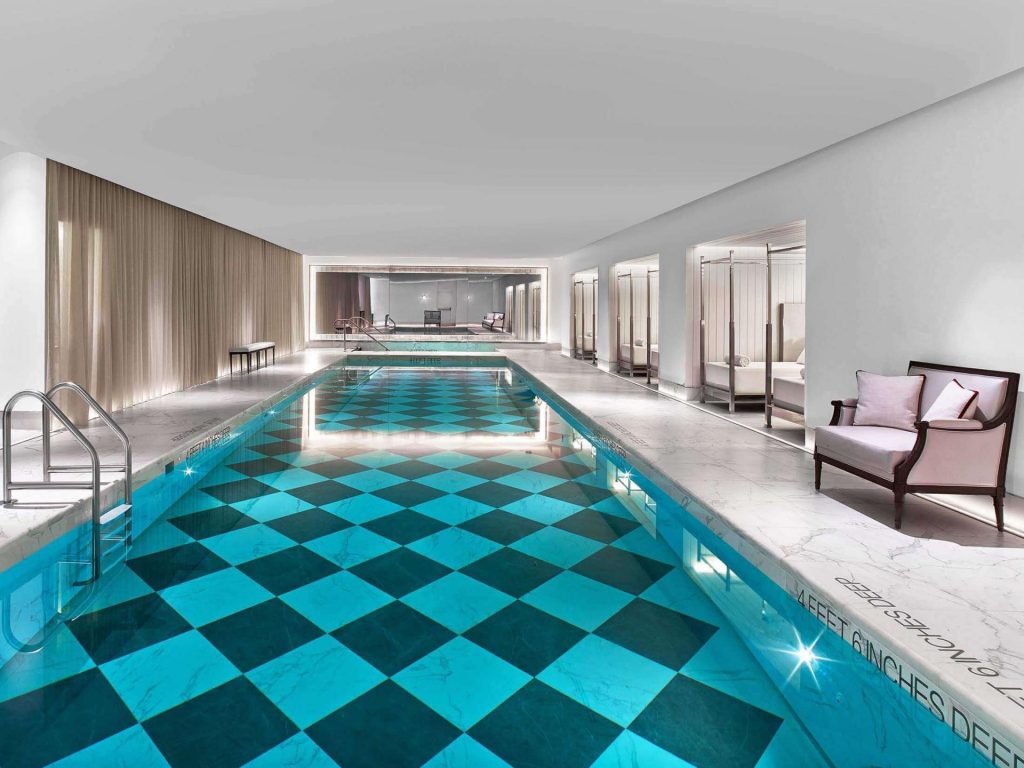 Baccarat Hotel and Residences New York are located in Midtown Manhattan. The hotel offers 114 guest rooms and suites and 61 residences for those who want to extend their stay. No matter your choice, you'll enjoy stunning views of the cityscape.
When it comes to dining, Baccarat Hotel and Residences New York have something for everyone. Michelin-starred chef Gabriel Kreuther helms the flagship restaurant, offering contemporary French cuisine with a focus on seasonal ingredients. For something lighter, head to Chez Oscar for classic bistro fare or Baccarat Bar for creative cocktails and small plates.
Thus, we must say that after an exhausting day of sightseeing or shopping, there's no better place to relax than Spa deBoudoir by La Prairie with six treatment rooms, including a VIP suite, two hammams, a sauna, and a fitness center, you can spend hours being pampered from head to toe. However, if you need some retail therapy, Baccarat Boutique offers an array of luxury home goods and jewelry as well.
The best hotel with a pool in NYC is the mandarin oriental new york. These beautiful luxurious rooms and suites offer a wide range of excellent amenities, including an indoor deep swimming pool with a height of 75 feet over the Hudson river- that attracts the people visiting. However, the hotels offer the services of a gym, bar, stunning park, and, most surprisingly, it has a sauna. Isn't it so amazing?
The mandarin oriental New York is a luxury hotel near many of the city's most popular attractions in central Manhattan. It is the perfect choice for travelers who want to explore all New York offers
In addition, the hotel's staff is eager to please. The staff is very cooperative and always goes above and beyond to ensure guests have a memorable stay. Mandarin Oriental New York should be at the top of your list if you're seeking a posh and cozy location to stay in New York City.
Things to consider before booking a hotel with a pool in NYC
When choosing a hotel in New York, there are a lot of points to consider, but one of the most essential is whether or not the hotel has a pool. After a long day of sightseeing, a pool can be a great place to unwind and socialize with other travelers. However, before booking a hotel with a pool, you should also keep a few things in mind. Following are the points you should consider before selecting a New York hotel with a pool:
How big the pool is — When looking for a New York hotel with a pool, the size of the pool is one thing to keep in mind. Suppose you're planning on swimming laps or doing water aerobics. If that's the case, you'll need to ensure the pool is big enough. Contrarily, suppose you want to unwind after an exhausting day of city exploration. In that case, a hotel with a smaller pool might be a good option.
The location of the pool —  Another thing to consider when choosing a hotel with a pool in New York is the location. If you're looking for something close to the action, choose a hotel in Midtown Manhattan. On the other hand, a hotel outside of Manhattan is a good option if you prefer a more laid-back atmosphere away from the bustle of the city.
The amenities — When choosing a hotel with a pool in New York, you'll also want to consider the amenities available at the hotel. Some hotels may offer more than just a pool, such as access to a fitness center or spa. If you're interested in these amenities, check and see if they're available before you book your room.
The price — Naturally, the cost is one of the essential considerations when selecting a hotel. Make sure the hotel you choose is within your price range. However, there may be an additional cost associated with using pools. Try to get some information about this before you book your room, so everything is unsurprising when you show up at the hotel.
Recommended Read: Visiting Harlem – NYC? Here's our take on what you should be doing right now!
How Do We Pick Our Recommendations
Our process for selecting the best hotels with a pool in NYC was to consider various factors. One factor was the cost of the hotel. We also considered the hotel's location and proximity to New York City attractions. We know that the details matters to you. Hence our team visits the places before we write about them with the aim that our readers get the best yet real-time experience & views. While New York City is known for its bustling urban atmosphere, some visitors may prefer a more relaxed beach vacation. The Hampton Hotels, with their beach-front locations and exceptional service, offer a perfect escape from the hustle and bustle of the city for those looking for a beach getaway.
Conclusion
There are plenty of great hotels with pools in New York City, no matter your budget. From affordable options to luxury hotels, there's something on this list for everyone. So whether you're searching for a hotel to stay at next business trip or vacation, check out one of these hotels!
7 Best Hotels With Pools In NYC - FAQs
What are the best hotels in NYC with pools?
The Baccarat Hotel and Residences New York, Civilian Hotel, Hotel Brooklyn Bridge, ModernHaus SoHo, and Margaritaville Resort Times Square are some of the best hotels in NYC with pools.
Which New York hotels with pools are good for couples?
These hotels with pools in New York are highly rated by couples: Baccarat Hotel and Hotel Brooklyn Bridge
How much does staying in a hotel with pools in New York cost?
On average, a hotel with pools in New York costs 251.80 per night (based on Booking.com prices).