Waking up to a dazzling view of the ocean is the dream of many when they are on vacation. Couples going on a honeymoon want romantic serenity right from their room. Fortunately, The Hamptons can be your to-go place if you plan on residing right beside an ocean.
With plenty of places to hang around as well as state-of-the-art hotels, you won't regret the experience. Let's get going to explore The Hamptons hotels on the beach.
Our recommendations are for everyone! We have certain hotels on our list that won't burden your pocket while others will offer you an exceptional hotel experience with tons of amenities.
The 8 Astounding Hamptons Hotels on the Beach
Instead of searching out of hundreds of hotels in The Hamptons, just take a look at the following which fulfill all the requirements of visitors.
Location & Pricing
Gurney's Montauk Resort, located at 290 Old Montauk Highway, offers a premium hotel experience with a near-perfect guest rating. The resort provides a range of room options, starting at $348 for two adults in a standard room.
Amenities
Once you step inside, you'll find a luxurious beachfront resort with Wi-fi, a gym, and a beach bar. What sets it apart is the Seawater Spa, offering body treatments, hydrotherapy, massage, and a sauna.
Honeymooners will love the private beach, cabanas, beach bar, and indoor pool. Extras like laundry service, pick-and-drop, fitness center, cafe, ATM, and shuttle service are available.
Room Service & Views
Rooms are clean and well-furnished, with king beds and rain showers. The ocean view from the window is a plus. Room service is exceptional.
For a peaceful getaway with multiple on-site restaurants, Gurney's Montauk Resort is the perfect choice.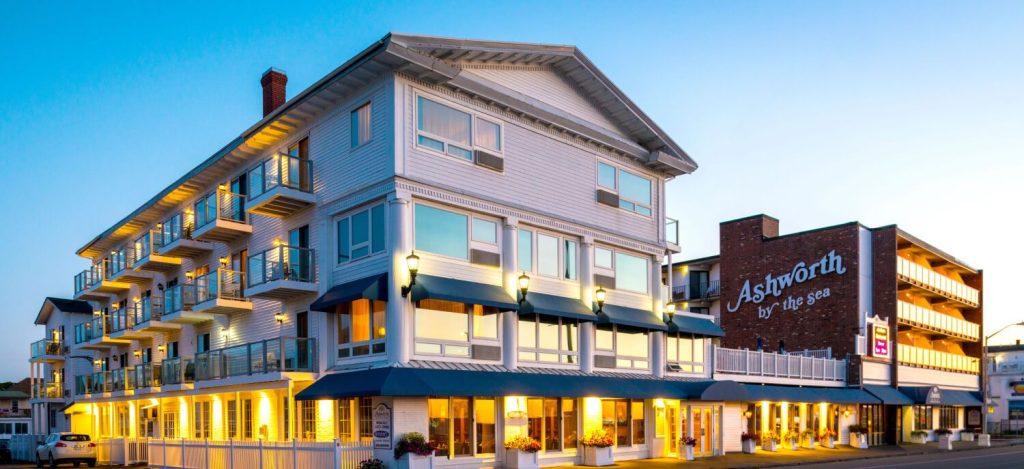 Location & Amenities
Looking for an affordable place to stay with fantastic amenities? Look no further than Ashworth by the Sea, located at 295 Ocean Boulevard, Hampton. This New England-style hotel offers a rooftop bar, nightclub, restaurants, heated pool, beach chairs, and umbrellas.
Room Sizes
Choose from a variety of room options, including Deluxe King, King, Queen, Standard, and Suite, with the possibility of Ocean View and Balcony rooms. Prices start at just $115.
Nearby Attractions
Surrounding attractions include Hampton Beach Casino Ballroom, Seacoast Science Center, AppleCrest Farm Orchards, Hampton Beach Seashell Stage, and Casino Cascade Water Slide.
Event Planning
Planning a beach wedding? Ashworth by the Sea offers event space with 5 function rooms, wedding halls, and banquet rooms totaling over 6000 square feet. There's also a business center for corporate gatherings.
In short, Ashworth by the Sea is a great choice for those looking to stay at a beachfront hotel in Hampton.
Related Read: Visiting Harlem – NYC? Here's our take on what you should be doing right now!
Views From Resort & Amenities
Experience picture-perfect views at the recently renovated Ocean Resort Inn, just steps away from the Atlantic Ocean. This Hampton favorite offers three room types: Standard Queen Room, Queen Studio, and Queen Suite, all equipped with essential amenities like Wi-Fi, Flat-Screen Cable TV, Fridge, Microwave, and Walk-in Shower.
Things to Do
For a fun-filled stay, borrow a bike or enjoy beach access with umbrellas, chairs, and towels provided. The seasonal outdoor pool adds to the cool vibe. Adventure seekers can explore go-karting in Brooklyn, a short drive away.
Nearby Attractions
Nearby attractions include Second House Museum (11 min walk), Kirk Park Beach (2 min walk), Fort Pond (4 min walk), and Montauk Bake Shoppe (4 min walk). Downtown is easily accessible via the Montauk Metro Station, just 3 minutes away.
Why Ocean Resort Inn
With exceptional location, amenities, and room service, all at a budget-friendly starting price of $140 per night for two guests, the Ocean Resort Inn is the perfect choice for those seeking affordability without compromising on quality.
Location
Discover Marram, a dreamlike resort in Montauk, The Hamptons, offering heart-captivating coastlines and prime beach access just 500 meters from the village of Montauk.
Rooms & Amenities
Marram boasts spacious rooms perfect for families, with options like Dune, Courtyard, Oceanview, and Beachfront rooms, offering extra-large Queen beds or two Queen beds in a single room. Each room includes essential amenities such as a mini-fridge, coffee machine, free toiletries, Wi-Fi access, and responsive room service, with prices starting at $290.
Views
Enjoy mesmerizing sunset views over the beach, with an oceanside pool, sun terrace, and private beach area to capture breathtaking moments. Complimentary cruiser bikes are available for added fun.
Unique Points
Experience the soothing sounds of waves at night, along with group bonfires and meditation sessions. Marram adopts a no-screen policy, intentionally omitting TVs in rooms to encourage a break from routine and promote a laid-back experience.
Nearby Attractions
Nearby attractions include Montauk Village, Shadmoor State Park, Hoodoo Cliffs, and a diverse selection of restaurants and bars. Marram is undeniably one of the most desirable Hampton hotels with beach access, offering a unique opportunity to escape and unwind.
For those seeking adventures beyond Montauk, nearby Beacon, NY offers a wealth of exciting activities and attractions, including "Incredible Things You Can Do In Beacon, NY."
Location
Discover the hidden gem of The Hamptons at Bayview Resort, located on Tiana Road in The Hampton Bays. Recently renovated, this resort offers a classy and inviting experience.
Room Sizes & Pricing
Bayview Resort presents a range of room options, including Queen, Twin, Deluxe King, Deluxe Double, and Penthouse Apartments. Some lucky guests may even secure a room with a balcony and bay view, with prices starting at $220 and packing in a host of extras.
Amenities
Rooms are spacious and feature newly installed hardwood floors and ensuite bathrooms. Enjoy modern amenities such as air conditioning, Wi-Fi, television, and a private kitchenette, along with complimentary instant coffee. Bicycles are available for rent for those eager to explore the surroundings.
Things to Do
The resort boasts brand-new swimming pools, a clubhouse, a gym, a fire pit, barbecue grills, a dock, and specially designed picnic areas. Notably, Bayview Resort offers rowboats, kayaks, and canoes for guests to explore the turquoise waters of the ocean. It's the perfect destination for an unforgettable getaway in The Hamptons.
Pro Tip – Plan your visit during July and August for a complimentary continental breakfast every morning. During June and September, breakfast is offered on weekends only. Most visitors who stayed at the Bayview resort were delighted with the service and the quality time they spent.
And if you're looking for hotels with an exotic pool, you might also want to check out These 8 Best Hotels With Exotic Pools In NYC.
Location
For a soul-captivating and romantic getaway near The Hamptons, Windward Shores Resort is the perfect choice. This oceanfront resort, located at 2062 Montauk Hwy beside Napeague Harbor, offers a beautifully designed setting with a brand-new patio and private spots for couples to enjoy undisturbed moments.
Size & Amenities
Spanning 5 acres, the resort offers spacious rooms and an array of amenities. Enjoy two full-scale tennis courts, an outdoor pool, and a vast beach area for relaxation. Each room comes equipped with a kitchen, dining area, and a private patio. Amenities include laundry facilities, free Wi-Fi, cable TV, and housekeeping.
Pricing
Accommodation options range from Studios to 2-Bedroom Units, with prices starting at just $140, a great deal for a small unit.
What Not To Miss
Don't miss the Lobster Roll Restaurant, a 10-minute walk from the resort, known for serving some of the freshest and finest lobsters caught from the ocean.
Unique Point
With a nearby train station for easy travel to other areas, you'll have the option to explore different destinations. However, given the resort's scenic beauty and breathtaking ocean views, you may find it hard to leave this romantic destination.
Editor's Pick: 10 Round-The-Clock Things You Should Do On Your Trip To SoHo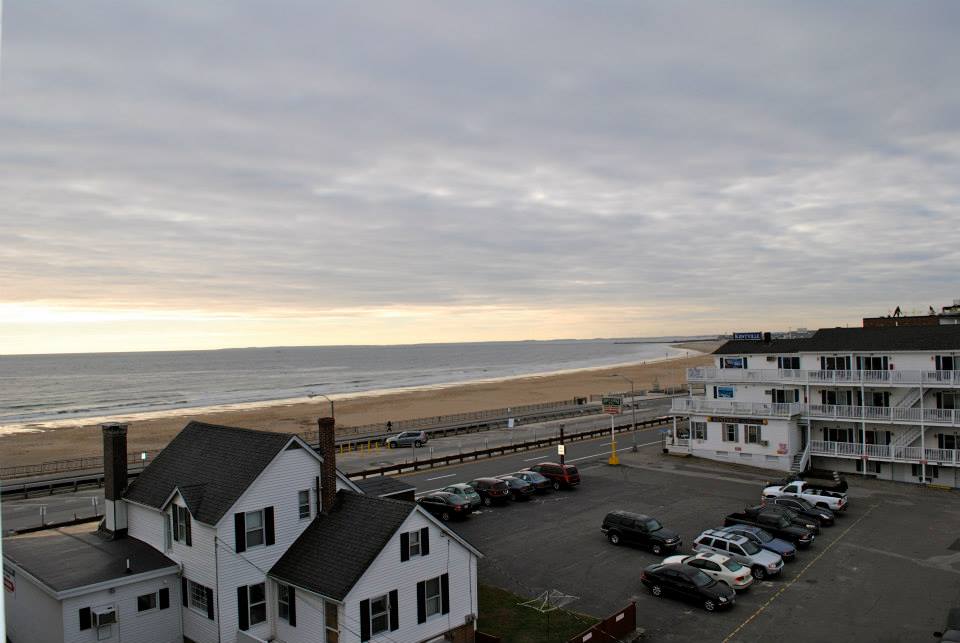 Location
If you prefer a more straightforward and affordable beachfront stay, The Hampton House Hotel is the perfect choice. Located at 333 Ocean Blvd, Hampton, this no-frills hotel offers everything you need without the fancy extras.
Room Options
Room options include Suite, King, and Double Bed, with Oceanfront and Oceanview variants. And the best part? Prices start at just $100 per night.
Pricing & Amenities
For your $100, you get a private balcony, cable TV, high-speed Wi-Fi, refrigerators, and full-size bathrooms in every room. Plus, free parking is available in the garage. It's a deal that's hard to beat!
Nearby Things to Do
While the hotel itself may not offer many amenities, the surrounding area has plenty to offer. Nearby cafes like Jumpin' Jack's Java, Beachside Bagel & Subs, and Breaking Bean Coffee Company provide dining options. Plus, Hampton Beach State Park is just a 7-minute drive away, and if you're in the mood for shopping, "The Coolest Places To Go Thrifting In NYC" is a short drive from the hotel.
Unique Points
Guests have praised the hotel for its cleanliness and the professionalism of the staff, making it a solid choice for those seeking an affordable beachfront stay in The Hamptons.
Pro Tip — The prices are lowest between 7th November and 31st March. You can also try to negotiate a better price at the front desk. Plan your trip accordingly and have fun!
Location
For an elegant and luxurious experience in The Hamptons, The Hermitage at Napeague is a top choice. Located at 2148 Montauk Highway, Amagansett, New York, this resort offers a luxurious experience for travelers.
Room Options
Room options at this hotel include 2 Bedroom Duneview Lower, 2 Bedroom Apartment, Run of House, and a Suite, each with variations in oceanfront, oceanview, or pool view. Prices start at $180 per night, making it an attractive option.
Facilities & Amenities
The Hermitage offers a range of facilities, including a private beach, pool, kitchenette in every room, complimentary toiletries, laundry services, flat-screen TVs, in-room coffee makers, free Wi-Fi, free parking, and an overall exotic experience in The Hamptons. Guests have particularly praised the spacious rooms and breathtaking views.
Nearby Attractions
Explore nearby attractions such as Hither Hills State Park and Theodore Roosevelt County Park. If you're a seafood enthusiast, don't miss the unique flavors at Harvest on Fort Pond. Additionally, you can get up close to a lighthouse as the Montauk Point Lighthouse is just 200 meters from the hotel.
Why Hermitage
If you're seeking luxury and are willing to spend around $200 per night, The Hermitage at Napeague is the perfect destination to indulge in prestige and sophistication.
Things to Consider Before Choosing Hamptons Hotel on the Beach
Keep these important factors in mind which will help you make the right decision for your stay.
Recreational Aspect: Consider your preferences when choosing a beachfront hotel. Are you looking to explore nearby restaurants and attractions, or do you plan to venture further, like downtown? For example, Ocean Resort Inn is convenient for downtown exploration with a metro station just 3 minutes away, while Ashworth by the Sea is great for exploring The Hamptons area.
On-Site Facilities: Check the hotel's on-site facilities to match your preferences. Some travelers seek top-class amenities, while others prefer spending more time outside the hotel. Research and select an option that suits your needs, whether it's beach umbrellas, towels, or other essentials.
Selection Between Public and Private Beach: Consider whether you prefer a hotel connected to a public beach, which may be busier, or a hotel with a private beach that offers a more controlled and less crowded experience. Keep your budget and comfort in mind when making this choice.
Price Hacks: Hotels in The Hamptons vary in ratings from 2-star to 4-star, offering room for negotiation. You can often secure a price discount by negotiating with the front desk. Additionally, check your credit card for any points or discounts, and consider using platforms like Booking.com, Expedia, Trip.com, and others for potentially better prices than booking directly with the hotel.
Consider the Taxes: Be mindful of taxes, as they can significantly impact your final cost. When booking online, ensure you check the total price, including taxes, as some hotels may have high taxes that increase the per-night cost substantially.
Pet Friendly or Not: If you have pets, check whether the hotel is pet-friendly before booking your stay. This factor is crucial to ensure a comfortable stay for you and your furry companions.
How We Pick Our Recommendations
At HopDes, travel is our passion! We are always exploring new places and finding out the most suitable ones. For The Hamptons Hotels on the Beach, Sara has vast knowledge based on her own experience as well as detailed analysis of the reviews by other visitors.
We also evaluate several people's opinions to make sure that the experience of many is accounted for and not just a single person. Our recommendations for the hotels have been made on several factors including personal experience, price vs facilities comparison, how good the beach experience was, and other related factors.
Next Read: 8 Most Recommended Restaurants In The Hamptons NY.
Final Words
Now that you are aware of some of the incredibly beautiful Hampton Resorts on the Beach, we certainly hope you have an amazing stay over here. Just remember to pre-plan as much as you can but always be prepared for any last-minute changes so that you don't have to face any major problems on your trip!
Hamptons Hotels On The Beach - FAQs
What are some of the best beach hotels in The Hamptons?
Some of the best beach hotels in The Hamptons include Gurney's Montauk Resort and Seawater Spa, Ashworth by the Sea, Marram, and Bayview Resort.
Which is the most romantic hotel in The Hamptons?
Windward Shores is one of the most romantic hotels in The Hamptons.
Do The Hamptons hotels have private beaches?
Yes, many hotels at The Hamptons have private beaches including Gurney's Montauk Resort, Bayview Resort, and Windward Shores.