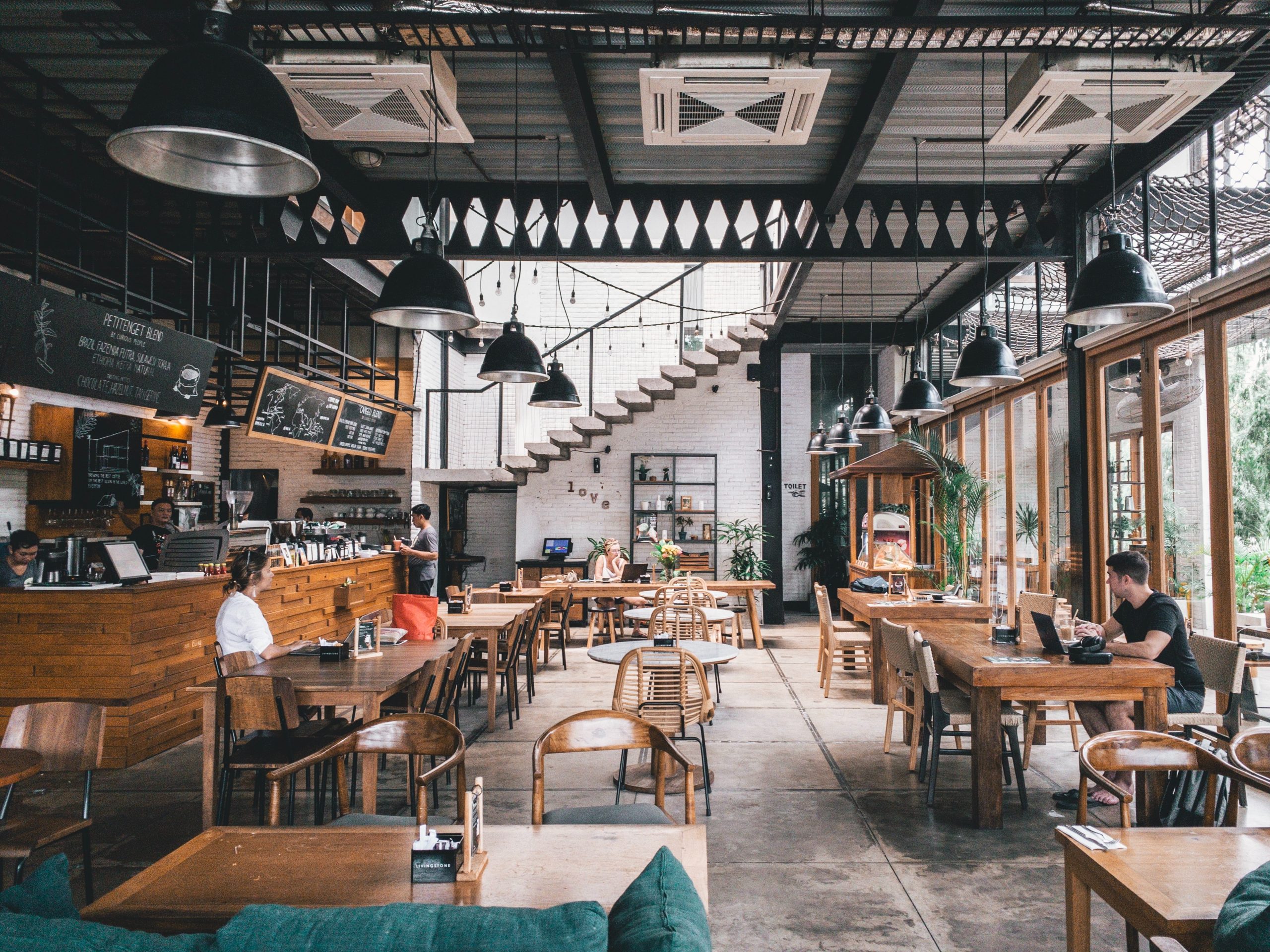 The Hamptons is the epitome of beauty with its gorgeous seaside communities and 18th-century buildings. East Hampton, in particular, is home to luxurious designer boutiques and fancy, high-end restaurants that are a must-visit for any tourist. If you are in the Hamptons on vacation or are new to living in the area, you must have a good know-how of the top-rated restaurants in the Hamptons for fine dining as well as an exceptional food experience. In addition to the luxurious designer boutiques and fancy, high-end restaurants in East Hampton, visitors can also enjoy the captivating beach-front Hampton hotels known for their prime location and exceptional service.
Explore the Best Restaurants in The Hamptons, NY
With so many options, knowing which restaurants to try can be a little confusing. Obviously, you cannot try all of them, so we will make the decision easy for you by telling you about the 10 most recommended restaurants in the Hamptons, NY.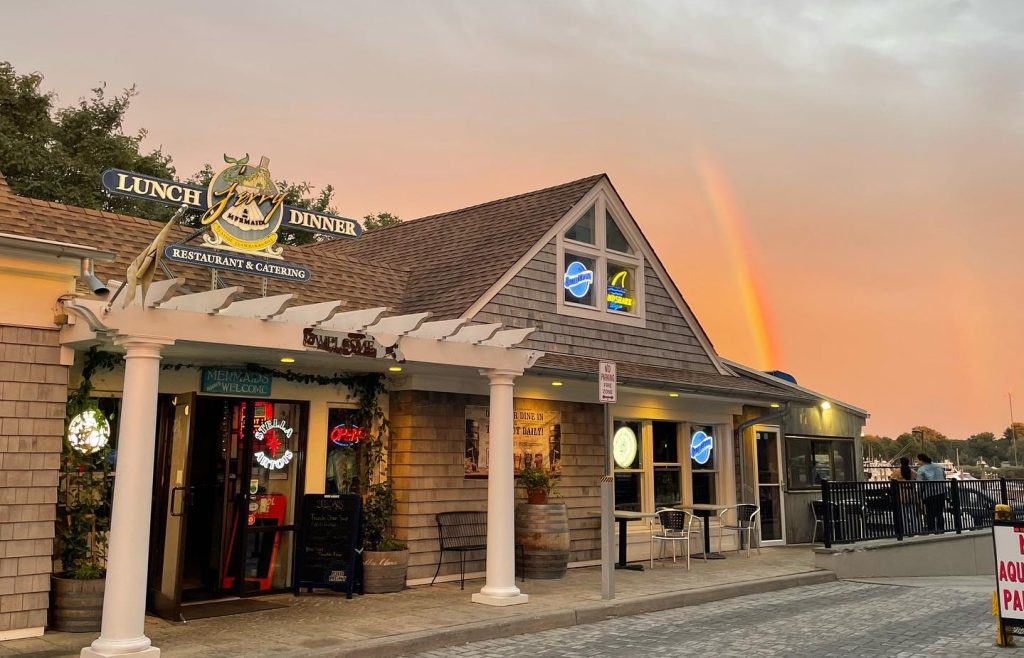 Lovers of seafood will not want to miss a mouthwatering experience at Jerry and the Mermaid. You can call this restaurant a masterpiece when it comes to seafood and desserts. Located at 469 E Main St, Riverhead, this Hamptons restaurant offers all kinds of seafood, from fish like Salmon and Tuna to Clams, shrimp, and crabs.
They have a unique range of starters, including crispy Calamaris, crab cakes, stuffed clams, duck wings, and specifically the Kung-Pao shrimps, which we highly recommend.
The main dishes are limited but highly specialized. This is a good thing as extensive menus will not confuse you. The four special seafood mains include Nut-crusted Pangasius, and Cajun Pan roasted Salmon. Sesame-crusted Ahi Tuna, and Broiled Combo. Apart from that, you can order salads, pasta, and crispy boats. The soup selection is one of the best you can find. The seafood mains start from $23.95, so keep that in mind before visiting.
This restaurant does have fantastic food, but apart from that, it is also a very family-friendly place. The staff is responsive and helps you out with your entire food selection as well as brings in your order swiftly. The beautiful location sets Jerry and the Mermaid apart from other restaurants in the locality. What is better than enjoying the fresh catch of the day at a cute restaurant by the sea? All seafood lovers must visit this restaurant when in the Hamptons!
In addition to Jerry and the Mermaid, seafood lovers visiting the Hamptons should also check out some of the top Laguna Beach seafood restaurants for an unforgettable dining experience.
Not everyone likes a sleek, modern restaurant. Some of you may be craving a cozy restaurant that gives you warmth alongside simple and authentic food. If that's the case with you, head over to 126 Main St, Sag Harbor, for the most authentic dining experience.
The Lulu Kitchen and bar offers wood-fired cooking, which gives each of its food a smoky taste and a warm and cozy restaurant. This eatery focuses on warmth and taste instead of fanciness. The menu may not include dishes with names you can hardly pronounce, but the simple cooked meals taste like none other.
At the raw bar, you will find raw seafood, all priced affordably. The wood-fired pizzas at Lulu kitchen are to die for! They come in two variations: the Gravlax pizza and the Khachapuri, the most delectable pizzas in the Hamptons. Lulu bar offers a 25% discount on their wine selection on Wednesdays, so that's the day for wine lovers!
Their dinner starters may be a tad bit pricey but are the embodiment of luxury in every bite. The grilled entrees are all prepared on a wood-fired grill, with prices starting from $26 for a simple cheeseburger and the rest starting from $30. The grilled dishes are a little more expensive and may go up to $68 for a grilled lobster. At the farm stand, you will be delighted to find vegan options.
The friendly ambiance is a big bonus. Lulu is thus the go-to spot if you are looking for a site for a fun hang-out or a reunion with your college pals. All of the amazing food items as well as the unique dining experiences make it one of the best restaurants in The Hamptons.
Minimalistic yet classy, the Tutto Il Giorno at 56 Nugent Street (Southampton) will brighten any meal. This restaurant has an ambiance like no other, with its naturally lit dining halls and simple furniture. Your food pictures will be great here! The beige walls, classy cutlery, and succulent food make for a truly luxurious dining experience.
The menu is unique and diverse. The dinner selection consists of delectable dishes such as Arancini, Tonno, Ostriche, Polpo, Burrata, and so much more. Don't worry; they have descriptions of every dish alongside it. The Dessert section is just as good as the main and entrees. You will find some of the best desserts here, such as Tiramisu, panna cotta, gelato, torta, Budino, Semifredoo, and even Biscotti! And let's not forget the special Chicken Milanese Entrée! Tutto Il Giorno is genuinely one of the best restaurants in the Hamptons because of its wide array of menu items and desserts.
This classy Italian restaurant lives up to its name and makes you feel like you are indeed in Italy. Prices start from $20 and go up from there. The specialties lie in pasta, like any Italian restaurant. Visitors always compliment Tutto Il Giorno's speedy staff, which is always on their toes to provide you with the best possible service. For this top-notch menu and service, do expect a pricey menu, but we assure you that it will all be worth it.
Luxury takes a whole new name when you enter the 1770 House. As the name suggests, this restaurant has been around for quite some time. This 250-year-old house at 143 Main Street (East Hampton) used to be a house open to guests from all over the world. The house's hospitality has been carried from generation to generation, and today this home is a luxury hotel and restaurant. The 1770 house provides a fine dining experience that couples elegance with modernism.
The menu selection is luxurious with the first course consisting of Yellowfin Tuna Sashimi, Spicy Montauk Tartare, Beet and Baby Kale Salad, Autumn Salad, Balsam Cannellini Bean Stew, and Seared Hudson Valley Foie Gras (the Foie Gras comes as an $8 supplement). The Entrées menu is quite diverse, with Rosemary paprika Marinated Swordfish, Organic Scottish Salmon, California Rabbit, Roasted Prime Filet Mignon, and other delicacies.
The price of two courses is fixed at $59 and they have a stringent reservation policy where you will be charged $59 per guest if you don't show up for your reservation. Also, the menu is always open to change and only a sample menu is available. So if you are in for a new adventure, this place has got it for you! The sides cost $12 each, and you can alter the dishes to your liking, i.e., if you would prefer the meat to be undercooked or well-done.
The 1770 House promises nothing short of class and is one of the best restaurants in the Hamptons for fine dining and juicy meat dishes!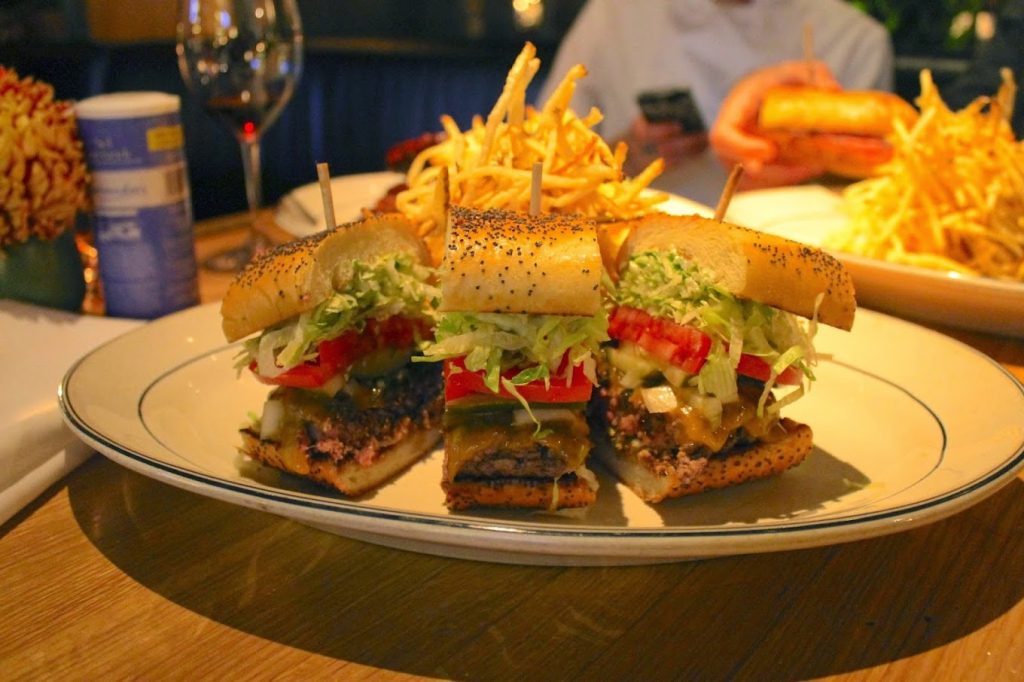 East Hampton Grill, one of the more upscale options in East Hampton, is situated just outside of town. Making a reservation for dinner is simple, and you will get a message when your table is fully prepared. The restaurant is situated at 99 North Main Street (East Hampton). There is a bar area and two levels in the interior. The wooden walls and the ceiling's design keep the noise level low, creating a wonderful atmosphere. The interesting wall art will greet you as you enter. East Hampton Grill is the way to go if you want a fancy night out!
This restaurant is also high-priced, like others in its vicinity, but worth it. Get the biscuits and save some for the next morning, as per our advice! A reservation should be made in advance because everyone in the Hamptons loves this restaurant and you'll have to fight for a spot here. The waiters and staff members are always beaming and will treat you like kings and queens, that's the beauty of this luxury restaurant!
The specialty menu includes the special EGG burger, the French dip, Ding's crispy chicken sandwich, fresh fish, pan-fried true Dover sole, Scottish Salmon, Bone-in Rutherford Ribeye, and many other delectable options. Prices start at $25 and go all the way up to $70 per dish. Every bite you have at this Grill is worthy of praise and is 100% worth the money! Don't miss out on your chance at a delectable meal at this high-end Grill!
Recommended Read: 10 Restaurants In Niagara-on-the-Lake With A Scenic View
When in the Hamptons, don't miss out on a chance to try fresh and scrumptious seafood and meat at the Palm in East Hampton. Following the Manhattan original in 1926, The Palm East Hampton was the sixth Palm Restaurant to open inside the charming Huntting Inn. The eatery is well known for its USDA Prime aged steaks, enormous Nova Scotia lobsters, fresh seafood, fantastic ambiance, authentic Italian dishes, warm smiles, and first-rate service. Since its establishment in 1980, The Palm has been a mainstay of East Hampton, housed inside the lovely 300-year-old Country Inn on Main Street.
The location is a meeting spot for the richest people and celebrities of the U.S. And why shouldn't it be? Each item on the menu is cooked to perfection. Like any restaurant in the Hamptons, the Palm is also quite expensive.
The classic Italian meat-based dishes and seafood are all well above $30. Main dishes include delicious veal chop, Margheritas, Pappardelle Bolognese, Octopus, Silicon Salmon, Tuna Agghiotta, Sea bass Oscar, and so much more. You are also welcome to try a fine selection of soups, Antipasto, and steaks. This restaurant is actually famous for its aged steaks and Tuscan-style chops, so make sure you don't miss out on these.
Some of the best steak options at this restaurant include the dry-aged Kansas City strip and The Prime ribeye steak. Steak options start above $50. All in all, the Palm is an excellent place for a romantic night out or a fancy dinner party. The Palm is one of the best restaurants in the Hamptons for steaks and seafood.
High-end restaurants like Scarpetta Beach are the beauty of the Hamptons. This list couldn't be complete without mentioning this luxurious Montauk restaurant. It is located at 290 Old Montauk Hwy.
The gesture of using the tiny boot-shaped piece of bread to mop up any sauce left in the pot in one's own kitchen is known in Italian as "fare la Scarpetta." The restaurant's name, which refers to the extravagant gratification of enjoying a meal to the very last bite, is deduced from this familial act. Serving both classic and seasonal dishes, this restaurant promises to be a treat to your taste buds. Apart from a succulent food menu, this restaurant also has one of the world's finest wine lists.
This restaurant features a 148-seat dining hall. With so many dining rooms, they still do not compromise on service. Despite having a bustling atmosphere, Scarpetta beach treats each of its customers with a smile and with the best possible customer service. The interior is mid-century modern, and the natural lighting and the sea view further enhance its ambiance. There is an outdoor deck that also seats about 106 people.
Apart from the Pesce and Carne portion of the menu, the rest of the menu is relatively affordable, and you can get pasta, Crudi, and Primi Piatti items for under $30. The Pasta, Verdure, and Pesce options start at $40 and go upwards from there. You can get the simple spaghetti or the Ravioli Cacio E Pepe for $33 but don't expect the rest of the mains to be as affordable. However, people who have dined at Scarpetta Beach can safely tell you that these meals are all worth the money!
Some of the most popular dishes of Scarpetta beach include the New York Prime Strip, the Halibut, the Seared Scallops, and the Veal Tenderloin. We can assure you that Scarpetta beach will not disappoint in any aspect!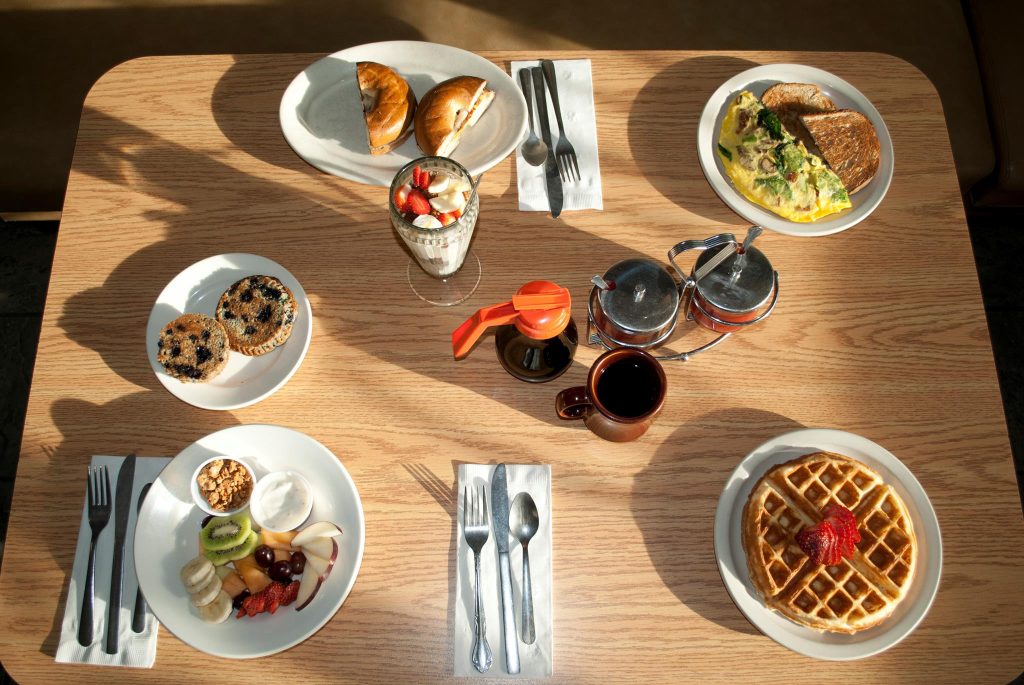 If you are looking for a respite from expensive fine-dining restaurants, then we assure you that there is something for everyone in the Hamptons. The Country corner café is loved by many who are looking for an affordable eatery amongst the high-end options. This is a breakfast and lunch eatery only operating from 7:30 to 1:30 pm daily.
The breakfast menu includes yummy options such as Potato pancakes, buttermilk pancakes, Belgian waffles, and their own editions of popular breakfast food. They serve four different variations of benedict, which are Traditional, Sunrise, California, and Southern benedict. They have their own breakfast bowls that include scrambled eggs, home fries, biscuits, and cheese. You can alter the sides here. For vegans, there are plenty of options, like fruit bowls or vegan delight. The average price is around $7.
Located at 25 Church Street, this diner is a cozy and friendly place. You get a taste of home away from all the posh diners. This is just the place to go if you want to grab simple meals like grilled cheese, salads, or pancakes. You can even grab a burger or get some freshly squeezed juices. We highly recommend you head over if you want a scrumptious breakfast.
Editor's Pick: Visiting Harlem – NYC? Here's our take on what you should be doing right now!
Factors To Consider Before Visiting Restaurants in the Hamptons
Since dining in the Hamptons is quite different from regular places, you will need to keep a few things in mind before you head over and make a reservation. Let's discuss the major factors to consider before visiting any restaurant in the Hamptons.
Price —The Hamptons is an expensive place for both life and dining. The place is costlier in general, so it comes as no surprise that a simple bowl of soup would cost $20. This is something you need to remember before visiting any spot there. For main dishes (particularly seafood and meat), expect a price of no lesser than $40. Rarely, you may be able to get pastas in the $30 range. Entrees and appetizers also start well above $15 in fine-dining restaurants. Lobster and crab prices may go up to $100! So if you were thinking of a regular full meal for under $25, then the Hamptons is not the dining place for you! Sure, if you are treating yourself or a loved one or just want to enjoy dinner by the sea, then head right up,
Vegan Options — Most fine dining restaurants specialize in steaks and seafood, and you will find that their menu revolves around that. Thus, if you are a vegan, make sure to check beforehand if the restaurant has vegan options. Most fine dining restaurants do have a vegan menu and we recommend picking restaurants that have specialized vegan dishes.
Location Permits — Some restaurants may be located in areas where not everyone is allowed to go. You might be required to pay for day passes or permits in a particular season. Some popular beaches in the Hamptons have limited passes available.
Cuisine Type — You will have to do your digging if you are looking for a particular food type. Not every restaurant serves your American favorites, and you will find only Italian dishes in some. Be well-versed in the menu cards before making a reservation if you don't want to end up eating food you don't even prefer!
How We Pick Our Recommendations?
There are hundreds of restaurants in The Hamptons. However, we selected the best ones based on their popularity, the types of dishes they offer, ambiance, views, and prices as well. After following strict criteria as well as personally experiencing these restaurants, we were able to come up with a list that is sure to savor your taste buds and get you food worthy of the money as well. We also took opinions from other guests so that the information is unbiased and more reliable for the readers. In addition to the highly-rated seafood restaurants in the Hamptons, we also recommend checking out some of the 9 Top Notch Korean Restaurants In New York City.
Conclusion
The Hamptons are very popular as a vacation spot and are a fine dining hub. Feel free to explore the hundreds of eateries there, but if you want to have guaranteed amazing food and spectacular ambiance, go for our top picks mentioned above!
Restaurants in The Hamptons - FAQs
What are some of the best restaurants in The Hamptons, NY?
Some of the best restaurants in Del Mar include Jake's Del Mar, Poseidon Restaurant, and En Fuego Cantina & Grill.
What is a fancy restaurant in The Hamptons?
East Hampton Grill and 1770 House are two of the fanciest restaurants in The Hamptons.
Where can I get the best seafood in The Hamptons?
Jerry and the Mermaid offers the best seafood in The Hamptons.
Where can I find Italian food in The Hamptons?
Tutto IL Giorno offers authentic Italian food in The Hamptons.