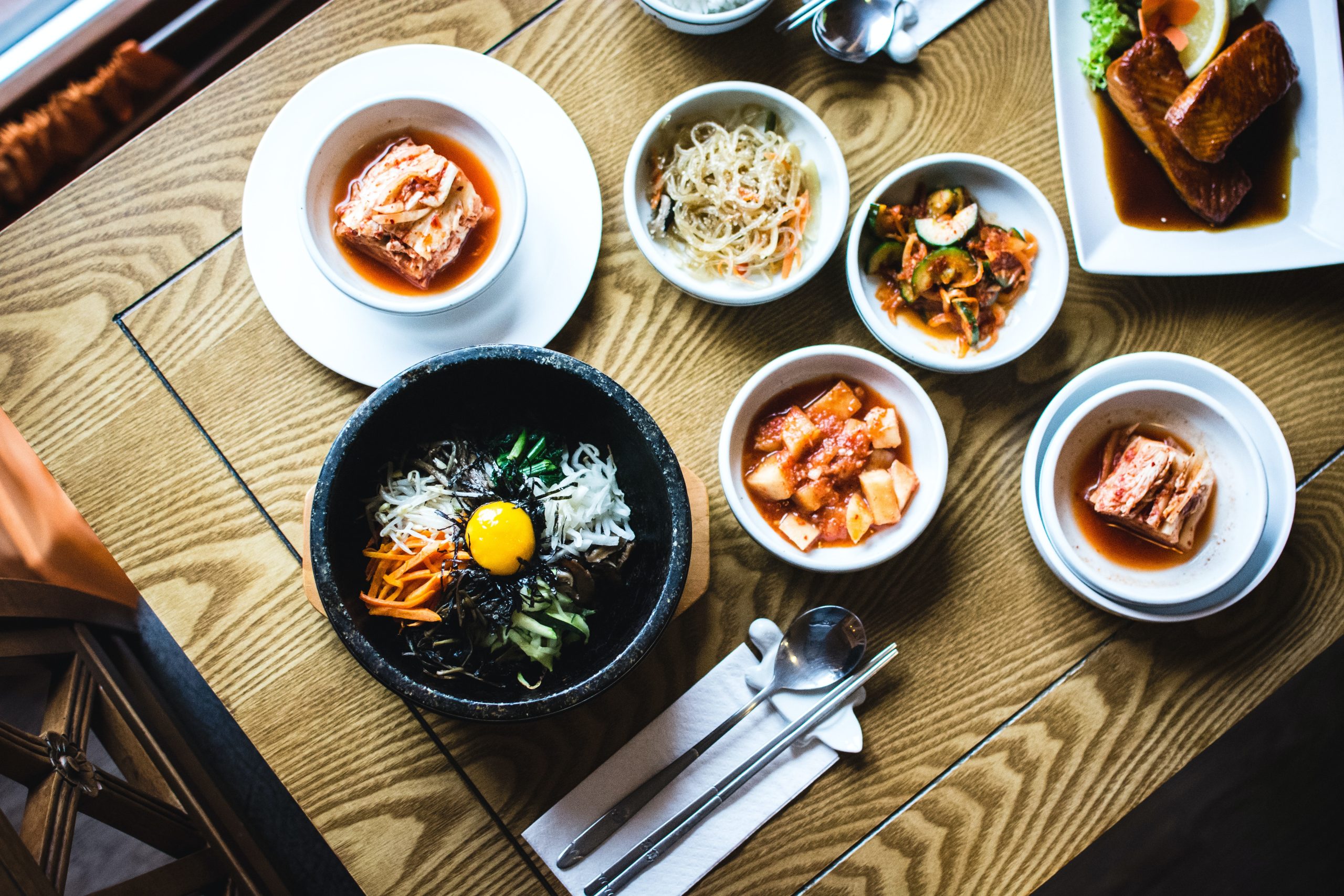 In this guide, we will explore the best Korean restaurants in NYC, Korean food is a popular choice among New York City diners. Tasty, healthy, and affordable Korean restaurants are popping up all over the city. In this guide, we'll discuss everything there is to know about the best places to get your bulgogi, japchae, and bibimbap in New York City.
And for those looking for a unique shopping experience, be sure to check out our guide on the coolest places to go thrifting in NYC.
Korean Restaurants in New York City For a Scrumptious Meal!
The following are recommendations by our specialized team which took several factors into account before picking the best Korean restaurants in NYC.
Located at 605 West 42nd Street, New York, NY 10036, this is an excellent Korean restaurant that you shouldn't miss for its authentic Korean cuisine. The restaurant was opened by Chef Junghyun JP Park in 2016 and offered perfect Korean meals, as well as an extensive drink menu that included a variety of traditional Korean spirits and cocktails.
This restaurant serves some of the best Korean food in the city. They have a wide range of dishes, including their free side dish, the "Banchan." The menu includes three to five-course meals, which include summer zucchini with doenjang chickpea, baby shrimp & walnut, and scallop Crudo. For dessert, they have "sujeonggwa" granita and fig panna cotta.
The space is bright and colorful, with an artistic flair that makes it feel like you've stepped into another dimension. The restaurant has concrete floors and walls with lamps and custom-made tables. The tables are wooden that hold copper jars and holders for cutlery.
The place has a minimalistic cozy atmosphere that looks like just an art gallery. The best part? The staff is amiable. If you're looking for a great place to eat Korean food in NYC, this is one of our top choices. The timings of this restaurant are 5 pm to 10 pm. We recommend visiting during the weekdays if you want to avoid the rush.
Similar Read: 8 Most Recommended Restaurants In The Hamptons NY
Atomix is a top-notch Korean restaurant in New York City. It's the kind of place where you can go out with friends, and everyone will find something they like on the menu. It is Located in Manhattan's NoMad neighborhood. The restaurant is run by Junghyun Park and his wife, Jeungeun. It is a 14-seat tasting menu restaurant that sits around a U-shaped counter. Every dish is plated with a beautifully designed solo card translating the dish's name from Korean.
The food experience over here is just like how one would have it in Korea. Here the interior looks like a design firm studio. It gives aesthetic, functional, and experiential approaches. This restaurant has a pretty extensive menu that offers five-course meals at very reasonable prices. Their menu includes king crab, century egg, pattypan squash, kimchi bap, romano beans, sundubu, Malabar spinach, and spicy mackerel.
We recommend trying their Sea Cucumber with Jidan Sauce and Fermented Tofu Rice. It's quite a popular dish there at the moment and gives a nostalgic taste. Don't forget the plum cocktail as your drink! You'd definitely enjoy it! Another recommendation we give is the Romano Beans, and King Crab because they are just "too good to resist".
If you want to enjoy a meal, the timings are 5:30 to 11 pm which means you can even have a late-night Korean meal in case you crave one.
Also, check out the best Hotels for Solo Travelers in NYC!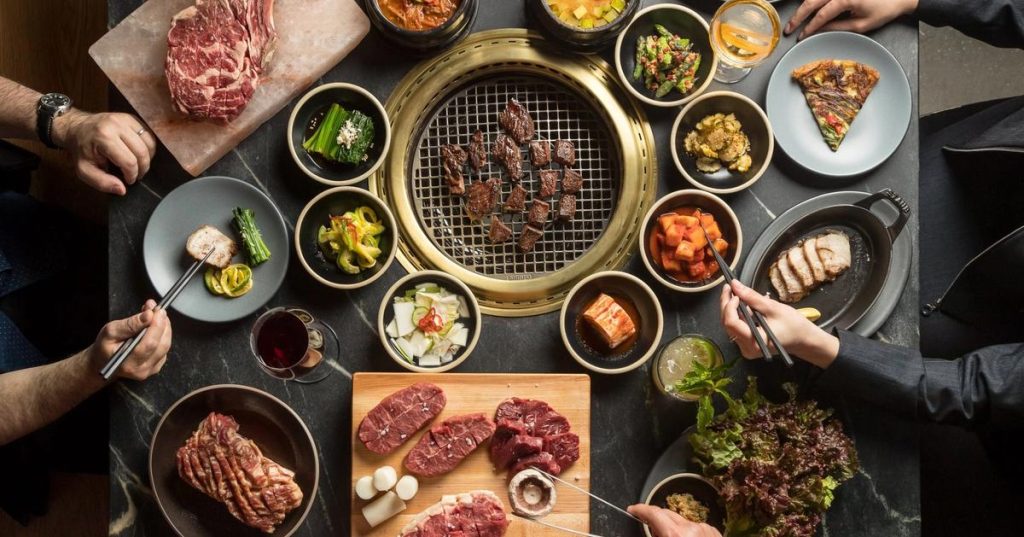 Cote steak house is known for its authentic and best Korean food in NYC. The restaurant has a traditional style, creating a cozy and comfortable atmosphere, serves authentic Korean cuisine, and is mainly popular for being "New York City's First Korean Steakhouse".
The Korean BBQ concept is taken to new heights at this contemporary Korean steakhouse. USDA prime and American Wagyu beef cuts are served raw to the table, but a waiter uses beef fat to grease the grill and cooks and seasons each piece of meat for you, guaranteeing that every bite is cooked to perfection. You can order a steak precise to your requirements and it will be done accordingly. One must only go here if they have a good budget for spending on a meal and having feisty meat.
The butcher's feast, which features four different cuts of meat along with pickled vegetables, a fiery kimchi stew, a scallion salad with gochujang vinaigrette, and a salty egg soufflé, is a great option for first-timers. To make lettuce wraps with Cote's specially marinated galbi short rib, save the red leaf lettuce and ssam-jang.
Normally, you might drink beer or soju with bulgogi and galbi, but at Cote, Victoria James, the beverage director, has selected a selection of wines that go best with your meal. There are over 1200+ label wines over here to accommodate the guests. To keep wine fresher for a longer period of time, all glass pours are served by the magnum. Finish your night with a shot of Underberg to help you digest; followed by a cloud of creamy vanilla soft serves drizzled with soy caramel.
You can visit anytime between 5 pm to 11 pm to enjoy their menu. For the meaty menu, you can try their Cote steak, Turkey Mandoo, Ribeye, Hanger steak, Ban Chan, Steak Tartare, Korean Bacon, and Tuna Tartare. For the savory sides, go for Kimchi Stew, Sticky Rice Stuffing, and Savory Egg Souffle.
Cho Dang Gol is a Korean restaurant that serves up casual Korean food in NYC which means it is relatively cheaper and budget-friendly. This small, family-owned restaurant is known for its kimchi fried rice.
It is known as "Tofu House" for its homemade tofu-based menus. Here the popular menu includes Dubu Duruchigi, Dumpling Jeongol, and Soya Bean Paste Stew. They also offer delicious pancakes. The tofu is delivered boiled, cubed, ground, spiced, and in little, buttery pieces known as dregs. The iconic tofu casserole known as jung suk also contains those leftovers and cubes of delicate white bean curd. Snow-white tofu squares are combined with tasty foods like baby octopus or squid in stews.
The Pajun combination appetizer, which is popular in the nontofu region, offers four generous pancakes, ranging from mild, crispy leek to zesty kimchi. On a cast-iron griddle, sizzling short ribs are served with lettuce leaves for wrapping. Unfortunately, the reputable restaurant doesn't offer any desserts, not even Tofutti.
We recommend Soya Bean Paste Stew because the taste is delicious, and the ingredients are very light to have. All you need is good quality sesame oil as a side to enjoy this amazing feast.
Here the lunch timings are 12 pm to 2:30 pm and dinner timings are 5 pm-9:30 pm. They also have stroller parking and high chairs as well making it quite accommodating for the young ones. With all these aspects, as well as amazing meals at low prices, this is truly one of the cheapest Korean food restaurants in NYC.
Looking for a fantastic selection of Korean restaurants in NYC with something different? Well, then, you must try Jua. Jua is unique because it offers wood-fired dishes that give the meals a unique taste and aroma. It is located in Flatiron at 36 East 22nd Street.
The first thing that catches your attention when you enter this restaurant is its cool interior design. The walls are painted in bright colors, and there are many interesting paintings on them. There are also some plants scattered around the room, so it feels like you're walking into someone's house rather than a restaurant. The mild orange lighting gives it all an aesthetic feel for the guests.
Jua is a restaurant by Chef Hoyoung Kim who has 8 years of experience in working for a famous Korean eatery. The restaurant is famous for its 7-course tasting menu which we also highly recommend. It will truly give you an authentic Korean taste. The reservations for this menu sell out fast which is why we recommend making a reservation from their website prior. The other popular menu items include Caviar Kim, Dry Aged Duck, Black Cod, and Hotteok. We recommend Caviar Kim because it is good for your health and its taste is divine!
One should keep in mind that this is a fine dining restaurant which is why the prices are higher than other places. The first course of glistening uni may appear to be a straightforward uni nigiri, but appearances can be deceiving. The bright, flavorful bite sets the stage for an unforgettable evening with the crisp seaweed chip that conceals pickled cucumber and tuna rice inside.
The timings of Jua NYC are 6 pm to 11 pm every day but it is closed on Monday. You can also make a reservation from their website.
Editor's Pick: Top 20 Places For The Best Brunch in Queens NYC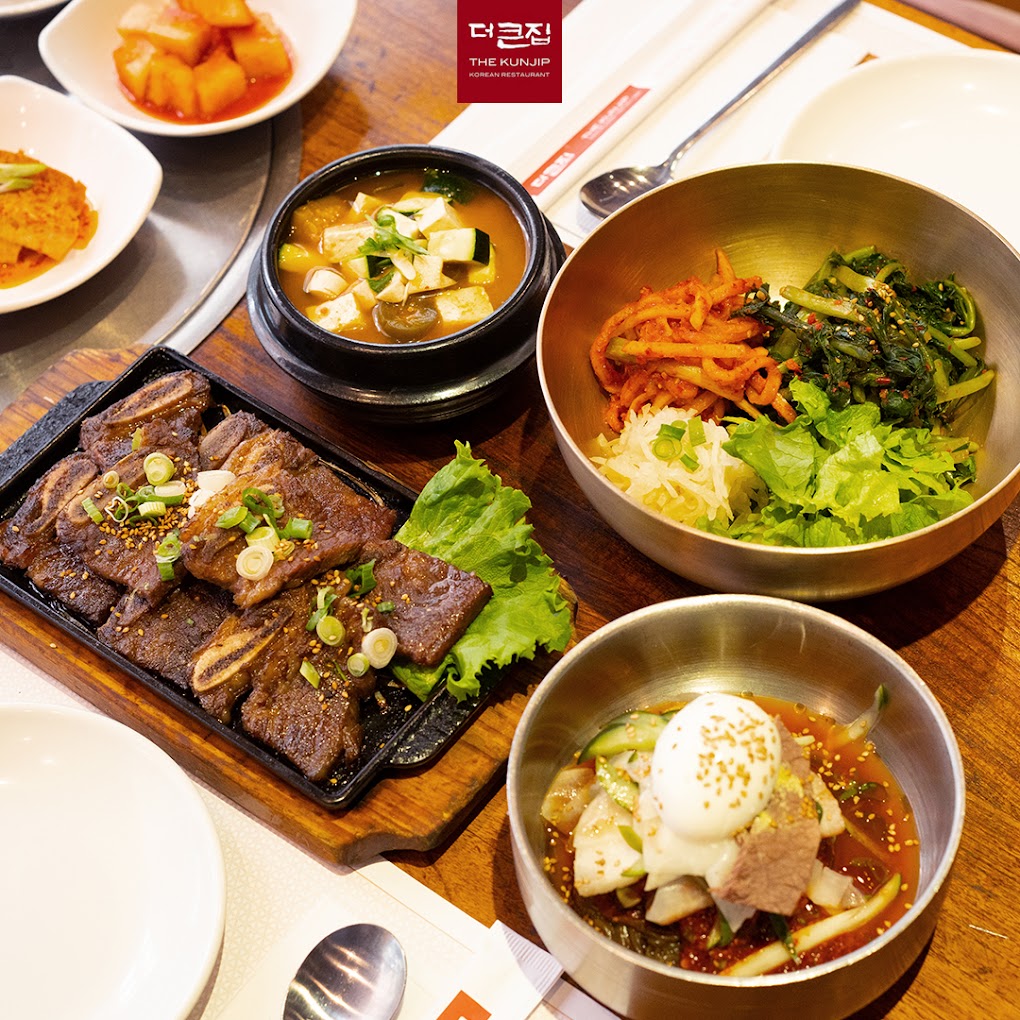 Kunjip is definitely among the best Korean restaurants in NYC, and we don't doubt it! It is a restaurant that offers traditional Korean cuisine and has been serving its customers for more than 20 years. It is tighter in the area, packed tightly with wooden tables and chairs but that is what makes the authentic Korean restaurant experience. The bubbling tofu and stews will make you happy. It is located at 7 East 36th Street, New York 10001.
The food at Kunjip is served in large portions, so you will have plenty to eat. You can visit here from 10 am to 12 am which means you can have a late-night craving fulfilled too. The popular dishes of Kunjip are Man Doo Jim, Man Doo Gui, Japche, and Goong Joong Ddukbokki. B.
Bring your appetite to this Koreatown restaurant. As soon as you are seated, free banchan — small plates like steamed eggs and kimchi — arrives at the table, and the traditional menu is filled with proteins for all of your do-it-yourself BBQ needs. The restaurant is smaller than others in the neighborhood, but the bubbling tofu stews and various bibimbap variations keep you satisfied and happy. Even after you feel as though you've had your fill, a final freebie—a steaming cup of cinnamon tea—arrives with the check. You will really like the tea and if you have been to Korea ever, you'll figure out that it has the same taste.
We recommend Man Doo Jim because it's the best way to get your daily dose of nutrients, and it's the kind of food you can eat whenever you want and not feel like you're doing something weird or out of place.
Gaonnuri is a Korean BBQ restaurant in the heart of New York. It is located in Manhattan, Nomad Tower. This chic restaurant, which is situated on the 39th floor of a Koreatown building, provides stunning views of the city's glittering skyline through its wraparound windows. Our travel team visited it and it turns out that the cooking is amazing as well. High-end presentations and Grade-A ingredients are featured in the kitchen. The emphasis is on the tabletop barbecue, and the unusually extensive menu of proteins includes thick pieces of duck breast, giant white shrimp, tender boneless short ribs (galbi), and pork belly.
Here the popular menu includes Marinated Galbi, Lava Cake, Manhattan, Bulgogi, and Beef Bibimbap. In order to round out the barbecue experience, the restaurant also serves a small stone pot bibimbap and a platter of barbecued vegetables.
We recommend Marinated Galbi because its quality is pretty good, and it comes with fresh raw oysters. However, they may not be everyone's preferred meal. You can also order the tabletop BBQ as per your taste preferences.
It has a separate entrance rather than entering through the main Nomad Tower entrance. There is a reservation that helps you to secure a window seat. Its visiting hours are from 5:30 pm to 11:30 pm. And if you're looking for some fun activities in Brooklyn, be sure to check out our guide on the best Go-Karts you can enjoy in Brooklyn.
Visit Daori BBQ at 40-03 149th Pl, Queens, NY 11354 if you're looking for a Korean barbecue joint that serves or specializes in duck. This restaurant draws a lot of poultry lovers. They offer diners their choice of three different types of duck to grill: sang ori gui, or grilled duck; ori jumulleok, or marinated grilled duck; or spicy ori jumulleok, or spicy marinated grilled duck.
A spicy chicken stir-fry or dak galbi is also available as a barbecue option. In the same pan as the leftover marinade, various side dishes like kimchi cheese fried rice are also prepared. Please be aware that the only barbecue dish that includes cheesy, kimchi fried rice is dak galbi.
This extra item is a marinade that coats the grill and is hot and flavorful; it's perfect for making fried rice later. Hengi beseot baeksuk and ori gopchang jeongol (beef intestine, tripe, and duck hot pot) are additional dishes that feature duck offerings (boiled duck with rice and nenuga mushrooms).
One of the best things about this place is that it has reasonable prices with most of the dishes costing less than $20. However, keep in mind that specials such as Dak Baeksuk and Neungi Beoseot Baeksuk cost around $60 – $70. The BBQ prices range from $20 – $30. This variation in price means one can easily spend over here according to their budget. All of the items over here are healthy and fit for consumption! You will truly love the Korean food here.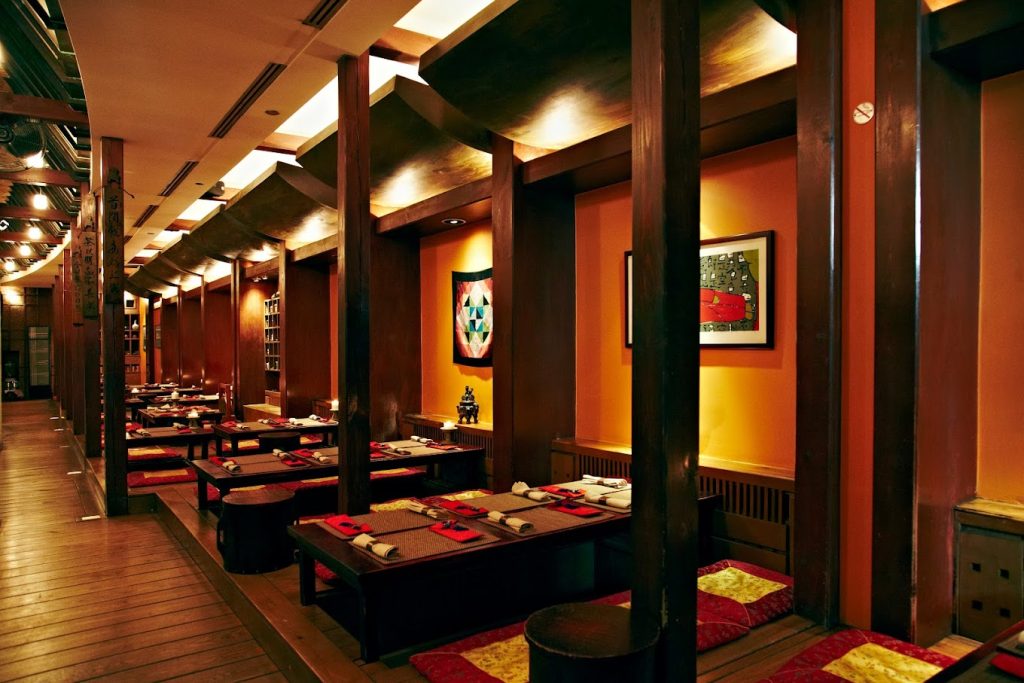 If all you know about Korean food in NYC is Korean BBQ and fried chicken, you should try something different like The HanGawi's vegetarian meal restaurant. Dining at this legendary Koreatown restaurant, which has been operating for more than 25 years, is like entering a traditional Korean home.
At the door, you will remove your shoes before sitting tatami-style on the carpeted floor. This is a perfect cozy date night choice on a chilly winter evening because heated floors warm your feet while sizzling stone rice bowls and nourishing soups and porridges warm the stomach. The HanGawi stone bowl rice is a great option for around $24. On the extensive menu, todok, a mountain root native to Korea, and mushrooms are prominently featured. There are also a variety of spicy and milder dishes to suit every palate.
The entire vegan menu at HanGawi is based on the same mountain roots, greens, and grains that have long been the backbone of Korean cuisine. Enjoy vegetarian dumplings, ginger-sauced tofu clay pot, vermicelli delight, multi-grain rice, and bean curd with kimchi and vegetables at this restaurant.
Before moving on to more large dishes like organic buckwheat zen noodles with a unique blend of vegetables, chili mushrooms, or spicy tofu clay pot in a ginger stew, start with sesame leaf tofu patties and combination pancakes or dumplings to perk up the appetite and try a sampling of varieties.
Not just the food but the experience as well is a true representation of Korean food. We really liked the philosophy of this restaurant where the key principle is to have harmony and balance. From their ingredients to the end meals as well as the restaurant experience, everything was just in line for what can be an authentic Korean restaurant in NYC.
Things to Consider When Choosing a Korean Restaurant in NYC
Following are some of the most critical aspects we took into consideration when picking a Korean restaurant in NYC.
Korean Food is Cheap — One important thing to keep in mind is that Korean food isn't that expensive. In Korea, the dishes cost really low since the common man cannot afford a very high sum of money. However, in NYC, many restaurants have increased their prices. When dining at a KorEAN restaurant with a large group of family or friends, choose a location that offers good value, especially if one person is paying the bill alone. You don't have to be cheap, but pick a location within your means. When you pay the bill later, you must be happy with what you received.
The Authentic Korean Experience — If your priority is food, keep in mind that most common places in NYC offer it way better. This is because the small kitchens are run by people who have actually been chefs back in Korea and have extensive expertise in preparing the dishes in a homestyle way. For example, Atoboy and Cho Dang Gol offer great food but the ambiance, etc isn't that amazing. If you are searching for a top-class Korean food experience where the restaurant sitting is also up to the mark, you will have to increase the budget. Cote Korean Steakhouse is an example of a fine dining restaurant in NYC offering Korean food.
Customer Service Quality — Customer service is a crucial aspect of any dining experience. No matter what restaurant you decide to eat at, how the staff acts and behaves could make or break your experience. Pick a restaurant with a proven track record of offering superior service. If you choose a restaurant that offers casual dining, service will not be up to the mark.
Ambiance — Next is the ambiance. Sometimes the food may be delicious, but what about the surroundings? Not very good. The entire dining experience can be ruined by a bad restaurant atmosphere. Because of this, you ought to go somewhere where you can appreciate the environment in general. Choose a location where the music isn't too loud or harsh as another thing to keep in mind.
How We Pick Our Recommendations?
Based on feedback from regular diners, we selected the best Korean restaurants in New York City for you and your friends or family to enjoy. Our specialized team of experts took time to carefully evaluate several restaurants and come upon the 9 best ones that offer Korean food. We chose the restaurants based on their atmosphere, types of Korean food, restaurant philosophy, and other related factors. For the sake of keeping the whole family or gathering entertained, we chose restaurants with engaging atmospheres and interesting interiors. Also, if you're planning a trip to Harlem, be sure to check out our take on what you should be doing right now in Harlem!
Conclusion
New Yorkers are crazy for Korean food, whether they're chowing down on bowls of gochu ramyun that are positively oozing with noodles or the crispiest kimchi-jeon (pancake). NYC has a ton of restaurants to choose from, whether you're looking for the cheapest Korean food in town or a fine dining experience for a special occasion. Feel free to browse the many restaurants there, but if you want to be at the best ones, stick with our top recommendations!
FAQs
Korean Restaurants in New York City - FAQs
What are some of the best Korean restaurants in NYC?
Some of the best Korean restaurants in New York include Atomix, Cote Steakhouse, and HanGawi.
Where can I get Korean BBQ in New York City?
Cote Korean Steakhouse and Kunjip Restaurant offer the best Korean BBQ in NYC.
Which restaurant offers unique Korean food in NYC?
Jua restaurant in NYC offers a 7-course special meal that is a completely unique form of Korean Food in NYC.
Where can I get a Korean duck meal in New York City?
Daori BBQ restaurant sells different types of Korean duck dishes.