Shopping doesn't come cheap in a place like NYC; Thrifting and recyclable fashion have exploded as an industry; With better things and a wider range of options always being introduced at different thrift stores, New Yorkers and tourists have an endless array of options when they head out for thrifting.
When it comes to thrifting, consumers want a reliable supply of hard-to-get and unique options that can't be found elsewhere.
Also, check out the best Hotels for Solo Travelers in NYC!
Our Guide To NYC's Best Vintage Stores
After exploring most of the city's Thrift Stores, we're putting together a list of the best ones for you. Whether it's for home accessories, clothes, jewelry bags, etc., this list has you covered. Here are the New York thrift stores where you'll get the best bang for your buck and have the best thrifting experience.
Recommended Read: Best Go-Karts You Can Enjoy in Brooklyn
Beacon's Closet, which is marking its 25th anniversary this year, is a mainstay of the thrifting marketplace. One of the earliest of NYC's contemporary secondhand fashion scenes, Beacon's Closet has been setting the stage for other brands that would come in later for decades.
Along with its original store in Greenpoint, the business was founded in 1997 by Carrie Peterson and is now a NY institution with three more sites in Park Slope, Greenwich Village, and Bushwick. In terms of improving its customer and the community it has built in its history, Beacon's Closet also collaborates with a number of non-profit groups.
People come to sell their belongings here too. The items are evaluated to ensure they're in good condition. You make a profit in some way or another, either by receiving cash in return for it on the spot or acquiring a resale percentage of a certain amount.
The best way to go about thrifting at Beacon's Closet is to be ready for a lengthy trip by exploring the seemingly never-ending range of recycled fashion, including every single item imaginable. Looking for a unique button-down? Can't find the perfect boots? A slick leather jacket for NY winters? You name it, and it's extremely unlikely Beacon's Closet won't have something in store for you!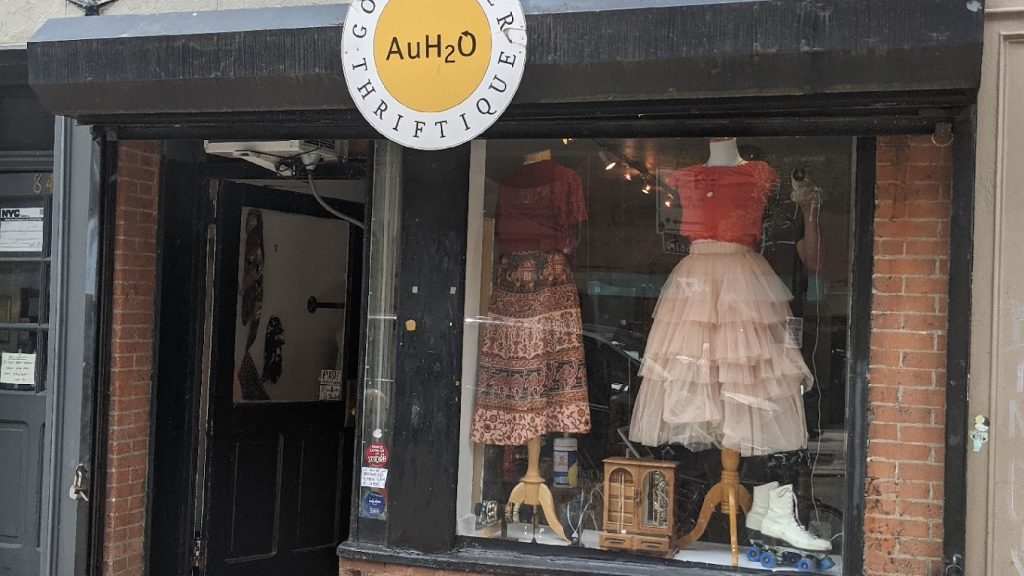 A tiny, unassuming AuH20 Thriftique sits in the busy East Village of NY. It's easy to miss it because of how small it is, but I strongly advise against that. You should plan a visit here. Born and bred in Milwaukee, Kate Goldwater graduated from NYU in 2006.
She founded this cool store right after graduating with a well-chosen collection of secondhand and antique clothes and accessories that are as amusingly beautiful as they are affordable.
You'll discover plenty of items from the 1980s and 1990s because most of the items inside are $30 or less, and her collection is always so well thought-out in terms of following market demands and trends.
It's nearly impossible to walk out empty-handed. Their fur coats, bags, and jewelry collection are so interesting and unique. If you're a lover of all things vintage and quirky, rejoice because this is the place for you!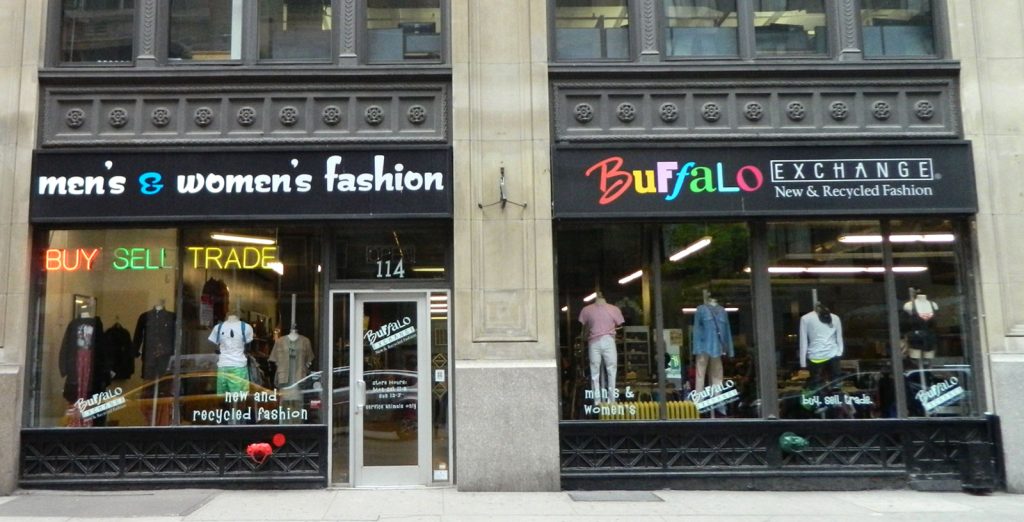 A name that the Big Apple's Thrifting Industry would be incomplete without, Buffalo Exchange has been buying, selling, and trading clothing & accessories since 1974 have been buying, selling, and trading apparel and accessories since 1974. They give consumers 25% in cash or 50% in exchange on the spot in stores.
So, thrift freaks, get ready to scout: This consignment chain boasts a vibrant motley of designer-label and vintage apparel, shoes, and accessories at prices that sound too good to be true, but true they are, and that's why you need to check this gem of a store out.
It purchases, sells and swaps its inventory directly with clients. Tory Burch, Bottega, Ted Baker, etc., are all available in reasonable conditions.
On Earth Day, when the company has its yearly $1 sale, please stop by one of its Buffalo Exchange locations in the city. Yes, we're not lying; some stuff is available for as low as $1. Could you ever go wrong when buying something almost for free?
Similar Read: 7 Incredible Things You Can Do In Beacon, NY
One of the hippest secondhand shops in NYC is called Cure Thrift Shop, and it is situated in Manhattan's East Village. It also has a really sweet history; Liz Wolff, the creator of the business, started it to promote and support research into juvenile diabetes for which she obviously needed funding and that's where the high street Cure Thrift Shop comes from.
It has been one of New York's most well-liked secondhand stores for more than ten years. It's like a cave that you'll get lost in with its unique mix of vintage furnishings, antiques, and used fashion. You'll have no problem finding a variety of amazingly unique decoration items to decorate your living room, regardless of your preferences or style.
The store is a terrific place to make a stop and it's only a few blocks from Union Square where you explore many other shops as well. This diverse New York thrifting destination has something for everyone, from shoes and scarves to furniture and décor.
The amazing things at insanely good prices hidden away in this thrifter's paradise are a thrifter's dream come true; whether it's a work of art by a local artist or a brand-new jacket for the approaching winters etc., you'll rarely walk out empty-handed. It's a place brimming with things you didn't even know you needed.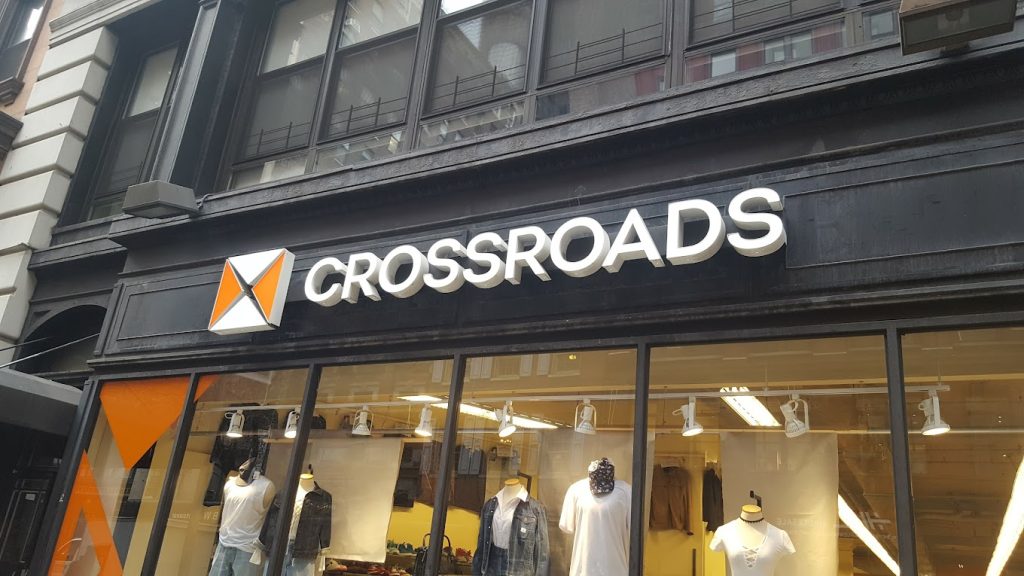 With 34 shopping locations across the United States Crossroads buys apparel and accessories for men and women. Located in the buzzing Flatiron Area of Manhattan, they take in clothes and sell them too.
Their massive collection is curated by an army of staff that carefully picks and buys what fits the criteria of being part of the store's collection. This clothes swap, which has stores in Flatiron and Williamsburg, is stuffed to the gills with stylish finds that are only slightly used.
Crossroads of Northern California, a staple of the West Coast, stocked its first location in New York City with reasonably priced apparel, footwear, and accessories, as well as some major designer-label bargains. The inventory changes often, but if you search the no-frills area, you can discover some great prices on items like men's Valentino leather shoes, etc.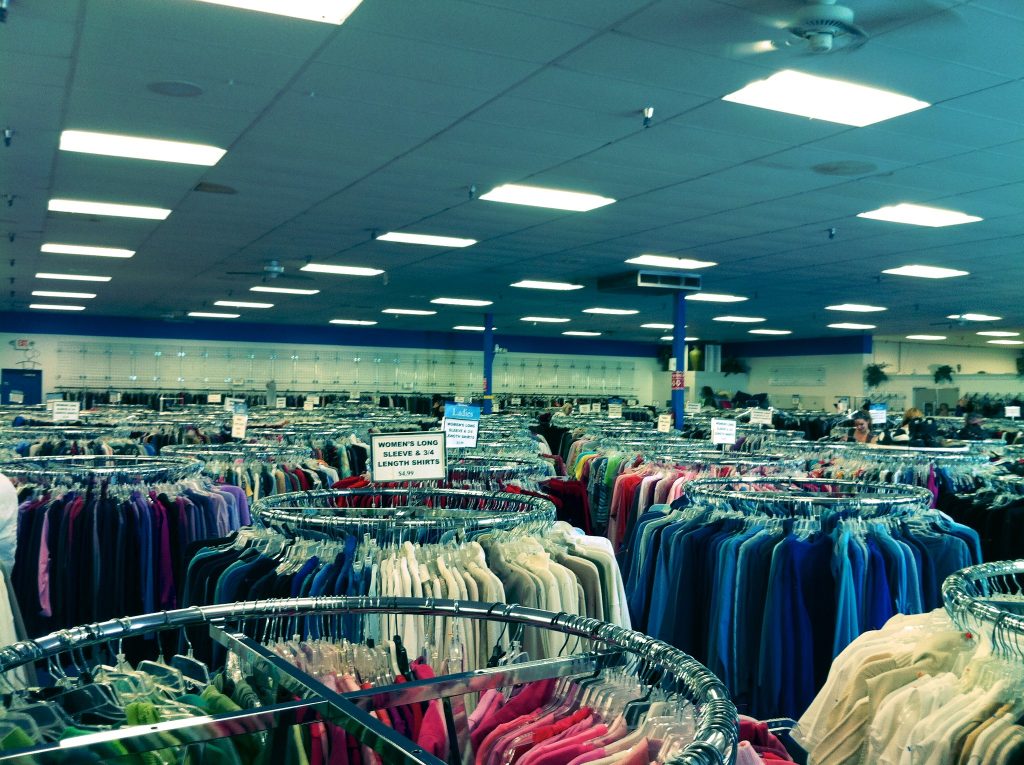 This chain of thrift stores is arranged with well-planned merchandising featuring cool, well-spaced racks with distinct labels and provides antique and new clothing, shoes, accessories, and household products. There's a huge collection of dresses, jackets, designer bags, shoes, purses, wallets, cufflinks, hand-carry, etc, in the women's department.
The housewares section features a whimsical collection of just about everything under the sun, from kitchen electronics to insanely beautiful and quirky salt and pepper shakers in the form of elves, animals, and other fun things that are nothing short of art.
Even if you don't buy something from here, this place is bound to put a smile on your face and lighten up your day with all its crazy collections. Like other Thrift chains, Goodwill also accepts home decor, clothes, luggage, etc at very good deals from its sellers.
The name is so befitting that it's pretty comical. When we say you're in for one hell of a ride with this one, we mean it. Even the best thrifting enthusiasts will have their jaws dropped to the floor with the stuff you're bound to stumble upon in this place.
It's safe to say you'll have your fair share of moments that will make you go, "what in the goddamn world is that?!" in your head. Take a friend to turn it into the adventure it's meant to be.
Mother of Junk has a lot going inside its store, in addition to its bizarre uniqueness that gives it its wow factor. The location, for instance. It is in Williamsburg, a block from the Bedford L train station.
You can't miss the shop at 567 Driggs Avenue, even though it needs substantially noticeable signage. While you'd expect most thrift stores to be cluttered, Mother of Junk is pretty spacious. We're not saying it's not cluttered, but the massive warehouse-Esque space helps.
The amount of house decor options it offers is mind-bogglingly. You'll find the coolest things here, like ancient-looking light fixtures, lamps, chandeliers, chairs, and possibly everything you could ever think of. Unlike other stores, Mother of JUnk operated differently, and you'll see a lack of any merchandising employed in the product display.
It's somewhat like a massive clutter of things placed mostly haphazardly, so you'll have to scour through tombs of random things to find the hidden gems you will eventually get your hands on. There are thousands of silverware items stacked onto each other, mannequins, etc., so someone like an art or fashion student could find something useful. This is a cool place to visit for household items, and the vibes are too wacky to miss out on; It's nothing short of a scavenger hunt!
If you are looking to eat something after all that thrifting, check out Top Notch Korean Restaurants In New York City.
How Do We Pick Our Recommendations?
Each member of our specialized team is a true globetrotter! I've been to these amazing locations to see what I buy for low prices to save money in the Big Apple and all of these stores offered unique experiences in their own right. Our recommendations for these places have been picked on various factors, including popularity, accessibility, reliability, unique collections, brand philosophy, etc.
Also, check out our travel team's recommendations for the best hotels in NYC.
Things To Remember When Thrifting In NY
Go early — Generally speaking, if you shop early in the day, you may find some of the better goods because, in places like these, the early bird catches the worm. You can also avoid getting stuck in a crowd and get first dibs on newly-displayed products if you get to the store as soon as it opens.
Go on the good days — You will learn their cycles and when they generally sell some of the newer stocks after you have a few preferred stores. Since shops sometimes restock over the weekend, Mondays are a wonderful day to go thrifting.
Holiday Savings — How To Get the Best Deals- To buy items during sales is one of my favorite thrifting tricks. Yes, there are sales at secondhand shops. So, holidays are great for finding good deals at thrift stores.
Shop Off-Season — It's usually a good idea to examine the off-season apparel at the thrift store as things can be bought for way less prices that way. Some secondhand shops won't display out-of-season clothing; for instance, some of the businesses that close won't display sweaters in July. However, if your business is open all year, you can get fantastic items during the off-season.
Check, and recheck — It's key to only buy apparel and household goods made of high-quality materials while thrifting, and always check the condition of what you want to buy. Beware of things made of cheap and synthetic materials since it may seem like a good deal at the moment, but when you get home and see it again, you'll start to notice flaws you wished you'd noticed earlier.
Make a list before shopping — Having a list of the items you're searching for before you go shopping may be helpful when thrifting. It's great to stroll through a store but not when you're short on time and have a set goal for the things you want to buy. Making a list will enable you to focus on a smaller number of the store's sections and make it easier for you to search for the things you have in mind to buy.
Think about the neighborhood — A thrift store's inventory will mostly depend on the area in which it is located. Explore a more upscale part of the city if you're looking for more premium stock.
Next Read: Visiting Harlem – NYC? Here's our take on what you should be doing right now!
These are the coolest places to go thrifting in NYC - FAQs
What is the most popular store in New York?
Macy's Is one of America's most widely recognized department stores.
What is the oldest store in New York City?
One of the oldest department stores in Newyork is the beloved James General department store.
What sells the most in thrift stores?
Clothing is without a doubt the highest-sold item in thrift stores across the USA.