Laguna Beach is a gorgeous city with exotic sea vibes and happening local life. The people here are friendly and welcome tourists of all types with open hearts. Plus, you can ask them for help if you encounter any difficulties during your trip, and they will be glad to help you out. Moreover, there are excellent Laguna Beach seafood restaurants where you will enjoy a wholesome meal. These restaurants are not to miss. Apart from the delicious seafood, there are also two hidden pools in Laguna Beach that you should definitely visit for a unique and relaxing experience.
20 Laguna Beach Seafood Restaurants
All the restaurants we will talk about in this article are top-rated by customers. They serve flavorful dishes that are superb in terms of quality and quantity as well. So, get to know all about them below.
Nirvana Grille
Firstly, we have this luscious seafood restaurant in Laguna Beach. It serves a variety of seafood dishes that will make you go yum.
Nirvana Grille is a famous seafood eatery among locals and tourists alike. They are known for their great service, delicious food, and fresh variety of seafood options. Hence, you will not be disappointed with your pick.
Address: 303 Broadway St # 101, Laguna Beach, CA 92651, United States.

Specialties: Blackened scallops, and basil aioli roasted steelhead salmon.
Rum Social Restaurant
Nobody does seafood better than Rum Social in Laguna Beach. It has the best seafood in Laguna Beach that will leave you craving for more. The ingredients and meat are absolutely fresh to make your dining royal.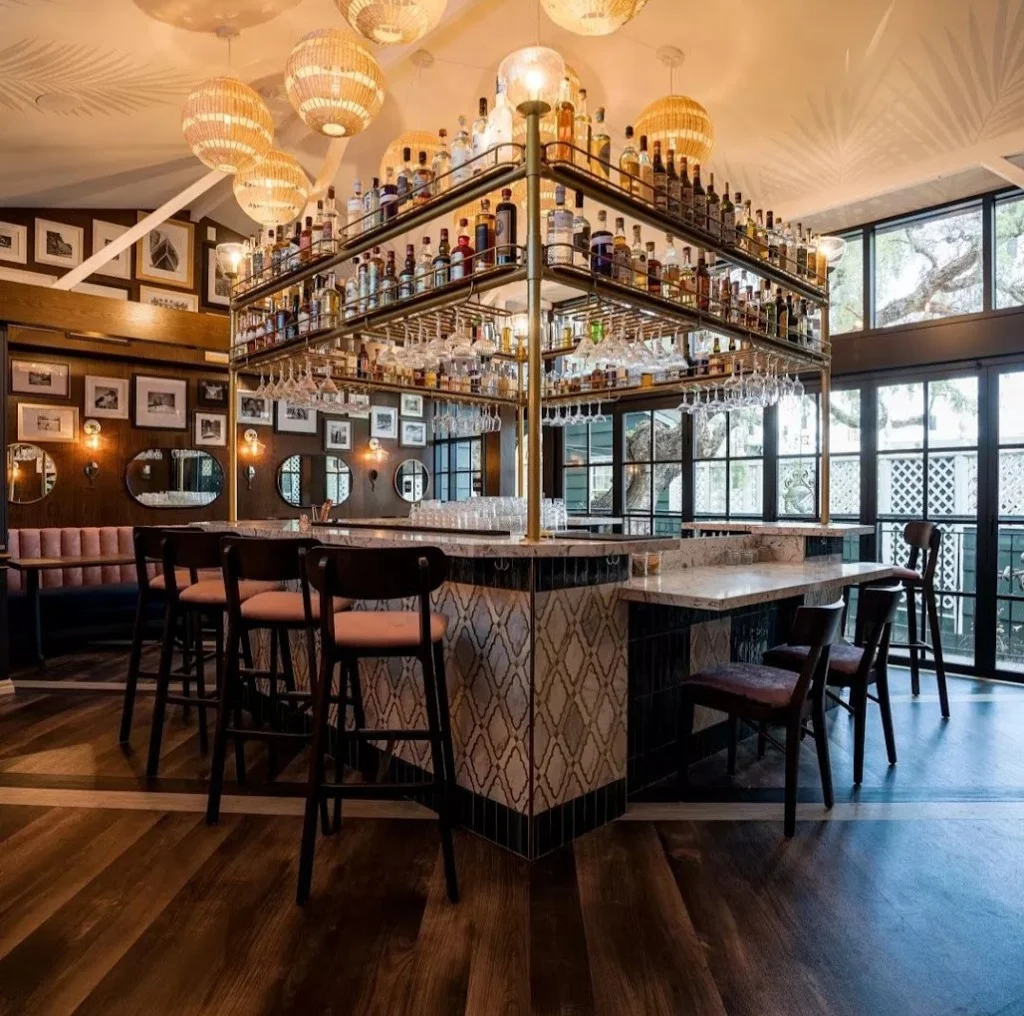 The restaurant has a peaceful ambiance with a quiet atmosphere. Thus, you can enjoy your meal in peace. While you are here, do try the Jumbo Grilled Prawns if you are a fan of this seafood. The crisp texture is flawless.
Address: 448 S Coast Hwy Laguna Beach, CA 92651-2484.

Specialties: Crispy sweet n sour duck, hamachi Crudo, and social burger.
Splashes Restaurant
This is another heavenly restaurant where you can go for juicy and tasteful seafood items. One of the best parts about this place is that they offer a stunning view of the waters that you will never get tired of. Furthermore, you will be served fresh food, rich in taste and flavors to delight your palate.
Splashes has a vast menu when it comes to seafood. You can order Tableside Lobster Bisque, Crisp Octopus, Seared Scallops, and a whole lot more.
Address: 1555 S. Coast Hwy Laguna Beach, CA 92651.

Specialties: King salmon, Mediterranean branzino, and artisan cheese board.
230 Forest Avenue Restaurant
It is a bustling restaurant where everything is happening at once. However, this will not disturb your meal. The place provides a wonderful selection of seafood items, such as Oysters on the Half Shell, Spicy Tuna Tartare, and others.
Choose this place for casual dining. You can even go here to grab a quick bite before heading on to the adventures of the day.
Also, they have a friendly staff to cater to all of your food-related needs.
Address: 230 Forest Avenue Laguna Beach, CA 92651.

Specialties: Salt cod croquettes, and kung pao calamari.
Sapphire Restaurant
It is a place with splendid views and cozy surroundings. Enjoy the full aesthetics of royal dining at Sapphire Restaurant. They have beautiful outdoor seating to munch on seafood.
In addition, every plate at this seafood restaurant in Laguna Beach is served with top priority to quantity and presentation. Consequently, you can satisfy your appetite to the maximum.
Address: 1200 S Coast Hwy Suite 101, Laguna Beach, CA 92651, United States.

Specialties: House-made duck meatballs, caesar salad, and crispy chicken sandwich.
Mastro's Ocean Club
As the name suggests, the chefs here are the mastro of seafood. From crispy prawns to juicy meat, they have it all. Besides, the dine-in area has live music amenities to keep you entertained throughout the meal.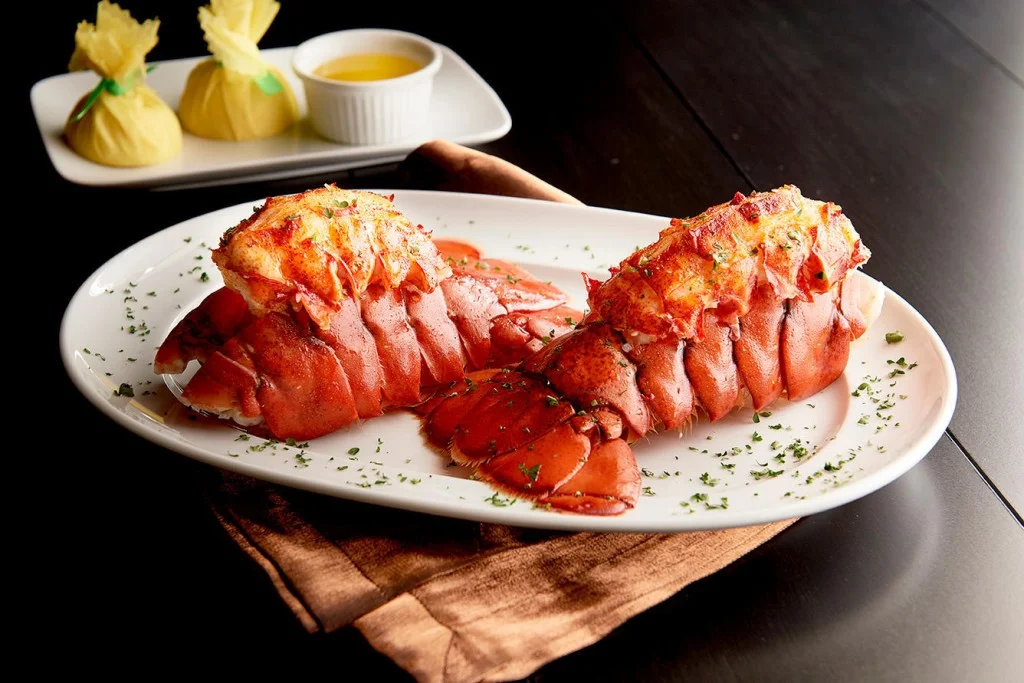 Mastro's Ocean Club is classic seafood near Laguna Beach that will amaze you with the taste. You will keep coming back for more of their food every time you are in the city.
Address: 8112 E Coast Highway, Newport Beach, CA 92657.

Specialties: Sauteed shrimp, roasted bone marrow, and seared bigeye tuna.
Mozambique Restaurant
Next, we would like to introduce you to Mozambique Restaurant for Laguna Beach seafood restaurants.
It is among the top places to visit for coastal cuisine served hot and fresh. You can choose your favorite items from their large menu. They have Peri Peri Prawns, Fresh Oysters, and Wok Charred Ahi Tuna, among other items.
In addition, the restaurant offers live music and a lovely ambiance to make for a super eatery.
Address: 1740 S Coast Hwy, Laguna Beach, CA 92651, United States.

Specialties: Atlantic lobster tail, seafood platter, and penne pasta Mozambique.
The Deck
This restaurant provides you with a gorgeous experience of oceanfront dining. You can watch over the calm sea while having a bite of their tasteful seafood. Moreover, the place has a nice patio which is spacious. Thus, you can have a relaxing meal.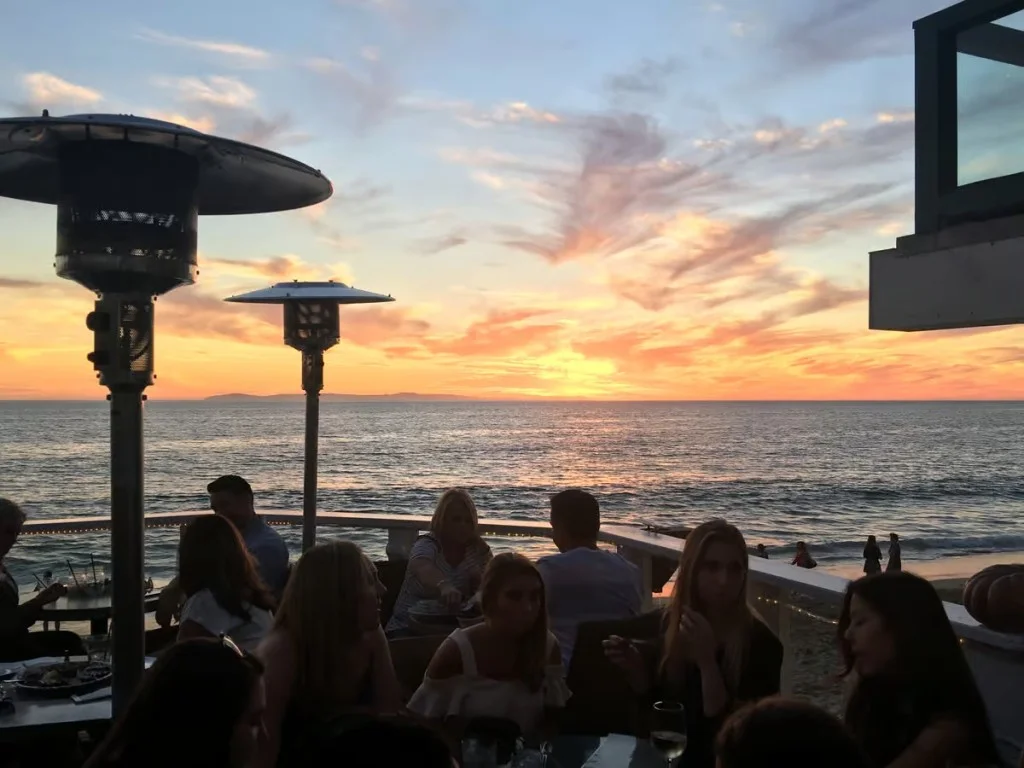 Apart from this, The Deck specializes in seafood. And yes, if you want to try a variety of seafood items, you can order the seafood tower. It has lobster, crab legs, oysters, Mexican shrimp, and more things for you to try.
Address: 627 Sleepy Hollow Ln, Laguna Beach, CA 92651.

Specialties: Seafood tower, and grilled mahi-mahi sandwich.
Driftwood Kitchen
They only serve the fresh catch to their customers to bring out an innovative taste. Cooked and seasoned to perfection, every dish has a delicious aura to them.
Located close to the beach, this is a brilliant pick for your day out. And, this seafood restaurant has an ample variety. On top of that, they ensure that every customer gets the quick and best service during their visit.
Address: 619 Sleepy Hollow Lane, Laguna Beach, CA 92651

Specialties: DK seafood tower, escargot gratin, and grilled Spanish octopus.
The Cliff
Now, we have The Cliff in our compilation of Laguna Beach seafood restaurants. You will have a memorable seafood day at this popular restaurant. Locals and tourists especially choose this place for its vibrant atmosphere and tasty seafood.
Plus, you will receive great service from their well-trained staff. Furthermore, there are many vegan options on their menu. So, no matter what your food preferences are, you will have a great time at this seafood taco restaurant in Laguna Beach.
Address: 577 S Coast Hwy, Laguna Beach, CA 92651-2405.

Specialties: Fish tacos, and ceviche.
Las Brisas
It is a terrific seafood restaurant that serves distinct Mexican items as well.
You will come across an authentic Mexican flair when you enter the eatery. Plus, the seafood options here are many and all of them taste wonderful.
In addition, pair up your seafood with one of their signature cocktails to make a scrumptious meal. They have lots of variety on their menu, thus you can find the right food based on your liking. You will enjoy a mouth-dropping view from this place.
Address: 361 Cliff Dr, Laguna Beach, CA 92651.

Specialties: Shrimp tacos, and lobster enchiladas.
Eddie V's Prime Seafood
The restaurant is located in Newport Beach and is a superb place to go for a tempting seafood collection. It has a very elegant atmosphere that will appeal to your inner artist. Moreover, you can have a fine dining experience.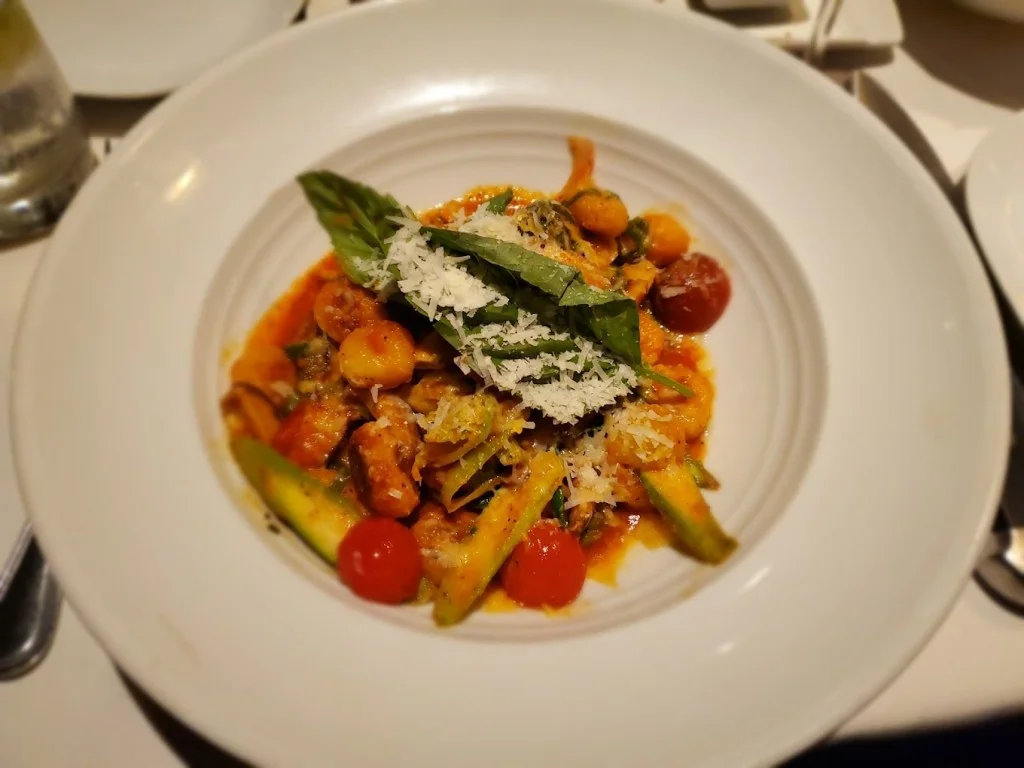 They have a beautiful menu with items, such as Jumbo Lump Crab Cake, Maine Lobster Tacos, and Two-Crab Stuffed Jumbo Gulf Shrimp. Along with savoring delicious meals, don't miss the opportunity to explore the city's artistic side by visiting the best Laguna Beach art galleries.
Address: 1370 Bison Ave Newport Beach, CA 92660.

Specialties: Warm goat cheese salad, kung pao calamari, and Maine lobster bisque.
The Beachcomber
It is a Californian dining place that will stun you with its taste and quantity. The dishes are served in plentiful quantities, thus you can eat till you feel full.
Additionally, it provides you with a breathtaking oceanfront view of Newport Beach to make your visit memorable.
Address:15 Crystal Cove Newport Coast, CA 92657.

Specialties: Shrimp carbonara, and crab stack.
Opah Restaurant and Bar
Here, you will come across heavenly-tasting seafood items in Laguna Niguel. This place has a nice interior and a yummy compilation of salads. Plus, the staff is very friendly so you won't have any problems during your stay.
Besides, they have a lot of items on their menu. Also, say goodbye to all the parking issues because Opah Restaurant provides ample space for parking.
Overall, you will have an amazing time in its relaxing and calm environment.
Address: 26851 Aliso Creek Road # C Aliso Viejo, CA 92656.

Specialties: Coconut shrimp, togarashi ahi, and cioppino.

Recommended Reading: 15 Best French Restaurants in Laguna Beach
RAYA at The Ritz-Carlton
A restaurant that specializes in Pan-Latin Coastal Cuisine, Raya is a brilliant place to be at. They source locally produced and fresh ingredients to create tasteful seafood meals.
Plus, the chefs add Signature Latin taste to their dishes to enhance their taste even more. All the seafood dishes on their menu are superb and will not disappoint you.
Moreover, you get to enjoy a gorgeous view of the sea while you dine. This will make your visit much more satisfying. You will be loaded with memories when you leave the place. Their food tends to leave a mark on the customer.
Address: One Ritz Carlton Drive Dana Point, CA 92629.

Specialties: Achiote salmon, ahi tuna ceviche, and Cusco chicken.
Nick's Laguna Beach
Located at the heart of Laguna Beach, this is an all-in-one restaurant. You will find everything on their menu, from wholesome seafood to world-class sandwiches and burgers. So, no matter what type of food you are craving, you will get it at Nick's.
The restaurant has a splendid menu, featuring items like Pan Seared Scottish Salmon, Salmon Poke Tacos, Tuna Tartare, and others.
Address: 440 South Coast Highway Laguna Beach, CA 92651.

Specialties: Buttermilk fried chicken, and original ribeye melt.
Ristorante Rumari
It is a beautiful seafood eatery that offers many items. You can order Filetto di Salmone con Salsa Fresca, and several other seafood items here.
Moreover, they have a pretty outdoor patio where you can dine under the blue sky. Refresh yourself with a breeze of fresh air at Ristorante Rumari as you munch on your plate.
Address: 1826 South Coast Highway Laguna Beach, CA 92651.

Specialties: Caprese salad, tiramisu, and pollo parmigiano.
Oak Laguna Beach
Talking about the best seafood in Laguna Beach, Oak would make an excellent pick. The restaurant's design is inspired by local architecture. Hence, it gives off major Laguna Beach vibes.
Also, you can book this place for any of your special events. They will impress you with the service and make sure that you do not have anything to complain about. And, of course, your guests will love the seafood here.
Address: 1100 South Coast Highway #202 Laguna Beach, CA 92651.

Specialties: Grilled shrimp tacos, clam chowder, and oak oysters.
Number Three Restaurant
One downside to the restaurant is that it is closed from Monday to Wednesday. Though, you can enjoy a full-fledged seafood menu for the rest of the days.
They have scrumptious items, like their Signature Shrimp Pots that are a must-try when you visit the restaurant. Made with fresh shrimp, this dish is served with fresh corn and rice fries. You will have a full appetite and will get to enjoy these tasty shrimp.
Address: 320 N Coast Hwy, Laguna Beach, CA 92651.

Specialties: Shrimp pots, and salmon frenzy.
Coastal Kitchen
Lastly, Coastal Kitchen is the restaurant we will add to this guide. It offers a spectacular view of the coast of Monarch Beach so that you can relax from the hectic lifestyle. In addition, the sitting area is comfortable and spacious to make your experience better.
Plus, they own an extensive seafood variety to give your palate a delicious party.
Address: 34091 Pacific Coast Hwy Dana Point, CA 92629-2728.

Specialties: Blackened ahi tuna, and jumbo lumb crab cakes.
We hope you have learned some valuable takeaways from our guide to the Laguna Beach seafood restaurants. A lot of these restaurants also serve tempting international and local food dishes as well as delicious seafood. So, give new dishes a try to give your tastebuds a new experience.
Have a great meal!