SoHo, the magnificent, beautifully diverse, ever-busy neighborhood between Tribeca and Greenwich Village in Lower Manhattan, was historically a "Hunting Ground." And the name "SoHo" was nothing more than an old hunting call in the 16th century.
The name SoHo also resonates with its location, which extends from South Houston Street to Canal Street. Since the 1970s, a hub of soulful music and architectural masterpieces continues to offer visitors a variety of fascinating sights to explore with the many more exciting activities and attractions that have emerged over time.
All in all, this makes SoHo, NY, a very intriguing place to explore for someone who loves to travel. With that in mind here are ten fun spots you can visit one after the other throughout your visit based on several essential factors for an unapologetically memorable vacation in SoHo. And for those who love to shop for unique and one-of-a-kind items, SoHo is also home to some of the coolest places to go thrifting in NYC.
Top Delightful Things To Do In SoHo, New York To Make The Most Of Your Day
Enjoy Savoring Breakfast Or Brunch At Dominique Ansel Bakery
View Website
Get Directions
PERFECT FOR: Experiencing creative & beautiful French treats
Start your day with Dominique Ansel Bakery, famous for sweet treats like caramelized croissants, petite pastel meringues, croutons filled with homemade jam, and madeleines, with people lining up early every morning for all the good reasons.
Especially jam-filled sweet pastries called "Cronuts." What makes it popular is that the flavors of the fillings vary with the changing months, meaning every month, the locals get to taste a different flavored Cronut.
Quite interesting, isn't it? I mean, you never know what happy flaky Cronut you might get to taste in the coming month.
However, one thing that food critics, including myself, can ensure is that no matter what time of the year you visit SoHo, the Cronuts are an absolute must because the flavor, regardless of what you get, are all equally mouth-watering.
Also, those delicious-looking Milk Shot Glasses made with chocolate chips which DIY recipes are often featured on our Instagram and TikTok feeds, are served here.
Next comes Dominique Ansel's delightful Frozen S'mores, made with vanilla ice cream cubes, coated with crunchy chocolate, wrapped in marshmallows, placed on a stick, and toasted fresh to your order. And once it enters your mouth, it melts delightfully and brings a heavenly punch of delicious flavors to your mouth.
For brunch, they have delectable options on the menu, like Baked Egg Custard Wrapped in a Flaky Pie Crust Shell called "Quiche," Italian bread rolls that are Traditional Paninis, and Avocado Toast.
Visit New York's Only Queer-Themed Museum: The Leslie-Lohma
View Website
Get Directions
PERFECT FOR: Learning LGBTQ Culture, Achievements, and Life in-depth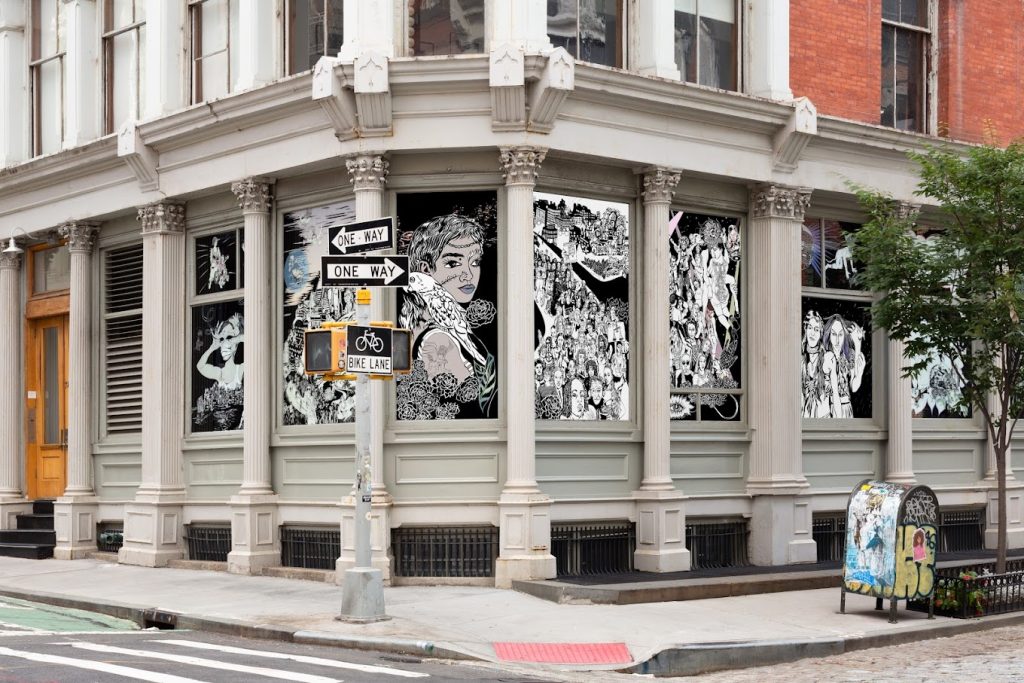 The Leslie-Lohman Museum of Gay and Lesbian Art's Prince Street Project Space is a dedicated space to showcase the artistic achievements of Historical Artists and Musicians from the LGBTQ community.
The museum exhibits valuable works of Artists in the form of an Art Gallery. Officials usually organize talk shows and performances to gain better insight into creators' lives and LGBTQ-related affairs.
Now with expanded museum space, opportunities to see Queer Performances and better learn about the growth of this culture have also escalated. Children are allowed to learn about LGBTQ history and art presented at the museum. In addition, if you possess an IDNYC, you can avail the luxury of a year-long membership of The Leslie-Lohman Museum for free.
Suggested Reading: Top 20 Places For The Best Brunch in Queens NYC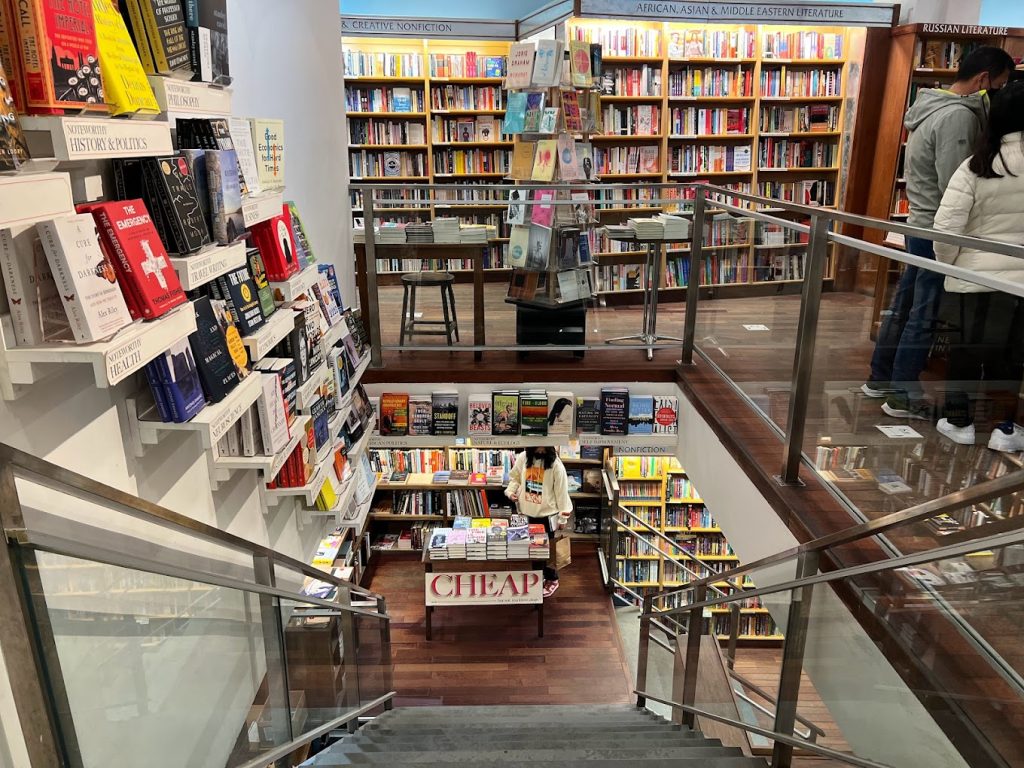 In 2018, Time Out cited McNally Jackson as one of the "50 reasons New York is the best place in the world."
Which obviously doesn't make me the only one who fell in love with the place on my trip to SoHo. This shop completely soothes the itch of a reader trying to find an excellent book to waste his time with.
In addition to interesting books, you'll also find plenty of places, some with comfortable seats to curl up on and have that peaceful time with the books.
The well-lit McNally-Jackson exudes a purely inspiring and very welcoming vibe, even for those who have no desire to peruse through well-arranged bookshelves in any way. From fiction by any author who has ever existed in the world and has a fictional book published under his name to vice versa with non-fiction and magazines, you'll find it all here.
The upside of visiting McNally Jackson is that whether you are single or a parent, anyone can come to this place and find peace of mind. Parents can find a children's book for their child and get them seated in the McNally's Kids' Section.
And take some time out from their mundane worries to wander into the world of books they've wanted to read for ages or an impeccable staff recommendation or poem entirely at their disposal.
An in-store cafe also serves delicious pastries, muffins, and more. So, this bookstore looks like the work of Joe Goldberg and Love Quinns in another dimension.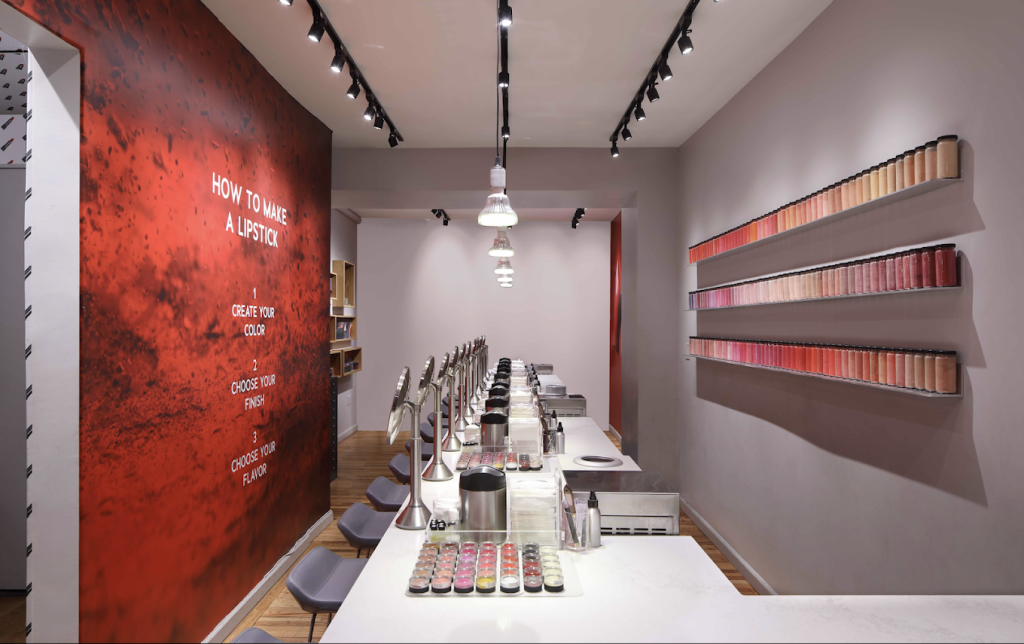 Spare yourself the hassle of mixing two shades to match your skin tone or preference with "Lip Lab by BITE" and create only that one distinctive lip color for yourself.
At lip lab, customers get the full-fledged freedom to mix and match different lip colors. So as a shopper, once you have booked an appointment, you first get the staff member who walks you through creating your gorgeous lip shade.
And before you get too excited, allow me to enlighten you that making your lipstick is more challenging than it sounds. It is nothing like those silly 5-minutes crafts.
Sometimes the lipstick comes off too patchy, or the shade is different from what you thought it would be. But thanks to the talented staff, you are saved before you resort to tears. They simply let you know where you went wrong in the simplest way possible, unlike certain someone.
Once you are done with mixing and have your hands on the fruit of your hard work, the lipstick paste, you can move on to choosing the scent you want to add. Usually "Wild Berry" is a scent lip lab uses in most of their lipstick.
They use in Lip Lab's lipsticks, but you can choose whatever you desire from the options available. Finally, when your scented lipstick paste is molded into the Bullet Case, you can name your custom lipstick whatever you want and get it engraved on the case.
Also, hygiene is a top priority at Lip Lab. Here, you will only see how efficiently clients are kept as far apart as possible, and the lipstick counters and molds are spotlessly clean and thoroughly sanitized.
Experience the Authentic Pizza Taste At America's First Pizza Outlet, Lombardi's
View Website
Get Directions
PERFECT FOR: Experiencing coal-fried, thin-crust Neapolitan pizza
Gennario Lombardi, the owner of Lombardi's, opened his Pizza Inn in SoHo in 1905, the first pizza outlet in America. The best thing about Lombardi's is that the pizza you'll find here is authentic, old-fashioned, baked in a hot contender; coal ovens for the perfect pie that's still consistently fresh.
Although coal ovens are now banned in some parts of the world, this restaurant has kept the tradition alive since 1905, serving excellent historic pizzas. Additionally, the pizzas and pies here are reasonably priced, which makes it worth a visit.
Enjoy The Classical Movies At The Film Forum
View Website
Get Directions
PERFECT FOR: Satisfying the desires of classic, independent, and foreign films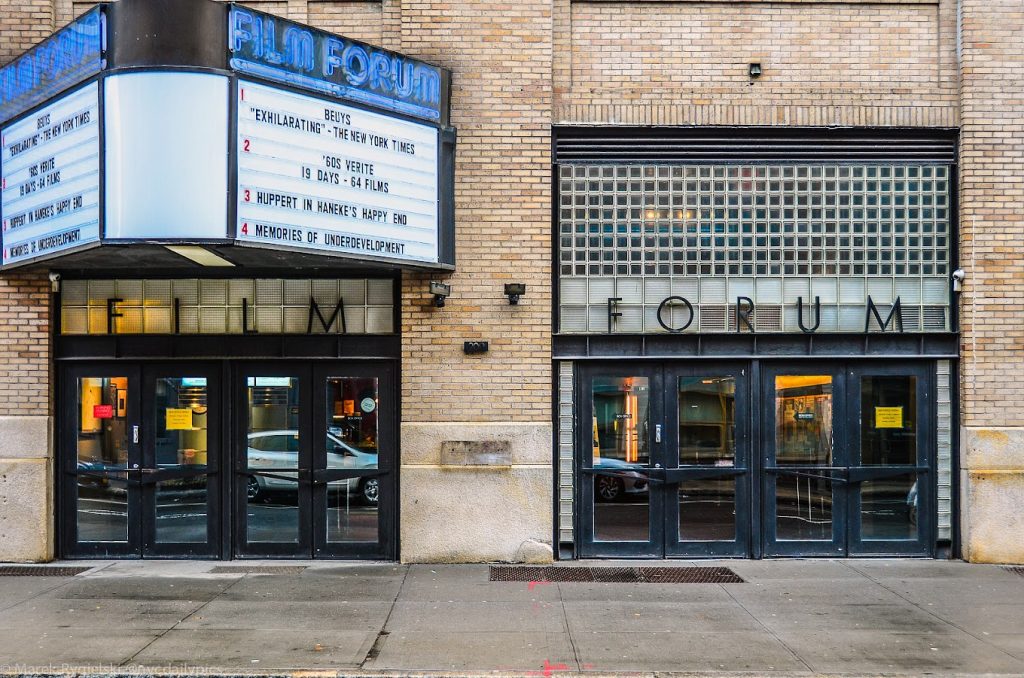 Film Forum has been a champion in presenting various excellent films with both commercial and artistic flair. It unreservedly showcases the latest picks from Cannes and beyond. The theatre seats are comfortable, and the staff is friendly.
The variety of films is impressive. Adults can find at least one Kid-Friendly movie premiere in the food concession stands and have great brownies and savory snacks. Food concession stands also have great brownies and savory snacks available. Film Forum is the kind of place that never fails to make everyone feel included.
Stroll Around And Capture Memories In The Streets Of SoHo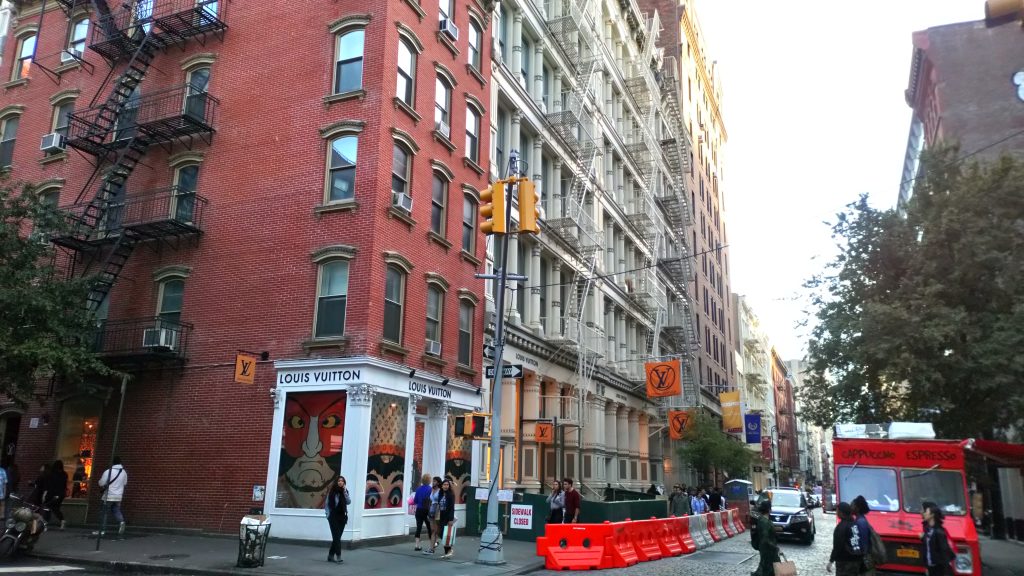 SoHo is a classic charm of New York City. Every other cobbled street in this neighborhood has a fabulous glow and photogenic vibes, and one can't help but want to take pictures. The one thing that makes the streets of SoHo so interesting is the intricate architectural street-front facade of the buildings. For example, Roosevelt Building and the E. V. Haughwout Building on Broadway.
The grand building settings serve as an excellent backdrop for Portraits, Group, or Solo Photoshoots, especially for the Romantic Couple Shoot. Given how one of every five romantic couple poses on Pinterest is a random model couple posing in front of or away from Picturesque Buildings, used as a background.
While capturing the beautiful architecture of SoHo, don't forget to include some other famous things that scream "New York"; from that, I mean Yellow Cabs, Subway Entrances, and Fire Escape Stairwells. These things and places are factually nowhere near as significant as the Statue of Liberty; nonetheless, they are enough to ornament your static Instagram feed.
Street art in SoHo is not considered trivial and a waste of time but is incredibly respected. You can easily find beautiful Instagram post-worthy wall art painted on the streets and walls throughout the neighborhood.
At Kobra's 27 Club on Rivington Street, Graphic Wall Arts pays homage to the artist and many others, including Amy Winehouse, Kurt Cobain, and Janis Joplin. Also, you can discover the wall art of Tristan Eaton's Audrey Hepburn portrait on Mulberry St.
Awaken The Kid Inside At Sloomoo Institute
View Website
Get Directions
PERFECT FOR: Experiencing the vibrant, scented, and joyful world of slime
This place is an 8,000 square-foot real-life "Charlie And The Chocolate Factory," but make it Slime. Everything present here is made of slime. You get plenty of space to yourself with the aids to experiment with various methods of slime-making and endless fun opportunities to get all covered in slime.
Do not worry about your favorite branded outfit or hair as the staff provides the guests with ponchos.
Overall, it is a kid's space to enjoy and adults to relive their childhood and for both to enjoy the wonderful world of slime.
Customize Your Perfume To Your Liking At Lucky Scents' Scent Bar
View Website
Get Directions
PERFECT FOR: Creating the most wearable and suitable perfume for yourself
If perfume shopping intimidates you or you are tired of sniffing bottle after bottle in a departmental store to find the perfect perfume for you. Still, in the end, you eventually just stand there trying to decide which one to buy, not to mention the expensive costs of the branded scent you tested last. But not anymore, at Lucky Scent's Scent Bar.
You can spend all your time testing the perfumes stored in the bottles as much as you want. And like me, you may discover some perfume brands and names of fragrances you never knew existed. Once you find a scent, you appreciate it. A supportive staff helps you design your one-of-a-kind perfume that resonates with your personality at a cost light on the budget.
Make Fun Nights Out Boisterous With Karaoke At Lucky Voice SoHo
View Website
Get Directions
PERFECT FOR: The five-star karaoke, beverage, and savory meal experience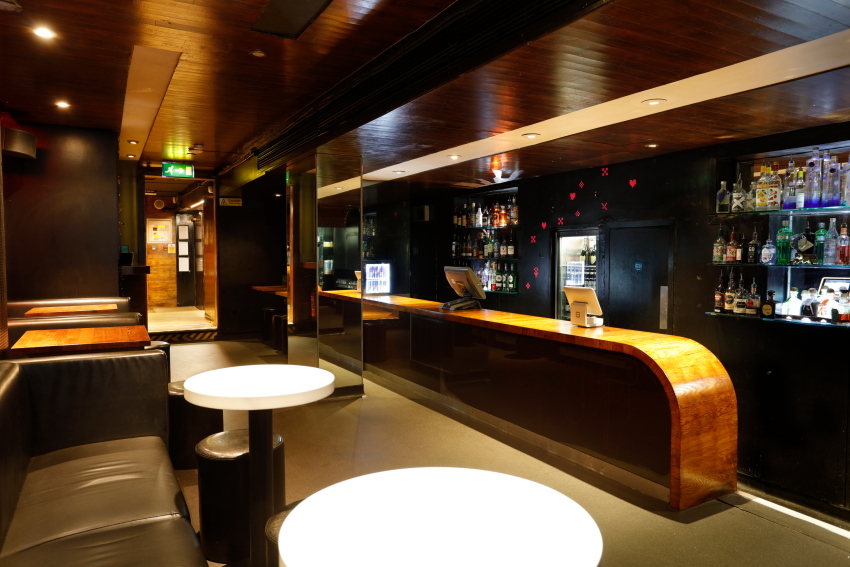 What better way to enjoy your nights in New York City than by visiting the party spots? It is an all-round party place in SoHo that not only blasts the music in the club area for the guests to dance onto, but you can also choose to rent a private room singing your breath away those melodious songs till you pass out also if you're planning a trip to LA, be sure to check out some of the top clubs in the area for a night out you won't forget.
Either by yourself or with your friends ranging from 4-15 of them per room, in case you have a large friend group or have a birthday or whatever get-together.
"Lucky Voice SoHo" will have no problem meeting your needs to throw a fantastic party. You can take advantage of the two-hour private karaoke room with access to over 11,000 songs provided via a touchscreen interface. Room service is available via a fun "Thirsty" button.
So, you don't have to step out of your fun partying zone to call a server to fetch you some drinks.
Cocktails are a must to experience a luscious concoction from a world-class team of mixologists. Each room has spectacular mood lighting and disco balls. In addition, you can easily find delicious Pizzas, Mini Burgers, Fries, and more to avenge the hunger and not actually pass out from it. Letting only that musical evening have the credits.
It is open till 3 am from Wednesday to Saturday. On Sunday evenings, those under 18s can rent private karaoke rooms between 3 pm and 5 pm. Lucky voice SoHo also caters wonderfully to family karaoke sessions or a unique birthday party celebration for kids.
Things To Consider Before You Visit SoHo
Practice Long Walks — The diverse culture and captivating beauty of cobblestone streets and historic attractions could only be appreciated.
Never Miss the Weather Forecast — London is famous for its unpredictable downpours, so bring Rain Gear before heading out in SoHo.
Be Prepared for Crowds — SoHo is a busy place in general, but it gets especially busy at lunchtime. To avoid crowds, it is recommended to arrive at the restaurants early in the morning on weekdays to beat the rush. Check-in early at night for night scenes at clubs, bars, and live musical and comic events to secure the best spots.
Book In Advance — Clubs, bars, private karaoke booths, and even the Sloomoo Institute tend to give discounts and additional benefits on reservations via the website or on-site bookings. So, consider booking pre-requisite reservations for the best experience of first-class services.
Dress Code — NYC fashion is purely "Dress to Impress," and there is no dress code while on vacation in SoHo. Nonetheless, you should choose your outfit, keeping SoHo in mind. So you never miss out on looking Oh So Gorgeous in pictures.
How We Pick Our Recommendations
Certified international travelers and experts at Hopdes keep an eye out for even the most minor details when choosing a particular destination to ensure that our recommendations are beneficial in every aspect possible for the most readers. Our travel team also considers other guests' experiences so that we can provide readers with outright and valid information.
Similar Read: 7 Incredible Things You Can Do In Beacon, NY
Final Words
Who would have guessed there's so much to do in just one neighborhood? SoHo has so much more for you to enjoy without straining your budget. From musical and cinematic entertainment sources, delicious food and desserts, and multiple destinations for fun activities to meaningful attractions where you can be yourself without worrying about social judgments. SoHo has you covered! For those seeking a thrilling experience in Brooklyn, check for the best Go-Karts you can enjoy while being there!
10 Round-The-Clock Things You Should Do on Your Trip To SoHo - FAQs
Is SoHo good for tourists?
Yes, SoHo is suitable for tourists due to the presence of trendy destinations.
Is SoHo expensive?
As per the survey, in 2022, SoHo is positioned as one of the most expensive neighborhoods in NYC.
How Safe Is SoHo at night?
At night hours, Public clubs and bars populate the neighborhood. Therefore, SoHo is relatively safer during the day and evening, considering the optimum lighting and presence of a crowd in the area.