Looking for a nightlife experience that you'll never forget? From world-renowned DJs to celebrity sightings, there's something for everyone in the Los Angeles club scene. The city is home to some of the hottest clubs and bars, and the nightlife here is unrivaled. The clubs are always packed with people looking to have a good time, from West Hollywood to Downtown. Below are some of the best clubs in Los Angeles, California that you must not miss out on
The Granada offers a variety of classes and dance genres with a focus on Latin dancing that provides something for everyone. Register for classes offered every night of the week and be taken back in time by their 1930s-style atmosphere.
You can also catch Salsa and Latin Nights on Tuesdays (DJ), Bachata Nights on Thursdays (with some Hip Hop thrown in by the DJ), and Salsa on Fridays and Saturdays with live bands. On Sunday, there is a Ballroom Night as well.
On the Granada website, you can find a complete list of classes, activities, and bands. They provide group and private lessons seven days a week for all styles of dance. There is a dress code that is strictly implemented in the club; hoodies, flip-flops, and other unattractive attire are not permitted.
Tip: Every evening, dance lessons are given at The Granada; the early evening classes are open to children as well.
The Next Door Lounge is a traditional Hollywood nightclub that harkens back to the prohibition-era Roaring Twenties when drinking was marginally sinful.
There is a security guard on duty, so you must mumble a secret code (don't panic, he'll tell you what it is) to gain entry to this quaint establishment that serves cocktails from the 1920s and barrel-aged liquor.
If you're feeling a little peckish, sip on those specialty beverages and order one of the restaurant's renowned beef sliders. Flatbreads, steak, and seafood are also available.
Afterward, the dancing begins, with a burlesque show on Fridays, a live band on Saturdays, then DJs spinning until the early hours of the morning. Reservations are required at Next Door Lounge, which is only open on weekends and hosts special events from time to time.
For those looking for a similar nightlife experience in a different location, check out this guide on the best clubs in Norfolk, VA, or nightclubs you must visit when you're in Anaheim.
The Teragram Ballroom is a significant component of the downtown Los Angeles dance scene, providing a cozy setting for live performances for music-loving folks.
This DTLA performance venue, which is housed in a refurbished, century-old theater that was originally a Hollywood movie palace, is on 7th Street, just a few blocks from the Staples Center and the Microsoft Theater.
While those two massive venues hold thousands of people, the Teragram Ballroom only accommodates 600 people standing as it is a standing-only venue.
In addition to three dressing rooms, a dedicated loading dock, spacious backstage, and a state-of-the-art sound system, the theater has three bars and a restaurant that features plenty of space throughout.
It's 9,000 square feet and offers special features for artists and audiences. In contrast to sweaty bodies crammed into a small space, all competing to get the attention of a bartender, this experience is one of fun. Rather than feeling like a well-planned dance party venue, this well-designed venue makes one feel like they're at a perfectly planned event.
Tip: Visit the website for shows before you go because the club isn't usually open every night.
This pulsating Latin club wants to keep you dancing all night. This venue is highly well-liked since it frequently hosts performances by Latin celebrities like Ivy Queen and Maelo Ruiz.
You should join the free guestlist on their website if you want to enjoy this so you don't have to wait in line for hours. Every night there are a lot of people here, so get there early. The Mayan frequently hosts bachelor and bachelorette parties. It's everyone's favorite location to go to! The Mayan has a great atmosphere for these types of parties.
The staff is always willing to help make your party a success. They have a wide variety of food and drink options, and the prices are very reasonable. The Mayan is the perfect place to go for a night out with friends or a romantic dinner for two.
Editor's Recommendation: Best Laguna Beach Art Galleries You Should Visit
The Abbey Food & Bar is a mainstay in the area known as "Boys' Town" in West Hollywood, the heart of Los Angeles' gay culture. With four dance floors throbbing all night long and the club's reputation for large martinis, seductive go-go dancers, and a bit of decadent air, it's not surprising that there is frequently a wait outside the entrance.
The Abbey, however, is more than just a meat market because its well-known owner, David Cooley, uses it as a platform to promote equal rights for the broader LGBT community. Don't miss his annual Oscar party fundraiser; you're likely to spot several well-known Hollywood stars there, as well as most other nights.
Tip: Reserve a table for the Abbey's annual Oscar celebration early is advised because it is one of the most popular events in town.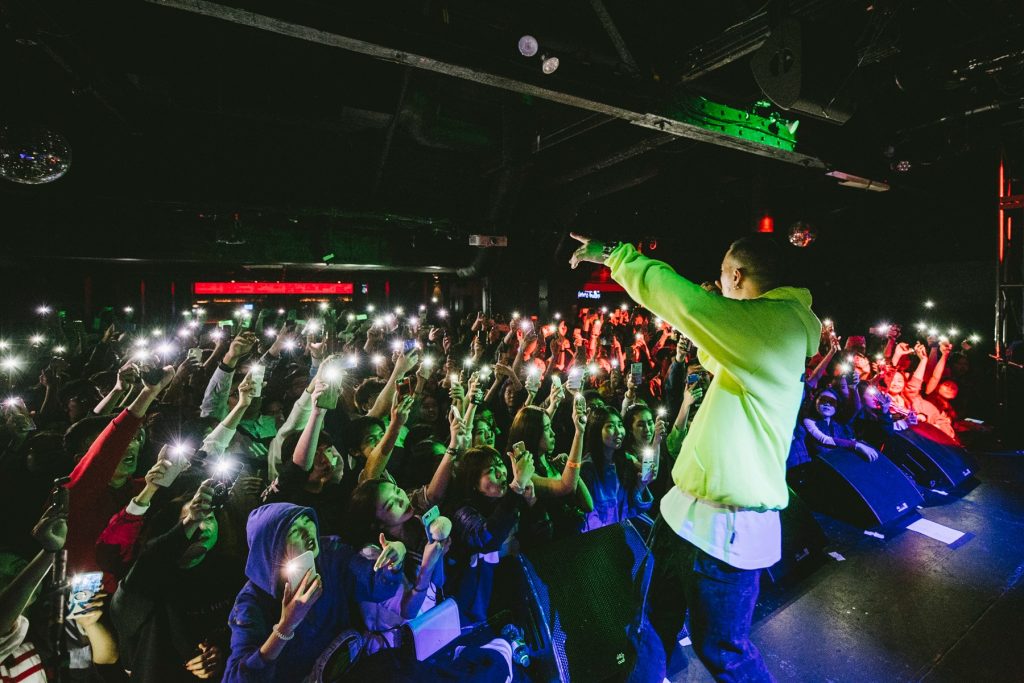 In Los Angeles's enormous Echoplex, live bands perform alt-rock and reggae for a hungry crowd. Each event attracts a diverse range of young and old attendees, and the mood is upbeat the entire week. A good assortment of beers, delectable appetizers, and reasonable prices keep the party going long into the early morning.
On weekends, the place gets packed, but there is generally space to dance on the lower level. Rastas won't want to miss Wednesday's Dub Club, where music like Afrobeat and Jamaican cumbia keep people moving. Upstairs at sister club Echo, which is typically occupied by emerging indie musicians.
Cicada Club in Los Angeles is a beautiful venue with a 1930s concept that is all about retro furnishings and contagious swing music. The Art Deco establishment was once an opulent haberdashery shop, and much of its original French flare is still present today.
It is located in Downtown's Oviatt Building. If you want to fit in, dress professionally, since this is a fine establishment that perfectly captures the height of Hollywood glitz.
Partygoers come to enjoy upscale Italian cuisine while taking in a live orchestra performance on stage. Visitors hit the dance floor for a boogie once supper is finished and the alcohol starts to take effect. The upstairs overlooks the stage and its opulent waterfall chandeliers if you'd prefer to observe from a distance.
1OAK, Los Angeles
View Website
Get Directions
PERFECT FOR: Spotting celebrities like Jay-Z, Leonardo DiCaprio Rihanna, Jared Leto, and DJ Paris Hilton.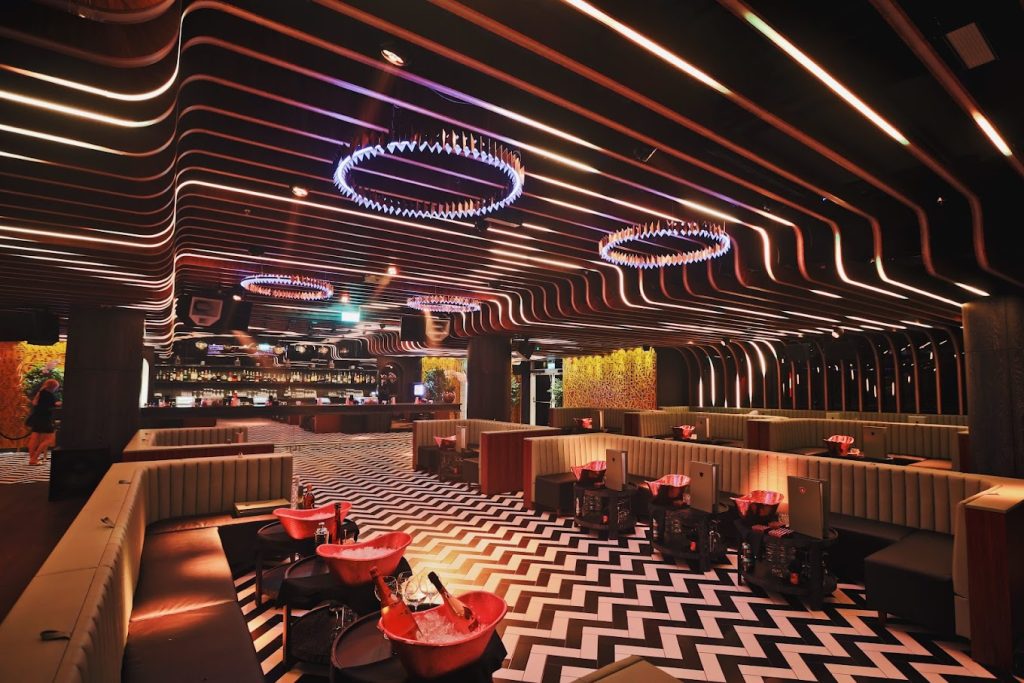 1OAK LA transformed the former Key Club location on Sunset Boulevard in West Hollywood, adding substantial refinement to the previously somewhat sleazy area. Now a large Brazilian wood bar with premium drinks is accessible from leather banquettes that open to a dance floor.
DJs play all kinds of music, including EDM, funk, and hip-hop. They also manage a sophisticated light show that creates an electrifying atmosphere. The club attracts some of the biggest stars in entertainment, including DJ Paris Hilton, Jay-Z, Leonardo DiCaprio, Rihanna, and Jared Leto.
It's always interesting to see who shows up at this dance club on Thursday, Friday, and Saturday nights. Making reservations is essential for entry.
Tip: If seeing a celebrity is on your L.A. bucket list of activities, keep an eye out at this hot party spot.
If you're looking to continue your night out in Southern California, be sure to check out our list of the 12 best bars in Laguna Beach, CA.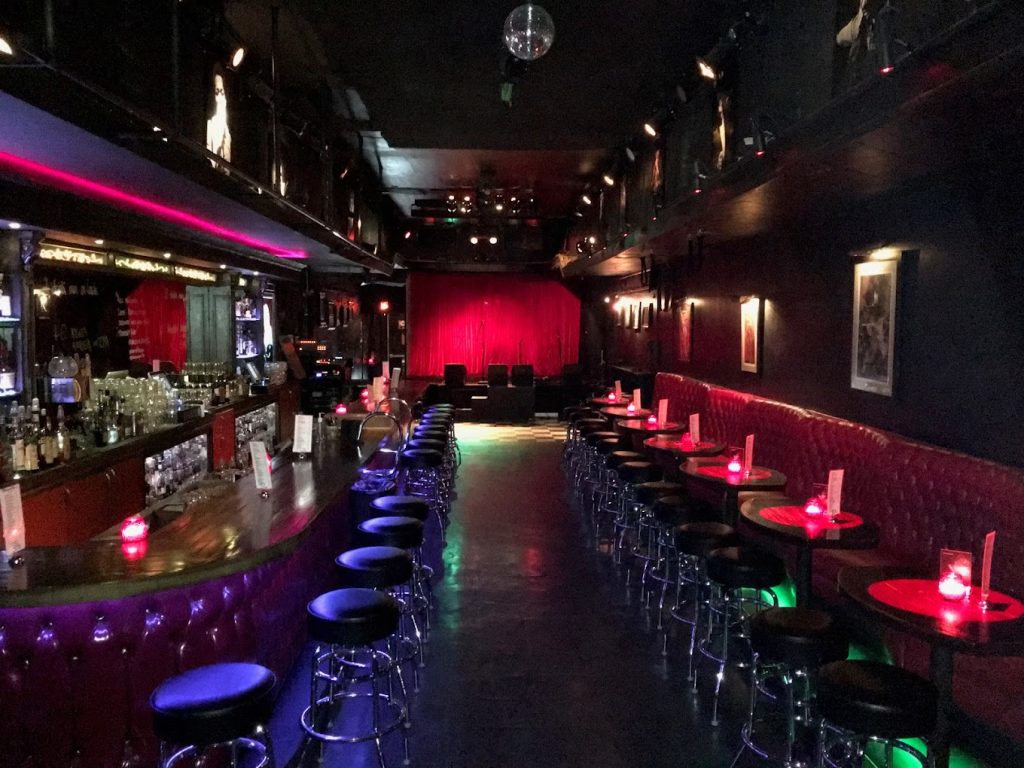 One of Los Angeles' top venues for live blues, rock, and alternative music is the small, dark, and dashing Harvelle's. This Santa Monica icon has been in operation since 1931. In its early days, it was gloomy, and smoke-filled, and lived up to its name.
This venue features a stunning black-and-white design, and its deep red curtain background enhances the retro-cool atmosphere. You might want to visit early to ensure a seat because the venue can get crowded to the rafters when big bands perform there.
You're likely to hear something spectacular at Harvelle's, whether you favor the avant-garde sounds of contemporary rock players or more classic riffs from some of the best blues musicians of today's era.
Tip: To secure a spot close to the dance floor and bandstand, arrive early because they sell out quickly.
The fact that Bootsy Bellows is only open on Tuesday, Friday, and Saturday nights contributes to its status as a must-see Sunset Strip attraction, as does the frequent attendance of celebrities like Justin Bieber, Chris Brown, and many of co-owner David Arquette's friends.
And why not when the venue hosts burlesque acts, DJ sets, live music, puppet shows, and so on. Getting into the special "friends and family" VIP backroom allows more room for revelry, but the space evokes a whacked-out 1960s vibe and fills up quickly. There is also the opportunity to take a selfie with a celebrity.
There will be many celebrity sightings because David Arquette co-owns this bizarre tribute to his mother, whose burlesque performance was known as Bootsy Bellows.
In all sincere ways, Bootsy Bellows Los Angeles has preserved the myth of nightclubbing. Bootsy Bellows knows the formula for true pleasure. Every night, Bootsy Bellows prepares ecstasy with all the components required for enjoyment.
This restaurant offers an atmosphere that brings out your true sense of fun, thus fake fun is not permitted here.
Tip: Go on a Tuesday night when there won't be as many people around as on the weekends, or invest in bottle service to guarantee your area.
Things to Consider While Visiting Los Angeles Clubs
When planning a night out at one of Los Angeles' many clubs, there are a few things to keep in mind:
Make sure to read reviews — First and foremost, it is important to research the club you plan to attend. Make sure to read reviews and check out the venue's website to get a better understanding of the atmosphere and the type of music they play.
Get to Know the Policies of LA Clubs — It is essential to be aware of the venue's policies. Knowing what is allowed and what is not allowed is key to having a successful event.
Venue's Capacity — It is important to be aware of the venue's capacity and to ensure that the number of attendees does not exceed it.
Noise Levels — It is also important to be aware of the venue's noise levels, as this can have a significant impact on the success of the event. If the noise levels are too high, it can be difficult for attendees to hear and understand the speakers, or to even have conversations with each other.
Dress Code for Both Men and Women — It is important to be aware of the dress code for the venue. Knowing what is appropriate to wear can help you feel more comfortable and confident when you enter the space. Men and women must adhere to a dress code in most nightclubs, but these guidelines are typically consistent across all venues. Generally speaking, your chances of getting in increase with how well you are dressed. A collared button-up shirt, decent dress pants or jeans, and leather shoes are always safe picks for men. Although it's not always essential, some guys choose to wear suits. For women, there is less of a rigorous clothing code. Dresses and attractive tops with trendy jeans are frequently appropriate.
How to Tip — Tipping is essential to the success of LA nightlife. It is customary to tip your doorman, bartender, and server, especially if you are having table service.
Recommended Read: The BEST Snorkeling in Laguna Beach
Getting into the Club: There are four ways to get into the Los Angeles Clubs:
General Entry — This is the most basic yet riskiest way to enter a nightclub. If you are of age and adhere to the dress code, you may have to wait in line, but you will usually get in ultimately. You can avoid lineups by showing up close to opening time or later in the day after the early rush. Additionally, you'll be required to pay cover, which can cost anywhere from $20 to $100 based on the club.
Buying Tickets in Advance — Tickets may also be bought in advance. These tickets might allow you to enter the venue more quickly, but they won't guarantee you a seat because seating for non-VIPs or those without table service is scarce. Based on the club, advanced tickets sometimes come with extra benefits, and they're frequently a wise option at the busiest travel times of the year.
VIP Table Reservations — Reserve table service for the finest VIP experience. This will ensure that you have a seat and grant you hosted admission through the short queue. Request for reservations is high, and it frequently comes down to who you know. A VIP host who works for the club could be able to get you into the club swiftly and perhaps drive you there in a limo for a fee if you connect with them.
Infamous Guest List — The majority of clubs don't want to advertise the fact that they have guest lists, but many of them do have, and organizations may typically access them (especially groups of women). If they're on the guest list, women frequently pay free cover or a drastically reduced cover fee, while males typically pay around one-third to one-half of the regular cover charge.
How Do We Pick Our Recommendations
There are a lot of factors that go into choosing the best Los Angeles clubs for our recommendations. By visiting the clubs personally, we take into account things like the club's location, the type of music they play, the crowd they attract, and more. We also look at how the club is run, what the staff is like, and what kind of drinks they serve. All of these factors come into play when we are trying to decide if a club is right for us.
LA Clubs to Have Once in a Life Time Experience - FAQs
What is the appropriate tipping amount?
The standard tip is $1 per drink, but if you want to demonstrate your gratitude give your server a 20% tip, the same as you would at a restaurant.
Can we bring Marijuana since it's legal now?
No. All LA clubs have a zero-tolerance policy on marijuana possession and take it extremely seriously.
Can l rent a club in Los Angeles for different events?
Yes, you may rent clubs in Los Angeles. Each club has its own rules and regulations for renting clubs.