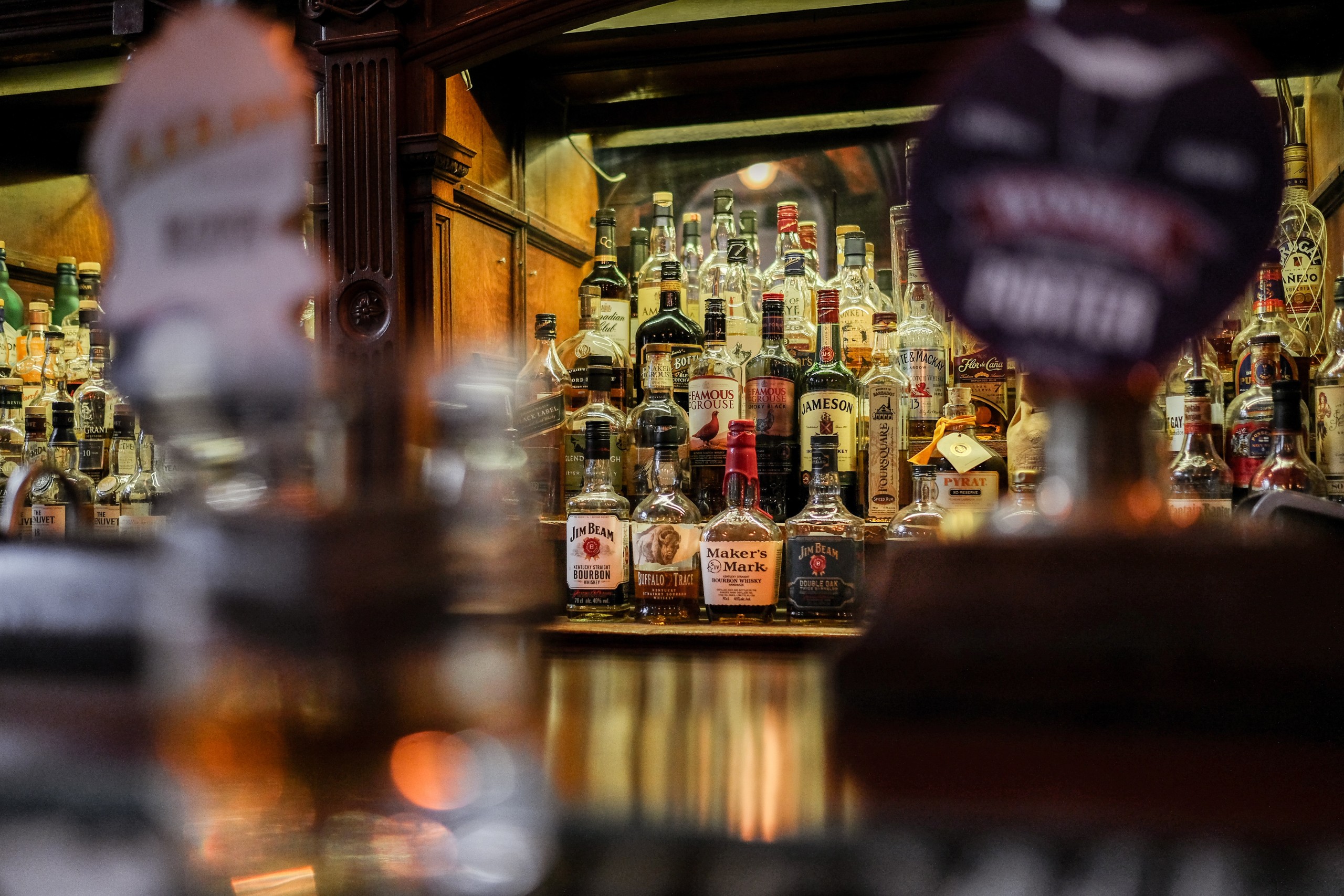 If you plan to go on a pleasant and happening vacation that includes not only beaches but also some culture and historic scenes, then Laguna Beach in Orange County is your place. Laguna Beach offers ideal vacation vibes with mesmerizing beaches and lively nightlife. In this article, we will tell you about the best bars in Laguna Beach and their specialties. Also, check out the best bars in Anaheim, Santa Ana, and Norfolk VA!
What is Laguna Beach, CA like?
Laguna Beach is very popular in the States for its beautiful beaches and picturesque views. The city is also known for having some of the best photoshoot spots in the country. Its bohemian-chic culture and friendly people make it one of the top-visited US cities.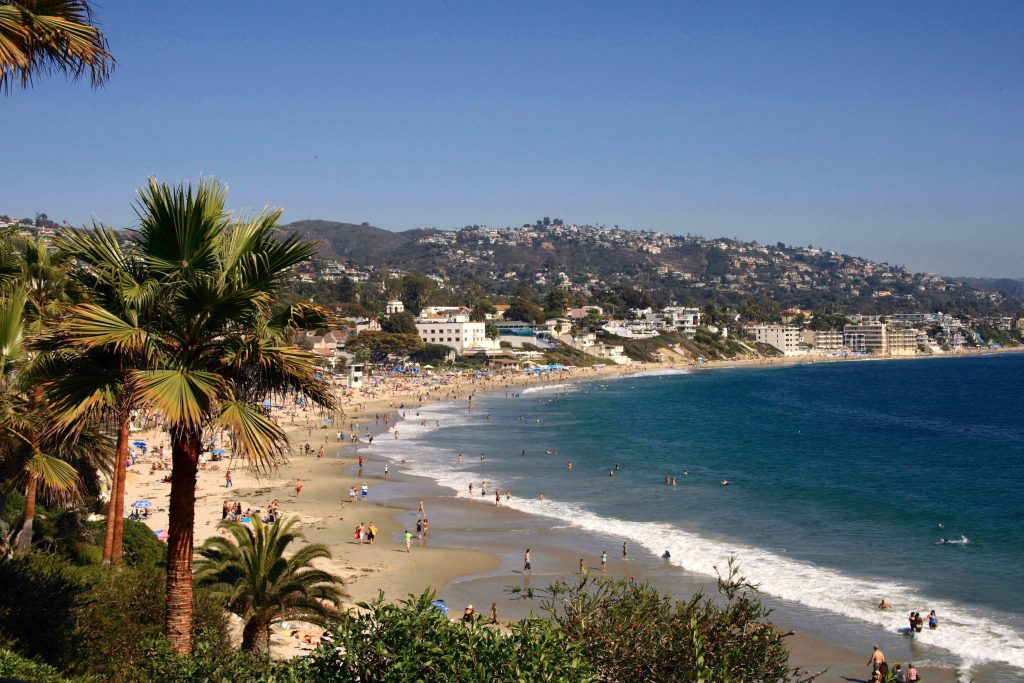 Beaches are not the only major attraction of Laguna Beach in Orange County. Some fantastic bars in the city make it a perfect vacation spot. Laguna Beach is the apt choice for you if you want a place with trails, beaches, and happening night scenes.
Best Bars in Laguna Beach
Laguna Beach seems to be a very happening place with various beaches, trails, hiking activities, and nightclubs. You may get confused while looking for the best pubs in the city and go to the ones that are not that good. So, to save you from the hassle of searching for the bars while you are on a vacation that is supposed to be enjoyable, we have gathered all the relevant information regarding the best bars in laguna beach.
Rooftop Lounge
Do you want to speculate the city from the sky? Are you in search of a bar that is not only lively but also has delicious Mediterranean food? If so, then the Rooftop Lounge is the place you should go to.
You can visit the Rooftop Lounge any day between 11 am to 9 pm. But, on weekends, it's open for an extra hour. Located on the roof of the La Casa Del Camino hotel, this bar is ideal for experiencing a beautiful sunset. You can order their signature fresh berries mojitos or can also go for some champagne while praising the spectacular ocean view and sunset. There is a wide range of food, from light snacks to proper main course dinners; you can enjoy the best local Californian food.
Some things that you should keep in mind before visiting the Rooftop Lounge is that they are super friendly about pets. So if you are traveling with your pet, there is no need to worry as you can take them along with you. Secondly, it can get a bit cold after sunset as it's open-air and you might feel chilly. So make sure to keep a cardigan or shawl with you.
If you are all about an upbeat environment, pretty skies, and aesthetic views, then this is a must-visit place for you. You can take your travel buddies with you and can have a drink or two at the bar while admiring the beauty nature holds.
The address of the Rooftop Lounge is 1289 South Coast Highway, Laguna Beach, 92651.
Saloon
The Saloon is a tiny yet fun place where you can enjoy and also meet locals. It is a small bar with only standing options available, making it a perfect local bar experience for you in Laguna Beach, CA.
While visiting Laguna Beach, there will be some days when you want to waste away and go to a bar with a warm and convivial feel. The Saloon is the place you should opt for. In spite of being a tiny stand-off bar, the area is very famous among the locals as well as tourists because of its cozy vibe and excellent drinks.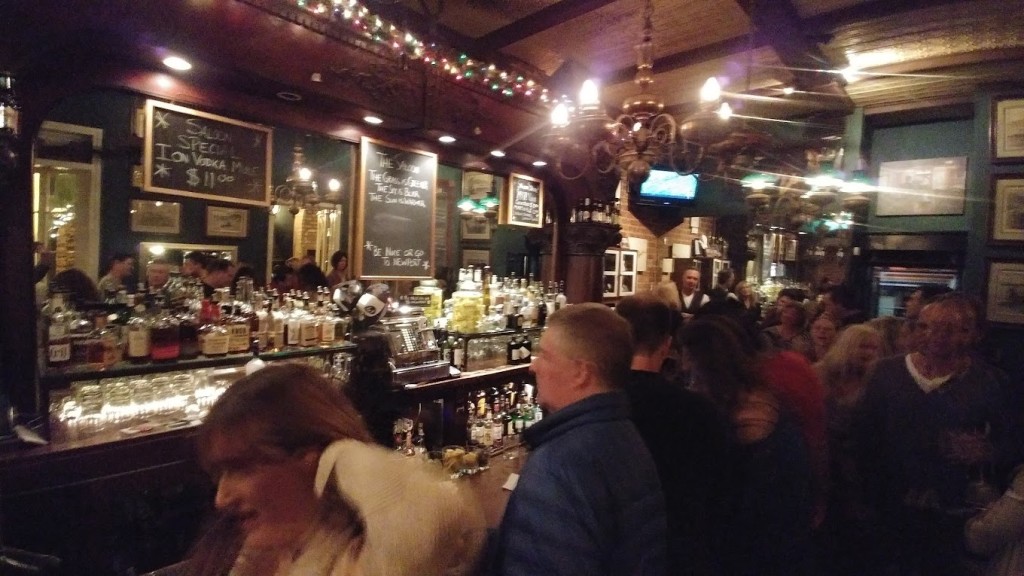 You can order their specialties or can also go with the traditional cocktails. After having a heavy dinner at a posh restaurant, the Saloon is the perfect place to grab drinks and enjoy the night. With its easy-going vibe and no stools, just some chairs in the corner, it can help you dance away all your worries.
You can find this cute and warm place at 446 S Coast Hwy Laguna Beach, CA 92651, between 2 pm till 2 am.
Skyloft
This is a vegetarian bar in the area that is kid-friendly and serves fantastic food and drinks. Skyloft is among the best bars in Laguna Beach and a few places that serve vegetarian food and fabulous wine.
The place offers breakfast, brunch, and a bar. It provides two options for having the food, you can either go to their main floor and have your food or can also opt for the rooftop bar that is only available for walk-ins. No prior reservations are accepted for the rooftop, so it is all about first come, first serve.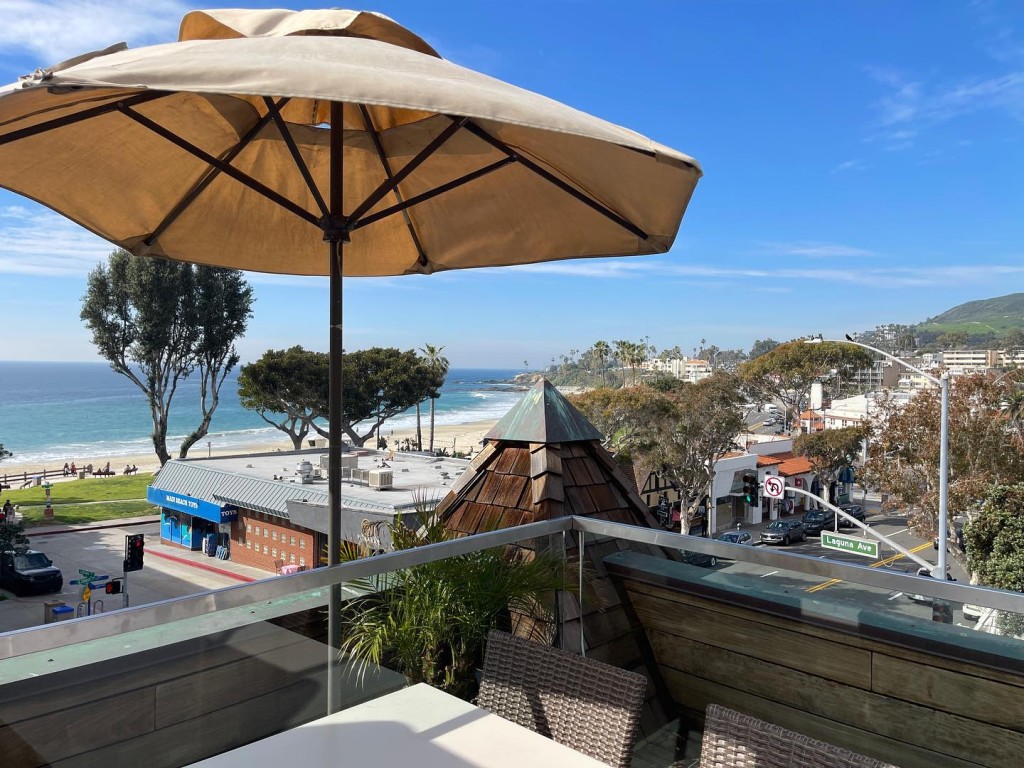 Since Skyloft is a place that takes care of people with allergies and vegetarian concerns, you will find various salads, briskets, ribs, steaks, and seafood. You can also enjoy their delicious pasta and sandwiches if you are tired of eating the same briskets and ribs.
Regarding drinks, they have a wide range of hand-crafted cocktails, wines, and traditional beers. You may watch the spectacular view and enjoy your drink. There is also live music on certain days of the week so that you can dance and make the fullest of your vacations.
The picturesque view and incredible drinks can be found at 422 S Coast Hwy Laguna Beach, CA 92651 from 11 am till 10 pm, but it's open till 1:30 am on the weekends.
Wine Gallery
Wine Gallery is one of those places that will make you feel the most comfortable and offers the best wines in the city. It is among the oldest and best wine bars in Laguna Beach and is a very unique yet cozy place in town where you can have fantastic food and impeccable wine.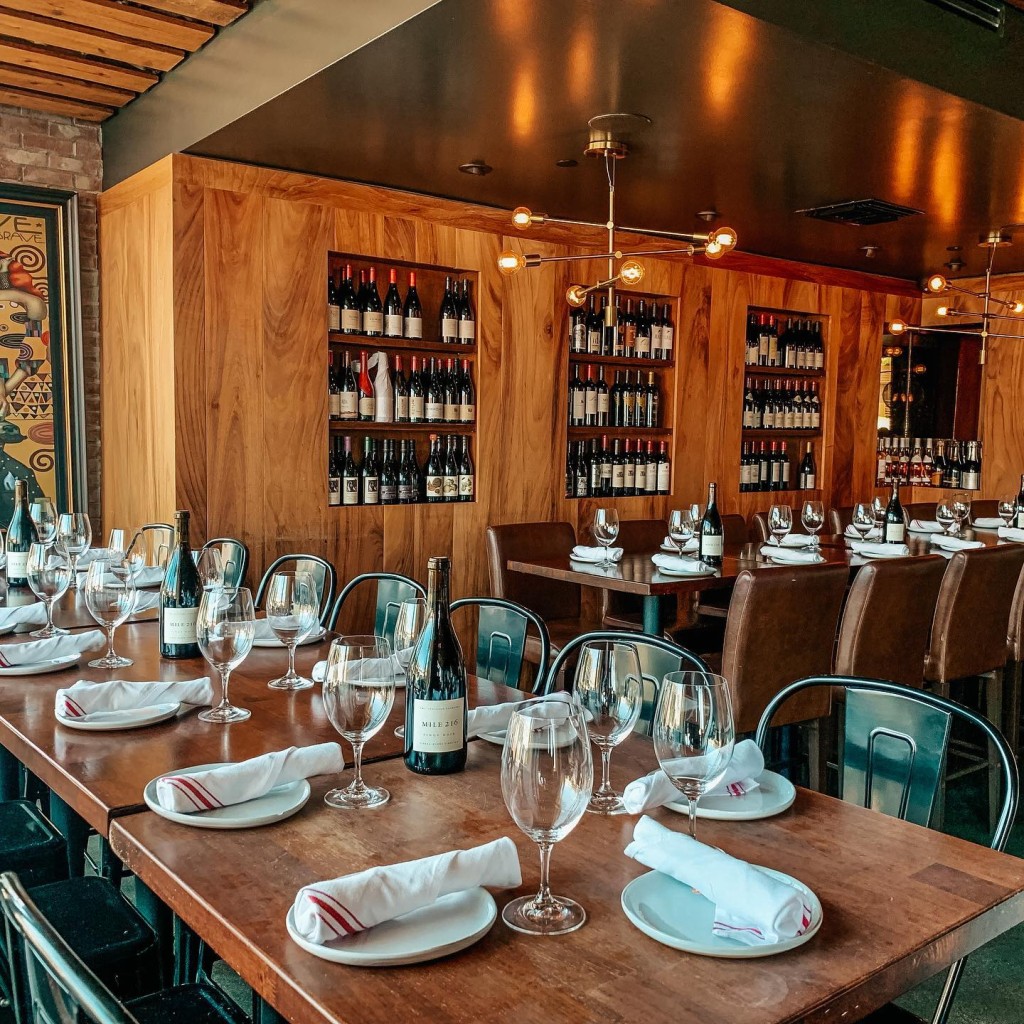 The place is based upon a retail shop selling outstanding wine established in the late 90s, which was later inspired to transform into a completely functional restaurant and bar. Mile 216 is their line of authentic and fantastic wine, but other options are also available there, including over twenty-five different kinds of wine. The environment is very friendly with waiters greeting you amazingly and fast services.
Everything they serve is centered on a wood-fired oven, ranging from light appetizers to excellent pizzas to charcuterie platters, big steaks, and seafood. You can enjoy your time by listening to the live music performed several times every week. If you want to taste some wine, this is also the perfect place as special wine meals and sampling are held consistently. It is also ideal for professional conferences, client lunches, and personal gatherings.
Also, the best part about this place is that they offer indoor dining and an outdoor patio. So, it is up to you. You can enjoy your drinks and food In the open air, or you can have it the inside are. So, when you are in Laguna Beach, you should visit this place for a glass of authentic wine and a food experience.
It is situated at 1833 S Coast Hwy Ste 110 Laguna Beach, CA 92651. just don't go there on Monday as it is closed on that day, apart from that you can visit it any day between 4:30 pm till 9 pm.
The Anchor Line Bar
Vacations are pretty dull when you don't dance in a bar and have some drinks. Suppose you are feeling like just dancing and want to waste yourself while jigging in a pub and having loads of beer. Then we have got you covered. The Anchor Line Bar is one of the best dancing bars in Laguna Beach.
This historic place offers various kinds of drinks, loud music, and an upbeat vibe. The area's interior is sophisticated yet fun, and the bartenders are very friendly with the customers. You can have an entertaining night in the pub, having drinks and dancing.
And you know the best part about The Anchor Line Bar? They have karaoke on Thursdays every week. Isn't it great? If you want to do something exciting on your visit to Laguna Beach, then you should go to the bar on Thursday to enjoy the fun karaoke. It is said to be among the most fun and favorite things in Laguna Beach.
The bar also hosts a drag show on Wednesdays and a cabaret on Fridays every week. You can have fun whenever you visit this place as it's always very lively and happening. Some days there is karaoke or DJ and dancing. Other days, there is a drag show or cabaret. On Sunday, there is music, and you can enjoy it with your buddies.
Their bar menu includes a variety influenced by typical purity and taste, in addition to superb local beer and well-picked wines. The beverages are based on traditional cocktails and use fresh ingredients and innovative flavors. When you visit, they will have something new, intriguing, and tasty on the menu. You can have any drink, which will be a ten on ten.
This dancing bar is located at 1460 S Coast Hwy Laguna Beach, CA 92651, and is open every day apart from Monday and Tuesday.
Also Read: Top 22 Laguna Beach Wedding Venues
Legacy Nightclub and Lounge
Are you on the hunt for a place where music is so loud that you could feel it in your heart? Do you want to waste yourself in a nightclub? The Legacy Nightclub and Lounge is a place that will cater to all your dancing and drinking needs.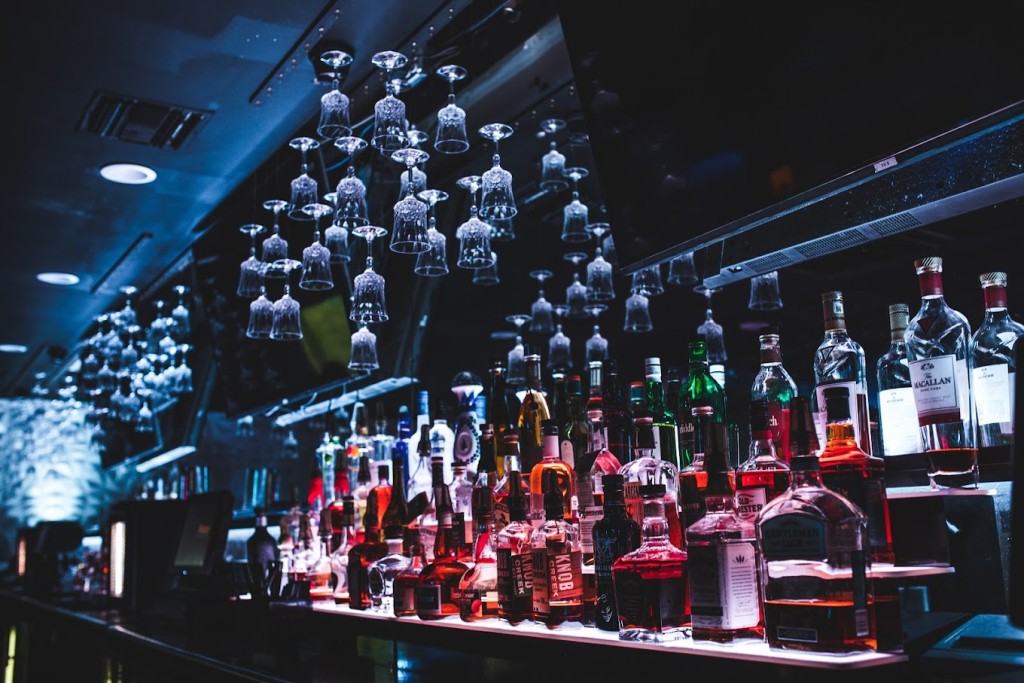 This club is said to be among the most fun and best bars in Laguna Beach. You can visit this place on your last night in the city to celebrate your fantastic vacation or host a celebratory party there. With loud music of every genre, superb sound quality, and excellent ambiance, this club is the perfect depiction of a nightclub. Their freshly renovated facility has cutting-edge audio and visual equipment for the wonderful music and dance partying acoustics.
Legacy Nightclub strives to shatter the pattern of the usual bar by emphasizing atmosphere, vibe, and overall client pleasure. They include some of the most significant regional and national performers, leading industry developers, and mind-boggling audio and visual development to take your nightclub and dance club game to the next level. If you're seeking the top nightclub locations in California, visit the Legacy Nightclub.
No matter where you are from, you are always welcome in the club to party. It is located at 4647 MacArthur Blvd Newport Beach, CA 92660. You can party there on Tuesdays, Fridays, and Saturdays.
Driftwood Kitchen
Driftwood Kitchen and Stateroom Bar is an award-winning beachfront eatery in Orange County, that reflects the welcome attitude of Laguna Beach, accessible, unique, and difficult to leave. This place offers breathtaking views of the ocean and an impeccable bar.
It is among Laguna Beach's best waterfront eateries. It offers an ocean-to-table food experience with the tastiest and best seafood, steaks, and oysters, as well as handmade drinks and stunning scenery of the glittering Pacific. This Laguna Beach dining option delivers imaginative yet simple California food and greatly emphasizes on quality ingredients and the sea just outside the door.
You can visit the Driftwood Kitchen for a fancy dinner following a round of authentic drinks. Because of its fame, it's usually jam-packed. so, you should make a reservation before going. Its located at 619 Sleepy Hollow Ln Laguna Beach, CA 92651. Its timing varies so make sure to make a call at (949) 715-7700 and confirm.
Bianchi Tasting Room
Bianchi Tasting room is a place that solely sells wine in Laguna Beach. It has a fabulous wine tasting room that will keep you in awe.
The place is decorated beautifully and will make you feel enticed yet comfortable. There is all kind of wine that are charged accordingly. This place is a must-visit if you are new to the wine scene. It will make you feel at home and give you a good tour of the wine tasting room where you can check the wine of every kind.
Their tasting room offers splendid ocean views and premium quality wines. The wine they produce has won awards, and you will be tempted to taste them. For an authentic wine tour and winery experience, we highly recommend you visit this place and let your taste buds enjoy the actual wine.
You can spend some hours of your day at Wine Gallery. It is located at 496 N Coast Highway, Laguna Beach, CA 92651. It is closed on Tuesdays but opens for the rest of the week. You can visit it in the afternoon or evening.
The Sandpiper Lounge
This place is a perfect hangout place for friends' meetups. Having great drinks and an entertaining atmosphere, this is certainly one of the most fun bars in laguna beach.
If you have gamer buddies then this pub is an ideal match for you as it features many video games. You can also play some darts while enjoying energetic live performances and drinks. You will be treated right;y by the amiable bartenders and staff. It is great for dancing with musical performances.
You can go to 1183 S Coast Hwy Laguna Beach, CA 92651 every day between 2 pm till 2 am. But if you want to experience the most of it then you should go to it on Thursday, Friday or Saturday.
Editor's Pick: 15 Best French Restaurants in Laguna Beach
The Deck On Laguna Beach
The Deck On Laguna Beach is a place with a view. To experience a gorgeous sunset, you should visit this place on your trip to Laguna Beach, CA.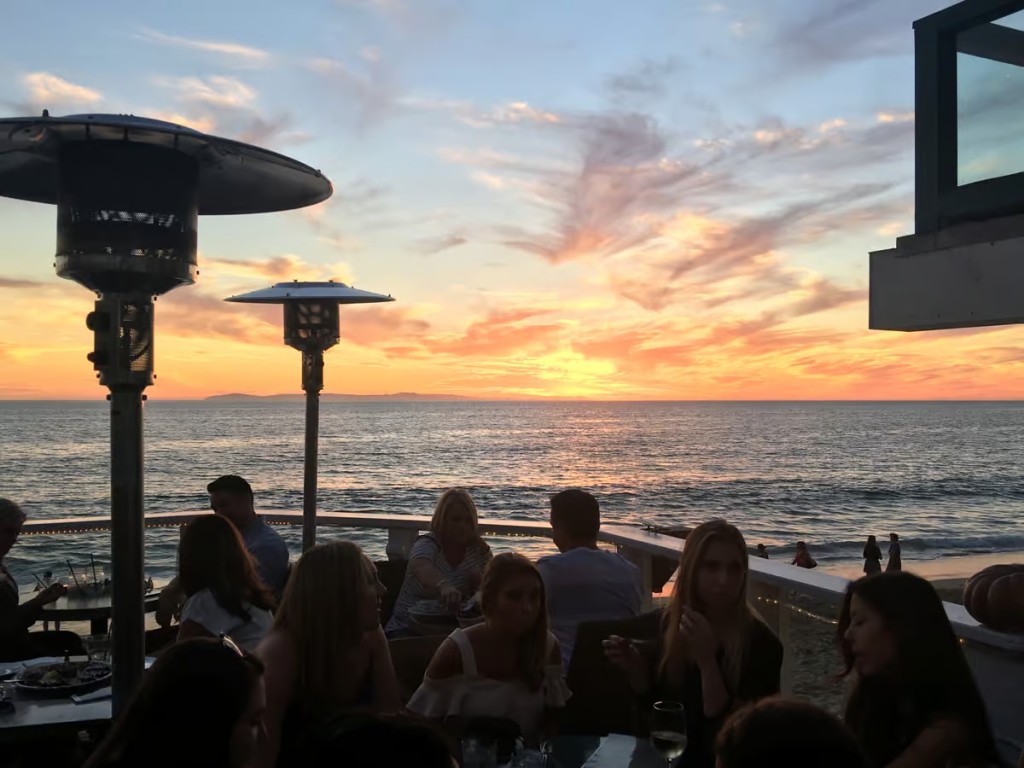 It's not very noisy or loud, just the perfect amount of noise. It is kids-friendly but you cannot take your pets with you due to limited room. The place has beautiful outdoor seating and valet parking options available so you don't need to worry about car parking. Its vibe is very casual yet classy, The waiters will greet you in the sweetest and kindest way possible.
Also, it is vegan. Apart from seafood, the bar also offers many vegan options. You will have some of the most creative and delicious cocktails there. It's a full bar with amazing drinks and music.
The Deck On Laguna Beach is located at 627 Sleepy Hollow Ln Laguna Beach, CA 92651. It is open daily for lunch, dinner, and drinks. You can visit it on Sunday-Thursday 11 am – 8 pm and on Friday-Saturday 11 am – 9 pm.
Rum Social Kitchen & Cocktails
If you are looking for a gorgeous place to take your date out, then this is the perfect place in Laguna Beach. Having a serene atmosphere, classy vibe, delicious food, and most importantly creative and unique drinks, Rum Social Kitchen & Cocktails is a new eatery in the city.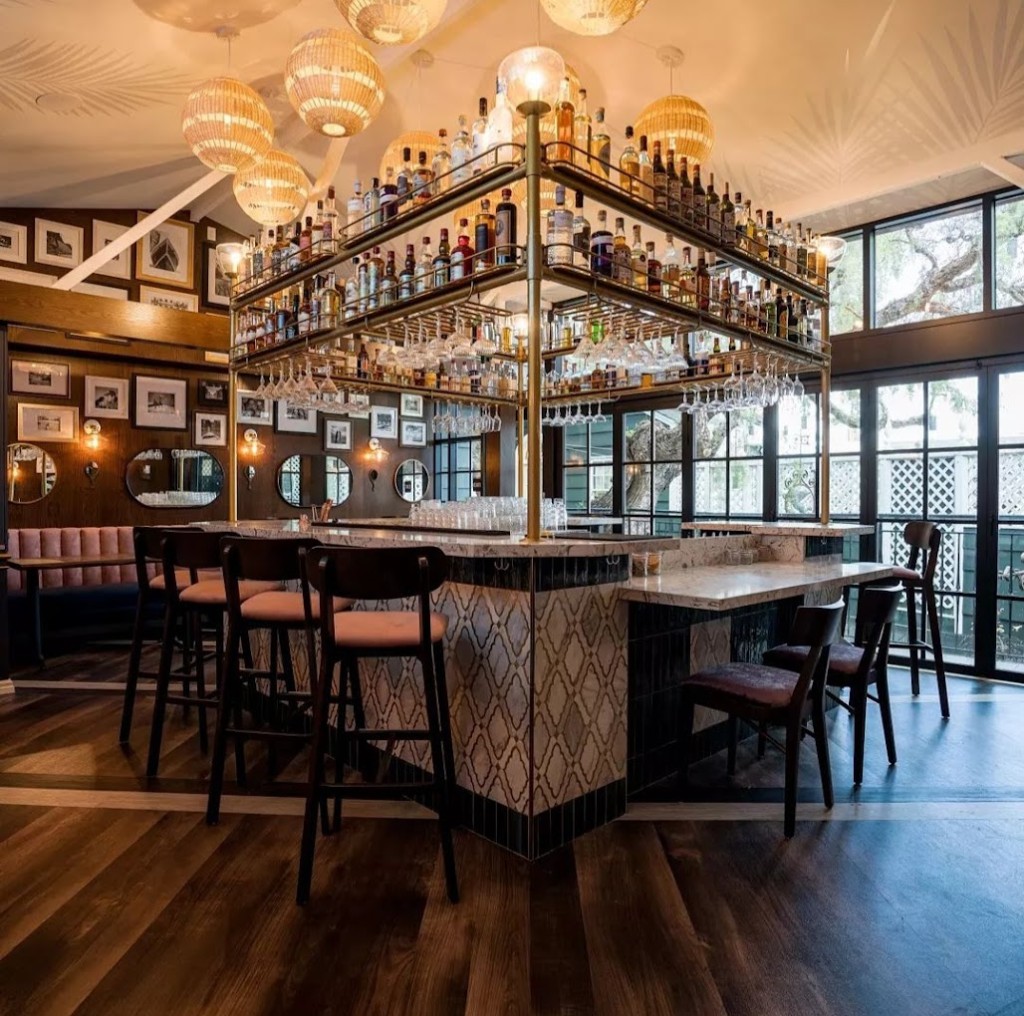 Their seating area is very pretty. when visiting the, you should be taking seats on the upper floor as it has more picturesque views. It has an intimate vibe. You can order the food you like or can also take the chef's advice, and trust me it will be worth it. Yes, the place is a little high-end and expensive too, but considering the service and food, it deserves it all.
The beach is directly across the street so you can have drinks and head up to the beach or can come straight from the beach. The place is inspired by Ruma and Hemingway with Caribbean and Asian concepts. The drinks are top-notch and the food is one of the best you will have in the city.
You can have a wonderful high-end experience at this place which is situated on the popular Pepperlane. Its address is 448 S Coast Hwy Laguna Beach, CA 92651. From Sunday to Thursday, its timings are 11 am till 10 pm and on other days it's open till 12 am.
South of Nick's
If you want to taste the best Mexican food in the city, there is no a better choice than the South of Nick's. Nick's is committed to enhancing the food experience via innovative products and services. They provide the best available cuisine and drinks and uphold immaculate service norms.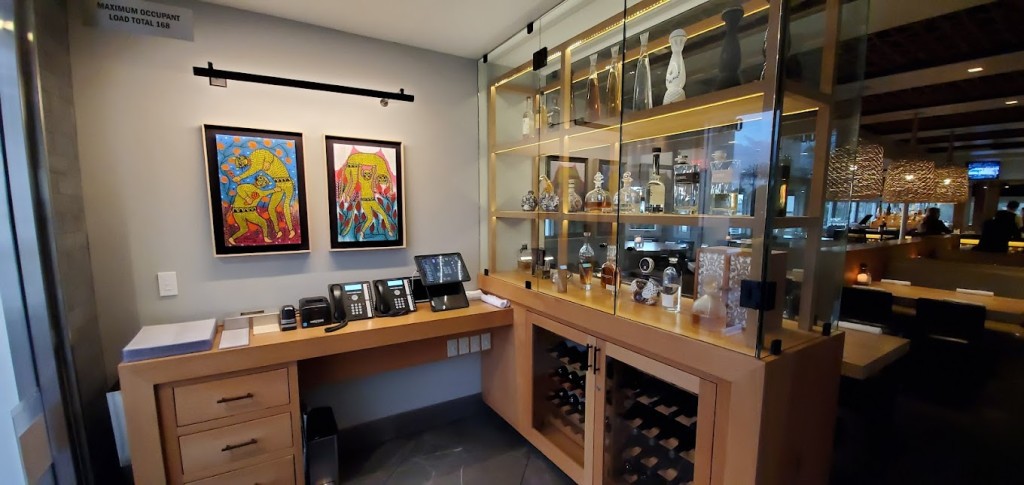 The place is situated facing the beach so you can have drinks and can also enjoy the view. The food is great, ranging from every kind of Mexican cuisine and drink. The ambiance is very amiable with friendly staff that will make you feel at home. Everything about this place is just amazing. Just go there for the best drinks and amazing Mexican food.
It is located at 540 S Coast Hwy Laguna Beach, CA 92651 and is open from 11 am till 10 pm. Only on Fridays and Saturdays, it is open for an extra hour. they also have the best night on Saturdays. You can also take kids and don't worry about parking as valet parking is available.
Takeaways
So, on your trip to Laguna Beach, CA, you can spend quality time there by exploring the best bars mentioned above. Partying and having every kind of drink is the main essence of a vacation. And in Laguna Beach, you will be making the most of it.