It's fascinating to see many successful female restaurant owners and chefs working in the United States today. Female entrepreneurs are particularly well represented in the food service industry in New York City, but there are still numerous hospitality sector areas where women are invisible or go unnoticed. While this may be the case elsewhere, in New York City, many top restaurants are run by women.
People throughout the city rally behind women in leadership roles as the world prepares to step back out there. Women-owned eateries in New York City are consistently ranked among the city's local media outlets. After visiting the best brunch spots in Brooklyn, we headed on to explore some of the finest women-led restaurants in NYC.
Our Recommended Women-Led Restaurants in New York
If you're looking for a great place for dinner in NYC, go no further than the list of recommendations below, all of which are owned and operated by women.
Founded by Samantha Safer, Otway is a favorite among local women for its all-female culinary staff, which prepares delicious Mediterranean food. You can find the warm and pleasant Otway Restaurant at 930 Fulton St., Brooklyn.
One of the restaurant's specialties is dorade with crispy skin in a lobster-based sauce, and the cheese platter served at the end of the meal is not to be missed either.
The restaurant's chef, Courtney Ross, is responsible for its well-received contemporary American cuisine. Its menu includes a variety of à la carte options such as roasted chicken Caesar salad, Beef cheek flatbread with charred onion tahini sauce.
Our recommendation is a few of their classic dishes, including sea scallops with miso-glazed Brussels sprouts, Duck confit ravioli with braised short rib, and a rack of lamb with figs and balsamic vinegar.
There are several sweet items offered here too such as the bourbon doughnut with caramel dipping sauce which is a signature treat at Otway's. You can also try out chocolate hazelnut pastry, in addition to the local beer and wine and specialty cocktails.
The interior of Otway is ultra-modern, with white marble floors and exposed brick walls. Since space is limited, reservations are highly suggested. Prices begin at $25, making it a mid-range restaurant for women.
It is best to go for lunch on weekdays between 11:30 am and 2:00 pm to avoid the long waitlist and for dinner between 5 pm and 10 pm to take advantage of the relaxing and serene ambiance while dining with friends or coworkers.
Otway is a beautiful venue for parties of all kinds due to its warm and inviting atmosphere. The staff is kind and helpful, and they go above and beyond to ensure each customer has a good day. If you want a meal that truly represents the diversity of New York City's culture from a women-led restaurant, you should head over to OTWAY.
Sruthi Chowdary established a chain of Khiladi restaurants in New York City, and no matter where you go, you're sure to find one that fits the bill. This restaurant is located at 175 Avenue B. It serves a contemporary take on South Indian cuisine that emphasizes using fresh, local ingredients and welcomes patrons of all backgrounds. Naan bread, tandoori chicken, pulao rice, and biryani are just a few of the well-known options.
The restaurant is stylish and contemporary, with windows to the ceiling. Numerous black and white portraits of well-known Indian personalities decorate the walls. Tandoori chicken, Samosas, naan bread, and lamb chops are just a few items on the menu.
We recommend trying aloo gobi masala, Masala dosa, uttapam (a savory pancake), idli vada (a lentil dumpling), Pappu (a doughnut), and Rava vada which are just a few of the vegetarian options on the menu (a type of savory lentil doughnut).Many kinds of tea, including chai, masala chai, and fruit tea, are available to drink at this restaurant. Its standard practice is to provide guests warm hospitality and a relaxing setting.
The restaurant includes outdoor and indoor dining accessible for those using wheelchairs. It serves lunch from Wednesday through Saturday and brunch from 11 am to 3 pm on Sundays. They may ask you to make a reservation due to a lack of available seats.
One thing we really appreciate about this women-led restaurant in NYC is the owner Sruthi Chowdary who is very sweet and helpful towards the customers. She takes the complaints of the customers seriously and addresses their issues.
If you're in the mood for a meal that's a bit different from what you'd have at a chain restaurant, Khiladi Restaurant is the place to go. Almost everything costs less than $15 per person, which is a steal. You may have a wonderful time at Khiladi, whether you're there for a casual breakfast with your pals or a formal dinner with your family.
Suggested Reading: 10 Round-The-Clock Things You Should Do On Your Trip To SoHo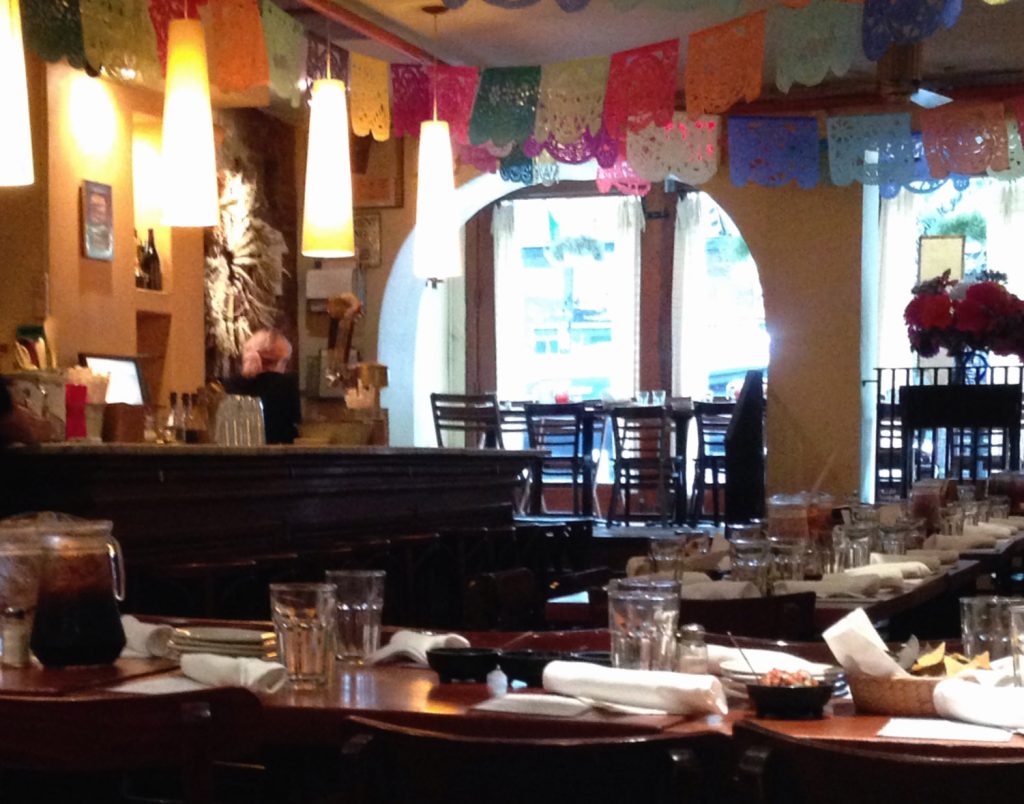 The owner and chief chef, Barbara Sibley, was born in Mexico City and has spent her life collecting recipes for traditional Mexican dishes. The Mexican fare at this East Harlem eatery is famous for its unique takes on classic dishes. Here at La Palapa, they offer a wide variety of organic wines from around the world and our vegetarian, vegan, and gluten-free menu options.
Beautifully landscaped gardens provide a tranquil setting for a drink or meal at this restaurant. You'll find traditional Mexican food, including tamales, chimichangas, enchiladas, tacos, guacamole, and burritos. We strongly recommend you to have some of their enchiladas, as they are one of their signature dishes and are made to an exceptional level. The restaurant's knowledgeable staff and extensive wine list complement the outstanding Mexican food at La Palapa.
Located in the heart of Midtown, this restaurant stands out thanks to its unique decor of white walls, lanterns, and wood flooring. The restaurant is open for lunch and dinner from 11:00 a.m. to 10:00 p.m., Monday through Saturday, and from 11:00 a.m. to 9:00 p.m.
We highly recommend La Palapa since they use only the freshest, most flavorful local ingredients in their recipes. The employees at La Palapa are well-known for their warm hospitality. Prices for entrees begin at $14, which is relatively cheap. La Palapa is perfect for a date or a night out with friends. Since the restaurant is small and cozy, it is ideal for romantic dates or gatherings making it one of the best women-led restaurants in NYC.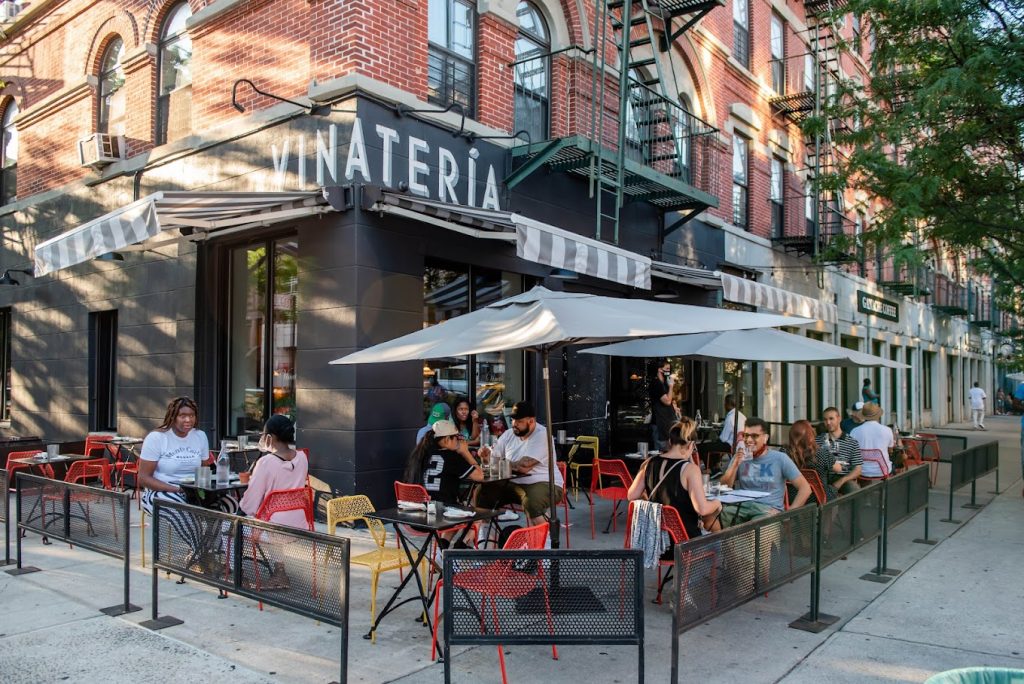 Yvette Leeper-Bueno, a native of Harlem, and her husband opened a restaurant at 2211 Frederick Douglass Blvd. to promote other women business owners by highlighting local, artisanal makers of liquor and wine. This restaurant serves innovative Mediterranean cuisine and is owned and operated by women. Among the delicacies are roasted octopus with squid ink paella rice and squid ink paella rice.
The restaurant is open for lunch and supper every day, and its menu features items from both Spanish and American cooking styles. The restaurant, with its classic decor and Spanish touches, is a blast from the past. After a filling dinner, guests can enjoy themselves in the bar.
We recommend trying Paella, gambas al ajillo (garlic shrimp), and morcilla which are some Spanish-inspired dishes you can find there. At the same time, American cuisine includes dishes like steak tips, burgers, and chicken fingers. Vinateria sources its ingredients mainly from local farms and producers. Wines from Spain and the rest of the Mediterranean are available to complement the dishes on the menu.
Vinateria's interior is stylish and modern, with wood flooring and exposed brick walls that create a warm and inviting atmosphere for diners. Up to 40 people can be seated in the restaurant's dining area. The eatery is open from 11 am to 10 pm on weekdays and from 12 pm to 9 pm on weekends.
The price of a dinner for two begins at $30. If you want to meet up with friends, have a casual meal, or have a romantic evening with someone special, a vinateria is the perfect spot.
Hotel Recommendations: These Are The 8 Best Hotels With Exotic Pools In NYC
New York City's Sylvia's Restaurant is a female-run business that offers a creative spin on traditional Mediterranean cuisine. This popular restaurant on Malcolm X Boulevard, 328, is recognized for its wine selection, tapas menu, and weekend live music.
Sylvia's Restaurant provides tasty, nutritious food at a reasonable price. On the menu, you'll find dishes like braised lamb shank with preserved lemon and Israeli couscous, roasted beet salad with goat cheese sauce, and black garlic shrimp with fried rice and pickled cucumbers. Raised beef, Matzoh ball soup, and pickled ramps are just a few of the foods we recommend.
It has a dedicated staff that works hard to make every one of its customers' meals memorable. This restaurant is great for enjoying a fabulous dinner every season because it has indoor and outdoor seating, and its wine list features wines from across the Mediterranean.
Live music events occur every week, and they are enjoyed by visitors who love to dine while grooving along to vibrant tunes and feasting on toothsome Mediterranean cuisine.
Elevation Partners, based in Brooklyn, designed the restaurant's interior to evoke a sense of comfort and familiarity with its use of rich hues and pronounced patterns. Linens and antiques from bygone eras adorn the walls, creating a homey and welcoming ambiance. The restaurant's brick walls and crystal chandeliers provide a cozy, intimate setting.
The restaurant is open for lunch and dinner daily from 11 a.m. to 10 p.m. (Monday to Saturday) and from 11 a.m. to 9 p.m. (Sunday to Thursday), and reservations are strongly recommended, especially on Sunday. You can make a reservation by contacting the restaurant or visiting their website.
Average dinner prices at Sylvia's range from $12 to $24, though some dishes may cost more. The restaurant caters to a wide range of customers and features monthly specialties, including a children's menu and a vegetarian option in addition to its regular fare.
Related: 7 Incredible Things You Can Do In Beacon, NY
New York City's Baoburg, run entirely by female management, has earned acclaim for its avant-garde dishes and wide wine selection. The restaurant's contemporary European cuisine and sophisticated atmosphere have won high accolades. In 2014, businesswomen Liz Lawler and Tracey Serrano opened Baoburg at 614 Manhattan Ave.
Baoburg, in contrast to your usual eatery, is an excellent choice for a memorable meal. The atmosphere is calm and homey, perfect for small groups or relaxing get-togethers with close friends. What about the food, by the way? Extraordinary, innovative, and appetizing, perfect for a special dinner!
Dishes like schnitzel with chanterelles and horseradish sauce, roast chicken with preserved lemon and sumac, and braised short rib with polenta, roasted carrot purée, and Parmesan cream are just a few examples of the modern European cuisine served at Baoburg.
We recommend trying their gyoza dumplings, papaya salad, and short rib ramen noodles which are some of the best dishes on the menu. In addition to breakfast, lunch, and dinner, the restaurant is open overnight so you can visit it any time convenient to you.
The restaurant has rustic wooden floors and white walls, creating an elegant and contemporary atmosphere. Huge windows provide a scenic view of the city and add to the cozy ambiance. The wine list features several alternatives, including American, German, and French wines.
Sunday brunch is served at the restaurant from 11 am to 3 pm, with prices ranging from $35 to $55 per person (though most dishes are closer to $30). On Monday through Saturday evenings, dine at this restaurant, which serves a small, regularly changing menu. During peak times, it's an idea to make a reservation. The restaurant features two private dining areas that may seat up to 16 people and a small bar with eight chairs.
Things to Consider Before Going to a Women-led Restaurant in NewYork
Take these into account when making a reservation at a New York City women-led restaurant:
The Unique Experience — One important thing to keep in mind is that most women-led restaurants in New York offer a unique experience to the visitors. Since they are women-led, you can expect some art, creativity, and an intriguing overall experience in the food as well as the ambiance of the restaurant.
Prices — The cost of a meal is typically the primary factor in deciding where to have food. Choosing a restaurant that provides good value for your money should be in your best interest if you're out for lunch or dinner. We suggest you try either Khiladi or La Plaza, which are reasonably priced and serve mouth-watering meals.
Atmosphere and Ambiance — Pay attention to the atmosphere and decor of the restaurant before making your reservation, as this will likely influence how much you enjoy your experience. For example, consider choosing a restaurant with soft lighting and lovely decor if you want a romantic dinner. Ensure the restaurant is not playing any music or isn't crowded. The ambiance will not be calm and peaceful if you go to a populated restaurant.
How We Pick Our Recommendations?
While on vacation, there is a lot to do and places to go, so travelers must have access to tasty, healthy food. In general, we enjoy trying new restaurants and foods as a group. Our research and time spent in New York allowed us to compile a list of the top-tier, female-run eateries in the city. In addition, we have conducted surveys and gathered feedback from other tourists to help us form a complete picture. From this survey, we could determine which options were most widely supported. Next, we also recommend you try out the best Korean restaurants in NYC.
In a Nutshell
Female-owned and operated eateries typically offer more affordable meals and a greater variety of nutritious selections than their male counterparts due to concerns about dietary discrimination. Customers also know that their money is going toward supporting the careers of talented female chefs and company owners rather than into the pockets of corporate executives or investors.
6 best Women-Led Restaurants in New York - FAQs
When in New York, what are some of the best women-led dining options?
Otway, Vinateria, La palapa are some of the best dining options in New York City by women entrepreneurs.
Which is the oldest restaurant in NYC?
Fraunces Tavern is the oldest restaurant in NYC.
What is the oldest bar in NYC?
The Ear Inn, the oldest bar in New York City, looks the same as it did when the first drinks were served.
Which is the best women-led restaurant for Indian cuisine in New york?
Khiladi is the most renowned women-led restaurant serving South Indian cuisine in NYC.