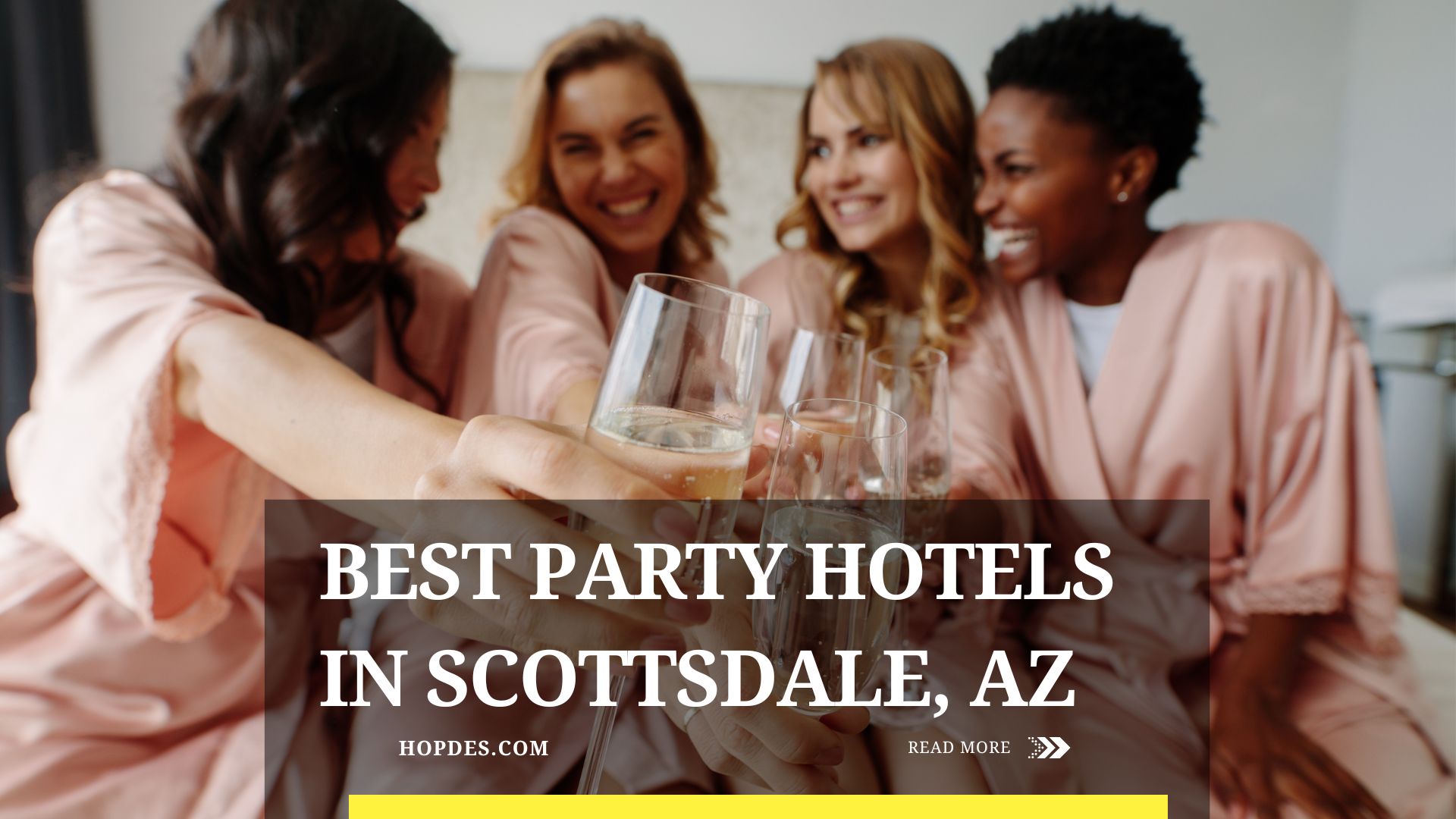 Scottsdale is a lively Arizona city famous for its sunny weather and desert vibes. But what if you're seeking more than just sunshine? That's where the best party hotels step in. If you're craving some nighttime excitement, you'll be delighted to discover that Scottsdale truly knows how to light up the night. With its vibrant and energetic atmosphere, it's the perfect place to dance, relax, and celebrate. Let's dive in and discover these fantastic party hotels!
Suggested Reading: Worst Time to Visit Arizona? hint.. It's the Summer Season
Best Party Hotels in Scottsdale
Everyone has different preferences, taste so their choices also change when finding the best party hotel. We've curated a list of the top 8 party hotels in Scottsdale, catering to diverse preferences such as budget-friendly, luxurious, night parties, and daytime events.
If you're on the hunt for a fantastic place to throw a super fun and unforgettable party, you need to consider Hotel Valley Ho. This awesome hotel is right in downtown Scottsdale, Arizona. It first opened up back in 1956 and had the pleasure of hosting loads of famous folks and visitors over the years. They've taken special care to bring back all the charm while adding in modern comforts that we all love.
Amazing Themes: If you want to have a party that reflects your personality and style, you must choose this hotel. Here, can customize your party by choosing a theme according to your needs and taste:
Retro-chic: Travel back in time and enjoy the hotel's vintage vibe, with fun decorations, retro music, and timeless drinks. The retro-chic design of the hotel and the lively pool scene come together to create an experience that is both nostalgic and contemporary, making it a must-visit for those looking to experience the best of Scottsdale's party culture.
Modern-minimalist: Appreciate the hotel's sleek and elegant look, with chic furniture, relaxing colors, and modern art. Hotel Valley Ho has managed to strike a remarkable balance between a relaxed, easygoing vibe and a festive party atmosphere.
Tropical Oasis: Unwind in a tropical paradise with lush plants, bright flowers, and refreshing drinks. Tropical Oasis at Hotel Valley Ho is a haven of lush greenery, colorful blooms, and the perfect spot to savor refreshing drinks while letting the worries of the world fade away. It's an invitation to unwind, connect with nature, and experience the restorative magic of a tropical paradise in the heart of the desert.
We found certain elements to be truly unique and exceptional at this hotel.
Show Stopper Shake: This was a really cool thing – the Show-Stopper Shake. This Shake looks amazing and tastes super yummy because they use special homemade ingredients stacked up high. Every month, they make a new flavor of the shake based on different fun themes and events. For example, most recently, they had a flavor called "Let's Go Party" which was all about the new Barbie movie. This shake was pink and blue and had whipped cream, sprinkles, candy, and a tiny Barbie doll on top.
OH Pool: The OH Pool is a poolside paradise where guests can relax and have fun. The pool features cabanas, daybeds, lounge chairs, and a bar that serves cool cocktails and light snacks. Live music and DJs liven up the pool every weekend from March to October giving the ultimate clubbing experience. Access to this pool is limited exclusively to individuals who have guestrooms, cabanas, and daybed reservations.
Additional Facilities
The hotel has some fantastic amenities you can enjoy:
Pampering Spa: They've got a really cool spa. You can get massages, facials, and even manicures and pedicures. It's a place to relax and feel good.
Pools for Fun: You won't be bored here because they've got not just one, but two pools! One is energetic and even has a bar by the pool. The other one is when you need to get calm and relax.
Stay Fit: They've got a gym with really modern stuff for working out. You can even get help from personal trainers.
Food with a Twist: If you get hungry, check out their restaurant called ZuZu. They serve American food but with a cool twist. You can have breakfast, lunch, or dinner there.
Extra Perks: They've got free fast internet, a place to park your car with a valet, you can rent bicycles, and they even have rooms where you can bring your pets. So, it's pretty convenient.
Location
The hotel is conveniently located in downtown Scottsdale, just 5 minutes drive from Old Town Scottsdale. The exact address is 6850 E Main St, Scottsdale, AZ 85251, United States. Scottsdale Museum of Contemporary Art is 15 minutes walk from the hotel. Scottsdale Shopping Center is 5 minutes drive from Hotel Valley Ho Scottsdale.
Price
The hotel provides a range of rooms starting from $250 to $699 per night. The hotel offers Signature Guest Room, Pool View Room, Studio Guest Room, Cabana Guest Room, Terrace Suite, and Executive Suite. You can even upgrade to "The Tower" which offers even better and spacious rooms including Tower Suite, Tower Two-Bedroom Suite, and Presidential Loft Suite.
If you want a hotel that has both Southwestern culture and modern comforts, Courtyard by Marriott Scottsdale is a great pick. The hotel stays in the heart of Scottsdale, Arizona, and lets you experience the Southwest's beauty, river fun, and city excitement.
This unique hotel has everything for a memorable party with your friends, family, or colleagues. You can choose from different venues and options according to your preferences and budget. We consider this hotel a fun spot for the following reasons.
Outdoor Pool: The outdoor pool is a fantastic place to have a splashing pool party, especially in the summer. You can soak up the sun, swim in the sparkling water, relax in the hot tub, or lounge in the cabanas. You can also indulge in some refreshing drinks and tasty snacks from the pool bar while admiring the stunning view of the mountains and the city skyline.
Lobby Bar: The lobby bar is a cozy and inviting spot to have a cocktail party in the evening. You can mingle with other guests, or watch some TV. You can also savor some delicious cocktails, beers, and snacks from the menu. The lobby bar also hosts live music and karaoke nights on some occasions, adding to the entertainment value.
Seasonal Events: It also organizes some special events throughout the year to celebrate different occasions and holidays. You can join in the festivities of Halloween parties, Thanksgiving dinners, Christmas celebrations, and New Year's Eve parties. You can also enjoy some themed decorations, food, drinks, and entertainment.
Additional Facilities
Besides being a great party hotel, Courtyard by Marriott Scottsdale also offers many other facilities and services to make your stay comfortable and enjoyable. Some of these are:
Free Wi-Fi, comfy beds, fridges, and microwaves in all rooms and suites.
A coffee shop and restaurant called The Bistro for meals, cocktails, and Starbucks coffee.
Useful stuff like a convenience store, gift shop, laundry, and wake-up service.
A gym with workout machines and weights.
A business center with faxing, copying, and rooms for events.
A shuttle to nearby places like Salt River Fields and Talking Stick Entertainment District.
Free parking and charging for electric cars.
Pet-friendly rooms for furry friends.
Location
The hotel's near Highway 101, a 14-minute walk from Scottsdale Community College and a short drive from Chaparral Park. The exact address is 3311 N Scottsdale Rd, Scottsdale, AZ 85251.
It is close to the Salt River, where you can experience a wealth of adventure such as rafting, kayaking, tubing, fishing, and wildlife viewing. The hotel's about 12 miles from Phoenix Sky Harbor International Airport and 19 miles from Phoenix-Mesa Gateway Airport.
Price
Prices for Courtyard by Marriott Scottsdale vary by season, room type, and availability. Here's the average range:
Standard King Room: $79-$100
King Suite: $110-$150
Related: How to Check Out of a Hotel? – The Complete Guide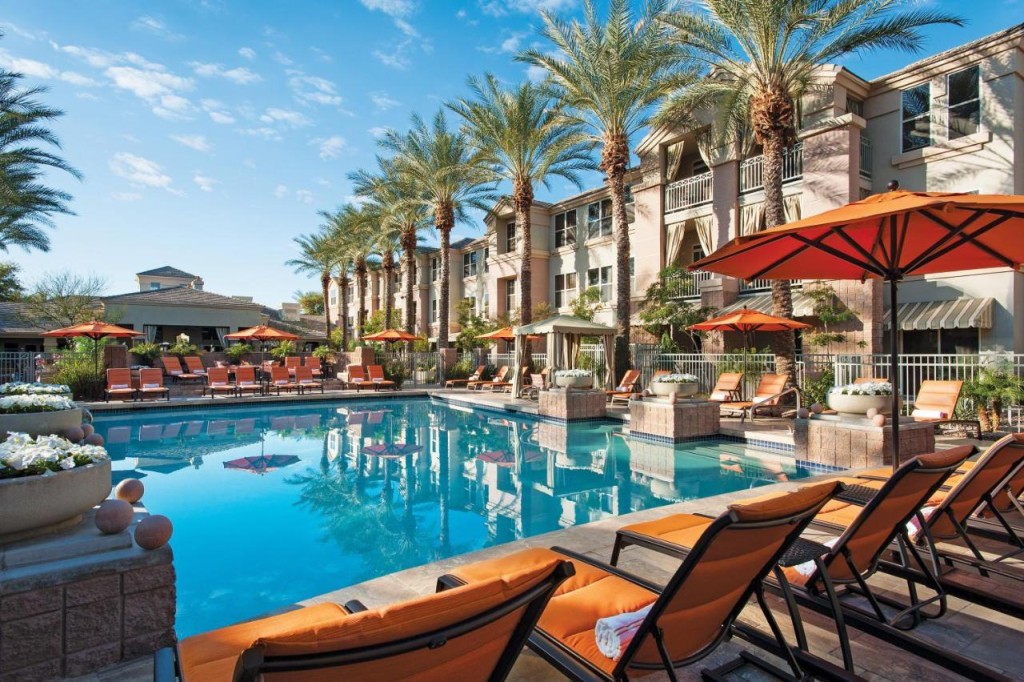 Sonesta Suites Scottsdale Gainey Ranch is the perfect party hotel in Scottsdale. You'll love the resort-style amenities and the lively atmosphere. The hotel is in the upscale Gainey Ranch area, close to many awesome things like sights, restaurants, bars, and fun places.
And guess what? This hotel is great for any occasion. Whether you're here for business or pleasure, you'll find everything here. Further, if you need some party tips, check out these cool ideas:
Outdoor Splash Bash: Dive into a fantastic pool party at the outdoor pool area. Relax in the sun, soak in the hot tub, or lounge on comfy chairs and cabanas. Thirsty or peckish? The poolside bar and bistro have you covered with drinks and snacks.
Belt It Out at Karaoke: This cozy spot boasts a fireplace, a TV, and a menu filled with delicious drinks and munchies. Keep an eye out for live music and karaoke nights – Great for singing your favorite songs loudly with your friends.
Suite Game Night: Transform your suite into a gaming haven! It's equipped with a kitchen and TV, just like your home. Grab grub from nearby eateries or whip up your own dishes in the kitchen. Don't forget to bring along board games, cards, or video games for a fun-filled evening with your guests.
All these activities make it one of the best party hotels in Scottsdale
Additional Facilities
This hotel has big and comfy suites that are perfect for different groups. Plus, you'll wake up to a free breakfast and have a kitchen right in your suite. Moreover, you can chill in the beautiful courtyard, sipping on cocktails or coffee.
If you're up for some exercise or need to do some work, there's a 24/7 fitness center and a business center. They've got gym stuff, weights, computers, printers, and scanners. Remember about the free shuttle service that can take you to places within 5 miles.
Location
Sonesta Suites is close to cool spots like OdySea Aquarium (which is 5 km away) and Desert Botanical Gardens (which is 12 km away). If you're flying, Scottsdale Airport is the nearest, just 7 km from Sonesta Suites Scottsdale Gainey Ranch.
Price
The cost of the hotel changes depending on the time of year and the kind of suite you pick. On average, if you pick a standard room, it will cost around $250 per night with free breakfast. The prices are high because it is a 4.5 star hotel with exceptional facilities and a party vibe to give you the best time of your life.
Hyatt Place Scottsdale/Old Town is a truly unique hotel tucked away in Scottsdale, Arizona. Its prime location sets it apart from all others. This hotel offers a one-of-a-kind experience where modernity meets the charm of the old town.
Hyatt Place Scottsdale/Old Town is renowned as a top choice for hosting unforgettable parties. Its dynamic Old Town event space provides the perfect setting with its flexible setups, catering options, and comfortable lodging for seamless group stays.
Set up an outdoor movie screening with a projector and a large screen. Guests can relax on comfy seating while watching a favorite film under the stars. This activity is perfect for family gatherings, group events, or even a romantic evening. You can also plan a relaxed outdoor BBQ or picnic-style gathering.
Set up grilling stations, provide a variety of delicious food options, and create a casual atmosphere where guests can mingle, eat, and enjoy the open air.
The hotel's friendly staff is dedicated to ensuring the success of your event. Additionally, you can explore Scottsdale's vibrant Arts District, which boasts over 100 galleries, museums, and studios.
For a dose of nature, head to Camelback Mountain for breathtaking views and outdoor activities like hiking, biking, or horseback riding. Don't miss the Desert Botanical Garden and Phoenix Zoo for amazing flora and fauna experiences.
Additional Facilities
At Hyatt Place Scottsdale/Old Town, you'll find a bunch of great things to enjoy:
There's a nice outdoor pool that's open all year where you can swim and soak up the sun.
If you like to stay active, they have a fitness center where you can work out and stay fit.
For folks who need to handle work stuff, there's a business center with services like faxing and copying.
You won't go hungry because they have a dining option that's open 24 hours. You can order food and drinks whenever you're hungry.
Good news for internet lovers: they offer free Wi-Fi in all rooms and public spaces.
Each room has cool stuff like a flat-screen TV with lots of channels, a little fridge, and a comfy spot to sit and work.
The rooms also have bathrooms with hairdryers, so you can freshen up easily.
If you're bringing a pet along, no worries – they have rooms where your furry buddies are welcome.
Location
Hyatt Place Scottsdale/Old Town is conveniently located near the town center. The exact address is 7300 E 3rd Ave, Scottsdale, AZ 85251, USA. This hotel is three blocks away from Old Town Scottsdale in Arizona, USA. You can also access it from Sky Harbor International Airport (15 miles away).
Price
A one-night stay for two people at Hyatt Place Scottsdale/Old Town on costs at least $82.45. Remember that this price does not include taxes and fees.
3 Palms Hotel Scottsdale shines with its exceptional amenities and unique features. One of its standout offerings includes a stunning rooftop garden, where guests can immerse themselves in a serene and picturesque environment.
This lush green space becomes a peaceful retreat from the city's hustle and bustle which allows guests to fully relax and unwind amidst nature's embrace. This hotel is well known for its lively atmosphere, energetic pool parties, and vibrant nightlife. After doing an in-depth analysis, we have found these party options:
The crown jewel of the party scene at 3 Palms Hotel is undoubtedly the pool area. Imagine basking in the Arizona sun, surrounded by palm trees and modern design elements that create a sleek yet inviting atmosphere. Have a pool party with friends, enjoying sun, water, and Gecko Grill's Mexican delights delivered right to your room.
Adjacent El Dorado Park offers disc golf, volleyball, basketball, tennis, skateboarding, and bike trails.
The hotel often hosts live entertainment and DJ performances that add a dynamic rhythm to the evenings. The sounds of music, whether it's live bands playing a variety of genres or DJs spinning the latest hits, enhance the energy of the event and get everyone in the mood to dance and celebrate.
Whether it's a milestone birthday, a bachelor/bachelorette celebration, or a corporate gathering, the 3 Palms Hotel offers versatile event spaces that can be tailored to suit your specific occasion. The dedicated event team is committed to ensuring that every detail is taken care of, allowing you to focus on enjoying the festivities.
One of the notable advantages of staying at 3 Palms Hotel is its prime location. You're just a stone's throw away from Scottsdale's renowned shopping districts, cultural sites, and vibrant nightlife. Whether you're interested in exploring art galleries, enjoying world-class dining, or experiencing the local entertainment scene, the hotel's central location makes it easy to indulge in all that Scottsdale has to offer.
Suggested Reading: 5 Finest Hotels In Fort Lauderdale For Couples And Families
Additional Facilities
The 3 Palms Hotel in Scottsdale has awesome facilities for guests. You can chill in the outdoor pool and hot tub, and even order food from Gecko Grill using a QR code. The rooftop terrace offers stunning city and park views, perfect for sunset watching.
Stay fit in the 24-hour fitness centre with modern equipment. If you need to get some work done, the business center has computers, printers, and free Wi-Fi. The rooms even come with a big 50-inch TV, a fridge, a microwave, and fancy stuff that make you feel extra comfy.
Location
The 3 Palms Hotel Scottsdale is conveniently situated next to El Dorado Park. The exact address is 7707 E McDowell Rd, Scottsdale, AZ 85257, United States. Further, it is just 2.5 km away from Old Town Scottsdale. If you're heading to Arizona State University, it's only a short 6.2 km drive away.
Price
When it comes to prices, you can have a cozy stay in a room with a king-size bed. Plus, they offer free Wi-Fi and the flexibility to cancel your reservation for free. It's all available for just $64 for one night making it one of the cheapest hotels in Scottsdale.
The W Scottsdale is a well-known hotel famous for offering a glamorous stay in the lively Scottsdale Entertainment District. We believe this hotel is an excellent option because it's effortless to experience the vibrant nightlife and thrilling sports events. Additionally, you can savor a variety of food and drinks at its four distinct dining and beverage spots.
The hotel's glamour lies in its diverse venue options. The Cottontail Lounge, WET Deck, and Living Room Lounge act as magnets for guests, raising fantastic ambiance, lively music, and special cocktails. With events like trivia, karaoke, and comedy nights, it's an excellent hub for making friends and having fun.
It has a pool outside that's open 24 hours a day. The pool is on the second floor and has colorful lights underwater and music playing. You can also relax in different areas and get food and drinks from the Sunset Beach bar. Further, you can visit the Living Room Lounge or the Cottontail Lounge, where you can get yummy drinks, snacks, and live music until 4 AM.
The best part is you can check their website for an updated schedule of weekly events!
Additional Facilities
This hotel is cool in more than one way. It has 230 non-smoking guest rooms. You can choose from nine types of luxurious rooms and six types of standard rooms. Each room is equipped with a comfortable bed and a work desk. Moreover, the private bathroom has a shower, a hairdryer, and a cozy robe.
W Scottsdale has everything you need for a great stay. You can park your car easily with valet parking. There's also free Wi-Fi so you can stay connected. If you like to exercise, there's a gym with fitness classes.
You won't go hungry because there's a restaurant for meals and a poolside bar for drinks. At night, you can enjoy a nightclub and DJ. You can even bring your pet along. The hotel offers airport transportation, and there are spaces for meetings and events. It's a comfortable and fun place to stay with all these facilities.
Location
The W Scottsdale can be found in Old Town Scottsdale, Arizona, surrounded by vibrant nightlife and championship golf courses. It's conveniently situated close to the entertainment district, making it a great spot for shopping and dining.
Price
As for accommodation rates, a night in a room featuring a king-size bed comes at $305.
Read Next: The Ultimate Guide to Measuring Luggage: Find the Right Way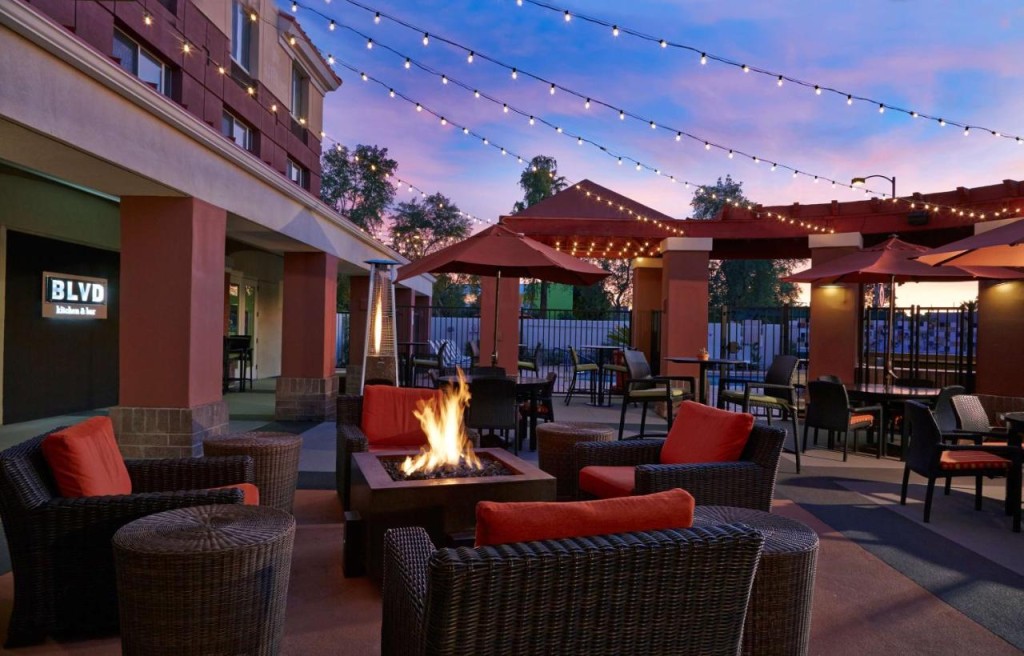 Hilton Garden Inn Scottsdale Old Town is like the crown jewel of hotels in Scottsdale, Arizona. It's perfectly situated near Old Town, making it super convenient for exploring the area. Trust us, you'll be treated like royalty with their top-notch service and modern amenities.
Prepare for an unforgettable stay at this renowned hotel that'll leave you with memories for a lifetime. The rundown of the exciting party activities you can indulge in at or near the Hilton Garden Inn Scottsdale Old Town is given below:
Outdoor Pool: You can have a great time chilling by the outdoor heated pool and patio, complete with cozy seating and two fire pits. And don't worry about getting hungry or thirsty because the BLVD bar & kitchen has got you covered with delicious drinks and snacks available all day.
Entertaining Adventure: Get ready to embark on an entertaining adventure through the lively streets of Old Town Scottsdale, which is within walking distance away from the hotel. You'll explore a world of incredible restaurants, trendy shops, and captivating art galleries that are sure to leave you in wonder. And don't miss to take advantage of the free trolley for some extra fun.
Additional Facilities
You can enjoy resort-style amenities without the high costs. This hotel has great room service in the evenings, and a convenience store open 24/7. Use the fitness center and business center anytime, and stay connected with free Wi-Fi in the lobby, restaurant, and patio. Hilton Garden Inn offers a variety of convenient facilities to make your stay enjoyable.
You can park your car on-site with paid private parking, and stay connected with free high-speed internet. A bar and lounge area is available for relaxing, and you can even use bicycles for a fun ride. There's a patio and outdoor dining area to enjoy meals, and highchairs are available if needed.
The hotel's restaurant serves breakfast and offers a snack bar for quick bites. Other amenities include baggage storage, a gift shop, laundry services, and a 24-hour front desk for your convenience.
With all these facilities, Hilton Garden Inn aims to provide a comfortable and accommodating stay for its guests making it one of the best hotels in Scottsdale.
Location
Hilton Garden Inn Scottsdale Old Town is just a stone's throw away from Scottsdale Fashion Square and Scottsdale Stadium. The exact address is 7324 E Indian School Rd, Scottsdale, AZ 85251, USA.
If you want some nature exploration, the Desert Botanical Garden is only a 10-minute drive away. Don't forget, the Phoenix Zoo and Westworld of Scottsdale are within six miles, offering even more fun and excitement.
Price
For a room featuring 1 double bed, the average price is $107 and can change depending on the dates you choose.
Talking Stick Resort is an absolute gem nestled in Scottsdale. This luxurious resort offers breathtaking views, top-notch amenities, and a vibrant casino for some thrilling entertainment. Whether you're looking to relax by the pool, indulge in delicious dining, or try your luck at the tables, Talking Stick Resort has it all. Some party activities at Talking Stick Resort are mentioned below:
Try your luck at the expansive 98,000 square feet casino, offering slots, table games, and poker.
Experience live music, comedy, and shows at the Grand Ballroom or Showroom.
Enjoy poolside relaxation at the WET Deck with a heated pool, cabanas, daybeds, and themed events.
Additional Facilities
Talking Stick Resort offers a range of fantastic facilities for you to enjoy. You can relax and unwind at the spa, perfect your golf swing on their golf course, and take a refreshing dip in one of their outdoor swimming pools. They also provide complimentary Wi-Fi, and concierge services, and have gift shops for you to explore.
And keep in your mind the nearby Davis Circus of Illusion for some extra excitement. Inside the resort, you'll find Las Vegas-style entertainment, a variety of dining options with 6 restaurants and 2 lounges, and a spa to pamper yourself.
Location
Located in a lively area, this 4-star resort lets you easily reach Talking Stick Resort Casino and Camelback Mountain as both are just a 15-minute drive away. The exact address of this resort is 9800 Talking Stick Way, Scottsdale, AZ 85256, USA. Additionally, you'll find yourself a short distance from Scottsdale Fashion Square and Arizona State University, making it an ideal location for exploration.
Price
A night's stay in a Deluxe King Room costs $151 on average.
Suggested Reading: 18 Reasons To Keep a Bread Clip In Your Wallet [New Tricks]
Conclusion
In the vibrant city of Scottsdale, the party never stops, and the party hotels stand as epicenters of celebration, where energy, excitement, and unforgettable memories converge. From the chic and lively atmosphere of the W Scottsdale to the retro charm of Hotel Valley Ho, and the modern elegance of 3 Palms Hotel, each destination offers a unique blend of style, entertainment, and comfort.
So, whether you're planning a special event, a lively vacation, or a weekend getaway, these party hotels in Scottsdale offer an invitation to immerse yourself in the vibrant nightlife and create memories that will last a lifetime.
Best Party Hotels in Scottsdale - FAQs
Name a few of the best party hotels in Scottsdale.
W Scottsdale, retro charm at Hotel Valley Ho, modern chic at 3 Palms Hotel, luxury nightlife at Maya Day + Nightclub, and vibrant design at The Saguaro Scottsdale – all make for the best party hotels in Scottsdale.
Can I host a private event or celebration at these hotels?
YES! These hotels in Scottsdale offer event spaces that can be reserved for private celebrations like birthdays, bachelor/bachelorette parties, and even corporate events.
Are the party atmospheres at these hotels consistent year-round?
While party hotels in Scottsdale maintain a lively atmosphere throughout the year, the intensity of the party scene can vary based on the season and local events. Summers might see more poolside action, while cooler months could bring indoor parties and unique themed events.
What sets apart the pool parties at Scottsdale's party hotels?
The pool parties at Scottsdale's party hotels are a magnetic fusion of sun-soaked revelry and pulsating beats. These gatherings are known for their vivacious energy, featuring everything from chic cabanas and refreshing cocktails to water games and social mingling.