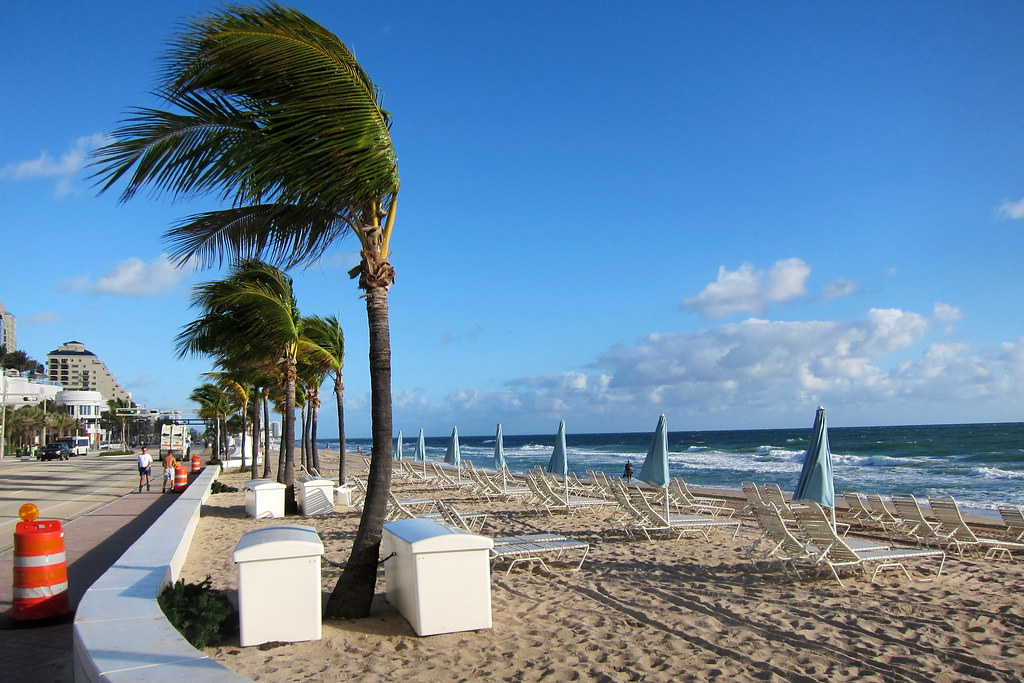 Fort Lauderdale has a wide variety of hotels to choose from, including those that are part of larger chains and those that are independently owned and operated. With so many hotels to choose from, how do you know which one is right for you? The top hotels in Fort Lauderdale for couples and families are listed below. Find the ideal hotel that everyone, from your partner to your kids would enjoy.
Also, check out the 7 Best Hotels in West Palm Beach
Recommended Hotels In Fort Lauderdale For Couples And Families
It is no secret that Fort Lauderdale is a romantic paradise. Some of the most prestigious hotels in the world are found in this city. Tourists who book with the highest expectations will have the time of their lives here. To learn more about our selection of hotels in Fort Lauderdale for Couples and Families, read below.
At the very center of Fort Lauderdale stands the historic Riverside Hotel. The Wells family erected the luxurious Riverside Hotel in Fort Lauderdale in 1936, and it has a relaxed vibe that blends traditional Florida decor with a Caribbean flair. It is the only hotel on the lively Las Olas Boulevard! The Riverside is the finest hotel in Fort Lauderdale for families if you want to be close to the city's bars, restaurants, and shops. The exact location of this hotel is 620 E. Las Olas Blvd., Fort Lauderdale, FL 33301.
There are a total of 231 guest rooms spread throughout the building's 12 stories, with 6 of those rooms being suites with Old Florida furnishings and breathtaking views of the cityscape. The updated suites are fantastically luxurious, with spacious living areas, wet bars, private balconies, and marble bathrooms with Jacuzzi tubs. The Riverside Hotel has in-room coffee makers and mini-fridges for its guests. Each room has a desk and a safe for your valuables. Each of the rooms is equipped with a free Wi-Fi connection and a 26-inch flat-screen cable TV with premium channels. You can have a drink at places like the Golden Lyon Pub and Prestons' Lounge. You may order room service whenever you like. The nightly rates begin from $111.
There are 4 bars, 3 restaurants, an outdoor pool, and a fitness facility all on-site. The beachfront restaurant serves tapas with a Mediterranean flair, the bar serves the drinks while you watch the game, and Preston's Wine & Martini Lounge is perfect for winding down with a drink after a long day. If you are celebrating a birthday while on vacation, the kids will appreciate the bespoke cake store that is conveniently located on-site. The Hotel Riverside has a boat dock for guests' use. Adults should expect to pay between $10 and $125 for breakfast, while kids pay between $5 and $8 (approximately).
The hotel is located 7.7 kilometers from the Port Everglades Cruise Port. Kids and adults alike will enjoy the musical and other live performances available at the nearby Broward Center for the Performing Arts. This hotel is quite popular among couples and families which is why it is our top recommendation as well.
Suggested Reading: 7 Best Beaches in Destin Florida
This hotel is located on the Intracoastal Waterway in Fort Lauderdale, and both Sebastian Street Beach and Las Olas Beach can be reached on foot. This hotel is a 1930s mansion. The address of this hotel is 111 North Birch Road, Fort Lauderdale, Florida 33304. It is ideal for couples who want to be near the excitement of the beach and nightlife, but also want to have a reasonable distance from it.
Colonial plantation furnishings and accents provide a touch of charm to this lovely and intimate residence. All of the 16 suites have their distinct design and they all include plush mattresses with white leather tufted headboards, mid-century contemporary furnishings, and marble bathrooms stocked with Molton Brown toiletries. By far the most sought-after accommodation is the Queen Poolside Cabana Room, which has a private tented patio with views of the Intracoastal Waterway. Room charges begin at $414 making it one of the most luxurious hotels in Fort Lauderdale for couples.
Each of the rooms and suites is well decorated and comes with a minibar, free amenities, and high-speed Internet access. There is a water taxi service, free iced tea served at the poolside, laundry and dry cleaning facilities open 24 hours a day, and a concierge available around the clock.
In addition to the hotel's comfortable rooms, the Pillars hotel also has a restaurant where guests may enjoy a meal either on the dock or in the formal dining room. The exclusive Secret Garden restaurant features Moroccan-inspired dishes made using local ingredients. Here guests may savor local, seasonal cuisine prepared with the freshest fish available.
There is a comprehensive wine selection available at the restaurant as well. If the city's sandy beaches are not your thing, the hotel has a kidney-shaped pool, spa, and private dock where you can launch kayaks for an afternoon adventure. There is a good reason why The Pillars Hotel is hailed as one of Fort Lauderdale's finest family hotels.
In addition to that, the hotel is conveniently located near several of Fort Lauderdale's top attractions, but it is also set in a quiet, lovely location, overlooking the ocean. The Pillars Hotel guests can get on a water taxi just outside their door to see the many nearby attractions.
Premiere Hotel is a nostalgic throwback to the 1960s, located in a structure designed in the mid-20th century. Premiere Hotel Fort Lauderdale is a typical old Florida hotel with a pool full of brilliant blue water and a structure shimmering in white and pastel yellow, welcoming tourists who seek a traditional Florida holiday only a few feet away from the beach without breaking the bank.
The small size (20 rooms) and welcoming service make this one of the finest romantic and family hotels in Fort Lauderdale. Hotel's address is 625 North Fort Lauderdale Beach Boulevard, Fort Lauderdale, Florida 33304.
There are plush mattresses, flat-screen TVs, mini-fridges, and coffeemakers in each room. The rooms are large enough to accommodate a family of six, and they come with complete kitchens so you can prepare your meals yourself also. All rooms have free Wi-Fi. Hotel guests can rent DVDs and watch movies throughout their stay. Prices for a night's stay start from $183
It is wonderfully situated across the street from Fort Lauderdale Beach and next to Hugh Taylor Birch State Park. There are 2 heated saltwater swimming pools for guests to enjoy, along with plenty of lounge chairs to take in the rays of the Florida sun. Delicious hand-made pizzas, crisp craft beers, and unique wines are all available at the Cafe & Bar. At dusk, the rooftop's Atlantic vistas are at their most breathtaking.
Feel free to use the outdoor grilling areas to cook up some burgers, hot dogs, and other barbecues and then enjoy them poolside at one of the picnic tables. It is at a prime location in the up-and-coming North Beach neighborhood, close to the beach, with excellent dining, and exciting nightlife, and it is not very expensive either.
The Premiere Hotel is a short 11.9 kilometers from Fort Lauderdale International Airport. Only one mile away is the Galleria Mall, where you can find several stores and restaurants. The staff was really helpful, even offering to carry the bags to the rooms.
Suggested Reading: Breathtaking Waterfalls of North Carolina You Should Not Miss
This landmark ship-like structure was opened in 1956 as the Yankee Clipper Hotel. B Ocean Resort opens its doors in 2017 after undergoing major renovations. The B Ocean Resort is one of the most distinctive hotels in Fort Lauderdale, thanks to its eye-catching design and unusual features.
Famous people from the United States often stayed at the B Ocean Resort. Joe DiMaggio, Robert De Niro, and Marilyn Monroe are among them! The B Ocean Resort is now a fine beachside hotel that has managed to retain its historic allure. For those looking to soak up some rays, the B Ocean Resort is the best option. It is located at 1140 Seabreeze Boulevard, Fort Lauderdale, FL 33316. Room charges begin at $161 per night.
With its 481 stylish and spacious guest rooms and suites, this hotel is ideal for a relaxing and pleasurable stay for the entire family. You will be glad to retire to your contemporary, nautically-themed accommodation after a day in the sun. You may stretch out in comfort on the king-sized mattresses and watch a movie on the 55-inch high-definition television. Free Wi-Fi, a Keurig® coffeemaker, and a private bathroom are included in each room.
Just steps away from the hotel are the soft sands of the hotel's beach and the warm turquoise waters of Fort Lauderdale Beach, making B Ocean Resort the ideal destination for a relaxing vacation. If the beach is crowded, the two pools and private cabanas beside them are excellent alternatives. Furthermore, Guests can enjoy a day at the beach with their children as they relax in comfort on the private sands and indulge in the wide selection of delectable drinks and snacks. You may even see a rare mermaid show at the world-famous Wreck Bar.
Moreover, the hotel also houses Naked Crab, which is known for its fantastic Seafood Ice Bar stocked with delectable items including Maine lobster, Alaskan king crab, and fresh oysters from the region. Fried oyster tacos and scallop risotto are just two examples of the inventive seafood dishes that you can order here. Salty Siren offers refreshing drinks, tasty appetizers, and hefty main courses for those who do not want to leave the pool or beach to get their food. This upscale resort also has a fitness center, a snack bar, and a deli. Besides, the friendly personnel and the bar are well-regarded by other guests.
The Galleria Fort Lauderdale, with its high-end stores, is only a 10-minute drive away. The distance from the airport to downtown Fort Lauderdale is about 6 miles. Ride one of the resort's free bicycles through Fort Lauderdale's historic district.
Suggested Reading: Top Idaho's Small Towns To Open The Road To Adventure
The W Fort Lauderdale debuted on Fort Lauderdale Beach to much acclaim and great expectations, setting a new benchmark for luxury seaside hotels. W Fort Lauderdale, which has been described as a more urban resort than the typical beach hotel, is popular with vacationers because of its fun but classy vibe.
The W is one of Fort Lauderdale's finest hotels, and it is ideal for families and couples who want to relax in style while on vacation. Rent charges start at $662 per night at the very minimum making it an upscale hotel in Fort Lauderdale. The hotel is located at 401 North Fort Lauderdale Beach Boulevard, Fort Lauderdale, FL 33304.
The stunning accommodations provide luxurious extras and pleasant surprises. Elegant furnishings, floor-to-ceiling windows, 50-inch flat screens with iPod docks, and private bathrooms stocked with Bliss Spa® essentials are just some of the features of the basic rooms. However, if you want to treat yourself on your vacation, consider one of the 2-bedroom penthouse apartments. Relax in the spacious stone tub, cook up a storm in the state-of-the-art kitchen, and enjoy the ocean views from the comfort of your private balcony.
The W Fort Lauderdale is equipped to meet all of your gastronomic needs. WET Bar & Grill, located poolside, serves cocktails and ice beverages, while the Living Room, located below, serves handmade cocktails. Furthermore, there is a sushi bar and a real Mexican restaurant right here at the hotel! If you are looking for a beach hotel in Fort Lauderdale, W Fort Lauderdale is a fantastic option because of its proximity to popular attractions like Scuba World, Snorkel World, and the Fort Lauderdale Watersports Complex.
In addition to the 2 outdoor pools, the spa offers deep tissue massages, facials, and reflexology for those customers who want to relax. Take in the sights of the city and the intra-coastal canal from the comfort of the rooftop pool. From breakfast to evening, STEAK 954 serves up a contemporary spin on steakhouse standards, while WET® Deck Bites keeps the soups, sandwiches, and beverages flowing until the sun goes down.
In addition to that, even though the beach is conveniently located only across the street, you may find yourself spending most of your time in the hotel. It takes around 14 minutes to reach the eclectic stores and eateries of Las Olas Boulevard. The travel to Port Everglades takes just 9 minutes, and to Fort Lauderdale-Hollywood International Airport it is only 6 miles.
Things To Consider Before Choosing a Hotel In Fort Lauderdale
When looking for the finest hotels for couples or families in Fort Lauderdale to suit your requirements, here are some factors to keep in mind:
Look Into The Facilities: Whether you are in Fort Lauderdale for a romantic tour or a family vacation, it is vital that you feel comfortable. On vacation, no one ever expects a day of doing nothing. Make sure you and your partner make use of the hotel's romantic amenities before you check out. In addition to that, it is recommended that such couples stay at hotels that provide opulent facilities. Traveling with kids means prioritizing amenities like an indoor pool, children's area, tennis court, and accessibility to dining and the beach.
Your Budget: Some hotels may be rather costly. You would have to put away a lot more money and give yourself more time to save up for a trip there. Once you have a rough idea of how many days you want to stay at the hotel, you can begin planning how much money you will need to bring with you. You should know that additional spending money for activities in the area will boost the overall cost. For example, W Fort Lauderdale is a really high-end hotel in Fort Lauderdale. If you plan on a low-budget option, go for Riverside Hotel.
Environment and Places Nearby: Choosing a hotel in Fort Lauderdale is easier if you have already had a short glance around to ensure that everything from the furnishings to the rooms, the comfort, and the design is set up for your comfort. You should choose a hotel that allows you to relax. If it works better for your schedule, you may choose less crowded times and days.
How Do We Pick Our Recommendations?
Our hotel suggestions are based on the feedback of a wide range of guests, all of whom place equal importance on relaxation, convenience, and luxury. To that end, we constantly brainstorm new ideas that can be of use to the widest possible audience to provide our readers with the most current and relevant content available. The insights of other Fort Lauderdale tourists are also considered.
Final Word
Our goal in compiling this list of top hotels in Fort Lauderdale for couples and families is to make it easier for you to choose the ideal hotel for your next holiday, whether it is a honeymoon, a family trip, or a romantic getaway.
Hotels in Fort Lauderdale - FAQs
In Fort Lauderdale, which hotels are the best for couples and families?
If you are on a romantic trip, The Pillars Hotel and W Fort Lauderdale are best for you. If you are on a family trip, Riverside hotel is best for you.
Which is the most interesting and unique hotel in Fort Lauderdale?
The B Ocean Resort, with its distinctive ship-shaped design, stands out among the other hotels in Fort Lauderdale.
Which hotel in Fort Lauderdale offers the highest level of luxury?
The W Fort Lauderdale is one of Fort Lauderdale's finest lodging options, and it was designed with beach vacationers in mind.
Which is the most budget-friendly hotel in Fort Lauderdale?
Riverside Hotel is the most budget-friendly hotel in Fort Lauderdale.