Destin features many intriguing destinations, but its world-class beaches are an absolute must-see for any vacationer. Most of Destin's hotels are within a few minutes' walk of the beach, making it a great vacation area. After visiting Massachusetts, our team decided to head over to explore beaches in Destin, Florida
As the northernmost city in Florida, Destin sits on the Gulf of Mexico's shore. Some of Destin's best beaches can be found along the Emerald Coast. As the name suggests, the beaches along the Florida Panhandle are distinguished by their emerald-colored waters. The Gulf of Mexico off Florida's beach often has warmer water and more vibrant hues.
Recommended Beaches in Destin Florida
There is a wide variety of beautiful beaches close to Destin. We've compiled a list of the best beaches in and around Destin, Florida, so you can pack your bags and hit the sand right away!
Traveling to Miramar Beach is like taking a trip back in time to the seaside communities of your youth. As a part of South Walton, it revives the spirit of traditional coastal communities. Enjoy a volleyball game on the beach, spend your evenings and days exploring the area's many restaurants and shopping for antiques.
You'll see sunbathers, people jet skiing, and people parasailing for breathtaking aerial views of the clear ocean and white beaches. Pontoon boats are a fun method for larger groups to see the sights. Thanks to Silver Sands Premium Outlets, Miramar Beach is a shopper's dream. It has a wide variety of eateries, a children's play area, and over a hundred shops selling designer goods. Grand Boulevard, a nearby premium outdoor lifestyle complex, features Williams Sonoma, Hemline, Anthropologie, Lilly Pulitzer, Chubbies, and Lululemon stores.
Cinemagoers can go to the New Vision Theatres Boulevard 10, so they may enjoy the Ovation Club's delicious drinks and snacks before, during, and after the film. Miramar Beach has excellent swimming, tennis, and golfing facilities, making staying active a pleasure. The three-mile-long Scenic Highway 98 Trail is perfect for early morning or late afternoon walks or bike rides. The tennis facilities of the Hidden Dunes Beach & Tennis Resort have won multiple awards. There are 6 championship clay courts and a variety of USPTA-certified instructors available at this location.
There is a wide selection of restaurants in the Miramar Beach area serving cuisines ranging from American to Greek and everything in between. Everywhere you go, you can find hidden culinary treasures. Grand Boulevard is home to a wide variety of dining options, including Fleming's Prime Steakhouse & Wine Bar, Emeril's Coastal Italian, The Craft Bar, and Vin'tij Food & Wine.
If you're looking for great seafood in the area; stop by Pompano Joe's or The Surf Hut, two restaurants on the beach. You should never pass up an opportunity to eat at any of these three restaurants because they are highly recommended.
Related: 9 Louisiana Beaches With Breathtaking Views
Navarre beach is perfect for you if you're looking for a relatively unexplored beach destination where you can relax on beautiful beaches without worrying about crowds. You can have picnics and walk along a huge pier, all while keeping an eye out for dolphins. This beach in the northwest corner of the Florida Panhandle is one of the best places to unwind, thanks to the breathtaking vistas of Santa Rosa Sound and the Gulf of Mexico.
Begin your trip to Navarre Beach with a day at your leisure to explore and take in the sights. Walk down the powdery white sands of the beach as the sun goes down. Renting a scooter and spending the day cruising the shore is another option. After picking out your preferred mode of transportation, you may go out on a thrilling trip across the breathtaking landscape of the Gulf Islands National Seashore. Opal Beach is a popular destination in the Santa Rosa region of the Gulf Islands. The 1995 Opal Hurricane was primarily responsible for its creation. Navarre Beach Pier is another alternative for taking in the local scenery and atmosphere.
It is well-known as Florida's longest pier due to its 1545-foot length and 30-foot height above the water. Navarre Beach is home to three artificial reefs for scuba divers and snorkelers to explore: the East Sound, the West Sound, and the Gulf Side. You may go snorkeling and view all sorts of marine life in these reeds because they are adjacent to the shore of Santa Rosa Sound and the Gulf of Mexico.
The reefs are a popular spot for snorkelers because they are close to the shore and part of the Navarre Beach Marine Sanctuary, where a wide variety of marine life may be seen without having to go too deep. Clear bottom kayak tours of the Gulf Side Reef are a great alternative to snorkeling if you're not feeling adventurous.
We highly recommend renting a jet ski as an exciting way to experience beautiful surroundings while getting adrenaline. It will cost you around $20 per person. There are many places to eat while you're here, but if you're craving seafood, you really must stop by Scooter's Fish Restaurant.
Henderson Beach State Park is home to Destin's finest beach. The beach is also among the best along the Gulf Coast of Florida. As you ascend the boardwalk over the dunes, you'll be greeted by miles of beautiful white sand. You can enjoy clear views of the Gulf of Mexico and the entire shoreline.
Stunning sugar-white sand beaches and over 6,000 feet of coastline frame the mesmerizing emerald-green seas of the Gulf of Mexico. Henderson Beach State Park is known for its natural elements, such as the dune rosemary, sand pines, and scrub oaks that grow there. Fishing, swimming, and sunbathing are just some beach activities you may enjoy, thanks to the boardwalks leading to them. It's also well-known that you can view dolphins here in great numbers. You can enjoy Picnics and barbecues with your families as they are made more accessible by the availability of both small and large tents.
There is a playground along the nature trail that virtually guarantees that children of all ages will enjoy it. As you make your journey down the nature trail, you will notice that it offers a novel viewpoint on the ecosystem found within the coastal dunes and the numerous species that make those dunes their home.
Campers interested in spending the night in Henderson Beach State Park have their choice of 60 sites at which they can set up their tents. The secondary dune system is where you may find all these different camping places you can pick from. They provide access to air-conditioned facilities, hookups for power and water, heated toilet facilities, and a range of other comforts.
Those staying at the campgrounds can use a private walkway to reach the water's edge. There is a playground and outdoor showers along this boardwalk. Henderson Beach conforms in part with the accessibility criteria mandated by the American Disabilities Act (ADA) by providing beach wheelchairs for use on the sand.
Sitting on the soft sands of the Gulf of Mexico, where the water is warm and clear, and watching the sun go down is an attractive way to spend an evening. The restaurants LuLu's, Fudpucker's Beachside Bar & Grill, and Wingstop are all within walking distance of the beach and offer high-quality seafood reasonably priced. When you're at the beach, stop by one of these eateries for a snack.
Based on all of the aspects we mentioned above, this is truly one of the best beaches in Destin, Florida.
Editor's Pick: 7 Heart Capturing Beaches In New Hampshire
Dune Allen Beach, located about a half-drive hour west of Destin, is consistently ranked as one of the most incredible beaches in Destin, Florida. Getting there has always been a challenge. On the other hand, due to recent enhancements that have been made to the beach access, this lovely stretch of white sand is now much easier to access.
The local administration has just inaugurated the brand-new Dune Allen Regional Beach Access that was built recently. Because of this investment of 7.4 million dollars, traveling to the beach is a pleasant experience. The availability of parking, facilities, showers, and boardwalks through the dunes all add to a hassle-free day at the beach.
The fact that Dune Allen Beach is home to Topsail Hill Preserve State Park, a beautiful oceanfront park with more than three miles of hiking and bike paths, will appeal to people interested in nature. While at Topsail Hill, enjoy fishing, kayaking, paddling, and picnics. The park has all of the amenities you will require for the day, including a restaurant and concession stand, clean restrooms, and even a shower facility.
Many vacation rentals in Dune Allen Beach are all within easy biking distance of Topsail Hill, which you can reach through the scenic 30A bike path. Visitors seeking a less crowded beach experience love this beautiful 30A community. In Dune Allen Beach, you may find any accommodation you might want, from quaint old Florida beach cottages to expensive beachfront mansions to adorable coastal condos with breathtaking vistas.
All of our vacation rentals in Dune Allen Beach are conveniently located near a wide variety of family-friendly attractions, including outdoor pursuits, art galleries offering interactive workshops led by the Artists of Gulf Place, upscale yet chill boutiques, delectable local cafes, and well-known eateries along 30A, such as Stinky's Fish Camp.
We suggest getting there early to find a parking spot and staying all day to enjoy the beach and, if you're lucky, the waves are going to give you enjoyment. You can swim and float around in the pristine water till you get hungry. Across the street is one of the top eateries in town, Stinky's Fish Camp. Enjoy a late-day appetizer dish of fresh seafood or a light lunch on the patio before returning to the beach.
The purpose of this detailed review is to let you know that Dune Allen Beach is definitely one of the best beaches in Destin, Florida with several facilities in closeby area.
Also Read: These Ventura Beaches Are Almost Too Good To Be True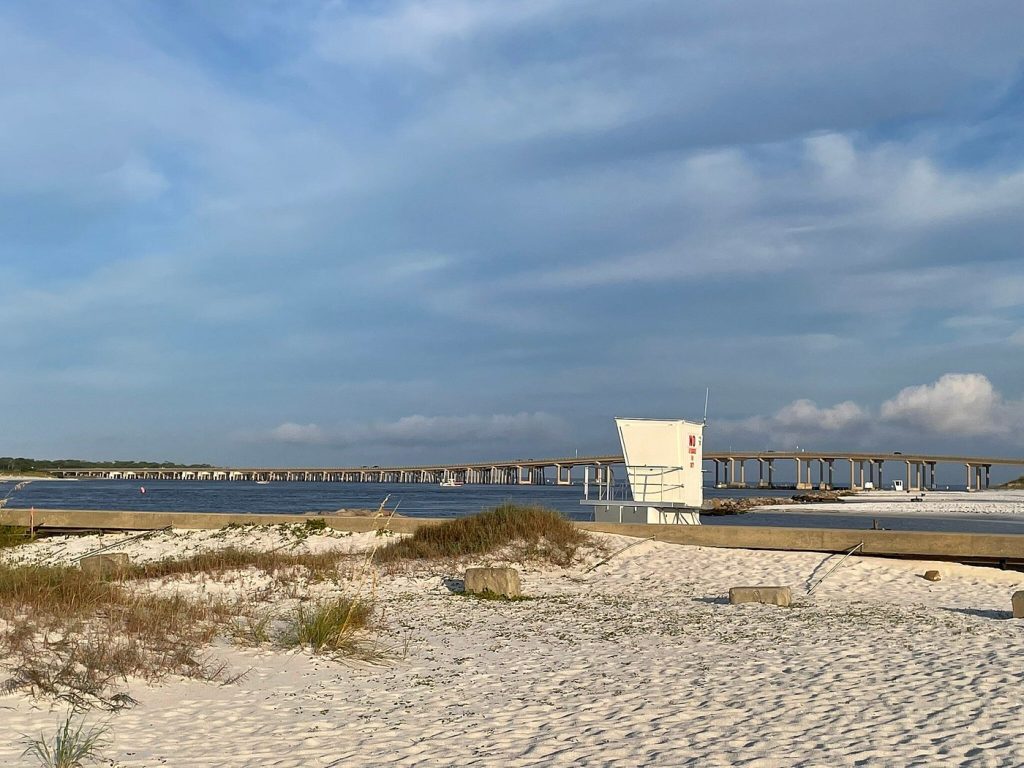 Holiday Isle, across the bay from downtown Destin, tapers to a bright, sandy peninsula at its northwestern tip called Norriego Point. You won't find a more appealing stretch of beach in the vicinity. Its wide, dune-flanked sands face calm waters, ideal for swimming while taking in the harbor's sights, such as passing yachts, and you can usually find some space to spread out.
The Norriego Point public beach park is currently undergoing a significant renovation that, in addition to necessary stabilization work, will significantly expand it. Moreover, the renovation will enhance the recreational facilities, including drinking fountains, a pavilion, habitat enhancement, bike racks, restrooms, a boardwalk, showers, a new, larger parking area, dune crossovers, and interpretive environmental signage.
Destin Harbor can be seen from the eastern side of the public beach park, while East Pass can be seen from the western side. This waterway connects Choctawhatchee Bay and the Gulf of Mexico, separating Santa Rosa Island and the Destin Peninsula to the west.
You can get there by traveling Gulf Shore Drive to its end, but be prepared to walk through sand or use the Destin Water Taxi, which stops here. Swimming, sunning, beachcombing, and strolling along the East Pass beachfront are all highly recommended activities at Norriego Point.
The presence of lifeguards at all times throughout the busy season ensures the safety of the patrons. Not only that, but Norriego Point is a fantastic location for a variety of water sports, including kayaking, stand-up paddleboarding, and snorkeling. Birdwatchers will be in their element at the beach, where they may see incredible avian species like blue herons and ospreys diving from great heights.
The pristine sands of this beach provide an ideal vantage point for seeing marine life, such as bottlenose dolphins and sea turtles. With its active boat activity, magnificent views may be had along the waterfront, from the East Pass (Highway 98) Bridge to HarborWalk Village. This is one of the most known vantage points along the entire Emerald Coast to see the sun go down.
We highly recommend that you stop by Boshamps Seafood & Oyster House while you're in the Norriego Point area. Here, you can have seafood caught in the Gulf and other nearby waters and brought straight to your table by local fishermen, just like they did back in the good ol' days.
Destin's Eglin Beach Park is a top spot for anyone with a US Department of Defense (DOD) ID. All military personnel, retirees, family members, civilian employees, contractors working at federal facilities, and their guests are welcome at Eglin Beach Park. All you'll see from Eglin Matterhorn Beach is more beach if you stand there and glance to the left and right. There are only the ocean, the dunes, and the occasional bird — no condos, merchants, lounge chairs, and blaring music making it one of the most serene beaches in Destin, FL.
This beautiful stretch of Okaloosa Island's beaches is perfect for ecotourists and beachgoers who prefer to keep things simple. You can't find a better place to stroll along the coast. You'll tire out before reaching the end of the beach if you keep walking west. Because of the lack of services at Eglin Matterhorn Beach, visitors should be prepared to walk far across soft sand in the hot heat to reach the water's edge. Halfway through the stroll, you may question whether or not you want to be here, but as you reach the ocean, you'll know without a doubt that you made the right choice.
It is simple to overlook the access point. Keep an eye out for those parked autos near the shoulder of Highway 30. Be careful when parking because there is a substantial drop-off from the pavement, and the sand in the parking area is soft, making it easy to become stuck.
It's roughly a 35-minute drive west of Destin to get to Blue Mountain Beach, which is sandwiched between Miramar Beach and Seaside. The combination "mountain beach" is a paradox in Florida, where elevations are consistently low. As an exception, Blue Mountain Beach is situated on the point of land 65-feet above sea level due to a unique mix of natural characteristics.
To get to the sea from this beach, you must go down a long set of steps instead of climbing up and over the dunes, which is the standard access route at other beaches along the Panhandle. Due to this, transporting your belongings from the parking lot to the beach might be challenging; therefore, you should make appropriate preparations and leave any heavy items at home.
The hillside of blue lupine flowers is one of Blue Mountain Beach's most distinctive features. The beach is beautiful, as are many in the Panhandle; it has calm, mild water and fine, white sand. You may find restrooms, change rooms, showers, a place to lock up bicycles, and a water fountain in the parking lot above the beach. All these aspects make it one of the most family-friendly beaches in Destin, FL.
Guests of our Blue Mountain Beach vacation rentals are within walking distance of three different eateries, including bars. Those looking for smoked wings, burgers, steaks, shrimp, and fish, can check out Blue Mable Smokehouse & Provisions, which serves a wide variety of Southern Comfort Food appetizers and sides.
Suggested Reading: Soul-Capturing Beaches In Santa Barbara
Things To Consider While Visiting Beaches In Destin, Florida
Keep the following important things before you visit any of the above-mentioned beaches.
Weather — Weather and desired activities will determine the best time to visit Destin. Destin, Florida, is fantastic any time of year, but April and May are often considered peak seasons. The weather is mild, and the sun is shining from about the middle of April to the end of May.
Fishing Gear — Destin, Florida, is a hotspot for fishing due to its proximity to the Gulf of Mexico and the abundance of different fish you can catch there. Therefore, to have a pleasant day of fishing, you must remember to bring your fishing equipment with you.
Pack Several Swimsuits — Even if you're only there for a couple of days, you should spend at least one day lounging on the beach and another swimming around sunset or late at night. You can avoid paying the total price for a suit while you're away if you bring along a few of your old ones.
Stock up on Sunscreen — We are all aware of sunscreen's benefits because you already know how important it is to protect your skin. Don't wait to buy it until you arrive at the beach, where prices will be much higher. Instead of wasting time rubbing it in, get a spray-on version.
How Do We Pick Our Recommendation?
Our team of globetrotting specialists and subject-matter experts has thoroughly researched all the recommendations we make. We work hard to ensure our suggestions are both innovative and helpful to travelers' choices so that as many people as possible can benefit from them. For beaches in Destin, Florida, we chose the recommendations based on facilities, family-friendliness, closeby recreational areas, and distance of beaches. Because our travel specialists consider the comments by other people at these beaches, the recommendations we provide are, for the most part, accurate.
Conclusion
Destin, Florida: a miniature paradise. No matter which of the many nearby beaches you choose to visit, you will be treated to the stunning scenery around Destin. Its emerald waters are the warmest and clearest in the world. Destin Beach is the perfect vacation spot if you daydream about sugar-sand sunbathing or peaceful beach strolls.
Beaches in Destin Florida- FAQs
Which is the most beautiful beach in Destin?
Henderson Beach State Park is the most beautiful beach in Destin. This beach is also considered among the best along Florida's Gulf Coast.
Which is Destin's cleanest beach?
The South Walton coastline ends at Panama City Beach. You may find some of the cleanest water and sand at these beaches.
What is the best time to visit Destin?
April and May are the busiest for tourists, though they continue to arrive in large numbers through July. Destin, Florida, is fantastic in the fall because there are fewer tourists, better rates, pleasant weather, and plenty of activities to participate in.
Why is Destin a popular tourist destination?
Some of the most stunning beaches in the country can be found here. Another reason for Destin's popularity is the wide range of activities available there, from retail therapy to alligator watching and museum visits.
What is Destin famous for?
Destin, Florida, is known as "The World's Luckiest Fishing Village" for a good reason! Destin's deep sea fishing has the best variety in the Gulf, with 20 different types of catchable game fish.