The Ventura County Coastline is an absolute paradise for free-spirited nature lovers! Ventura is studded with amazing beaches that offer a massive variety of ocean activities and leisure sports it provides, from jet skiing to surfing to dolphin spotting, fishing, and much more. And, thanks to the Pacific Coast Highway, these beaches are easily accessible, with dozens of alternatives within a half-hour commute of Ventura. It's a surf town with some of the most incredible surf in the world, from gentle beginner's waves as smooth as silk to giant surfing waves that serve almost as a well-kept football field for some of the world's top surfers. Many world-famous surfers are often spotted here and watching them surf is entertainment in itself.
These beaches provide a tranquil and peaceful atmosphere for visitors, similar to how our travel team previously visited and recommended Santa Barbara, Louisiana, and Massachusetts beaches, they have also visited these beaches in Ventura and compiled a list of recommendations.
The most incredibly stunning and fun beaches in Ventura
Here's our list of the best Ventura Beaches for your next trip to Southern California
Visit San Buenaventura State Beach is the most popular Beach in Ventura. It extends north to the Ventura City Pier from Marina Park at Ventura Harbor. It's the ultimate spot for those who want to experience a relaxed, vintage scene rooted in decades of the beachy-laid-back culture of the area. That's exactly what makes San Buenaventura so unique and amazing. It's the type of place where time slows down a bit, easing your senses. Let go of what troubles your mind while participating in beach volleyball, picnicking, swimming, surfing, and so much more. It's such a happy place to be!
San Buenaventura State Beach is estimated to be around two miles of shimmering sandy expanse, blessed by nature with a cozy little lagoon. The place is the heart of the California Coats; stunning sunsets, abundant flora and fauna, and loads of fun. Located on the outskirts of Ventura, it's a popular beach for its proximity to the town. It also has beach facilities such as volleyball nets, picnic spots, and lifeguards to watch over you.
Many special events occur at the spacious grass park with picnic tables near the main entrance at the north end of Pierpont Boulevard at San Pedro Street. The Ventura Pier beach is reachable from the northern parking lot off East Harbor Boulevard.
This beach area closest to the park's entrance is the widest part. A walkway is carved between the park and the dunes to make it easy for pedestrians and enthusiast cyclists to explore. The Omer Rains Pedal Trail travels a big eight miles making it a fantastic place to bike. The bike track becomes the massive, beautiful, bustling Ventura Promenade north of the Ventura Pier. This well-known ocean road leads to Surfers Point, where many surfboards dot the water and palm trees line the path. Users can continue north on the Omer Rains Bike Trail to Emma Woods State Beach.
The Ventura Pier is located at the Beach's northern end and extends 1600 feet into the ocean. It's a good fishing pier, and strolling its length provides a spectacular view of the nearby Channel Islands.
Weekends and holidays see the opening of The Jolly Oyster, Good to Go Juice Truck, and Wheel Fun Rentals, which provide tourists with yummy, signature Californian food and drink service. You're bound to make memories in a place with so much to do.
This serene, undeveloped Beach is a gateway to the Rincon, the well-known Beach between Ventura and Santa Barbara. This is a popular location to cycle to and continue the moderate Pacific Coast bike track along the Rincon, which is about a 20-minute walk from Downtown. This Beach, which faces west, is a common area to see dolphins swimming in large groups along the Channel and is a well-liked location for fishing. Spotting Dolphins makes Emma Wood State Beach such an incredible place to be. You've got to see it to believe it!
This Beach has the relics of a World War II artillery station and the crumbling remains of the previous Pacific Coast Highway for a historical touch.
Emma Wood is a diagonal state park located north of Ventura on Highway 101. Most of the state beach consists of RV sites near the water. The campsite is popular with RVs, trailers, and camper vans. There is no water, toilets, or electric hookups, and the restricted RV length is 40 feet owing to tight turning spots. A rock wall divides the locations from the water, where surfers frequently enjoy the benefits of the break.
A day-use area is located close to the entrance of the Ventura River on the southern end of Emma Wood State Beach. It includes picnic sites and beach access, and a significant portion of the coast comprises rocks. This Beach is great for getting back in touch with nature whether you camp or spend the day there.
North Beach Campground is a part of Emma Wood State Beach Campground and is located off Highway 101 in Ventura. The North Beach Campground offers campsites along State Beach Access Road with gorgeous ocean views. Only self-contained RVs or trailers may be used for camping (no tents). Only temporary toilets and boulders arranged into campfire rings serve as facilities, but the views are breathtaking, and camping is right on the coast. 86 campsites are located along the shore in two portions of the North Beach Campground. Although railroad tracks are behind the campground, most guests sometimes don't mind the train.
Recommended Read: Spend a Perfect Day at These Amusing Beaches in Cornwall
A 62-acre oceanfront park in Oxnard, Oxnard Beach Park, looks like a picture of a California postcard coming to life. Chill out on its lush lawns, stroll beneath its soaring palms, and cruise the Pacific Coast Bicycle Route on your beach cruiser.
It's a sprawling recreational place on the Oxnard shore, less than 10 miles south of Ventura. It's a big, open place with lots of parking. A horseshoe-shaped palm tree avenue walkway is lined with picnic areas and playgrounds. The Oxnard Shore Park walk goes to the dunes that separate the grassy patches of land from the Beach. These dunes are popular among youngsters and professionals looking for an elevated level of difficult exercise while running up and down the sand or sweating it out at the Beach.
The Beach at Oxnard Beach Park is vast and huge, so it's simple to fetch a relatively private spot for yourself and spread out a blanket. Beachgoers are greeted with a stunning vista of the Channel Islands across the water. Popular beach activities along this length of sand include kite flying, fishing, and body surfing, among many more.
For those looking for a long beach stroll, the Oxnard shoreline spans nearly six kilometers. Mandalay Beach is just north of Oxnard Beach Park, while Hollywood Beach is to the south. Although the park remains enjoyable all year round, spring and summer are the ideal seasons to visit. There is usually lots of good parking at this well-known Beach, even though these seasons see the park's highest activity levels. Wheelchair access is another fantastic park feature. Pass across the dunes to reach Rehab Point's Beach. The park welcomes dogs. A leash is required for all pets. To pick up your pet's waste, bring a bag. f you're looking for a dog-friendly restaurant to visit after a beach stroll in Oxnard, you can check out some of the options in nearby Laguna Beach.
Outside the park, there are a ton of eateries and plenty of other fun things to check out. This park is considered a great resting spot for cyclists to pause and take in the scenery as they travel because it is situated along the Pacific Coast Bicycle Route. Yoga by the Sea offers community-driven pop-up courses in the park for people looking for a more "meditative" type of fitness. Oxnard's location and neighboring beaches make it an excellent starting point for anyone wishing to explore Ventura's incredible coastline.
Silver Strand Beach
View Website
Get Directions
PERFECT FOR: Fishing, exciting kayaking, peaceful long walks, and a family-friendly atmosphere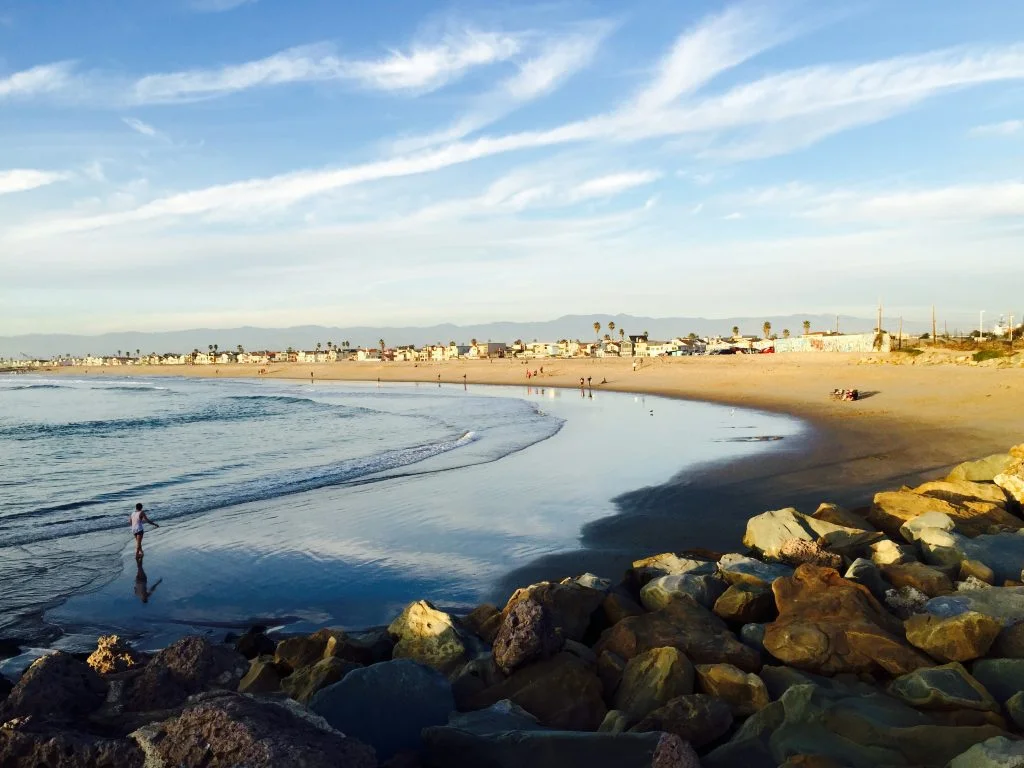 Silver Strand Beach is Oxnard's southernmost beach, surrounded by a vibrant neighborhood of stunning homes.
Oxnard's Silver Strand Beach is a local favorite. This beach is mile-long and relatively isolated. It has only one entrance/exit to the Silver Strand neighborhood down Victoria Avenue and is bounded to the south by Port Hueneme Naval Base and the north by the inlet to Channel Islands Harbor. The beach is relatively nice and quiet most of the year due to its distance (7 miles) from Highway 101.
Silver Strand Beach offers people a surf that is of a class of its own, with other activities like fishing, exciting kayaking, and peaceful long walks on white sandy beaches. The cool to balmy water temperatures and the family-friendly atmosphere for beachgoers make it more appealing. Silver Strand Beach is popular among Oxnard residents and beachgoers alike. Restaurants, hotels, and local attractions at the Channel Islands Harbor are nearby the Silver Strand beach area.
Head to the beach's southern end to see amazing murals painted on the walls of Port Hueneme Naval Base by local artists such as Evan Mendel, Jess Mavros, Gina Lu Sloatman, and others. Follow the murals to the point, then climb to the jetty to stand over the luxury ocean liner La Jenelle's steel remains, shipwrecked in April 1970.
Kayaking Silver Strand Beach is one of the most popular activities at this famous local beach owing to its closeness to the Channel Islands Harbor. You may paddle south down the beach towards the La Janelle Jetty or in and around the Channel Islands Harbor. Dolphins, sea lions, harbor seals, and other marine creatures may be seen here.
Silver Strand Beach is an excellent place to capture surf perch, calico bass, corbina, halibut, and other fish. To capture surf perch and corbina, surf the coast using Sand Crabs or plastic grubs. Try fishing from the Jetty for halibut, calico bass, and other species. Spring and summer are the finest seasons for surf fishing. Silver Strand Beach is also a great area to look for Pismo Clams. Channel Islands SportFishing Center sells fishing licenses and gear approximately a mile from Silver Strand Beach.
The restrooms are located to the north of the coast. Parking is free from sunrise to dusk. There is a parking lot near San Nicholas Road. Lifeguards are exclusively on duty from Memorial Day to Labor Day.
For differently-abled people, Beach wheelchairs are available for use in sandy locations. Beach wheelchairs may be borrowed from Harbor Patrol for the remainder of the year.
Lastly, Silver Strands offers the perfect combination of stunning beauty and being well-maintained, making it just about perfect!
Rincon is a surf spot located at the Ventura and Santa Barbara County line in Southern California, USA. 14 miles north of the Ventura Pier, Rincon Point is a legendary surfing spot in Central California. Surfers in wetsuits go from all over the globe to ride the right-hand break coming off the east side of the point. The beach is nicknamed the "Queen of the Coast" due to its generally solid surf and picturesque surroundings. The actual beach is a little strip of sand and rock located both in front of the houses and at the entrance point. Go to Rincon Park County Beach across the street for a broader, sandier beach. Take the Bates Road exit off of Highway 101, which is three miles south of Carpinteria, to get to Rincon Point. The Rincon Park County Beach parking lot is on the right and the Rincon Point Beach parking lot is on the left as you turn onto Bates Road in the direction of the water.
Rincon Point has two parking lots available. Head left to the Rincon Point State Beach parking lot if you want to enjoy the waves or take some surfing pictures. A short hike from here takes you to the east side of Rincon Point, where a slender stretch of shoreline frames some of California's greatest surfing.
Rincon Beach County Park, which stretches along the north side of Rincon Point, has a parking lot in the other direction. Other hobbies outside of surfing are generally more welcome on this beach since it is much wider. A big concrete ramp connects the parking lot and the beach. Visitors can access Carpinteria Bluffs Nature Preserve by traveling far enough north along this beach.
If you're visiting in January, you can even watch the Rincon Classic surf competition held annually in January at Rincon Point. Convenient Beach Access, Picnic Tables, and restrooms make this a very family-friendly beach. Bird-watching is also an amazing way to relax at Rincon.
Things you need to know before going to the Beaches in Ventura
Prepare Before You Leave
Check the current status of the parking area you intend to visit before you leave home to see what rules and regulations are in effect. It will be good to have a backup plan if your location is overcrowded.
Life Jackets
Wear a life jacket while swimming or engaging in any water activity.
In the state, there are more than 100 local life jacket loaner stations where you may borrow a life jacket for free.
Stick to the rules
Follow the guidelines and only swim in the places marked. Only swim at beaches with lifeguards on duty, and follow their advice. Only some of the beaches along the coast of California are suitable for swimming or wading. For anyone caught off guard near the Beach, the very features that make these sites such wonderful places to gaze at and enjoy may be deadly. Pay attention to any warnings placed at state park facilities.
Be extra cautious about your children
Children should be taught that swimming in open water differs from swimming in a pool because they must be careful of uneven surfaces, river currents, underwater undertows, and varying weather. Actively keep an eye on kids around and in the water.
Check and recheck
Make sure all of your camping gear is in perfect condition. Also, check your vehicle before heading for the trip and make sure the engine and tires are in good shape for the trip.
Research for safety
Research what kind of wildlife is in the area and take precautions. Protect your gear, food, and from bears and other wildlife by taking the necessary measures.
Leave No Trace
Sticking to approved paths and packing out any rubbish can help keep the environment as clean as you found it. Make sure to keep plants and wildlife undamaged and undisturbed.
Don't shy away from asking
Visitors should ask park workers or other riders about the path's difficulties, whether water is available, and the number of other trail users they are expected to meet before beginning the ride. Obtaining a print of the route map is another smart move.
Be mindful of others
Visitors should remember that they will typically share the path with other users. Thus they should be considerate of their needs when using the trails. Several parks prohibit riding for 24 to 48 hours often, so make sure to check if the routes are open or closed before heading out.
Sunscreen is your best friend
Protect yourself from the sun and stay in a place with shade, especially when the sun is most intense (10 a.m.–4 p.m.). Always wear and carry broad-spectrum sunscreen with an SPF of 15 or higher. Sun damage may happen on overcast days as well. When on the Beach or in the water, wear long-sleeve rash guards with an SPF that has a high rating. Avoid tanning, and in particular, avoid burning! Your risk of melanoma might increase by 50% after one painful sunburn.
How We Pick Our Recommendations
Our number one passion and driving force is our obsession with traveling. I've been able to put together this list of beaches with the help of personal experience. As I've been to many, but the only ones I felt should go up on this list are those that stayed in my mind for being such stunning and memorable places. Other factors that help a beach make it to this list are safety, organization, convenience, accessibility, and the number of ocean activities available to beachgoers.
Also Read: 7 Best Beaches in Destin Florida: let the sound of the tides ooze your brain!
Final Words
Ventura's beaches are too stunning for you to sleep on them. There's something for everyone here, and the amount of things you can do is massive. Take a friend, plan a day with your family or go alone. Either way, you will feel like you're in such a happy part of the world. Good luck, and happy exploring!
Beaches in Ventura - FAQs
What are some of the best beach hotels in Ventura?
Some of the best beaches in Ventura are Oxnard State Beach and Park, Mandalay State Beach, San Buenaventura State Beach. Beaches, Emma Wood State Beach, Silver Strand Beach, Solimar Beach, Harbor Cove Beach, McGrath State Beach
What are some of the famous restaurants by the coast?
Beach house Fish, Lure Fish House, and Brophy Bros are some popular spots worth trying.
Which hotels are the best in Ventura?
Crowne Plaza Ventura Beach, Ventura Marriott, and La Quinta hotel Inn are some amazing hotels.