Massachusetts is among one of the favorite tourist destinations for many coming to the New England region, mainly because of its rich American history, urban aspects, and huge metropolitan area. However, Massachusetts is also quite popular for its spectacular beaches that one wouldn't want to miss.
These beaches are truly a sight for those looking to enjoy the serenity and peaceful vibes. Our travel team visited these beaches like we did for our previous Key Largo, Santa Barbara, and Ventura Beaches recommendations and came up with the following list of the most sought-after beaches in Massachusetts. 
The Best Beaches in Massachusetts
In Massachusetts, there are both saltwater and freshwater beaches. Besides, there are beaches close to the seafood, beaches where you can surf or not, beaches where you can spend the whole day admiring breathtaking views, boardwalks and hiking trails, beachcombing, and more. Let's begin with our guide.
Crane Beach, which is situated next to the enormous Ipswich Bay, is widely regarded as one of Massachusetts' most heart-capturing beaches. Wonderful dunes, maritime forests, and marshes are found lining its sparkling shores because it is protected as a part of a conservation site.
There are more than 4 miles of absolutely perfect beach for you to relax on and have fun on. It is completely surrounded by clear, calm waters and beautiful hiking trails that wind through the undeveloped, natural surroundings. There are numerous restrooms, locker rooms, and showers, and during the summer, a snack stand is also open.
The beach is managed by the Trustees of Reservations and is part of the Crane Estate, which also includes the Great House, a hilltop mansion. To find out what activities are taking place while you are in town, check the Trustees' calendar, or go for a stroll through the salt marsh or woods. After packing up for the day and rinsing off the sand, head to Appleton Farms for apple cider donuts straight from the fryer or the Ipswich Clambake for the exquisite seafood.
Even after spending the entire day there, Crane is one of those picturesque beaches in Massachusetts that you wouldn't want to leave. Parking at Crane Beach is free for guests with permits, but it costs $5 for everyone else.
The Race Point Beach sits majestically looking out over the Atlantic on the hook of Cape Cod, where fewer tourists visit. On a good day, it takes 2 hours to get there after passing over either the Bourne or Sagamore bridges.
In just 1.5 hours, a seasonal fast ferry from Boston can transport day visitors to the town. Whether you brave the traffic or cruise along on the water, Race Point Beach will reward you justly. Parking for cars costs $25 per day while arriving on foot or by bicycle costs $15 at this beach.
Although the expansive stretch of sand, which is a part of the Cape Cod National Seashore, is known for its rougher waters, there are many shallow areas for swimmers with less experience. The isolated lighthouses and quaint vintage cottages and huts that line the wind-whipped beach only serve to enhance the area's appeal.
Similar attractions: Beachfront Hampton Hotels
As a result, you frequently won't see another person while exploring and enjoying its magnificent sands, shallows, and dunes. There are trails for biking and hiking behind and inside the dunes. The difficult Province Lands Bike Trail leads to Herring Cove and another beach.
Book an overnight stay at one of the two houses adjacent to the lighthouse! Don't forget to set aside some time to explore Provincetown, a place rich in natural, cuisine, and cultural delights.
Pro-Tip — Accommodations in Provincetown are readily available, but it's important to book ahead during peak travel times.
The north shore claims to have a musical beach that is far from the hustle bustle of nearby Boston. When the conditions are right, you'll think you can hear the sand "sing" as the grains rub with each other.
This section of the beach, which is about half a mile long, is in Manchester-by-the-Sea. This is a charming New England town with historic buildings, including the beach's bathhouse, which was constructed in the 1920s. It now serves as a small snack bar for small meals.
Public restrooms, showers, and changing areas are available at the beach. Lifeguards are present when a swimming area is designated.
There are specially designated areas for sports. For those who want to avoid the sun, a path runs along an upper area that is shaded by trees. Additionally, it's a nice spot for a picnic. On weekends, when traffic and the parking lot can be upsetting for anyone not getting an early start, public transportation from Boston is an option and is advised. You will pass by Captain Dusty's, a popular spot for ice cream after the beach. The variety of flavors is extensive, homemade, and mouthwatering. Their iconic Vanilla Frappe starts at $6.85 only.
Pro-Tip — Get here early if you want a spot because there isn't a lot of visitor parking available near this waterfront. If not, you can leave your vehicle in Manchester's downtown area or at Masconomo Park. Parking at Singing Beach costs $25 per day.
The amazing Kalmus Beach, a highly desirable location for windsurfing, is tucked away along Cape Cod's south coast. Huge crowds of people come here in the summer because of its convenient location halfway between Lewis Bay and Hyannis Harbor.
While swimming in the sheltered bayside is ideal, bodyboarders, windsurfers, and kitesurfers all brave the bumpy oceanside. With numerous marinas and yacht clubs scattered up and down the coast, you can also sail farther out in the Nantucket Sound.
The beach has plenty of room for you to spread out a towel and catch some rays, despite some areas being covered in seaweed and shells.
If you get hungry or thirsty at any time, there are some snack bars nearby. During the summer, a snack bar is open at the beach. Salads, sandwiches, and (of course) lots of seafood are among the tasty and fresh foods available. Additionally, there are showers and restrooms available.
The fact that this beach is only a few minutes drive from downtown Hyannis may be its best feature. As a result, you have a ton of dining options, shopping opportunities, and even a ferry to Martha's Vineyard and Nantucket.
There is more than enough space to unwind on the beach, which is absolutely massive.
Even though there is a large parking lot, you might prefer to bike or just walk for the 20-minute journey from the harbor. On weekdays, the daily parking fee is $15; on weekends and holidays, it is $20.
The stunning Mayflower Beach is located along Cape Cod Bay almost directly across from Kalmus Beach. It features scenic waters, beautiful landscapes, and divine views in addition to an abundance of exciting outdoor activities and practical amenities.
The broad beach, which is a part of the mid-Cape town of Dennis, is actually named after the illustrious ship that the Pilgrims came in on. The bay's waters descend at low tide to reveal vast tidal flats, lovely pools, and a large number of low-lying sandbars.
In addition to strolling along its sands and taking pictures of the sun reflecting off the bay, you can also play, picnic, and search for periwinkles. Mayflower Beach can become quite crowded during the peak season due to its breathtaking scenery, with lines forming at its showers and snack bar.
The natural features of Mayflower Beach—powdery sand, tidal pools, sandbars, and spectacular sunsets—really make it one of the best public beaches in Massachusetts. Make sure to stop by the famous Sundae School in nearby Dennisport for ice cream after the sun goes down on your beach day!
People of all ages will enjoy Bayview Beach, which Mayflower Beach connects to. There is no need to leave the beach to enjoy a day of peace and relaxation because there are restrooms and food stands there. For those in need, handicap chairs are also available making it one of the most convenient beaches in Massachusetts.
Marconi Beach in Wellfleet is yet another attractive stretch of sand along the Cape Cod National Seashore. It provides some exceptional views of the Atlantic and bay and is surrounded by high hillside and steep sandy cliffs.
The colors of the sand at Marconi Beach might astound you, and they might change the next time you visit.
The layers of different earth sources are constantly being eroded by the Atlantic tides and strong coastal winds, which causes this unusual phenomenon of changing and every once in a while striped colors.
It is well-liked by both locals and visitors and is named after the influential Italian inventor Guglielmo Marconi, who launched the first wireless message across the Atlantic from its shores.
Its size actually varies from year to year as a result of the violent winds and waves that knock the coast. However, the challenging conditions are perfect for boogie boarding, surfing, and skimboarding.
You can hike around the beach's surroundings and see seals playing in the surf in addition to tanning and admiring the scenery.
The bay, the ocean, and the outer cape can all be seen from the top of the dunes. Wooden steps connect the dunes to the beach, and as you might expect, even during the off-season, this picturesque beach in Massachusetts can become crowded.
The breathtaking Head of the Meadow Beach on Cape Cod is yet another spot that is absolutely perfect for photographs. It is located just outside of Truro and is surrounded by vast dunes, fine white sand beaches, and fields of swaying seagrass.
Because of the numerous shipwrecks that have been discovered nearby, this location is known as an "Ocean Graveyard." When the tide is low, you can see the wreckage of the Frances, which sank in 1872, from the beach.
It is a lovely and calming place to spend the day because it is much more peaceful and quiet than Coast Guard Beach on the Cape.
You can stroll along the beach, explore the dunes, and occasionally even see seals, sharks, and whales offshore in addition to swimming and staying out of the sun.
While lifeguards are on duty in the summer, visiting is convenient due to the abundance of parking spaces and public restrooms. It is a part of the Cape Cod National Seashore, so there are fantastic hiking and biking trails nearby.
After spending some time at the beach, sip some beverages at the nearby Truro Vineyards. Their wines also make wonderful treasures due to their iconic lighthouse-shaped bottles.
Drive a few more miles up the road to Provincetown, a town rich in culture, if you've hiked this far up the Cape. Parking costs range from $25 per day for car parking to $15 per day.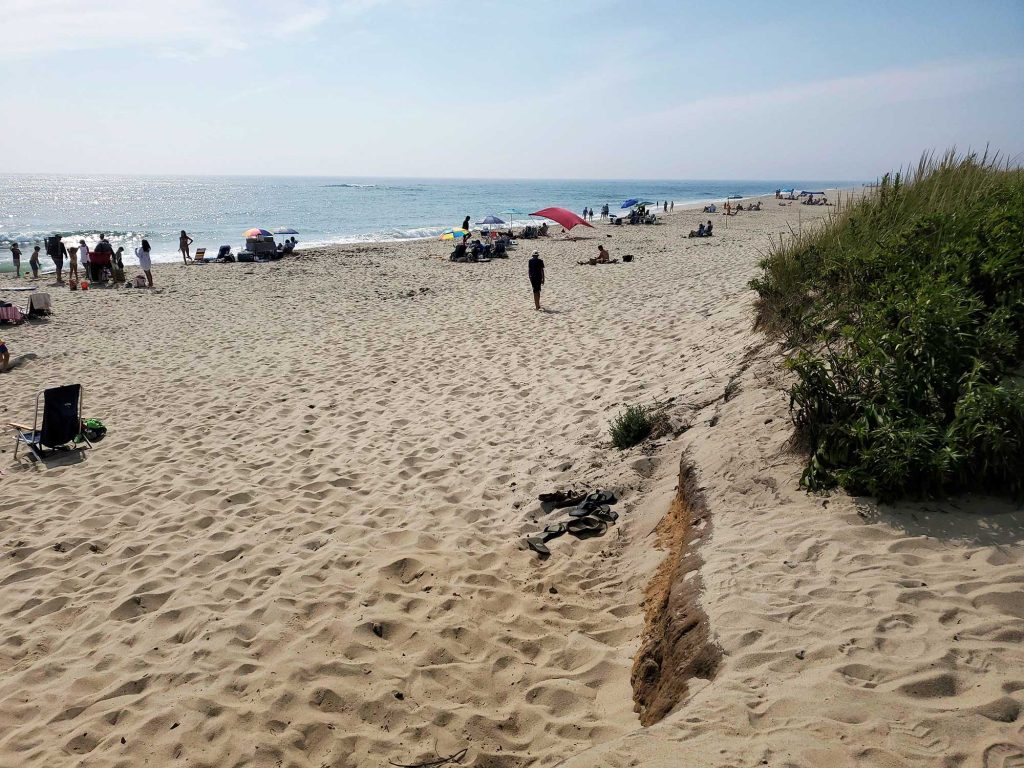 On Nantucket's westernmost point, access to the far end of Madaket beach requires a 4WD vehicle and a beach permit. If sunsets are your thing, aim to arrive during the golden hour because they are spectacular from the point.
In this vast open area, there may occasionally be strong surf and a strong current, so it is important to check the weather, especially if you are traveling with children. There are no facilities, but there are occasional lifeguard stations scattered throughout the area.
Off the point, there are some interesting views of Tuckernuck Island nearby and the powerful tide that tempts fishermen to brave the channel. A hot summer day spent building sandcastles and taking long walks along the beach is ideal for the cool, refreshing water.
More Recommendations From Our Travel Specialists: Beaches In New Hampshire
An enchanting getaway is a trip to Nantucket. Take a ferry, dress in your perfect beachwear, and take a vacation. Even in the winter, Madaket Beach offers beautiful sunsets. Some of Massachusetts' top beach resorts can be found on Nantucket!
Many locals and tourists spend time at this beach to enjoy the afternoon together because it is known for its spectacular sunsets. Tourists like to rent bikes and ride six miles down Madaket Road until they reach the Atlantic Ocean. However, this beach is also reachable by cars. In all of the aspects, we considered, we found it to be one of the best beaches in Massachusetts.
The well-liked Cisco Beach on Nantucket is one of the state's top surfing spots. Due to the pounding waves, stand-up paddle boarders and surfers are particularly fond of this stretch of the southern coastline.
Cycling with beach chairs or a surfboard tucked under their arms is a common sight in the summer along the four-mile path that runs alongside Hummock Pond Road from the town.
About three-quarters of the way out, make a stop at the well-known Bartlett Farm and stock up on picnic supplies. They offer a wide variety of salads and sandwiches, many of which use fresh, regional ingredients.
The beach is supervised by lifeguards, and there is a sizable parking area with portable restrooms nearby. There are numerous dirt roads leading from the beach to more remote areas. Just be careful not to get stuck.
Things to Consider Before Going to Beaches in Massachusetts
The following important aspects should be considered by every traveler heading to beaches in Massachusetts.
Buy a Lot of Snacks — Severe hunger is a result of both salt and the sun. You'll undoubtedly be hungry during and after a tiring beach day, but there is no need to waste valuable vacation time waiting in line at the gas station or, worse, at a fast food counter. Instead, stock up on fresh fruit for your cooler and purchase large-sized snacks at the grocery store for the whole family to munch on in between meals. Spending money on fast food or junk food every time someone is hungry is a waste. The cost of all those little things can really cut into your vacation budget.
Pack a Variety of Swimwear — Even if you're only staying for one or two days, you might want to spend the day at the beach and then go swimming again at dusk or even at night. In other cases, sometimes your swimwear might get torn. Either case, it's not exactly a pleasant experience to have to slide on a wet, sand-filled swimsuit. Keep yourself from struggling. You can avoid having to pay more for something on the go by bringing a few extra old suits with you.
Remove all traces — Everyone who visits Massachusetts is made to feel welcome. It merely asks that visitors respect locals, their property, and the environment. While exploring Massachusetts, you should take everything you brought with you home with you in accordance with the "leave no trace" principles. This includes paper towels and other personal items in addition to kitchen waste like food scraps and orange peel.
How We Pick Our Recommendations?
Several of the best options have been chosen after thorough research and evaluation of the facilities, leisure options, and other important factors. We also considered the feelings of the other visitors. Based on our on-the-ground and real-life research, we put together a list of Massachusetts' best beaches for you to visit.
Conclusion
The beaches of Massachusetts stand out as one of the state's many attractions. Pack a bag and don't forget your sunglasses, regardless of whether your beach persona is a wave rider, book reader, nature enthusiast, or something completely different. So the next time you find yourself daydreaming about the beach all afternoon, consider taking a trip to one of these stunning Massachusetts beaches.
Beach in Massachusetts - FAQs
What are some of the Beach in Massachusetts?
Some of the best beaches in Massachusetts include Crane Beach, Singing Beach, and Race Point Beach.
Which beach is recommended for families in Massachusetts?
Singing Beach is recommended for families in Massachusetts.
Which beach in Massachusetts has the best sunset?
Mayflower Beach has some of the most heart-capturing views of the sunset in Massachusetts.