Around Key Largo, there are a lot of artificial beaches to explore, offering beautiful stretches of sand where you can kick back and soak up the sun. Some beaches are exclusive to guests of specific hotels or resorts, while others are entirely public. Florida's Key Largo is the closest to Miami, making it a fantastic weekend getaway from Miami if you have a short amount of time to spend there. We've put together the best beaches in Key Largo to help you narrow down your options. Keep on reading to find out more. For more beach options, check out our list of the 7 Best Beaches in Destin Florida where you can let the sound of the tides ooze your brain.
The Most Popular Key Largo Beaches!
The following list includes our top public beaches in the Florida Keys.
Far Beach is Key Largo's busiest beach which is situated in John Pennekamp Coral Reef State Park near Mile Marker 120. Due to the popularity of snorkeling, and diving and the fact that this beach is part of the Pennekamp Coral Reef State Park, it becomes an ideal location for anyone visiting Key Largo and interested in underwater exploring.
There are typically fewer people because there are no amenities close to the beach. However, it can get crowded, especially in the summer, so get there early to reserve a parking spot and a good spot on the sand. Sunbathers and beachcombers are drawn to this man-made, sandy beach with palm trees.
Children especially will enjoy swimming in the quiet, warm, and shallow water. A mobile rollout mat provides wheelchair accessibility across the sand called the Mobi-Mat. Beach chairs and any other supplies, such as snacks, drinks, and entertainment, should be packed. Far Beach has fewer amenities, so it's best to bring your own picnic and a blanket to set it up on.
It can be enjoyed looking out for local species like lizards and local bird life on a nice nature trail that is accessible nearby the beach if you feel like walking off your lunch. The cost of admission is $9 per day. However, if you camp at the state park, you will have to pay $43 per night.
Pro-tip — Wear aqua shoes to protect your feet from rocks and small pebbles when diving deeper into the water.
Similar Read: Louisiana Beaches With Breathtaking Views
Cannon Beach is located within John Pennekamp Coral Reef State Park and is our personal favorite in the area. This top choice among Key Largo's public beaches is close to the park's visitor center and, as such, offers a variety of amenities.
A food truck and vending machines are available nearby for all your snack requirements. You can reserve snorkeling and glass-bottom boat excursions as well as kayak rentals. Additionally, shore snorkeling is reachable from Cannon Beach.
You must pay the regular entrance fee to access the beach because it is located within the State Park's boundaries. This entry fee is justified by the well-kept amenities, which include restrooms, showers, and a sizable picnic area. These factors make it a great beach for children as well.
The park also offers some of the best camping in the Keys, as well as numerous nature trails. The park entry fee for two people is $9. However, if you're camping for the night, you will have to pay $49 per night for your camp.
Kids will enjoy exploring the beach as warm, clear water laps at it. Tropical fish in all different colors, as well as other small marine creatures like crabs and shrimp, are to be seen. Larger species like tuna and barracuda are occasionally seen as well; they sometimes even wander close to the sand.
Pro-tip — You should bring all the things you might need, such as towels, water equipment, food, and beverages, if you're on a tight budget. And if you're looking for other beach options, don't miss our list of 7 Heart-Capturing Beaches In New Hampshire.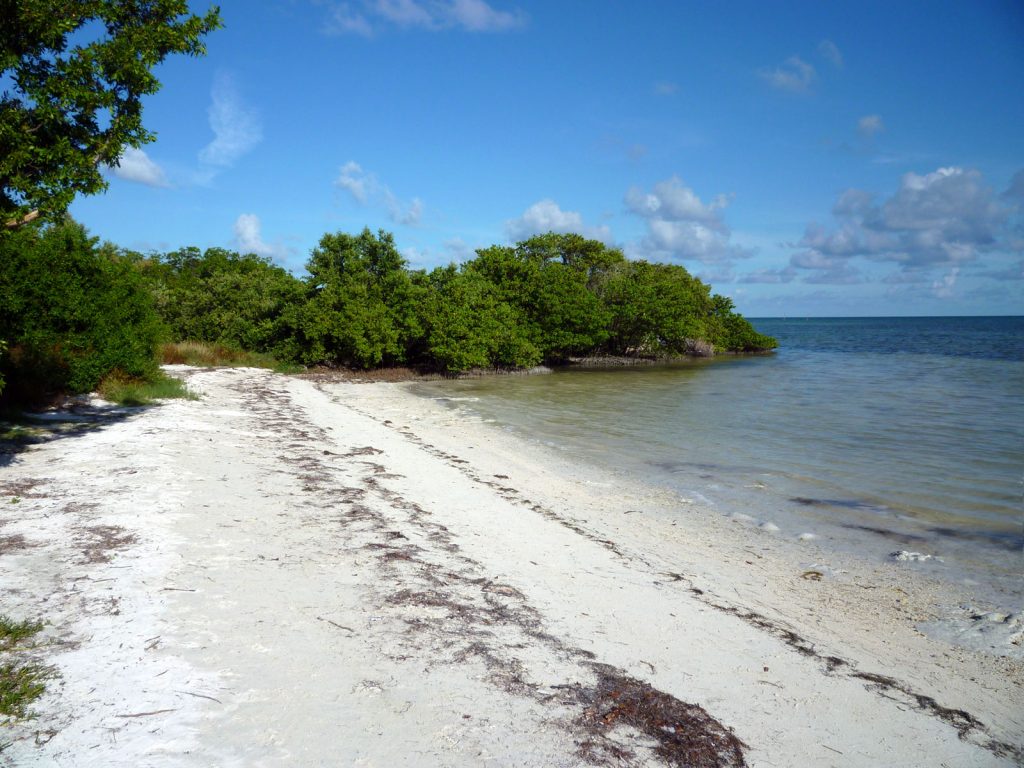 Anne's Beach is regarded as one of the prettiest ones if you're looking for a great beach close to Key Largo but not actually in the Keys. Anne's Beach is located on Islamorada's Mile Marker 73.4. A little farther down the Florida Keys, toward Key West, is where you'll find this beach. The distance from the John Pennekamp Coral Reef State Park is approximately 30–40 minutes by car.
It is named after Anne Eaton, a local environmentalist. Facilities include parking, restrooms, and picnic tables. A boardwalk and mangrove forests are nearby. There have been instances where people have been known to step on some marine life while exploring the shallows because the water is clear and shallow.
Anne's Beach is a pet-friendly beach. It has a pet-friendly section of the sand where you can spend the day splashing around with your furry family members. There are two small parking lots at Anne's Beach. It would be best if you stopped there on your way along the Overseas Highway because it is free.
Harry Harris Park Beach, which is in Tavernier, is regarded as a really fantastic place to spend some time in Key Largo by families and groups of friends. Without having to worry about your children's safety, you can fully enjoy your trip as it is one of the safest beaches for children in Key Largo, mainly because it does not have any waves.
This beach is accessible on weekends for a fee, and in exchange, you get access to a sandy beach that is guarded by a rock jetty, shaded picnic tables, BBQ grills, and showers. There is also a boat ramp nearby for those who prefer to visualize the water from above rather than inside or below the surface.
Harry Harris isn't the most spectacular beach in Key Largo but gets its popularity from being child-friendly and offering several other facilities. Those who do spend time here frequently describe it as a laid-back, peaceful place.
There are BBQ grills, covered picnic tables, showers, and restrooms are all you need for a fun day out. Children can also find entertainment in play parks, where they might even see iguanas waddling about on the grass. Jellyfish are another aquatic creature to keep an eye out for, as they occasionally visit Harry Harris beach.
If you don't mind paying an entrance fee in exchange for peace and quiet, this beach is clean and well-maintained, so it may be money well spent. You might also be permitted free access to the beach if you go on a weekday. This Key Largo beach is the favorite among pet owners because it is dog friendly as well.
Also, if you're looking for other options, don't miss our list of The BEST Beaches Near Santa Ana.
One of the top beaches in the Florida Keys is Sombrero, which is on Marathon Key. The palm trees that line the beach's length and width are swaying. The views of the Atlantic are soul-capturing as the waves crash at high speeds. Families with children or those who want to relax in the shallows and work on their tans will find the shallow, warm water to be ideal.
Amongst the few beaches in the Florida Keys where you can walk along the shore for a decent amount of time is this one. Although the beach faces south, another section faces west and provides coverage from the rough seas if the waves are a little higher.
Visitors who are traveling with pets should visit Sombrero Beach. The beach is in front of a fairly large park with picnic tables, restrooms, a foot washing station, and sun shelters. Charcoal grills and power outlets for your electronic equipment are available at some picnic areas.
You might be able to join an unscheduled beach volleyball match at the permanent courts positioned in the sand, depending on the day. A huge grassy area with a walking path is nearby the beach and is ideal for throwing a football or a Frisbee. There is plenty of parking and a short distance from the parking lot to the beach.
Pro-tip — Bring lunch with you if you intend to stay all day so you can eat it under a covered picnic shelter.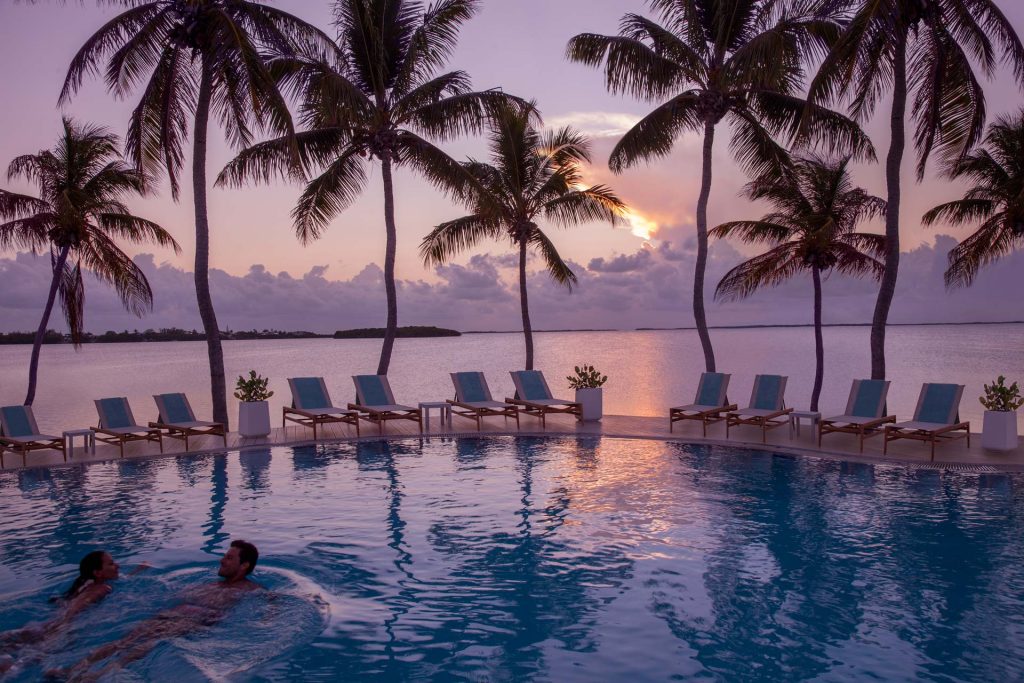 If you are looking for personalized beach time and fine dining later, visit Bungalows Key Largo. This resort and beach is the one to stay in Key Largo. There are 135 opulent wooden bungalows to stay in at this resort, which is spread out over a 12-acre seaside site. The Bungalows resort has a lot more to offer than just opulent lodging, such as a private beach.
The complex also features a gym, a sauna, the full-service Zen Garden Spa, a stunning infinity pool, and half a dozen bars and restaurants, including pool and tiki bars. Fish Tales, one of the restaurants, offers a wide range of freshly prepared seafood, and Sea Seor combines Mexican flavors with those of the region's fruits de mer. You can dress however you like for dinner at this resort because of the relaxed atmosphere throughout.
Additionally, guests are welcome to use the provided water sports equipment and participate in free yoga sessions. Kayaks, stand-up paddleboards, and snorkels are all provided, making it simple to try a new activity or get back into the routine.
The bungalows at this Key Largo beach resort have outdoor baths, personal decks, and, of course, viewpoints of the ocean. They also have rainfall showers. Interiors have a polished, sophisticated finish and are decorated in calming neutrals.
Another choice of a peaceful beach in Key Largo is the one next to Sunset Cove. This is a private beach that is accessible via the resort and is perfect for families coming in for the entire day. It provides a variety of accommodation choices and wonderful shared amenities like a boat dock, a picnic area with barbecue grills, and water sports equipment. The tiki huts scattered throughout the grounds further enhance the lovely tropical environment.
Motel-style accommodations to beachfront cottages are available at the Sunset Cove beach resort in Key Largo. The bigger accommodations at the Key Largo resort Sunset Cove have full kitchens and sofa beds, while the smaller ones only have microwaves and mini-fridges. This location is ideal for tourists looking for a dog beach on Key Largo for daily walks because pets are allowed in some accommodations.
Sunset Cove is a great alternative private beach on Key Largo to take into consideration if you're looking for something less expensive than the Bungalows at Key Largo beach. A private section of golden sand is located by the dock for guests' enjoyment, and the interior is decorated with lots of white, blue, and natural wood to give it a coastal feel.
Things to Consider When Visiting Key Largo Beaches
Take notes of the following important things before planning your trip to any Key Largo beach. It will help you save time and have the best possible trip.
Weather — The most crucial thing to consider when planning a trip to the beach is the weather. If you plan your trip months in advance, it's possible that you'll arrive on the day of a weather emergency. Watch out for warnings about high surf as well. Usually, the temperature in Key Largo during the summer months varies from 27 to 30 degrees which is fine for a visit.
Choosing the Right Beach — Decide what kind of experience you want from your visit before you arrive. Do you prefer lively crowds or would you prefer to read a book in peace while listening to the ocean waves? Do you have young children with you on this trip, or would you rather travel with mostly adults? Would you prefer to be somewhere that doesn't allow pets or would you like to bring your dog with you? Do you want to keep insects from biting you? Do you consider spending the majority of your time in the water or on the sand? Find a beach with the environment you'll enjoy the most by doing your research first.
Wildlife Warning — Seeing aquatic animals in the wild is one of the attractions of ocean swimming, but make sure to keep your distance. This happens especially in the case of Key Largo Beaches. Don't ruin the experience of watching a sea turtle feed by attempting to touch it or interfere with its routine. Flags in purple or blue denote jellyfish or other potentially harmful wildlife. Visit a lifeguard or get medical help right away if you've been stung.
Bring Your Own Food — With very few exceptions, most beaches in Key Largo either don't sell any food at all or offer a very small selection of expensive, unhealthy food. Consider making a quick trip to a nearby grocery store or farmer's market to buy fruits, vegetables, bread, chocolates, crisps, bottled water, juices, and/or snacks so you can pack a cooler to take with you to the beach each day if you don't have access to a kitchen while you're on vacation but your hotel room has a small refrigerator. In addition to eating much better, you'll save money.
How We Pick Our Recommendations?
Key Largo, Florida is a small place but we still decided to give it a try and explore more about the beaches close to it. After our thorough analysis as well as the opinion of other travelers, we were able to devise a list of both, public and private beaches, that will surely help you make the right decision for your next trip. We chose the best Key Largo beaches based on their family-friendliness, child-friendliness, accessibility, route, atmosphere, rush, and other related factors as well.
Editor's Pick: The Best Ramen Spots in Miami
Take a Trip to Key Largo Beaches
Take a break from exploring and choose to spend the day having fun at a stunning beach. Visit one of the many eye-catching Key Largo beaches with your friends, significant other, or loved ones to spend a memorable day playing in the sand, sun, and sea. We hope this guide has been useful, whether you were looking for information on where to find a public beach or which Key Largo bay beach resort gives its guests access to a private beach.
Key Largo Beaches - FAQs
What are some of the best beaches in Key Largo?
The best beaches in Key Largo are Far Beach and Cannon Beach.
Are there any private beaches in Key Largo?
Yes, there are many private beaches in Key Largo such as Sunset Cove Beach and Bungalows Key Largo Beach.
Which is the best beach in Key Largo for Children?
Harry Harris Beach is known to be the safest and best beach in Key Largo for Children.