Maui is renowned for its outdoor adventures and breathtaking natural beauty. But sometimes, all you want to do is kick back by a pool, have a nice drink, and soak up the friendly Hawaiian vibes. If that's what you're looking for, you're in for a treat with our carefully curated list of the finest hotels with pools in Maui.
Whether you seek a serene, adults-only oasis, a lively, family-friendly pool, or a pool with awe-inspiring vistas, we've got your ideal aquatic escape covered. These exceptional hotels are ready to transform your Maui vacation into an unforgettable experience. Continue reading to uncover more about these aquatic havens.
Best Hotel With Pools In Maui
Maui is home to several exceptional poolside hotels such as Sheraton Maui Resort & Spa, Fairmont Kea Lani, Maui, Four Seasons Resort Maui at Wailea, Grand Wailea, Outrigger Honua Kai Resort & Spa, The Westin Maui Resort & Spa Ka'anapali, Hyatt Regency Maui Resort & Spa, and Montage Kapalua Bay.
Let's explore them in more detail to help you find the perfect poolside escape for your Maui vacation!
The Sheraton Maui Resort & Spa is an incredible destination that offers a perfect blend of adventure, romance, and family fun. One of the best things here is the 142-yard freshwater swimming lagoon. It winds through colorful gardens, wooden bridges, and lava rock waterways. There's even a lazy river and a thrilling waterslide if you're up for some excitement.
For families, there's a special pool area for little kids to play safely and other parts of the lagoon are deeper (up to 8 feet) for those who want a refreshing swim.
You don't need to worry about finding a place to sit in the sun because they have lounge chairs available. And, the pool staff kindly gives you complimentary towels. When it's time to eat, the Sheraton Maui Resort & Spa has five restaurants and bars so you won't go hungry.
Amenities: For the guests' comfort and enjoyment, the hotel offers a variety of amenities including:
Children Activities (Kid / Family Friendly)
Electric vehicle charging station
Free High-Speed Internet (WiFi)
Pool with view
Fitness Center with Gym / Workout Room
Bar/lounge
Snorkeling
Tennis court
Price Range: Whenever you decide to book here, you'll typically find the price range falls within:
Average Price: $547
Peak Price: $780
Location: The property is located on 23 acres of lush oceanfront land at the iconic Puu Kekaa. Guests can explore attractions like Lahaina Jodo Mission (3.1 miles), Old Lahaina Courthouse (3.3 miles), and Wo Hing Temple Museum (3.6 miles).
For dining options, there are convenient restaurants such as Round Table Pizza, Cliff Dive Grill, and Island Press Coffee. Moreover, you'll find amazing nearby places like Ka'anapali Beach (0.1 miles away), The Spa at Black Rock (just 0.05 miles), and Maui Nui Luau at Black Rock (only 0.08 miles from the resort).
Address: 2605 Kaanapali Parkway, Lahaina, Maui, HI 96761-1970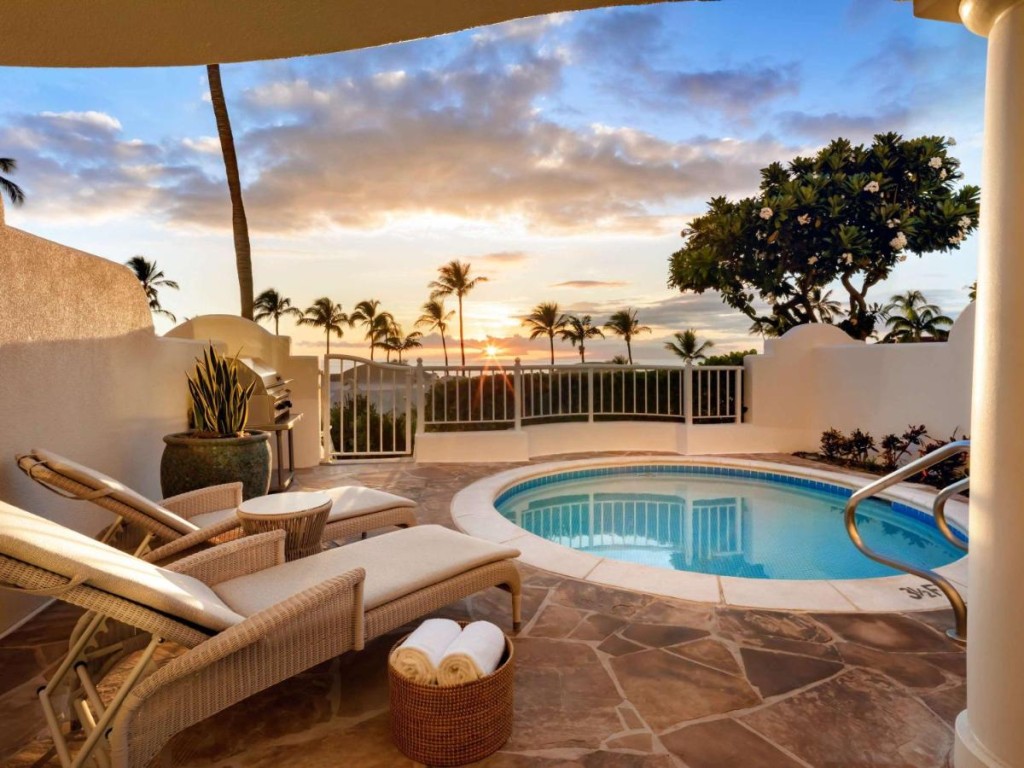 Fairmont Kea Lani in Maui is like a slice of paradise that will transport you to a whole new level of relaxation and adventure. It offers luxurious accommodations with not one, not two, but three incredible pools.
Each of these pools has something unique to provide. For instance, the Lower Lagoon Family, where you can relax with cool towels and enjoy fresh fruit while lounging by the pool. There's even a basketball hoop and a separate pool for the little ones. And if you're feeling adventurous, you can rent underwater scooters and toys for some water fun.
Now, let us tell you about the Tranquility Pool for Adults. It feels just like heaven! You can unwind on a comfy chaise lounge, soak up the sun, and indulge in a refreshing lilikoʻi margarita. If you're in the mood for some relaxation, you can even treat yourself to a couple's pohaku massage using Hawaiian stones. Lastly, there's the Upper Pool, which is a favorite among couples and families. It's conveniently located and has a thrilling 140-foot water slide that ends at the Lower Lagoon Pool. You can also enjoy a relaxing whirlpool, rent shaded cabanas, and grab some delicious Maui-style meals at the AMA Bar & Grill.
Amenities: This poolside hotel is adored by guests for its array of amenities and below are some of the finest ones:
Pools (Various types)
Complimentary Food and Beverages (Breakfast, coffee, tea, wine)
Fitness and Wellness (Gym, yoga, spa, massages)
Internet Access (Free and paid)
Beach and Water Activities (Canoeing, diving, snorkeling)
Family-Friendly (Kids' activities, babysitting)
Business and Event Facilities (Business center, conference rooms)
Additional Services (24-hour security, concierge, laundry)
Price Range: The resort's rates can vary depending on the season and availability. You can check their current pricing, which starts from:
Average Price: $970
Peak Price: $1,353
Location: Fairmont Kea Lani enjoys a prime location with attractions just steps away. You'll find The Magical Mystery Show at 0.01 miles, Wailea Beach Path at 0.1 miles, and Polo Beach at 0.2 miles. Nearby dining options include Lobby Lounge at Four Seasons Resort Maui, Ko., and The Restaurant at Hotel Wailea.
Sports enthusiasts are only 1.5 miles from the Wailea Tennis Club, which is renowned for its championship tennis facilities. For shopping, The Shops at Wailea are just 1.6 km away from Fairmont Kea Lani whereas Makena State Park is a quick 5-minute drive from the property.
Address: 4100 Wailea Alanui Drive, Wailea, Maui, HI 96753-8449
No matter what type of traveler you are, Four Seasons Maui caters to all with its array of offerings, including three extraordinary pools. Among these aquatic wonders, Serenity Pool stands out as a tranquil haven exclusively for adults. Its infinity design and breathtaking views make it the perfect spot for unwinding. You can even enjoy underwater music while sipping on your favorite cocktail from the swim-up bar.
If you're looking for a lively atmosphere, head to the Fountain Pool. This 24-hour saltwater pool features a central fountain, luxury cabanas, and poolside spa treatments. Further, you can enjoy complimentary treats like juices, popsicles, and ice cream here.
Families and young adventurers will find endless joy at the Waterfall Pool. With its waterfall, slide, and shallow area, it's a playful and family-friendly space where little ones can make a splash. Treat yourself to poolside spa treatments and enjoy complimentary treats, ensuring everyone has a memorable experience.
Amenities: With 52 amenities, this hotel guarantees an unforgettable and hassle-free stay. The following are some of the most important amenities for your consideration:
Paid private parking on-site and Paid wifi
Fitness Center with Gym / Workout Room and yoga classes
Free shuttle or taxi services and Airport transportation
Complimentary welcome drink and kid-friendly buffet
Adult-only pool and beachside pool
Pool with a swim-up bar and kid's pool with a play area
Restaurant with a breakfast buffet and oceanfront dining
Tennis court and Game room
Price Range: The cost can also vary depending on the weekday of your stay. Below is what you can expect:
Average Price: $1,058
Peak Price: $1,584
Location: Just a stone's throw away from this unique hotel, you'll uncover the beautiful Polo Beach (0.3 miles) and the captivating Grand Wailea Luau (0.1 miles). When hunger strikes, tantalize your taste buds with exquisite meals at conveniently located restaurants like the Lobby Lounge at Four Seasons Resort Maui, Ferraro's Bar e Ristorante, and DUO Steak & Seafood.
Traveling to and from the hotel is a breeze with Kahului Airport a short 27.4 km away. For a shopping spree, look no further than The Shops at Wailea, which lies less than 1.6 km from this hotel. Golf enthusiasts will be delighted to find the Wailea Golf Club just a quick 2-minute drive away. And if you're up for an adventure, Haleakala National Park beckons from 69.2 km distant.
Address: 3900 Wailea Alanui Drive, Wailea, Maui, HI 96753-5453
Related: Waimano Falls: Guide to Nature Lover's Paradise in Oahu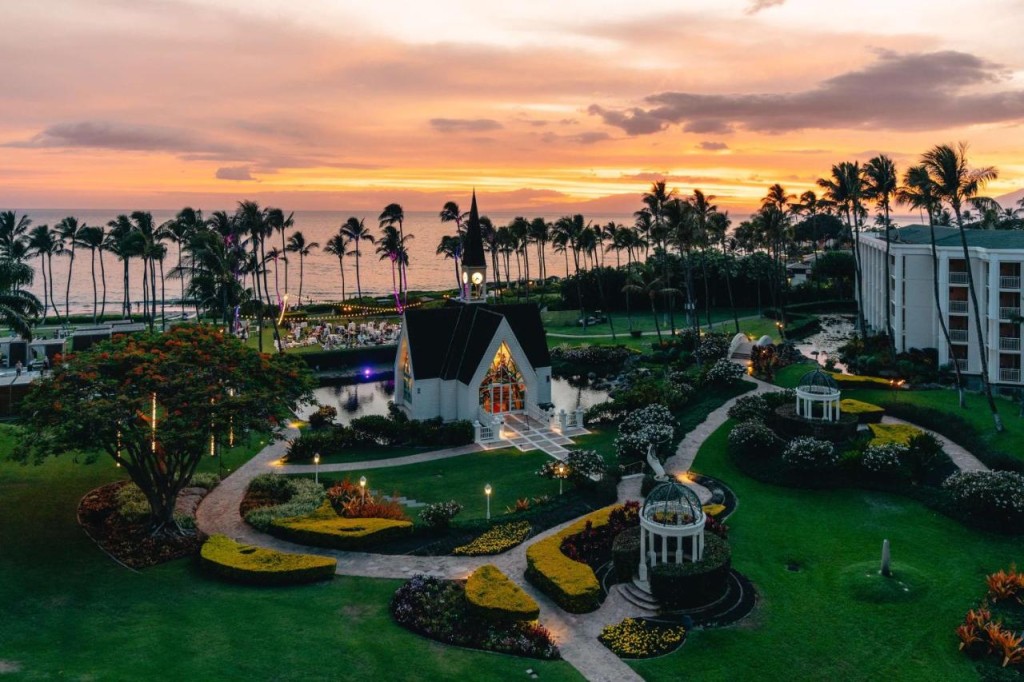 Grand Wailea Maui holds a special place among our preferred pool hotels as it attracts a plethora of pool enthusiasts every year. With its recent revitalization, Grand Wailea now provides a refreshed retreat where relaxation and enjoyment blend seamlessly. Now, let's talk about the pools, which are the true stars of Grand Wailea.
The adults-only Hibiscus Pool features a stunning hibiscus design on the bottom and is adorned with 2.2 million individual tiles. For the little ones, the Wailea Canyon activity pool is like stepping into a dream world of aquatic adventures with slides, waterfalls, caves, and a Tarzan pool. Definitely, this is one of the finest hotels with a pool in Maui.
Amenities: This hotel offers exceptional pools, top-notch facilities, and a dedicated staff to ensure a memorable guest experience. Let's explore their impressive amenities below.
Valet parking and paid private parking on-site
Free internet and paid Wi-Fi options
Multiple pools, including an adult pool and a heated pool
On-site fitness center and yoga classes
Bar/lounge and poolside bar for refreshments
Beach access and pool with scenic views
Dining options include a restaurant and swim-up bar
Spa services such as couples massage and facial treatments
Price Range: When booking, you'll encounter the following price range:
Average Price: $773
High Price: $1,262
Location: This luxurious resort sprawls across 40 acres of vibrant tropical gardens. It shares its grounds with the Wailea Blue Golf Course and stands a mere 6 miles from the Ahihi Kinau Natural Area Reserve. Close by, you'll uncover enticing attractions including Wailea Beach (just 0.2 miles away), Little Beach (0.2 miles away), and the captivating Te Au Moana Luau (0.2 miles away).
When your stomach starts to rumble, you'll be pleased to find delightful dining options within a short stroll. The Honolulu Cookie Company, Island Gourmet Markets, and the inviting Lobby Lounge at Four Seasons Resort Maui are all just a stone's throw away.
Address: 3850 Wailea Alanui Drive, Wailea, Maui, HI 96753
When it comes to finding a truly distinctive and remarkable hotel experience, Outrigger Honua Kai Resort & Spa is the perfect unit for you. The pool at this property isn't your average pool; it's a 3-acre aquatic playground that will make your vacation unforgettable. Guests can dive into a world of fun and relaxation as they explore the network of pools, jet spas, and waterfalls, discovering hidden caves and making wishes at the fountains.
For those seeking peace, the adults-only infinity pool is the perfect spot to relax and bask in the warm Hawaiian sun. If you're up for a leisurely adventure, take a ride on the lazy river winding through the resort grounds. To satisfy your taste buds, Duke's Beach House is ready to serve you delicious Hawaiian food and drinks right by the pool. Moreover, if you want to take your pool experience to the next level, you can rent cabanas, casabellas, water toys, and snorkel gear from the beach activities desk.
Amenities: Outrigger Honua Kai Resort & Spa offers the below-mentioned facilities that will enhance every aspect of your visit:
Various pools including outdoor heated, kids' pool, and pool with a view
Fitness facilities such as a gym, yoga classes, and a personal trainer
Dining options like a restaurant, bar/lounge, and poolside bar
Beach access and water sport equipment rentals
Spa services such as couples massage and facial treatments
Family-friendly activities including children's TV networks
Additional services like valet parking, 24-hour security, and laundry facilities
Price Range: When compared to other hotels, this one offers a slightly lower price point with prices typically falling in between:
Average Price: $632
High Price: $978
Location: This spot offers a mix of attractions with the intriguing Huaka'i Luau Maui – A Journey Through Polynesia (0.3 miles) and the bustling Honokowai Marketplace (0.3 miles). When you're ready to eat, you're in for a treat with options like Duke's Beach House, Times Supermarket, and the delightful Slappy Cakes Maui all nearby.
For those interested in history, you'll find the tranquil Lahaina Jodo Mission (4.3 miles), the Old Lahaina Courthouse (4.5 miles), and the captivating Wo Hing Temple Museum (4.8 miles) worth exploring.
Address: 130 Kai Malina Parkway, Lahaina, Maui, HI 96761
Recommended Reading: The Best Nude Beaches in Hawaii | 10 Secret Spots Pick!
The Westin Maui Resort & Spa in Kaanapali is an absolute gem for couples seeking a romantic getaway or honeymooners wanting some relaxation. The pool at this hotel is truly exceptional for several reasons. To start, it's part of the Kawaiola Aquatic Playground, which is a massive 87,000 square feet of pool area. With so much space, there's always plenty of room for splashing around and having a fantastic time.
What makes this place stand out are the six beautiful pools, each with its own unique theme and breathtaking views of Ka'anapali Beach. For adults looking for a peaceful experience, the adults-only pool deck features an infinity pool and hot tub. The newly designed family area is a hit with kids, offering an interactive splash zone where they can have a blast playing with water features.
However, the real star of the show is the iconic 270-foot water slide that plunges into a pool adorned with hidden jacuzzis and swim-through waterfalls. It's not just a slide; it's a thrilling adventure. And let's not forget about the little ones! The keiki splash pool ensures they have a safe and enjoyable experience in shallow water.
Amenities: Similar to the aforementioned hotels, this pool hotel also offers fantastic amenities:
Free internet access
Valet parking and paid private parking on-site
Different pools: adult, kids, outdoor, with a view
Fitness center, yoga room, and personal trainer
Beach access and snorkeling equipment
On-site coffee shops, restaurants, and bars
Family-friendly amenities like kids' club and waterslide
Spa with massages and facial treatments
Price Range: The price range for a stay at this hotel usually falls within:
Average Rate: $709
Peak Rate: $759
Location: This building has various nearby attractions including the educational Whale Center of the Pacific (0.1 miles), the entertaining Maui Escape Rooms (0.1 miles), and the lively Whalers Village (0.1 miles). History buffs will appreciate the nearby Old Lahaina Courthouse (2.9 miles), the serene Lahaina Jodo Mission (2.6 miles), and the culturally rich Wo Hing Temple Museum (3.1 miles). When it's time to dine, you're spoiled for choice with eateries like Island Vintage Coffee, Leilani's On The Beach, and the inviting Monkeypod right around the corner.
Address: 2365 Kaanapali Parkway, Lahaina, Maui, HI 96761-1900
Related: Are There Monkeys in Hawaii? [A Complete Guide]
Hyatt Regency Maui Resort & Spa
PERFECT FOR: Hawaiian culture and cuisine lovers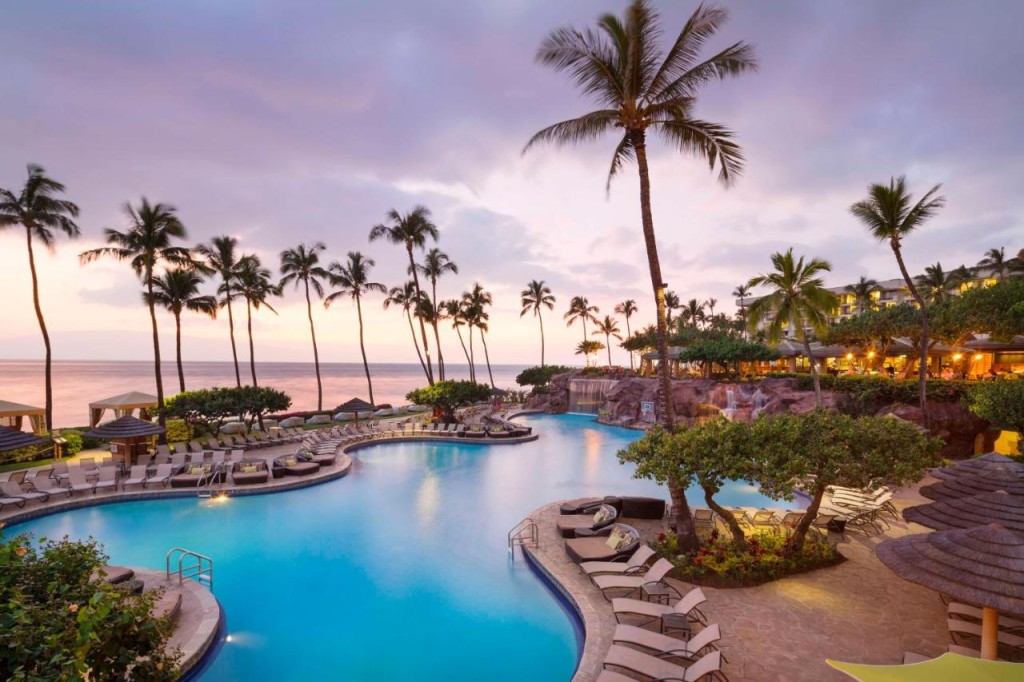 Whether you want relaxation by the pool, excitement on the water slides, or a refreshing drink at the swim-up bar, the Hyatt Regency Maui's pool area caters to everyone. The pool complex at this hotel is like a mini water park. It has not only one but two free-form swimming pools for you to enjoy. Families with little ones, be ready for some fun as your kids will have a fantastic time in the interactive children's pool.
In addition, you'll find beautiful cascading waterfalls within the pool area, and conveniently placed under them is a swim-up bar. Adventure seekers, prepare for an exhilarating experience – you can ride down the tube slide or challenge yourself by crossing the rope bridge. And if you're with family, the Napili Pool is the place to be. It features a water slide and a swinging rope bridge that will keep everyone entertained. All these aspects make it one of the best hotels in Maui with pools.
Amenities: Now, let's explore these fantastic amenities offered by this remarkable property:
Free internet
Pool with Waterfall
Kids' outdoor play equipment
Happy tour
Fitness classes and Aerobics
Coffee shop and Restaurant
Walking tour
Price Range: As for this hotel, you'll find prices ranging from:
Average Rate: $642
Peak Rate: $711
Location: This elegant resort sits ideally on the beachfront, surrounded by 40 acres of lush tropical gardens. It's just a short 0.8-mile stroll to the Whalers Village shopping complex and a brief 3.5-mile jaunt to the charming Lahaina town.
In the vicinity, you'll find more captivating places such as Maui Escape Rooms (0.6 miles), the enlightening Whale Center of the Pacific (0.6 miles), and the lively Drums of the Pacific Lu'au (0.1 miles). When it's time for a bite to eat, you have the convenience of dining establishments like Island Vintage Coffee, Japengo, and the inviting Leilani's On The Beach.
Address: 200 Nohea Kai Drive, Lahaina, Maui, HI 96761-1985
Suggested Reading: 8 Best Party Hotels in Scottsdale AZ [Guide for Party Lovers]
Montage Kapalua Bay
PERFECT FOR: upscale and tranquil escape.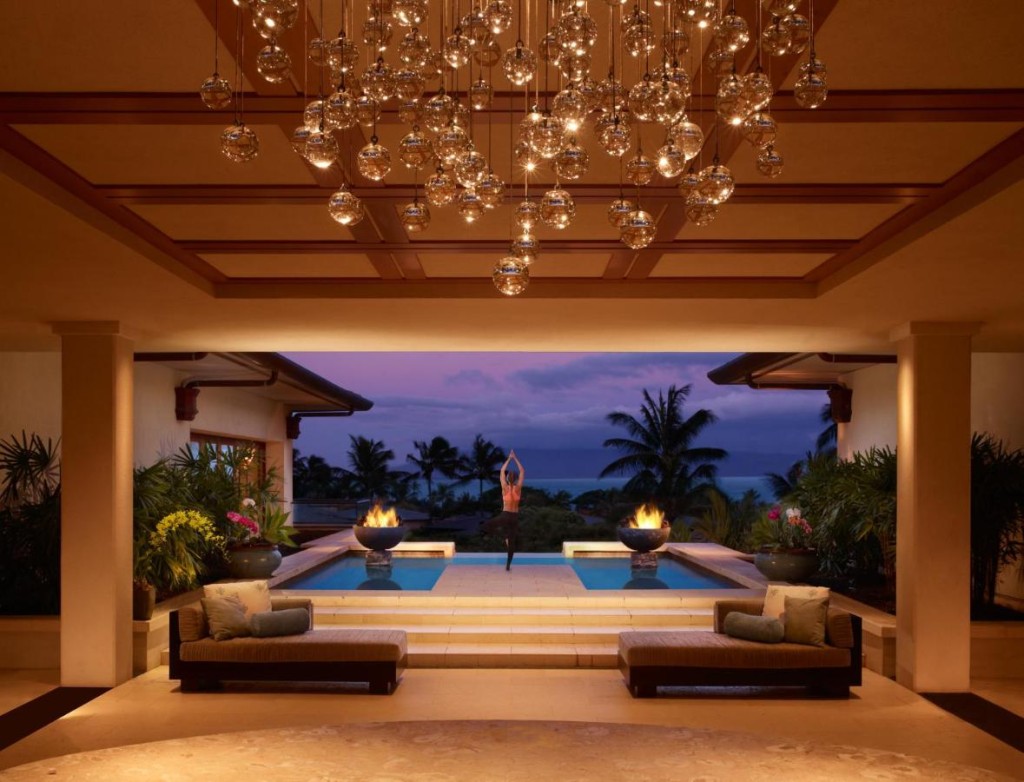 Montage Kapalua Bay is seen as the perfect resort where the sun, sea, and sky meet to create a memorable experience for you. At this place, you can immerse yourself in the beauty of nature while residing in expansive oceanfront accommodations that truly capture the essence of Maui. Additionally, you can swim in the Sunset Pool, a three-level wonderland that winds through lush gardens and overlooks the blue ocean.
Also, you can rent a cabana for a cozy escape, or sip a drink at the poolside bar. Moreover, it offers you the chance to explore Kapalua Bay Beach, recognized as one of Maui's most exquisite shores. Here, you can engage in snorkeling, kayaking, paddleboarding, or simply soak up the sun's warmth. We must say this is the gateway to turning your dream vacation into a living masterpiece, especially if you are looking for a hotel with pool in Maui.
Amenities: This hotel offers 48 amenities including the following:
Business Center with Internet Access
Hot tub and Sauna
BBQ facilities
Pool with view
Adult pool and Open-air bath
Yoga classes and room
Fitness/spa locker rooms and classes
Price Range: Due to its abundance of nearby attractions and a wide range of amenities, their prices tend to be on the higher side as you can see below:
Average price: $1,374
Peak price: $1,743
Location: This hotel is located in a cool spot with lots of neat stuff nearby. You can check out the Slack Key Show, which is only about 0.3 miles away. If you're into nature, there's the Kapalua Coastal Trail and the beautiful Kapalua Beach both are 0.2 miles away from the hotel.
When you're hungry, you've got some great restaurants nearby like the Gazebo Restaurant at Napili Shores, the Honolua Store, and the Sansei Seafood Restaurant & Sushi Bar. And for those who appreciate history, the fascinating Cliff House is a mere 0.07 miles away. It's a cool place to learn about the past.
Address: 1 Bay Drive, Kapalua, Maui, HI 96761-9035
Suggested Reading: How to check out of a Hotel? – The Complete Guide
Conclusion
Maui offers a stunning array of hotels with exceptional swimming pools, each catering to different preferences and needs. Whether you're seeking adventure, romance, family fun, or tranquility, there's a perfect poolside escape for you. From the Sheraton Maui Resort & Spa's freshwater lagoon to the luxurious Fairmont Kea Lani's multiple pools, and the lavish Four Seasons Resort Maui at Wailea's Serenity Pool, these hotels promise unforgettable aquatic experiences.
The Grand Wailea's aquatic playground, Outrigger Honua Kai Resort & Spa's 3-acre pool area, and The Westin Maui Resort & Spa's Kawaiola Aquatic Playground provide endless fun. Lastly, Montage Kapalua Bay offers an upscale, oceanfront retreat with its Sunset Pool. Maui's finest poolside hotels ensure that your Hawaiian vacation is filled with relaxation, adventure, and unforgettable memories.
Hotels with Pools in Maui - FAQs
Which Maui hotels have the best pool facilities?
Some of the top Maui hotels with exceptional pool facilities include Sheraton Maui Resort & Spa, Fairmont Kea Lani, Maui, Four Seasons Resort Maui at Wailea, Grand Wailea, Outrigger Honua Kai Resort & Spa, and The Westin Maui Resort & Spa Ka'anapali.
What is the average price range for a stay at these Maui hotels with pools?
The average price range for a stay at these Maui hotels with pools varies, but it typically falls within the $300 to $1500 range, depending on the hotel, room type, and season.
Do these Maui hotels provide poolside amenities like towels and lounges for guests?
Yes, these Maui hotels offer poolside amenities, including complimentary towels and lounge chairs, ensuring a comfortable and enjoyable poolside experience for guests