Amidst the tropical paradise of Hawaii's Pearl City, a breathtaking waterfall in Oahu awaits – Waimano Falls. Visitors can enjoy the outdoors and get in touch with nature at this magnificent waterfall, which is surrounded by beautiful plants and teeming with wildlife.
These breathtaking falls promise an unforgettable journey from cliff jumping to peaceful swimming in pristine waters. The allure of Waimano Falls is too appealing; come and experience it with us!
What Makes Waimano Falls Worth a Visit?
Waimano Falls is a popular destination located in Pearl City and is easy to locate. There are two falls here that are definitely worth a visit for those seeking a thrilling and beautiful outdoor adventure on the island of Oahu. There are several reasons why Waimano Falls should be on your list of must-visit attractions:
Safe Tourism
Waimano Falls Trail is part of an initiative for sustainable tourism aimed at preserving and protecting Hawaii's natural beauty. The trail is maintained by a local organization that focuses on sustainability and eco-tourism, ensuring that visitors can enjoy the area without harming the environment.
Adventures can feel good knowing that their visit is contributing to the protection of the environment. The organization strives to keep the trail free of litter and clean, while also educating visitors about the importance of conservation and sustainability. Besides, the trail is easily accessible making it safe for visitors.
For other safety tips during travel, visit our section on Travel Tips.
Marvelous Scenery
One key feature of this waterfall is that it is nestled in a verdant tropical forest full of many kinds of trees and bushes such as koa, uluhe, ohiʻa, and hau. It's an exciting and thrilling adventure for hikers to make their way through the woods, through the streams, and up the rocks to the falls.
Water cascades over rocks into a pool of pristine water, making the falls itself a sight to behold. Travelers can splash around in the refreshing water, swing from the trees, and swim while taking in the stunning scenery.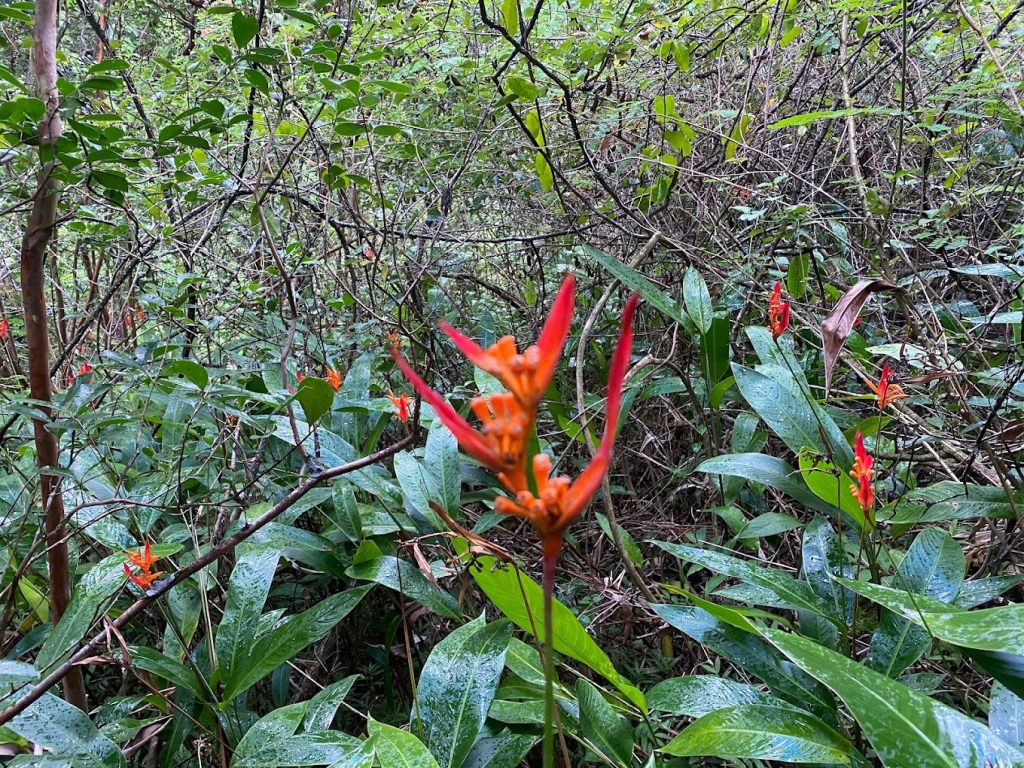 The falls are a peaceful and secluded place, giving tourists the impression that they have fled into the wilderness. Along the path, tourists will also come across a plethora of photo ops to make sure you have a good one for Instagram! Photographs taken near the falls or in the surrounding forest will be a lasting reminder of a trip to this beautiful location.
Related Reading: Chasing Waterfalls in Illinois: The Best Trails to Explore
Cultural and Spiritual Significance
Waimano Falls Trail is not just a beautiful place to visit; it is also culturally and spiritually significant. The trail has a rich local history and is considered a sacred site by some locals. Waimano Falls, as a natural waterfall, is seen as a manifestation of water that aims to connect native Hawaiian people to their ancestral roots. Besides, the natives have often indulged in activities like chants and prayers at these waterfalls, making them sacred.
Vacationers can learn about the history and significance of the area by reading the informational plaques along the trail.
Once a popular "Gathering Place" for Hawaiian royalty, the trail continues to hold a special place in the hearts of many Hawaiians. Guests can feel the spirit of the land as they hike through the forest and reach the falls.
The falls themselves are also regarded as a sacred site, and tourists are requested to treat the area with respect and reverence. The tranquil setting allows visitors to escape the hustle and bustle of city life and enjoy a peaceful and relaxing environment.
Also, be sure to read our advisory travel explained section.
Waimano Falls Features
In order to fully appreciate this hidden gem, visitors should familiarize themselves with its features. Let's find out the hike's length, difficulty, and parking situation so that you can come prepared.
Difficulty Level and Hiking Distance
The trail to Waimano Falls is about 3 miles long and is considered a moderately challenging route. The elevation range is 810 feet, and the hike can take up to 1-2 hours.
While the downhill portion of the hike is relatively easy, the uphill climb can be strenuous. The trail is suitable for intermediate to advanced hikers who are comfortable with challenging hikes.
Restrooms and Pet-Friendly
Waimano Falls is pet-friendly and allows visitors to bring their furry friends along on the hike. However, dogs must be on a leash at all times. On the other hand, there are no restrooms available along the trail, so visitors should plan accordingly.
Location and Parking
Waimano Falls is situated in a residential area. Visitors can take Kuala Street to Waimano Home Road and turn left on Komo Mai Drive until it dead-ends at the trailhead. Note that there is no designated parking for the trail, and hikers must find street parking along Komo Mai Drive while being respectful of the neighborhood residents.
Plunge Pool and Height
Waimano Falls is a gorgeous cascade waterfall that has three segments, which flow into the Waimano Pools. The last pool is deep enough to jump into and is surrounded by a natural pool area. The waterfall is about 30-40 feet high and is followed by a cascade with a deep plunge pool and a rope swing.
Suggested Reading: Breathtaking Waterfalls of North Carolina You Should Not Miss
Restaurants and Cafe
Neither a cafe nor any well-known restaurants can be found in these falls. However, there are a number of eateries and lodging options near the falls, including McDonald's and the Pacific Marina Inn.
Handy Tip: If you're looking for a restaurant near Wiamano Falls, Cattle Company Steakhouse Pearl City is a great option to consider. As the name suggests, this steakhouse is known for its delicious steaks. They offer a wide variety of cuts and preparations to suit any taste, from filet mignon to ribeye and more.
What to do at Waimano Falls?
Waimano Falls is a one-of-a-kind tourist attraction due to the wide variety of exciting things to do there. If you're looking for something fun to do, consider these options:
Swimming
The plunge pool at Waimano Falls is quite deep. On a hot day, a dip in the cool water is just what you need to rejuvenate. The tranquil setting, enhanced by the faint trickle of a nearby waterfall, is ideal for relaxation.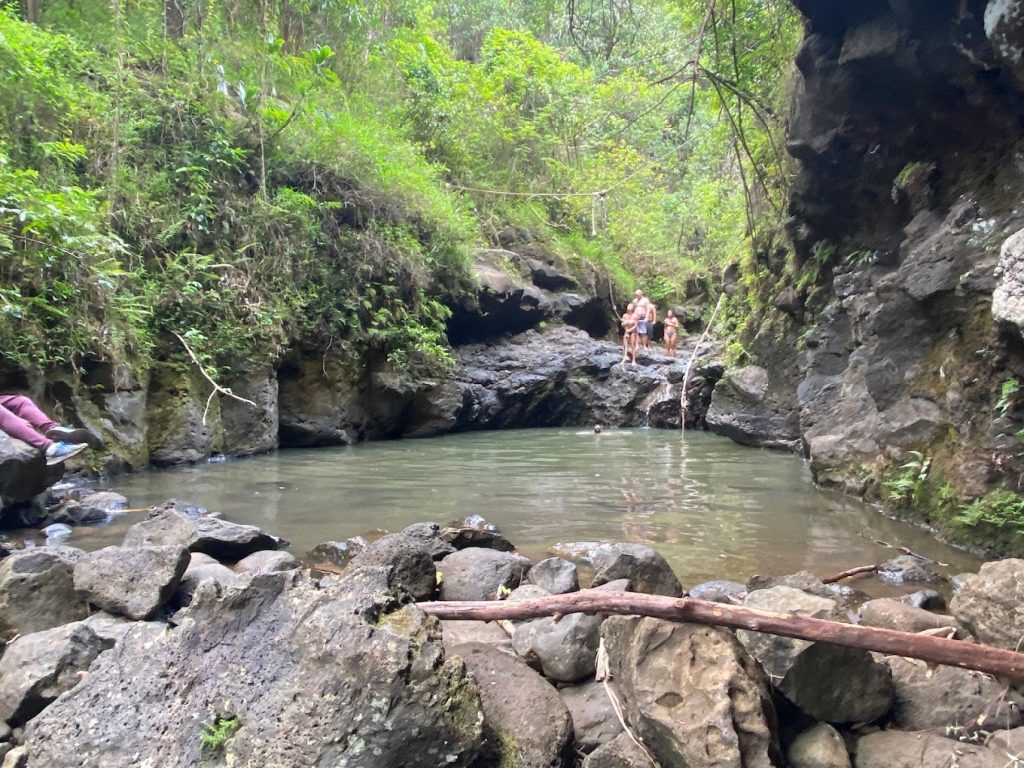 Cliff Jumping
Waimano Falls provides an opportunity for visitors to try cliff jumping. Visitors can jump off ledges to the plunge pool below the waterfall. This exhilarating activity is not for the faint of heart but can provide a rush of adrenaline and an unforgettable experience.
Night Hiking
For a unique experience, visitors can hike to Waimano Falls at night. The trail is open 24/7, and visitors can enjoy the waterfall and its serene surroundings in a different light. It's essential to bring a flashlight and to be mindful of the surroundings.
Rope Swinging
Another unique activity at Waimano Falls is rope swinging. Visitors can swing on a rope tied to a tree and jump into the deep plunge pool. This activity is a fun way to experience the waterfall and its natural surroundings.
Meditation
Waimano Falls is a peaceful and tranquil destination, making it an ideal spot for meditation. Visitors can find a quiet spot near the waterfall and immerse themselves in the calming sound of the water and the natural surroundings. This is an excellent activity for those looking to relax and de-stress.
Picnicking
Waimano Falls is an excellent spot for a picnic. Visitors can bring a blanket and some food and enjoy a meal while taking in the stunning views of the waterfall and the lush greenery surrounding it.
Things You Should Know Before Visiting Waimano Falls
It is essential that tourists planning a trip to Waimano Falls have complete information at their fingertips. Before embarking on a hike, there are a few things to keep in mind.
Condition of Trail
The path to Waimano Falls is often muddy and dangerous, particularly after rain. People should have to bring hiking gear, including sturdy shoes with good traction, and be ready for a difficult walk.
Parking
Explorers looking for a place to park will have to find spots along Komo Mai Drive, as Waimano Falls does not have its own parking lot. Avoid blocking driveways or other cars out of consideration for the nearby community.
Best Visiting Time
The dry season, which normally lasts from May to September, is the greatest time to explore Waimano Falls. At this time of year, the waterfall is always at full strength, and the days are bright and warm. Weekends tend to be busier, so guests may wish to consider visiting on a weekday.
Safety
Hikers should take precautions on the trail to and around Waimano Falls to ensure their safety. Visitors should only swim or jump from designated spots near the safe areas of the waterfall. It's also crucial to stick to the designated path and avoid venturing out into uncharted territory.
Amenities
Unfortunately, there are no visitor restrooms or other amenities, so travelers should prepare ahead and bring their own supplies. In order to stay hydrated and protected from the sun, guests are advised to pack lots of water, snacks, and sunscreen.
Theft Incident
In the parking area of the trailhead to Waimano Falls, thefts have been reported. It is recommended that guests not leave any valuables in their vehicles and to ensure they always lock their doors. Leave no luggage or backpacks openly in the car, as this can serve as an invitation to burglars.
More Key Factors to Think About
Waterfall hiking and climbing calls for specific gear and supplies. Here are a few guidelines to keep in mind:
Closed-toe, durable shoes with adequate traction should be worn to avoid slips and falls.
Wear protective clothing, such as a hat, and sunglasses, to avoid UV damage.
Bring a towel and an extra set of clothes if you plan on swimming.
Keep a little first aid kit on hand in case of accidents or medical crises.
Bring a map or GPS with you to assist you find your way along the route.
Protect your phone from water damage by bringing a waterproof case with you.
For your next trip, we recommend visiting the best nude beaches in Hawaii.
Explore Waimano Falls: Summary
Waimano Falls is a magnificent natural destination, and tourists can have a pleasant and fulfilling day by keeping the below-mentioned details, suggestions, and adjacent dining alternatives in mind.
| | |
| --- | --- |
| Trail Width and Drops | Parts of trail 12″ wide atop 2,000-ft drops. Caution advised |
| Swimming Area | Deep enough for swimming, but be cautious |
| Water Flow | Varies by season and rainfall |
| Nearby Attractions | Palisades Drive Inn (3 min drive, 0.9 mi), Satos Okazuya (5 min drive, 1.9 mi), Dave's Hawaiian Ice Cream (13 min drive, 5.6 mi) |
| Potential Problems | Theft in the parking lot, slippery trail conditions, crowds |
| Parking | The small lot fills up quickly. So, arrive early to secure a parking spot. |
| Water Temperature | Slightly higher temps in summer, freezing in winter. |
Conclusion
Waimano Falls is a stunning waterfall in Hawaii's Pearl City. The falls, which range in height from 30 to 40 feet, are surrounded by verdant greenery and an abundance of wildlife and provide tourists with a welcome respite from the stresses of city life. However, the walk to the waterfalls is steep and potentially dangerous, so hikers should proceed with caution.
Despite this, it's definitely worth it to make the journey to Waimano Falls. There's something for everyone at Waimano Falls, from swimming in the cooling pool at the base of the falls to cliff enjoying and jumping in the breathtaking surroundings.
FAQs
All About Waimano Falls - FAQs
What are some fun activities at Waimano Falls?
The best fun activities at Waimano Falls include swimming, hiking, enjoying the scenery, and having a picnic amidst a peaceful environment.
How long is Waimano Falls hike?
Waimano Falls hike is 2.9 miles long out-and-back.
Why is Waimano Falls considered holy?
Waimano Falls is considered holy and sacred because Native Hawaiians used to offer several rituals over here including chants and prayers.