Despite its reputation as the flattest state, Illinois has plenty to serve outdoor enthusiasts and hikers. State parks are dedicated to protecting broad stretches of undeveloped land, and the consistent precipitation for a year ensures that streams and rivers are always at a healthy level. Waterfalls look beautiful and are more accessible to canoeists and kayakers when the river is higher. Some paths may get slick due to the rain, but seasoned hikers should be fine making their way through. Due to their modest size, the waterfalls are seasonal, and the best time to see them is in the weeks immediately after the snowmelt.
9 Most Instagrammable Waterfalls in Illinois: A Traveler's Guide
The waterfalls in Illinois have an air of mystery and enchantment. To my eyes, most of them appear to have been plucked from a fantasy novel. Is a trip to Illinois waterfalls on your itinerary? Let's slide down some of the most famous waterfalls in Illinois along with their destination, access, and level of difficulty.
If you're looking for a natural wonder that's off the beaten path, Bulge Holes Waterfalls offers a stunning display of cascading water and unique rock formations that will leave you in awe. The two main waterfalls range in height from 6 feet to 25 feet, with many more appearing after significant precipitation. The falls are not accessible via any hiking routes. You'll need to use your bushwhacking skills and directional awareness to find your way through the forest to catch a glimpse of them..
Despite the slippery conditions, heavy rain is the perfect time to view the waterfalls. This creates a more dramatic and spectacular view of the waterfall, with the water cascading down in a thundering display of power and beauty. You should wear long pants and sturdy shoes (ideally waterproof ones) in case you have to navigate barriers. Perhaps the best option would be pants with zippers so that you can remove them before crossing streams.
Be sure you have everything you need before venturing into the forest. It's easy to get confused in the woods, and there's not much cell phone service. We advise going out only in groups of two or more and carrying GPS devices so that if one of you should fall, the other can help you up. During the winter months, visitors can view a series of ice falls.
Those who like excitement and adventure will love exploring the Bulge Hole ecological region. With prolonged precipitation, the terrain becomes home to several waterfalls. When you travel through the area, you'll come across caverns, large rock shelters, and many breathtaking waterfalls.
For Your Next Trip: Mesmerising Waterfalls in Minnesota You Must Visit
The vast Shawnee National Forest is home to the sporadic Burden Falls. It's in the park's Burden Falls Wilderness region, not far from Pope County's northern boundary. Incredible natural beauty can be found in this wilderness area, which is characterized by its craggy rock formations and thick hardwood woods. There are no bridges or trains in this part of the wilderness.
Guests can view the upper falls from the parking area. They've spread out in numerous directions, creating a beautiful, attractive backdrop. But this is only a little preview of things to come. Just following the creek downhill will lead you to the major drop. We refer to these waterfalls as "twin falls." The water then drops another 48 feet to the canyon bottom after an initial, smaller drop.
The beauty of this location is enhanced by its natural state, unspoiled by man-made changes. Rather than being a single, breathtaking drop, this waterfall consists of some smaller cascades, each of which is beautiful in its way. Having been there myself, I can say that this is undoubtedly the best waterfall in Illinois for clearing your head. This can be a good option for you to take into consideration if you want to spend a stress-free weekend with your loved ones.
Suggested Reading: Breathtaking Waterfalls of North Carolina You Should Not Miss
One of the Trace's most visited spots, Jackson Falls, is situated in a section of the park that is well-known among rock climbers; nevertheless, you won't need your climbing equipment to enjoy this part of the park. In Jackson's downtown, a short five-minute stroll will bring you to this spot on Carter Notch Road (Route 16B).
This location features a lot of parking, a picnic area, restrooms, and a hiking route. Starting from the parking lot at the picnic area and restrooms, hike north for a quarter of a mile to reach a vantage point 300 feet above Duck River, then continue for another half mile to reach the Baker Bluff Overlook. The best time for photographs is when both waterfalls have dried up. If you want to view the falls in all their glory, you should plan this trek after a few days of rain.
A 900-foot-long, steep trail (concrete walkway) leads to a crystal-clear pool at the foot of the falls. Jackson Falls is a waterfall that may be reached at the end of this route. Before the creation of the falls, Jackson Branch flooded into this steep valley, cutting it off from the Duck River far below.
Jackson Falls is a seasonal waterfall that only truly shines in the spring or after a very severe rainfall. Several hikers claim the falls failed to impress them because of poor weather. This climb may be undertaken regardless of the time of year because the scenery is breathtaking.
Getting to Jackson from North Conway takes roughly ten minutes. In the Shawnee National Forest, this path ranks quite highly. Some claim the waterfalls aren't worth the hype if you don't come prepared, but it doesn't take anything away from how impressive the climb is.
Also, follow our Guide to The 8 Most Gorgeous Waterfalls Of Indiana.
Many say that Hennepin Canyon Falls is Starved Rock's best-kept secret. This waterfall can be found in a canyon that sees fewer visitors than the other park. The quiet of the area is a major draw for visitors. Despite its less popularity, the trail is often peaceful, even on Sundays. If you want to acquire some stunning photos of this waterfall, the ideal time to go is in the spring or after the rain.
The canyon's location in the park's far east could be a contributing factor in fewer visitors. Many tourists would rather not make the approximately 3-mile trek because other equally impressive waterfalls can be reached with far less effort. But we must say, you won't find a more impressive canyon in the park. One of the highest waterfalls in the park may be found inside this gorge. Wintertime icefalls are equally breathtaking.
From the visitor center, hikers can choose between the bluff walk and the river trail, both of which lead to the waterfalls. The path passes through several breathtaking canyons and lookouts. The two routes are complementary, so choosing one on the way there and one on the way back will maximize your time. As you reach Hennepin Canyon, use the bluff path to continue your journey. Following this will get you closer to the gorge's edge.
Helpful Hint: The Hennepin overlook, located close to the riverbank, provides stunning long-distance views of the Illinois River and the valley itself.
Parking is available at a tiny lot on E. 11th Road, not far from Route 71, for those who prefer a shorter walk. You may get to the viewpoint from the parking area by taking the bluff route that skirts the rim of the canyon. If you're going to the park on a crowded day, a climb to the waterfall and Hennepin Canyon is a terrific idea. The Kaskaskia Canyons and Ottawa are both within a single hour's drive and are worth seeing if you have the time and inclination to do so.
Editor's Pick: 9 Grand Waterfalls In Oklahoma That You Must Visit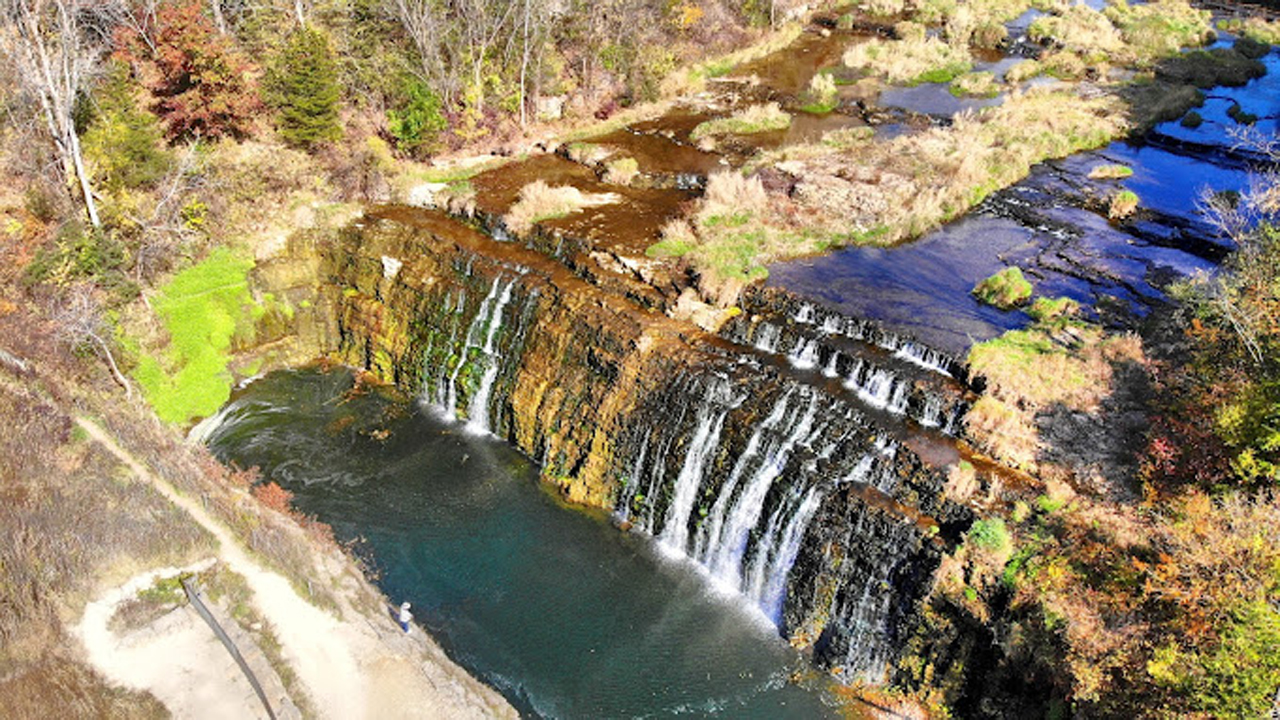 Thunder Bay Falls is considered a hidden gem of Illinois because it is situated away from the usual tourist routes. This breathtaking natural attraction can be seen near Galena. This gorgeous waterfall is located at 233 Thunder Bay Rd., Galena, IL 61036, USA. If you're looking for a relaxing vacation or a respite from the sweltering summer heat, this is the perfect spot for you.
The lake receives its water mostly from a spring and features a stunning 40-foot cascade created by a spillway at one end. There are a lot of people as well as tourists that come here to take photographs for special occasions like weddings, graduations, and other events. Parking is on a peaceful residential road, and the view of Galena Waterfall is worth the short walk from the road.
Given that a road comes within a stone's throw of these waterfalls, the trail leading up close is relatively short. This family-convenient waterfall has all the basic facilities, such as wheelchair and stroller access for the paths leading to the falls, and the railings are there for protection. The price varies depending on the number of people in your group; an adult may be charged $85 per person.
Thunder Bay Falls is one of our favorites because the hike there is quick and rewarding. The journey to the magnificent waterfalls won't take more than ten minutes from downtown. We strongly suggest you bring your family for a picnic and spend a few hours in the refreshing breezes the waterfalls provide. Don't leave home without your camera; you'll want to record this experience with photos.
In case you are looking for accomodation in Illinois, our guide to resorts in Illinois will help you out.
One of the most spectacular waterfalls in the park may be seen in St. Louis Canyon. They are nestled in a breathtaking canyon in the middle of the wilderness. As evidence of the massive fall of the canyon wall in 2004, numerous big stones can be found strewn throughout the gorge floor. All sorts of interesting plants and animals live here for your viewing pleasure. It is common to spot wild turkeys, frogs, woodpeckers, and coralroot orchids.
Even the waterfalls themselves are breathtaking. They reach heights of up to 80 feet. Given their size, they are among the park's most impressive waterfalls in Illinois. In addition to being spring-fed, these waterfalls stay in operation for a longer time than the others. Starved Rock State Park is beautiful year-round, not just in the summer. The St. Louis Canyon, like many others, is home to beautiful icicle formations. When the ice conditions are right, a select few canyons even allow ice climbing.
Starved Rock State Park is home to several beautiful waterfalls, but one of the most popular is St. Louis Canyon Falls. They can be reached in a few minutes on foot from the tourist center; however, the winding staircase that leads up to them could make the journey more difficult for people who struggle with mobility. However, if you want to go, the best time to do it is in the spring, as the flow of water will be reduced to a tiny trickle in the summer, as well as there are times when it will dry up entirely.
Waterfall Recommendations: Stunning Waterfalls In Wisconsin for Your Leisure Next Trip
Cascade Falls is a must-see attraction at Matthiessen State Park. Similar to its neighboring park, Starved Rock, this one is centered on beautiful canyons and dense forests. Many gorges have been carved out over many years by little streams. The higher and lower dells are separated by the cascading waterfalls, which are located in the main canyon.
It shouldn't take more than a few minutes to walk to the waterfalls from the primary parking area. Initially, you'll come to a bridge above the falls, from which you can head down a set of stairs into the gorge. When you enter the gorge, you'll be blown away by the massive amphitheater that the river's water has created.
In addition, there are various caverns that are exciting to explore. Despite its small size, Matthiessen State Park is home to several beautiful waterfalls in Illinois and a short trail network of approximately five miles. You might make use of your time there to investigate the other paths and learn more about this fascinating park.
The amphitheater is beautiful at any time of year, so don't let the season stop you from making the little drive there. The water at the base of the falls is perfect for playing in, and the caverns are fascinating for kids to explore. If you wish to see this waterfall, we recommend that you schedule your trip around the springtime or after significant rainfall.
Every tourist who visits Southern Illinois should make time for the waterfall trek at Ferne Clyffe State Park. The park is a paradise for outdoor enthusiasts, with opportunities for everything from hiking and climbing to camping and catching fish on Ferne Lake. Pavilions with well-maintained playgrounds abound in Shawnee Forest, and the park also features a waterfall that's perfect for climbing. A trip to Southern Illinois' Shawnee Forest wouldn't be complete without a stop at Ferne State Park.
The trail is well-maintained, covered with small brown rocks, and spacious enough for many hikers to stroll side by side. At many points along the trail, eye-catching rock formations beg to be examined more closely. A minor uphill incline can be felt throughout the trail's 3/4 mile length, but the hike is still manageable for the average family. This is one of the best trails in the Shawnee National Forest for novice hikers and families because it is accessible by stroller and wheelchair.
If you want to get close to the base of the waterfall, you need to be careful because the creek bed has eroded, making the water quite deep. The waterfall trek at Ferne Clyffe is suitable for families searching for a trip similar to those depicted in vacation brochures, where children can splash around in a tiny stream while taking in the breathtaking scenery.
The Shawnee National Forest also features the famous Double Branch Hole. The Hayes Canyon is a vast sandstone gorge where two waterfalls meet to form a picturesque bathing pool. There is a true wilderness sense to the area around the falls, with the dense trees and sandstone glades towering over the water. The campground in Hayes Creek Canyon is conveniently located next to the waterfalls. It's a horse campground, but the owners probably won't object if you park there to check out the waterfalls.
To reach the twin branch hole, follow the route markers. Keep your eyes peeled for horse feces, as this is a bridleway. The gorgeous pool at the base of the falls is inaccessible by a marked path, although there are spots along the bluff's edge where you can scramble down to the water. Keep in mind that the rocks are potentially hazardous due to their slippery nature.
Access to this trail system requires payment of a nominal fee (perhaps up to $2), as it passes through private property. Regrettably, Shawnee National Forest is not experiencing the same level of popularity this fall as it has in previous years. This is a great spot if you want to bring your horse on vacation. There are several paths to explore, providing ample opportunity for a multi-day excursion with your canine companion.
Factors to Think About Before Visiting a Waterfall
The following safety advice for hiking to waterfalls can help ensure a fun and safe experience.
Bring Your Underwater Cameras: All the waterfalls we've picked are good for taking shots, so don't forget your camera. You should get a camera that can be used underwater if you plan on recording your adventures. Make sure you have a way to attach it to your wrist or life jacket so you can keep it safe while you're moving around.
Hold your arms at your sides: The most important thing to remember is to maintain your elbows tucked in and your arms folded toward your chest while you do this. The smoothness of the rocks is deceptive; even the slightest brush across them might cause serious injury.
Pack Some First Aid: When you're exploring the area around a waterfall, you may come into contact with plants, rocks, or insects that can scratch or bite you. A first aid kit can help you clean and treat these wounds to prevent infection. Besides, It's easy to slip and fall, which can result in cuts, bruises, or more serious injuries. A first aid kit can help you treat these injuries and prevent them from getting worse. Be sure to read our travel tips section for a safer trip.
How Do We Pick Our Recommendations?
We spent a lot of time looking for the best waterfalls online and then collecting them. Our expert team looks for several factors, including how easy it is to get there, how great it is for photography, how well-known it is, what kind of amenities it has, whether or not it is suitable for children, whether or not the entry is charged, and so on. We selected these aforementioned waterfalls to help clear your mind after considering my personal experience, the opinions of our experts, and other criteria.
Final words
There are more waterfalls in Illinois than you might think. Some of them are very accessible, while others require some exploration to locate. Exploring the beauty of Illinois' waterfalls on foot is indeed a rewarding activity. We wish you a wonderful experience visiting any waterfall in Illinois.
Chasing Waterfalls in Illinois: The Best Trails to Explore - FAQs
What is the tallest waterfall in Illinois?
At certain times of the year, Burden Creek plunges 20 feet over a rock ledge, and then another eighty feet in a combination of cataracts, and cascades, small steep drop-offs, to form one of the biggest waterfalls in Illinois. Evidence of glacial erosion can be seen on the cliff faces.
Does Illinois have any waterfalls?
Many people are indeed shocked to learn that Illinois has waterfalls. Although the waterfalls in Illinois aren't on par with those found in other parts of the world, they are still beautiful and well worth a visit. Seasonality also plays a role in many of the falls that we see. In the summer, several of these streams dry up entirely, while others are reduced to a trickle at best.
What is the hidden waterfall at Waterfall Glen?
Waterfall Glen Forest Preserve is widely regarded as one of the best in the greater Chicago area, especially among suburban residents. The forest preserve is well-known for its widely accessible waterfalls, and one such waterfall, Canyon Creek, may be found there as well.