It's time to bring up your sunbathing game to the next level! Let's dive into the world of nude beaches in Hawaii, where clothing is optional and sun-kissed skin is the norm. Whether you're a seasoned "nakationer" or a first-time skinny dipper, these beaches are sure to make waves with their beauty, serenity, and, of course, lack of clothing.
Since nudity on beaches is illegal in the State of Hawaii, there are no designated nude beaches. However, since these laws are not strictly enforced, there are many locations throughout Hawaii where you can go nude and soak up the sun.
As long as you act appropriately and respect the people, you should find it easy to blend in. Whether your state allows nudism on the beach or not, it is still vital to behave appropriately.
Does Hawaiian Law Permit Allow Nudity on Beaches?
The following are two important aspects to be considered with regard to nude beaches and bathing in Hawaii.
Topless sunbathing is always permitted
Topless female beachgoers in Hawaii are not subject to prosecution, even though it is against the law in the state to expose one's genitalia. Unlike the penis and vagina, breasts are not classified as "genitals," which are the exterior reproductive sex organs. Since the chest of a woman, like the chest of a man, is not considered to be genitalia, this circumvents the indecent exposure law, which only forbids exposing "the person's genitals".
State Beaches Have a No-Nude Policy
Being nude is against the law in Hawaii. Leaving your swimwear behind on a Hawaiian beach is a serious violation of the law. Haw. Code R. § 13-146-38 states that "No person shall bathe, swim, walk, sunbathe, or remain on the premises in the nude, or take outdoor showers in the nude, except for bathing or changing clothes within enclosed facilities provided for those purposes or for the exposed breast of a nursing mother in the act of breastfeeding an infant".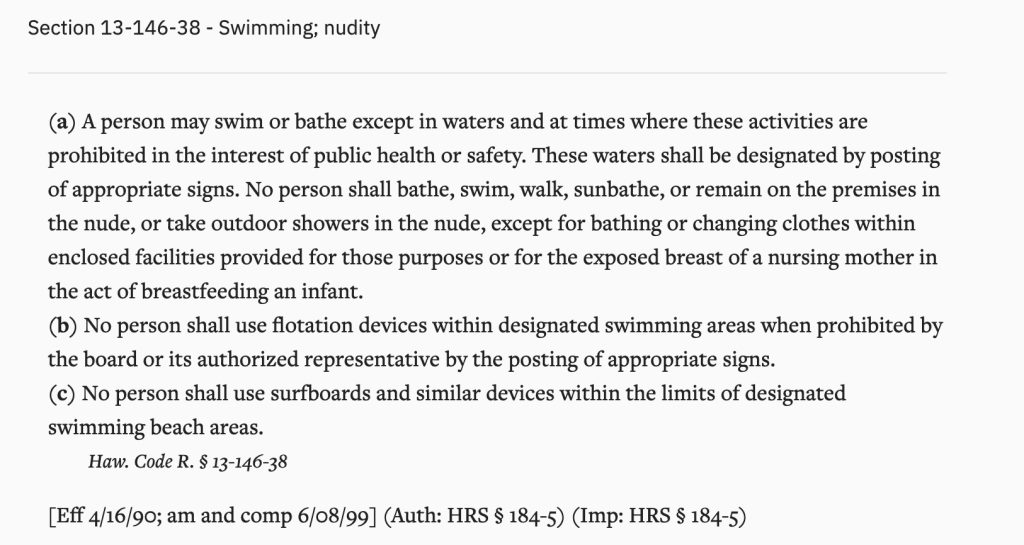 Infractions are regarded as minor misdemeanors and apply to all public areas in the state of Hawaii, including beaches, beach parks, and other similar facilities. In most of the state's shores, visitors are required by law to keep their clothes on, though there are a few exceptions where the federal government has exclusive use.
[item_carousel id='207′ timeout='5′]
Top Secret: Hawaii's Finest Beaches Where You Can Go Nude!
Although it is technically illegal to be nude in public in Hawaii, the following are some of the best nude beaches in Hawaii to which neither beachgoers nor law enforcement pays much attention. There are lots of places to sunbathe nude in Hawaii, especially on Big Island where the population density is much lower than on Oahu.
Kehena Beach, Big Island
View Website
Get Directions
PERFECT FOR: Enjoying nude beach experience in Hawaii without any restrictions
Kehena Beach, on the southeastern coast of the Hawaii Big Island, is tucked amid verdant trees and steep mountains, only a short drive from Kalapana town in the Puna region of Hilo. A popular spot for nudists, Kehena Beach is less than a mile long and is distinguished by its black volcanic sand. Since local authorities are not very active at this beach, you can easily go nude.
The little beach may not seem like much, but the blue waves and palm tree background make it feel like a true paradise. Kehena Beach is also often referred to as Dolphin Beach due to the frequency with which dolphins are seen there.
Sundays are the best days to go to the beach since that is when everyone comes to enjoy Hawaiian music and traditional drum celebrations. You will need waterproof footwear to make the trek across the lava rocks to get to this beach.
If you are planning to stay in Hawaii for long, here are some of the best places to stay in Hawaii.
Honokohau Harbor Beach in Kona's Kaloko-Honokohau National Historical Park is one of the most stunning nude beaches in Hawaii, especially popular with gay beachgoers. It can be intimidating for a new nudist to walk onto a crowded beach. To unwind on golden sand, one must travel north.
Nonetheless, the people in this town are nice. So, work on being at ease with who you are right now. Honokohau Harbor Beach is one of the locals' favorite nude beaches, despite the presence of rangers. The tall trees, and greenery closeby, add more to the aesthetics of the place. There are a wide variety of exciting water sports that can be enjoyed at the beach such as swimming and ocean rafting.
You can get to the beach by getting on Highway 19 and following it until you see the signs directing you there.
Little Beach at Makena State Park on the beautiful island of Maui is known as one of the finest nude beaches in Hawaii. There are luxuriant trees all along the beach's beachfront, which is framed by a volcanic cinder cone. It is a fine place to relax in the sun or change into your birthday suit in peace at Little Beach.
Visit the coral reefs and clear turquoise waters of Hawaii by going snorkeling at the southern end of the beach. These waters are ideal for swimming or kayaking. Sunday nights at this beach are especially special because locals and visitors alike gather for a drum circle and traditional Hawaiian fire dance.
You can also visit the local marine sanctuary to marvel at the various species of marine life, including dolphins, sea turtles, whales, and fish of all shapes and sizes.
It is a short, easy stroll from Big Beach to Little beach. Another option is to drive to this beach, park in the approved parking area, and then walk northwest along the beach. Lava flows from volcanoes have carved this passage across the landscape.
Related Read: TOP 8 Best Hotels With Pool In Maui
Makalawena Beach is one of the most well-known nude beaches in Hawaii, even though it is not technically a clothing-optional beach. This is one of the nicest beaches in Hawaii for nudists because of its relative isolation.
Visit the beach's southern end to meet other nudists and have fun around. Occasionally, people might be playing games like volleyball over here, or beach ball. Hit up with like-minded people and have a wonderful time!
This beach can be reached by hiking 2.5 miles from the Makalawena Trail Head, which passes over sharp lava rocks. This beach welcomes 4×4 vehicles, and you should wear shoes suitable for the sand.
Suggested Reading: Top 8 Must-Visit San Francisco Beaches
Visit Waialea Bay, Hawaii and relax on the sand without clothes on Beach 67. There are still a few people out there working on their tans even though the beach is tiny and not a designated nudist area.
Beach 67 is a secluded stretch of sand in Hawaii that is widely regarded as one of the best places in the state to go nude. Going nude is prohibited on neighboring Beach 69, which is a standard beach. Before you start flashing your bodies, make sure you have landed on the appropriate beach. A good way to do so is that you'll spot other nudists.
Simply park your car in the parking lot as it is only a short walk down to the sand. You may swim at the nearby Beach 69 if you are dressed appropriately.
Located between Kalihiwai Bay and Kilauea Point on Kauai's North Shore, Kauapea Beach is one of Hawaii's most popular nude beaches. Kauapea Beach is often called the "Secret Beach" because it is not easily visible from the main road and requires a bit of a hike to access. Being far away from the main area, it becomes the ideal spot for nudists to enjoy.
Finding your way to the beach from the myriad dirt roads and unpaved trails that go there is like solving a jigsaw. Fine golden sand, azure waves, and beaches embellished with thick forest-covered rugged cliffs await those who make it to this beach.
You will not run across many people here, but you are certain to encounter a few nudists.
Kauapea Beach is not a good place to go swimming because of the strong currents. Those seeking more excitement should travel a few miles inland from this beach to reach the waterfall.
Donkey Beach on Kauai is also a nude beach in Hawaii that is hidden by the sugar cane fields, the beach is not visible from the main highway. If you want to go to the beach, you will have to follow the trail through the cane fields.
There are security guards stationed along the path since it passes through private land where the present owners are concerned about naked sunbathers. You should find somewhere private to leave your clothing, just in case.
Monk seals are lounging on the beach. There are no lifeguards at this beach, and the tides may be dangerous. There are restrooms, showers, and a beautiful pavilion overlooking the water at the beach as well.
The only way to get to the beach is on foot, and although the beach itself is hidden from view, you can find the right entry off Highway 56 at mile marker 11.
Kaihalulu Beach, also called Red Sand Beach, is situated near Hana and is one of the most remote nudist beaches in Hawaii. The beach is picturesquely curved into a cove, and the contrasting sand, rock, and watercolors are a delight for the eyes.
There is a rope at the end of the unpaved route that will enable you to descend to the beach after you have walked past a school and around a lawn. When it rains a lot, getting around might be difficult.
Since the beach generally operates under the "majority rules" principle, you may need to adjust your expectations accordingly when you get there. Take off your clothes and join the nudists if you notice them, or stick to your swimwear if there are more covered bodies. As stated earlier, one can't be really offensive to them.
A parking lot is not provided. You may park close to the Hana Community Center and walk over some private property to get to the dirt road.
Related Reading: Top 9 Key West Beaches That Feel Like Paradise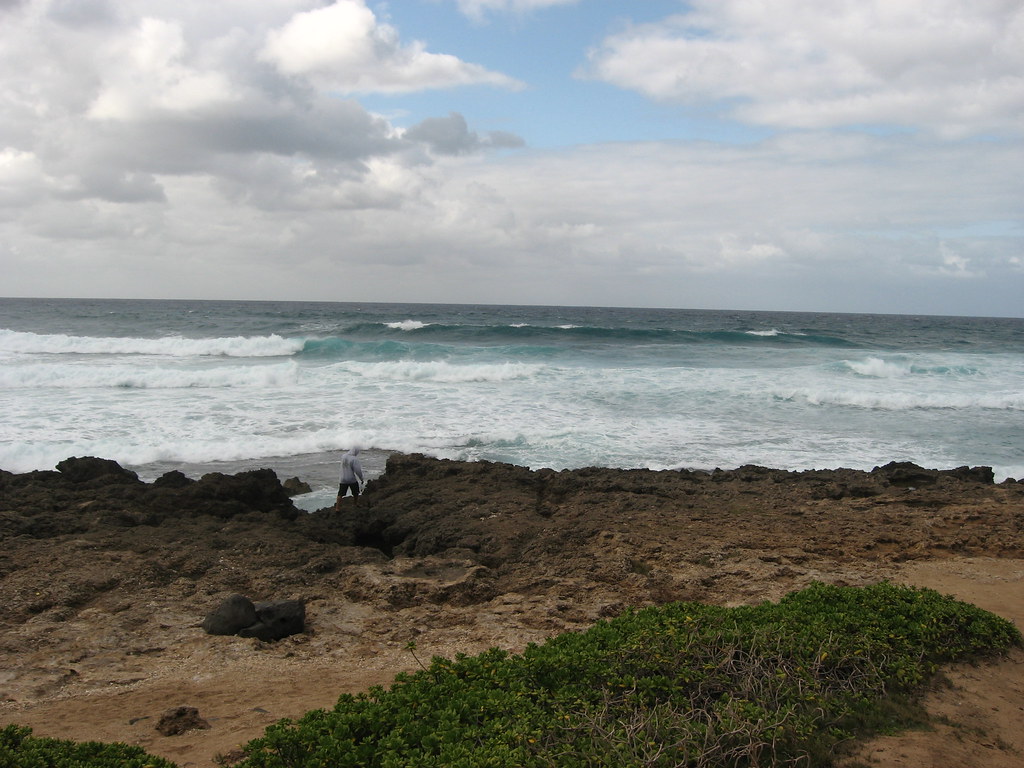 Polo Beach, also known as Mokuleia Beach, is also a famous nudist beach in Hawaii and is situated about 5 miles from the center of Oahu town. No signs are pointing the way to this beach, so drivers will have to use their best judgment and pull over where the majority of vehicles and motorcycles are parked on the right side of Farrington Highway, adjacent to a trail that cuts across two grassy fields.
After reaching the end of the trail, turn right to access the nude beachgoers. Almost all of the locals are wearing birth suits and seem to be very content.
Steam Vents Beach is a beautiful nudist beach on the island of Hawaii, not far from Hilo and the park's visitor center. There is no public access to the beach. However, the owners here are extremely welcoming, so feel free to visit the beach in your underwear if you would like.
There are steam vents in the parking lot. From the parking area, you may walk to Wahinekapu, also called Steaming Bluff. Views of Kilauea's caldera are breathtaking from here. Enjoy the stunning vistas of natural rocky cave formations while swimming or relaxing naked on this beach. At mile 15 on State Route 130, you will find the entrance to this beach.
Beach Recommendations: The 9 Most Popular Beaches In Massachusetts
Tips for a Safe and Enjoyable Time at Hawaii's Nudist Beaches
There are unspoken norms that you should be aware of if you are fascinated by nudism and thinking about giving it a try. If you follow these rules of politeness, you will not make anybody uncomfortable.
Think Before Taking off Your Clothes: Make sure you are in an appropriate location where you may remove your garments before doing so. Wear clothing appropriate for the weather in the parking lot, restrooms, common areas, hiking trails, and paths. Nudity is permitted only in the designated locations close to the beach.
Be Considerate: As you stroll along the beach, nudists may appear. However, you should not look down on people or poke fun at them. Nude beaches are a place free of judgment. Besides, one should refrain from staring at others at all costs since it is considered highly offensive.
Enjoy the Freedom: Feel free to let your guard down, but do not use this as an opportunity to pick up dates or make advances on strangers. There is nothing sexy about a naturist removing their clothing in public.
Do not Make Sexual Advances: Avoid making sexual approaches, making out, and other sexually suggestive behaviors on nude beaches.
Do not Take Pictures: If you see a signboard or not, it is still considered rude to take pictures or videos of a naked person. Please keep your drone at a safe distance from any beachgoers, nudists, or otherwise.
Bring Something to Kill Time: Bring something to do, such as a book, music, or sunbathing, if you are a novice or just not used to being nude in public. This can help you feel less out of place and give you more time to blend in with other people.
Keep a Distance: Keep your distance from other beachgoers. It is a common courtesy given that everyone there is undressed.
Bring a Towel: You will be sitting on the beach after your shower, so bring a towel.
Use Sunscreen: Wear sunscreen; prolonged exposure to the sun, even at mild temperatures, can damage your skin. Put on a lot of sunblock.
Respect the Local Culture and Customs: Keep in mind the local traditions. There might perhaps be some folks who are bashful or just half- clad. Treat others with dignity and avoid doing anything that can cause them inconvenience
How Did We Decide on These Nude Beaches?
These recommendations have been chosen by experts after careful consideration of many different criteria. We have done our homework and spoken with locals to find the best nudist beaches in Hawaii.
In addition to considering the opinions of nudists who have been here, we also took advice from our travel team, which devises a wide range of options to choose from based on ease, comfort, convenience, and relevance. We have compiled a varied collection of nudist beaches to fulfill the demands of naturists! We think you will have a fantastic day at any of the nude beaches we have listed.
We also visited many nude beaches in Florida, so be sure to read for your next trip!
Final Word
You should start making plans for your next vacation to Hawaii now that you know where to visit some of the best nude beaches. The thought of relaxing on one of these nude beaches is appealing.
Best Nude Beaches in Hawaii - FAQs
Does Hawaii allow nudity on beaches?
Even though nudity is illegal on all Hawaii state beaches, topless sunbathing is not illegal in Hawaii and will not result in criminal charges.
Are there any good nudist beaches in Maui?
Little Beach is the only nude beach on Maui located just adjacent to the busier Big Beach. This is the perfect spot to go sunbathing without clothes if you have ever been curious about the experience. Keep in mind that public nudity is forbidden in Hawaii, but the rule is seldom enforced on Little Beach, so you will likely see a lot of nude sunbathers there.
Can you recommend any beaches on the Big Island of Hawaii at Hilo where you can go nude?
Yes, located in the Puna district of Hilo, not far from the town of Kalapana, is the clothing-optional Kehena Beach on the Big Island's southeastern shore. Less than a mile in length, Kehena Beach is well-known among nudists for its distinctive black volcanic sand.
Can you go swimming at night on Hawaii's Waikiki Beach?
Even though the waters off Waikiki are usually calm, you should probably stick to wading after dark unless you're an experienced swimmer.