Key West beaches are a paradise for beachgoers and vacationers alike. With pristine white sand, crystal clear waters, and stunning sunsets, it's no wonder why Key West is one of the most popular vacation spots in the world. Whether you're looking to relax on the beach or explore all that Key West has to offer, there are plenty of things to do at Key West beaches. We've rounded up the top 9 Key West beaches so you can make the most of your trip. Keep reading to learn more!
Also, Read The 9 Most Popular Beaches In Massachusetts.
Top 9 Key West Beaches
Experience the magic of Key West beaches with its stunning array of activities and attractions. From snorkeling in crystal clear waters to discover unique wildlife, there's something for everyone at these iconic locations. Explore our list of the Top 9 Key West Beaches – you won't be disappointed:
This two-mile stretch of beach, located along Key West's southern shore, is well known for its white sand and gentle waves, making it an ideal location for a day in the sun.
Whether you're a beginner or an experienced windsurfer, Smathers Beach offers something for everyone – from the serene atmosphere to the perfect conditions for sailing.
Beginners may want to start with a few lessons before taking on the waves, and there are certified instructors ready to teach you the basics of windsurfing. After mastering the technique and navigating the waters, you can feel the adrenaline rush of gliding across the crystal clear sea.
Experienced windsurfers will find plenty of challenges on Smathers Beach and its surrounding waters, with varying levels of waves and currents that are sure to keep them entertained for hours.
No matter your experience level, there is one thing that remains the same on Smathers Beach — its beautiful scenery. You'll be surrounded by a picturesque landscape from the white sand to the crystal-clear waters.
On top of that, there are plenty of other activities to enjoy during your visits, such as swimming and sunbathing, kitesurfing, and fishing. There are also some food trucks onsite selling snacks and drinks, so you can have a nice break in between sessions.
If you're looking for an exhilarating experience or just a relaxing day at the beach, Smathers Beach is the place to go.
Fort Zachary Taylor Beach
View Website
Get Directions
PERFECT FOR: Anyone looking for a sun-drenched paradise to relax and explore.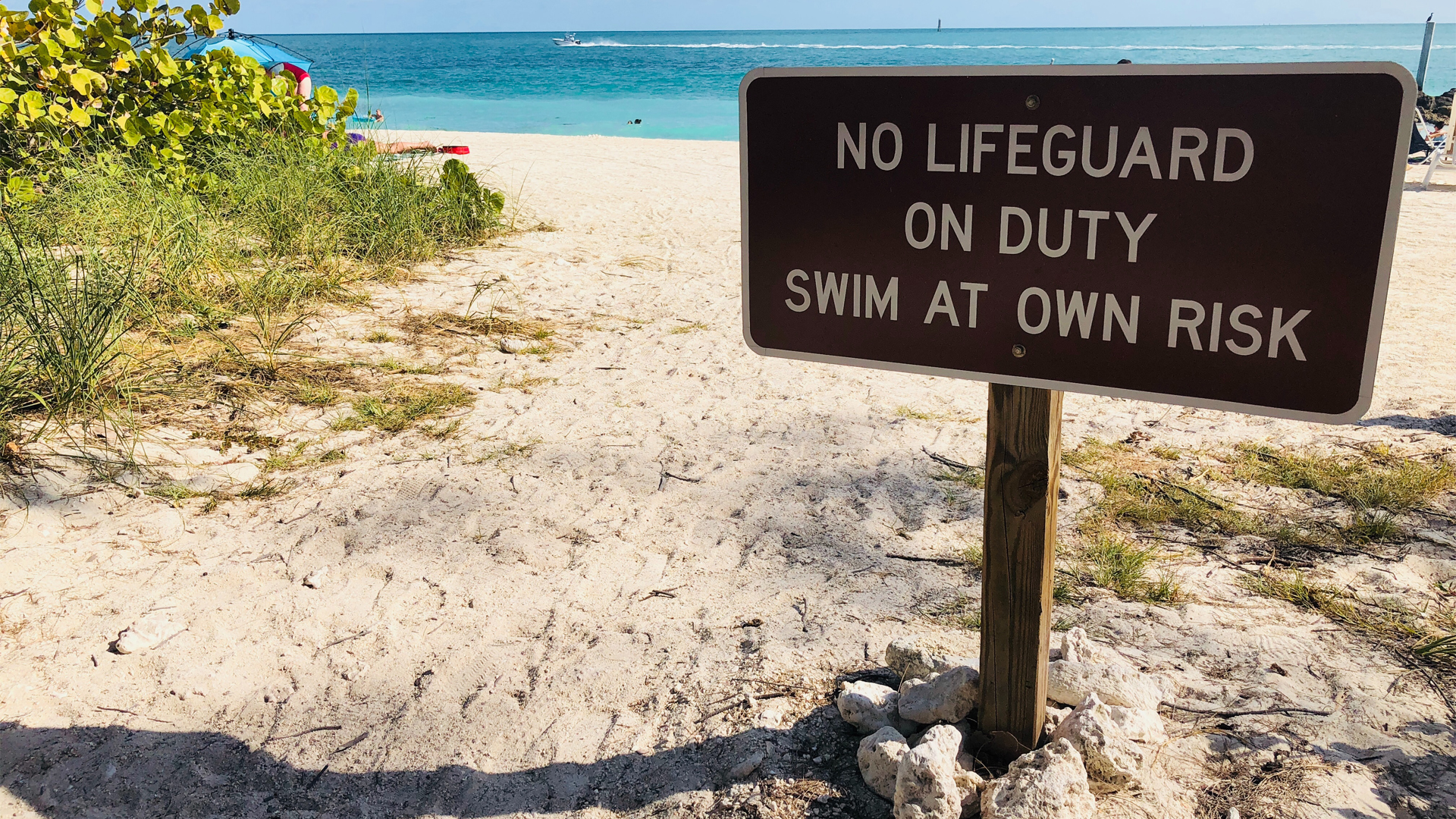 If you're looking for a sun-drenched paradise to explore, then look no further than Fort Zachary Taylor Beach in Key West.
This beautiful beach is an ideal destination for anyone wishing to relax in the warm sunshine and enjoy some of the best sand and surf in the area. If you want to explore more then visit these Best Beaches Near New Orleans For Family Fun.
The park offers stunning views of the Gulf of Mexico as well as a variety of recreational opportunities for its visitors. Sunbathers can soak up the sun on its sandy shores, while swimmers can take a dip in its crystal-clear waters.
Nature lovers can also enjoy a leisurely walk along its scenic trails. With so much to do, Fort Zachary Taylor Beach is the perfect destination for anyone wanting to get away from it all and just relax.
Not only can visitors spend time soaking up the sun and swimming in the clear waters, but they can also explore the decommissioned military fort that overlooks the beach.
This provides an interesting history lesson to all of its visitors, allowing them to learn more about the area's past.
Bahia Honda State Park Beach
View Website
Get Directions
PERFECT FOR: Outdoor activities, exploring nature and culture, and creating lasting memories.
Visiting Bahia Honda State Park beach is an opportunity to experience a unique and miraculous slice of Florida's nature. Here you can enjoy swimming, fishing, and hiking activities while taking in the amazing natural beauty of the area.
The crystal clear waters are perfect for swimming, providing visitors with an unforgettable chance to take in the sights underwater. Fishing enthusiasts will be able to enjoy the abundance of sea life here, from large game fish to smaller baitfish.
Those who prefer a more adventurous outing can explore the trails through the lush tropical forests or take a stroll along the white sand beaches.
Not only is Bahia Honda State Park beach an excellent destination for outdoor activities, but it also provides visitors with a chance to take in the unique culture of the area.
The park has been designated as an Important Bird Area and is home to some of Florida's most endangered species, including the Key Deer and Loggerhead Sea Turtle.
Visitors can also take advantage of other amenities, like picnic tables, boat ramps, and camping sites onsite. So if you're looking for the perfect getaway in Florida, Bahia Honda State Park beach is an ideal destination to explore and discover the beauty of America's nature.
Enjoying this unique experience will leave you with lasting memories that can be revisited time and again.
With its stunning surroundings and plethora of activities to choose from, Bahia Honda State Park is the perfect destination for a day of exploration and relaxation.
So come explore the natural beauty of Florida's nature and create some amazing memories at Bahia Honda State Park beach!
Higgs Beach
View Website
Get Directions
PERFECT FOR: Experiencing the best of Key West, with its stunning views, an array of activities, and nearby restaurants and bars.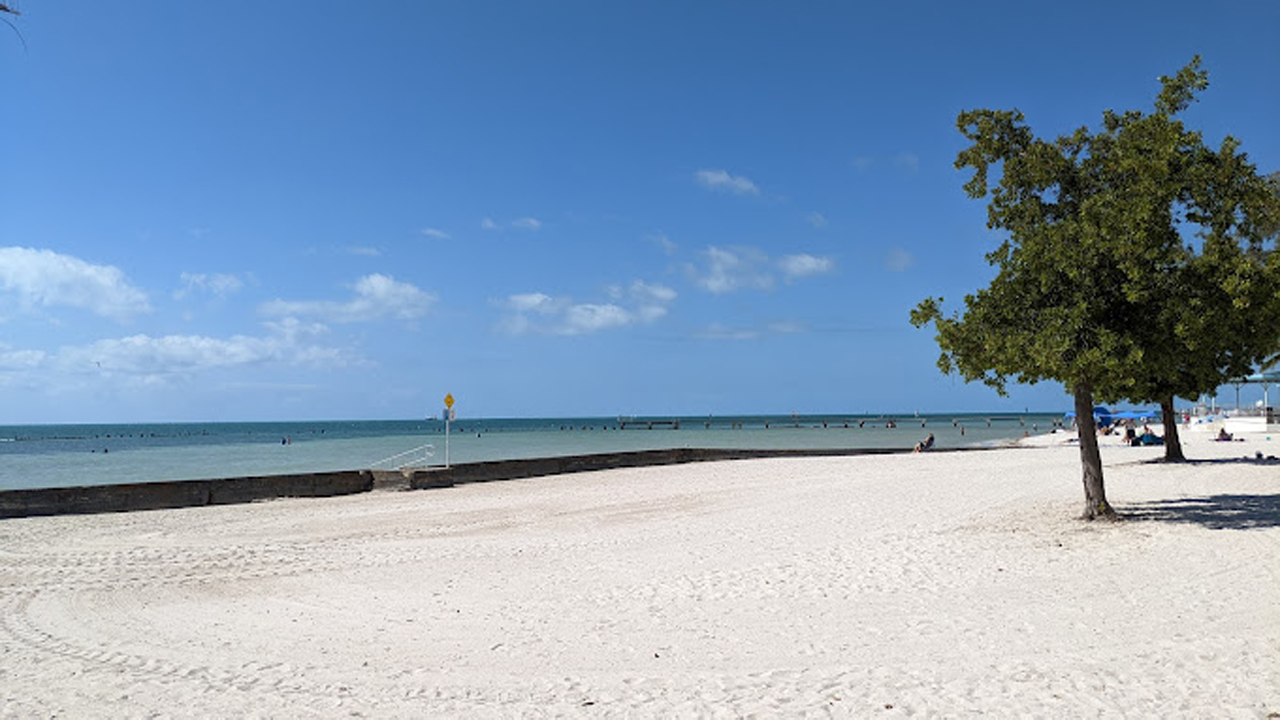 The best way to experience all that Key West has to offer is by visiting Higgs Beach. Located at the end of Reynolds Street, this white sand beach offers breathtaking views of the Atlantic Ocean and crystal clear waters perfect for swimming and sunbathing.
From kayaking to fishing, there are plenty of activities to keep visitors busy during their stay. Those looking to relax and unwind can take in the stunning views of the ocean while sipping on a cold beverage at one of the beach's bars or restaurants.
The West Martello Fort, located just off the beach, is also a great place for visitors to explore and learn about Key West's history.
From there, guests can embark on the Florida Keys Overseas Heritage Trail, a stunning path that winds through various beaches of the island.
Whether visitors are looking to relax or explore, Higgs Beach is the perfect spot for them to experience the best of Key West.
From its breathtaking views to its array of activities and attractions, Higgs Beach guarantees an unforgettable vacation.
If you want to explore more beaches with breathtaking views then add these 9 Louisiana Beaches With Breathtaking Views to your bucket list.
Visitors can find plenty of activities to keep them busy, including swimming, sunbathing, fishing, kayaking, and exploring the West Martello Fort. The unique underwater marina park here is also a great opportunity for visitors to take in some spectacular sights.
With restaurants and bars located nearby, it's easy to grab a bite or drink without having to leave the beach.
Dry Tortugas Beach
View Website
Get Directions
PERFECT FOR: Snorkelers of all levels looking for an exciting adventure or peaceful retreat.
Snorkeling in the crystal-clear waters at Dry Tortugas National Park is an unforgettable experience. The vivid colors of tropical fish and coral make it easy to spot sea turtles, rays, sea stars, and other marine life as they float through the warm, clear water.
Visitors can explore the remains of Fort Jefferson to get a glimpse of the area's past or take a dip in the shallow waters around the fort. The park is also home to several shipwrecks, which make for great snorkeling destinations.
From exploring coral gardens and wrecks to spotting wildlife and parrotfish, Dry Tortugas National Park has something for everyone when it comes to snorkeling.
With its beautiful sights and abundant wildlife, this park is sure to provide a one-of-a-kind experience for any nature lover. If you are more of a nature lover then visit these Top 9 Nude Beaches in Florida and spend a day at these clothing-optional hotspots.
Whether you're looking for an exciting adventure or a peaceful retreat, Dry Tortugas National Park has something for everyone. Snorkelers of all levels can explore the clear waters of this unique park and gain insight into its rich history.
South Beach
View Website
Get Directions
PERFECT FOR: A day of swimming, snorkeling, fishing, kayaking, beach sports, and soaking up the sunset!
Spend the perfect day of adventure at one of the best Key West Beaches, South Beach features fishing to kayaking, this beach offers a wealth of activities for visitors of all ages.
With its sparkling clear waters and white sand, South Beach is the ideal location for swimming, snorkeling, or simply lounging on your towel to soak up the sun. If you're looking for a more active experience, try your hand at fishing or kayaking in the expansive waters of Key West.
Don't forget to bring your snorkel gear to explore the underwater world and spot sea life, like tropical fish and coral reefs.
Or take part in some beach sports for a little friendly competition, such as beach volleyball or frisbee. Whatever your preference, South Beach is sure to provide you with infinite fun!
Top it off with the unforgettable sunset views, and you will have an unforgettable day on the beach in Key West. So pack up your towel, sunscreen, and swimsuit, and come join in on the fun at South Beach!
Simonton Street Beach
View Website
Get Directions
PERFECT FOR: Relaxing, swimming, fishing, kayaking, and taking in stunning ocean and sky views.
Soak up the sun and enjoy breathtaking views at Simonton Street Beach. Located on the southernmost tip of Key West, Simonton Street Beach is a stunning destination for beachgoers looking to relax, swim, fish, and kayak in the warm waters of the Atlantic Ocean.
The beach has plenty of activities to offer, from lounging in the sun to swimming or exploring the playground with the kids. Visitors can also take advantage of a picnic pavilion, boat ramp, and restrooms for their convenience.
Simonton Street Beach offers stunning views of both the ocean and sky, making it an ideal location for those wanting a peaceful escape. The soft sands, gentle waves, and warm temperatures make it an irresistible spot to relax.
The local wildlife is also a great sight to behold, as there are many fish, birds, and other marine creatures that call the area home.
For those looking for some adventure, the beach offers excellent opportunities for fishing and kayaking. Whether visitors want to take in the gorgeous scenery or catch their dinner, there is something for everyone at Simonton Street Beach.
Nothing compares to Rest Beach as a unique location to unwind and appreciate nature. This stunning beach, which is only a short drive from downtown Key West, is the ideal vacation spot for beachgoers.
Known for its incredible sunsets and sunrises, Rest Beach is open 24 hours a day, making it easy to enjoy its beauty any time of day or night. What makes Rest Beach even more unique is all the activities that can be enjoyed.
Swimming, boating, fishing – there's something for everyone to do. Even better, at the end of the beach is Edward B. Knight Pier, where visitors can walk out on a pier and take in beautiful views of the ocean.
From sunbathing to fishing, there's something for everyone to enjoy at Rest Beach. It's no wonder it continues to be one of the most popular spots for Key West visitors.
So, if you want a place to truly relax and take in nature, head over to Rest Beach and experience it for yourself! Enjoy sunsets, sunrises, and all that the beach has to offer at this incredible destination.
A must-visit for anyone coming to Key West!
Visiting Dog Beach should be a top priority for any pet owner looking to explore the island. Not only does this beach allow pets to run freely, but it also offers an exciting landscape that is sure to make Fido's day.
The rocky terrain is perfect for dogs of all sizes and breeds who love to explore and traverse. You'll find this gorgeous sandy beach nestled between two cliffs, which provide a stunning backdrop for your canine companion to play in.
The terrain is not only easy on the paws, but it makes for a great place to rest and relax as well. With its secluded location away from the hustle and bustle of the tourist areas, this beach is the perfect spot for a pet-friendly getaway.
So, pack your pup's favorite toys and treats and head to Dog Beach for some adventure. With its peaceful atmosphere, stunning surroundings, and sandy terrain, you'll find plenty of opportunities for furry fun at this dog-friendly haven.
Enjoy bonding with your pet and exploring the rugged terrain with them — it's sure to be an unforgettable experience. So, don't forget to add Dog Beach to your next island itinerary! With its one-of-a-kind landscape and pet-friendly atmosphere, you won't regret it.
Things to Consider Before Going to Key West Beaches
Key West is a great destination for beach lovers! Before you take off on your trip, there are some things to consider that will ensure you get the most out of your time in the sunshine. Here are a few key points:
Sun Protection — Key West's tropical climate and sunny skies make it important to always bring along sunscreen and other protective gear such as a hat and sunglasses. Be sure to reapply sun protection regularly to avoid uncomfortable sunburns and other skin damage.
Beach Gear — Depending on your plans, you may need to pack beach gear such as towels, chairs, umbrellas, snorkel gear, or even a cooler for snacks and drinks. Consider bringing along some form of entertainment like a book or portable music player to help pass the time between swimming and sunbathing.
Transportation — Depending on where you're staying, you may need to factor in transportation costs when visiting the beach. Consider renting a bike or car if you don't have access to other forms of transportation such as public transit or taxi services.
Food — Bring snacks and drinks to sustain yourself while at the beach. It is also wise to bring a reusable water bottle along with you to stay hydrated throughout the day.
Cost — Depending on your plans, be sure to factor in costs associated with any activities or amenities that you intend to use such as snorkeling trips, boat rentals, etc.
By being aware of and prepared for these considerations, you'll be able to ensure a safe and enjoyable beach experience in Key West.
How Do We Pick Our Recommendations
After listing the 7 Best Beaches in Destin Florida, our team came to Key West to explore more beaches. We select our recommendations for the best Key West beaches based on a variety of factors. We look at the overall beauty and tranquility of the beach, its location in proximity to other attractions, accessibility, amenities (i.e., bathrooms or concessions), wildlife viewing opportunities, and activities available. Our team personally visits each beach to inspect its condition and observe the activities on-site. Ultimately, we want our readers to have a great Key West experience that leaves them with lasting memories! Finally, we take into account customer reviews and feedback to ensure that the beaches we recommend are the most enjoyable for visitors. We strive to find the perfect balance between what's best for visitors and what's best for the environment so that Key West's natural beauty can be enjoyed by everyone who visits.
Top 9 Key West Beaches - FAQs
Are there pet-friendly beaches in Keywest?
Yes! Some of the beaches in Keywest are pet-friendly, so you can bring your furry friend along with you to enjoy the beach.
Are there any beachfront restaurants on Keywest?
Yes, several beachfront restaurants and bars are offering delicious food and drinks for you to enjoy!
Are there any water sports available on Keywest beaches?
Yes! You can find a variety of water sports activities such as jet skiing, parasailing, and banana boating on Keywest beaches.