Nude beaches in Florida have been gaining popularity for years as more and more visitors are opting to shed their clothes and bask on the beach without worrying about tan lines. With its sunny climate, gorgeous white-sand beaches, and abundance of clothing-optional hotspots, Florida is a popular destination for those looking to explore their exhibitionist side.
From quiet secluded beaches to public party spots, this list of the top 9 nude beaches in Florida is sure to provide an unforgettable experience. So pack your sunscreen and embrace the freedom of clothing-optional hotspots in Florida!
Editor's Pick: 7 BEST Things to do in Little Havana [Local Guide]
Top 9 Nude Beaches in Florida
Florida is a great vacation destination for many beach lovers, and there are plenty of options to choose from. For those looking for something a little more daring, nude beaches provide a unique experience that offers the perfect combination of sun, sand, and relaxation. Here's a list of the top 9 nude beaches in Florida where you can let it all hang out and enjoy the sunshine:
Florida's Haulover Beach is one of the most popular nude beaches in America and a great spot for novice naturists. Located in Haulover Park, just south of Bal Harbour, this beach has all the amenities you could want – clear water, bathrooms, a huge parking lot, and lifeguards.
What sets it apart from other beaches, however, is the unexpected delight of seeing unsuspecting beach-goers take their morning run and stumble upon hundreds of naked bodies. The beach also comes with an exciting array of activities. Volleyball and Drum Circles are especially fun to watch or join in on, while the nightlife here can be quite stunning.
Haulover Beach is a great place to experiment with naturism. It's not intimidating, and the atmosphere is comfortable – making it an ideal spot for first-timers. The feeling of being there can be quite nondescript once you have gotten used to the sea of skin around you.
With its beautiful turquoise waters and grainy sand, renting a beach chair here has never been easier with the friendly service on offer. It's certainly worth visiting for an entertaining day in the sun.
If you are ready to take your naturism journey to the next level, Haulover Beach is definitely where you should start!
Also Read: Soul-Capturing Beaches In Santa Barbara
Playalinda Beach
View Website
Get Directions
PERFECT FOR: Relaxing in the sun, swimming in warm waters, and watching Florida wildlife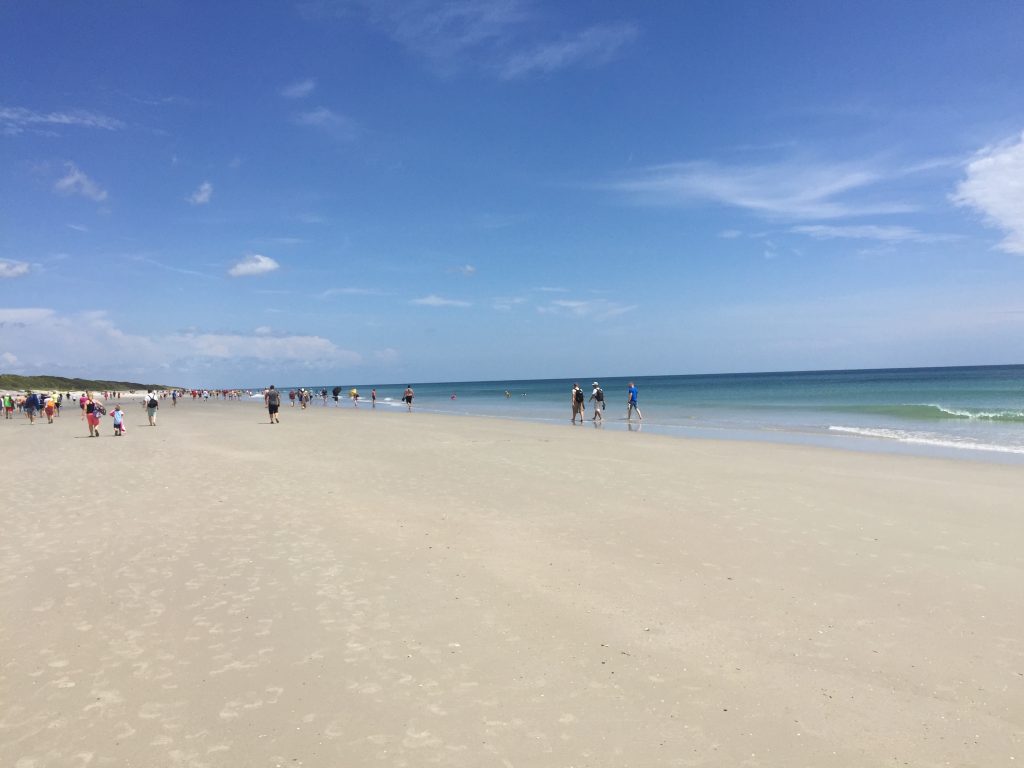 Playalinda Beach is located a little further down from the Merritt Island National Wildlife Refuge in Titusville and offers an exciting experience for those looking to explore Florida's unique naturist lifestyle. It's a free beach, and clothing is optional but no nudity is accepted in the parking lot.
The beach itself boasts deep blue waters with thick soft sand, and is a tranquil retreat, away from the crowds and bustle of daily life. The crowd here isn't rowdy or loud but they are uninhibited and welcoming, so visitors don't need to be worried about trying out the naturist lifestyle. Most of them keep to the far stretch of the beach, near Access 13.
For those looking for a more traditional outdoor experience, hiking through the refuge is an option as well. However, visitors should note that if they choose to go north of Access 13 and towards Klondike Beach, they will need a backcountry permit.
Playalinda Beach is also just an hour's drive from Disney, making it a great day trip for those looking to explore and take in the natural beauty of Cape Canaveral.
At Playalinda Beach, visitors can relax on the sand and enjoy swimming in the warm waters, or even take a fun bath with some of the local manatees – all while taking in the beauty of Florida's nature.
So, if you find yourself with an extra day in Titusville and want to explore a different side of Florida, Playalinda Beach is worth checking out!
Must Read: Areas to Explore Around the Calle Ocho Walk of Fame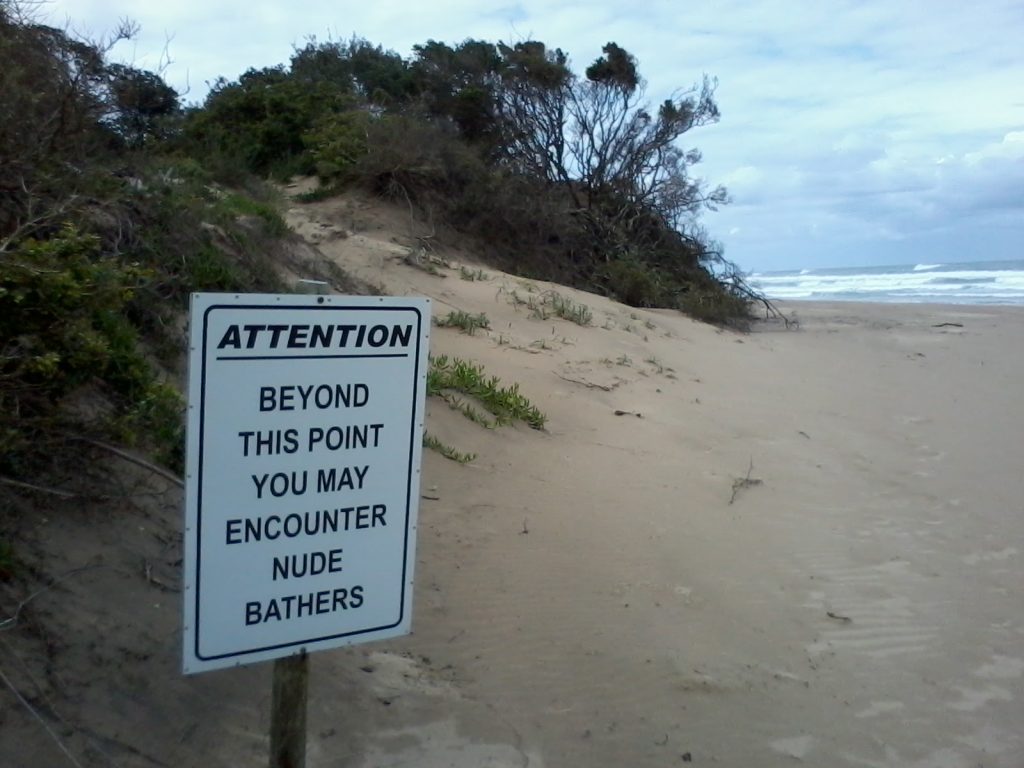 Fort Pierce is a great beach town in Florida, known for its affordability and beautiful scenery. It's one of the best clothing-optional beaches in the state, with plenty of ecological beauty and seclusion. Not only that, but it's free to enter! This makes it an ideal spot for nudists looking to get away from it all.
The beach is located just 8 miles from the Jensen Beach Causeway and is marked by a small brown sign along A1A. The scenery is breathtaking, with views of nothing but sand, ocean, and vegetation in every direction. As such, nudists will feel as if they've stepped back into a time before anyone set foot in Florida. Looking for breathtaking views outside Florida?, then visit these 9 Louisiana Beaches With Breathtaking Views.
The clear water and lush foliage provide an oasis of relaxation, where nudists can sunbathe nude or simply walk along the beach and leave all their worries behind. With its peaceful atmosphere and stunning views, Blind Creek Beach is one of the best clothing-optional beaches in Florida.
All you need is some sunscreen and your swimsuit, and you'll have the vacation of a lifetime. Don't forget to take in all the beauty this beach has to offer and check out Blind Creek Beach for a truly unforgettable experience. There's no better way to relax than taking it all in at Florida's premier clothing-optional beach.
St. Lucie Inlet State Park Beach
View Website
Get Directions
PERFECT FOR: Swimming, sunbathing, admiring the stunning ocean views, and enjoying the beauty of Florida's nature.
Although far from being a well-known destination, St. Lucie Inlet boasts some of the most stunning sunsets and views of celebrity homes in Florida – making it an extraordinary hidden gem for clothing-optional beaches!
If you're looking for an intimate experience on your beach vacation, this is it! Nudism and naturism are not officially protected here, but if you pick a spot away from the main area of activity and keep to yourself, there shouldn't be any issues.
Although most visitors come during the week for maximum privacy, be sure to keep an eye out for fellow naturists who can point you in the right direction. As long as you aren't too close to any of the passers-by or the boardwalk, you should be able to enjoy a truly immersive and relaxing experience.
Furthermore, St. Lucie Inlet is also known for its pristine sands and undisturbed wildlife – making it a great spot for swimming, surfing, snorkeling or just lounging in the sun. Regardless of your activity preferences, this is sure to be an unforgettable experience!
So, if you're looking for a clothing-optional beach in Florida, St. Lucie Inlet is an excellent choice that is sure to delight even the most intrepid of explorers. What if you are in California while reading this blog? Should you miss the whole fun? Absolutely Not. You can check out these best beaches near Santa Ana to have beach fun.
Hobe Sound
View Website
Get Directions
PERFECT FOR: Relaxing and exploring tranquil waters, pristine white beaches, and remarkable wildlife.
For those looking for a unique beach experience, Hobe Sound beach in Florida has plenty to offer. Situated near St. Lucie Inlet, this beach is the perfect spot for celebrity-adjacent nude sunbathing thrills and offers guests the added proximity of the beautiful Blowing Rocks Preserve.
Although clothes must be worn here, the limestone formations and crashing waves are one of the most stunning natural attractions in the state. For those who prefer to explore on their own, naturist boating expeditions can be arranged. These excursions offer a scenic ride around Jupiter island and will take guests past some of Florida's most impressive beachfront homes.
The waters here are not particularly calm, so swimming should be done with caution. The main attraction of Hobe Sound beach is the Blowing Rocks Preserve which offers plenty of coverage due to its lush vegetation and rocky cliffs.
This free beach is an ideal spot for sunbathing and taking in magnificent views of crashing waves over limestone formations. So, if you're looking for something special, head to Hobe Sound beach in Florida!
South Beach
View Website
Get Directions
PERFECT FOR: Soaking up the sun, partying with friends, and experiencing life in a vibrant beach town.
In the past, South Beach was known as 'the American Riviera' and topless tanning or occasional nudity could be seen by anyone who visited. Unfortunately, nowadays these activities are not accepted due to amateur beach photographers capturing every moment with their cameras. Even so, if you head to more out-of-the-way places during the week, you may still be able to enjoy topless sunbathing.
What sets South Beach apart from other beaches is its setting; rather than being situated in a park or nature preserve like many of the others, it's surrounded by bustling tourist activity. So if you get bored of just lying on the beach and looking out at the sea, there are plenty of other sights to explore.
South Beach is the perfect destination for a romantic getaway in Florida. It's ideal for couples looking to enjoy some sunshine and views of the ocean. Wanna spend a perfect day outside the USA? Catch your flight to England and Spend a Perfect Day at These Amusing Beaches in Cornwall.
During the weekdays it tends to be less crowded, making it easier for nudists to blend in with the rest of the beachgoers.
Despite this, South Beach remains one of the best sites for topless sunbathing in Miami and is a must-visit destination for anyone looking to experience the American Riviera.
So if you're planning a beach vacation, South Beach is worth considering. It offers something for everyone; from its stunning views of the ocean to its bustling atmosphere – it's the perfect place to relax and enjoy some sunshine.
Apollo Beach
View Website
Get Directions
PERFECT FOR: Experiencing nature, getting away from it all, and enjoying peaceful sunsets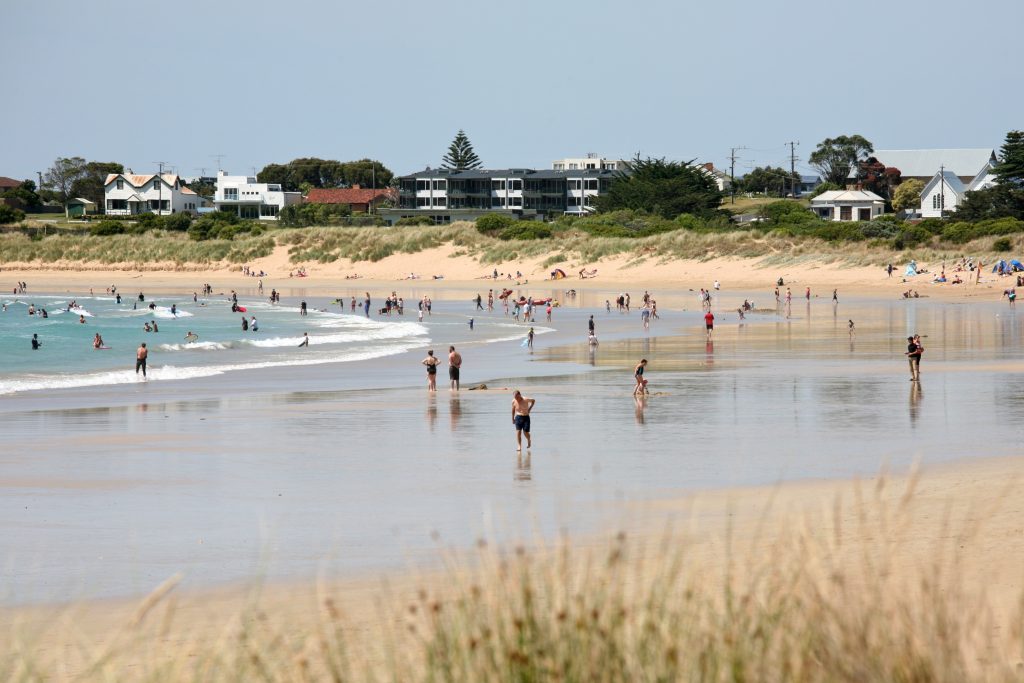 Apollo Beach is a secluded, clothing-optional beach located on the Canaveral National Seashore in Florida. It's an unofficial free beach, but nudity is tolerated and accepted as long as you stick to more remote sections of the beach.
So if your friend loves bad dad jokes and wants to go nude sunbathing (even though it's not legal), this is the perfect place. Apollo Beach offers a stunning view of calm, clear waters and sandy shores. It's the perfect spot to get that golden brown, line-free tan if you can manage to avoid any potential adversity.
Not only is Apollo Beach great for nude sunbathing but it's also home to some amazing wildlife. From November to April, manatees migrate around Mosquito Lagoon and reservations are available in the summertime to watch the nesting sea turtles along the shoreline.
No matter the time of year, Apollo Beach provides an incredible experience to admire nature and take some time to relax.
With its peaceful atmosphere and plenty of wildlife, Apollo Beach is the perfect spot to forget all your worries. So why not take a trip and enjoy some time in nature without having to worry about what you're wearing? You won't regret it! Looking for some captivating beaches in New Hampshire? Check these 7 Heart Capturing Beaches In New Hampshire.
Cypress Cove Nudist Beach Resort
View Website
Get Directions
PERFECT FOR: Unwinding and relaxing in a clothes-optional environment, enjoying the views of nature, and embracing body freedom.
Our list of nude beaches in Florida continues with Cypress Grove Nudist Resort. This beach-style resort offers more than just a place to sunbathe and swim, as it has a hotel for overnight stays so visitors can get a full experience of the clothing-optional lifestyle.
Not only is Cypress Cove free, but it is also private and safe. With its lake beach offering visitors seclusion and safety, it's no wonder why people rave about their time here. The resort itself is 300 acres, with 84 villa hotel rooms for visitors to spend the night in comfort and style.
Furthermore, Cypress Cove offers a variety of activities, including paddle boating and pickleball, as well as a tropical pool area for tanning.
The rooms are modern and the food is superb. Cypress Grove is one of the best clothing-optional resorts in the world and its respectful community makes it an amazing choice for vacationing in the buff. It may not be on the salty ocean, but it remains an excellent option for nude beach lovers.
If Cypress Grove sounds like a good fit for you, then don't hesitate to check it out. With its incredible amenities and inviting atmosphere, it is sure to make your clothing-optional vacation one to remember. Enjoy some time in the sun, participate in activities, and soak up the nude culture.
Also Read: Top Resorts in South Carolina That Will Double The Fun Of Your Visit
Lummus Park Beach
View Website
Get Directions
PERFECT FOR: Enjoying the sunny South Florida weather, taking a dip in the Atlantic Ocean, and getting up close and personal with the area's marine life.
If you wish to bask in the sun and soak up some vitamin D while showing off your tan, then Lummus Park on South Beach is just the place for you. This family-friendly beach has become increasingly popular among topless sunbathers over recent years.
It's important to note that although this isn't an officially designated nudist beach, it doesn't hurt to keep it at toplessness.
In addition to being a great place for getting some sun and taking a dip in the ocean, there are so many other things this beach has to offer. From various activities and eateries, Lummus Park is worth visiting.
Transitions aside from swimming or sunbathing include: taking a stroll along the beach, enjoying some delicious food from local restaurants and cafes, or even participating in an outdoor fitness class.
No matter how you choose to spend your time here, it's sure to be an enjoyable experience. The combination of activities and stunning views make Lummus Park one of South Florida's hidden gems.
So why not take a trip down to this popular beach and enjoy some quality time in the sun? After all, you won't be disappointed! Once you have visited these nude beaches in Florida and want to socialize with others head-on to these 7 Best Beaches in Destin Florida: let the sound of the tides ooze your brain!
Things to Consider Before Visiting Nude Beaches in Florida
Visiting nude beaches in Florida can be an exhilarating experience, but there are some important considerations to take into account before taking the plunge. To make sure that your visit is enjoyable, safe, and legal, it is important to research the area and plan.
Check Local Laws — It is essential to check the local laws before visiting any nude beach in Florida, as some counties and municipalities place restrictions on nude activities. Additionally, it is important to familiarize yourself with the laws of the state of Florida.
Respect the Area — It is important to be respectful of the environment when visiting nude beaches in Florida. Not only should visitors take steps to leave the area as they found it, but also show respect for other beachgoers by keeping noise levels low and adhering to any posted rules.
Mental and Physical Well-Being — Nude recreation can be an intense experience, both mentally and physically. It is important to stay mindful of your mental and physical states so that you can stay safe and have a wonderful time. This could include things like having plenty of water or snacks, taking breaks in the shade, applying sunscreen frequently, and engaging in activities that are comfortable for you.
Personal Safety — As with any beach environment, it is important to be mindful of personal safety. Be aware of your surroundings and take steps to protect yourself from any potential dangers, like strong currents or bad weather. Additionally, make sure that you are comfortable with any activities or interactions that may be taking place around you.
By following these tips and considerations, you can ensure that your visit to nude beaches in Florida is both safe and enjoyable.
How Do We Pick Our Recommendations?
To ensure we make the best decisions for our readers, we take into account several factors when picking the top nude beaches in Florida. Firstly, we take into account the beauty of the beach. We want to make sure that each beach is unique and breathtakingly beautiful in its way. Secondly, we consider the safety and security of each beach. We are committed to finding beaches that are popular amongst locals and visitors alike, but also ensure that the safety and security of beachgoers are maintained. Additionally, we look at the types of recreational activities offered on each beach. We want to make sure that each beach can provide a unique and exciting experience for beachgoers, whether they are looking to surf, go fishing, or simply relax. Finally, we look at the overall atmosphere of each beach to make sure that it is suitable for all types of beachgoers and their interests. By taking all of these factors into consideration and personally visiting the nude beaches, we can make the best recommendations for choosing the top nude beaches in Florida.
Top 9 Nude Beaches in Florida: Clothing Optional Hotspots- FAQs
Are Nude Beaches legal in Florida?
Yes, there are several public and private clothing-optional beaches throughout the state of Florida.
Can I bring my Children to Nude beaches in Florida?
While it is not illegal, it is generally not recommended as young children may find the experience uncomfortable and/or inappropriate.
Is there an Age limit for Nude beaches in Florida?
Generally, all ages are welcome at clothing-optional beaches in Florida, although it is important to exercise discretion when bringing young children to such locations.