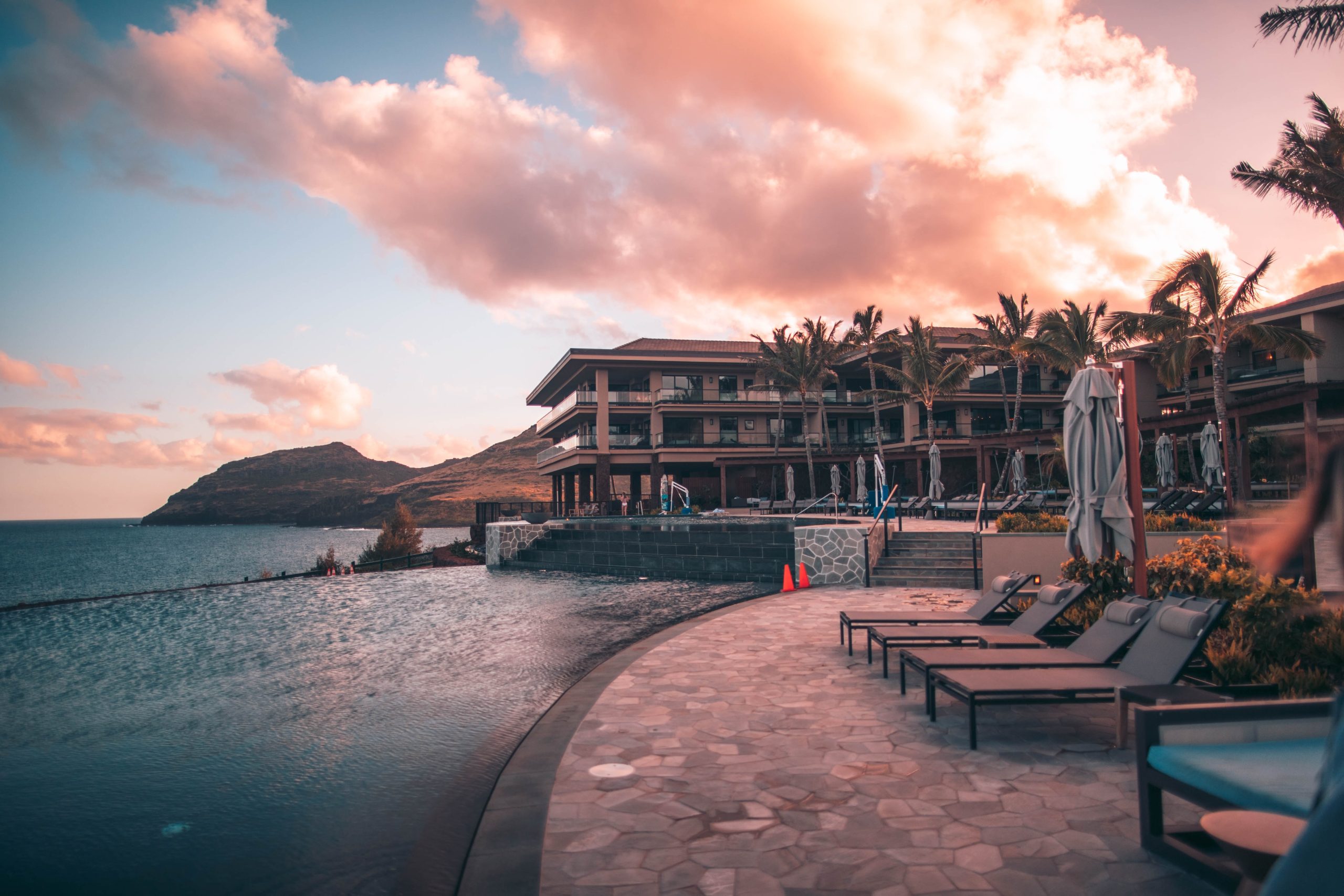 South Carolina is the 40th biggest state in the US in size and 23rd biggest in population. It's prominent among tourists for beaches, golf courses, and historic districts. People book resorts in South Carolina to enjoy their vacations and witness the rich culture, heritage, and classy Southern Belle ways. From the lowland marshes to the historic streets of Charleston, this pristine state offers something for everyone.
Top Resorts in South Carolina to Double the Fun
South Carolina hosts every type of person. If you are a beach person, you can enjoy the vacation with tourist trappings. If you love golf, there are many clubs to host you. Looking for cultural and classy vibes? Head towards Charleston.
Hence, South Carolina is a complete package for people looking for fun and time out from their routine life. According to our experience, we have filtered out some resorts in South Carolina that will double the fun.
Let's hop on them without further ado.
Similar Read: Rhode Island Resorts known for Comfort and Service
There are two types of beach vacations. The first one fills the sand in your shoes, providing you with carnival rides, corn dogs, and boardwalks. The second one is completely luxurious.
If you want to pick the latter one, book your resort in Hilton Head. Why? It is the most prized resort in South Carolina. There are more than 300 suites and a ton of Studio Suites with private balconies and mini kitchens.
The resort has got access to an 11-mile lagoon system, which is perfect for canoeing and kayaking, bike trails, 25 tennis courts, and three golf courses. Moreover, the restaurant has got two family pools. One for kids and one for adults. You can choose from casual to gourmet dining and enjoy the ocean tides spa.
If you have got kids, leave them in the kid camp and enjoy some private time with your life partner.
Disney's Hilton Head Island Resort
View Website
Get Directions
PERFECT FOR: Travelling with and making children smile and turn their mood pleasant.
There is no better vacation destination than Disney if you have children along. It's happening in South Carolina, which means you don't have to travel to Florida to experience the magic.
The Hilton Head Island Resort of Disney has been modeled after a fishing lodge and vintage hunting. It is an elegant stop for tourists. There is not only the charm and class, but all the outdoor fun is also available for the kids.
Before you head to your two-bedroom villa, you get to enjoy the 12 miles of beach. There is a swimming pool with water slides and a heated spa. The options are countless as you can reach golf courses as well or ride a bicycle to explore the surrounding area.
That's not it! Disney Beach House is also available to double the fun. When you get bored of the beach and pool, head towards this place for unlimited fun. There are games, snacks, and different fun activities for kids and teens.
You can take a boat ride on the broad creek to see some friendly dolphins. To wrap up the day, you can spend the night by the campfire. It is always special.
Sonesta Resort Hilton Head Island
View Website
Get Directions
PERFECT FOR: Spending quality vacations with family and discovering the city.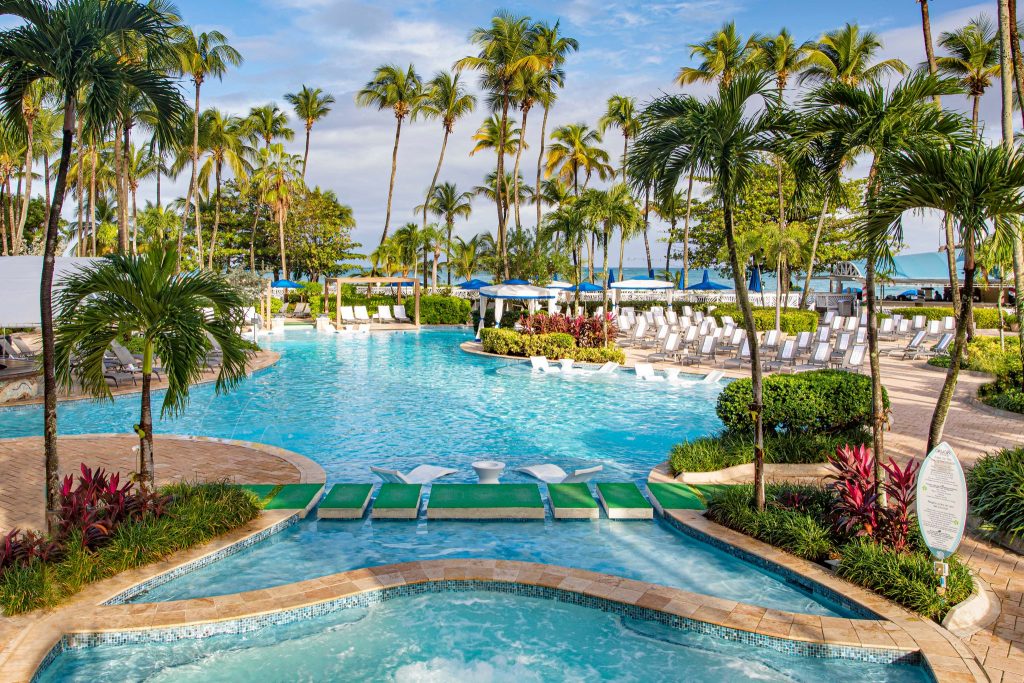 This resort has garnered a staggering number of accolades and awards. The list includes Reader's Choice from The Island Packet, Best of the South from Meetings Focus, and Certificate of Excellence from TripAdvisor.
Whether you are admiring the stunning beach or the wonderful, verdant gardens. The entire hotel is surrounded by breathtaking views.
You also get plenty of fantastic dining options at Sonesta Resort. Moreover, there is excellent poolside pampering which can turn your mood pleasant.
The resort has got a top-rated spa. Talking about the location, it's a plus point as the top tourist attractions are nearby.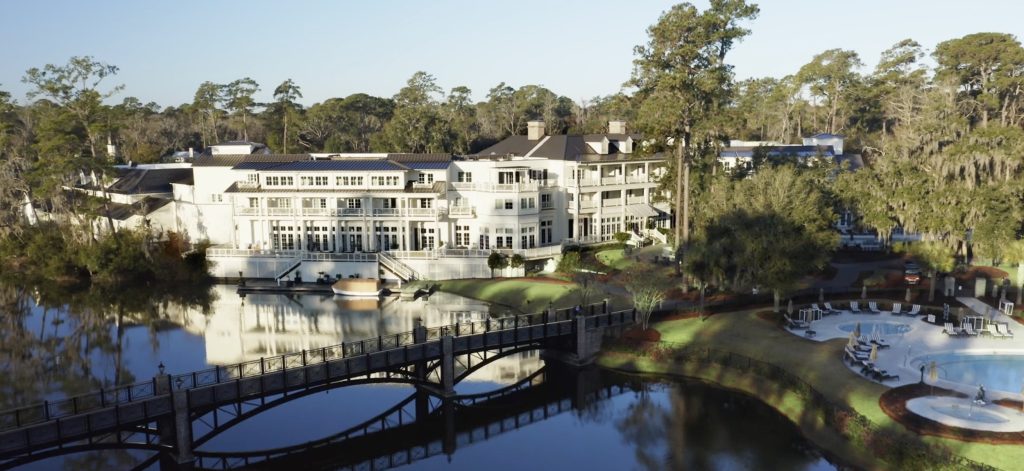 Do you know what absolutely gorgeous means? It's the sight that comes from Montage Palmetto Bluff. The resort is located on the May River, which is more than 20 miles from the airport.
You are welcomed there right away into a Southern haven of moss-covered trees, lawns along the river, and all the white buildings you could wish for.
The top-notch facilities like a signature spa, a signature golf course, a shooting range, paddle boarding, kayaking, and fishing will never let you feel bored.
You will have to choose between conventional guest rooms, cottages, village homes, and suites. All of them are based on the area's history.
Undoubtedly, the best low-country living is right here!
Myrtle Beach Marriott Resort and Spa at Grande Dunes
View Website
Get Directions
PERFECT FOR: People looking for real nostalgia and relive their childhood.
Let's take you back to the fondest memories of family beach trips. You can relive them at Myrtle Beach. But if you don't want to forego the comfort just yet, get a room at the Myrtle Beach Marriott Resort and Spa at Grande Dunes.
The amenities at the resort include a beachfront setting, roomy accommodations, a wonderful spa, two pools, a health club, tennis, golf, and excellent restaurants.
Both the pool and the rooms with ocean views are magnificent. Once you have stayed at this place, there is no going back. The clients constantly advise you to return and keep staying at this hotel since it simply lives up to their high standards every time.
Hilton Head Marriot Resort & Spa
View Website
Get Directions
PERFECT FOR: Spending quality time with friends or family with indoor and outdoor activities.
If you think Myrtle Beach is the only place in South Carolina where Marriott builds a name for itself, you are wrong! This one is also located in the stunning Hilton Head
Once more, the site is right on the beach and has a great touch of class that fits in nicely with the welcoming ambiance.
You can enjoy the views of the island and shore from the privacy of your own private balcony in each room.
The famous spa offers a wide variety of fantastic treatments, and the cuisine really makes the most of the various seafood selections that are well-known in the region.
Golf courses and other indoor activities with outdoor pools are also available at the resort. Moreover, there are three golf courses, and multiple indoor and outdoor pools.
Some tourists feel strongly that they must visit a plantation during their tour to South Carolina.
It's possible that North Beach Plantation is so close that you won't want to leave the property! It covers a 7-acre island between White point Swash and the Atlantic Ocean.
You can pick from a wide variety of activities on the island, which is made up of two towers that are connected in the middle (much like another well-known resort in the Bahamas).
Everything at this restaurant is to die for, so check out the several pools, spas, swim-up bars, private cabanas, lazy river, restaurant, and sushi bar. Every room has a private balcony. You can enjoy the golf courses, and the Beach Fit program from there.
It's like perfection here as everything suits the clients and their needs.
Can you really go wrong if you're in the Isle of Palms region in South Carolina? Nope! Luxury and expensive lodging is the highlight of Wild Dunes.
You can select between condos or conventional accommodations and then venture outside to enjoy the golf, tennis, and other outdoor activities. Charleston is also nearby, so you can explore the city in all of its Southern splendor.
Whether you're a family, couple, single buddies, or multigenerational travel group, there is something for every visitor to enjoy. From the spa to the sea, fishing to fitness, bikes to boardwalks, something will surely suit your mood.
The Westin Hilton Head Island Resort & Spa is located on Hilton Head Island and offers all the amenities you would expect from Westin.
Enjoy the hotel's three distinct pools and kilometers of flawless beaches, which are all flanked by lush palm trees.
There is a private balcony for each guestroom with a stunning ocean view, but if you ever decide to leave your room, you'll discover that there are a plethora of activities available.
In addition to having a ton of nearby dining and shopping options, the Westin Heavenly Spa, Westin Family Kids Club, and the nearby Port Royal Golf & Racquet Club are all nearby.
You can also engage in nearly every type of land and water sport possible. What else do you need to double the fun of vacations? Book your resort here.
Charleston Harbor Resort & Marina
View Website
Get Directions
PERFECT FOR: Lively people, especially those looking for a break from stressful routines.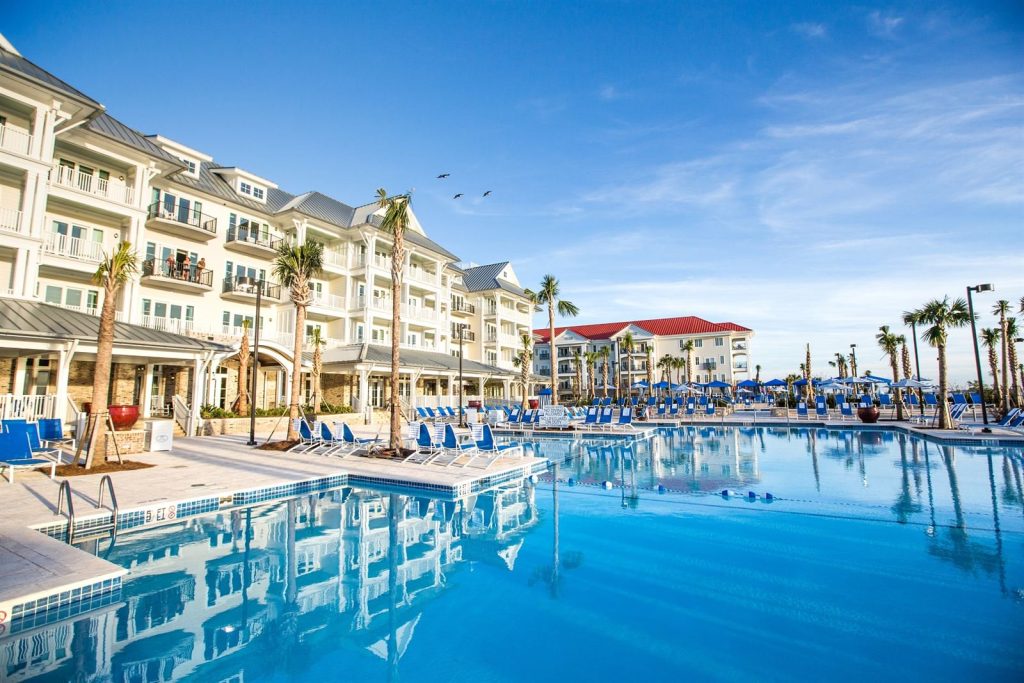 We are sure that you'd want to stay around Charleston and the marina if you are looking for an entirely new experience. This resort can be the ideal choice for you and your fellow tourists.
Although there are just about 100 rooms at this resort, the experience and service are equally remarkable. Every room is exquisitely furnished, and the balconies offer stunning views.
A secluded beach to yourself, free bicycle rentals, free refreshments, boat charters, and concierge services are additional features to double the fun of your vacation.
Moreover, Golf, transportation into downtown Charleston (by a real trolley, if you so want), excellent restaurants, a rooftop bar, and many more amenities are available to make your stay memorable and enjoyable.
Things to Consider Before Choosing A Resort in South Carolina
Expensive — South Carolina is a place for rich people. Most of the resorts in the city are expensive and might shake your budget. Therefore, it is recommended to keep extra money when planning to visit South Carolina.
Cold Weather — The weather in the city is mostly cold. In December, the city witnessed temperature in minus. Thus, it is advised to visit the city in summer or pack your bags accordingly when traveling in winter.
Scams — Like every popular city, South Carolina is also red-hot when it comes to scams. Not every one of them, but some locals try to pull a great deal of money from tourists for petty things. Therefore, it is recommended to take help from officials only.
Pickpockets — Theft is present in every popular city in the US. However, pickpocketing in Atlanta is becoming a major problem. Therefore, it is recommended not to wear expensive ornaments and carry less cash on your trip to South Carolina.
How do we Pick Recommendations?
Being avid travelers, our staff never misses up on the chance to go abroad and see diverse cultures. We frequently travel to South Carolina. Every year, our team members travel to this city and experience what is different. Our team also recently traveled to resorts in Oklahoma, Joshua Tree, Bermuda, and more. Hopdes sees tourists as members of the family, thus we have selected these resorts in South Carolina to double the fun of your vacation.
Next Read: Heart Capturing Resorts In Illinois
Top Resorts in South Carolina that will Double the Fun - FAQs
Is Myrtle or North Myrtle better?
North Myrtle has got all the action, therefore it is better.
Where is the best beach in South Carolina?
The list of best beaches in SC includes Kiawah Island, Hilton Head, Sullivan's Island, and Pawleys Island.
What's the difference between North Myrtle and South Myrtle Beach?
North Myrtle is more family orientated than South Myrtle Beach.
Which is more family-friendly Hilton Head or Myrtle Beach?
People argue but most of them believe that Hilton Head is the most family-friendly beach in SC.