Bermuda is a unique place to schedule a resort vacation because of its pink sand beaches, numerous wreck and distinctive coral reef diving and snorkel locations, pastel-colored buildings, and laid-back atmosphere. This 21-square-mile island in the North Atlantic is a British territory and is easily accessible from the East Coast of the United States by direct flights from New York and Boston. Whether you are on a family trip or searching for a romantic honeymoon hideaway, Bermuda has a number of amazing resorts to suit your requirements.
Our Pick of The Best Resorts in Bermuda
Following Bermuda resorts are notable for their Cliffside locations, excellent on-site restaurants, and spas, as well as friendly and attentive staff.
Rosewood Bermuda is located in the affluent Tucker's Point enclave. It is located at 60 Tucker's Point Drive | Hamilton Parish HS 02. Rosewood Bermuda includes a golf course and residential houses on 240 scenic acres overlooking Castle Harbor in Hamilton Parish. The 5-star resort welcomes honeymooners, lovers, and families alike. One of the best points of this resort is the use of a dedicated cabana at one of the resort's swimming pools.
The rooms are light and contemporary and decorated in neutral tones with touches of stone and wood. On the other hand, the high-end suites have private fireplaces, dining spaces, and wet bars in their accommodations. This resort has the highest rating of 5.0 and is considered the Best resort in Bermuda. The starting price of one night stay for 2 adults at this resort is $590. One might be shocked by this figure but wait till you hear about all the amenities offered at this resort.
The accommodations include soft mattresses dressed in opulent Italian linens, as well as flat-screen televisions, minibars, and Nespresso coffee makers. Extra-large bathrooms of the suites come equipped with separate showers, big soaking tubs that stand alone, and twin vanities. Suites featuring one or two bedrooms, as well as other exclusive amenities such as the use of private golf carts, are included in the upgraded lodgings.
The resort has a private beach which is conveniently located a short distance away from the clubhouse. Moreover, there is a golf course at the top of the hill for guests to have some recreation during their stay. In addition to the five eateries available, guests may schedule spa treatments in the hotel's full-service spa.
The Rosewood Explorers club provides supervised activities for children of guests, such as junior golf and arts and crafts. Nanny and babysitting services are available at an additional cost if you want to spend some time with your partner. Your canine companion is also invited to join you on your journey.
All of these aspects truly make it a resort in Bermuda that brings calming vibes to the guests, while bringing the ultimate experience of luxury as well.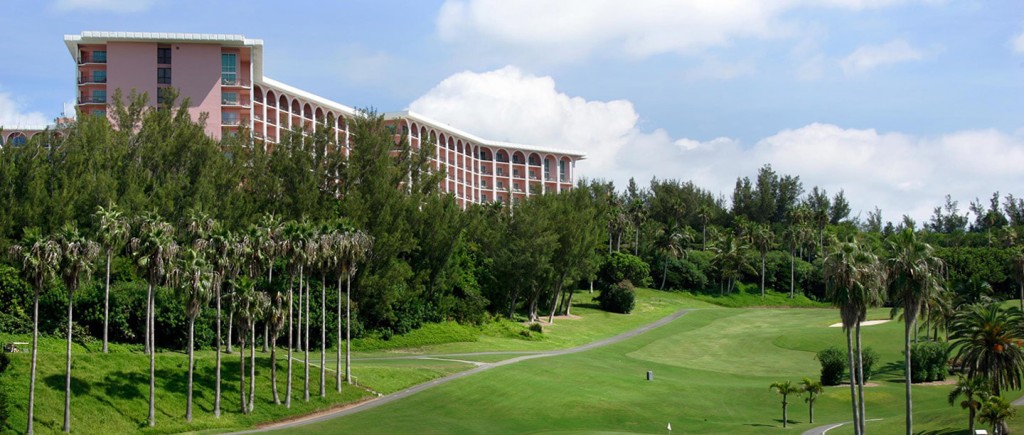 The South Shore is known for its trademark pink-sand beaches, and the Fairmont Southampton is situated on 100 acres of swaying palms and tropical gardens. This resort is located at 101 South Shore Road | Southampton SN 02. What makes this resort one of the finest choices in Bermuda are the ample facilities present.
The resort's rooms, suites, and specialty rooms all include high-end touches like British colonial-style furniture and modern conveniences like flat-screen TVs, minibars, walk-in closets, and marble & granite bathrooms with double vanities. Private balconies and terraces overlooking the ocean or the lush grounds surround most rooms giving you a fresh morning experience.
There is free Wi-Fi available and accessible to all the guests. Each room is comfortable at 450 square feet making it spacious for a small family. In addition to being a beach club, this establishment has a diving facility and offers Jet Ski rentals. This means you can enjoy a hell lot of time at this resort with physically exhilarating activities!
The Fairmont Southampton has 593 rooms, all of which are large and have marble bathrooms, minibars, and balconies. These feature luxurious furnishings and provide breathtaking views of the ocean. Per night charges for a moderate room for two persons is $286.
The Fairmont resort's nearby attractions include a wide variety of convenient facilities. If you wish to play a championship par-3 course, you may do it on the premises of the Turtle Hill Golf club, which has a course that has been recognized for its excellence and has 18 golf holes.
In other cases, you can schedule a treatment at the Willow Stream Spa, which is reserved exclusively for adults. There is a place called Explorers Camp that is open to children for a range of activities that can help youngsters kill time. Apart from that, there are 10 different eateries available on-site for patrons to choose from when it is time to dine.
L.F. Wade International Airport is approximately 16 kilometers (10 mi) north-northeast of this resort so plan accordingly.
Interested in unwinding in a hot tub on the breathtaking Southwest coast of Bermuda? Pompano Beach Club is where you want to be. It is located at 36 Pompano Beach Road | Southampton SB 03. The resort, owned by a family, also has a spa with a variety of treatments, a separate pool for children, and opportunities for everything from scuba diving to kitesurfing.
One of the resort's winning points is a beach with shallow, pristine water that is ideal for families with excited children planning for some fun in the water. A sand bar extends out into the water where you can wade out to two floating platforms where you may lie in the sun.
The rooms and suites here are comfortable due to the tropical décor and color scheme. Most rooms offer breathtaking views and suites have their own balconies. Three townhouses are also at your disposal. There are floor-to-ceiling windows on three sides of the restaurant, making the Ocean Grille's location on a cliff above the turquoise sea all the more heart-capturing. All of the rooms and suites at the resort come with a variety of amenities such as refrigerators, coffee machines, flat-screen TVs, umbrellas, and private balconies or patios.
The minimum per night charge for Pompano Beach Club is $340 for an Oceanview Room. Prices vary by the dates you choose.
This resort's location is directly adjacent to the world-famous Port Royal Golf Course which makes it ideal for golfers. Several tournaments, including PGA events, have been played on the Robert Trend Jones-designed course. Snorkeling, kayaking, and paddle boarding are other activities that can be enjoyed by guests. Likewise, one can also indulge in a game of tennis, a workout in the fitness center, a spa treatment, or just lounging on the beach or by one of the resort's pools. The seven restaurants and bars at Pompano Beach Club are the perfect places to rest your weary muscles and refuel.
All of these factors contribute to making it one of the best resorts in Bermuda for families.
If you want something classy yet budget-friendly for a honeymoon, the Cambridge Beaches Resort and Spa is the way to go. The resort has three restaurants, and the Tamarisk Room is widely considered to be among the island's finest. Reserve a candlelight meal for two on the beach in one of the many secluded nooks on the expansive grounds to commemorate a special occasion. This resort is located at 30 Kings Point Road | Sandys MA 02.
Guests can stay in one of 87 pink cottages reminiscent of those seen in Bermuda. All of them are exceptionally decorated and well-equipped, and they provide soul-capturing views of the ocean from their individual balconies. Renting one with a plunge pool on the patio is the ultimate luxury. Those who have visited Cambridge in recent years may attest to its appeal as a tranquil retreat. Guests wishing to relax may have a massage at the property's Ocean Spa or stroll through its peaceful grounds.
The rooms are decorated in a contemporary island style and include fireplaces, sitting spaces, and either ocean or garden views. Minibars, flat-screen televisions, ceiling fans, and marble bathrooms with jetted or soaking tubs are among the standard facilities. Starting prices at this resort are a whopping low of just $209.
Resort guests will find themselves on a 30-acre peninsula, less than a mile from Somerset Village. There are also a number of private beaches, two pools (including an indoor pool, which is unusual in Bermuda), and a high-end spa. With so many amenities offered, a minor price tag of $209 sounds quite worth it!
We also took opinions from several other guests to evaluate this resort. Turns out! Most people would love to stay here again as it is one of the best budget resorts in Bermuda.
Book your stay at Grotto Bay Beach Resort & Spa in Bermuda if you are looking for an all-inclusive getaway. With 21 oceanfront acres in Hamilton Parish, Louisiana, the resort is excellent for anyone looking to indulge in a unique cave spa. The resort has two caverns and three beaches. It is situated at 11 Blue Hole Hill | Hamilton Parish CR 04.
Cottages are freshly rebuilt and decorated in the island's signature pink with limestone roofs. Connecting rooms are provided for families. It is worth noting that several of the apartments provide sweeping vistas of the ocean from their upholstered balconies. Starting prices for a moderate room begin at $290.
In addition to the three dining options and the scuba store, the hotel also has a fitness facility, a children's activity center, and free afternoon tea. There are two local golf courses where you may spend some time on the greens.
The resort can also organize scuba diving excursions to Bermuda's shipwrecks and colorful coral reefs, among many other water sports and activities. We really liked the coral reefs over here which can be a nature lover's heaven.
Some attractions here include the Resort's Natura Spa, located in a separate building from the swimming pool. There are treatment beds in the cave spa, and they are situated on a pontoon that floats on the water.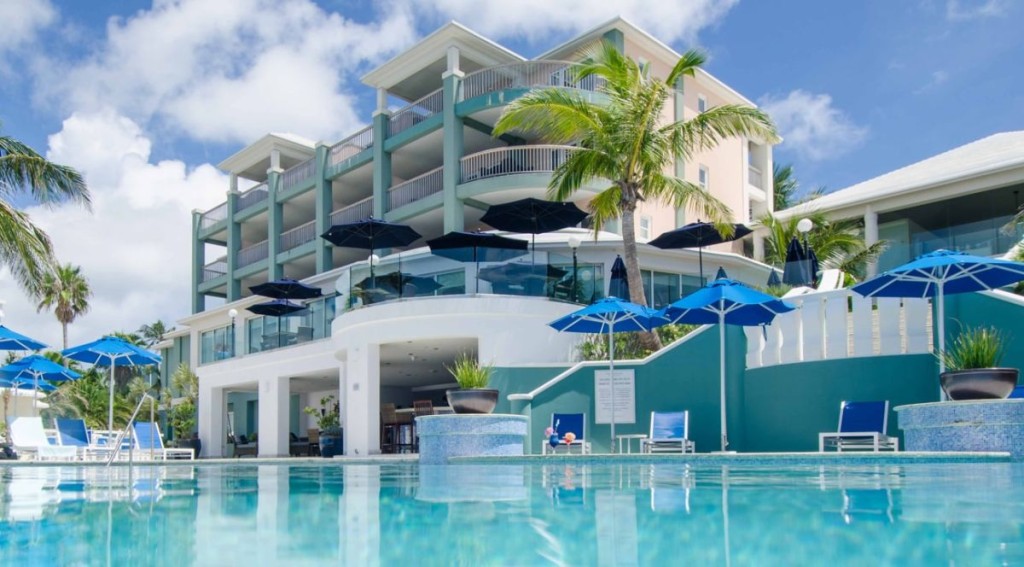 The Newstead Belmont Hills Golf Resort & Spa, located at 27 Harbour Road | Paget PG 02, is a multi-faceted resort ideal for families. Those looking for opulence will be pleased by the heart-capturing views and cozy atmosphere this resort offers. Luxury amenities abound at this resort, from the 18-hole golf course (lodgers are granted one complimentary round of golf per day) to the James Beard Award-winning Bl at Belmont Hills.
The resort's rooms have a modern aesthetic, with wicker furniture, wooden flooring, and French doors made of double glass. With several room options, the starting price for this resort is $410. Suites with one or two bedrooms come with full kitchens and separate living spaces in addition to the standard amenities of a private balcony, a Jacuzzi tub, free Wi-Fi, and a mini fridge. This way, you get to live in a spacious room without compromising on any of your essential needs.
Besides, there is also an ocean-view infinity pool in all suites. An Asian-themed spa offering a variety of body treatments, facials, and massages is an exclusive facility you shouldn't miss. There are two eateries available for guests to use. When traveling with a large party, suites with complete kitchens are a convenient option.
About 10 miles to the southwest of L.F. Wade International Airport, you will find the resort. Public ferries may be reached within a 10-minute walk. There is an extra charge for the Mercedes Benz island shuttle service.
Located on picturesque Elbow Beach to the south of Hamilton, Elbow Beach Bermuda Resort & Spa is home to the biggest free-form swimming pool on the island. It is a popular venue for weddings and other special events, and its own luxury boat, The Venetian, is available for island excursions. The resort is situated at 60 South Shore Road | Paget Parish PG 04.
There is a lively, island atmosphere in all of the rooms and suites, and many have private, wide patios with comfortable furniture. The resort offers a summer program for youngsters aged 3 to 12. The room rent at Elbow Beach Bermuda Resort is $371 per night.
The Bed & Breakfast packages include a full American breakfast at one of the resort's three restaurants, making them a good deal for those who want to enjoy a hearty breakfast every morning. In addition, there are many tennis courts and a high-end spa for guests to enjoy. Coffee machines, safes, and private patios/balconies may all be found in each of the rooms. Overall, visitors praised Elbow Beach for its friendly service and plethora of amenities, including the serene Spa.
Guests may arrange for activities like parasailing, scuba diving, and golf, as well as more extreme sports like Jet Skiing and heli-skiing, via the hotel's concierge service for an additional fee. Elbow Beach's kids' camp also gets rave reviews for the many fun activities it provides, such as board games, treasure hunts, and arts and crafts. You may return after a day in the great outdoors and eat at one of the resort's three restaurants.
With all such exciting activities, it has truly become one of the classiest resorts in Bermuda you wouldn't want to miss.
Things to Consider Before Choosing a Resort in Bermuda
Following are some important points to be considered while deciding which is the most appropriate resort in Bermuda
Location — Whether you are visiting Bermuda for a family vacation, honeymoon, or quick weekend getaway, you will want to choose a place to stay that fits your needs and preferences. St. Georges is full of sites of historical interest, so it is a good idea to base yourself there if you're a history lover. You may also enjoy golfing and horseback riding in Warwick, learning more about the island's history and culture in Southampton, and sampling the many delights that Pembroke, and particularly Hamilton, have to offer. Choose the location in accordance with the preference of places nearby.
Amenities — Resorts in Bermuda come with an extensive range of amenities and you should enjoy the most of them. Larger resorts often have a spa, indoor pool, and tennis court, are located near nearby eateries, and come with a private beach. On the other hand, if you are looking for fewer amenities and plan to stay out of the resort for most of the time, having a budget-friendly resort in Bermuda will also make sense as you will be spending the saved money on nearby attractions.
Book Early — To save money on lodging, plan and reserve a place at least two months in advance. The cost per person of a big apartment rental is far lower than that of a hotel. It is possible to save up to 25% on lodging in Bermuda if you visit during the winter (November–March) months. Similarly, it is also possible to get a reservation at your favorite resort in the off-season.
How We Pick Our Recommendations
Our resort suggestions are based on the feedback of a wide range of guests, all of whom place a premium on attention to detail. Our ideas are unique to help the largest number of individuals. This helps in providing the readers with the most complete and up-to-date information possible. Some of the factors we considered while recommending resorts in Bermuda include amenities, family-friendliness, couple-friendliness, and related aspects. We also carefully consider the feedback of other visitors.
Final Words
Bermuda Island is indeed a paradise, but it won't come cheap. Horseshoe Bay has pink sand, Astwood Cove and Black Bay are peaceful, and coral reefs are teeming with marine life and the remains of more than 300 ships. To that end, we have compiled a short list of the top resorts in Bermuda, from which we hope you will be able to choose the ideal getaway.
Classy Resorts in Bermuda You Wouldn't Want to Miss - FAQs
Which is the best resort for a honeymoon in Bermuda??
If budget is not an issue then Rosewood Bermuda is an excellent choice for a honeymoon in Bermuda. Each room is bright and modern, with furnishings and accents of natural stone and wood. Fireplaces, separate dining areas, and kitchenettes may be found in certain suites.
What are some fun things to do in Bermuda?
There are several fun things to do in Bermuda including visiting the Crystal and Fantasy Caves where you will see stalactites and stalagmites that look like something out of this world. Bermuda's beaches, famous for their pink sand, are picturesque all year round.
What is a family-friendly resort in Bermuda?
Pompano Beach Clubs is one of the most known resorts for families in Bermuda.
Which is the cheapest resort in Bermuda?
Cambridge Beaches Resort & Spa is the cheapest resort in Bermuda.