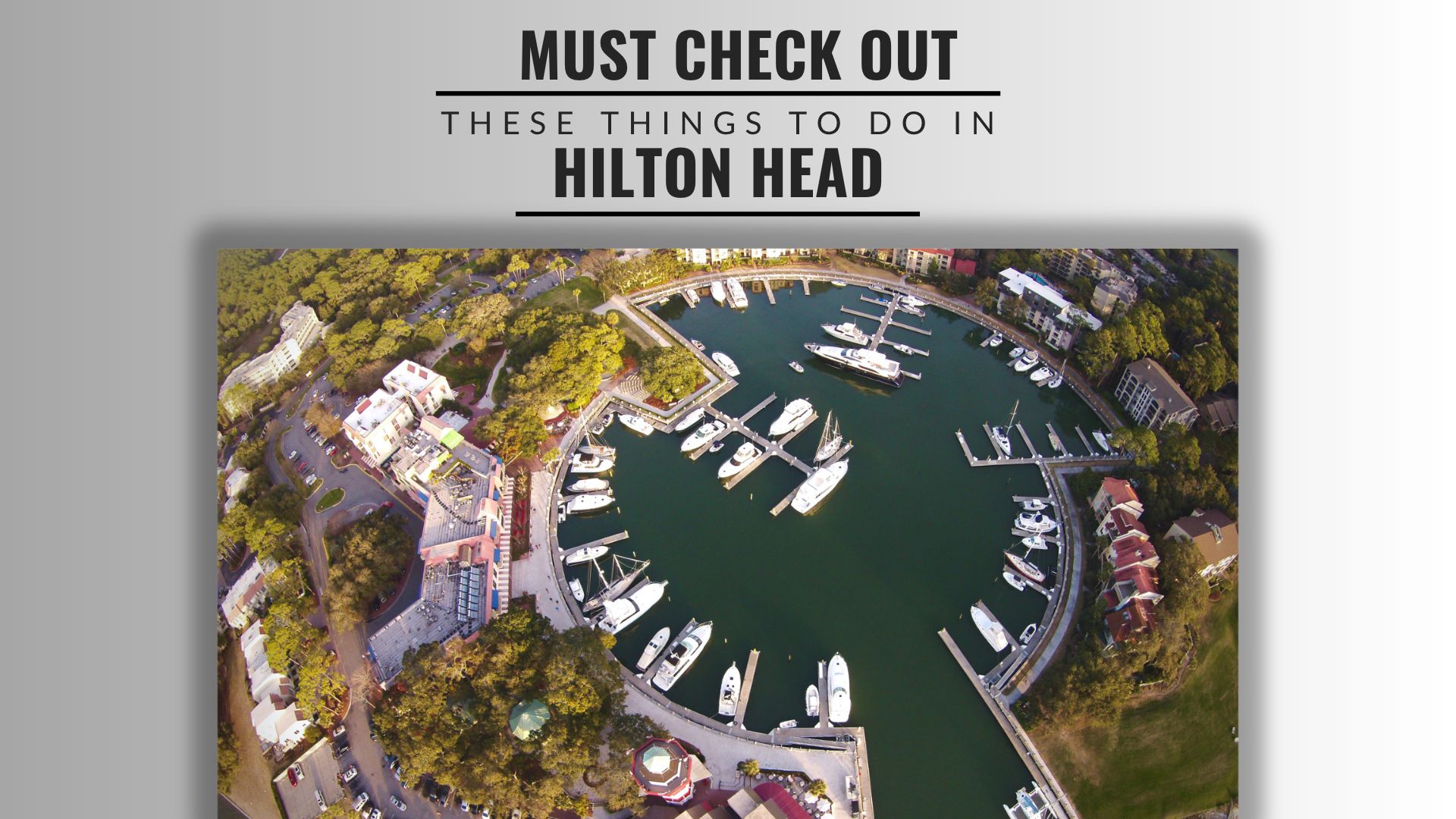 Hilton Head, a gorgeous island off the South Carolina coast is located only 45 minutes from Savannah/Hilton Head International Airport (SAV), and around 30 miles from Savannah Georgia. It is home to a wide variety of exciting attractions. Idyllic beaches, a plethora of world-class golf courses, and spectacular local fauna have all contributed to its rise in popularity as a destination and as a place to call home.
The island was only linked to the mainland in 1956, but it was the first eco-planned tourist attraction in the United States. As a result, the area's hotels, eateries, boutiques, and sights complement the verdant subtropical landscape, parks, and preserves that surround them well.
Why Spend Vacations in Hilton Head?
You can find almost every kind of vacation activity in Hilton Head. Due to the location, Hilton Head is a popular road trip destination, particularly for Americans in the eastern half of the country. Hilton Head Island is a golfer's paradise, with 24 different courses to test even the most skilled players. The island plays host to the annual RBC Heritage Presented by Boeing event every spring.
The beaches on Hilton Head Island stretch for 12 miles, and their fine sand and ample width make them perfect for relaxing in solitude or cycling along at low tide. The island has some of the warmest water on the East Coast, making it a great spot to take the kids (or just yourself) for a swim.
Hilton Head is a great destination for family vacations, with much to do for all ages. From bike rides on the beach or one of the numerous recreational routes to supper and a family-friendly concert in Harbor Town at Sea Pines, the island has it all.
Also, read out our guide to the 7 Best Restaurants in Columbia SC.
Fun Things to Do in Hilton Head
Be it nature and the beauty of the wildlife, rich history, museums, and above all, a very serene atmosphere; there is something to be loved by everyone. In case you get perplexed about where to go first, pick the one from the list below and make memories that will last you forever!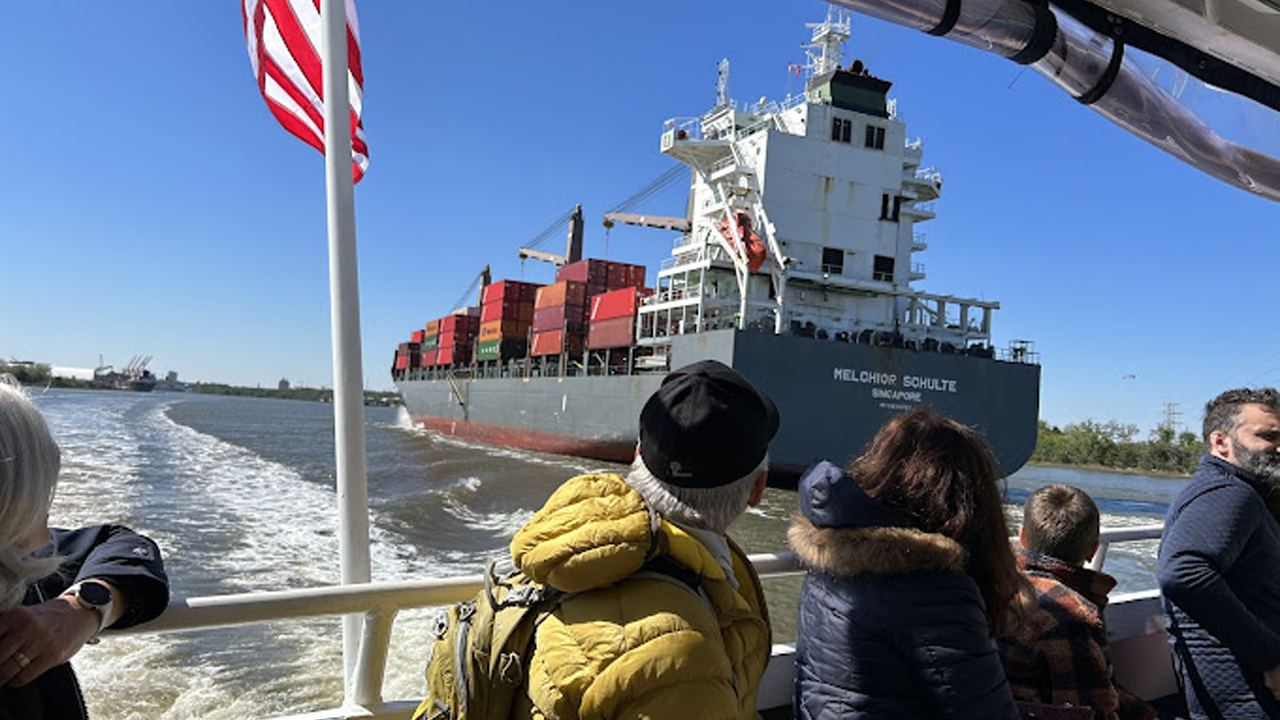 Marine life is abundant in the seas of Hilton Head Island. The Hilton Head Island Dolphin Watching Nature Cruise is a great activity that visitors should indulge in while they are there. In addition to dolphins, the extensive birdlife of the island can be seen on this 90-minute trip that leaves from Harbour Town Yacht Basin (you can find it by following the direction of the lighthouse).
As you pass by famous sights like Bull Island and Haig Point Lighthouse, your guide will provide entertaining and informative comments. The price of this excursion is $38.11 per person.
The Vagabond will go through Calibogue Sound, the Atlantic Ocean's inland waterway, on this 90-minute Dolphin Nature Cruise. Along the trip, you will be able to take in sights like South Beach, Daufuskie Island, Bull Island, the Haig Point Lighthouse, and many more. Under the Harbour Town lighthouse at Hilton Head Island, Vagabond Cruise has been providing sightseeing and excursion cruises since 1968.
The Harbour Town Lighthouse is an icon of Hilton Head and should not be missed. This bright red and white striped landmark is a museum and a navigational aid for boats utilizing the Harbour Town Marina and the Intracoastal Waterway. Both of these are located in the center of Harbour Town in the exclusive Sea Pines Resort sector at the southern end of the Island.
In 1970, a tower with a height of 90 feet was built to serve as a lighthouse. Photos and artifacts documenting the island's history are on display, and a dedicated section highlights the Coast Guard's efforts over the years. Climbing the lighthouse costs $5.75 per adult and children under 5 get in free.
Incredible panoramas may be seen from the lighthouse's peak. From this vantage point, you get a panoramic view of the whole island, the adjacent island of Daufuskie, and even Georgia's Tybee Island. It could be a really romantic spot to enjoy with your loved one, and take some snaps for the "Gram!".
There are two gift stores available, and weddings and other special events may be held at the venue with planning.
P.S: In case you ever plan to visit North Carolina, visit the 10 Aquariums in North Carolina that will make you go "WOW".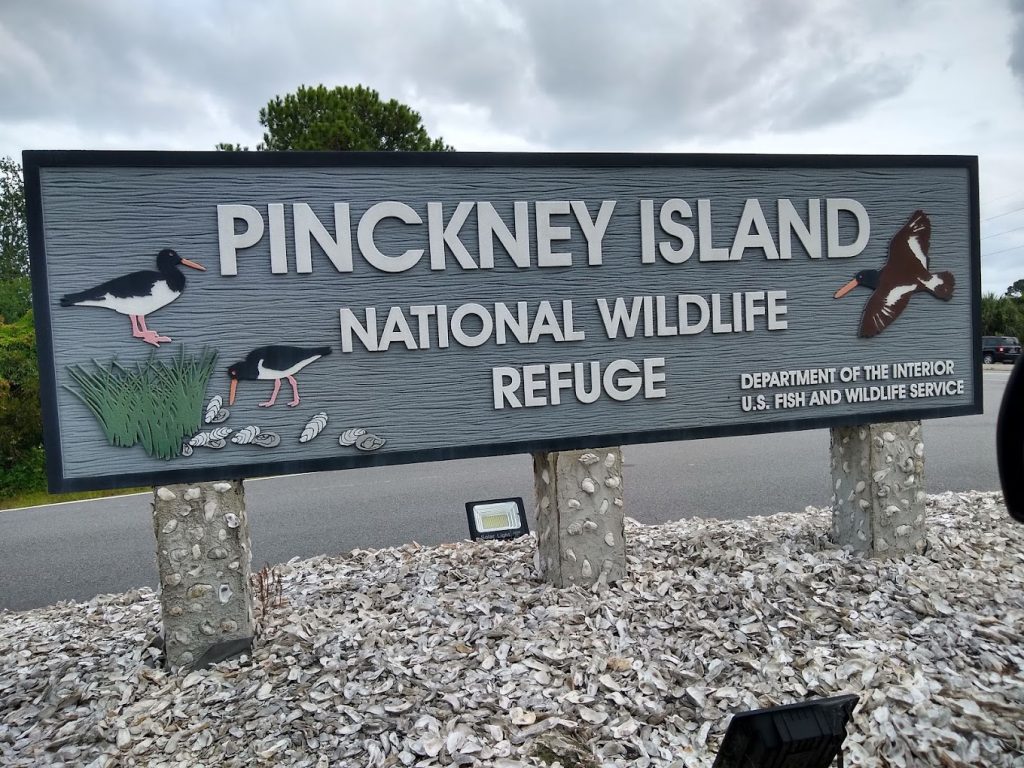 The massive Pinckney Island National Wildlife Refuge spans over 4,000 acres and was established in 1975. Located between Hilton Head Island and the mainland, the area is accessible through the same bridges and roads that link the two bigger islands.
The Pinckney family, who settled on the island in the mid-18th century and remained there for nearly 200 years, is credited with establishing the settlement. It has more than 115 historic sites, some of which reveal evidence of human occupancy dating back more than 10,000 years, making it one of the most significant archaeological sites in South Carolina. It could be a really fun place for history enthusiasts!
Waterfowl and shorebirds, such as egrets, herons, and white ibises, as well as bald eagles, make this area a birdwatcher's delight. Deer, gators, and armadillos are also often sighted. Book in advance and you may have a guided tour of the outdoors on an electric shuttle or a bike.
The refuge is free to visit every day between the hours of daybreak and dusk, with the gate closing around 30 minutes after sundown.
Hikers and cyclists can enjoy 14 miles of paths on Pinckney that wind through the island's freshwater ponds, salt marshes, and maritime forest. You may expect to see a wide range of birds (the refuge is home to 250 species), as well as reptiles, amphibians, and mammals including alligators, turtles, and deer.
Keep an eye out for the white ibis and, if you are there in the summer, the brightly colorful painted bunting. There are nearly 10 miles of paths that are well-designated and perfect for hikers and cyclists.
Suggested Reading: Exploring Downtown Miami: 7 Best Things to Do
Consider bringing the kids to the Sandbox Children's Museum if they become bored with playing on the beach.
The museum has been open since 2005 and is conveniently situated near Coligny Beach Park. It offers a wide variety of engaging, interactive exhibits and programs for kids of all ages.
The Sandbox Interactive Children's Museum is a great place for kids to learn by doing. Why? Because the emphasis here is on experiential learning, with interactive displays and novel challenges to solve. Put on a flight pilot's uniform and operate a miniature flight simulator before diving for gold in a replica of a 16th – century galleon. The aquarium is also home to a variety of crustaceans and marine stars.
Children can learn about anything from the natural world to massive machinery at the museum's interactive displays. Some of the highlights include kid-sized versions of shops and banks, and an ongoing schedule of events and activities designed to engage and stimulate young minds.
Everyone aged 1 to 64 pays the same $10 per ticket price. People aged 65 and above pay $7.5, while infants under 1 year old get in free. Members are also not charged.
You are about to set sail in pursuit of great adventures, so sharpen your swashbuckling wit and perfect your maritime swagger. Set sail on the Black Dagger pirate ship and go on a treasure hunt in the seas of Hilton Head while your kids are transformed into swashbuckling buccaneers.
This trip is perfect for families, and it departs many times in the morning and afternoon to accommodate your busy schedule.
The pirate cruise from Hilton Head Island departs from Harbour Town, and you must make your way there. The youngsters are given a pirate name, taught how to move and behave like pirates, and given full pirate costumes and temporary tattoos before joining the ship.
The time has come to board the ship and set out in pursuit of the hidden gold. After reading the map and assisting in the destruction of an enemy pirate called Stinky Pete, the youngsters can use the water cannons and begin their search for the treasure. After they defeat Stinky Pete and find the treasure, the pirates divide up the booty among themselves.
The tour costs $40.95 per person. Pirates of Hilton Head is the best spot to begin your journey, with pirate training for the kids, treasure hunts, and a magnificent ship fit for captaining the seven seas! It is really one of the most interesting things to do in Hilton Head.
Related: 8 Must Things To Do At Mount Shasta
The Comedy Magic Cabaret is the place to go for a night of belly laughs and wild babbling. This little theater has brought top-notch stand-up comedy to the island, hosting performers from all over the country and the globe.
Sit back, grab a plate of sliders with pork, and enjoy the show. Drink some local beer or a specialty drink to keep the laughter flowing.
This bar hosts world-class comedians many times a week. There are a few small plates, some sandwiches, and a complete bar to choose from. VIP front-row club seats are $54.50, raised booths are $54.50, and general admission is $44.50. While it may sound expensive, it is one hell of an activity you shouldn't miss in Hilton Head.
In the summer, performances tend to sell out rapidly, so be sure to plan early.
Coligny Beach Park is located right next to Hilton Head Island's most popular beach, Coligny Beach. Coligny Plaza, which lies nearby, features numerous stores and restaurants and is the closest thing the island has to a normal beach scene.
Shaded gazebos with rocking seats and durable swing chairs are just two of the many comfortable sitting options available. Wi-Fi is available, and it is free! Rubber matting is spread upon the sand to make it easier for those with mobility challenges to reach the beach. It is a short walk to the beach, where you may rent umbrellas and loungers.
During the summer, lifeguards are on duty to ensure the safety of swimmers. Every store caters to vacationers on the beach. Numerous eateries provide a varied menu suitable for families with children of all ages. Some places even sell adult versions of the fruity drinks that youngsters love to drink. There is no cost to enter Coligny Beach Park making it one of the best recreational spots in Hilton Head.
You can access the beach through a nice park area that has services like changing rooms, outdoor showers, and bathrooms whether you come on foot, by bike, by car (parking may be tight), or by one of the convenient trolley buses that link the closest car parks to the ocean.
Recommended Reading: Top 10 Things To Do On Your Day Trips From San Francisco
The town of Harbour Town itself is fascinating. The Sea Pines Village is the main shopping area of the massive and upscale Sea Pines Resort. There are several unique boutiques here that offer stylish apparel, accessories, and furniture, as well as handcrafted goods, presents, jewelry, and original works of art.
The Harbour Town Bakery & Café is a casual alternative that provides delicious baked goods, sandwiches, espresso coffees, and teas, all of which may be enjoyed outside in the warm weather. Visits to Harbour Town are free, although there is a $9 car entry charge.
Sporting events also tend to be held in and around Harbour Town. There is a lot of bustle down at the marina. Here, you may book a trip on a world-famous racing yacht, see dolphins from the deck of a cruise ship, take the kids on an authentic pirate experience onboard the Black Dagger, ride the waves on a Jet Ski, or explore the coast in a kayak. With so much to do over here, isn't this one of the best places you should visit in Hilton Head? Damn right, it is!
Golfers can find enough to do at nearby Harbour Town Golf Links, especially on the par-3 18th hole (simply hit it toward the Harbour Town Lighthouse). There is a big adventure playground for children, as well as a tennis club with international-standard courts.
Things to Consider While Visiting Hilton Head
You should think about these things before you go to Hilton Head:
Best Time to Visit: The months of April and May, as well as the months of September and October, are ideal for a trip to Hilton Head. Spring and autumn provide more manageable temps for lounging on the beach, fewer tourists, and cheaper hotel costs. In the summer, the island's warm temperatures make it ideal for a dip in the water. You may wish to avoid the throngs that form at Hilton Head during the summer months by traveling there in the spring or fall. Highs in the mid-60s mean that winter is not a terrible season to come either if you are looking to save money and do not mind carrying a few sweaters with you to the beach.
Menu Recommendation: For your time at Hilton Head, two restaurants should not be missed. In the first place, eat loads of Southern meals! After all, you are in the environment. Second, try to do it somewhere with a view of the water. You can get both at the Skull Creek Boathouse. The Skull Creek Boathouse in northern Hilton Head serves traditional low-country cuisine such as Carolina shrimp and grits and the low-country boil. The low-country boil is a communal meal consisting of a variety of seafood (often shrimp or crab), red potatoes, corn on the cob, and spicy sausage cooked together in one large pot. When everything is done cooking, it is customary to serve it all in one large heap on a picnic table covered with newspaper. Thereafter, we urge you to apply the available condiments, which may include cocktail sauce, spicy sauce, and tartar sauce.
Events: There is a wide variety of events for tourists to enjoy at Hilton Head, from water sports to music festivals. Make a list of everything that has to be accomplished, then stick to it.
How Do We Pick Our Recommendations?
We have spent much time researching and evaluating all of the available alternatives and have settled on a number of the most enjoyable ones. We tried to put ourselves in the shoes of the other tourists. After doing some digging, we came up with this list of top-notch fun activities in Hilton Head.
Final Word
We created this list of exciting things to do in Hilton Head to help you organize your vacation. Visit Hilton Head and take in the stunning scenery while you enjoy these places. Keep in mind the important things we suggested to consider because this will help you have the best possible experience in Hilton Head. We hope that you really enjoy your trip with these fantastic things to do at Hilton Head.
Things to do in Hilton Head - FAQs
How many golf courses are on the island of Hilton Head?
There are more than 23 championship courses on the island of Hilton Head.
Where is the disappearing island in Hilton Head?
The disappearing island is located off the southern tip of Hilton Head Island near Daufuskie Island.
What is the parking situation at Coligny Beach Park?
Free parking is available at Coligny Beach Park.
Can one ride a bike in Pinckney Island National Wildlife Refuge?
Yes, one is permitted to ride a bike in the Pinckney Island National Wildlife Refuge.
What is the closest airport to Hilton Head Island?
Savannah/Hilton Head International is the closest airport to Hilton Head Island.