The downtown of Miami, Florida, is breathtaking. It is a stunning skyline of high-rise buildings and the occasional palm tree back up Miami's Atlantic Coast coastline, which is dotted with marinas and offshore islands (both natural and man-made). While Downtown Miami is the city's oldest neighborhood and indisputable historical hub, it is in no way out of date.
To keep up with the times, Miami downtown is now a culturally vibrant area with several top-notch clubs and restaurants, in addition to numerous museums, galleries, and event spaces. Everything you are looking for, whether it is watersports, a boat tour, or browsing art exhibits, can be found in Downtown Miami. To help you be organized while you are packing, we have compiled a list of fun activities and attractions in Miami.
Related Read: Things To Do in Little Havana
Best Things to Do in Downtown Miami, FL to Explore More!
Cultural events, exciting excursions, and delicious cuisine are just some of the options available in Downtown Miami. Amazing views of the Miami skyline are a major draw for visitors. The city offers a wide variety of experiences. Here is a rundown of the best things to do in Miami so that you can experience the real Magic City.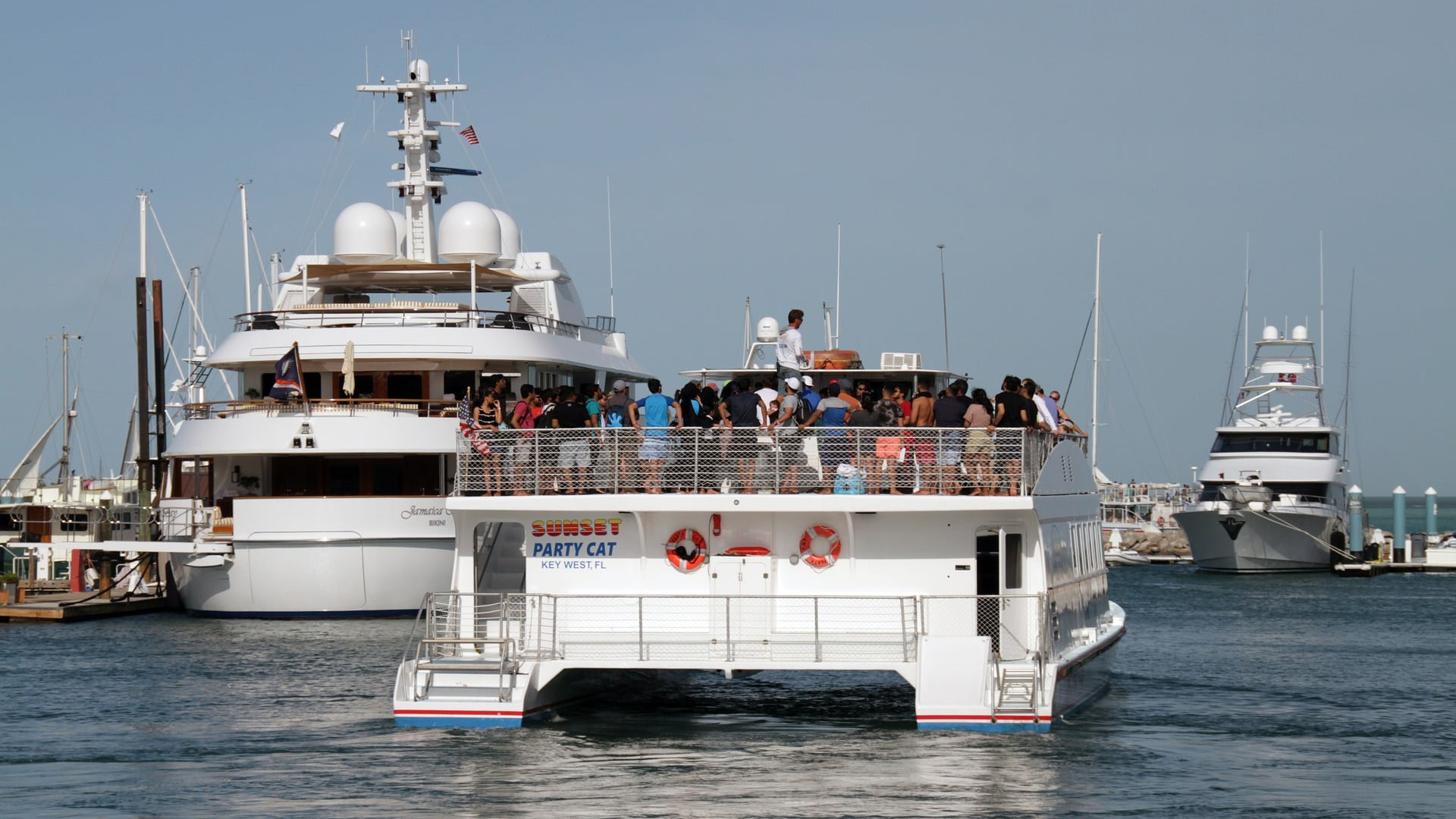 Take a Miami Boat Cruise tour in Downtown Miami at any time of day, but especially while the sun is rising or setting. You may get breathtaking views of the Downtown Miami skyline by boarding a boat at the docks and setting sail across Biscayne Bay or out into the Atlantic. Miami Boat Cruise Tour Company is located at 401 Biscayne Blvd, Miami, FL 33132.
There are a variety of tours available. For example, the Happy Hour Boat rides at sunset leave from Biscayne Bay in the middle of Miami. You will see the beautiful Hibiscus Island, Palm Island, Sunset Island, Fischer Island, and the world-famous Venetian Islands as you cruise around the area. Enjoy a cash bar, music, and happy hour specials as you ride by Miami's ever-changing skyline, the third biggest in the United States.
You can visit landmarks and celebrity mansions that are inaccessible from the ground. The fleet includes a yacht with the air conditioning on the main deck, wide windows on the upper level, and a covered sundeck. The minimum price for a tour is $33.
If you take one cruise in Downtown Miami, you will likely want to do more since you will like being on the water so much. Please bring your sunglasses to protect your eyes from the reflections on the water. Moreover, do not forget your non-oily sunscreen, a cap, a towel, and a camera.
Restaurant Recommendations in Miami: The Best Ramen Spots in Miami
Go out to Bayside Marketplace for some great food and shopping in a beautiful setting. Downtown Miami's Biscayne Boulevard retail center looks out into a palm tree-lined waterway and a port full of yachts. Bayside Marketplace is located at 401 Biscayne Blvd, Miami, FL 33132.
Visit Bayside Marketplace in Miami to learn about the local culture and to shop for trinkets. The two-story shopping center is jam-packed with name-brand stores and posh boutiques offering everything from high-end athletic wear to novelty trinkets. Nestled along Biscayne Bay close to downtown Miami, the Bayside Marketplace is home to more than 70 shops and 30 restaurants.
Visit the outside 305 Daiquiri Bar for drinks or iced coffee after dark, or cool down with a Dragon's Breath ice cream cone. The Knife serves excellent steak in the Argentine manner, while Tradewinds is a terrific place to have grilled seafood. Anything from seashell wind chimes to nautical canvas prints may be found at Gifts from the Sea.
The Bayside Marketplace has so much to see and does that you will need a whole day to see it all. Take a trip on the over 180-foot-tall Sky View or arrange a boat excursion from one of Bayside's marinas to see the city from a new perspective. If you are interested in exploring the waterways of South Florida, you may do it with the help of companies like Miami Aqua Tours, South Florida Travel & Tours, and Thomas Flyer Fishing.
Ideally, for shoppers, this is truly one of the best fun things to do in Downtown Miami, FL. Uncovering the shopping spree and buying out new things is always exciting and memorable. Even our team brought several things on our shopping spree including top-quality shirts, coffee makers, and seashells as well.
Editor's Pick: Best Nude Beaches in Florida
Learn New Things by Exploring the Philip & Patricia Frost Museum of Science
View Website
Get Directions
PERFECT FOR: Learning Scientific Aspects.
The Philip and Patricia Frost Museum of Science, spanning a whopping 250,000 square feet, is an interactive educational experience that takes visitors on a fascinating trip from the depths of the human cell to the far reaches of the universe. From the Gulfstream to the Everglades and the mangrove woods to the deep ocean, guests may experience it all at this 4-story aquarium. Its address is 1101 Biscayne Blvd, Miami, FL 33132.
Views of hammerheads, devil rays, stingrays, and coral reefs can be seen in the Royal Caribbean Vista's 500,000-gallon tank. After seeing Florida's marine life, go to the Frost Planetarium for a cosmic adventure. The 67-foot-wide screen and one-million-dollar visual technology in the Planetarium let viewers experience a journey across space without leaving their seats.
Visit the "Power of Science Exhibit" to get an appreciation for the scientific method and learn about some mind-blowing discoveries. See the prehistoric era in the "Mammoths: Ice Age Giants" show or the evolution of animal flight in the "Feathers to the Stars" display. Learn about the history of flying, from cavemen to astronauts, in the Batchelor Foundation Gallery.
The museum's left side is devoted to Da Vinci's life and work, while the right-wing houses the MeLab, where visitors can investigate the connection between their bodies and brains. Monday through Thursday cost of entry is
For Adults: $29.95
For Children (4 to 11 years) $22.95
Children (3 years or under): Free
Members: Free
Entry Prices on Fridays, Saturdays, and Sundays
Adults: $32.95
Children (4-11 years old): $24.95
Kids (3 or under the age of 3): Free
Members: Free
To put it simply, the Frost Museum is a cutting-edge scientific center on par with the best of them. Do not skip out on this museum as it is one of the best places to visit in Miami.
BigBus, a double-decker open-air tour bus, provides a convenient way to see Downtown Miami. The tour is a great opportunity to take in the sights of Downtown. The upper deck of a BigBus tour bus is the greatest place to get an overview of Miami and take pictures of the city's most famous sites. Its address is 1628 Collins Ave, Miami Beach, FL 33139.
BigBus Miami provides a wide variety of options and amenities, so you can customize your time in Miami to suit your interests. There are three routes that BigBus Miami bus tours take, and passengers may get out at all the major tourist hotspots in Miami. If you follow city route 3, you will go via Freedom Tower and Museum Park before circling back past the HistoryMiami Museum and cutting off to Coconut Grove. The available tickets are $44.10 which makes it one of the high-range things to do in Downtown, Miami.
You can get off the bus at any of the stops every 40 minutes to explore the sights and hop back on when you are done. All buses have digitally recorded commentary, and it is accessible in six different languages.
Related: The 6 Best Women-Led Restaurants in New York
The Mediterranean-style courtyard and golden balconies of the historic Performing Arts Center, built in 1926, are a pleasant surprise in the middle of Miami's ultra-modern cityscape. The Olympia Theater is the crowning achievement among South Florida's performing arts venues, providing residents and visitors from all over the world with an unforgettable cultural encounter. It is located at 174 E Flagler St, Miami, FL 33131.
The Van Gogh Immersion Experience at Miami's Olympia Theater transports guests to the world of the 19th century's greatest artists. Here, state-of-the-art technology creates a dynamic, participatory experience that brings Van Gogh's masterpieces to life. The first 75 minutes of the show take place in a 20,000-square-foot space where projections of Van Gogh's paintings move and change throughout the show.
With the Virtual Reality Experience, you can go with Van Gogh to the locations that served as inspiration for some of his most famous paintings, including Vincent's Bedroom and Starry Night Over the Rhone. If the Immersive Experience makes you want to be an artist like Van Gogh, you can use the walls as canvases for your creations. The price of a ticket begins at $34.90.
The duration of the visit will be between 60 and 75 minutes. While outside refreshments are not permitted, there are plenty of restaurants and bars in the area. The Van Gogh Immersion Experience was recognized as the greatest production of its type by USA Today and was included on CNN's list of the top immersive experiences.
Recommended Reading: Flying for the First Time in Emirates Business Class? | Here's a Guide to Help You!
Miami Shark Tours offers tours for people of all ages and swimming abilities, so it does not matter whether you are a seasoned diver or you would rather stay dry. On the Shark Watching Tour, you may get up and personal with Miami's resident shark population. From the safety of your boat, you may swim alongside shark species including lemon sharks, hammerheads, and tiger sharks. Watch as sharks swarm the boat in search of bait, and then safely capture one with a hookless line.
The Four-hour-long shark-watching expeditions are designed with both families and large parties in mind. It is not a diving expedition; therefore no one will be getting wet. These excursions take place merely kilometers from the pier. The second kind of trip is shark diving, which allows participants to swim alongside these apex predators in the water (either in a cage or free-diving).
Taking place in the deeper waters of Florida's Gulf Stream, the Shark Diving Adventures is a bit of a swim from the pier. Divers of all skill levels may spend a day or half a day swimming with Florida's sharks in their natural habitat. Sharks viewing tour costs $95 per person, while diving with them costs $195 per person making it one of the most expensive yet fun things to do in Downtown Miami.
Water and diving equipment is provided by Miami Shark Tours to ensure that your ocean adventure is one you will not soon forget. If you want to be comfortable on the ships, you should bring things like sunscreen, clothing, sunglasses, and so on.
Related: 9 Top Notch Korean Restaurants In New York City
The Kampong, located just twenty minutes from downtown Miami, is a haven for rare flora. World-famous botanist Dr. David Fairchild founded the Kampong in 1984. There are more than 40 different kinds of mango trees in Kampong, not to mention other exotic fruits like candle fruit, peanut butter fruit, coco plums, and more. It is located at 4013 Douglas Rd, Miami, FL 33133.
Specimens from as far afield as Southeast Asia may be seen in the garden, and its unique collection includes a 50-ton Baobab tree, royal palms, and a 357-foot-wide gigantic banyan fig. The garden spans 10 acres, and visitors may explore at their own pace with the help of an informative map they can pick up at the visitor center. The cost of a self-guided tour is $15 for adults; $10 for seniors (62+) and students with ID $5 for children (4-12); free for children 3 and under when accompanied by an adult; free for veterans of the armed forces.
Furthermore, Dr. David Fairchild offers tours of The Kampong, and you can sign up for one if you would want to see it. Listen to your guide as you stroll through the legacy plantings and learn about David Fairchild, who settled here and whose plant collections affected the diets of Americans.
See the museum that was previously Fairchild's office and lab. Go inside the Fairchild-Sweeney House and hear the story of how Kay Sweeney prevented the land from being developed following Fairchild's death. What you may expect to pay for a guided tour is Adults pay $25; $20 for seniors (ages 62 and up), $20 for students with valid ID, $10 for children (4-12 years old), and free for children 3 and under when accompanied by a paying adult.
Keep yourself hydrated; there are water fountains all throughout Kampong for filling up your water bottle. Throughout the summer, The Kampong hosts outdoor movie screenings and plant sales, all of which are advertised on their website.
Suggested Reading: Airbus A380: The Ultimate Guide and Pro-Tips
Things to Consider Before Going to Downtown Miami
Miami is like any other coastal city, but there are several important things to keep in mind.
Take Care of Public Places — The first rule of utilizing a public space like a park is to exercise common sense. Just toss the garbage in the bin instead of dropping it on the floor. Leash your pets at all times when at the Dog Park. Lastly, keep an eye on the kids while they play;
Events and Activities — You may check online calendars to see if any of the aforementioned activities are hosting any special events during your planned stay. They can provide programs such as courses and camps, or they may be unable to accommodate you at certain times due to maintenance or other factors. In a nutshell, plan ahead by finding out what entertainment options are available to you;
Parking Option — Find out whether there will be parking available or if there will be an entry charge for the attraction ahead of time. In most cases, visiting a park will not cost you a dime, although others may charge for lessons or other special activities. Feeding a meter for a few hours is another option for experiencing the area;
Plan Your Day Intelligently — It is beneficial to complement the more energetic pursuits with calmer ones as well. Start the day with a whirlwind tour and then spend the afternoon in a museum or the park. Alternatively, you might reverse that and have a leisurely cup of coffee in a cage before walking out to a beachside concert.
How Do We Pick Our Recommendations?
Experts have selected these suggestions after giving considerable thought to a wide range of parameters. The above-mentioned extraordinary Downtown Miami activities were determined after extensive investigation and consultation with locals. We value your satisfaction and want to ensure you have many choices, so we regularly poll our customers for feedback. Every one of our visitors, no matter their age or preferred activities, will find something they like here. Whether you are traveling alone, as a couple, or with a big group, any of the places we have included here would make for a wonderful trip.
Final Word
It would be impossible to see and do everything in Downtown Miami on a weeklong trip. You will need more time than that if you want to see and do and eat and drink all there is to do in Downtown Miami. Put yourself in the middle of an exciting new experience by making your travel plans right this minute.
Fun Things to do in Downtown Miami - FAQs
Where would you recommend a family with small children go in the heart of Miami?
Some of the places you can visit in Miami with children include the Philip and Patricia Frost Museum of Science, the Miami Boat Cruise, and the BigBus Miami Tour.
If you were to take your family on vacation, where would you go?
You can have fun in Miami with your family by going on a boat tour, checking out the Philip and Patricia Frost Museum of Science, or going on a Miami Shark Tour.
Where should I take my partner that would be a lot of fun?
The Van Gogh Museum, Bayside Market, and Kampong National Tropical Botanic Garden are all romantic spots.
Where can I find a reasonably priced place to stay in downtown Miami?
The Leamington Hotel, Hotel Shelley, etc. are just a few of the downtown Miami hotels that come at a reasonable price.