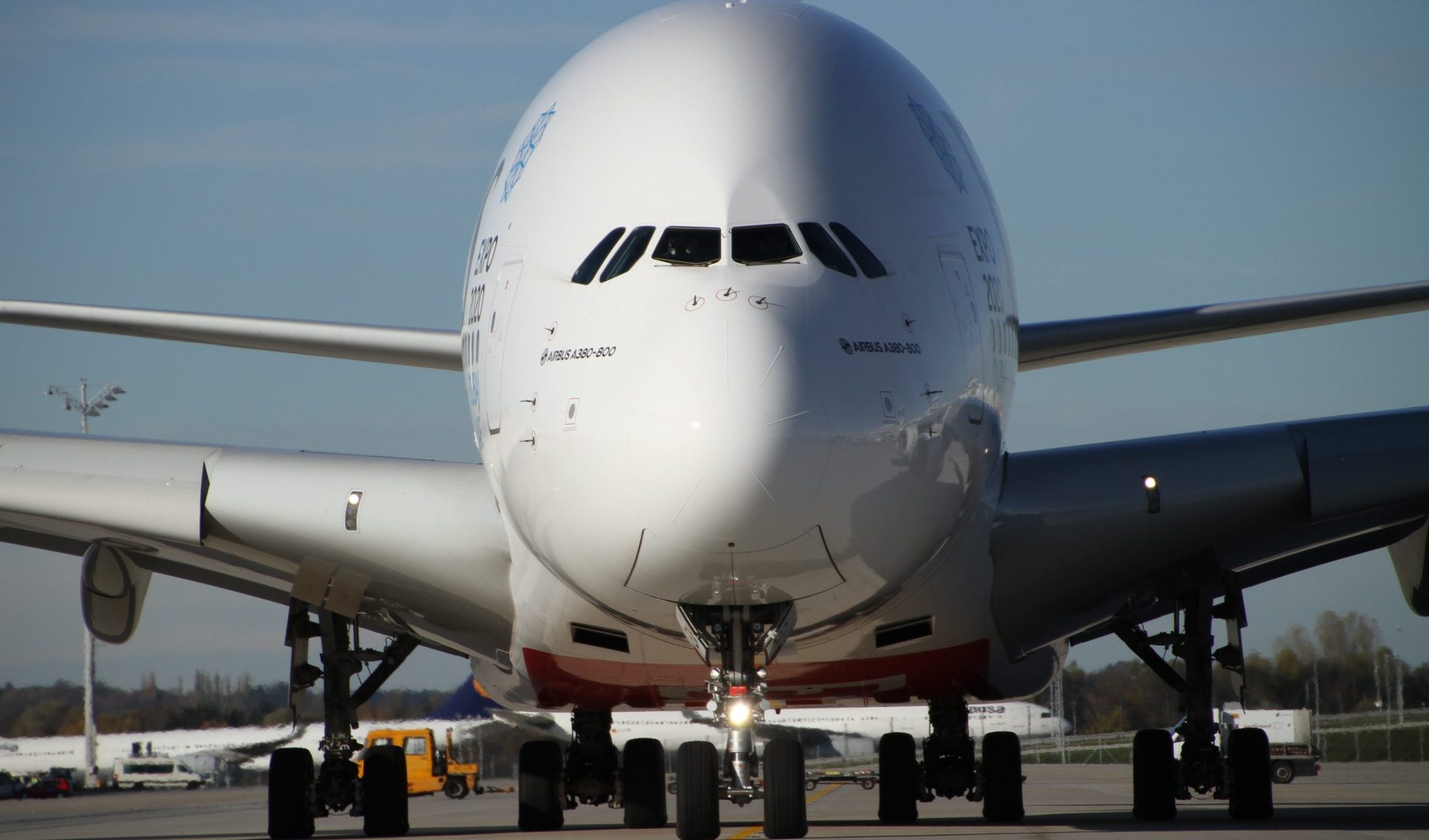 Among commercial airliners, there's always competition on outperforming the other and doing better. To accomplish this goal, there is a constant focus on technology, services, and types of aircraft being used. The Airbus A380 is a live example of technology and superiority combined together. From the interior aspects of the A380 to the overall performance, this huge jet has been up in the air since 2005. However, there have been several ups and downs for this mega-jet! Let's take off to learn more about the Airbus A380!
Airbus A380 | Overview
Airbus A380 is the largest passenger airliner in the world with a record capacity of carrying 853 passengers. It is also the only airliner in the world that features a full-length double deck. The jet is powered by 4 engines which can either be Engine Alliance GP7200 or Rolls-Royce Trent 900 which allow the jet to be flown for 14,800 kilometers with a full fuel tank. Airbus A380 has a fuel capacity of 85,472 gallons. Due to the large size and 4-engines of the aircraft, it cannot be accommodated in smaller airports. Many airports have to upgrade their capacity as well as facilities, such as a Secondary Jet Bridge and Larger Fuel Capacity to ensure that the Airbus A380 can be properly serviced.
Recent records show that there are 251 Airbus A380s in service with 16 operators from all over the world. Airlines that have the A380 in their fleet are: Air France, Asiana Airlines, All Nippon Airways, British Airways, China Southern Airlines, Emirates, Etihad Airways, Korean Air, Lufthansa, Malaysian Airlines, Qantas, Qatar Airways, Singapore Airlines, Thai Airways International. Emirates International has the biggest fleet of Airbus A380s with 123 jets in service.
History of Airbus A380
The history of the Airbus A380 dates back to the 1980s when the foundational idea was presented. Here is a timeline you can follow.
The Era of 1980-2000
Back in the 1970-2000 era, the Boeing-747 was the biggest jet in the world with a partial double deck that could accommodate a maximum of 524 passengers. It was a marvel piece of work and many airlines ordered it. To counter the rising competition from Boeing 747, Airbus engineers decided to work on a high-capacity jet. The primary objective was to introduce a new product that could be more efficient in the airline industry. The result of this could be a break from Boeing's dominance.
While it was just a foundationary idea in 1988, it was actually approved by the President and CEO of Airbus in June 1990 after a formal presentation. Airbus announced the project at the 1990 Farnborough Airshow giving the idea that the cost of operating an A380 would be 15% less than a B747. This appeared to be a huge claim since the size of the A380 was supposed to be bigger than a B747.
It took 2 years for Airbus to finalize the design of the mega-jet. Initially, Boeing tried to take its part as well by offering a joint partnership with Airbus. There was a joint feasibility study of a Very Large Commercial Transport (VLCT) between the two companies. However, Boeing soon lost interest in it when it was found out that the development cost was $15 billion and suggested that this was too much to be covered by a jet. Therefore, by June 1994, Airbus announced the plan to develop its own large jet which will come under the A3XX series. By that time, the code A380 was not designated for the jet.
From 1994 to 1997, there was a constant development towards an engine that would be able to run for long distances and suitable to carry a mega jet. Besides, the other aspects of aero-dynamics were also being considered by Airbus to ensure that the aircraft is able to save more fuel with minimal air resistance.
Between the years 1997 and 2000, Airbus further improved the design of the Airbus A3XX which was supposedly helpful in reducing the operating costs by up to 20% as compared to the Boeing 747. This was the first time when a full-double deck was announced which could accommodate more passengers and reduce the average running cost. In December 2000, the Airbus A380 was finally launched as a project with an estimated value of around €9.5 billion or $10.7 billion. This is also the time the name was given to the aircraft, with the 8 being significant for the cross-sectional shape of the aircraft. The A380 had six launch customers including Emirates and Singapore Airlines.
Beginning of A380: Era of 2000 – 2005
However, the problems for the A380 had just begun. The initial cost of €9.5 billion was increased to €11 billion or $12.7 billion by 2004. By 2005, 5 of these aircraft were built for testing purposes. The aircraft became widely known to the public for the first time on 18 January 2005 when it was up for public display in Toulouse. It took its maiden flight on 27 April 2005 from Toulouse Airport with a crew of six pilots. First pilots of the A380 said "It was just like handling a bicycle" indicating that the controls and mechanism were quite easy to understand. For this aircraft, Rolls Royce Trent 900 Engines were used.
Since the first flight, there were constant and rigorous tests done to evaluate the functionality of the A380. By December 1, 2005, the Airbus A380 reached the maximum design speed of MACH 0.96. Optimally, it also achieved the cruise speed of MACH 0.85. Upon reaching such high speeds, the Airbus A380 broke the record of all the passenger jets to exist. Several other tests including cold-weather test, high-altitude airport test, and stall test were conducted to ensure the safety of the aircraft and the passengers is not compromised at any point.
However, another problem was identified which led to the increase in development cost as well as the time required for the fulfillment of the first 50 deliveries by the 6 launch customers. Airbus stated that the A380 production delays were due to 520 kilometers or 330 miles of wiring in each aircraft which was becoming a very complex procedure with regards to customization for each aircraft. Configuration management and change control were different in German and Spanish Airbus facilities compared to British and French ones. The final announcement was made in June 2005 when Airbus stated that the deliveries will be delayed by at least 6 months which was increased by further 6 months just a few days later. Another delay was announced in October 2006 by Airbus CEO Christian Streiff.
Earlier, it was planned to have 80 deliveries by the end of 2009 but now it appeared as if Airbus would only be able to fulfill 25 deliveries by 2009. Eventually, Airbus started to fully prioritize the A380 to reduce any further production delays. Freighter aircraft production was reduced and many of them were supposedly converted to A380s.
The A380 Takes Off: Era of 2005 – 2007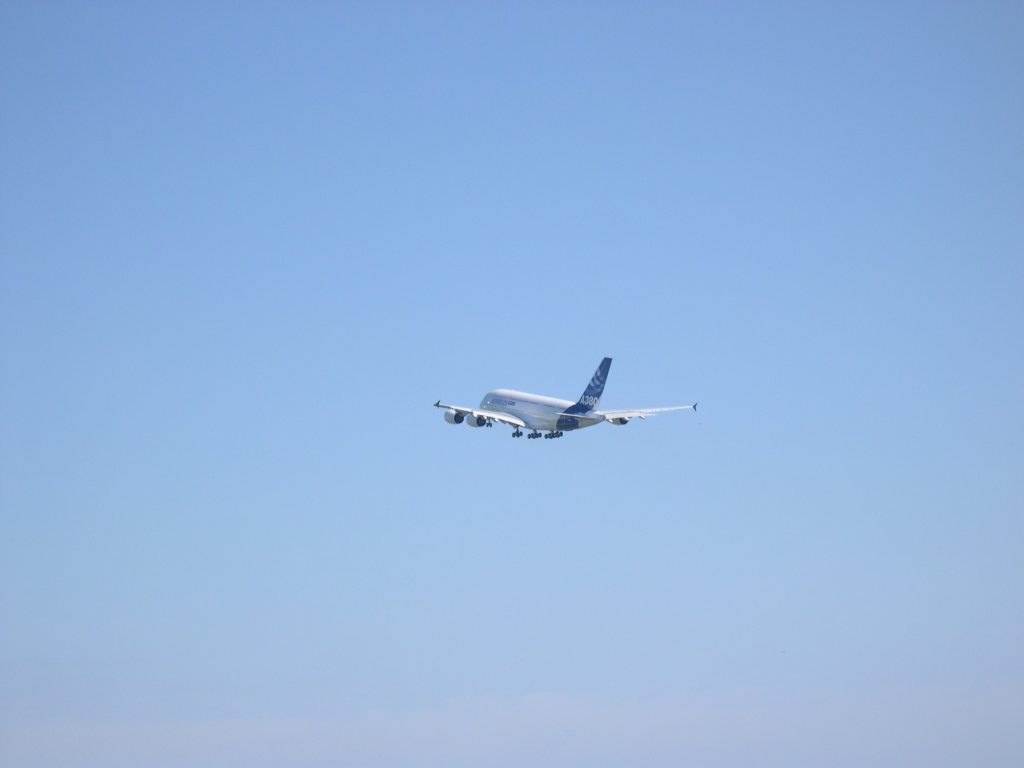 In February 2006, the destructive wing strength certification test was conducted but the A380 failed at 145% of the maximum limit while the required was 150%. To counter this problem, Airbus added 30 kg to the wing to ensure more strength. In order to make the aircraft commercially available, it had to receive a safety rating from the United States Federal Aviation Administration and European Aviation Safety Agency. In March 2006, the safety clearance and certification were given after strict checking by the two agencies, one of which required the safe exit of 853 mixed passengers and 20 crew from the aircraft within 90 seconds with at least half
of the exit ways being blocked.
Behold! The First Commercial A380 was delivered to Singapore Airlines on 15 October 2007 and took its first flight on 25 October 2007. The flight was quite a long one between Singapore and Sydney with the ticket prices varying from $560 to $100,380 based on a charity auction mechanism. Being the first airline to feature the A380, it was a test case to evaluate the performance and result of the A380 towards service.
The Rise of A380: Era of 2007-2015
In December 2007, the CEO of Singapore Airlines, Chew Choong Seng highlighted important facts regarding the A380 indicating that it was using 20% less fuel per seat compared to a Boeing 747. Meanwhile, Emirates also got the delivery of its first A380 in August 2008 and after several flights, Tim Clark, CEO of Emirates, stated that the A380 was giving a much better fuel economy at higher speeds. The rising success of the Airbus A380 gave a huge blow to Boeing 747 as well as other aircraft carriers such as McDonnell Douglas.
Since that time, several upgrades were made to the A380 such as an improved airframe structure as well as improved maximum take-off weight. By 2013, the A380 was one of the most successful aircraft in the long-route market and led many airlines including Emirates, British Airways, and Singapore Airlines to emerge successful with a significant increase in profits.
The Fall of A380: Era of 2015-2021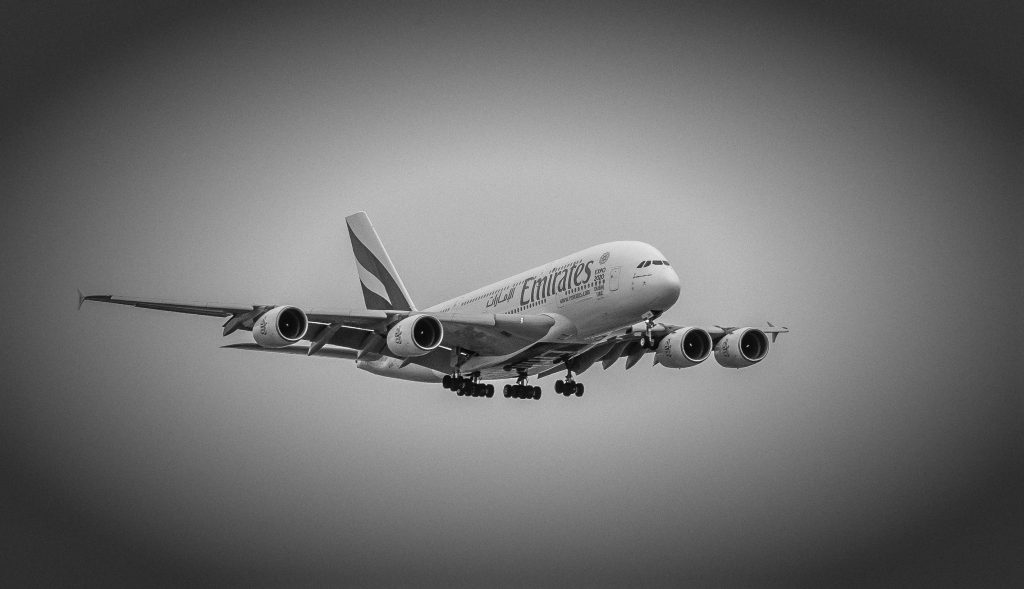 However, by 2016, Airbus announced a reduced number of A380s to be produced every year. In 2015, 27 A380s were delivered but in 2018, Airbus forecasted this number to go down to 12. The main reason why A380 was becoming a problem for Airbus was that there was not as much demand from carriers. Airbus offered A380s to China but they denied stating that they didn't require VLCT aircraft because of low flight passenger volume and mostly having domestic flights.
By 2019, Lufthansa retired all of its 6 Airbus A380s because it wasn't profitable for them anymore. The main reasons why the A380 failed include
Rising fuel costs
Low passenger volume meant that it wasn't efficient anymore in terms of commercial aspects
Increased airport charges and technical management
Airlines could not find it profitable anymore
Most airlines were having multi-haul flights instead of one single flight
Qantas also announced that it would use Boeing 777X in 2024. The final blow came from Emirates which dropped the order of 39 Airbus A380s in February 2019 and stated that it would replace them with 40 A330s and 30 A350s. However, 17 last orders were still to be fulfilled by Airbus. Despite the high price of $445 million, Airbus was still not able to even cover the production costs. For this reason, smaller aircrafts started to become a priority for Airbus as well.
In December 2021, Airbus rolled out the last ever Airbus A380 for Emirates after which the production was closed.
Technical Evaluation | Airbus A380
The Airbus A380 is a marvel one-of-a-kind aircraft that has several new technologies never incorporated before. Following is a detailed analysis of the technical specifications of the Airbus A380.
Engines
The Airbus A380 features four engines in total which can either be the Rolls-Royce Trent 900 or Engine Alliance GP7200.
Rolls Royce Trent 900
The Rolls-Royce Trent 900 is a three-shaft high bypass turbofan engine that was first considered for an A380 back in 2000. The Trent 900 features a single-stage fan with an 8-stage axial compressor as well as a 6-stage HP axial compressor. It has a single-stage HP turbine. The engine is one of the strongest ones in the field of aviation as it can reach a maximum thrust of 374.09 kN. The Rolls Royce Trent 900 has a maximum engine thrust of 75,152 to 84,098 lbf along with an air mass flow of 2,655 – 2,745 pounds / second. A total of 8 variants have been introduced for this engine with differences in take-off thrust. The first flight of this engine was not on an A380. Instead, the Trent 900 was first used on an Airbus A340-300 testbed on 17 May 2004. After rigorous testing, and delays in the production of the A380, the engine finally went rolling on an A380 on April 27, 2005.
Engine Alliance GP7200
A competition for Rolls Royce Trent 900 is The Engine Alliance GP7200 which was produced as a joint venture between General Electric and Pratt & Whitney in April 2004. The Engine Alliance GP7200 is a two-spool high-bypass turbofan engine with an air mass flow of 2,000 to 2,600 pounds/sec. It specifically comes with a low-emissions single annular combustor which has made it an environment-friendly choice for an engine in A380. The maximum thrust for this engine is 81,500 lbf. The technology behind this engine includes a two-stage high-pressure turbine, boltless architecture, and single crystal blades.
Rolls Royce Trent 900 Vs Engine Alliance GP7200
[bafg id="15445″]
Back in 1996, most A380 customers had ordered a Rolls Royce Trent 900. However, upon the arrival of the GP7200, firms like Emirates placed a huge order for this engine in its A380s leading to a significant drop in the market share of Rolls Royce Trent 900 and an increase in the market share of Engine Alliance GP7200.
According to a few reports, Engine Alliance GP7200 has around a 1.4% advantage over Trent 900. While this sounds insignificant, there are other reasons why Engine Alliance got a preference over Rolls Royce. Primarily, Engine Alliance GP7200 has never been in any accident or engine failure situation while one such incident has been noticed for the Rolls Royce Trent 900. On 4 November 2010, Qantas 32 faced a flight incident where one of the engines shut down. Investigations found that a turbine disc in the aircraft's number-two engine had disintegrated.
However, with only one such incident, there is not enough evidence to claim that Rolls Royce is worse than Engine Alliance GP7200. Both engines work well in an Airbus A380.
Fuel Tanks and Consumption | Airbus A380
The Airbus A380 has one of the biggest fuel capacities of 82,000 gallons of fuel loaded in a total of 11 tanks. In terms of usage, the Airbus A380 has a fuel consumption rate of 10 g/nm. On the taxiway, the Airbus A380 burns between 400 and 700 gallons of fuel while it requires a massive 8,000 gallons for every takeoff. In the case of high-speed takeoff, it burns up to 9,000 gallons. 65,000 gallons are generally used for long-haul flights while around 10,000 gallons are kept as reserve to ensure that the A380 can exercise go-arounds. Evaluating the same statistics in terms of time, the Airbus A380 burns around 1.1 gallons per second, 67 gallons per minute, and 4,062 gallons per hour. The refueling of an A380 requires 40 minutes.
If we talk about fuel cost per passenger per hour, it comes down to only $34 which makes the A380 one of the most economical jets on the planet. The Airbus A380 uses "Synthetic Liquid Fuel" which is a specific type of fuel processed from gas to form a liquid. It is an eco-friendly fuel that contributes towards zero emissions. One of the prime benefits of this fuel type is that it does require a new and unique kind of engine or fuel infrastructure as it can easily run on existing fuel infrastructures without any problems.
Wings
The A380 has a total wingspan of 80 meters. Combined with 4 engines, the two wings have a maximum weight limit of 650 tonnes that helps in accommodating even bigger cargo items, surplus passenger baggage, and the large volume of the aircraft itself. The wingspan could have been bigger but due to airport restrictions, it was shrunk to 80m from 90m. The wings have wingtip fences which allow for much better fuel efficiency by inducing a reduced drag for the aircraft. The wings of the A380 are made of Carbon-fiber reinforced plastic, glass-fiber-reinforced plastic, and quartz-fiber-reinforced plastic. One of the unique factors about the Airbus A380 is that it is the first ever plane to have Carbon Fiber Reinforced Plastic fuselage which saves about half tonnes compared to aluminum. This is another aspect that results in lower fuel and operational costs for the aircraft.
Interior Configuration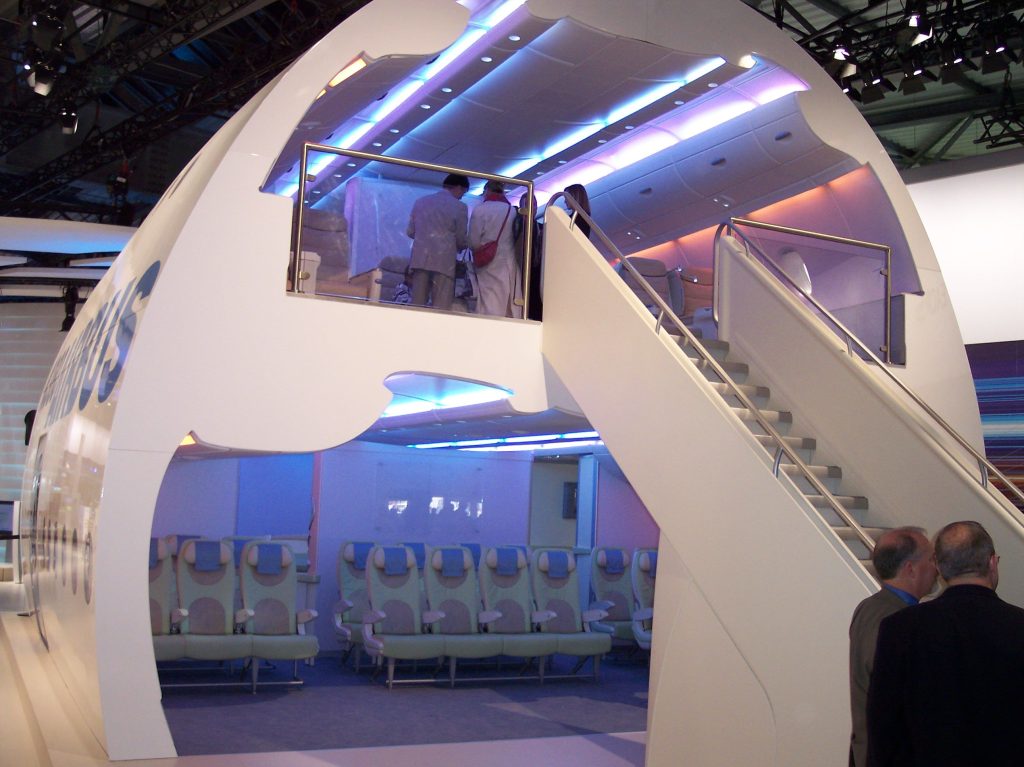 The Airbus A380 has two full-length decks which are 164 feet long or 49.9 meters. Of the total 840 passengers, 538 are held in a single-class economy configuration on the first deck. On the upper deck, there is usually a mix of two sub-classes including first class and business class which accommodate a total of 330 passengers. Apart from all of that, there is also a bar on the far end of the aircraft where the passengers can enjoy drinks.
Landing Gear
The Airbus A380 has a total of 4 primary landing gears and one nose leg. This is supported by 2 inboard landing gears as well. With such a wheel allocation, the A380 can make a complete 180° turn within a 56.5-meter width barely passing the 60-meter width of a standard runway. The entire landing gear system of the A380 is dependent upon 22 wheels each of which has the capability to support a weight of 167 tonnes. The landing gear system is quite similar to that of a Boeing 747. The wheels are filled with 350 bar hydraulic pressure that supports the mega jet. The Airbus A380 also comes with a landing gear proximity sensing system.
Service and Turn-Around
The standard minimum time to service an A380 for another flight is 90 minutes. In this span of 90 minutes, the aircraft is fully cleaned, refueled, and loaded with cargo. The aircraft is also fully restocked with essential supplies and the crew also takes control. Passengers also embark during this time. However, for most flights, the A380 is given a time of 150 to 180 minutes to account for any emergencies, ground clearance, and unplanned delays.
Battle of the Jets: Airbus A380 vs Boeing 747
The following table highlights the key differences between an A380 and a B747.
Airbus A380 vs Boeing 747 | Comparison Table

Specification

Airbus A380

Boeing 747

Engine Type

Rolls Royce Trent 900 

Engine Alliance GP7200

GEnx-2B

Maximum Allowed Passenger Capacity

853

605

Typically Used Capacity

553

410

Maximum Cargo Hold Capacity

6,190 cubic feet 

6,225 cubic feet

Maximum Takeoff Weight

1,268,000 lb / 575,155 kg

987,000 lb / 447,700 kg

Fuel Capacity

85,472 US gallons / 323,546 liters

63,034 US gallons / 238,610 liters

Cruise Speed

Mach 0.85 / 903 km/h

Mach 0.86 / 914 km/h

Maximum Range

8,200 NM / 15186 km

7,730 NM / 14315 km

Pilots

2*

For flights longer than 7 hours, a relief crew is often added*.

3

Cost Per Plane

$445.6 million

$402.9 million
Final Words
The Airbus A380 is indeed a marvel of jets. Being one of the greatest planes of all time, it has assisted many firms, primarily Emirates, to achieve a lower operational cost as well as accomplish better profitability as well. However, with falling demand for long-haul flights, the A380 appears to be no longer feasible in the long run which is why it has been discontinued. We hope that we soon see another great jet that could replace the A380 in terms of size, performance, and speed!
Airbus A380 - FAQs
How big is the Airbus A380?
The Airbus A380 weighs 560 tons. It is 73 meters long and 24 meters high.
What is the total passenger capacity of A380?
The total passenger capacity of Airbus A380 is 853 passengers.
When was the last A380 rolled out?
The last A380 was rolled out from the assembly line in December 2021.
Which airline has the most A380s?
Emirates International has the most Airbus A380s in its fleet with the most recent figure of 123 aircraft.