Columbia, South Carolina has one of the most substantial food scenes in the whole US. It's no surprise that Columbia has become a popular destination for foodies from all over given the abundance of restaurants there that provide a variety of cuisines and distinctive eating experiences. There is something for every palate in the city's eateries, from exotic flavors to Southern staples. Among all the choices, however, there are a few standout restaurants in Columbia, SC that have become popular with both locals and tourists. These eateries have become well-known for their outstanding food, faultless service, and distinctive ambiance that sets them apart from the competition.
Our Recommendations On The Best Restaurants in Columbia, SC
Columbia is known for its amazing views and also for being an educational center. Without Columbia sweet tea wouldn't exist and much more but for most, it is known for its amazing southern soul food. So we arranged the best southern restaurants in Columbia, SC. While our team was traveling to South Carolina, they got the chance to visit North Carolina and covered the Breathtaking Waterfalls of North Carolina.
Saluda's Restaurant in Columbia, SC, is a mainstay of the upscale dining community. This elegant restaurant has been serving top-notch food for more than 20 years, and it is situated in the historic Vista neighborhood. Saluda's, which specializes in Southern-inspired food, has earned a reputation for its beautiful dishes, faultless service, and welcoming ambiance.
The restaurant's seasonal menu changes, enabling the cooks to highlight the best ingredients in season. There are a few items, nevertheless, that have earned a place as menu staples. She-crab soup is one such meal; it is a traditional Southern treat composed of crabmeat, sherry, and cream. Goat cheese, roasted red pepper coulis, and basil oil are added to the fried green tomatoes, another well-liked meal.
Moreover, Saluda provides a variety of entrees that highlight the chefs' inventiveness and expertise. A noteworthy meal that skillfully juggles rich flavors and textures is the pan-seared duck breast with wild rice pilaf and port wine reduction. Another popular dish among repeat customers is the grilled rack of lamb with roasted garlic mashed potatoes and red wine jus.
Saluda's outstanding wine assortment is one of its most distinctive qualities. The restaurant has a sizable wine list with selections from all around the world that have been made to go well with the meal. For those who are interested in learning more about wine and food pairings, the restaurant also provides a sommelier service.
Warm lighting and soothing music create an exquisite yet welcoming ambiance at Saluda, setting the stage for an unforgettable dining experience. Exposed brick walls and white tablecloths enhance the small and comfortable atmosphere in the restaurant's main dining area. Saluda's also has a private dining room that can seat up to 40 guests for bigger gatherings or special occasions.
Saluda's is renowned for its great service in addition to its superb cuisine and ambiance. The crew at the restaurant is polite, knowledgeable, and genuinely passionate about giving customers a special dining experience.
In conclusion, Saluda's Restaurant is a must-go location for anyone wishing to sample the finest exquisite cuisine Columbia has to offer. Saluda's has become a favorite among locals and visitors alike thanks to its superb cooking, wide wine variety, and cozy, welcoming ambiance.
California Dreaming, one of the restaurants in Columbia, SC, was founded in South Carolina in 1984. Although the restaurant's outlets are dispersed around the southeastern United States, both the name and the décor are influenced by the laid-back, beachy vibe of California. In South Carolina's Columbia, there is one such place.
The Columbia California Dreaming offers a breathtaking view of the Congaree River and the city skyline from its location on its banks. For diners who want to eat outside and take in the landscape, the restaurant's terrace is a popular choice.
Inside, the decor is reminiscent of a California beach house, complete with wood-paneled walls, exposed brick, and plenty of ocean-themed accents. The atmosphere is casual and relaxed, with friendly staff and a menu full of classic American dishes.
One of the most popular items on the menu at California Dreaming is the "House Salad," a mix of greens, vegetables, cheese, and croutons topped with a signature hot bacon dressing. Other favorites include the Prime Rib, a hearty and flavorful cut of beef, and the Seafood Medley, a combination of shrimp, scallops, and crabmeat served over rice pilaf.
California Dreaming's menu and bar selections are both well-known. The restaurant serves a variety of beers, wines, and drinks, including the "Painkiller," a well-known specialty drink composed of rum, pineapple juice, orange juice, and coconut cream.
California Dreaming's Columbia site gives South Carolinians and tourists alike a taste of the laid-back West Coast lifestyle even though it may not be a real California experience. California Dreaming is a fantastic place to have a delectable dinner and take in the picturesque views of Columbia's riverbank, whether you're planning a romantic date night or a leisurely meal with friends and family.
If you're looking for a restaurant in Columbia SC that offers an excellent selection of wines, Di Vino Rosso should be at the top of your list. Italian wine called Di Vino Rosso is renowned for its deep crimson hue and robust, full-bodied flavour. Sangiovese, Montepulciano, and other red grape varieties commonly cultivated in Italy's central and southern areas are included in the combination used to make this wine.
To produce the best quality wine, the grapes used to manufacture Di Vino Rosso are meticulously chosen and harvested at the ideal ripeness. The wine next undergoes many months of fermentation and aging in oak barrels to give it its distinctive depth and richness.
Di Vino Rosso is a versatile wine that goes well with many different foods. With red meats like steak or lamb as well as heavy pasta dishes and aged cheeses, its robust flavour matches beautifully. Due to the tannins in the wine, it also pairs well with spicy meals by bringing out their flavours and balancing their heat.
Di Vino Rosso's acidity and tannin balance is one of the qualities that distinguish it from other red wines. The wine has a vibrant, sparkling acidity that enhances the fruit flavours and keeps the beverage tasting fresh. Moreover, the tannins give the wine a robust structure and lengthen its aftertaste.
Di Vino Rosso has a deep, strong colour that resembles a ruby, and it is both lively and vibrant. The wine has a smooth, rich texture when it is poured into a glass, making it enjoyable to consume. Together with hints of black fruit, spice, and oak, the wine has a delightful scent.
Di Vino Rosso, in its entirety, is a superb wine that exemplifies Italian winemaking at its finest. Wine connoisseurs love it for its robust, full-bodied flavour and rich character, and it's a fantastic option for every occasion thanks to its adaptability and food-friendliness. Di Vino Rosso will dazzle even the most discriminating wine connoisseurs whether it is savoured on its own or in conjunction with a mouthwatering meal.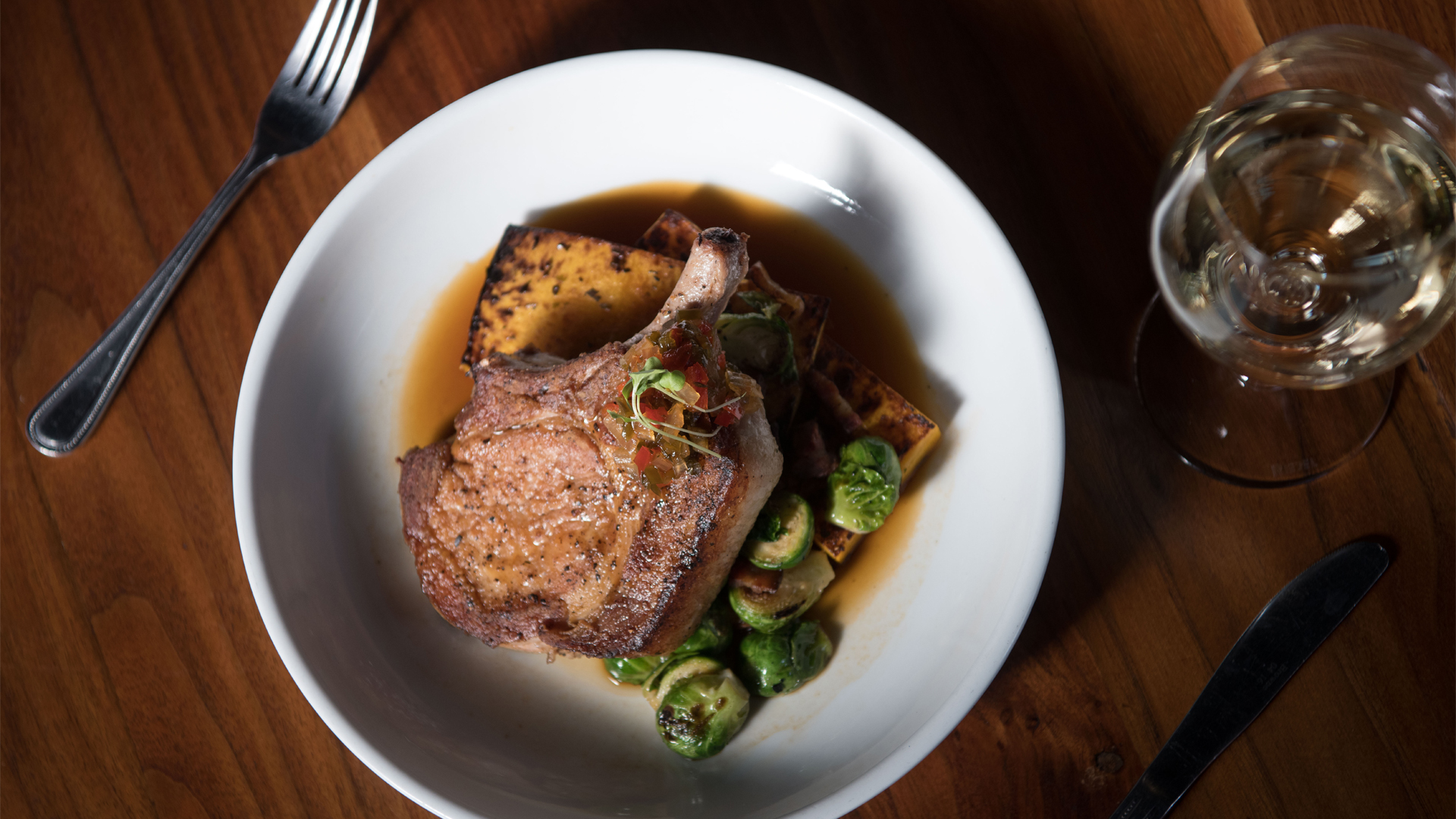 Motor Supply Company Bistro is a unique restaurant located in the heart of the historic Vista district of Columbia, South Carolina. The bistro is housed in a renovated engine supply building, lending to its industrial-chic vibe, complete with exposed brick walls, high ceilings, and an open kitchen.
The menu at Motor Supply Company Bistro is centered around fresh, locally sourced ingredients, and the restaurant's chefs work closely with local farmers and purveyors to ensure that every dish is of the highest quality. The menu changes regularly, based on the availability of seasonal ingredients, but the restaurant always offers a range of meat, seafood, and vegetarian options. seasonal ingredients, but the restaurant always offers a range of meat, seafood, and vegetarian options.
The seared tuna, which is served with a soy-ginger glaze, sesame seeds, and wasabi aioli, is one of the most well-liked meals on the menu. The pan-seared scallops with roasted cauliflower, bacon, and pickled red onions are another popular dish. The wood-grilled ribeye steak with chimichurri sauce and crunchy fried onions is a must-try for meat aficionados.
Together with its outstanding menu, Motor Supply Company Bistro is renowned for its craft cocktail programme, which offers traditional cocktails with a contemporary twist, as well as its vast wine selection. The restaurant's excellent bartenders make distinctive and savoury drinks like the bourbon-based "Smoking Jacket" and the tequila-based "Spicy Margarita" using fresh herbs and homemade syrups.
Every part of Motor Supply Company Cafe demonstrates a dedication to sustainability, from the locally sourced products to the compostable to-go containers. Also, the restaurant often holds events and fundraisers that include regional performers and artists and benefit neighborhood charities.
Also Read: Exploring Duck, NC: The Best Things to Do!
One of the best restaurants in Columbia, SC, terra restaurant is a distinctive farm-to-table establishment. The name of the restaurant is derived from the Latin word for earth, highlighting its emphasis on locally-sourced, fresh ingredients.
Modern and simple with natural wood elements and lots of greenery, the restaurant's interior design creates a cozy and friendly ambiance. To ensure that each meal is produced with the freshest, seasonal ingredients possible, Terra's chefs collaborate closely with nearby farmers and suppliers.
The "Charred Octopus" is one of the menu's outstanding items; it has locally caught octopus that has been perfectly cooked and is served with a zesty and savory romesco sauce. Another item you must try is the "Heirloom Tomato Salad," which is made with a selection of vibrant tomatoes, fresh herbs, and a tangy vinaigrette.
For the main course, Terra provides a variety of meat, fish, and vegetarian alternatives, such as the "Pan-Roasted Duck Breast," which is paired with wild mushrooms and a deep, savory sauce. Another outstanding dish is the "Whole Fried Red Snapper," which has a crispy exterior and soft, flaky meat.
Together with its outstanding menu options, Terra also has a remarkable wine selection with a variety of bottles from both domestic and foreign companies. The expert staff at the restaurant is always on hand to provide advice and recommendations for choosing the ideal wine to complement your meal.
Every element of the restaurant, from the locally sourced ingredients to the eco-friendly to-go containers, reflects Terra's dedication to sustainability and ethical farming practices. The restaurant also regularly conducts events and tastings that highlight neighborhood brewers and wineries and give patrons a chance to learn more about sustainable agriculture and the farm-to-table movement.
A well-known restaurant franchise that specializes in top-notch steak dishes is called Ruth's Chris Steak House. The eatery in Columbia, South Carolina, is no different; it gives customers a special dining experience.
The restaurant is conveniently situated in the center of Columbia's downtown. The building's elegant and opulent exterior establishes the tone of the interior. When you walk into the restaurant, the welcoming staff will welcome you and show you to your table. It is the ideal location for a romantic supper or business meeting because of the stylish and contemporary decor, soft lighting, and plush seating.
The vast menu of Ruth's Chris Steak House features a wide selection of appetizers, soups, salads, and of course, steaks. The restaurant's chefs exclusively utilize the best beef to ensure that every dish is of the highest caliber because the steaks are the major draw. Every steak is cooked to perfection, and you may adjust the temperature to your preference. With choices like creamed spinach, mashed potatoes, and sweet potato casserole, the sides are as spectacular.
The restaurant is a great choice for groups with different dietary choices because it also provides a variety of seafood meals, including lobster tails and salmon, as well as vegetarian options. The eatery also provides a children's menu, making it a good choice for families.
The large wine selection of Ruth's Chris Steak House, which features wines from all around the world, is available in addition to the meals. The restaurant's experienced staff can help you choose the ideal wine to go with your meal, guaranteeing a great dining experience.
Ruth's Chris Steak House offers excellent customer service with attentive staff that is educated about the food and there to help with any requests or inquiries. Private dining rooms are also available at the restaurant for anyone planning a special occasion or business gathering.
Must Read: 10 Aquariums in North Carolina that will make you go "WOW"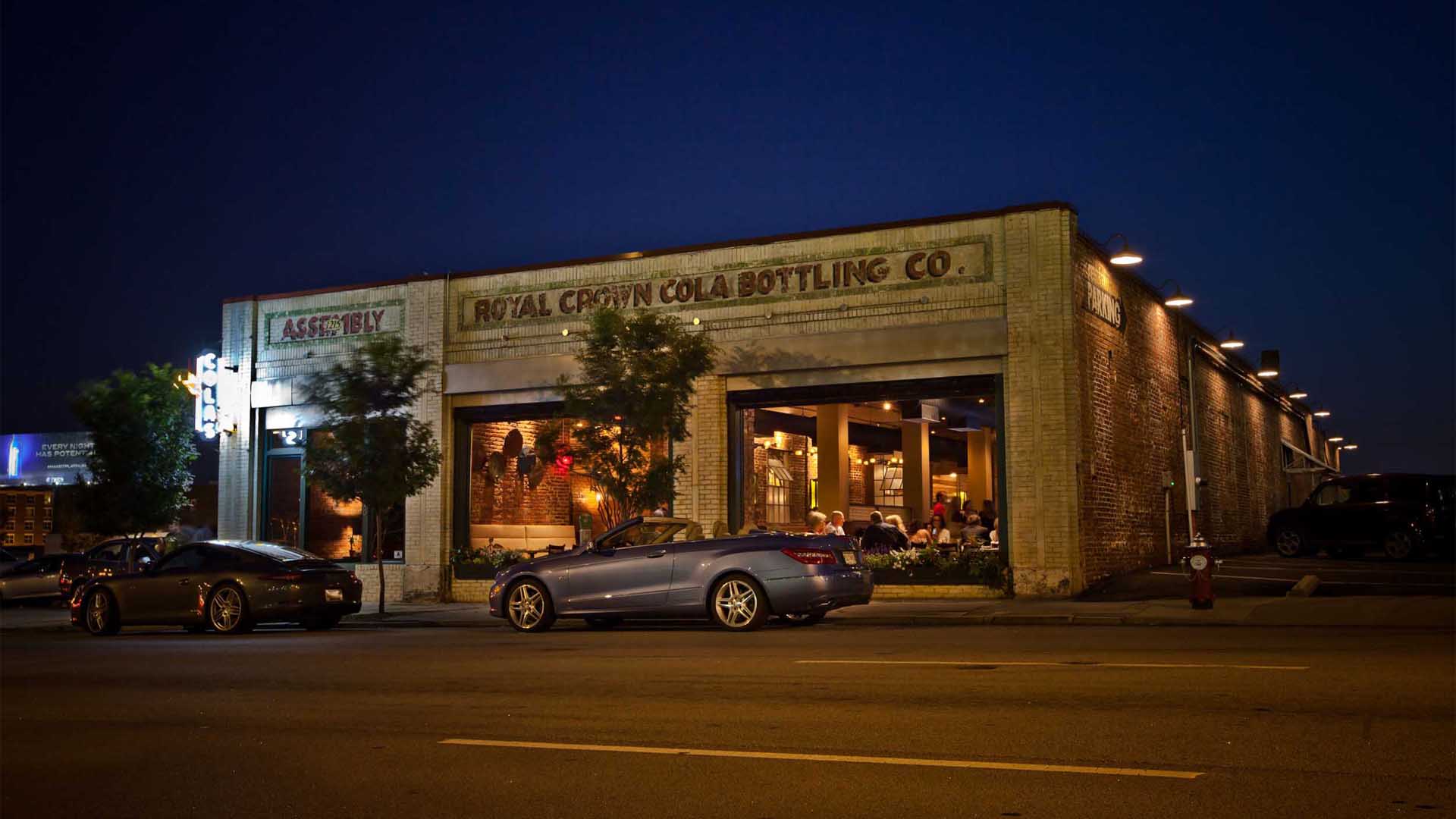 Located in the center of Columbia, South Carolina's downtown, Cola's Restaurant is a well-known fine dining establishment. The eatery is renowned for its classy atmosphere, first-rate service, and delectable American food with a Southern flair.
The interior of the restaurant has traditional elements with a contemporary touch, such as stone walls, soft seats, and an open kitchen. It's the ideal location for a special event or a romantic dinner due to the quaint and intimate ambiance.
The menu of Cola's Restaurant offers a selection of American meals with a Southern twist. The menu features both traditional options like beef tenderloin and pan-seared scallops as well as more contemporary options like fried green tomatoes and buttermilk fried chicken. To go along with your meal, the restaurant also has a substantial range of wines, beers, and drinks.
The shrimp and grits at Cola's Restaurant are one of the restaurant's signature dishes. In this recipe, giant shrimp are sautéed with onions, peppers, and Andouille sausage before being topped with a savory sauce and served over creamy grits. The meal is a fantastic illustration of how the restaurant combines traditional Southern cooking with contemporary methods and tastes.
Things to Consider Before Choosing a Restaurant in Columbia, SC
Ambiance and Atmosphere — While selecting a restaurant in Columbia, ambiance and environment are crucial considerations to keep in mind because they have a significant impact on how enjoyable your meal will be. The tone or ambiance that a restaurant creates can either improve or detract from your meal. If you're planning a romantic supper, you should pick a place with a more quaint and intimate ambiance that can help create the right tone. On the other hand, if you're having a family supper, you'll want to find a restaurant with a more casual and relaxed ambiance that can handle children.
Hygiene — To make sure that the food you eat is secure and free of hazardous germs and other toxins, it is crucial to take hygiene into account while selecting a restaurant in Columbia, SC. Foodborne infections can have major health repercussions if eateries don't follow good cleanliness. The likelihood that a restaurant will adhere to food safety rules and procedures, such as adequate hand washing, the use of gloves and hairnets, and proper food storage, is higher when the establishment maintains high standards of hygiene and cleanliness.
Service quality — Service quality is an important factor to consider when choosing a restaurant because it can greatly impact your overall dining experience. Good service can make you feel welcomed and valued as a customer, while poor service can make you feel frustrated and disappointed.
Price Range — Considering the price range when choosing a restaurant in Columbia, SC is important to ensure that you can afford the meal and to avoid any unpleasant surprises when the bill arrives. Additionally, choosing a restaurant that fits within your budget can help you feel more relaxed and comfortable during your dining experience.
Cuisine and Menu — It's crucial to take into account the cuisine and menu options when selecting a restaurant to make sure you'll appreciate the food and have a great dining experience. It's crucial to pick a restaurant that serves the cuisine you enjoy because different establishments specialize in various sorts of cooking.
How We Pick Our Recommendations
With the help of our survey team and some of the reviews by previous customers, we were able to list the best restaurants in Columbia, SC from service to food quality. While traveling our team also visited Virginia and covered 7 Amazing Things to Do in Luray Virginia.
Columbia's Thriving Restaurant Scene: A Guide to the Best Eateries - FAQs
What South Carolina eatery enjoys the greatest popularity?
Waffle House is at the top of the list in South Carolina, followed by Chili's Grill & Bar, IHOP, Cracker Barrel, and Texas Roadhouse.
What is South Carolina best at?
South Carolina is renowned for its delicious barbecue, and peach production, and as the birthplace of sweet tea.
How many restaurants are there in Columbia, South Carolina?
The map zooms to the larger Columbia metro area when you search for Columbia (using the box in the bottom left). It lists 1,405 restaurants with a shininess score of 1,533 as well as the total number of eateries depicted in this area.