The community of Duck is located furthest north on the Outer Banks. It has got everything you need for a relaxing vacation at the beach and fun activities. Being a picturesque coastal refuge in North Carolina, it has some of the state's best beaches, the finest cuisine, and a wealth of exciting attractions. After our trip to the most gorgeous waterfalls in North Carolina, we decided to head over to Duck, NC. To help you decide how to spend your time in Duck, we have compiled a list of the top things to do in the area.
Our Recommended Things to do in Duck, NC!
Duck, North Carolina is full of quirks and unique details. Are you ready to learn about what we consider to be the best attractions in Duck, North Carolina? Relax with a drink and a seat while we tell you all about the top attractions in Duck.
Take a Hang Gliding Trip at Jockey's Ridge State Park
View Website
Get Directions
PERFECT FOR: Adrenaline-Rushing Hang Gliding Activity
Jockey's Ridge State Park is home to the Atlantic Coast's highest living dune and is a wonderful place to go kite-flying, watch the sunset, and take in some of the area's natural beauty. Its exact location is 302 Carolista Dr, Nags Head, NC 27959.
The school tour sessions take around three hours and are aimed towards kids under the age of 12 but are open to anybody who is less than one hundred pounds. The courses are offered all year round for $129 per person. The usual beginner's course consists of five flights, with two instructors at the controls and guiding the glider down the dune.
Among the many things to do at the state park, hang gliding is highly recommended. Hang gliding enthusiasts will find Jockey's Ridge to be a haven since the area has consistent winds of 10–15 miles per hour throughout the year. You'll love the spectacular views on the flight! Hang tight and enjoy as you enjoy this adrenaline rushing activity in Duck, NC.
Recommended Reading: Top Resorts in South Carolina That Will Double The Fun Of Your Visit
If you are looking for a family-friendly and easygoing kayaking excursion on the Outer Banks, go no farther than the Kitty Hawk Maritime Forest. The canal is well-protected from the weather, even on windy days, and the trees that line it provide welcome relief from the summer sun's rays.
During this kayaking trip, you will get to see the tranquil waters and native species of Kitty Hawk Woods Coastal Reserve for yourself. Participate in a guided kayaking trip along a clear brook that runs through a coastal forest of deciduous trees. Get to know the local environment with the help of your guide and keep your eyes open for osprey, egrets, herons, turtles, and maybe even river otters. It is located at 1226 Duck Rd. Duck, NC, 27949.
This is a long but enjoyable kayak journey through Kitty Hawk creeks where you may see river otters or egrets. Flying close over your boat are geese, osprey, kingfishers, and sometimes even the spectacular Bald Eagle. Paddling through the loblolly pine, live oak, and wax myrtle forests, you often come across turtles basking on logs. For those who take pleasure in being a part of nature, this paddling excursion is a must. Charges for a kayaking excursion include:
Kayak for One Adult (13+) – $50
Paddle Alone Little One (Ages 10-12) – $45
Tandem Kayak for Adults – $100
Two-Person Kayak One adult and one child (13 and up for adults, 12 and under for children) – $95
To make sure you and your party are prepared to paddle safely and effectively, Kayak Adventures offers paddle instruction on dry ground. You do not need special shoes or attire. Outer Banks Kayak Adventures not only rents out kayaks, but also paddles, and life vests.
For those with mobility issues, the company has hybrid kayaks that have a sit-on-top design to make boarding and exiting the boat simpler. Anyone wishing for a more challenging excursion may rent a stand-up paddleboard (SUP). While it may be a costly thing to do in Duck, NC, it is surely something you can enjoy with the entire family!
Editor's Pick: Interesting Things To Do In Ojai For A Memorable Trip
The Duck Boardwalk is easily accessible from the Town Park and the rest of the Village Business District. The boardwalk extends south from Christopher Drive through the Village for .62 miles before terminating at the Waterfront Shops.
Whether they are in town for business or leisure, locals and tourists alike love to spend a day on the boardwalk taking in the sights of Currituck Sound, shopping at one of the many unique boutiques, dining at one of the many delicious restaurants, or seeing one of the entertaining performances. It is located at 1200 Duck Road, Duck, NC 27949.
The Duck Boardwalk is a great place to go for a stroll along the Atlantic coast, and it also has many stores where you can indulge in some retail therapy or buy some new accessories. The proximity to the shore means that there is likely to be a waterfront shopping district with at least eighteen unique stores, including Barr-ee Station, Donna Designs, North Beach Outfitters, Carolina Keiki, Gray's Family Department Store, Sea Dragon Gallery; Life's a Beach, and Dazzles.
Jewelry, apparel, presents, souvenirs, and original works of art can all be found in unique shops. The Duck Town Park, stretching over 11 acres close to the Duck Boardwalk, is a natural wonderland full of surprises around every turn.
The park has several pathways that go through the coastal forest and willow swamp. The Blue Point is one of the greatest restaurants in the region and has been recognized as such by Southern Living. Enjoy the sunset along the seaside as you eat wonderful meals at this charming restaurant.
If you are looking for a relaxing activity in Duck, NC, this is the right one to go for!
Ghost stories of the Outer Banks will be revealed as you stroll through historic downtown Manteo. You and your loved ones will remember the walking excursions long after the summer is over. If you are looking for some fun while exploring the city, this is the activity to go for! Its exact address is 105 Sir Walter Raleigh St, Manteo, NC 27954.
The tour will include stops at notable locations like the Pioneer Theater and the Roanoke Lighthouse, where your guide will regale you with legends of the Lost Colony and Blackbeard. In addition to that, your guide will utilize an EMF detector to look for ghosts, exactly as on paranormal TV programs.
You will also find out about one of North Carolina's (and America's) most haunted beaches. Relax; they will provide you with an electromagnetic field (EMF) detector and a tour guide. Pricing for the excursion begins at $25 making it a fine mid-range activity in Duck, NC.
About a mile of walking is included in the tour. The typical length of a tour is between one to one and a half hours. You should bring a water bottle and some comfy shoes.
The North Carolina Aquarium is a wonderful alternative to the beach for families vacationing in the Outer Banks with children. Around 45 minutes south of Duck, near the town of Manteo on Roanoke Island. The North Carolina Aquarium is home to many different kinds of marine life, such as jellyfish, sharks, stingrays, and even some wetlands and river-dwelling fish. Its address is 374 Airport Rd, Manteo, NC 27954.
Everything from rare marine turtles to common horseshoe crabs and stingrays calls the 68,000-square-foot facility home, and visitors of all ages are welcome to come to check it out. The NC Aquarium is a must-see for visitors to the Outer Banks who are interested in learning more about the marine life that inhabits the ocean and the sound waters that surround the area. Bring the kids along on this fun outing, and allocate a whole morning or afternoon to explore the grounds. Moreover, several turtles that were saved from the wild are housed there, and there is an informative exhibit explaining how they were rescued. Tickets are:
For adults (ages 13-61): $12.95
For seniors (ages 62+): $11.95
For armed forces personnel: $11.95
For kids (3-12): $10.95.
2 and under, as well as members of the North Carolina Aquarium Society, get in free.
Near the exit is a gift store selling nautical-themed trinkets and souvenirs, including books, toys, and clothing made right here in the region. There is a walkway outside with seats and viewpoint points along the water's edge where guests may take in the sights of Croatan Sound. Outside, treasure seekers will find a fossil pit perfect for unearthing prehistoric shark teeth.
In addition, a water labyrinth, natural walks, and the Soundside Pier are just some of the attractions outside the aquarium. If you want to go to the North Carolina Aquarium, you will need to get tickets in advance.
Suggested Reading: 9 Most Interesting Things To Do In Davenport, Iowa
Visit Corolla and Take a Tour of the Wild Horses There
View Website
Get Directions
PERFECT FOR: Experiencing off-roading and riding wild horses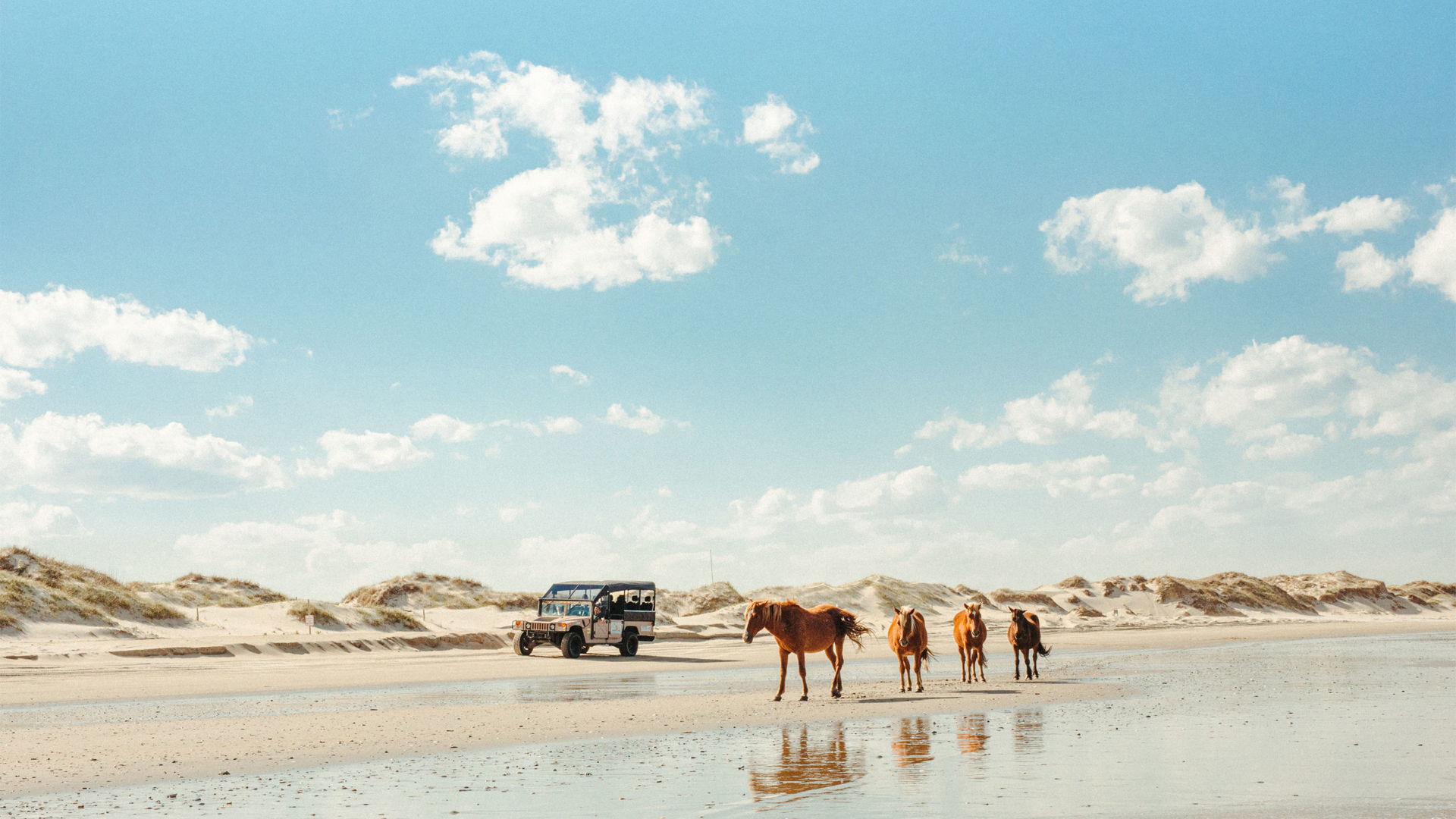 Visit some of the most interesting and unusual places in the OBX region while riding one of the Outer Banks Wild Corolla Spanish Mustang Horses. To go to the unspoiled beaches in the north, your guides will drive you in a rugged 4×4 vehicle. During the two-hour excursion, you will get to see wildlife up and personal in a high-performance, all-terrain vehicle. It is located at 610 Currituck Clubhouse Dr, Corolla, NC 27927.
The ticket price of roughly $60 includes a 2-hour tour of the Outer Banks wild horses by 4WD vehicles from Corolla, the chance to go off-roading in the highlands of Corolla, a thorough guide on the surroundings, and the history of the Outer Banks.
Keep in mind that not everyone benefits from this kind of leisure activity. Anyone with a history of back issues or cardiac issues should not participate in the ride.
One good thing about this activity is that you will get to see the best of Corolla from the back of a 4×4, hear about the Outer Banks' colorful past and how it came to be the haven for wild horses, ride through the beach dunes, and get exclusive access to the city's world-famous horse convention.
The Currituck Beach Lighthouse, with its unique red brick tower, towers over the Corolla landscape and is a must-see for any history buff, Outer Banks icon enthusiast, or anybody just in search of breathtaking scenery. The lighthouse is only available to visitors who are not afraid of heights during the summer months, but the grounds, which are manicured with native plants and include a gift store in the old keeper's quarters, are accessible all year round.
Get a bird's eye view from the top of the 220 stairway red brick lighthouse. Having been first lighted on December 1, 1875, the lighthouse bridged the gap between Cape Henry and Bodie Island lights on the North Carolina coast. It is located at 1101 Corolla Village Road, Corolla, North Carolina, 27927.
It has a first-order Fresnel lens, making it one of the few remaining American lighthouses with such a lens. In addition to that, there has been no change to the regular 20-second flashing pattern of the light, which has been in use for centuries as a navigational aid. The light, visible for 18 nautical miles, activates at night and is turned off at sunrise. Climbing the lighthouse costs $12.00 for anybody 4 years of age or older; children 3 and under are permitted free of charge when accompanied by an adult and are required to be carried during the ascent.
An important aspect to remember is that underage climbers must be accompanied by an adult at all times. Further, unaccompanied minors between the ages of 13 and 17 are required to get a waiver signed by a parent or legal guardian. Midway through March each year and through December, visitors may explore the Currituck Beach Lighthouse. If the weather is very severe, the lighthouse's outside gallery or even the whole tower may be closed to visitors.
Visitors will want to spend a lot of time atop the Currituck Beach Lighthouse, which stands 162 feet above the water, since it offers unparalleled views over the whole Outer Banks, from the Virginia state boundary to the center of the peninsula.
Also, be sure to read our guide to Best Women-Led Restaurants in New York.
Things to Consider Before Going to Duck, NC
When planning a trip to Duck, North Carolina, keep in mind the following
The Appropriate Time to Visit: Summer is a very busy time in Duck, NC, thanks to the pleasant weather and plenty of outdoor pursuits. You may expect temperatures between 70 and 85 degrees, making June through August ideal beach weather. There are a wide variety of water sports to choose from, including surfing, paddle boarding, swimming, and sailing, that all promise a good time. Duck, North Carolina is a great place to come any time of the year because of the abundance of exciting things to do here. Whatever your preferred mode of enjoyment, you can find it in any given season. We promise that your time in Duck, North Carolina, will be fantastic no matter what time of year you visit;
Activities and Events: There are festivals for just about every kind of North Carolina-related interest imaginable in Duck, from art and history to cuisine and drink to cinema and literature. The season is full of holidays and parades, guaranteeing you a memorable journey. We hope you will go across the area and join in the celebrations. A visit to Duck, North Carolina is the finest event ever since every day begins with an open invitation to discover, to see unexpected results, and to push curiosity;
Dress Code: You probably were not aware, but there is a dress code at the Duck, NC. This relaxed style, popular in Duck, North Carolina, is known as "Duck, NC Casual" and often consists of sandals or flip-flops and baggy clothes. If you are going out to eat at a nice restaurant, it is best to wear jeans (instead of shorts) and a clean shirt. On romantic dinner outings, jeans and a t-shirt are just as appropriate as a suit and tie
How Do We Pick Our Recommendations?
These recommendations have been chosen by experts after careful consideration of many different criteria. After doing research and asking around, we landed on these exceptional activities in Duck, North Carolina. We try to provide you with a wide range of options so that the ideas are relevant for the most people. There is something for everyone in Duck, NC as seen from our list. We think that any of the destinations we have listed would be perfect for a day trip, whether you are on a solo adventure, a romantic getaway, or a journey with a large group of loved ones.
Final Word
To help you get started planning your trip to Duck, North Carolina, we have provided you with a sample itinerary. Incredible places to visit and thrilling things to do can be found all across the town of Duck, North Carolina. Seeing is believing, so please visit and see for yourself what a great place our city is.
Things to do in Duck, NC - FAQs
What are some of the best activities for kids in Duck, North Carolina?
NC Aquarium at Roanoke Island and wild horses tour Corolla are amazing places to visit, packed with activities that people of all ages will enjoy, particularly the children.
Can you propose a place that would be fun for the entire family?
On a nice day in Duck, North Carolina, you may rent kayaks and paddle about the breathtaking Kitty Hawk.
Where should I take my date in Duck, NC?
The Duck Boardwalk is a romantic area to take a stroll and impress your date.
Where can I find cheap hotels in Duck, North Carolina?
Quality Inn Carolina Oceanfront, Days Inn, etc. are some of the affordable lodging options in Duck, NC.