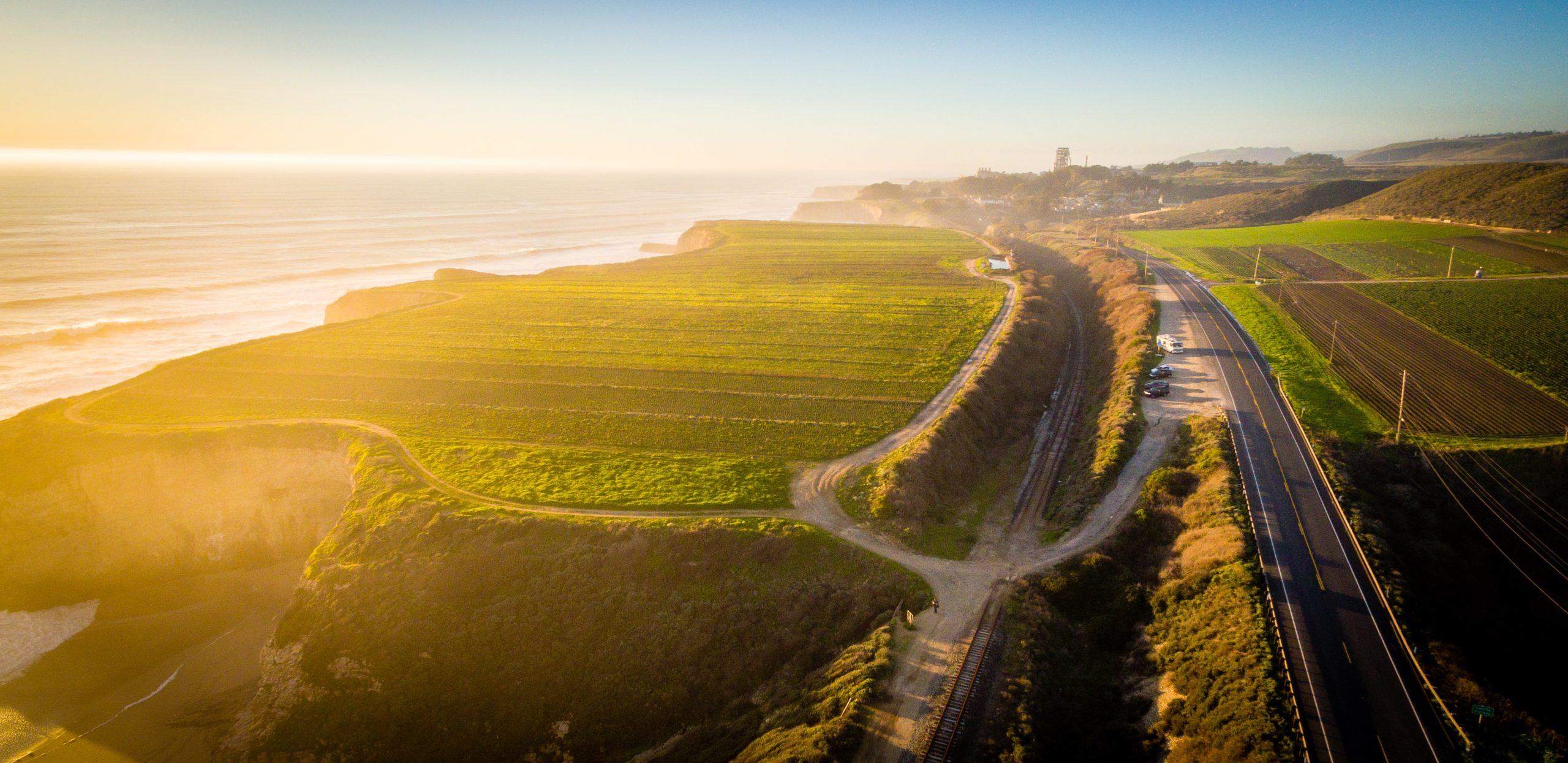 Craft Breweries, Fun Local Shops, and a Culturally-Inclined City: Davenport. Located in the state of Iowa, Davenport is becoming an increasingly popular location for tourists, both local and international. With a serene environment comprising a traditional way of life with a pinch of the modern era, Davenport is a city you should definitely visit. Be sure to not miss the following recreational activities for a memorable trip.
Fun-Filled Things to do in Davenport, Iowa
Among the numerous things you can do in Davenport, Iowa, the following are best for enjoyment along with exploration of the city.
If Davenport, Iowa is known for one place, it is the all-famous Figge Art Museum. Located on 225 W. 2nd Street, Davenport, Iowa, The Figge Art Museum features a collection of art and an encyclopedia. Many people might think that museums are boring. However, the Figge Art Museum is a unique pearl in its shell.
The museum is based on a four-story building which means you can spend plenty of time over here. The total area of the building is 99,515 square-foot of which 20,500 square-foot is allocated for the art gallery alone. Apart from the art gallery, there are other attractions such as a 110-seat auditorium, office space, and The Figge Cafe. You can also buy souvenirs from the shop as they are reasonably priced.
The museum arranges several events all year round in which visitors can take part. Most recently, they held the Teen Anime Day, Foxtrot Film, and Curator Talk by Jason Foumberg events. This gives the visitors a special experience of the museum as they can indulge in several activities. For a better idea about the upcoming events, you can download the event calendar from the museum's website.
Besides, the museum also works in close collaboration with numerous educational institutes to arrange day tours and other events.
One of the distinctive aspects of the entire building is that its front has been designed with a combination of reflective and transparent glass. Ideally, as the sun's direction changes, the building reflects unique patterns of art on the inside. Therefore, visiting The Figge Museum should be the first thing to do in Davenport, Iowa.
Related Read: 7 small towns in Indiana that will ease off your stress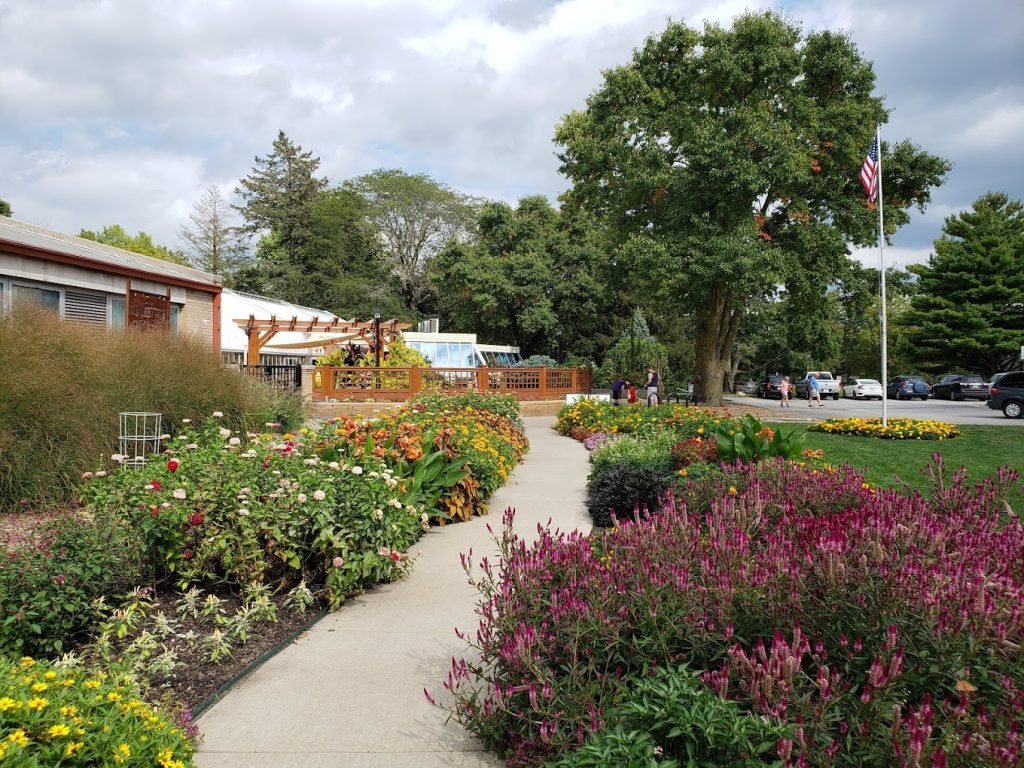 If you aren't a fan of museums and cultural sites, consider going to the Vander Veer Botanical Park. This 33-acre botanical garden is located at 15 W Central Park Avenue and is one of the oldest parks in Davenport city which was initially opened in 1885.
The park is mainly known for The Conservatory which features a wide range of rare flowers and plant species. Plants are up for public display with changes every other season.
For example, Azalea and Flowering Bulbs, Lilies, Daisy, and Fuchsia are up for display in the Spring season while in summer, the Summer tropicals and Foliage are present. No matter when you go, a spectacular display of flowers will always await. Greenhouses are established at Vander Veer to protect the rare flowers and focus on their controlled growth.
Apart from the conservatory, the entire park has plenty of flowers, plants, and dedicated gardens. Rose garden is one of the most beautiful spots here with strong fragrances everywhere. One can simply indulge in enjoying the serene environment and breathtaking natural views of the Lagoon in the park. If you are a fitness enthusiast, you will love the 0.9-mile lap as well.
You can also have special reservations and bookings at Vander Veer. This involves group tours and dedicated space for enjoyment. Prices begin at $50 for 2 hours. However, if you aren't up for any special bookings, you can enter the park for free and roam around.
One of the most fascinating aspects of this botanical park is that it has a vast number of trees that were planted in 1890 and are still growing well. You will be able to spot them. If you ever miss Davenport, Iowa, do not miss the once-in-a-while opportunity of visiting the Vander Veer Botanical park.
Step back in time and experience what Davenport used to be like back in the day. The Village of East Davenport is the perfect destination for those who want to explore the cultural aspect of Davenport city. Most people who visited this area had a common view: "It's great to be out of the lights, shops, and downtown area to a place that gives you peaceful vibes of the old Davenport".
Located along the Mississippi River, The Village of East Davenport is huge and you can explore the 145 historic buildings. There are several specialty stores in the area where you can buy souvenir items for a mere price tag. One of the quite famous buildings over here is the Wide River Winery presenting a townhouse-type building structure.
Back in the day, theater plays were quite the entertainment. At The Bucktown Revue, you can see 2-hour shows based on music, skits, drama, and much more. There are several other places you can visit such as East Turner Hall, Village Market Place, Lindsay Park, Railroad Bridge, Former Kuehl Hotel, and Hose Station No. 4 as well. Take loads of pictures and mix in with the locals as this brings a good gesture on your part.
The entire district is going to be a pretty fun place if you get on exploring it which makes it among our list of best things to do in Davenport, Iowa. With several unique bars, shops, and music festivals, the place is as lit at night time as it is during the day. We suggest you spend around 2 to 4 hours at The Village of East Davenport.
Go on a Ferry Trip With Channel Cat Water Taxi
View Website
Get Directions
PERFECT FOR: Enjoying a Ferry Trip and Overseeing Davenport
How cool would it be to have a ferry trip around Davenport, Iowa? The Channel Cat Water Taxi is a ferry service running from the eastern part of the Mississippi River to the western part. While it was initially launched as a service for carrying people from the two places, it has now become a popular tourist attraction in Davenport.
As you enter the boat, you will experience a classic open-air environment with a group of people. Travelers who want to enjoy the view of the Mississippi river won't find a better way than the Channel Cat Water Taxi. We highly recommend that you visit it during the afternoon-evening time (around 4 pm) as you can get some of the best views.
You will be going on a complete loop which includes 4 stops; 2 in Illinois and 2 in Iowa. The boats stop at Riverbend Commons in Illinois, Isle Casino Hotel in Iowa, Village of East Davenport in Iowa, and John Deere Commons in Illinois. The best part is that it is one of the cheapest entertainments in Davenport with adult tickets at $8 and child tickets at $4 only.
However, one important thing you need to keep in mind is that the service is usually provided between the 7 days of Memorial Day and Labor Day. After that, the service is available every weekend until October.
Food, pets, and alcoholic beverages are also banned on the ferry. The Channel Cat Water Taxi does not allow for private rentals or events. Keeping all these essentials in mind, plan your trip accordingly for the best experience.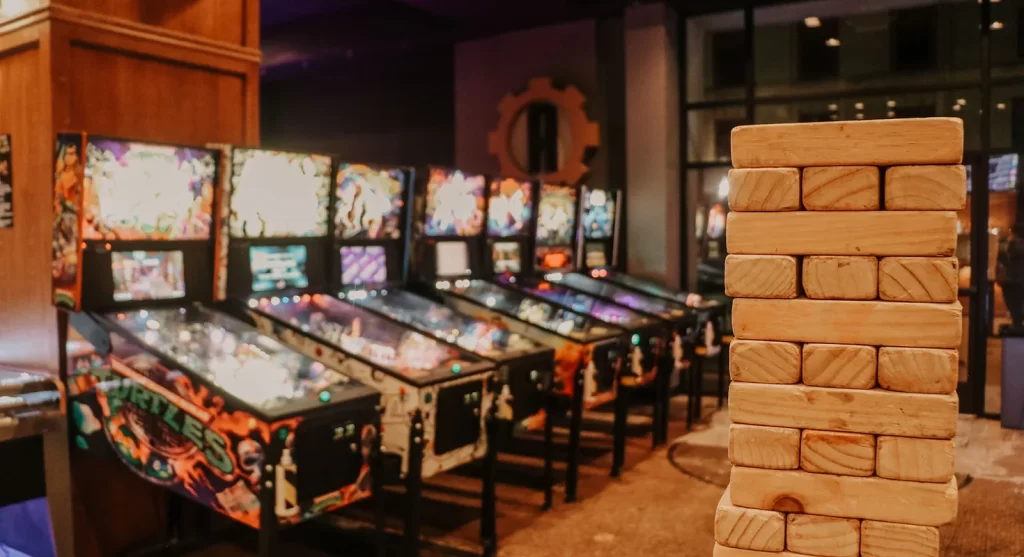 If you aren't much into nature and culture, try something different such as The Analog Arcade Bar in Downtown Davenport. Located at 302 N Brady St, the Analog Arcade Bar is one of the best places to visit in Davenport if you are fond of lights, parties, games, and drinks!
There are tens of arcade games here. Prices start from 25 cents per token and most games can be played with 2 to 4 tokens. A giant-size Jenga will also await you at the Analog Arcade Bar and this is one thing we highly recommend that you don't miss.
Apart from arcade games, there are several competitions and festivals held over here around the year. For example, the Bummer City Birthday festival included Cider and Donut Tasting, Live T-Shirt Printing, Devon's Dog Pageant, Ping Pong Tournament, Cookies and Dreams Pop-Up, Skeeball Mad Hatter, and All Day High Score Challenge as well. If you want to be a part of any such events, we recommend you visit their website before going so that you can plan accordingly.
Most people who went there complimented the bar and said that they had a delightful experience. It's a great place for a small family or a group of friends to hang around. The best part is that the entire experience won't cost you a lot.
If you want a dedicated space to yourself with a group of friends, you can also get the Arcade on rentals as well. The Analog Arcade Bar opens up at noon and closes down late at night which means you can enjoy your trip at any time of the day. With all these things in mind, we definitely think that the Analog Arcade Bar is one of the most recreational places in Davenport, Iowa.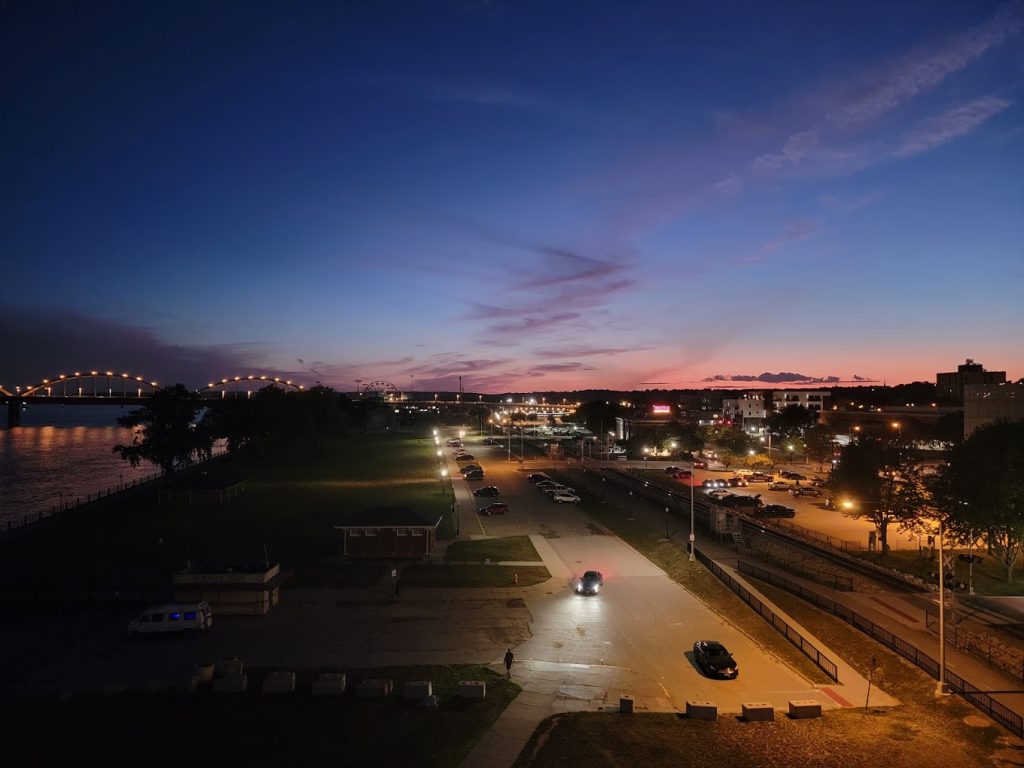 Davenport is an unusual place where even pedestrian bridges are among some of the best places to visit and spend your time.
The Davenport Skybridge is a real-life example of this case. This is a cable-suspended pedestrian bridge located over Highway 67 close to LeClair Park. The bridge stands at a height of 50 feet and the length is 575 feet. While all these facts may sound quite normal to you, wait till you hear why people have a rush all over the place.
Primarily, the bridge is regarded as an observation deck that gives a view of the entire city as well as the Mississippi River. During the daytime, it gives a beautiful sightseeing experience for visitors. Snap a few pictures here because it is one of the most instagrammable locations in Davenport. You will also be able to spot the old Davenport area including the factories and numerous historical buildings.
What's even more interesting is the bridges' appearance during the nighttime. The bridge lights up with 8,036 kaleidoscope lights in different variants of neon colors.
The colors constantly change giving away a great walking experience as well as an overview of the lights of the city. Besides, the colors are also changed in accordance with the type of event in the country. For example, during Christmas time, red and green lights are lit up.
You will truly remember this as one of the best walks in Davenport, Iowa. Since it is free, we highly recommend that you don't miss it.
If you are fond of shopping and keen to observe the local culture in Davenport, Iowa, we recommend you visit the Freight House Farmers Market. The market has over 200 vendors who are selling different types of items including farm products, seafood, cheese, bakery items, and specialty food items as well. Located on 421 W River Dr, the Freight House Farmers Market is one of the most interesting spots in Davenport.
As you enter the market, you see a huge crowd and people everywhere with vendors trying their best to attract you with their products.
You can also get ready-made food items such as burritos. The market is known for fresh fruits and vegetables. One distinctive event at the market is the live music session by the local musical groups. You can sit around and relax in the shade as well.
The whole idea of the Farmer's market visit is to enjoy the local shopping experience. The prices are quite reasonable so this won't burden your pocket too much. Take a big shopping bag with you so you can keep all the purchased goodies in them. If you really want the full experience, we recommend going on Sundays as there are most vendors present.
However, one important thing to keep in mind is the schedule of the market. On Saturdays, the market is open from 8 am to 1 pm while on Sundays, it is open between 10 am and 2 pm. Therefore, you would need to get up early if you want to catch the vibe of the market.
Editor's Pick: 8 Fascinating Things To Do In Southern Minnesota
One of the most interesting things to do in Davenport, Iowa is to participate in a locally-arranged scavenger hunt. This activity is especially for those who aren't much into sightseeing rather they want some thrill and excitement. There are several types of scavenger hunts in Davenport starting from a price of $10 per person.
Among the popular scavenger hunts, the one by Wacky Walks is definitely an interesting one. You are given a series of tasks including finding items around the city and doing challenges for certain points. All of this is managed via a mobile application.
The main aim is to ensure that your team gets the most points. The best part? You can play as many times as you want in any specific area of the city.
Besides, an instructor would be available on chat to guide you with your tasks and keep track of the game. This 2-hour recreational activity offers an interactive experience to the people while working in groups.
There are several other similar scavenger hunts that you can enroll in. Zombie Scavengers, 3Quest Challenge, Operation City Quest, and Crazy Dash are just a few of the many examples.
One reason why we recommend this as an essential activity to do in Davenport is that you will be able to explore many areas of the city in a fun-filled unique manner. Besides, you will be able to enjoy the whole activity without burdening your pocket in any way.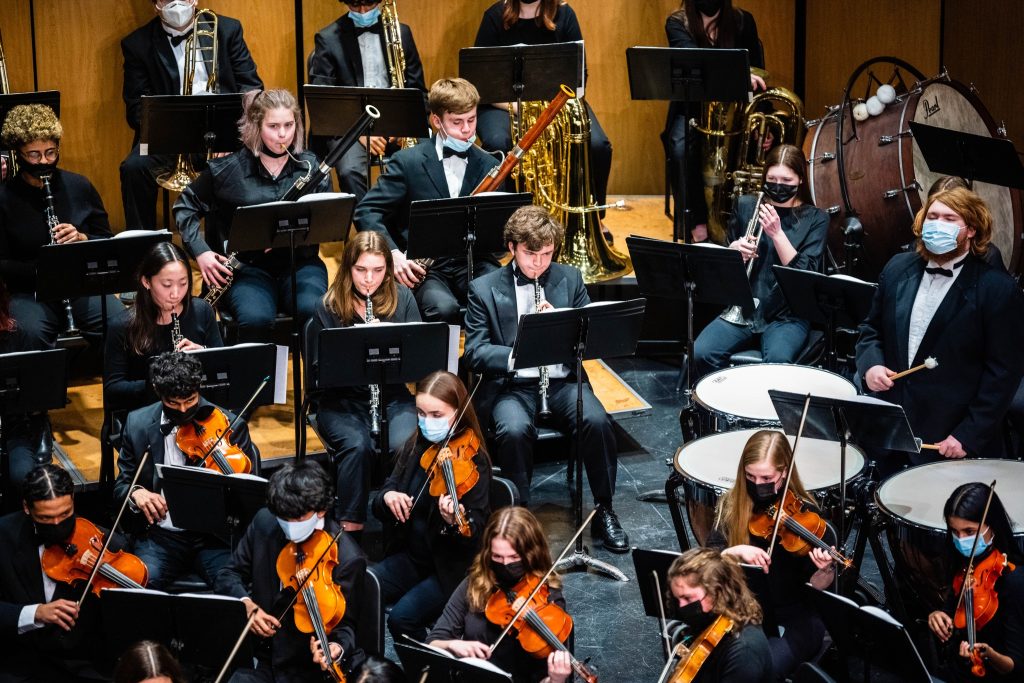 Orchestra has been a part of the United States culture for a long time and many people enjoy the uprising music. For this reason, the Quad Cities Symphony Orchestra holds events at the Adler Theater and Centennial Hall. The Orchestra is over 100 years old as it was established in 1916.
Several events are held all year round at the two locations with the collaboration of The Quad Cities Symphony Orchestra which includes live concerts and streamable concerts. The Orchestra often indulges in playing the music of some of the most renowned movies and tv shows such as The Harry Potter Series. Private lessons and group education are also provided by The Quad Cities Symphony Orchestra.
One thing to keep in mind is the high price of the ticket. Prices begin from $62 for regular seats and can go higher for symphonies that are held for longer durations as well as featuring top singers. If you opt for premium VIP seats, you will have to pay between $175 to $350. The cheaper seats cost $49 but we don't recommend them as you won't get a good view with them.
In addition to the recreational activities mentioned, be sure to check out the most popular restaurants in Sioux City, including local favorites.
Things to Consider Before Going to Davenport, Iowa
Davenport is a city full of recreational activities. However, you should be considering the following important aspects before going there.
Travel Insurance — You should check with your insurance provider if the insurance covers Davenport, Iowa, or not. Some people have faced the issue of insurance not being able to cover up for mishaps. In case you find out that the insurance you carry is not applicable in Davenport, Iowa or you are a foreign traveler, we recommend you get travel insurance. There are numerous insurance providers including American Visitor Insurance, Insubuy, and Wellmark. Since you are going to a new city, you aren't aware of what's going to happen. The best thing to do is to stay safe with proper insurance.
Daytime Activities vs Nighttime Activities — In Davenport, Iowa, there are plenty of daytime activities such as going on a scavenger hunt, visiting Freight House Farmers Market, or taking a ride on the Channel Cat Water Taxi. The nighttime activities are pretty much the same as what you will find in any other state such as clubbing, partying, and bar. To make it a worthwhile experience, we recommend you indulge in daytime activities more than nighttime activities.
Davenport is a Cultural City — If you are planning a trip to Davenport, you should keep in mind that it is a laid-back city that gives importance to traditional culture. Theaters, Orchestras, Farmer's Market, and many museums indicate that Davenport is a city for someone who wants to explore the conventional side of the state of Iowa. Therefore, keep in mind that if you are looking for partying and adrenaline-rushing activities in Davenport, there aren't many.
Finding the Right Hotel — With all the activities mentioned above, we recommend you find a hotel that is in close range of most of them. This way, you'll be able to save a lot on travel costs. Some of the best hotels in Davenport close to the center include DoubleTree by Hilton Davenport, Hotel Blackhawk, Bootie Manor, and Current Iowa, Autograph Collection. All of these hotels have received an exceptional rating.
Mixing In — One important thing to keep in mind before visiting Davenport, Iowa is you should be willing to blend in with the locals. If you portray too much of a difference, you may not be welcomed as much. Try to be nice to the locals and cheer around.
How We Pick Our Recommendations
When selecting the best things to do in Davenport, Iowa, we chose a variety of activities so that everyone can enjoy them. People who are inclined to cultural activities could visit the Figge Art Museum and Village of East Davenport while people who are into parties could visit The Analog Arcade Bar. Our expert team of writers also handpicked the recommendations for the best things to do in Chillicothe, San Francisco, SoHo, Ojai, etc. in the past.
Someone interested in sightseeing would love the Channel Cat Water Taxi or The Davenport Skybridge. The way we pick our recommendations is to ensure every person gets their way in Davenport. Our selection is diverse and includes the opinion of many other visitors who have been to these places.
Let's Go to Davenport!
Davenport is a great place to spend a few days. With so many activities mentioned above, we hope that you won't be bored of them and there will always be something new you can experience. Enjoy your trip!
Things to do in Davenport, Iowa - FAQs
What are some of the best places to visit in Davenport, IA?
Some of the best places to visit in Davenport include Vander Veer Botanical Park, Figge Art Museum, and the Village of East Davenport.
What can you do in Davenport for free?
You can visit the Vander Veer Botanical Park, Village of East Davenport, and walk around the Davenport Skybridge for free in Davenport, Iowa.
Are there any kids activities in Davenport, Iowa?
Yes, many spots such as Analog Arcade Bar and Channel Cat Water Taxi are common activities for kids in Davenport, Iowa.