There are several charming tiny towns in Indiana that are ideal for a relaxing getaway from all the city drama. All of these locations provide visitors the chance to calm down, take in some fresh air, and appreciate the chirping of birds. Beautiful jewels and exciting activities suitable for people of all ages and backgrounds are waiting for you in the region's seemingly endless grasslands and winding rivers. Our comprehensive guide to small towns in Indiana has destinations from throughout the state, ready for a quick visit or a longer weekend getaway. Also, check out the best small towns in Idaho and Wisconsin!
The Best Small Towns In Indiana
Here is a rundown of all the fantastic and lovely little towns in Indiana, where you can have easy access to parks, rivers, and national forests, making them ideal for a long-awaited vacation.
New Harmony was founded by people who believed in a religious paradise. Although it never quite made it to its high aims, the town has managed to keep its peaceful atmosphere far into the modern day thanks to the efforts of its residents.
Take solace in the old buildings, try the local whiskey, or go on a ghost tour after dark. New Harmony is a gorgeous and restful village that is well worth a visit any time of year. New Harmony, located in southern Indiana, features a charming historic quarter that provides for a nice early morning walk. No matter the weather, you will be able to enjoy the city's wide selection of museums, galleries, and other public works of art.
The town's namesake church was constructed without a roof because its designers reasoned that the only place where everyone could pray together was the sky. Also, the Cathedral Labyrinth is a great place to test your mettle if you're feeling adventurous.
The cathedral is located in the middle of a hedge labyrinth. The Harmonist Labyrinth is a ring of verdant, green bushes. Both kids and grownups may benefit from taking their feet off the accelerator for a while. It's at 309 North Street, and it's the New Harmony Cathedral Labyrinth. Spectacular granite covers its smooth surface, which is centered by a floral design.
The Atheneum is the hub of Historic New Harmony, where tours of the neighborhood's historic buildings begin and where guests may learn more about the attraction. The town's common history is on display at the Atheneum, a big theater where a short orientation video is screened.
The Town of New Harmony has a canoe launch on the Wabash River for its residents to enjoy. There's a wooden sign pointing to it, and it's just west of the Atheneum. You may park close to the trailhead where the paths begin.
There is a wide variety of comfortable places to stay in New Harmony. Accommodations in New Harmony range from a stately Victorian house to quiet, historic cottages.
There is also a contemporary resort with an indoor pool, in addition to the original Harmonist buildings. Harmonie State Park, located not far away, offers both tent sites and rustic cottages for those who would rather spend their time outside.
New Harmony has a wide variety of hotels and motels to suit any traveler's needs, whether they be those looking for "budget weekend getaways," a place to take the kids on vacation, or a place to relax in style. Pricing varies from $100 to $260 per night depending on location, season, and other related factors.
Recommended Read: Top 10 Things To Do On Your Day Trips From San Francisco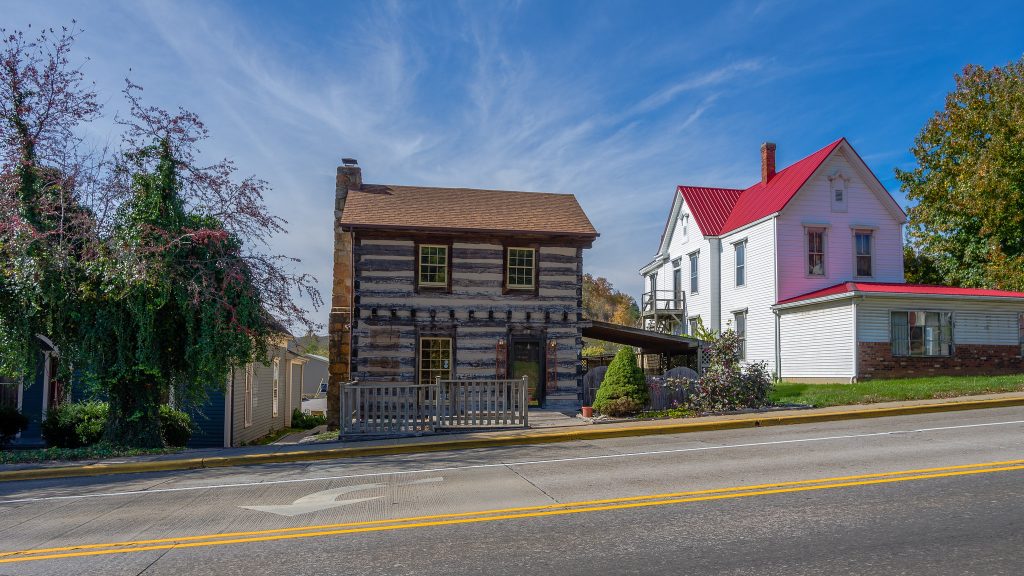 Corydon is located inside Harrison Township, in the county of the same name. It serves as the county seat for Harrison County and is situated just north of the Ohio River in the far southern region of the U.S. state of Indiana. Corydon, the first capital of the Indiana Territory, is located in a beautiful section of the state and has a rich history.
The Capitol State Historic Park is an excellent place to learn about the origins of the city and the area. Many of the original buildings in Corydon's downtown historic area are still in use today such as Old Treasury Building (Indiana's first state office building), Governor Hendricks' Headquarters, the Constitution Elm Memorial, the Posey House, and the Kintner-McGrain House.
Corydon's natural attractions, such as the Hayswood Nature Reserve and the Harrison Crawford State Forest, are a major draw for tourists. Get some exercise on a hike, fly through the trees on a zip line, or view birds in their natural habitat.
Consider going on a tour of either Squire Boone Caverns or Indiana Caverns. The two locations are close to Corydon. They provide trips where you can view subterranean waterfalls which are some of the most beautiful sights in Indiana. If you'd rather do something a little less high-octane, a stroll around Corydon's historic area is sure to do the trick.
You will get the opportunity to see the Corydon Capitol State Historic Site. Indiana's first capital was established there, marking the region as a defining moment in the state's evolution from territory to nation. For sure, all of these attractions make it an ideal getaway and one of the best small towns in Indiana.
The Clarion Pointe Corydon, Holiday Inn Express Corydon, and Hampton Inn Corydon are just a few of the many hotels available in the area. Over a week, you can expect to pay about $125 each night, whereas on the weekends you can expect to pay around $115.
Goshen, often known as Maple City, is located in northern Indiana, not far from the state line with Michigan. Elkhart County's county seat is located in Goshen, making the city an important part of Indiana's history.
Elkhart is the smaller of the two major cities that make up the Elkhart-Goshen MSA, which is itself part of the South Bend-Elkhart-Mishawaka CSSA. Pleasant brick structures and a sizable Amish population characterize this warm and friendly town.
The Old Bag Factory, which has been around for a century, but was renovated in the 1980s, is one of the city's major attractions. This former factory has been transformed into a hub of artistic activity complete with galleries, boutiques, and vintage manufacturing artifacts. You'll surely be stunned to see the unusual artifacts over here.
Visit Fidler Pond Park when the weather is nice to hang out with locals. Visitors may paddleboard or kayak on the lake, or just stroll around the beautiful scenery, all while attending one of the biggest county fairs in the nation.
Goshen is quickly becoming the cultural and artistic center of northern Indiana, with its abundance of excellent eateries, bars, cafes, boutiques, art galleries, restored historic buildings, live performances, and fun events like dance in the streets on First Fridays. The Heritage Trail is a scenic 90-mile road trip route through the region.
There are several hotels over here where you can rest for the night. The prices are also quite nominal. A few hotels we recommend over here include The Best Western Inn & Suites, Sleep Inn, Quality Inn & Suites, Comfort Suites South, and Hampton Inn Goshen. All of them charge between $80 and $102 per night.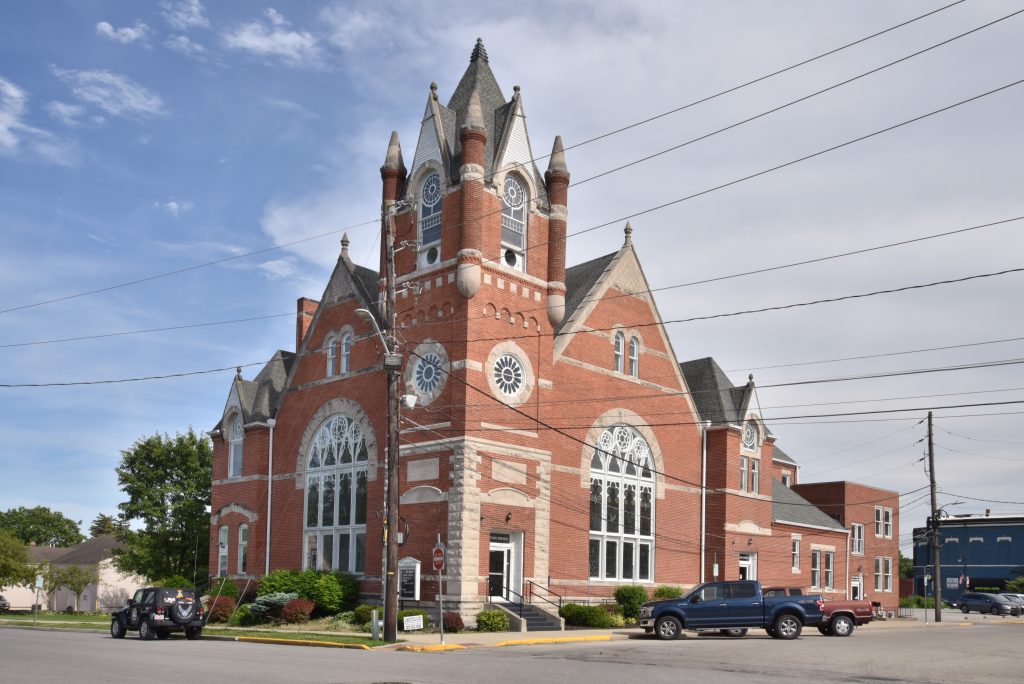 Greenfield is the ideal small-town getaway for individuals who live in Indianapolis since it is just 30 minutes from the city center. Little Orphan Annie poet and cartoonist James W. Riley was born here. Riley went on to great success with his work.
The Riley House Museum is a great place to find out more about the author and his writings. Greenfield is conveniently located outside of Indianapolis, making it an excellent day travel destination.
This small town will undoubtedly meet your needs whether you're wanting to unwind, explore the historic neighborhood, go shopping, or go on a self-guided culinary tour (why not do all of the above?).
Greenfield's historic center is alive with unique businesses, delicious eateries, and beautiful buildings making it one of the best small towns in Indiana.
The Old Log Church and the Chapel in the Park museums are wonderful destinations for history aficionados. Discover antiques from the Civil War, items from Native American settlements, and even fossils from the distant past. Visit one of the neighborhood parks, complete with picnic tables, paths, and playground equipment.
Tuttle Orchards is a fantastic place for a day out with the kids. Riley Park is a great spot to spend time outside with its many trails, playgrounds, and open fields. Brandywine Park is better for birding and offers more hiking options.
Greenfield has a variety of hotels, such as the Econo Lodge ($76/night), Fairfield Inn & Suites ($132/night), and The Night Place ($98/night). You can choose according to your budget and other requirements.
In southern Indiana, in a town called Nashville. Nashville, Brown County's lone incorporated town, is famous as the site of the first Brown City Art Colony, which opened in 1907. The garden and paintings of T.C. Steele are on display at his old residence at the state historic site.
The Old Log Jail is one of the restored structures in Brown County Pioneer Village. There are wood areas and hiking paths in Brown County State Park.
To get to Ogle Lake, you may use any of the several loop paths that round the lake. You can rest and take pictures at the wooden boardwalk area. When you get to the trail's conclusion and don't feel like rushing back to your vehicle just yet, have a seat on one of the park chairs! You may find them all across the park and use them to relax and take in the scenery.
Nashville, the county seat and the only incorporated town in the county, has unrivaled proximity to the park's many hiking trails.
Hike to vantage points with views of Lake Monroe's expansiveness, or zip across the countryside on a mountain bike. You may now visit this eclectic site, which features the presentation of unique artwork, and learn more about its history and philosophy.
Visit the Brown County Art Gallery to round out your experience of this unique area. In addition to its charming boutiques and galleries, it is also home to the well-known Quaff On! Brewing Company. Brown County State Park is an excellent place to go trekking for nature lovers.
Popular lodging options include the Salt Creek Golf Retreat ($176/night), Brown County Inn ($112/night), The Yellowwood ($181/night), and Hotel Nashville ($99/night).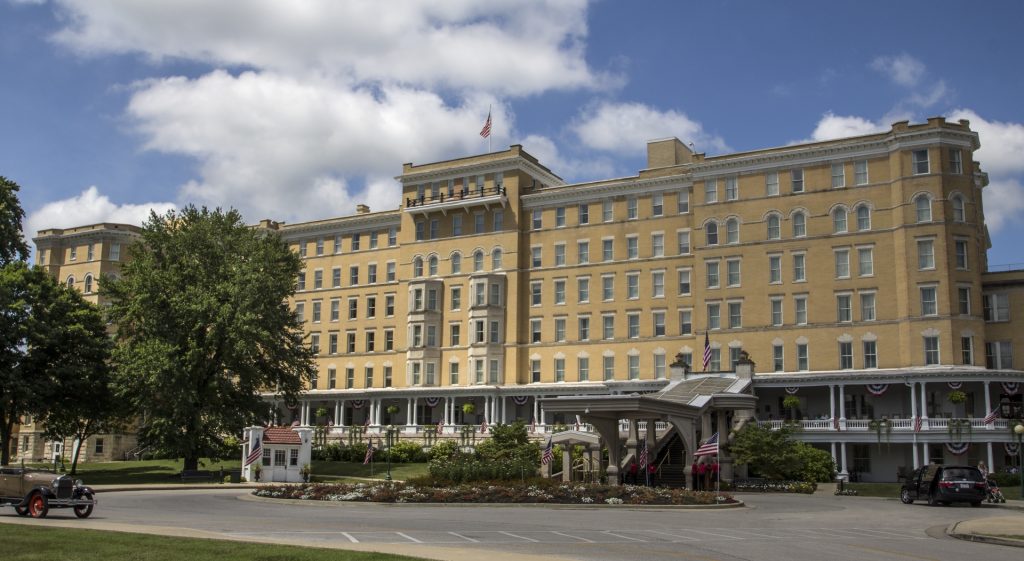 The town of French Lick is located in southern Indiana. French Lick is as picturesque as it gets, with its vibrant colors and Old West atmosphere. The town of French Lick, Indiana, is famous for the mineral springs that have been documented in the French Lick West Baden Museum.
The opening of the French Lick Resort and Casino in the middle of the 19th century catapulted the modest town to national prominence. Tourists would visit French Lick for its thermal springs and then spend the evening gambling at the local casinos.
There are many fun things to do here for both young and old. We recommend visiting the French Lick Water Park any time of the year.
French Lick, Indiana is a great place to spend time outdoors, whether you're interested in fishing or water skiing on Patoka Lake, or any of the other dozens of outdoor activities available in the area, such as mountain biking, ATV tours, hiking, zip line, horseback riding, golfing, and more. Family-friendly winter activities at Paoli Peaks include skiing, snowboarding, and tubing.
The French Lick Resort & Casino is a great place to stay, play some cards, and then relax in the spa. However, French Lick is so much more than that! A visit to French Lick, Indiana, isn't complete without a trip on the French Lick Scenic Railway, a 20-mile ride through the beautiful countryside and the vast Hoosier National Forest.
Stay at either the French Lick Springs Hotel or the West Baden Springs Hotel, two of the oldest hotels of the luxurious French Lick Resort. The innkeepers at our B&Bs are known for their warm hospitality and affordable pricing.
Camp out in a recreational vehicle, tent, or teepee at one of the neighboring, pet-friendly campsites. You may also find affordable hotels and motels in the French Lick–West Baden area. There is a wide range of price options from $93 to $366 each night.
Aurora has a population of under 4,000, yet its bustling streets belie that fact. Aurora is a great option if you're looking for a place with a little more life and energy without losing any of the small-town charms. Located on the Ohio River and North Hogan Creek, about 40 minutes west of Cincinnati, Aurora is a charming community.
In historical context, this town was founded around the 19th century and is recognized today for the historical structures that exist here. Great Crescent Brewery is quite significant in Indiana, and the city itself is rich in history and riverside activities.
Charming ancient buildings line Main Street, which has been renovated to provide all the amenities needed for a cozy weekend vacation. After a day of sightseeing, you may unwind at one of the many new eateries or small-batch brewers that have sprung up in place of the old factories.
Visit the Hillforest House Museum or the picturesque Veraestau Historic Site off of Main Street. The town's proximity to the Ohio River means that there is a lovely bike route along the riverbanks that leads to Lesko Park, a lovely site for an afternoon picnic. Gabbard Riverfront Park Mural is only one example of the stunning public artworks you'll find in this area.
Fans of historical architecture will appreciate sights like the Hillforest Mansion, an Italian Renaissance mansion constructed in 1855. At least a dozen more Aurora structures join the Hillforest Mansion on the National Register of Historic Places.
Explore Aurora's many water features, marinas, boating opportunities, cycling routes, and more! There's a ton to see and do in the area, so plan on spending more than a weekend there if you really want to explore the place fully.
Among the hotels in Aurora are Tuggles' Folly Bed & Breakfast ($129/night), DoubleTree by Hilton Cincinnati Airport ($162/night), The Comfort Suites Florence-Cincinnati South ($144/night), and The Hollywood Casino & Hotel ($115/night).
Editor's Pick: 10 Fun Things To Do at Rehoboth For Lively Vibes
Things to Consider before visiting small towns in Indiana
Here are some things to take care of before making plans to go to rural areas of Indiana:
Transportation Should be Considered — One of the most important things to consider before visiting the small towns in Indiana is that there are limited transportation facilities available over here. In small towns, services like Uber and Lyft are not as easily available as they are in the case of regular cities. Public transport might also not be available and you will have to rely on local taxis. Plan your trip accordingly.
Plan The Route and Itinerary — Establish a path that will take you from one "must-see" town of Indiana to the next. It is important to keep looking until you discover the greatest possible solutions. Incorporate a margin for originality and improvisation into your plans. Get your approach in order and make any necessary adjustments or omissions immediately. For example, we highly recommend visiting the New Harmony town if you want a great travel experience.
Book Your Hotel in Advance — Small towns in Indiana are worth a visit, but you will need a hotel reservation for the first night. It seems fair that the frugal tourist should have to look harder to locate the right place to stay. There aren't many hotels in the small towns of Indiana which is why reserving in advance is essentially important.
How We Pick Our Recommendations?
The aforementioned recommendations have all been carefully selected by experts who have thought about numerous aspects before picking the right options for future travelers. We take into consideration the opinions of many other travelers who have been to these destinations before making our recommendations. We picked a few different tiny towns in Indiana on purpose so that tourists of all ages and interests might have a good time there. Our recommendations were based on types of activities, distance from the center, family-friendliness, and other related factors.
Final Word
If you are planning a road trip across Indiana, we hope this list of small towns will come in handy. Be sure to focus on the important things we mentioned and enjoy the most!
Small Towns in Indiana- FAQs
How many small towns are there in Indiana?
Indiana is home to over 700 different small towns.
Which Indiana towns are the most charming and secluded?
New Harmony, Goshen, and Greenfield are three of Indiana's most peaceful and charming little towns.
Which Indiana small town should tourists never miss?
The picturesque town of Corydon is a must-see for every traveler.
How much do I have to pay per night for Indiana's small-town hotels?
The average per-night charge in Indiana's small towns is between $115 and $125.