Imagine this: you're on the open road, wind in your hair, and a map of endless possibilities sprawled out on the passenger seat. As the day turns into night and the miles roll by, you begin to feel the familiar pangs of fatigue. It's time to find a place to rest your weary head.
You spot a couple of signs up ahead, one pointing to a "Hotel" and the other to a "Motel." In your tired state, the two words seem almost interchangeable, but as you pull off the highway and park, you can't help but wonder: What's the Difference Between Hotel and Motel?
Many people get confused by the terms hotel and motel and use them interchangeably. But some important distinctions between these two types of accommodations can affect your travel experience. Below, we'll explain what hotels and motels are and how they're different from each other.
Related Read: How to Connect PS5 to Hotel Wi-Fi? 2023 Updated Guide
What's the Difference Between Hotel and Motel?
In a nutshell, Hotels typically offer a wide range of amenities and services, while motels are often more budget-friendly and provide direct room access from outside, typically suited for travelers seeking basic accommodations.
However, the differences are far more than just that. Hotels and motels are distinct in terms of appearance, cost, location, star ratings, amenities, staff, elevators, restaurants, duration of stay, and types, and even their histories vary.
History
The concept of hotels traces its roots back to ancient times, with the oldest found hotel dating back to 705. This historical lineage showcases a rich and extensive history that predates motels. The term "hotel" finds its origin in the French word "hôtel," originally denoting a large townhouse or palace. According to British Law, a hotel is an establishment where travelers could find both nourishment and accommodations.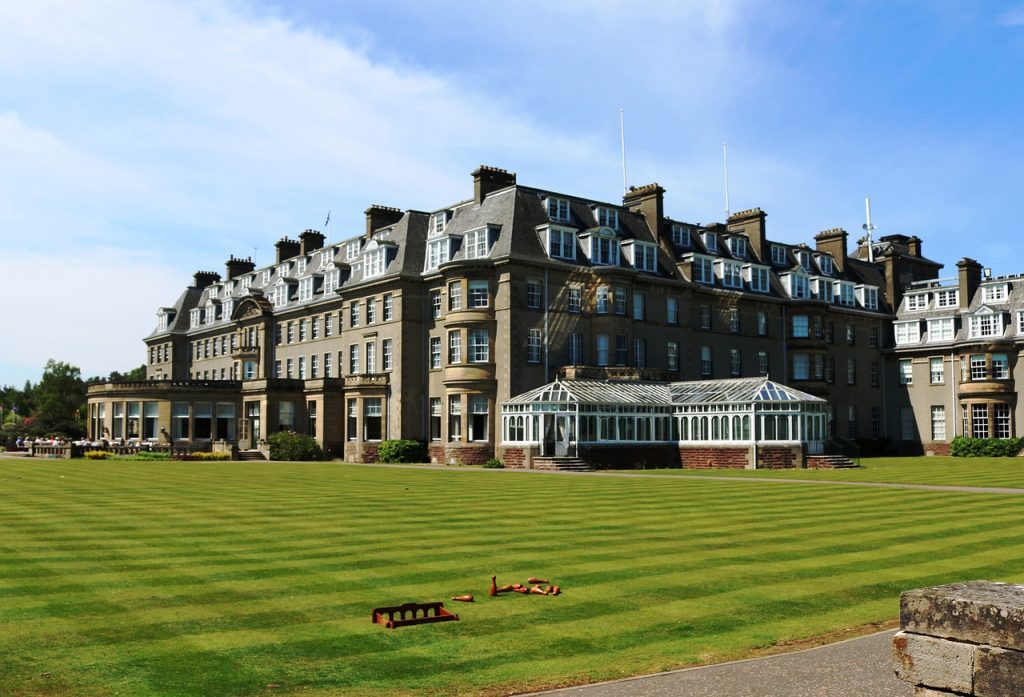 This historical foundation has paved the way for the diverse array of popular hotel brands we know today, including well-known names such as Marriott, Sheraton, Hyatt, Holiday Inn, InterContinental, Four Seasons, Best Western, Comfort Inn, and Radisson. These establishments continue to evolve, offering modern travelers a wide range of amenities and experiences rooted in a history spanning millennia.
On the other hand, the concept of motels came in 1950. The term "motel" itself is a blend of "motor" and "hotel," coined by the owner of the Milestone Mo-Tel in California. During the twentieth century, extensive advancements in road networks transformed travel into a commonplace activity in Europe and America.
This era saw an upsurge in travelers covering long distances by their own vehicles. As a result, they sought out clean and secure accommodations for rest and overnight stays, alongside essential services like garages and refueling stations for their vehicles. Some well-known motels that emerged from this era include America's Best Value Inn, Econo Lodge, Knights Inn, Motel 6, and Super 8.
Also Read: How to Get to the Hollywood Sign? Uncover Easiest Ways in 2023
Appearance
Hotels are usually multi-storied structures, and their rooms open to the interior of the building. These establishments often cater to individuals seeking a getaway or at least some basic luxury, reflected in their well-designed and frequently updated layouts. A hotel appears as a sophisticated place where one cannot only rest, but also experience the exceptional ambiance.
On the flip side, motels are characterized by single or double-storied buildings with connected rooms and open walkways by featuring exterior entrances. Motels primarily focus on meeting basic needs such as providing a place to sleep and wash. And, the design aspect is not a crucial factor in most cases. Motels are usually just a place to crash for the night, so don't expect any major design, focus on style, or any top-class ambiance over there.
Features
Hotels and motels differ in terms of features, but hotels take the lead here.
Hotels are like the VIP section of the hospitality world. They come packed with features that make your stay a true delight. One of the first things you'll notice is the lobby – it's often like a mini city in itself, complete with a front desk, concierge, and sometimes even a grand piano.
Now, let's talk about those alluring amenities. Hotels are famous for their luxurious extras. You'll find pools (indoor, outdoor, rooftop, you name it), fitness centers with state-of-the-art equipment, spas offering massages that'll make you forget your own name, and on-site restaurants that could give any Michelin-starred joint a run for its money. Not to forget room service, valet parking, and even dedicated conference facilities if you're mixing business with pleasure.
Motels, on the other hand, are like your trusty old pickup truck – simple, reliable, and no-frills. You park right outside your room, making it super convenient if you're hauling luggage or want to keep an eye on your wheels.
But, here's the thing: motels don't typically have those lavish extras. Don't expect to find a spa or an Olympic-sized pool. Instead, you might get a basic outdoor pool for a quick dip and a parking lot that's well-lit for safety. Dining usually involves heading out to a nearby eatery because motels typically lack on-site restaurants. They're all about delivering a comfy bed and a clean room, often at a lower price point.
Cost
Typically, hotels tend to be pricier than motels. Hotel prices can vary significantly based on star ratings, brand recognition, room categories, available amenities, and location. On average, a night in a hotel usually begins at an average price of $80 and can go up to $1000 as well, depending on the hotel's rating. Hotels often levy additional taxes and service fees, which can significantly increase the total cost of your stay.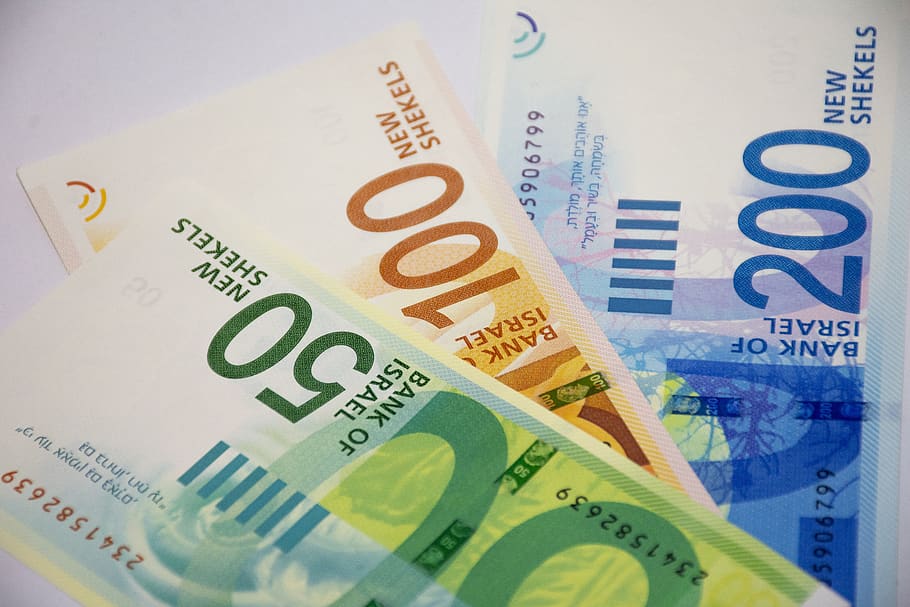 Conversely, motels often offer a more budget-friendly option for travelers. The average cost of a night's stay in a motel is generally less than $40. This cost discrepancy can be attributed to motels offering fewer amenities, more basic room accommodations, and their typically roadside or suburban locations. For travelers on a road trip or those simply looking for a clean and comfortable place to rest for the night, motels provide excellent value for money.
Location
Hotels can be found scattered throughout cities and villages. Hotels in urban areas tend to be situated smack dab in the city center. This means you're just a stone's throw away from iconic landmarks, cultural hotspots, and the buzzing nightlife. You can step out of your hotel and dive right into the city's energy. If you're in a touristy destination, hotels are likely to cluster around the most famous attractions. Want to wake up with a view of the Eiffel Tower or the Grand Canyon? Hotels have got you covered.
However, motels are usually located alongside highways and major roads, which offers a convenient stopover for travelers on long journeys. Motels are often located near gas stations, diners, and convenience stores. This makes it super handy for refueling, grabbing a snack, or stocking up on road trip essentials. While they are predominantly highway companions, motels can also be spotted on the outskirts of towns, in locations similar to where you'd find hotels, and even in rural areas.
Rating
Hotels use a star rating system to assess the quality of their establishments and the services they offer. This system helps travelers make informed decisions about where to stay during their journeys, guaranteeing a pleasant and delightful stay. Now, take a closer look at the hotel star rating system below.
One-star hotels are small and are often family-run, which caters to budget-conscious tourists with limited services.
Two-star hotels are larger in size and provide a comfortable place with en-suite shower rooms.
Three-star hotels offer a higher level of ease with a multilingual staff, roomy reception areas, and attached bathrooms equipped with toiletries.
Four-star hotels represent first-class establishments, which feature well-designed, spacious rooms furnished with high-quality items.
Five-star hotels epitomize luxury, meeting international standards with top-notch amenities, and personalized service.
In opposition, motels lack an official star rating system but may receive ratings from travel websites and agencies based on their own criteria. Some of the main criteria that are used to rate motels include:
The quality and cleanliness of the rooms and facilities
The availability and friendliness of the staff and service
The type and variety of amenities and features, such as Wi-Fi, TV, air conditioning.
The location and accessibility of the motel, such as proximity to restaurants, attractions.
Amenities
In terms of amenities, hotels typically offer a more extensive range of options for guests. Hotels are the kings and queens of amenities, rolling out the red carpet of services for their guests. When you check into a hotel, you're stepping into a world of convenience and luxury: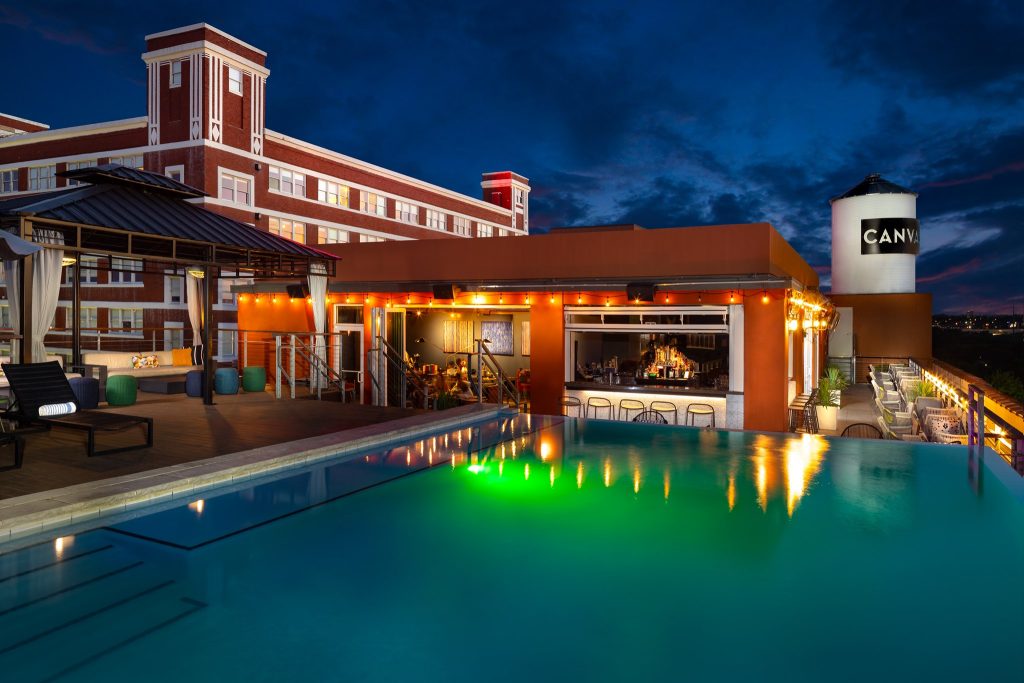 Pools Galore: Hotels typically boast a variety of pools. You'll find indoor pools for year-round swims, outdoor pools for sun-soaked relaxation, and even rooftop pools with breathtaking views. Some high-end hotels even offer private plunge pools for select suites. However, this is not a must-present feature. Some hotels might not have a pool at all.
Fitness Centers: For the fitness buffs, hotels often have well-equipped gyms with everything from cardio machines to free weights. You can keep up with your workout routine while on the road.
Spas and Wellness: Many hotels offer on-site spas where you can indulge in massages, facials, and other rejuvenating treatments. It's like a mini paradise within your accommodation.
Dining Experiences: Hotels frequently feature multiple dining options, from casual cafes to gourmet restaurants. You can savor a diverse range of cuisines without leaving the premises.
Concierge Services: Need tickets to a show, restaurant reservations, or advice on local attractions? Hotels have concierge services to cater to your every need.
Alternatively, motels tend to provide more minimal amenities. In most cases, you won't find pools, and if they do exist, they are usually outdoors. Expect to pay cash as they don't usually have a credit card machine (some do though). Following are the few aspects you'll see at a motel.
Parking at Your Door: One of the defining features of motels is that you can park your vehicle directly outside your room. It's incredibly convenient for loading and unloading.
No-Fuss Check-In: The check-in process at motels is often quick and straightforward. You're in, you're out, and you're in your room in no time.
No Fancy Extras: Don't expect spas, fitness centers, or room service. Motels are designed for travelers looking for a clean, comfortable place to spend the night.
Elevators
Concerning elevators, hotels make them available if the building consists of more than two floors, which guarantee easy access to various levels. In contrast, motels generally do not provide elevators, as they typically consist of single or double-story buildings with open walkways and exterior entrances.
Dining Option
Hotels provide a wide range of dining choices including full-service restaurants and room service. These restaurants often feature various dining styles such as American Service Style, Buffet Service Style, and Silver Service Style. Additionally, guests can expect a diverse array of culinary offerings, from Russian service to Gueridon service, Tray service, Self-service, Cafeteria service, and more. Hotels are like foodie heavens. Seriously, they take dining to a whole new level. Here's what you can expect: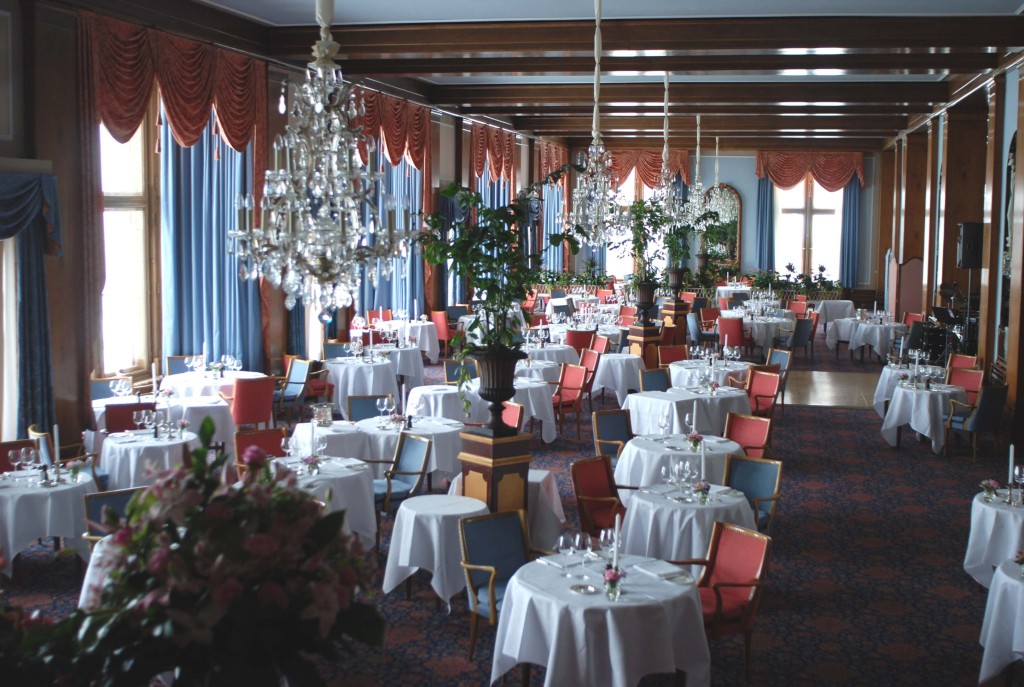 On-Site Restaurants: Most hotels come with at least one on-site restaurant, and often several. These can range from casual cafes serving up your morning coffee to high-end fine dining establishments where you'll need to break out your best suit or dress.
Room Service: Craving a late-night snack or breakfast in bed? No problem! Hotels are famous for their room service, which means you can order food straight to your room, often 24/7. It's like having a personal chef on speed dial.
Bars and Lounges: Fancy a cocktail? Many hotels have stylish bars and lounges where you can unwind with a drink and maybe even some live entertainment.
Specialty Cuisine: Some hotels specialize in specific types of cuisine, whether it's Italian, Asian, or something else entirely. It's a great way to experience international flavors without leaving the comfort of your hotel.
Motels, on the other hand, tend to keep things straightforward. While some motels may offer breakfast room service, it's not a standard feature, and its availability can vary. Many motels, however, provide a convenient option for travelers in the form of complimentary "continental" breakfasts. These typically consist of a light morning meal with items like cereal, breakfast breads, fruits, juices, coffees, and teas. You can expect the following at a motel:
Local Dining: Instead of on-site restaurants, motels often have partnerships with nearby eateries. They might provide you with a list of nearby restaurants, diners, or fast-food joints. You're expected to explore the local dining scene.
Basic Breakfast: Some motels offer a basic breakfast, typically in the form of a continental breakfast with items like cereal, toast, and coffee. It's enough to kickstart your day but not a lavish culinary experience.
No Room Service: Room service in motels is a rarity. If you want food delivered, you'll likely have to order from a local restaurant and pick it up yourself.
Types
Hotels have expanded and diversified their services to cater to various needs. First off, you have your standard hotels, the bread and butter of the industry, offering a comfortable stay with a wide array of services. But if you're in the mood for something different, the hotel world has you covered:
Boutique Hotels: These are like the quirky little cousins of the hotel family. They're often small, stylish, and ooze personality. You might find one adorned with themed décor or located in a historic building. It's all about the unique experience.
Garden Hotels: If you have a green thumb or just love nature, these are your go-to spots. Garden hotels are often surrounded by lush greenery, offering a serene and natural ambiance that's perfect for relaxation.
Underwater Hotels: Yes, you read that right! Some hotels are submerged beneath the waves, giving you a front-row seat to underwater wonders. Imagine sleeping with the fishes (in the best way possible)!
Hotels are all about diversifying the guest experience, and they often cater to specific interests, whether it's art, nature, or aquatic adventures.
Motels, on the other hand, are like that reliable old friend who sticks to what they know best: providing no-frills lodging for travelers. You won't find the same dazzling variety here. Motels are primarily about convenience and affordability.
While some motels might offer extended-term stays, their core function remains unchanged. They provide a basic, comfortable place to crash for the night. Don't expect themed rooms or underwater wonders here. Instead, you'll find straightforward, clean accommodations designed for weary travelers on the move.
Security
When it comes to security, there's a clear difference between hotels and motels, with hotels taking the lead. Hotels often provide a greater sense of security due to their larger size, professional staff, and additional security measures. These include:
Staff Presence: Hotels typically have a 24/7 front desk staffed with trained professionals. This means there's someone available to assist you at any time, whether it's to address concerns, provide information, or call for help if needed.
Surveillance and Access Control: Many hotels have security cameras throughout their premises, especially in common areas and parking lots. They also employ access control systems, such as key cards, to restrict entry to guests and authorized personnel only.
Lighting and Visibility: Hotels often invest in well-lit parking lots and public areas to enhance safety and visibility, particularly during nighttime hours.
Emergency Response Plans: Hotels typically have established emergency response plans and procedures in place, including fire alarms, sprinkler systems, and evacuation routes.
Motels, while providing a convenient place to rest, may have fewer security measures in place:
Limited Staff Presence: Many motels have limited staff available, especially during late-night hours. This means you may not have immediate assistance in case of emergencies.
Varied Security: Security measures at motels can vary widely. While some may have security cameras and well-lit parking lots, others might lack these features.
Exterior Access: Motel room doors typically open to the outside, which can make it easier for unauthorized individuals to access the premises.
Less Visibility: Motels tend to be smaller and may not have the same level of visibility as large hotels, which can affect the overall feeling of security.
It's important to note that while motels may have fewer security features in place, the vast majority of them still prioritize the safety of their guests.
Conclusion
The difference between hotels and motels goes beyond their names. Hotels offer a wide array of amenities and services, often at a higher cost, providing a luxurious and comfortable experience with a focus on location, design, and diverse room types. On the other hand, motels are budget-friendly and designed for convenience, typically found along highways and catering to travelers seeking simple accommodations. While both prioritize guest safety, hotels tend to have more comprehensive security measures due to their size.
What's the Difference Between Hotel and Motel? - FAQs
What are the main differences between a hotel and a motel?
The primary differences lie in amenities and location. Hotels typically offer a wide range of amenities like pools, spas, and on-site dining, while motels focus on simplicity and are often located along highways for convenient road-trip stays.
Are hotels more expensive than motels?
Yes, hotels generally come with a higher price tag due to the added amenities and services they offer. Motels, being budget-friendly, tend to have lower room rates.
Which is more suitable for a romantic getaway, a hotel or a motel?
Hotels are often a better choice for a romantic getaway, as they frequently provide luxurious amenities, fine dining options, and a more upscale ambiance. Motels, while comfortable, are designed for convenience rather than romance.
Are motels less safe than hotels?
Motels are not focused as much on security, and this is one reason why their price is lower. On the other hand, hotels, especially in urban areas, have more extensive security measures due to their larger size and higher occupancy rates