Paris is amongst the most beautiful cities in the world because of its extravagant architecture, rich history, cultural influence on tourism, and most of all its highly romantic atmosphere. Without a doubt, Paris is a dreamland for lovebirds, though there is another sect of romance that this city is famous for, its lavish and mouth-watering cuisines! One of the most iconic landmarks in the city is the Eiffel Tower, which attracts millions of visitors every year. While there are plenty of ways to enjoy the view of the tower, there's something extra special about dining with a view.
[item_carousel id='179′ timeout='5′]
Eiffel Tower View Best Restaurants in Paris
No matter where you are in the city, at every corner you'll find a glamorous restaurant and cozy cafe. If you want to have the time of your life, you can visit these restaurants for breakfast, lunch, and dinner. You'll also get to enjoy and revel in the aesthetic views of the city's crown jewel, the Eiffel tower, which makes your trip to a restaurant memorably photogenic.
Girafe is one of the best restaurants in Paris for someone who enjoys old-fashioned decor and friendly services. Located in the 16th arrondissement near Trocadero, Girafe provides you with potent and clear views of Eiffel tower's front. Apart from its vibrant views, the restaurant is an ideal place for family dinners, date nights, and friendly outings.
The restaurant offers an unparalleled seafood experience! Its menu includes a diverse range of seafood options, fish, shellfish, and crustaceans are cooked in a plethora of forms, allowing every dish to have its own taste and serving style. But no need to worry if you are a vegan, the menu also offers vegetable-friendly options.
Though the food can be a bit pricey, the taste and the service make up for it. If you are eating seafood, expect your expenditure range to be around €40-60 per person. For drinks and cocktails, you'll be spending around €15-20. Some of the most popular dishes include Yellowtail, Shrimp, and Poulpe.
If you are going to visit the restaurant, I'll highly recommend you to try the Lobster linguine with tomatoes and herbs along with Grilled octopus with potatoes, grapefruit, and cabbage.
The reservation process for the restaurant is fairly easy and you can make one directly from their website. The customer service of the restaurant is most definitely top tier. The entirety of the staff is extremely friendly and prioritizes your upscale experience above all else. The waiters and waitresses are well-dressed and tend to all of your menu-related questions and dining requirements.
Not to mention the lavish architecture enables you to experience the historic aesthetics of the past. Along with the scenic views of the Eiffel tower, you get to enjoy a chic, classy, and elite atmosphere due to the décor, with cream-colored banquettes, marble floors, lush green plants, and original pilasters. All of these creative elements put this restaurant on top of restaurants in Paris with Eiffel Tower view.
Editor's Pick: 15 Best French Restaurants in Laguna Beach
Les Ombres is a roof terrace restaurant in Paris situated at the Quai Branly-Jacques Chirac Museum's garden with a bird's-eye view of the Eiffel tower. The restaurant baths in the shadow of the iconic and historic tower. Its glass windows and roof ceiling brighten the modern and sleek architecture of the restaurant with natural lighting, creating an ever-so-memorable contrast with its design.
Even the menu of the restaurant honors its theme of maintaining a combination of historic meets the modern. The dining options offer a wide range of traditional French dishes with a contemporary twist. You can also enjoy Mediterranean and Vegan-friendly delicacies. You can select appetizers, main courses, cocktails, desserts, and anything of your liking from its extensive menu.
The food is definitely expensive as the restaurant is a hotspot for tourists. The prices range from
€55 to 180 for a two-person full meal. But the quality of the food definitely makes the expenses worth your time. You should definitely try the beef steak and crab meat as the flavor of the dishes just melts in your mouth.
Don't forget to add cèpe mushrooms and cantal cheese to your main course. Other highly recommended delicacies include black truffle sauce atop beef filet and puff tart with a unique combination of vanilla and pear. For drinks, you can add rich red wines or any other cocktail to your dining which will cost you €80 or more separately.
The customer service of the restaurant is high class and definitely worth spending your money. The staff is pleasantly friendly and casual giving a comfortable edge to the dining atmosphere. The mythical museum juxtaposes the metallic tables and roof paneling of the restaurant. The decorations are not so vibrant but the theme of the decor is modern and minimalist. Though, the glass of the roof and windows in the room are an illuminating factor! Best of all! The Eiffel Tower glares at you right from the window!
The restaurant in Paris is mostly famous for its romantic dining for couples so we don't recommend it for a family visit.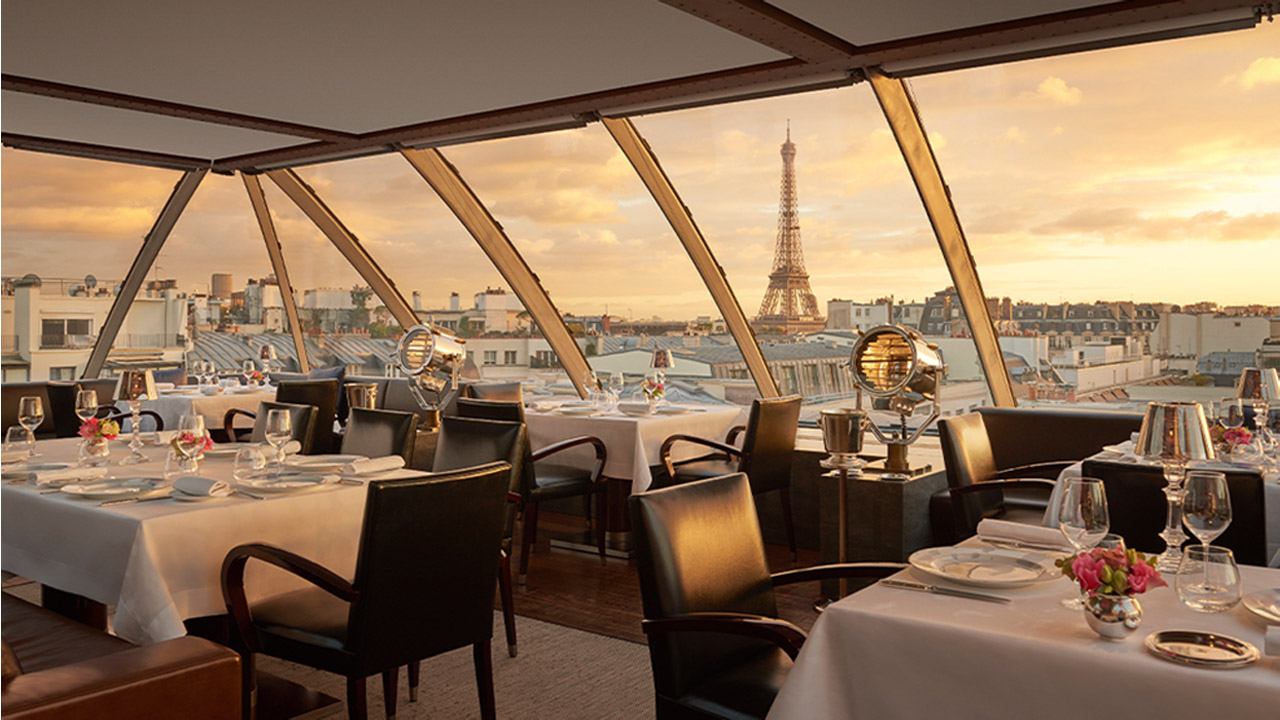 Located on the 6th floor of Peninsula Paris, L'Oiseau Blanc is famous for its stunning rooftop views of the entire city and the Eiffel tower itself. Though the restaurant is not quite near the Eiffel tower, its rooftop dining allows the diners to see the monument from afar.
This restaurant in Paris offers lunch and dinner services on a tight schedule. So, make sure that you check the timings beforehand to make your reservations. Due to its fancy reputation and upscale services, dining in this restaurant is quite expensive.
A full-course meal has a price range of €95-250. The restaurant is not budget-friendly for a family gatherings or large friend groups. However, the chic and elegant dining is ideal for date nights and business meetings. The highly recommended dishes include marinated sea scallop and butternut tagliatelle.
The spacious and modern dining hall consists of large windows that allow you to peek outside for splendid views. The marble flooring gives the restaurant a contemporary touch. The atmosphere and the staff is really formal and professional.
Sometimes, your heart simply throbs to have a casual meal with family and friends at a restaurant that offers excellent food and services. Situated at the 8th arrondissement, Chez Francis is famous in Paris for its causal atmosphere that never compromises on class and breathtaking views. In the outdoor seating, you can enjoy the spectacular backdrop views of the Eiffel tower from a long distance.
The menu includes a wide variety of French and European cuisines that will surely leave a mark on your taste buds. Vegetable and kid-friendly options are also part of the menu. The price of the food is exceptionally reasonable which is why the restaurant is always packed. You can get meals that range from €15 to 55 or above. The most popular casual dishes are chicken rolls, omelet, oyster, salad, truffle, french toast, and freshly made fruit drinks.
If you just want to enjoy a quick bite with your fellows then you should try a sandwich from their menu. Though, their Lemongrass chicken nems are a must if you do get to visit the restaurant. Adding a champagne to the mix just adds the right edge to your entire meal. Don't forget their mouth-watering chocolate cake as dessert. The restaurant offers a break, lunch, dinner, and late-night drink services. While the special features include bachelor, birthday, Christmas, and New Year parties.
The staff is extremely friendly and accommodating as they put in their best efforts forward so that you can have an amazing relaxing time. The decor for both indoor and outdoor seating areas is warm and welcoming as it's illuminated by the views of lush green plantations. Not to mention, the restaurant is also pet-friendly, which definitely adds a homely flare to the entire dining experience.
Since the restaurant is a hotspot for both locals and tourists, sometimes you might have to wait in long queues to get seated. To avoid such a hassle you can get an online reservation through their official website.
Recommended Reading: The 6 Best Women-Led Restaurants in New York
Located on the 56th floor of the Montparnasse Tower, which is a glass skyscraper, Le Ciel De Paris prides itself as a lavish restaurant seated at the highest altitude in Paris. This height makes you feel as if the Eiffel Tower is standing right beside your dining. Not to mention, the splendid and mesmerizing views you experience of the entire city while taking bites of the best French cuisines give you an experience of a lifetime.
The restaurant ioffers a diverse menu so that you can enjoy the best and most distinct flavors whenever you decide to visit the restaurant. The menu includes popular dishes such as lobster, scampis, truffle, turbot, laying, and foie gras along with a delicious variety of salads.
Due to its esteemed locality and upscale services, the restaurant is quite expensive. The full-course meal can cost you an average €100-105 or above. However, after taking your first bite you'll know that your money is well spent. The restaurant offers breakfast, lunch, and dinner services.
For an appetizer, you should try Organic Soft boiled egg with Tonka Parsnip cream. For the main course, it's highly recommended that you go for Half duck breast Glazed with citrus and linseeds. Don't worry, you can also try their Pumpkin riso and forgotten vegetables
Sweet potato purée, if you are vegan. For dessert try the Ciel de Paris sweet selection. Add any soft drink or cocktail you like to your dining.
The entire staff is professional and caters to your needs so that you can have a wonderful time. The decor is contemporary and urban, though, it does add a flare of futurism to its ceiling through high-tech lighting. The atmosphere is formal yet relaxed. Apart from being the ideal place for date nights, The restaurant is also a popular spot for formal meetings. If you want to experience the epitome of elegance and class, dining in Le Ciel De Paris is a must.
Restaurant Recommendations: 7 Eateries in Big Sur for a Scrumptious Meal
Located in the west wing of Palais de Tokyo Museum, Monsieur Bleu allows you to enjoy the awe-inspiring views of the Eiffel tower. This restaurant in Paris has a high-ceilinged terrace that directly faces the Seine River and Eiffel Tower. If you are dining in this place, you feel as if you are sitting right next to the Eiffel tower.
The menu includes a diverse collection of French and international dishes. The restaurant offers servings for lunch and dinner so whenever you plan to visit, make sure that you enjoy a full meal. For appetizers, you should try Vietnamese fried spring rolls while for the main course, you can enjoy their juicy steak with rice. For drinks, you can choose any cocktail of your liking.
The food is also reasonably priced as you can enjoy a meal within the range of €30 to 65. You can also visit the restaurant for brunch on weekends to eat fresh toast, pancakes, and pastries.
The restaurant has a minimalist architecture because of its marble and wooden flooring along with grayish velvet furnished chairs. The staff will definitely make you feel at home so that you can have a relaxing time. The atmosphere of the restaurant is quite casual and well-suited for large families.
You'll find 6 New York at a walking distance of 2 to 3 minutes from the National Museum of Modern Art in Paris. Not only do you get to see the iconic museum but you also get to bathe in the splendid views of the Eiffel tower up close.
The restaurant changes its menu according to the season. Therefore, if you visit the restaurant at different times of the year, you'll eat distinct food every single time! The price range of the cuisines is around €30 to 75. So, you get to enjoy fine dining for lunch or dinner with family and friends on a budget. The highly recommended dishes of the menu include tuna, foie gras, steak, lobster, and belly pork.
This restaurant in Paris also offers reservations for birthday parties and weddings. The atmosphere is cozy and casual. The decor includes large windows for natural lighting with modern furnishing and wall patterns. The staff is very accommodating so you'll definitely have a good time.
Exclusive Guide: Airlines That Provide the Best Meals: Hype Up Your Taste Buds at 30,000 Feet
Factors To Consider When Dining In Paris
You should take the following factors into account when eating in Paris:
The Diverse Community
Paris is popularly known as a tourist hub. You'll interact with a diverse group of people from locals, to tourists from all over the world to even LGBTQ+ activists. While in a restaurant you will experience diversity among the populace.
This might get overwhelming for you as the cultural shock is a huge element of surprise for any newcomer in Paris. However, you don't have to worry, people in Paris are quite accommodating and welcoming. Visiting a diverse community also presents a great learning opportunity.
So, all you have to do is be respectful and open-minded toward the people around you. Make sure that you don't say anything offensive or hurtful to the people around you because not only does it destroy their relaxing time but also yours through unnecessary arguments.
The Appropriate Time For Dining
The restaurants in Paris have a strict schedule for breakfast, lunch, dinner, and even late-night stays. For instance, you can't visit a restaurant before noon and expect the staff to serve you lunch because that will not happen in any case!
Though most restaurants near the Eiffel tower are flexible with their dinner and late-night schedules due to the high volume of tourists, don't make the mistake of arriving too early or too late. Not a single restaurant will disrupt its scheduled timing to serve you or your family.
So, the way to avoid such a hassle is arriving at the appropriate time for the type of dining you want to enjoy. You can also learn about the restaurant timings in advance through their websites.
Affordability
A full-course average meal at any restaurant in Paris, especially with the views of the Eiffel tower can cost around €50 -100. You already have an idea how the dining is not quite budget friendly for everyone. Some restaurants even don't offer a bottle of water for free!
You can still find plenty of casual eating spots all over Paris with affordable prices but these places will deprive you from the jaw-dropping views of the Eiffel tower. Still, you should prioritize a place that will offer great meals for large families on a budget.
Dining Styles
In Paris, you'll get to enjoy a luxurious and glamorous style of dining. The restaurants in Paris are famous for their fancy architecture, furniture, and servings. So, if you are someone who wants to have an upscale experience, you'll find the dining worthwhile.
However, if you are prone to a more casual atmosphere, then you can visit cafes and family restaurants. Most of the fancy restaurants are ideal for romantic dates or business lunches or dinners. So, if you are with your family, the children might not enjoy the visit.
How We Picked Our Recommendations?
When picking the best restaurants in Paris with Eiffel Tower's view, we went diverse with our selection of restaurants. This was done to ensure that we are able to provide a good meal for every person. No matter if you are a vegan or a big fan of meat, or even if you like continental meals, you will find a truly amazing restaurant on our list. Besides, we also took other factors into consideration such as ambiance, pricing, convenience, and customer service. To validate our opinion, we took into consideration the opinions of other guests as well.
Let's Dine In Paris!
Paris is a dreamland for every traveler and food lover! You get to breathe in tourist-friendly culture and also experience the diversity of the community. Not only do you eat in Paris, but you also get to see a wondrous human accomplishment, The Eiffel Tower.
Restaurants in Paris with Eiffel Tower View - FAQs
What is the best restaurant in Paris with a close view of the Eiffel Tower?
Le Ciel De Paris is the best restaurant to dine in if you want to enjoy an up-close view of the Eiffel Tower. Getting to see the entire city from a higher altitude is a big plus!
Is there a cheap restaurant near the Eiffel Tower?
Chez Francis is definitely an affordable place near the Eiffel Tower, where you can eat without worrying about the budget. The menu is priced reasonably, which is why you can enjoy food with a large friend group or family gathering as well.
Which restaurants in Paris offer Kid's menus?
The restaurants in Paris take the diversity of their customers into consideration. Almost all the restaurants have dedicated kid's menus. So, you can take your kids with you without any worry.