Food served on airplanes may be thought of as a separate culinary genre. It is safe to say that nobody ever looked forward to the flight's meal service; especially at altitudes of 30,000 feet, when even the most common foods taste strange. However, several airlines have made great strides in the last few decades to upgrade their in-flight dining options. Now more than ever, travelers may choose from a wide variety of airlines offering the very finest in-flight dining options.
The Best Food Is Served On These 5 Airlines
To stand out from the crowd and impress their most important clients, several airlines have begun to employ teams of world-class chefs. The following are the top 5 airlines in terms of the quality of the meals they provide.
Emirates Airlines
The government of Dubai, via the Investment Corporation of Dubai, owns Emirates Airlines, whose main offices are located in Garhoud. It is the largest airline in the Middle East, with the most daily flights while the airline's hub is Terminal 3 at Dubai International Airport. Its high-end menu is the product of a collaborative effort with chefs who focus on a variety of regional cuisines. The greatest aspect is that all guests get gourmet meals during the journey.
Food at First Class and Business Class
The menu may vary or be limited depending on the length of the trip, but complementary hot and cold beverages are always provided. If you are taking the morning flight from Dubai to London, for instance, you may have your breakfast of omelets, veggie frittatas, cereal, muesli, berries, and milk. Grilled chicken, beef striploin, anari, and halloumi topped with parsley and served with pickled olives and a hard-boiled egg make a hearty meal. You can have roasted chicken, herbed halloumi, veal, or cheddar on a sandwich, and caviar with whatever toppings you choose, for either supper or lunch. Meat eaters may feast on aromatic lamb chops, while vegetarians can have a tofu and pumpkin poke bowl. The menu would not be complete without some sweet goodies, such as lemon drizzle cake or chocolate brownies.
On the other hand, there is a chance, in a long flight like Dubai to New York, to have either smoked salmon with cream cheese, hard-boiled egg, capers, cucumbers, and onions, or an omelet with grilled chicken sausage, Lyonnaise potatoes, and creamed spinach for breakfast. A cereal of your choice is available if you would want something lighter. Traditional Arabic mezze such as moutabel, houmous, and muhammara, along with other dishes including coconut and white bean soup and rooibos-cured salmon, are available as starters. Enjoy a delicious meal of jalapeno-crusted kingklip, veggie biryani, and grilled beef steak. Mocha fondant lava cake and passion fruit yogurt mousse are served as desserts. In a nutshell, Emirates Business Class and First Class offer the finest meals among all airlines in the world.
Food at Economy Class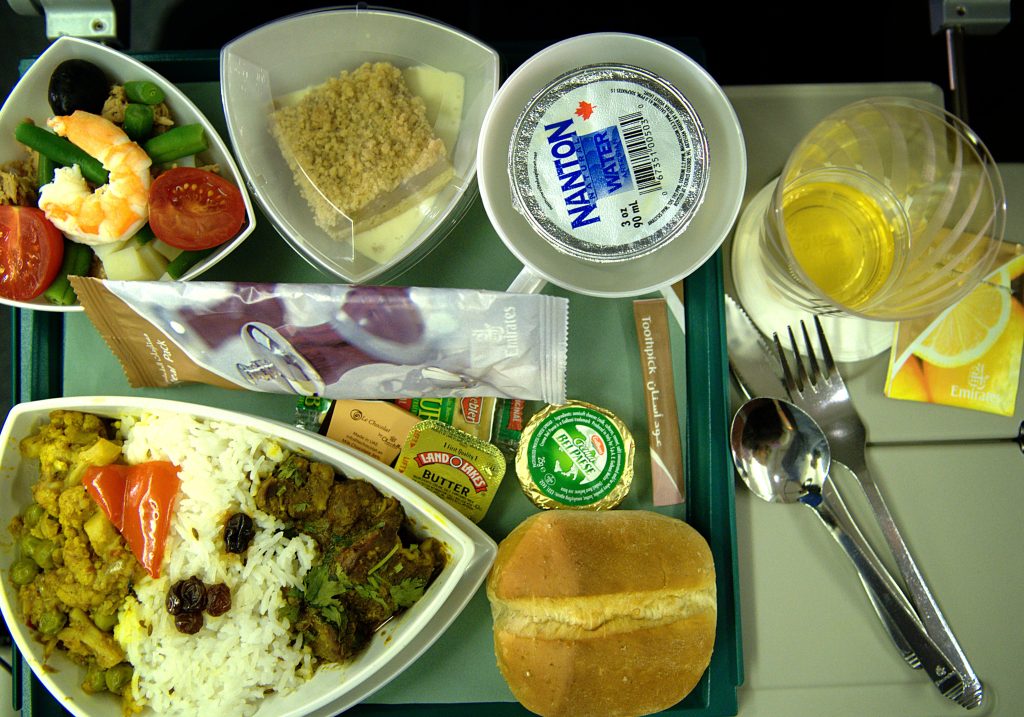 On long-distance flights, Breakfast will consist of Greek yogurt topped with granola and a berry compote. You can also choose from seasonal fruit, a cheese omelet, crepes made with chickpeas, and whatever kind of bread you choose. Also available are tea, coffee, and a variety of beverages, as well as a Falafel and tahini sandwich. Dinner options include cumin rice and okra masala with chicken in a rich creamy sauce or braised beef with veggies. To satisfy your sweet need, a delicious apple and blackberry torte is served.
There is also a chance that you will get scrambled eggs or a tomato omelet, a cheese plate, fresh fruit, and several loaves of bread at breakfast. Main courses including Bobotie and delicious Piri Piri chicken are served with a refreshing tomato salad as a prelude. Sweet milk tart with crème anglaise is served as dessert.
Recommended Reading: The Difference: Emirates Premium Economy Class vs Standard Economy Class
Turkish Airline
Turkish airline is Turkey's national airline. It is the biggest mainline airline in terms of passenger destinations, with scheduled routes to 340 locations throughout Europe, Asia, Africa, and the Americas. When it comes to in-flight dining, Turkish Airlines understands how to impress its passengers. A chef dressed in crisp whites and a tall chef's hat stands at the plane door to welcome incoming passengers. On long-haul flights, the "flying chef" is in charge of the meals provided in First and Business Class. Turkish specialties including simit bread, pita, kebabs, baklava, and mezze platters will undoubtedly be available throughout your journey.
Food at First Class and Business Class
The airline's website or mobile app will allow first- and business-class passengers to pre-order their main meal. You may check out the in-flight food options here, and pre-order from a choice of up to 44 meals before takeoff. Honeycomb, clotted cream, Anatolian hot pepper, tomato spread, and Ginger Pumpkin Soup with roasted pumpkin seeds are just some of the many delicious appetizers served on international flights in little bowls and platters. The main meal consists of BBQ beef stir fry, wok-fried spinach, jasmine rice, grilled seabass with Tuscan-style veggies, and pan-fried potato slices. Long-distance flights often have a dessert cart stocked with fresh fruit, cheeses, cakes, and pastries.
Depending on the time of day, passengers on domestic flights may expect to be served either hot or cold meals. Typical Turkish foods including shish kebab, karniyarik, manti, and imambayild are served on domestic flights.
Related: Staying In Dubai For A Week? Here Is A Complete Plan For Maximum Recreation
Food at Economy Class
Passengers on shorter international flights will be offered steak or pasta. To accompany the steak, there are some veggies and rice, a pea and yogurt entrée, and a decadent chocolate mousse for dessert. The airline serves a breakfast of scrambled eggs, toast, roasted tomato, a side dish of cheese and olives, and yogurt with a cherry on its long-haul foreign flights. Snacks are available between the two main meal services of lunch and dinner.
Passengers can choose either chicken or vegetarian dishes at the dining service. The hummus is the main course, and there is a fresh salad on the side (Olive oil is provided to drizzle over the salad). Chocolate mousse is served for dessert. Drinks such as a wide selection of bottled beer and red/white wines from Turkey and throughout the world, whiskey, gin, vodka, raki, homemade lemonade with fresh mint, soft drinks, tea, and coffee are offered on long-haul flights. On domestic flights, passengers can choose between a sandwich, Turkish meze, and dessert.
Singapore Airlines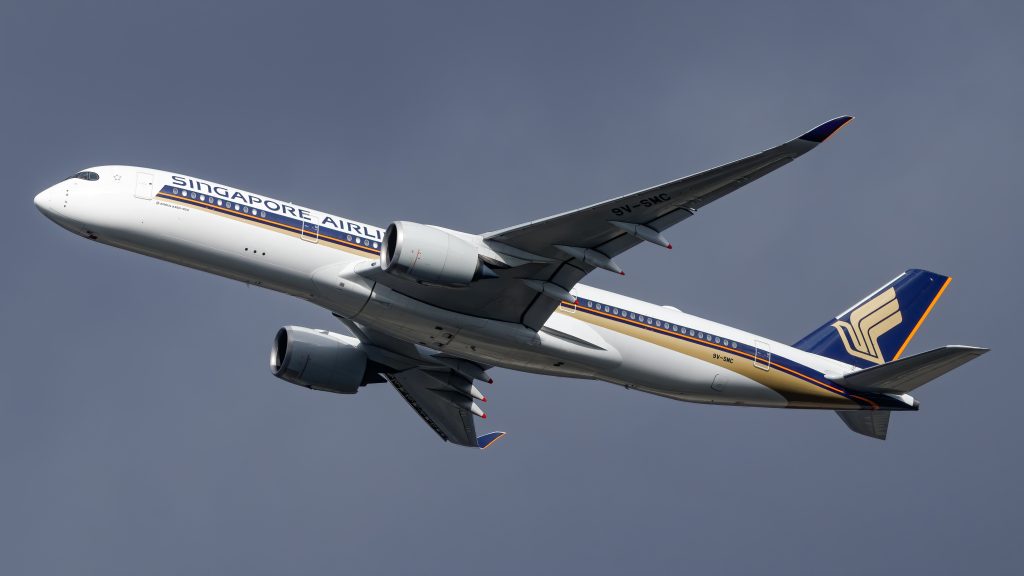 Singapore Airlines, whose base is at Singapore Changi Airport, is the national flag-carrying airline of the Republic of Singapore. Some of the most decadent and delicious in-flight meals are served on Singapore Airlines. Singapore Airlines' USP is their "Book-a-Cook" service. The airline has recruited the aid of the International Culinary Council to offer innovative menus and haute cuisine. Its members include eight world-recognized chefs. Australia, Italy, China, India, and the United States are all represented by chefs who are experts in their national cuisines.
Georges Blanc, the man of French cuisine, and Yoshihiro Murata, the kaiseki maestro, deserve special recognition. Since 1981, Mr. Blanc has been recognized as "Chef of the Year" by Michelin and has been awarded three stars. Mr. Murata also holds the record for the most Michelin stars in Japan. Singapore Airlines' in-flight menu, which has 50+ different options and is always expanding, includes Western, Asian, and ethnic cuisines.
Food at First Class
For those flying in the suites or First Class, a bottle of Dom Perigon Vintage 2004 will be waiting for them upon arrival. In-flight meals inspired by Mng Ji Zhen Zhuàn are an available choice for those flying from Singapore to China. The traditional Kyo-Kaiseki service is offered on Japanese flights (or if you select a Japanese in-flight meal). This meal first appeared after a formal Japanese tea ceremony in the sixteenth century. Shai Thali meals, developed by Sanjeev Kapoor, are served to passengers on flights to India. These dishes have an appetizer, two chutneys, one to four main courses, rice, Indian bread, and a sweet finish.
Food at Business Class
Children traveling in business class can choose their preferred kid's meal, while those in the latter's premium cabins can pre-order their preferred dish from the menu. Passengers will have Champagne, juice, and water available for them to choose from once they are on board. There will be a vast variety of dishes available on the in-flight menus, from starters to main courses to cheese and dessert. Wine (both white and red), Campari, Teacher's Highland Cream Whisky, Jim Beam Black Label Bourbon, Martell VSOP Cognac, Beefeater Gin, Smirnoff Red Label Vodka, Bacardi Superior Rum, Grand Marnier Cordon Rouge, and Baileys Irish Cream. Beers & Stouts from around the World are offered on the flight. Besides Soda water, ginger ale, 7UP, Singapore Sling, screwdriver, bloody Mary, and Bailey's white Russian are all on the menu. Faux libations, including mocktails made from orange, apple, pineapple, and tomato juice. Passengers can choose from a range of these drinks, including coffee, black tea, green tea, and peppermint tea.
Food at Economy Class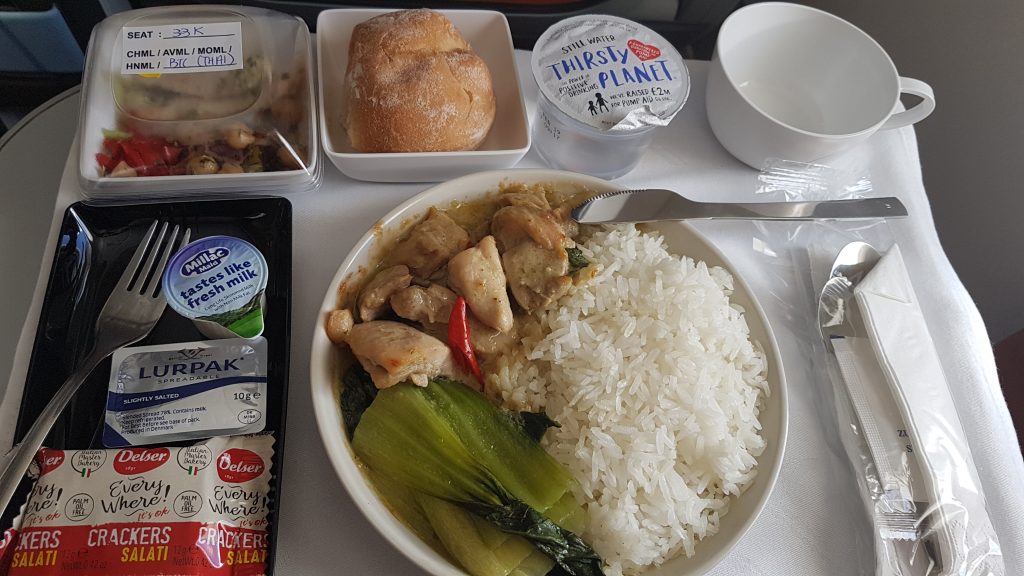 If your flight is less than 3.5 hours, you can expect a packaged meal as part of the airline's commitment to improving the customer experience by providing a wider selection of meals. At each of the two meal options, you can choose between a Western option and a locally influenced one. There are certain nighttime flights when passengers are only offered one meal and a drink before arrival. On flights lasting more than three and a half hours, you will usually get to choose between three different meals. If you have dietary restrictions, it is recommended that you place a special order.
Air France
The headquarters of Air France is located in Tremblay-en-France as it is the national airline of France. It is a subsidiary of the Air France-KLM Group and is a founding member of the SkyTeam global airline alliance. As of the end of 2013, Air France's global network had 175 scheduled passenger and cargo destinations in 78 countries, with 36 of those destinations located inside France. In-flight meals on Air France are a culinary highlight of the trip. Given its French roots, Air France is an airline that provides the best in-flight meals among the major airlines. There will be a variety of different cuisines available in addition to French. About every 10 days, the airline changes the menu.
Food at First Class and Business Class
Service à la Française (French style) is available to first and business-class passengers flying out of Paris-Charles de Gaulle to the cities of Los Angeles, New York, Seoul, Singapore, Shanghai, and Tokyo. Passengers can tailor their in-flight eating experience by selecting their meal options in advance. Japanese, Chinese, Korean, Indian, Thai, and Seafood are just a few of the menu possibilities. The Michelin-starred chefs aboard Air France's First and Business Class flights prepare the gourmet meals. Jointly developed with the Hotel Lancaster in Paris, Air France's new trademark drink is available in First and Business Class. All long-distance flights serve it as an aperitif, and they replace the stock twice a year.
Food at Economy Class
Champagne is served in economy class on long-haul flights. Long-haul economy class passengers may help themselves to a self-serve buffet of fresh fruits and vegetables, baked goods, tiny sandwiches, and ice cream. For an additional cost, economy class passengers may choose from one of six "a la carte" menus to improve their in-flight meal. These menus are:
Designed by the French company Fauchon, FAUCHON €28.00 ($38)
Recipes that are light and balanced, perfect for a healthy diet €21.00 ($22.8)
A kid's meal called "My Fun Menu" costs €13.00 ($14)
The Tradition Menu is a gourmet adventure via classic French dishes €18.00 ($19.5)
Take advantage of the Ocean Menu which consists of seafood €18.00 ($19.5)
The Italia Menu features dishes with Italian and Mediterranean influences €12 ($13)
Long-haul flights leaving from Paris, the United States (Houston, Los Angeles, New York, San Francisco, and Washington), Canada (Montreal, and Toronto), Africa (Abidjan, Dakar, Douala, and Libreville), China (Beijing, Guangzhou, Hong Kong, and Shanghai), South Korea (Seoul) and Japan offer the option to pre-order one of these meals (Osaka and Tokyo). Only flights leaving Paris will have the "Le Marché de Jean Imbert" (Jean Imbert's Market) and "Une Sélection LENTRE" (A LENTRE Selection) meal options.
Flights departing from French overseas territories, the United States, Canada, Africa, China, South Korea, and Japan are offering the Italia Menu. If you would pay using Flying Blue miles instead of cash, you can expect to spend between 4,000 and 8,500 miles for one of these menus.
Etihad Airways
Etihad Airways is one of the United Arab Emirates two national airlines (the other is Emirates). Khalifa City, Abu Dhabi is home to the airline's headquarters, which is conveniently located near the city's airport. Starting operations in November 2003, Etihad is one of the newest companies in the airline industry. A personal flight attendant will introduce you to the menu and assist you in making your selection, whether you would like a glass of premium champagne or some exotic fresh fruit as an aperitif. Moreover, supper will be made just for you, according to your tastes, and served whenever you choose. Fine china plates and crystal goblets are used for a select few foods and beverages.
Food at First Class and Business Class
Passengers With the help of the onboard chefs and the Food and Beverages Managers can choose from a comprehensive á la carte menu. On longer flights, passengers may choose from a menu that includes cereal, yogurt, steak sandwich, ice cream, fruit, cookies, and more, and it is available whenever they want it. A selection of Arabic and Western appetizers and four entrées is followed by cheese and three dessert options. The first-class passengers travel in The Etihad Residence which offers an in-flight chef that prepares a special meal based on what the passenger desires. It is a full-course meal and truly one of the scrumptious ones you could be having at 30,000 feet.
Food at Economy Class
Etihad's passengers may choose from up to three different main courses and a variety of alcoholic and nonalcoholic drinks. All of the food items are prepared with Halal ingredients. Economy class meals on Etihad have changed as of April 2019; instead of a salad and an appetizer, it serves a more substantial main course to the passengers. Passengers will now get their main hot meal first, followed by their tea or coffee and dessert, as per the revised eating sequence. Even on short flights, passengers are treated to a sweet finish to their meals.
Suggested Reading: Emirates, Qatar Airways, and Etihad Airways: The Ultimate Comparison
How Do We Pick Our Recommendations?
Our list of recommended airlines with the best in-flight food was compiled using the opinions of our travel team which has traveled more than 10,000 miles on different airlines. They provided their recommendation based on culinary variety and quality. To give our readers the most up-to-date and relevant material, we are always thinking of innovative ways to do so. The opinions of other passengers are taken into account as well to give you the most reliable information possible.
Final Word
In the interest of helping you narrow down your options and locate the airline which delivers the finest food and which is appropriate for travel, we have produced a quick list of the airlines that serve the best in-flight cuisine.
Best Food is Served on These 5 Airlines - FAQs
Which airline offers the most diverse menu options?
Singapore Airlines and Air France provide the most diverse menu options in the form of platters. The chefs of these airlines come from different countries which assist in preparing varied meals.
Which airline offers its traditional dishes?
Turkish Airlines and Air France offer their traditional cuisine to the passengers. Turkish Airlines offers not-so-spicy Turkish Cuisine while Air France offers French Meals like traditional seafood.
Which airline has the most variety of beverages?
Singapore Airlines offers the most vast and diverse variety of beverages including a wide range of world-class wines, sodas, and mocktails.
Which airline offers the best food in economy class?
Emirates airlines' economy class food is the best among all as they provide a proper meal including appetizers, main course, and sides.