The aviation industry has become one of the most competitive industries of the world. With gulf carriers pushing up the game with an extensive level of customer service and state-of-the-art aircraft, the competition has become even more intense. For the same reasons, the three major gulf carriers, Emirates, Etihad Airways, and Qatar Airways are in head-to-head competition with one another. If you plan on traveling via any of these airlines, the following guide will be quite helpful for you as it takes on an ultimate comparison of these three airlines.
General Overview
Let's begin with a general overview of each of these airlines.
Emirates
Emirates Airlines is owned by the government of Dubai via the Investment Corporation of Dubai and has its headquarters in Garhoud, Dubai. The airline's hub is Terminal 3 at Dubai International Airport and has the most number of flights in the Middle East every day, making it the biggest airline in the Middle East. It has 300 planes including Airbus A380, Boeing 787-10, Airbus A350, Boeing 777, and others. Emirates flies to over 150 destinations in 80 countries across 6 continents.
According to scheduled revenue passenger-kilometers flown and freight ton-kilometers flown, Emirates is the world's fourth-and second-largest airline, respectively. Around the middle of the '80s, Gulf Air reduced its flights to Dubai. Consequently, on March 15th, 1985, Emirates was founded with support from Dubai's royal family and the lease of two planes from Pakistan International Airlines. With an initial investment of $10 million, it had to be self-sustaining.
Qatar Airways
The government of Qatar founded Qatar Airways on November 22, 1993, and the airline began flying on January 20, 1994. Doha, Qatar is home to Qatar Airways' headquarters at the Qatar Airways Tower. From its hub at Hamad International Airport, the airline serves more than 150 international destinations in Africa, Asia, Europe, the Americas, and Oceania with its fleet of more than 200 aircraft.
The Qatar Airways Group has about 43,000 employees. In October 2013, the airline joined the Oneworld alliance. Most recent records show that Qatar Airways travels to 150 destinations and has 250 aircrafts in service. Forecasts show that Qatar Airways is set to become the most profitable airline of the Middle East soon as the company reported US$ 1.54 Billion profit for FY21-FY22, a record profit in 25 years since the company's formation.
Etihad Airways
One of the two UAE flag carrier airlines is Etihad Airways (the other is Emirates). The company's headquarters is in Khalifa City, Abu Dhabi, quite close to the airport of the same name. Etihad began business in November 2003. The Arabic meaning of the word Etihad is "Union" which depicts the motto of the airline "From Abu Dhabi to the World". The airline uses its fleet of 102 Airbus and Boeing aircraft to carry passengers and cargo throughout the globe, with weekly flight schedules that include more than 1,000 departures to 120 locations in the Middle East, Africa, Europe, Asia, Australia, and North America.
The Abu Dhabi International Airport serves as the organization's primary location. Etihad Airways owns a small percentage of the other airlines as well including Air Serbia (16.42% Equity Holding). Recent announcement by Etihad Airways showed that the company has also been one of the most profitable ones. It showed a profit of $296 million for the first half of 2022 despite an increase of 60% in the overall fuel costs. Apart from that, Etihad reported to carry 4.02 million passengers in the first half of 2022 which is an increase of 3 million compared to the first half of 2021.
Comparison of First-Class
Now that you are aware of the 3 airlines, let's head on to the comparison of their subclasses, beginning from first class.
Emirates
First-class guests flying with Emirates get a free limousine service to and from the airport. In case it isn't available, you are still picked in a top-class luxury vehicle such as Mercedes S-Class, BMW Series 7, Audi A8 and other such cars. However, as of recently, Emirates no longer offers a chauffeur service for First-Class reward ticket customers who book via affiliate airlines. Emirates First Class lounge is enormous and it gives the impression of a luxurious concourse suspended over the terminal's main floor. The suites, doors, and seats are framed in walnut wood, gold trim, and pearlized plastic, creating a luxurious but kitschy atmosphere. Two sliding doors provide access to the hallway and the suite which can be closed off to create a completely private room.
Emirates has the best and most plentiful meals among the three airlines offering a full 3-course meal. There are a range of gourmet dishes each of which varies by the flight. As an example, you can check the First-Class Menu of Emirates for Long-Haul Flights. Each passenger on an Emirates aircraft receives 10MB of complimentary Wi-Fi to use while in flight. First-class customers who are Emirates Skywards Blue Members are offered unlimited free Wi-Fi throughout the flight.
Emirates onboard bar provides hot and cold drinks, in addition to a wide variety of alcoholic beverages (including premium spirits, rare wines, sparkling cider, and specialty cocktails) by a professional bartender. Moreover, between the two restrooms at the front of the aircraft is a walk-up bar exclusive to First Class passengers. The bar transforms into a spa-like lounge complete with a mini-waterfall. In a nutshell, the Emirates First-Class experience offers a sensational and luxury experience like none other.
Qatar Airways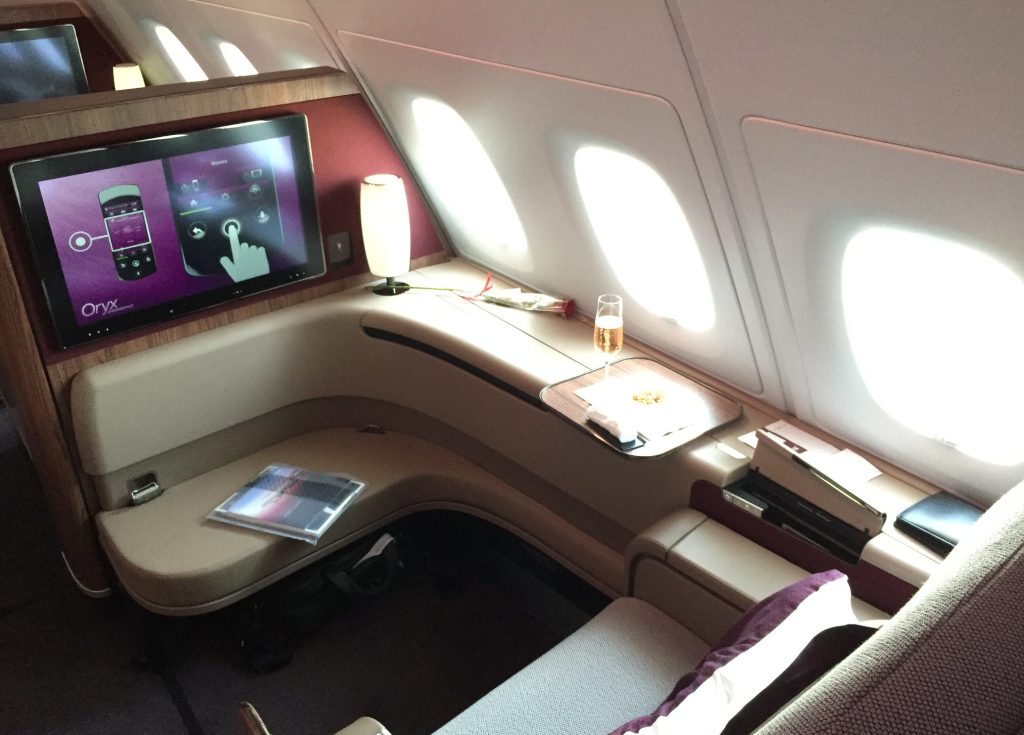 Qatar Airways does not provide free chauffeur-driven service to first-class passengers. However, a paid chauffeur service is available, the charges of which vary by location. It is hardly debatable that Al-Safwa, the Qatar Airways First Class Lounge in Doha, is the finest and most exclusive airline lounge in the world. The tall ceiling of the lounge hits you square in the face as soon as you walk in. The accommodations are also high-quality, with a spa, comfortable guestrooms, and a first-rate dining establishment. The lounge has beautiful flowers arranged under chandeliers that were influenced by the modern Arabian style.
As far as we talk about the First-Class Cabin, it is not enclosed, giving the modest First-Class cabin a much more open and expansive atmosphere. The interior design is exquisite, with a soothing color scheme of maroon (cushions, TV screens), beige (seats), and brown (walls, ceilings, and flooring) (wood panels). The First Class Suite is open. However, if you desire, you can raise a privacy screen. The seat is quite comfy and has very ample proportions.
Qatar Airways' in-flight meals are upscale, but the quantities are modest at 40,000 feet. There are several amazing options for in-flight meals. You can pre-select and order your favorite one from the moment you book your first-class ticket. First-Class guests of Qatar Airways get Wi-Fi at no cost. The onboard bar has two leather seats on each side of the bar, and the bar itself is curved.
Etihad Airways
Etihad also offers free chauffeur-driven car service to First-Class Passengers. Even while Etihad Airways' new Abu Dhabi lounge is not as luxurious as those of other Middle Eastern carriers' First Class lounges, it has a great selection of amenities. The First-Class lounge of Etihad features gourmet dining, a fitness room, a relaxing spa center, a dedicated concierge, relax and recline room, and the ability to choose from top-class drink options.
Up in the air, the first-class cabin looks chic in mostly silky beige tones with some dark wood details, creating an atmosphere that is reminiscent of a luxury apartment. The sliding doors to the apartments are located between two exquisitely designed walls that surround a narrow hallway leading to the front staircase. The ceiling's intricate lighting patterns create a soothing ambiance by reflecting images reminiscent of Arabian mosaics onto the walls and floor below. The first-class apartment contains a wide leather recliner and a separate bed. After the doors are closed for privacy, there is still plenty of room to move about.
The onboard chef makes Etihad a top choice, even though the quality of its meals is somewhat lower than that of Emirates. Etihad provides internet services beginning at $5 for 30 minutes. Etihad Airways features a lounge called "The Lobby". There is enough room for six people, and it comes with a TV, power outlets, and USB connections.
Comparison | First-Class 

Facility
Emirates
Qatar Airways
Etihad Airways
Chauffeur Service

Paid Chauffeur Car Service for up to 50 miles

Paid Chauffeur Car Service Available

Free Chauffeur Car Service

Lounges

Exclusive First-Class Lounge 

Finest and Most Recommended First-Class Lounge

Moderately Luxurious 

Cabin Design

Luxurious 

Provides an open and Expansive Atmosphere Making it Loud

Provides a feel of a Luxury Apartment

First Class Suite

Private Suite

Open but passengers can use a privacy screen 

Room with a wide leather recliner and a separate bed

Food

Best meals

Good but quantity is modest

Meals by an onboard chef

Wi-Fi

Complimentary 10MB 

Free Wi-Fi

$5 for 30 minutes

Onboard Bar

Hot/cold drinks and alcoholic drinks

The bar setting is influenced by the modern Arabian style

Bar with TV and USB connection
Comparison of Business Class
The Business Class of the three airlines is quite similar. However, a few differences set them apart.
Emirates
Emirates Airlines provides complimentary chauffeur-driven airport transfers for its Business Class guests worldwide. Although the Emirates lounge in Dubai is large and well-equipped, it lacks the sophistication and architectural grandeur of Qatar's Al Mourjan lounge.
Emirates Airlines operates wide-body aircraft such as the Airbus A380. Emirates' jets have ostentatious interiors that include tons of walnut veneer, gold trim, and pearlized plastic. The staggered 1-2-1 configuration of the seats aboard the Emirates A380 ensures that all passengers have direct aisle access, but the seats are not broad or spacious, which may be an issue for passengers who are very tall or large in stature. However, Emirates' new B-777 aircraft are equipped with complete lie-flat seats.
The Emirates amenity kit is offered in the form of a large toiletry bag, and it includes the standard toiletries such as a toothbrush, toothpaste, handkerchiefs, and deodorant. Gillette shaving foam and a razor are included in the men's amenity box, as are Bvlgari moisturizers and aftershaves. The products available in the women's amenity kit are specific to their needs. Emirates, however, exclusively provides them on its long-haul flights.
Qatar Airways
Airport transfers are not provided for free by Qatar Airways. Hamad International Airport in Doha, Qatar, is home to the world's most luxurious and aesthetically pleasing Business Class lounge: Al Mourjan. Qatar has the greatest airport lounge in the Middle East, however, outside of Doha, Qatar Airways has a limited number of lounges.
Qatar Airways' planes have flatbed seats that recline at a slight position. Business Class cabins are illuminated with LED lighting in the airline's characteristic burgundy color scheme, which also has marble-finish whites and warm rose gold accents. Passengers appreciate the wide, comfortable seats and easy aisle access provided by the 1-2-1 reverse herringbone configuration. Old Qatar planes have non-fully-reclining Business Class seats; while new planes have fully-reclining seats in a 2-2-2 arrangement. Private doors and the option to transform select seats into a double bed (for couples) or a quad suite make Qsuites the greatest Business Class seats in the world.
The chic Italian luggage manufacturer BRIC'S produces the softshell amenity packs used by Qatar. Socks, an eye mask, and earplugs are just a few of the essentials included in this bag for a long flight. Castello Monte Vibiano Vecchio's lip balm, moisturizing face mist, and moisturizer are all included.
Etihad Airways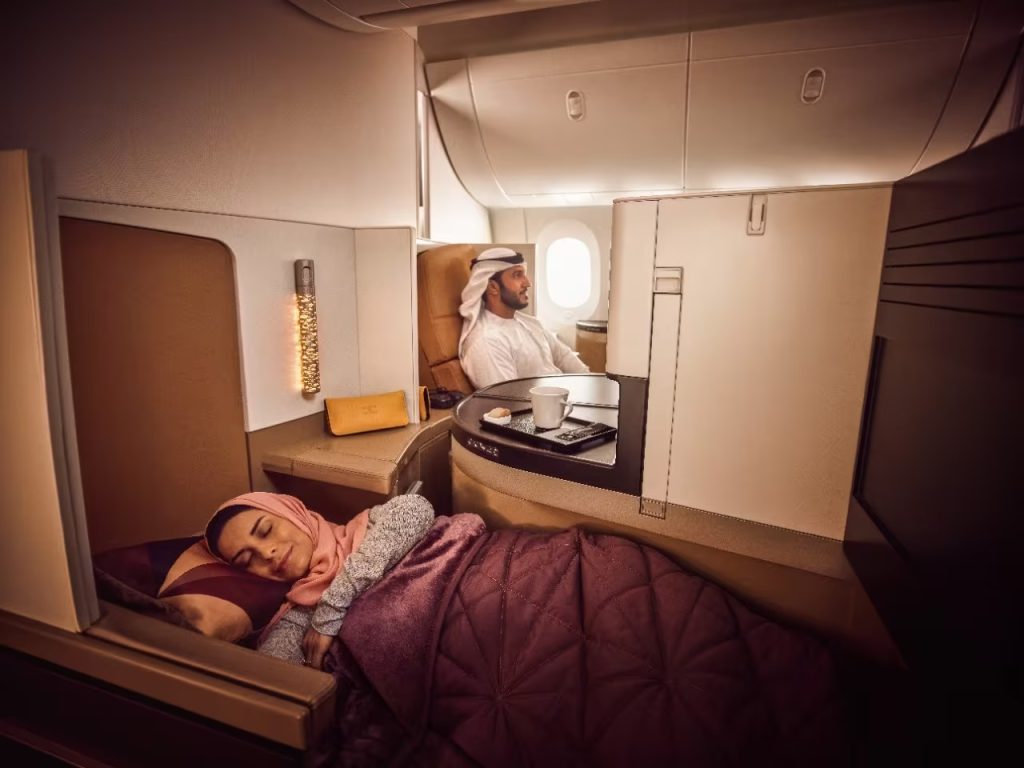 Etihad provides chauffeur-driven transfers to and from Abu Dhabi Airport. Although Etihad's lounge at Abu Dhabi International Airport is a beautiful, contemporary space with an appealing design, it can feel crowded during peak hours, and the airline has eliminated several amenities from the lounge in recent years due to financial difficulties.
With its wide-body aircraft, only Etihad provides entirely flatbed seats. Etihad's Dreamliner Business Class cabins (which the airline refers to as "Studios") are known for their high level of elegance and sophistication. The modern cabins provide a calming atmosphere thanks to the use of a neutral color scheme of beige tones accented with gold and copper. Business Studios are laid out 1-2-1 in a front and aft 'dovetail,' allowing for aisle access at every seat. This seating configuration ensures that all passengers have unrestricted access to an aisle seat.
The Etihad Business Class unisex wallet bag, designed in collaboration with Italian fragrance house Acqua di Parma, has a buttoned compartment that opens up to a sleek and convenient valet tray. Socks, eye covers, earplugs, and a dental kit are included, along with a Colonia sampling and hand cream.
Comparison | Business Class

Facility
Emirates
Qatar Airways
Etihad Airways
Chauffeur Service

Yes

Yes, but not complimentary 

Yes

Lounges

Large but lacks sophistication

Most luxurious and aesthetically pleasing

Beautiful but crowded 

Cabin Interior & Design

Walnut Veneer, Gold Trim, and Pearlized Plastic

Burgundy Color Scheme with Marble-Finish Whites and Warm Rose Gold Accents

A Neutral Color Scheme of Beige Tones accented with Gold and Copper

Cabin Seats

Seats are not broad or Spacious

Option to transform select seats into a double bed

Entirely Flatbed Seats

Amenity Kit

Exclusively on Long-haul Flights

Provides in all Flights

Provides in all Flights
Comparison of Economy Class
Economy class is the most traveled class on any airline. Let's see what each of the gulf carriers has to offer.
Emirates
The whole lower deck of Emirates' A380 is devoted to economy class, which has a 3-4-3 layout. The seats are spacious, with a comfortable recline and enough legroom, and well-organized, with convenient storage and convenient access to power outlets.
ICE is widely recognized as a top-tier entertainment platform, having scooped up several industry honors in recent years. A variety of entertainment alternatives from Hollywood classics to whole seasons of different TV series guarantees satisfaction. Passengers can connect to sluggish but affordable Wi-Fi. They also provide cozy semi-noise-canceling headphones at nominal rates.
Beverages and juices preceded the main course at each meal. It had a great variety of fresh drinks, and the cuisine was delicious and served with stainless steel cutlery. One can even opt for special meal requirements such as Kosher Meal, Hindu Meal, Vegetarian Meal, and other such options. During boarding, the crew members of Emirates were exceedingly friendly, even helping people with their luggage and showing them to their seats.
Qatar Airways
Economy seats are identical to business-class seats except for the reduced legroom comprising 32 inches. Oryx One, Qatar Airways' home entertainment system is not too far behind Emirates. Their interface is much simpler to use. However, there seemed to be a little less selection than on Emirates. The power outlets are not handy and the B777 planes in their fleet do not have Wi-Fi.
There is a wide variety of juices available in Qatar Airways. The meals are good and a variety is offered to the customers. Qatar's crew is in a class of its own. More so than flight attendants in other airlines' luxury cabins, they have been trained to be kind and helpful to all passengers.
Etihad Airways
As with Emirates, Etihad B787 and A380 both have similar seating. The seat's color scheme and style are both really attractive. The one-of-a-kind headrest design is unfortunately not adjustable. However, the seat is adjustable and there is an ample amount of legroom. One unique feature offered by Etihad and not other airlines is a neighbor-free seat where you won't be having any person besides you. It is available as an extra option for a small fee
Etihad has a decent entertainment system structure. Nevertheless, just a small handful of TV series episodes are available here. Also, the movie library is not as great as Emirates, but overall, the service is fine. Etihad provides Wi-Fi, but connection time out substantially sooner than Emirates' when the identical thing was done on both.
The airline provides a limited menu and a variety of juices. Etihad's service was once not as good as the European airlines. However, most recently, the airline has focused on better improvement.
Comparison | Economy Class

Facility
Emirates
Qatar Airways
Etihad
Seats

3-4-3 layout, comfortable with enough legroom

Identical to its business-class seats but with lesser legroom

Unique Headrest and Adjustable Legroom. Also Offers Economy Neighbour-Free

Entertainment

ICE is widely recognized as a top-tier entertainment platform

Oryx One is not too far behind of Emirates

Decent entertainment system structure but with a limited selection

Food

Delicious with a great variety of fresh drinks

Good meals with a wide variety of juices

Limited variety of juices

Service

Excellent Service

Excellent Service

Moderately Good Service
Comparison of their Airports
Now that you are aware of the differences among the classes of the three airlines, here is a comparison of their airport experience.
Dubai International Airport (Emirates)
The 60-year-old Dubai International Airport is a major transportation hub for the Middle East and one of the busiest airports in the world. The current size of Dubai International Airport is around 29 square kilometers. It contains five runways and three terminals, which are split to accommodate various air carriers. Terminal 3 is the hub for Emirates Airlines. The new Terminal 3 covers more than 1.7 square kilometers, making it the world's second-largest facility by floor space. It can accommodate 43 million people annually.
In an effort to improve the travel experience for passengers, Terminal 3 has implemented Smart Gates, where cutting-edge AI technology allows citizens of the United Arab Emirates to bypass the lengthy passport check lines often seen upon arrival. Passengers are able to go past passport control in a matter of seconds thanks to this cutting-edge technology, which just requires them to stare at a green light at the gate instead of scanning their personal documents.
An upgraded biometric system including both face and iris detection was implemented at Dubai Airport in early 2021. Therefore, passengers may now check-in for their journey, access lounges, board planes, and complete immigration processes without having to wait in line at passport control. There are several well-regarded eateries and other services available to passengers at Dubai International Airport. The airport's amenities are excellent, including duty-free shopping for high-end items, upscale eating options, shiny terminals, water cascades, active air conditioning, a wine cellar, a cigar lounge, and boarding at several levels for the majority of gates.
Hamad International Airport (Qatar Airways)
Hamad International Airport is the hub for Qatar Airways. The 22-square-kilometer airport, which has three terminals, is well-known for its cutting-edge commitment to empowering its customers via technology. To combat the spread of illness, HIA invested in cutting-edge tools and implemented innovative technical solutions. Such technologies included UV-cleaned luggage tunnels, thermal-aware screening helmets, and robots that disinfected surfaces on their own.
Additionally, HIA implemented contact-free services, which eliminated the need for passengers to physically interact with staff at many important touchpoints. Before the pandemic, HIA was used by more than 30 million passengers annually, and it is now also well-known for its museum-quality art program. There are ten free exhibitions located all across the terminal that showcase the newest works by internationally renowned artists and are open to all travelers. The airport also has a 100-room hotel, a high-end restaurant, plush business-class lounges, and a separate lounge for unaccompanied youngsters with play spaces for children, among other high-end facilities. The private theater, hydrotherapy pool, and squash courts are all available for passenger use.
Abu Dhabi International Airport (Etihad Airways)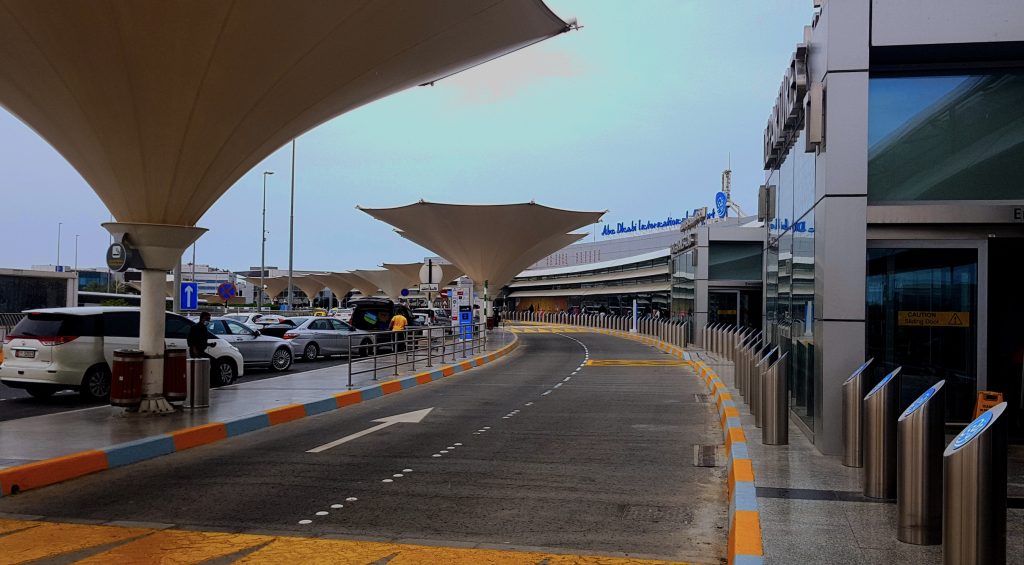 Abu Dhabi International Airport, built in 1982, which is the hub for Etihad Airlines, is the second busiest after Dubai International Airport. The airport's seven separate lounges, each offering a unique experience, are its main draw. While waiting for their connecting flight, passengers may relax in foldable "sleeping pods" or treat themselves to a little shopping therapy at a high-end boutique.
There is first-rate treatment for VIPs who use the airport terminal. The VIP terminal has its own parking and drop-off spaces, private check-in and immigration services, and limousine service to and from the airport. While the traveler relaxes and enjoys the VIP terminal's gourmet food, drinks, and entertainment options, a specialized service agent handles all of the tedious airport paperwork and procedures, such as the customer's baggage check.
Our Pick
If we consider all the options available above, we would recommend Qatar Airways as the best airline in the Middle East. While Emirates was once at the top, the level of service by Emirates has significantly dropped over the last few years leading to increased complaints by many. On the other hand, The Government of Qatar has not only supported Qatar Airways but also led to the development of Hamad International Airport which now has some of the finest services for customers. It is forecasted that Qatar Airways will soon surpass Emirates in terms of revenue.
Emirates, Qatar Airways, and Etihad Airways | The Ultimate Comparison - FAQs
Which Middle Eastern airline provides the best lounge for first-class passengers?
Qatar Airways' Al Safwa lounge at Doha is the finest and best lounge for first-class passengers.
Which Middle Eastern airline's first-class food is the best?
Emirates Airlines provides the best meal to first-class passengers.
Among the Gulf carriers, which airline has the most comfortable seats in business class?
Etihad provides entirely flatbed seats which are extremely comfortable.
In Economy class, which Gulf carrier provides the best Entertainment System?
Emirates entertainment system is by far the best among the three Gulf carriers