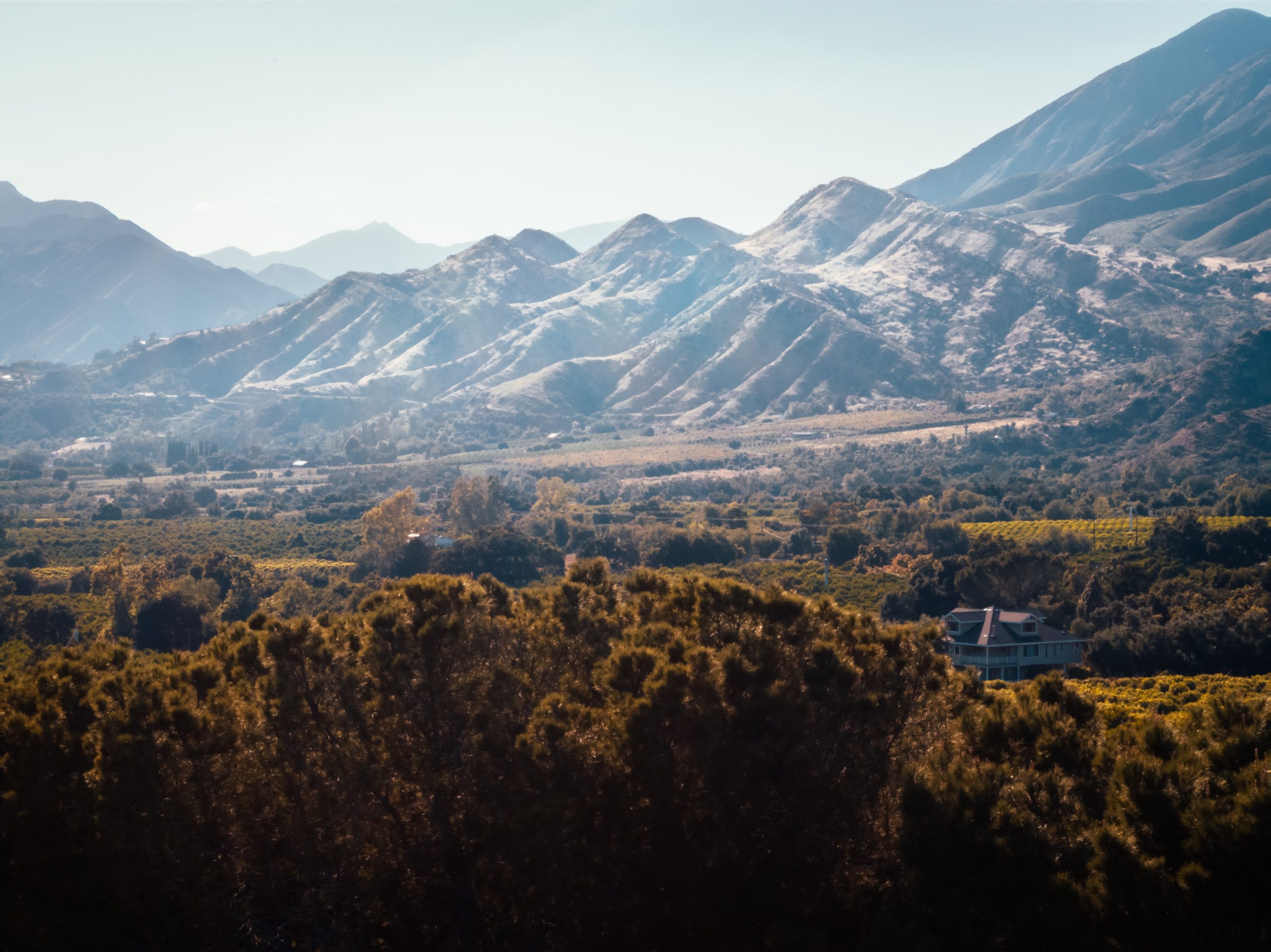 Ojai is renowned for being a picture-perfect city getaway north of Los Angeles, with the stunning Topatopa Mountains serving as a dramatic backdrop. Being a nature lover, Ojai is the ideal destination for a long weekend or a vacation with family because of its limited yet amazing town life, incredible restaurants, hiking trails, and farmers' markets. Keep reading to find out the best things to do in Ojai to help plan your next journey. If you're looking to add more adventure to your trip, consider taking a day trip to San Francisco, here are 10 things to do on your day trip in San Francisco.
Best things to do in Ojai for a Worthy Trip
Ojai provides the ideal balance of adventure, nature, and relaxation! There are numerous exciting things to do in Ojai, California to keep you entertained. Following are the 11 best ones we recommend you visit.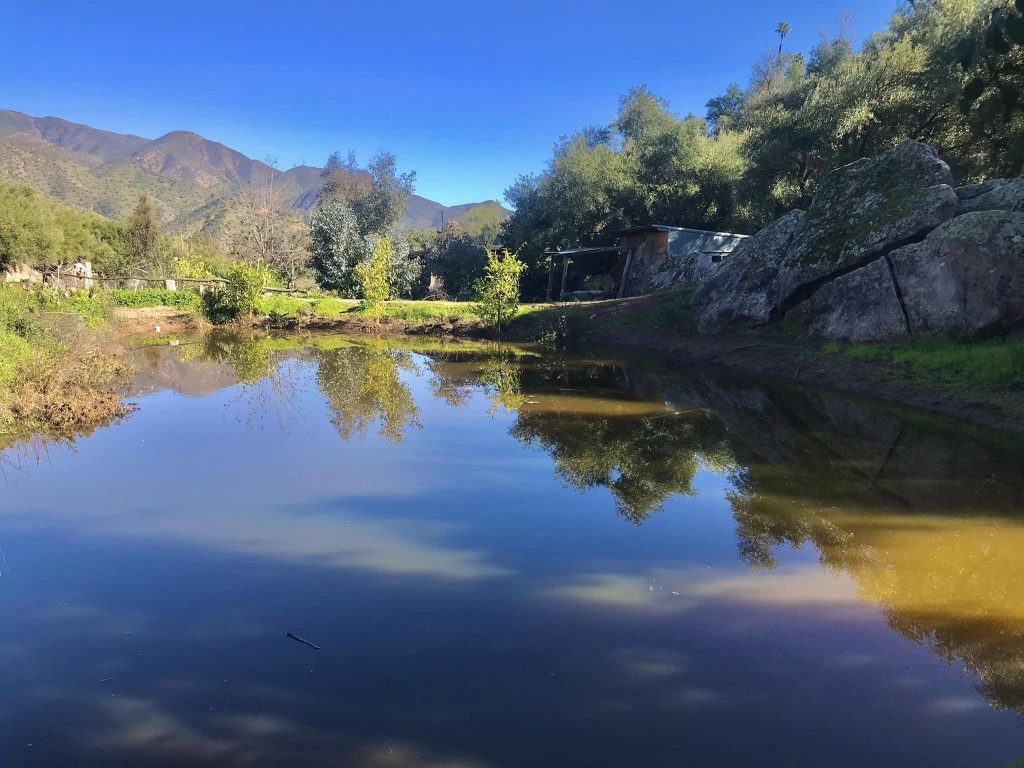 One of the best and most unusual activities in Ojai, California, is tasting olive oil. Ojai Olive Oil is a family-run farm that has been producing olive oils from 150-year-old olive trees for years. It is situated on Asquith Ranch at the eastern end of the Ojai Valley. Visitors are welcome to the property Monday-Sunday, 10 AM – 4 PM. The best part is that you don't have to book a reservation to visit this place.
The Mediterranean climate is perfect for agriculture, and Ojai Olive Co. takes pride in having some of the valley's healthiest trees. You can take a self-guided tour of the facility. You can sample the olive oils at the Ojai Tasting Room Carolina Gramm for just $10 per tasting. The tasting room is about a 10-minute drive from Downtown Ojai.
Ask the staff if you want to learn more about olive oil! You will learn about the production of olives, and how extra virgin olive oil is obtained, combined, and finally bottled. They can instruct you on a variety of topics, including how to tell good olive oil from bad, how to pack olive oil, and much more. This place is a nature lover's dream come true.
Pro Tip — Make sure to buy some olive oil. Some of the best olive oil you will ever taste is bottled fresh from the barrel within days of manufacturing.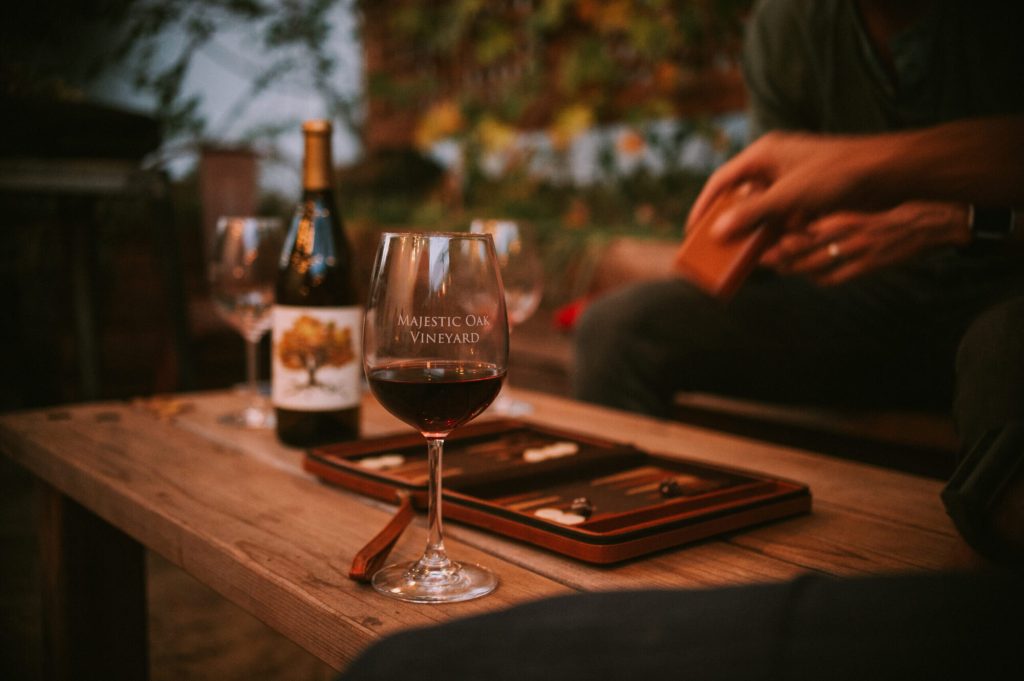 Family-run Majestic Oak Vineyard was established as a result of its love for crafting mouthwatering wines. The vineyard was given the name after the magnificent oak tree. Since 2015, this vineyard has been providing flavorful wines to the community and has steadily developed into a well-liked gathering place for both locals and tourists.
The majestic oak tree that has stood in the middle of the vineyard for years is one of the vineyard's standout features. People typically visit The Vineyard every year to pick grapes during harvests which is a fun activity for someone interested in nature.
Additionally, the vineyard has a stunning tasting room where you can sample their tasty wines. The Ojai Vineyard also hosts a number of events all year long, such as wine dinners and live music. For a romantic evening, the vineyard also provides wine tastings and private tours.
You can visit Majestic Oak Vineyard on Sunday-Thursday 12 PM – 5.30 PM while Friday timings are 12 pm- 6:30 pm. The most popular time to visit this vineyard is from 12 PM – 4 PM.
Pro Tip — Reserve your spot in advance because these events frequently sell out very quickly.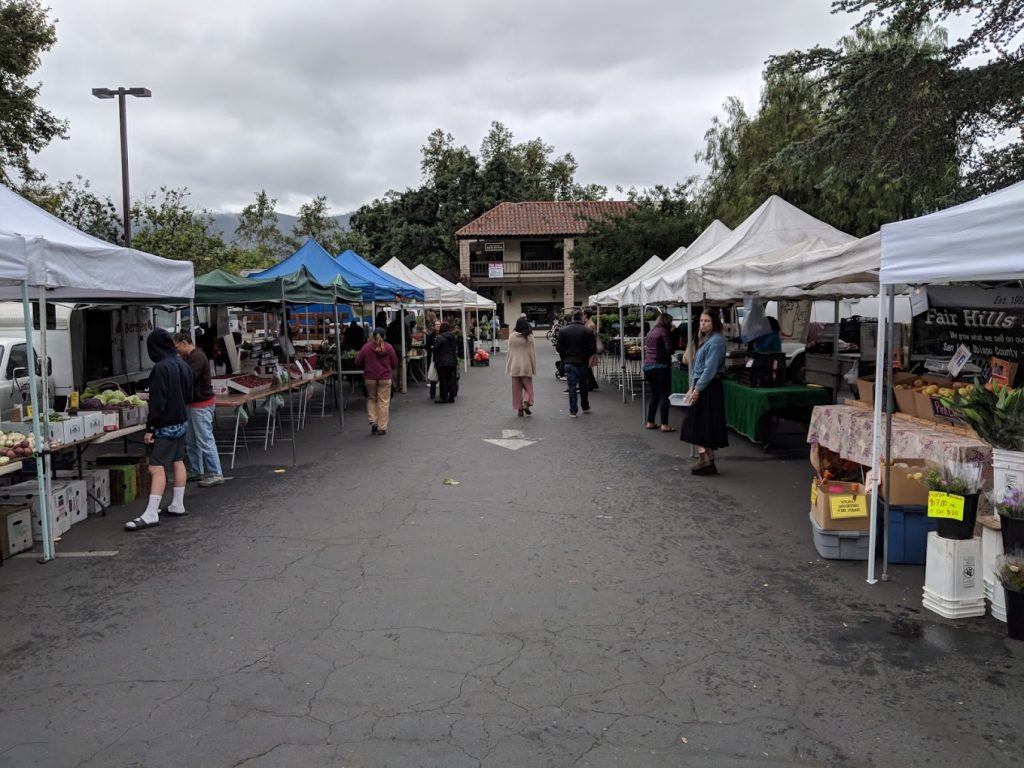 One enjoyable thing you should do in Ojai is shop at the Ojai Farmers' Market if you want to experience the town's true hype.
Two well-liked farmers' markets are located in downtown Ojai, and if you're staying for a long weekend, you should be able to visit both of them. The Ojai Community Farmers' Market is open on Thursdays from 3 PM to 7 PM at 414 E Ojai Avenue whereas the Ojai Certified Farmers' Market is open on Sundays from 9 AM to 1 PM at 300 E Matilija St.
Each market has a huge selection of products from regional vendors, including fruit, vegetables, cheeses, flowers, and more. Every weekend, the markets are bringing a different vibe with live music, interesting people, and, of course, delicious organic food and produce with a specific "Ojai taste".
The good thing is that once you're finished exploring the market, it's simple to stroll through town because it is situated in the center of the downtown area (on Matilija Street). The streets around the Ojai Certified Farmers' Market have many spacious parking lots so you need not worry about your car.
Don't skip a quick walk through the neighborhood park or the Sunday farmer's market in Ojai. Grab some fruits while you're at the market; Harry's Berries strawberries are to die for!
Recommended Read: 10 Clubs In LA You Should Visit For A Life Time Experience
Did you know that the world's largest outdoor bookstore in the world is located in Ojai? One of the best things to do in Ojai, regardless of whether you're a big reader or not, is to stop by Bart's Books. The store is open from 10:00 am to 6:00 pm seven days a week.
You can discover Bart's Books, a corner cottage covered in bookcases even on the exterior walls if you proceed down Matilija Street. The indoor/outdoor bookstore, a mesmerizing location for book lovers, holds both new and used books. The bookstore sells books from $1 to thousands.
There is something for everyone in the large collection, which includes topics like travel, art, cooking, and even self-help. Bart's Books may seem like a maze when you first enter it, but getting lost there is only half the fun. Another fact is, you can relax and read the books you've chosen under the magnificent lemon tree that is located in the center of the building making it ideal for all the book lovers to enjoy the serenity and have a memorable experience.
Pro Tip — If you're struggling to locate Bart's books, just look for the bold red outdoor bookshelves.
Even though Downtown Ojai is small, it is jam-packed with extraordinary stores that are unique to Southern California. This is one of the most enjoyable and child-friendly places to visit in Ojai.
There are no major retail chains in Ojai. Ojai forbids the operation of large chains with five or more locations. Therefore, by dining and shopping in Ojai, you are assisting small, family-run businesses.
You can visit the boutiques and other smaller shops in Downtown Ojai for handmade jewelry, plants, furniture, clothing, and other items. You'll adore exploring the shops in Downtown Ojai if you enjoy shopping for unusual items. In Ojai, shops like Summer Camp, In the Field, and Plant Based are some of the prettiest and trendiest. If you are into souvenirs, Downtown Ojai can be a great spot!
One of Ojai's top restaurants, Nocciola, is only a two-minute stroll away. If you're hungry after all that walking, stop by Nocciola and enjoy the delicious food.
The ideal location to enjoy nature in Ojai is the Rose Valley Campground. It is located at The Los Padres National Forest located at 1980 Old Mission Dr, Solvang, CA 93464. Rose Valley is about 30 minutes drive from Ojai.
There are several hiking trails close by, and the campground's river is perfect for swimming and fishing. There is a half-mile trail that is perfect for hiking because it leads to the base of a stunning waterfall. Come with the entire family as the campground has picnic tables, grills, and fire pits. It is one of Ojai's most well-liked campgrounds thanks to its many facilities. At the campground, there is also a free parking spot outside. However, you will be paying $20 for a night's stay at the campsite.
When visiting this place, you should also think about bringing a camera. One of Ojai's most picturesque locations is the campground, which is surrounded by aspen groves, cottonwood trees, and wildflowers. You will be seeing many natural elements that you would have never seen before. Ideally, all these features make it one of the most popular spots for families in Ojai, California.
Pro Tip — A reservation should be made in advance because the campground is frequently full in the summer.
Ojai is an incredibly beautiful place to go hiking because it is surrounded by mountains. The Los Padres National Forest is best if you prefer more difficult hikes, while Ojai Meadows Preserve is a perfect site just outside the city for long walks.
The Wheeler Gorge Nature Trail and Rose Valley Falls are two of the more well-known hikes that you can easily access. Additionally, try to end your hike around sunset to catch the "Pink Moment." It's a lovely fairytale ending to the day. The Ojai Meadows Preserve is the best place to be with friends or family for a nature lover.
When the sun sets and casts a dramatic rosy/pink glow across the Topa Topa Mountains, Ojai experiences its mystical "Pink Moment." The Topa Topa Mountains act as a mirror to reflect and diffuse the light over Ojai Valley in Ventura because this sunset, unlike most others, comes from the east. The pink turns to a faint red with perhaps a hint of peach as the sun continues to set toward the horizon. No matter what you decide to do while on vacation in Ojai, you should make an effort to see at least one of these sunsets.
This also makes it one of the most romantic places in Ojai that you shouldn't miss for a great trip!
Editor's Pick: 2 Hidden Pools in Laguna Beach You Must Visit
Enjoy at Lake Casitas
View Website
Get Directions
PERFECT FOR: Enjoying Activities like Disc Golf, Water Sports, Food, and Spotting Scenic Beauty
You do not want to miss the adventure that is located ten minutes away from Ojai! An artificial reservoir called Lake Casitas is ideal for a day of boating, fishing, swimming, or simply "chillaxing" in the sunshine. The lake offers breathtaking views of the surroundings and is located in the foothills of the Topatopa Mountains. You get to pick your camping location, from sites by the lake where you can hear the water gently splashing to sites surrounded by tall trees where the sound of chirping birds serves as your alarm.
The numerous campsites scattered around the lake allow guests to camp there as well. If you want to discover more of the region, many hiking trails follow through the mountains. To reach the lake, you can also take a beautiful drive down Highway 33. You will undoubtedly enjoy your time at Lake Casitas no matter how you choose to spend your day.
The Lake Casitas Recreation area surrounds the lake and has a water park, a disc golf course, boat and kayak rentals, a lake view cafe open for breakfast and lunch, a playground for kids, biking, picnicking, and other facilities. However, swimming is not allowed in the lake because it is used for drinking and needs to be kept clean.
Be sure to stop off at the luxurious 31,000-square-foot Ojai Valley Inn resort while touring the city of Ojai. Customers are urged to visit Spa Ojai and take advantage of all the essential facilities available, which will help them feel relaxed. It is a highly recommended place for couples.
The spa provides a wide range of massage services, including body polishing, sound energy therapy, and body wrapping, in addition to other amazing services like facials, nail services, and much more. If you're about to end your trip, consider ending it by visiting this Spa. Also, check out The 15 Unmissable Massage Experiences in Santa Ana.
The reason why this place is ideal for your next trip to Ojai is that it offers breathtaking views of the surrounding landscape, which is characterized by majestic oak trees and other necessary attractions. These attractions encourage the process of rest and relaxation. Two impressive pools, a well-equipped gym, an apothecary, a cottage for artists, and a spa boutique are all included in Spa Ojai.
However, this activity is relatively expensive. We recommend you visit the website before heading here so you can plan your budget accordingly.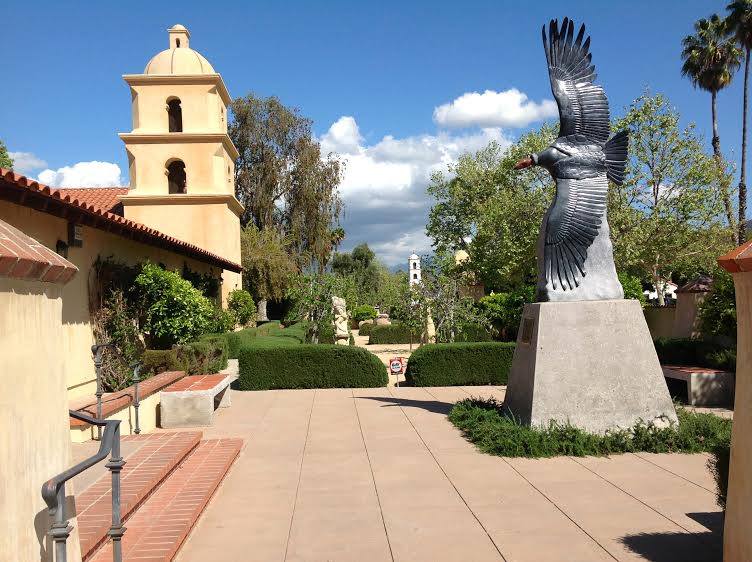 The Ojai Valley Museum is located at 130 W Ojai Ave, Ojai, and is surely amongst the best things to do in Ojai, particularly if you're interested in learning about Ojai's history. Families can explore the small museum's displays of the development of the Ojai Valley, which include Chumash cultural exhibits, artwork created by a nearby Ojai family, a Chumash Interpretive Garden, and much more.
The Museum gives Saturday morning 90-minute walking tours of downtown Ojai during the winter time. For admission, $5 is a ticket for adults and $1 for those between the ages of 6 and 18. Under-six-year-olds are admitted free. The Museum is open from 10 am to 4 pm on Fridays, Saturdays, and Sundays.
Pro Tip — There is a tourist information office on one of the building's corners. To make the most of your trip to Ojai, stop by here and register for the Saturday at 10:30 a.m. historic walking tour of the city, which contains admission to the museum.
Things to Consider Before Traveling to Ojai
Keep the following essentials in mind before you plan on traveling to Ojai. These tips will help you have a better stay in the city.
Booking a Hotel — before you plan your trip to Ojai, the most crucial thing to consider is the location of your hotel. For a memorable trip, your topmost priority should be choosing a hotel that'll provide you access to most places nearby. You'll be able to cut your travel expenses significantly this way. If by any chance you opt for a hotel that is at a great distance from the sites, you might not have enough energy spared for enjoying your tour due to all the traveling. Our recommendations for the best hotels near the center of the city are Ojai Valley Inn, Chantico Inn, and The Capri Hotel.
Safety — One thing you must never compromise on is safety. You need to exercise extreme caution when taking trips to Ojai's lakes and valleys. It is important to be aware of the wet conditions. Therefore, be sure to check your safety equipment and be prepared. The security of both you and your child must come first if you are a parent. Make sure your child is always under your supervision.
Timings — When planning to visit spots and places in Ojai, California, make sure to keep the timings in mind. For a family, the best time to visit places like Rose Valley Campground and Majestic Vineyard would be during the morning or the daytime. For activities like Sun-hiking, you will have to wait for sunset to see the pink moment. Therefore, it is crucial to consider the timings before setting out on your adventure. Places like the Downtown Ojai can be easily accessed during the night so you need not worry about the timings to visit there
How We Pick Our Recommendations?
When recommending the best place to visit for nature lovers in Ojai, California, we chose a variety of spots, locations, and activities so that you and your family can enjoy the most out of them. People who are inclined to taste and try things out for free should visit Olive Oil co. and Topa Mountain winery. If you feel like being an explorer and embarking on an adventure to enjoy nature, consider going to Rose Valley. If you're looking for more outdoor adventure, check out Top Idaho's Small Towns To Open The Road To Adventure.
We take into account the suggestions made by other travelers when making our choices. This guarantees diversity and incorporates the views of numerous other tourists who have visited these locations and also ensures you get the best out of your trip!
Let's Head to Ojai
Now that you are aware of the best places to visit in Ojai as well as important things to consider before going, it's time to pack your bags and head over to the airport! Ojai is waiting for you with all the amazing activities
FAQs
Things to do in Ojai - FAQs
What are some of the best places to visit in Ojai?
Some of the best places to visit in Ojai include Ojai's Farmer Markets, Downtown Ojai, and Spa Ojai.
What can you do in Ojai for free?
You can visit the Topa Mountain Winery, and visit Lake Casitas for free in Ojai.