Sushi and Japanese food is the category of food that isn't something anyone would prefer to have. It requires a certain taste development for anyone to appreciate its worth. To be able to differentiate between a good plate of sushi and an average one is an art. What's harder than that is to pick and choose a list of the best sushi places around you. That is why we bring you a fully researched list of the best sushi in Laguna Beach for the people of orange county and from worldwide visiting Laguna Beach. Also, check out the list of best sushi places in Santa Ana, and Norfolk!
Best Sushi in Laguna Beach
Whether you're a local or a foreigner, as long as you're out on the hunt for great sushi then you have landed absolutely at the right place. With direct links to each restaurant and images of some of their mouth-watering dishes, we have you covered with our list of the 15 best sushi places in Laguna Beach. A brief overview of what you'll most likely be experiencing in your visit to each restaurant is also given to make your decision easier. Happy sushi eating!!
242 Cafe Fusion Sushi
In this little eatery, you will find yourself in awe of the sight of food for a change. The chef at 242 Cafe Fusion Sushi makes sure you experience an art gallery vibe in her cafe. The food you order will be made sure to reflect the love and labor that went into making it.
Beware! the sushi that you find here will be nothing like your average sushi. Be prepared to experience a blast of multiple flavors in each bite yet all flavors compliment each other like they're parts of one whole art piece.
Another heads up for you is to not ask for soy sauce because you will instantly be refused in order to ensure the signature flavor of each dish.
The only reason you will refuse to eat sushi there will be because of its beauty and innovation.
Address: 242 N Coast Hwy, Laguna Beach, CA 92651, United States.
Specialties: Laguna Canyon Roll, Sexy Hand Roll, Chef Miki, and Spicy Tuna Roll.
Rebel Omakase
In other news, this restaurant has been making its name among some of the world's renowned food critics. Rebel Omakase opened not so long ago but hit the bull's eye in making delicious sushi. Having hit the right notes with taste, this eatery makes sure to give you the most intricate and flawless form of food presentation. Can you name a better combo? We definitely can't.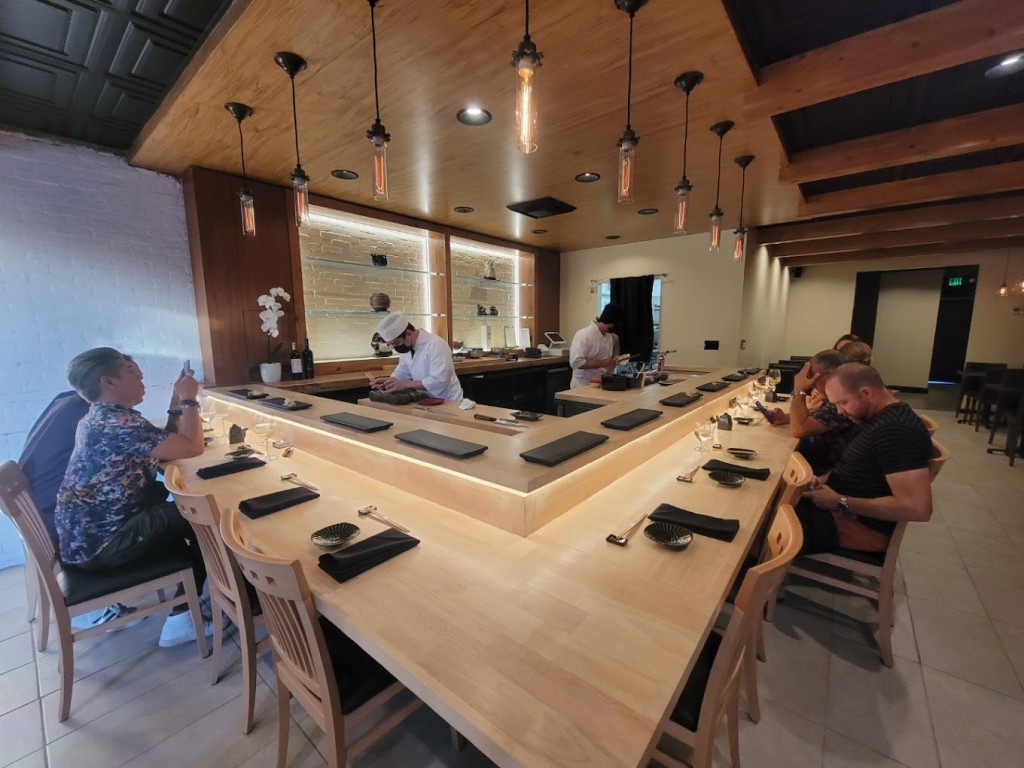 Rebel Omakase has a super elegant decor yet is modest in its vibe. Another reason to fall in love with this restaurant is their composed and self-assured staff who would go the extra mile to make your time worthwhile.
Address: 361 Forest Ave Suite 103, Laguna Beach, CA 92651, United States.
Specialties: Toro, Wagyu Beef, Chawanmushi, and Otorro Handroll.
San Shi Go
If you've ever been to Japan and then happen to visit Laguna Beach, San Shi Go will give you an intense flashback of your time in Japan. Starting from the warm welcome as you enter the restaurant, to the shiny sushi glass bar. Everything will be a true depiction of Japanese culture and heritage.
You will not just be eating sushi here but learning about each fish and its origin from the chef as you try to place your order.
Afterward, your meal will be prepared right in front of your eyes as your appetite continues to grow. They have seasonal varieties along with classics available all around the year among others.
Address: 858 S Coast Hwy, Laguna Beach, CA 92651, United States.
Specialties: Backflip Roll, Salmon Lemon Roll, Crispy Rice Spicy Tuna, Seared Salmon Roll, and Baked Halibut Roll.
Also Read: 25 Steakhouses to Try in Laguna Beach
O Fine Japanese Cuisine
Of all the sushi places in Laguna Beach, this restaurant will be friendly to your taste buds and to your pocket as well. Be ready to get your hands on an ample amount of food for your money. So you might want to be a little careful with how much you order per person.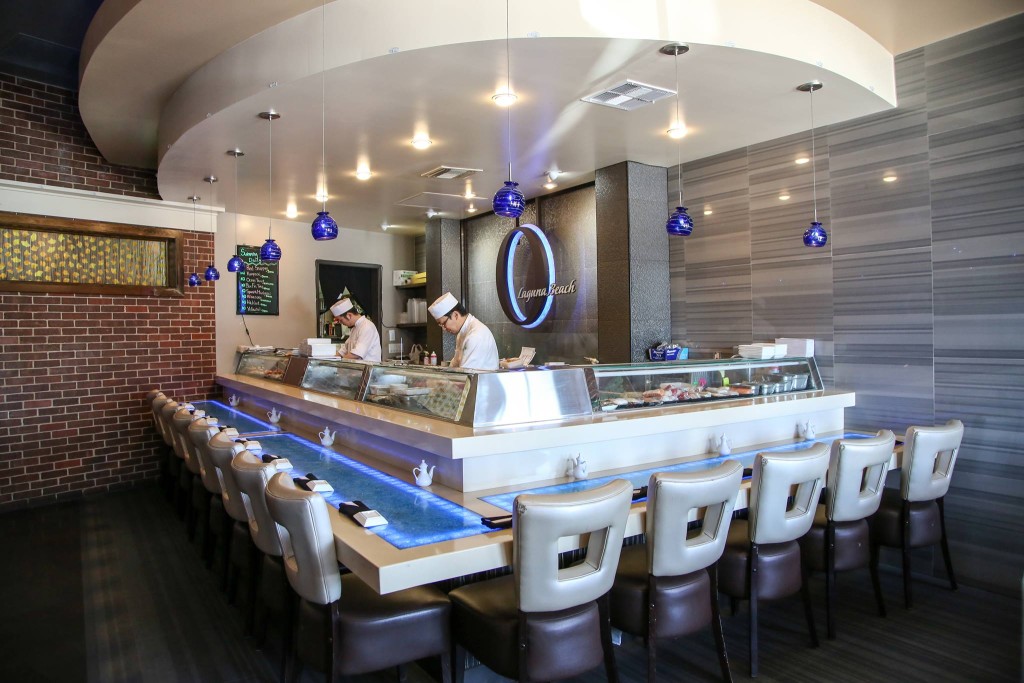 Some of O Fine Japanese Cuisine's best items include a vast variety of sushi rolls which will definitely leave you drooling.
Most important of all, customers are all-praise for the quality of fish they use. No wonder it is so fresh because it is sourced on a regular basis from Tokyo.
Address: 30872 Coast Hwy, Laguna Beach, CA 92651, United States
Specialties: Yellow Tail, Sexy Laguna Roll, Salmon Lemon Roll, O Roll, Baked Lobster Roll, and Soft Shell Crab Roll.
Starfish
This place undoubtedly offers some of the best sushi in Laguna Beach truly because of how hard their team tries to give you the best experience.
However, their decor and ambiance have a specific dark candlelight and music vibe to them – not everyone's cup of tea. So you want to make sure whether you're in the mood for something dark and intimate.
Some people find the low lighting very inconvenient while reading the menu yet others ended up getting a romantic experience out of it.
However, if you decide to give Starfish a shot, try to aim for the happy hour and you will most likely find a seat sooner. Their menu has items that you can never go wrong with and it will have you coming back again.
Address: 30832 S Coast Hwy, Laguna Beach, CA 92651, United States
Specialties: Lobster Macadamia Roll, Shrimp Lettuce Wrap, Wild Thai Halibut in Banana Leaf, and Mahi Mahi Hot Fish.
Seabutter
When trying to find the right sushi, this restaurant turns out to be a local's favorite. One of the many reasons is their extremely soft-spoken and friendly staff. They will make sure to go out of their way to accommodate your needs. Another reason is their special items menu, which is mostly available on Friday and Saturday as it is directly shipped from Japan.
If you're the type looking for a fancy dine-in then this is not your place to go. However, if you want to have some of the best sushi in America, then you should definitely try out this place.
Seabutter also has something on its menu for those who are on a strict keto diet. Who knew dieting could be fun!!
After a filling meal of sushi, be sure to explore the beautiful surroundings and enjoy some of the best camping experiences in Laguna Beach.
Address: 1100 S Coast Hwy Suite 303, Laguna Beach, CA 92651, United States
Specialties: Salmon Truffle, Spicy Salmon, Sunset Roll, and Pressed Salmon Sushi.
Sushi Laguna
Located right near the beach, Sushi Laguna restaurant has the perfect location for its customers to enjoy the best sushi in Laguna Beach.
This place has been a local's favorite with good reason – they prepare their dishes from scratch. This ensures a burst of flavor in each bite along with freshness.
Sushi Laguna has a huge variety of Japanese food on its menu along with other varieties. They are extremely creative with sushi rolls and their servings are humongous. Moreover, you don't have to wait for ages to get your order. Who wouldn't want that?
Address: 231 Ocean Ave Laguna Beach, CA 92651
Specialties: Bikini Roll, Devil Roll, Sweet Shrimp, Salmon Lemon Roll, and Black Widow Roll.
Poke Tiki
Ask for more options and we have you covered. Next up in line is this restaurant that customers wish they could give more than 5 stars. The toppings variety in this place is endless, their servings are big and, the food is super fresh. what you get in this amount, you won't find anywhere else.
Moreover, the staff at Poke Tiki is extremely patient and friendly so if you're a parent with a fussy and picky eater you definitely need to visit this place.
The only downside is the parking but I wouldn't be worried because they have space right behind the building.
Address: 1100 S Coast Hwy Ste 110 Laguna Beach, CA 92651
Specialties: Edamame, Volcano Sauce, Seaweed Salad, and Crispy Onions.
Kanpai Sushi
A restaurant where the owner himself will many times be found behind the bar, serving you personally. Anything that doesn't match your vibe can be reported then and there. Kanpai Sushi is not a big place like some of the other eateries around but is definitely the friendliest one you can find.
They serve about 10 tables at a time but make sure to keep each one entertained.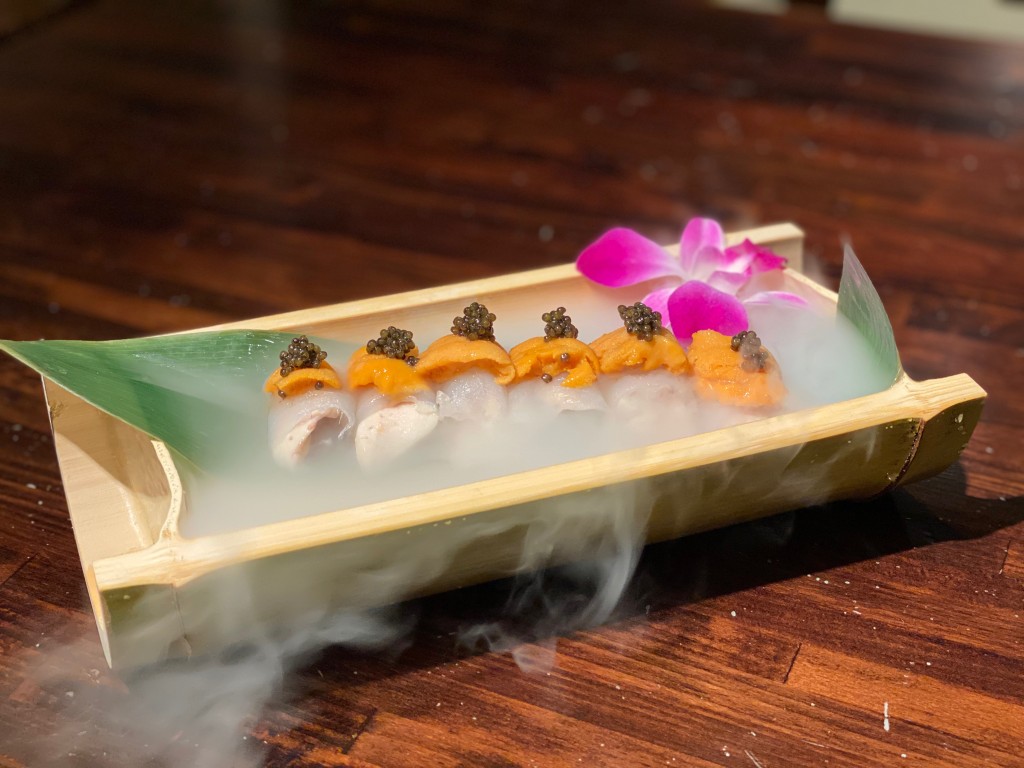 Furthermore, the chef brings together flavors from Japanese culture with a touch of innovation by incorporating different ingredients into their menu. The beautiful presentation of the food is another reason to be hooked.
Kanpai Sushi has been highly approved by many people from Japanese culture who don't seem to find true Japanese food anywhere in Orange County. I don't see why you shouldn't be visiting.
If you're looking for a change of pace, don't miss the Top Italian Restaurants you should visit in Laguna Beach!
Address: 26601 Aliso Creek Rd Ste A, Aliso Viejo, CA 92656, United States
Specialties: Mixed Tempura, Kanzan Kanzan, Bento Box, and Seafood Salad.
Zen Sushi and Sushi Bar
If you're looking for good sushi at a great price, you're at the right place. Along with being economical, Zen Sushi and Sushi Bar has a friendly patio with big tv screens to offer. Perfect to enjoy a game night with a big group of friends.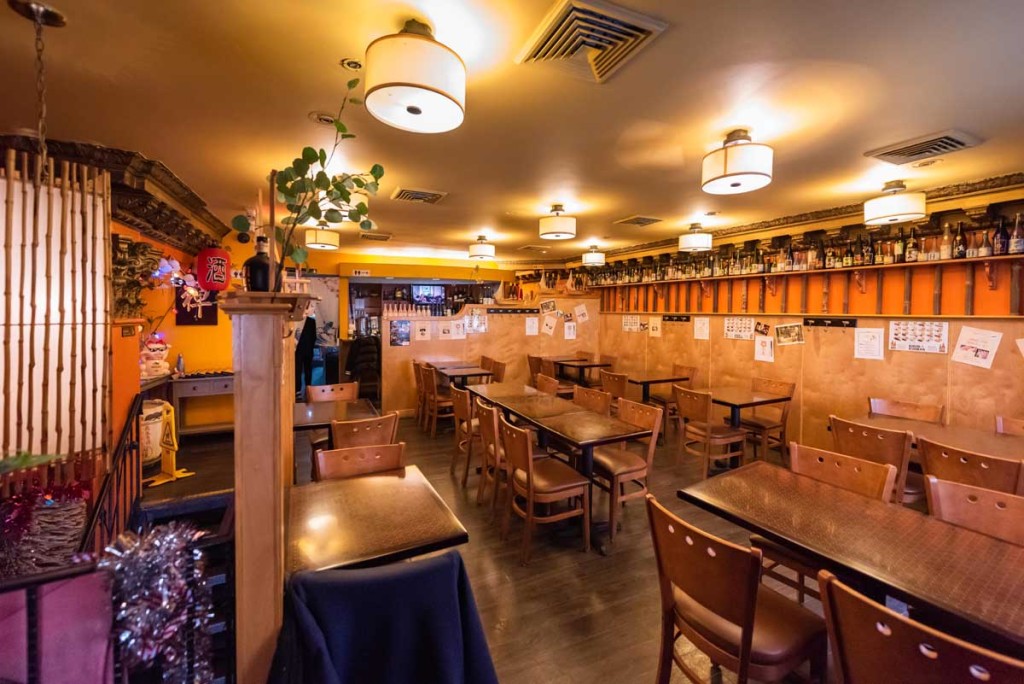 A major plus point is that no matter how often you visit, you will never find a drop in their quality or food taste.
Address: 26952 La Paz Rd, Aliso Viejo, CA 92656, United States
Specialties: Aliso Viejo Roll, Spicy Tuna Roll, Baked Lobster Roll, and Bento Box.
Editor's Pick: 15 BEST Places For Ice Cream in Laguna Beach
Broadway by Amar Santana
Ever seen a plate of sushi so pretty you don't want to mess it up by eating it? Yes, this is a restaurant that will have you double-minded about whether or not to eat your meal or just keep staring at how beautifully it is presented.
Mix that up with superb customer service and very sweet staff, you have yourself a favorite among all the sushi places in Laguna Beach. Broadway by Amar Santana is a perfect spot for celebrating your anniversary, a date night, or any other special occasion with your loved ones.
Address: 328 Glenneyre St Laguna Beach, CA 92651
Specialties: Japanese Hamachi Sashimi, Pan Roasted Scottish Salmon, and Herb Roasted Mediterranean Branzino
Must Read: 2 Hidden Pools in Laguna Beach You Must Visit
Fin Sushi & Sake at Hotel Laguna
This amazing restaurant is located inside a hotel which has an amazing view of the ocean. So you not just get delicious food but also a breathtaking view. The ambiance and decor give a very refreshing vibe to the overall place and the ocean view is very meditating for the soul.
Another upside is that they easily source local fresh fish on a regular basis so there is never running out of your favorite fish. But if you are not big on local seafood, don't worry because they also have exquisite imported food on their menu.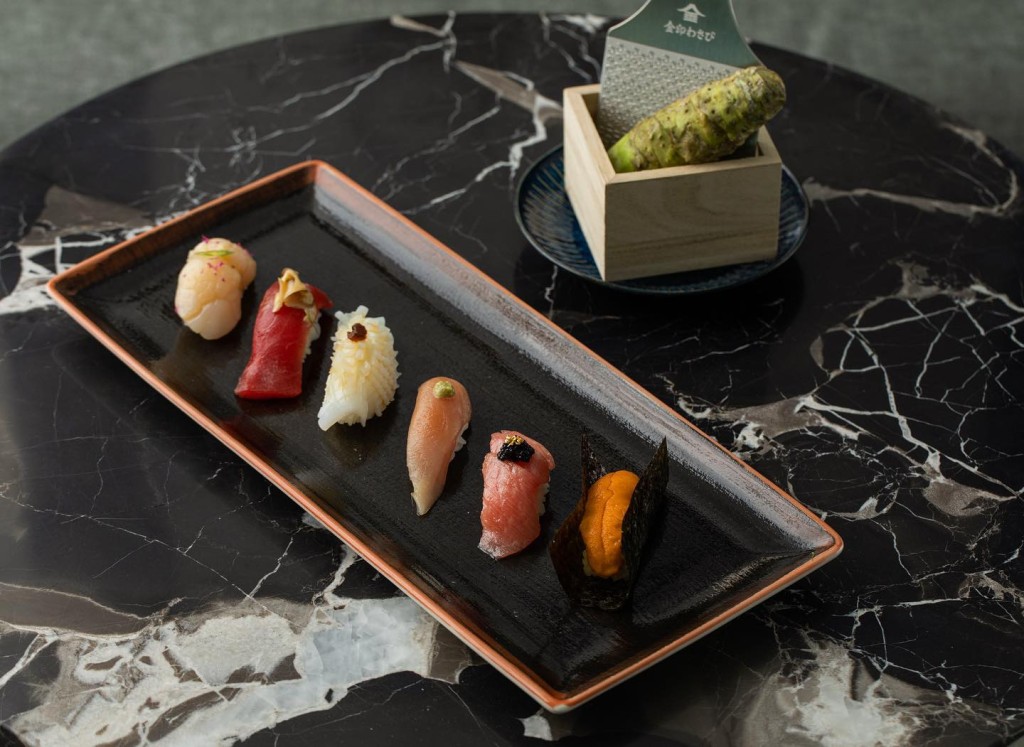 This restaurant is generally a little on the pricey side so you might want to consider that before deciding. However, if you happen to visit Fin Sushi & Sake at Hotel Laguna, don't miss ordering their cocktails!
Address: Fin Sushi & Sake, 425 S Coast Hwy, Laguna Beach, CA 92651, United States.
Specialties: Firefly Squid, Hokkaido Scallops, Cocktails
Musashi Sushiya
Musashi Sushiya is a place where you will get amazing sushi at an amazing price. That is because this restaurant offers a 50% discount on all their sushi rolls for the entire day. This means you don't have to worry about reaching the restaurant at a certain time. It also helps big time in avoiding big crowds and rush hours.
You can just come and go as you please. However, if you are not in the mood for rolls, they have plenty of other Japanese dishes to order from. The restaurant's interior is decorated with Japanese ornaments so it gives a very cute cultural vibe. And they have ample parking space. Hurray to that!
Address: 23532 El Toro Rd Ste 18 Lake Forest, CA 92630
Specialties: Sashimi, Garlic Edamame, Rainbow Roll, California Roll, and ABC Roll.
Mozambique
Don't be mistaken by the last place this restaurant has secured in our guide about best sushi in Laguna Beach. Mozambique is a high-end restaurant that has delicious food from different parts of the world. Their menu is not restricted to one specific cuisine which people find very welcoming.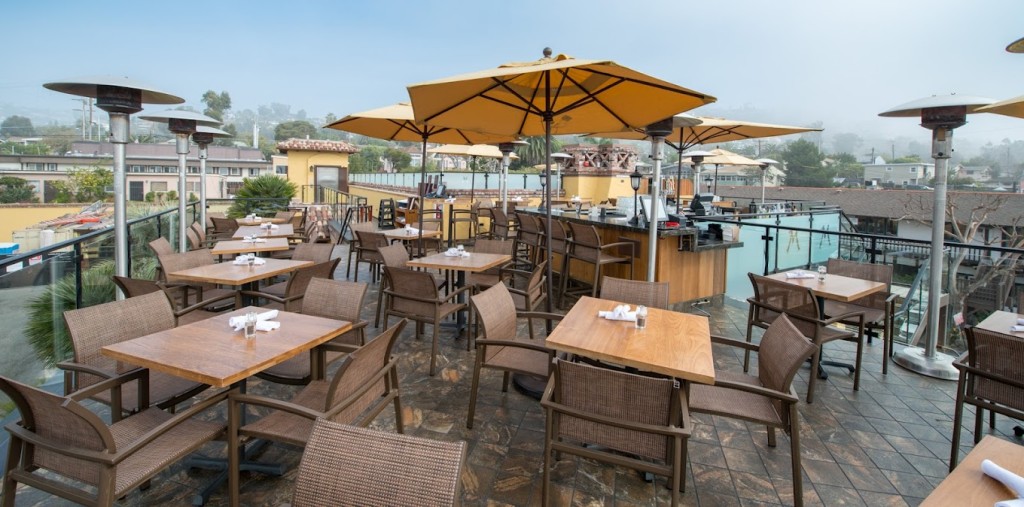 The ambiance is perfect for getting the romance started if you are a couple and are looking to have a little intimate dinner. You will find a pianist there playing lovely music to lighten the atmosphere. And if you happen to visit in winter, they will also have a cute little fireplace running.
Furthermore, if you are the type that needs a view along with your food, then be sure to book your table on the rooftop.
Address: 1740 S Coast Hwy Laguna Beach, CA 92651
Specialties: Chilean Sea Bass, Seafood Curry, Wok Charred Ahi Tuna, and Seafood Salad.
Conclusion
Laguna Beach is home to a variety of cuisines. Sushi is a foreign cuisine. It has successfully made its place in Laguna Beach as is evident from our list of Sushi places in Laguna Beach. Regardless of wherever you choose to go for getting your hands on some of the best sushi in Laguna Beach, we hope you enjoy your meal and have a great experience.