Ice creams are the perfect thing to eat after dinner or even before. There is no ideal time to grab some ice cream. Whether it's hot or piercing cold, you can never say no to a cup of ice cream.
When in Anaheim with your family, you may want to have ice cream to end a good day. Or you might crave some ice cream at the beginning of the day. There are many good places with fantastic ice cream in Anaheim.
We know that being on vacation and searching for an excellent place to eat something can get really confusing. Here, we will tell you about all the city's top-rated ice cream parlors.
In addition to Anaheim's delicious ice cream options, the city also offers restaurants with a wide variety of cuisines to choose from. You'll find it here whether you're in the mood for Italian, Chinese, or something else.
Ice creams are an instant mood-changer. If you want to have ice cream but also not the typical ones, you can try joes ice cream in the city They serve Italian ice cream, which consists of Italian ice topped with vanilla ice cream. This combo might seem a bit ridiculous, but trust us, it's the best ice cream you will have in Anaheim.
The most exciting thing about Joe's Italian Ice is that they update their menu regularly and have different flavors daily. After having the first bite, you will feel like it's not ice cream but something more delicious. You can also try their swirl or sundae, and they will also have a distinct yet satisfying taste.
Specialties: Peachy Mango, Watermelon & Fuzzy Wuzzy Joelatti. Chocolate Swirl.
Not many places in Anaheim have dairy-free or vegan ice cream options. So, if you are looking for a place with not only exceptional ice cream but also dairy-free or vegan ones on the menu, head to Tocumbo Ice Cream.
This place has Mexican tejuino and bublubu ice cream in the city. It is the most original one in the area; just order it, and you will know what the hype is about. Apart from that, their paletas are to die for. Every flavor is impressive, but some of the yummiest ones include passionfruit, coffee, watermelon, and cookies and cream.
Specialties: Cookies & Cream Paletas, Bublubu Ice Cream, Tejuino,
Hans' Homemade Ice Cream is a classic for making ice creams. They have had keen expertise in making homemade ice creams, shakes, sundaes, and ice cream sandwiches for over five decades.
You can take your kids there between 12 pm to 11 pm. Any ice cream you order will be super creamy and flavorful. It's safe to say that this will be one of the creamiest ice creams you will ever eat. The prices are a little high at Hans ice cream in Anaheim, but worth the taste. You can also try their ice cream sandwich or shake, and they will also have the perfect bite.
Specialties: Salted Caramel, Nutella Krunch, Lemon Custard.
There is no specific time for ice cream. You might want a scoop just after waking up, and if that's the case with you and you have no idea where to get great ice cream in the morning, Brianna's Ice Cream has got you.
This is a cute little spot in the city with Mexican breakfast and lunch options too. You might go there, have some ice cream and then order breakfast. The food is pretty good, while the ice cream is made from fresh ingredients, which makes it taste incredible. It opens at 5:30 am and closes around 8 pm.
Specialties: Fresas Con Crema, Banana Split, Strawberries, and Cream.
Do you have your pets too with you on the holidays? Are you looking for an ice cream parlor in downtown Disney that allows kids and is pet-friendly? If so, then you must go to Salt & Straw. This place is dedicated to making ice creams with the freshest ingredients and different recipes.
Don't get intimidated by the long line; wait for your turn and have some creamy goodness. Their ice creams have a very unique yet delicious taste. You will love every flavor you'd order. They don't have simple flavors; instead, they have infused with some other ones, and trust us, they are heavenly good. Anaheim is also a great destination for those looking for vegan options.
Specialties: Mint Chocolate, Olive Oil, Cold Brew with Pecan Praline.
Spending a day at Disneyland can get you extremely tired. To refresh yourself, have ice cream at Gibson Girl Ice Cream Parlour. This is an old-school site serving sundaes and ice cream in the city. You can pre-order your stuff and go pick them up.
Their ice creams are creamy and tasty. You can either order the scoops in the cup or go for the old-fashioned cones way. The sundaes have freshly baked waffles, which makes their taste a hundred times better.
Specialties: Uni-Cone. Firehouse Dalmation Mint Sundae, Chocolate Ice Cream
Recommended Read: The BEST Pizza In Anaheim In 2022 For You To Try
Clarabelle's Hand Scooped Ice Cream gives a refreshing break to a sunny day at Disneyland. The menu has numerous flavors, and the ice cream is of high quality.
You can go there between 12 pm till 8 pm any day. It also has some vegan options on the menu. The most popular ice cream flavors are mint chocolate, cookie dough, and strawberry. You can even customize your ice cream or can go for the classic ones.
Specialties: Mickey Mouse Ear Hat Bowl with Sundae, Mickey Mouse Kitchen Sink, Minnie Mouse Kitchen Sink.
Do you want to eat ice cream but are tired of the traditional one? If you want something different, head to Le Mirage Pastry for Syrian ice cream.
This place specializes in selling middle eastern sweet goodness in Anaheim. They have not only delicious ice cream but also cheesecake, pastry, baklava, and knafeh. Anything you eat there would have an authentic Syrian taste which you will cherish.
Specialties: Chocolate Cheesecake, Syrian Ice cream, Baklava.
House Of Chimney Cakes are experts in making and selling the best chimney cakes in Anaheim. If you want to have an ice cream cake, there is no other place better than this. Their soft serve ice creams have a twist of chimney cakes, with glaze and fillings.
You can either go for the ones that are mentioned on the menu or can also build your own. This will involve three stages. First, you will need to choose an ice cream flavor, then opt for a flavored cone, which by the way, is incredible in taste, and lastly, pick the topping as per your liking.
Specialty: Ice cream cakes.
This is a Latinx-owned place that is good for both kids and dogs. You can have handmade ice creams that have secret Hispanic family recipes. These ice creams are incredibly creamy and rich in taste.
They also have churros, coffee, and custom-made dessert, which taste exceptional. There are many options for coffee and churros. You can go to Azules Coffee for ice creams from 12 pm to 9 pm any day.
Specialties: Horchata ice cream, Cookie Overload, Strawberry Cheesecake.
Editor's Pick: Nightclubs you must visit when in Anaheim
Natural is a casual-vibed ice cream parlor in Anaheim that excels at having one of the most incredible ice creams in the city. It is ideal for groups, so if your travel squad wants some ice cream in the town, take them here.
Their ice cream is so good that you will take a bit and love how it will melt into your mouth. The best ones are Vanilla Wafers and Fresas Corn Cream. You can choose the cream in the corn one. Smoothies and shakes are also available at Natural.
Specialties: Fresas Corn Cream, Fruit Bowl, Vanilla Wafers.
Ghirardelli Soda Fountain & Chocolate Shop is located in Disneyland and serves ice cream, smoothies, and shakes. It has moderate noise and is suitable for kids.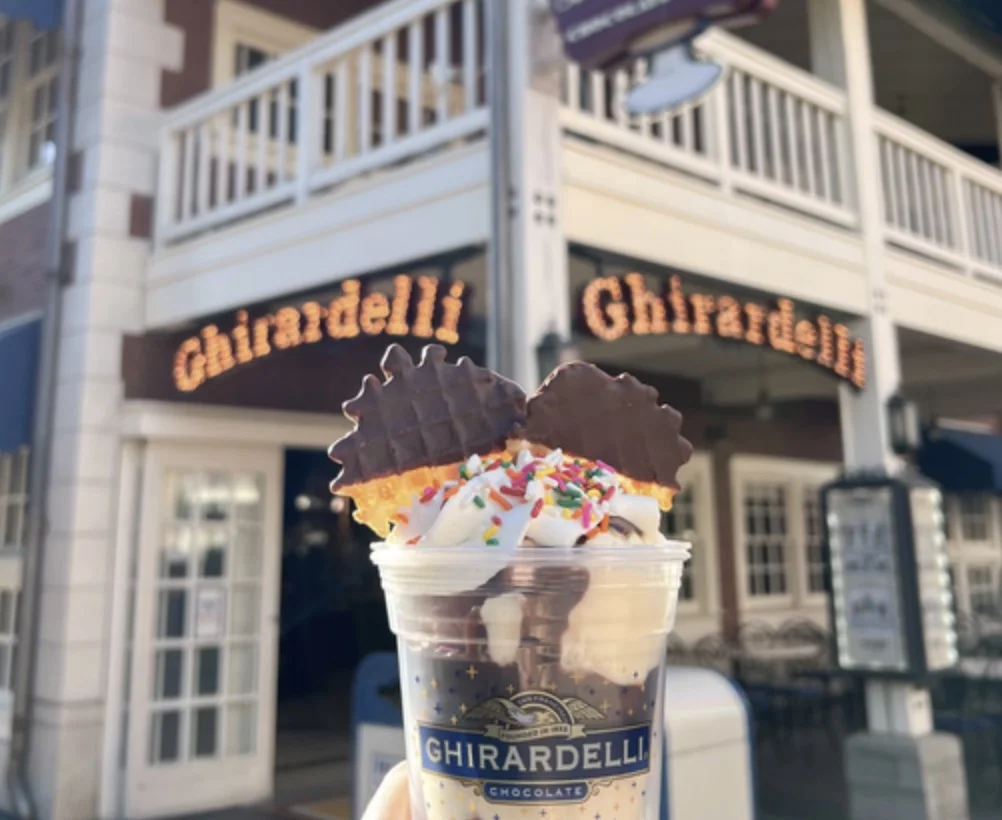 There is something so unique and magical about their hot fudge ice cream. It's just amazing in taste, and you will love every bite of it. The ice creams are a bit pricey, but all good things have a fair price.
Specialties: Ghiradelli, Hot Fudge.
Do you want to take out ice cream in the area because you are running late? No issues, as Popbar has got you. This is an instagrammable spot for ice creams with a cute interior and cool ambiance that offers quick take-outs.
They have a wide range of flavors, drizzles, and crumbs to choose from. You can go with any flavor you want, which will taste incredible. There are also vegan and dairy-free ice creams too.
Specialties: Strawberry Pocky, Hazelnut Gelato.
This ice cream parlor is located inside a liquor shop, so if you want some wine and ice cream, head to La Michoacana Ice Cream at Kings. They are experienced in making homemade ice creams with over thirty flavors. The most interesting thing about their ice cream and paleta is that it does not contain eggs.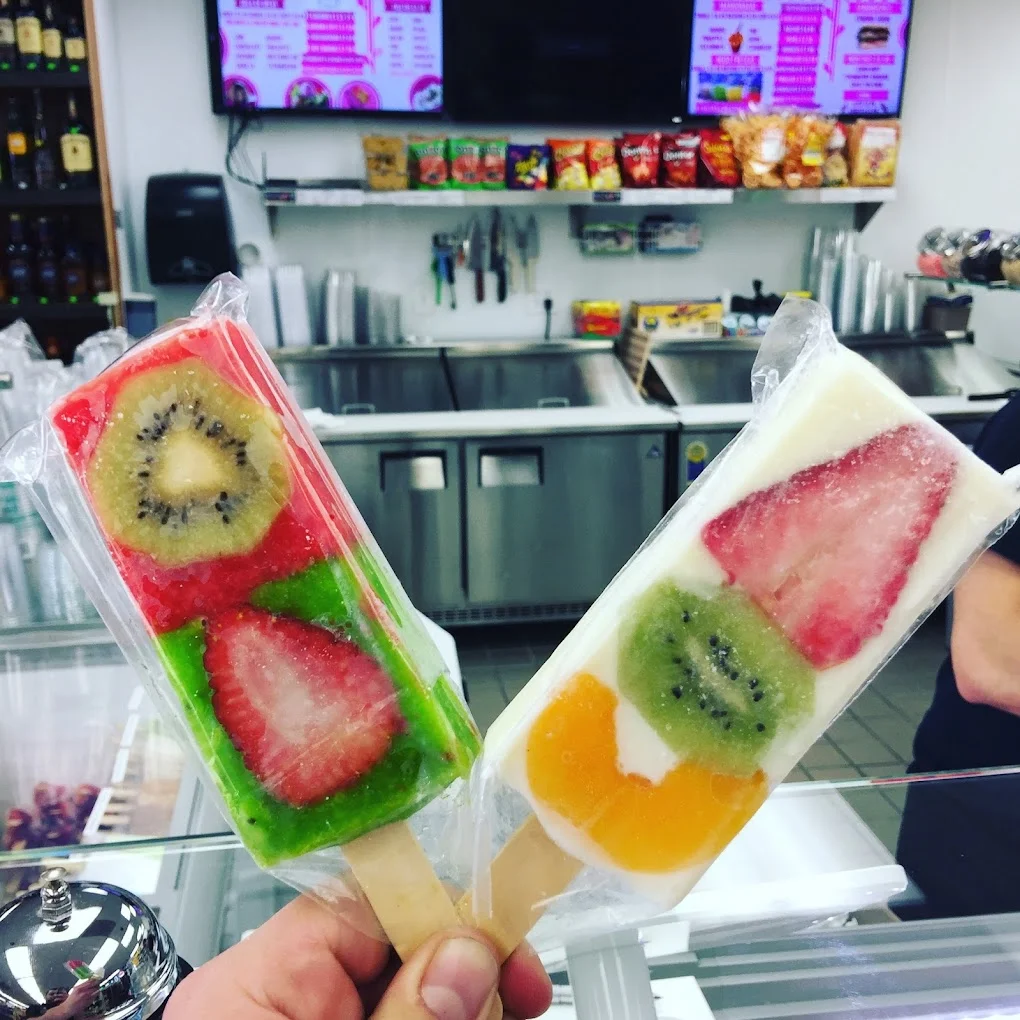 They have many flavors of both ice creams and paletas. You can choose from fruity flavors to savory ones. All of them are exceptionally perfect. It also has other snacks like nachos, mangonadas, or tostilocos.
Specialties: Mangonada, Paletas, Smoothies.
Here, we have told you all about the best places with excellent ice cream in Anaheim. This list covers everything, whether you want to have ice cream first thing in the morning or during your Disneyland trip. If you are not in the mood for ice cream, you can have coffee in Anaheim too. Also, there are a number of amazing ice cream places in Laguna Beach if you are going there next.